Akiee, a top-grade Task Manager for Developers and hackers, takes care of all your tasks without any hassle. This markdown-based application manages your works and aids you utterly so that you can concentrate entirely on your most prominent tasks. This software is inspired by the AGILE, and it sorts your tasks by making the rank of your tasks according to your prime concern.
Featuring an uncomplicated UI, it includes a task EDITOR button so that you can edit any of your tasks whenever you want as per the changes in your schedule. This app also contains three main tabs which include "Done", "Doing" and "ToDo". The "ToDo" tab contains all of the work that you have done, the DOING tab bears the tasks that are on the process, and the DONE includes the completed works. This Akiee application has got the button ALL for listing all your tasks.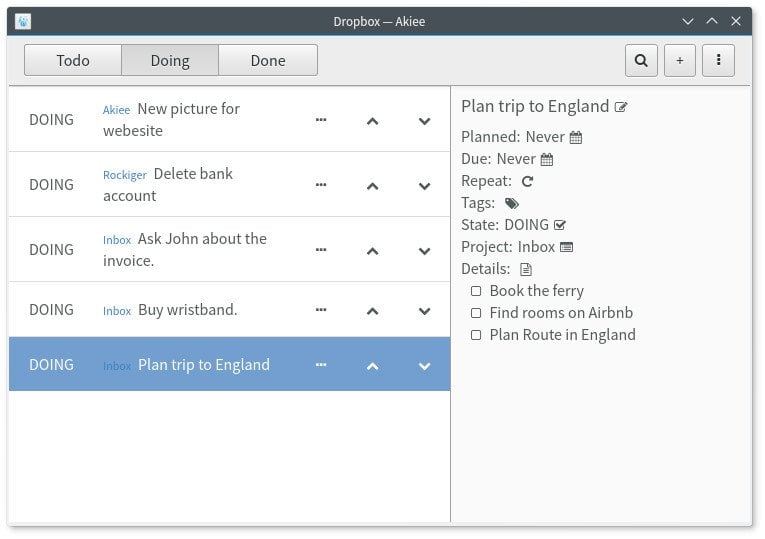 Features of Akiee
---
Open-source application (GitHub bears the source code)

Free of charge, just download and use

Available for Linux/GNU, Mac, and Windows

Supports Dropbox application

Can be operated by any basic text editor

Markdown files for saving tasks

Maintains plan projects and authors documents
Final Words
---
For adding up new tasks, there is a "+" button in this app. Free of charge, Akiee, the app can be downloaded and used. This is an open-source application, and as we have always told you, you will only require source code with the help of GitHub.
You can add up the Dropbox application to keep your life updated, and any regular editor for your text can help you keep your tasks organized. Not only managing your task but it also helps you out in planning different projects and authoring your important documents. Being released through the GPL2 license, this application is crafted with the help of Node-Webkit, React, and Clojurescript.
What do you think about this app? Are you interested enough to download it or not? Take a moment to comment below your expectations from this application and other details. Do not forget to share our details with your friends and let them know.