Modern businesses rely on data much more than they do on software. So, a premium level solution for backing up enterprise data is mandatory. As organizations continue to grow in scope, administrators tend to become overwhelmed backing up these increasing data. Thus, a state-of-the-art backup solution is required to keep business data sound and secure in case of any kind of disaster.
However, choosing the right backup solution for your enterprise is not a child's play. As enterprises operate on a broad range of domains across several, or even thousands of systems, each with distinct architectures and underlying networks, backing up such data is a complex and daunting task.
So, most viable enterprise backup solutions tend to be complex and often redundant too. Luckily, Bacula Systems, a Swiss company specialized in backing up large volumes of commercial data offers an enterprise-grade solution based on their already proven community solution, which aims to make the task of backing up industrial data a mere cup of tea for us IT professionals.
In this guide, we'll review this solution which is designed for professionals looking for an optimal solution to back up their commercial data. Stay with us to gain insights on whether this software is suitable for you or not.
Design and Infrastructure
---
To understand any enterprise software, you need to have a clear idea of its underlying architecture. The below image shows us the cohesive infrastructure of Bacula Enterprise.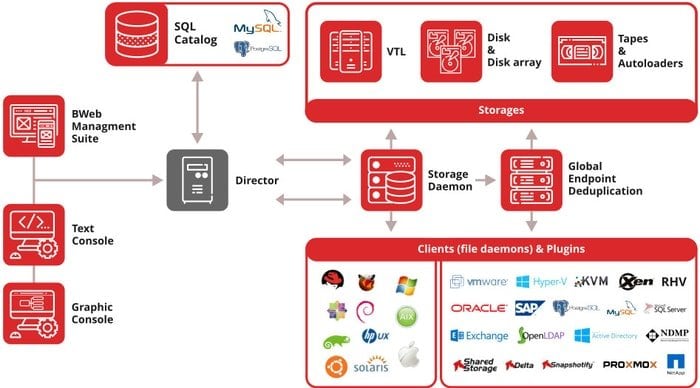 Here, we'll point out the primary components of this architecture and provide you with a detailed understanding of what each part does.
Director: This is the brain of this enterprise solution. It can be thought of as the engine that initiates every backup task and keeps track of what's happening in each step. From backing up individual processes to verifying and restoring them, the director serves as the ultimate controller. It's designed to run on most Linux and Unix-like systems and handles the configuration of the overall system. The configuration file is an ASCII text file, which can be opened and edited with any conventional text editor.
Catalog: This is an SQL (SQLite, MySQL, or PostgreSQL) database that stores the metadata of each backup process. This holds essential information like file names, creation date, owner information, permissions, storage co-ordinates, global storage records, and so on. Bacula installs this catalog alongside the director on small and medium environments, and on dedicated hardware in more commercial settings.
Storage Daemon: This is a Linux process that writes the backup data to a storage medium of the administrator's choice. Bacula Enterprise offers a wide variety of storage options including tapes & autoloaders, virtual disks, disk-array, and even cloud storage via Bacula's cloud plugins. The storage daemon comes with a global deduplication engine that allows Bacula to eliminate duplicate files – thus saving storage effectively. This engine can be also accessed from the client-side for reducing bandwidth usage.
Client Daemon: The client daemon, also known as the file daemon reads the backup data and streams it directly to the storage daemon. This is where most of the backup tools and plugins associated with Bacula Enterprise operates. It supports virtually every operating system – from Linux and BSD to Windows, macOS, and Solaris. For a full list of supported platforms and plugins, head over to their website.
Management
---
Bacula Enterprise comes with three distinct management options allowing sysadmins to control the software based on individual preferences effectively. The Graphical User Interface (GUI) is the primary option that most Windows users might prefer.
Apart from the GUI, the software also provides a text-based console known as the B-console for users that prefer terminals. It allows you to write shell scripts for directly sending commands to the director. We're sure that Unix enthusiasts are going to fall for this.
The third and the most intuitive option is the web interface known as BWeb. It will feel like you're using a SaaS solution with this option as it makes managing the system a breeze for administrators of every kind.
Workflow
---
A thorough understanding of how Bacula Enterprise backs up your corporate data will come in handy when determining whether it suits your purpose or not. In this section, we'll outline what happens when a pre-scheduled backup of (suppose a Microsoft SQL database) runs.
As discussed above, the director initiates the backup process and hands over the job information to the file daemon. Now, the client will be asked to launch a VSS snapshot of the MS SQL database. As soon as the snapshot is ready, the file daemon will stream the data directly to the storage that has been pre-defined in the job. The storage daemon backs up the data and sends the metadata (information like where the data has been saved and when) to the director. The director now saves this metadata in the catalog and flags the backup job as completed.
Scalability
---
One of the fundamental design considerations Bacula has undertaken carefully is scalability. As modern businesses keep growing in a diverse manner each day, scalability is a critical aspect of allowing your business to grow.
Bacula Enterprise, contrary to other corporate backup solutions, takes a somewhat modular approach when implementing its architecture. This allows Bacula to be highly scalable, an essential feature that guarantees us sysadmins won't go mad managing increasing numbers of servers each day.
It doesn't matter how dense the volumes of data you need to manage every day, with Bacula Enterprise, your automation will work out as fluidly as you need it to.
Customization
---
Customization is something where Bacula outshines its competitors rather easily. Whereas its primary opponents like Veeam and Acronis are a hundred percent proprietary, much of the source code for Bacula Enterprise is available through their community edition.
This gives Bacula a tremendous competitive edge over other commercial data center backup software. With tools like Veeam, you cannot know for sure that they won't go out of business in the near future, leaving you in a complicated corporate mess with no idea on how to migrate your data.
But as Bacula Enterprise is based on its open source community edition, you can get your hands on much of its codebase pretty easily. Its open-core architecture also means you can hire developers to understand and modify the enterprise system to get it exactly as you want it.
What Gives Bacula Enterprise an Edge over Others?
---
We understand that when choosing an enterprise-level data center backup software over another, you need to know exactly why you should opt with that. So, let's discuss why we think Bacula Enterprise is better than most contemporary backup solutions.
The pricing is one of the most important things when it comes to selecting any enterprise-level software. With Bacula Enterprise, you'll be saving almost 50%-80% of what you'd be spending on other commercial alternatives. This is actually an excellent pro for Bacula as it enables you to achieve your objectives smoothly while saving you from going bankrupt at the same time.
According to NASA, the software is also FIPS 140-2 compliant and can incorporate data encryption technologies like AES 128, AES192, AES256, and blowfish. So, you know you are getting great protection from any potential data breach with Bacula Enterprise.
What Could Have Been Better?
---
We admit it and so should you, no software is a hundred percent perfect. Bacula Enterprise also has its fair share of overheads.
The most critical problem we found with Bacula Enterprise is its GUI. Although understandable, the interface could be more developed and may not feel all that intuitive to novice users.
The software also requires a good understanding of Linux systems. While I, for myself, think that every modern sysadmin should have a good knowledge of this fantastic system, Windows-based admins will often find it hard to grasp some of the fundamentals of this enterprise solution. That said, Bacula itself has a remarkably stable code, possibly as a result of its open source roots.
Final Verdict
---
Overall, our target was to provide you with essential insights into this awe-inspiring corporate backup solution. Rather than ranting about the features and the long list of pros-cons, we tried to outline how the software is designed, how it works, why it would work for you, and its most significant drawbacks.
From our test, Bacula looks to be an exceptionally solid, competent enterprise backup solution that can scale big. That's good news for fast-growing data centers that are looking for a comprehensive, modern solution. Apparently, Bacula does not charge by data volume, which would be an added incentive to data centers that are becoming tired of being ripped off by 'legacy' vendors."
If looking for a complete set of features, you can get it here. We also recommend you try out the 30-day trial version to get an idea for yourself of how Bacula Enterprise performs in real life.