In this era, one of the most popular ways to communicate is through text messaging. Thanks to the internet and the revolution of smartphones, there are many apps out there for Android devices by which you can quickly communicate with your friends. Needless to say that these apps will continue to be more and more popular among young people. With that in mind, we will talk about the 20 best android messaging apps in this article. And in the end, we will help you to choose the best android messaging app that suits you perfectly.
Best Android Messaging Apps
---
Like we said before, there are so many apps out there that it becomes almost impossible for a consumer to choose one.  So let's take a look at some of the best android messaging apps that you can download for your Android device.
1. Android Messages
---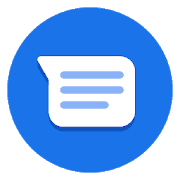 The first one on our list is the Android Messages. This app is Google's very own SMS app. So it is perhaps installed on your phone already. Stuffed with so many user-friendly features, it is very simple and easy to use. So it's obvious why it is so popular. For many people, this app may be the best android messaging app ever.
Features
Pre-loaded on Pixel devices.

Not too complicated to use. Instant notifications and a fresh new design make it user-friendly.

RCS-compliant.

Has another version for computers
2. Chomp SMS
---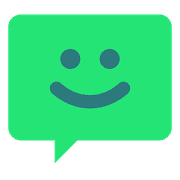 Chomp SMS has been out there for a long time. It is one of the old android messaging apps out there, which is as dynamic as ever. There is a reason why this free texting app is still popular despite being old. Adding new features with every update, It has constantly been evolving and adapting. We all know how important it is in the realm of apps. Old is gold indeed.
Features
SMS blocking.

Wear OS support.

Free to download.

Awesome emojis.

quick reply pop-up
3. Facebook Messenger
---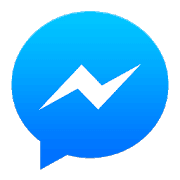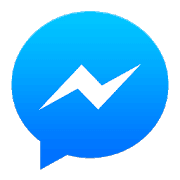 This free chat app for android is from our good old Facebook. You can already guess it from the name. You can't use it unless you are a Facebook user. If you are a Facebook user, you can give it a shot.
Features
Great interface and easy to operate.

Audio call and video call from anywhere and anytime.

Group chatting option.
4. EvolveSMS
---
Another well-designed text app that you will love after using it. It can be a decent alternative for the messaging app that is installed(by default) on your smartphone. After using it, you will see how efficient it is. You can easily increase the size of the text if you want. Thus, it will be easy for you to read it. Plus, It's very secure, and some of its security features are really good. So you can easily understand that it's yet another best SMS app for android devices.
Features
The layout of the app is simple and beautiful.

Will support pop-up notifications.

Individual conversations can be set as private.

You can send videos, GIFs, audio, pictures easily and quickly.

Dual sim support.
5. Mood Messenger
---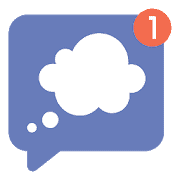 Mood Messenger is quite new if you compare it with some of the other apps we have on our best Android messaging app. Having too many features in an app can be a problem at times. Luckily, this texting app will save you from that nuisance. It is simple, in every sense, and it will offer you the things that you want.
Features
Free to download.

Supports dual sim.

Group conversations.

Customizable font size, notifications, emojis, and background.

You can send messages without using SMS.

Spam blocking

Animated GIF library
6. Pulse SMS
---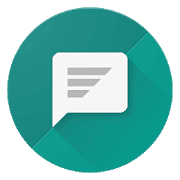 Pulse SMS is surely one of the best text messaging apps out there. "Secure" and "Convenient"-These are the words that suit it well. It is a text messaging app that works on almost every platform(even PC). Its users can use their phone number and text from their PC. It will only cost them 0.99$/month.
Features
Unparalleled design

Dual-SIM support for Androids(a version has to be 5.1+)

You can blacklist the annoying spammers.

Backup and restore option with an online account.

Strong security.
7. QKSMS
---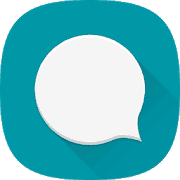 QKSMS has been out there for a while now. Without a doubt, it is a great SMS app. Just by looking at the name, it's safe to assume that texting with it will not take too much time. The cool thing about this is that it is open source. The number of features it offers is amazing.
Features
Supports dual-sim and multi sim.

The design is beautiful and clutter-free.

Customizable theme.

A safe app that can restore all of your messages without installing another app.

Per-contact notifications let you prioritize your message.

QK Reply popup allows you to respond to your messages from any place and anytime.
8. Handcent Next SMS 
---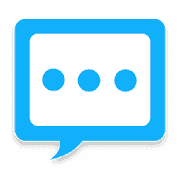 Even if it does not turn out to be the best android messaging app for you, it is surely one of the best ones out there. We have already talked about Chomp SMS. Well, this app is actually Chomp's contemporary. Like Chomp SMS, Handcent is a nifty texting app that has a load of features. But having said that operating it is easy and, you will feel great when you use it. Being old does not make it a bad app. It has upgraded and adapted pretty well.
Feature
Almost anything can be customized(fonts, themes, ringtone, color)

The "Handcent Anywhere" feature makes sure that anyone can send text messages from the PC.

Block all the spammers.

Have fun with 1600+ emojis.

Send popular stickers to your friends.

Supports dual-sim devices

Messages can be easily restored because of the newest backup service.

Multimedia messages like pictures, video, and audio can be shared easily.
9. Textra SMS
---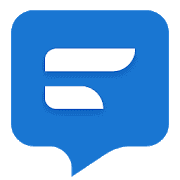 Textra is one of the most popular chatting apps. There is a good reason why it is popular. You can customize so many things that you will be forced to love it. From the background and notification to contacts and emojis, you can customize almost everything. It's free to download, but most importantly, it is safe to use. Your information will be safe and, there is hardly any complaint of hacking it. It is the reason why this app is a tough contender when it comes to being the best android messaging app.
Features
Fully supports any dual sim device(for Android version 5.1)

Compatible with MightyText, Pushbullet, Android Wear.

Highly customizable.

180+ material design themes and plenty of GIFs.

Dark, light, and auto-night modes are available.

Quick reply popup.

Message blocking system against spammers.
10. Signal Private Messenger
---
Like the previous apps that we have mentioned, this one is also a heavy contender to be the best messenger app for android. If you love to use secure apps, you won't be disappointed with them. And using it is easy, which is hardly surprising. It will use your phone number, and you don't have to worry about passwords, usernames, or logins. The features it offers are why it has made our list of the best android messaging app.
Features
Free and open source.

Messages are sent instantly.

Group chat.

Can operate in almost any environment.

End to end encryption protocol gives privacy for every message.
11. YAATA – SMS/MMS
---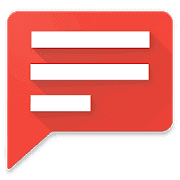 YAATA SMS is relatively new in the world of the SMS app. Despite that, it has a great reputation for being convenient and dynamic. Some of the features will cost you money. But they are worth it. It does all the things that a typical SMS app does. But the thing is that it outperforms a typical app and, the whole package is under 3.9 MB.
Features
Complete Multimedia Support for smooth operation.

Converting SMS to MMS.

Night mode and speakerphone mode (for the premium version).

Blacklisting spammers(for the premium version).

Backup and restore setting available.

Beautiful layout.
12. TELEGRAM
---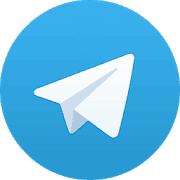 When an app is used by millions of users, you can guess that it is unique and reliable. That is why Telegram is on our list of the best android messaging app. It can work both on mobile and desktop. It doesn't contain adverts. But most importantly, it is free, and the authority does not aim to produce revenue.
Feature
One of the fastest messaging apps.

Group chats can have almost 100,000 members.

open sticker/GIF platform

You can share videos and documents of any size and type.

Photo and video editing tools.

Instant messaging, safe, secure, and reliable.
13. VIBER 
---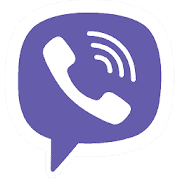 It is another popular app that you may have heard about already. If you install it, your contacts will automatically be added to Viber. You can make free video and audio calls, send text messages, emojis, stickers, pictures. All of these things in just one app.
Features
Open a group chat that can include 250 members.

End-to-end encryption makes sure that any information you share on this app will be safe. The only people who will know the information are you and the person you are talking to.

"Secret Chat"- This feature allows you to delete the message from your recipient's phone after a certain amount of time.  
14. HANGOUTS
---
Google Hangouts can be downloaded on all android devices. Not surprisingly, you need to have a Google account to use it. You can also use it on desktops. Like all the previous apps we have mentioned, you can also send text messages, make an audio or video call, share images with this app. Plus, you can also make group calls.
Features
group chats can have almost 150 people

Supports all platforms.

Safe and Reliable
15. WECHAT
---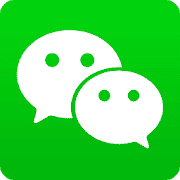 WeChat is China's most popular text messaging app, which has an astonishing number of users. Over 700 million people use this app, and the numbers are just increasing every day.
Features
Multimedia messaging, high-quality audio, and video call for free.

Literary hundreds of free stickers to have fun with friends.

"Friend Radar," "People Nearby," and "Shake"- These features will help you to find new friends.
16. SNAPCHAT
---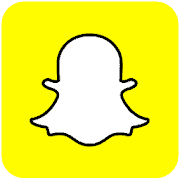 One of the reasons why Snapchat is that it lets you share videos(or photos) that self-destruct. A user can send someone a "snap" for a  time before it completely disappears. The best and the most popular feature of Snapchat is the funny filters for the video snaps.
Feature
Funny filters that are really popular among young people.

Photo editing feature.

Free to download.
17. LINE
---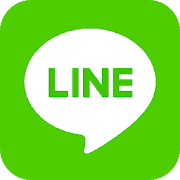 In Asia, Line is very popular with a ridiculous number of users. It has the typical features of a messaging app. But the unique thing about this app is that it has a timeline like Facebook. You can post and comment on other people's posts. You can also create albums and share them.
Features
Group video calls

Chat with up to 200 friends in your group at the same time

Create polls to know what people think

Standard features like free voice and video calls, photo sharing, free adorable stickers are also available.
18. Google Allo 
---
This one is the latest chat app from Google. Along with the typical features, its main attraction is the Google assistant. It functions like Siri or Cortana. Needless to say that it offers all the standard features of a messaging app and more.
Features
"Smart Reply" allows you to reply to messages without the need to type a word.

Unique stickers that are created by independent artists.

It features an incognito mode, which means you can send messages with "end-to-end encryption."
19. WhatsApp
---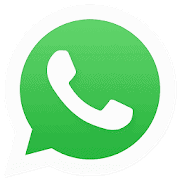 Whatsapp has been used all over the world, and the number of users is just insane. It's not stopping by any means. In fact, it is growing every day. So it has to be on this list. A good portion of its users believes that it is the best android messaging app as it is easy to use. Recently it has been purchased by Facebook.
Features
Easy setup

You can send or receive documents, videos, or pictures.

Free calls.

Always logged in.

No username or pins required.
20. GroupMe 
---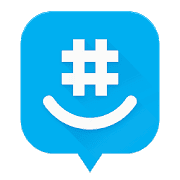 The last app on our list of the best android messaging app is GroupMe. It is owned by Microsoft. Hearing the name, you can guess what it is all about. If you and your buddies love to chat in a group, this will be the perfect app for you. However, if you don't want that, it's cool. It is also good at one on one message.
Features
Immediately start chatting by adding everyone to a group via their email address or phone number.

Controlling notifications.

The gallery saves photos or videos that you have shared.

Exclusive emojis.
Final Thought
---
In our quest to find the best android messaging app for you, we have recommended 20 of them. All of them offer so many things that it's really hard to pick just one and consider it as the best android messaging app. So we have recommended some of the best ones, and it is up to you to pick one.