BleachBit has released its new stable version, 4.6.0, which helps free up disk space and protect user privacy. With BleachBit, the cache can be cleared, cookies deleted, internet history cleared, temporary files shredded, logs deleted, and junk removed.
It is designed for Linux and Windows systems and can wipe clean thousands of applications, including Firefox, Adobe Flash, Google Chrome, and Opera.
The new release includes several noteworthy changes, such as cleaning recently closed tabs on Firefox, cleaning autofill data in Chromium-based browsers, and cleaning more of Firefox.
It also has improved support for FileZilla, new versions of GIMP, and a workaround for DLL security vulnerability. Additionally, it prevents opening other dialogs when making chaff and vacuums last after other operations in every language and enables more strings to be translated.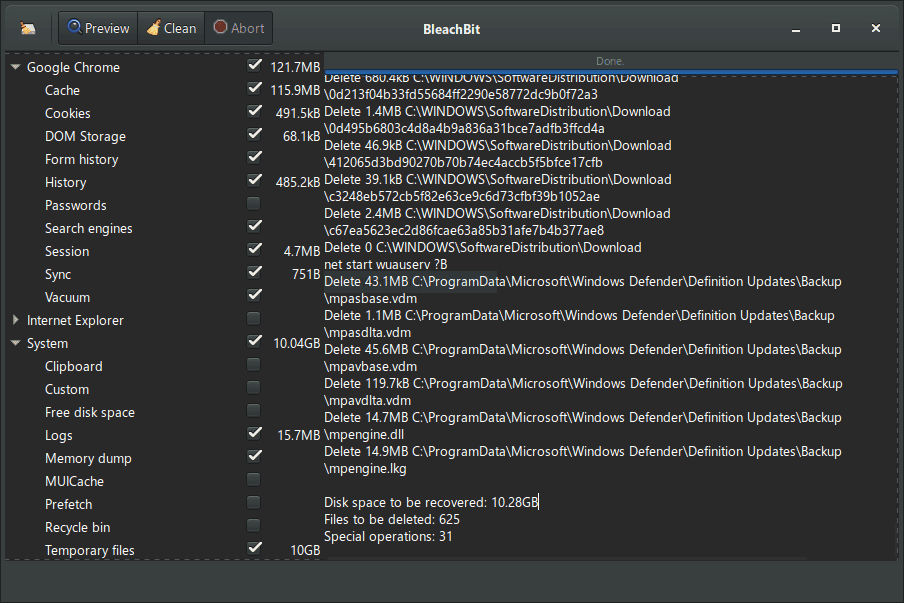 For Linux systems, the new release includes cleaning Microsoft Edge, Firefox, and Thunderbird when installed as Flatpak. It also cleans Google Chrome as Flatpak, recent documents list on KDE 5, Firefox installed as a snap, and adds a shred context menu for KDE. It keeps bookmark icons in Firefox and Xauth files in /tmp and uses branded icons in the application launcher.
For Windows systems, the new release cleans more Windows updates, fixes Windows redirection in Internet Explorer, and fixes fullscreen bugs.
It also internationalizes the Windows installer and translates it to Italian, adds descriptions for components in the installer, and allows Winapp to have a drive letter followed by the filename. BleachBit 4.6.0 updates the bundled SQLite from 3.37.2 to 3.43.2 and the UPX executable compressor to 4.1.0.
Overall, BleachBit 4.6.0 is a comprehensive disk cleaning and privacy protection tool that offers many advanced features. It is free and open source, making it a reliable choice for users who value their privacy and want to keep their systems running smoothly.
Check the full Changelog here.