Geany is a widely used text editor and integrated development environment (IDE) among programmers, which is available for Linux, Windows, and macOS. If you are accustomed to using Notepad++ on Windows and are now looking for a Notepad++ alternative for Linux, Geany is a great option. In addition, this editor can also serve as a Python IDE on your Linux machine.
This year, Geany will be 18. I'm sure I don't need to introduce you to such a popular and age-old tool, but it's a good idea to introduce you to its new version, Geany 2.0. On October 19, 2023, Geany officially launched its recent version.
After using it for a week, I found a lot of new changes that can elevate your experience with this tool. Well, this is what this short content will cover. So, let's spend a few minutes learning what's new in Geany 2.0 and Geany-Plugins 2.0.
What's New in Geany 2.0 and Geany-Plugins 2.0?
---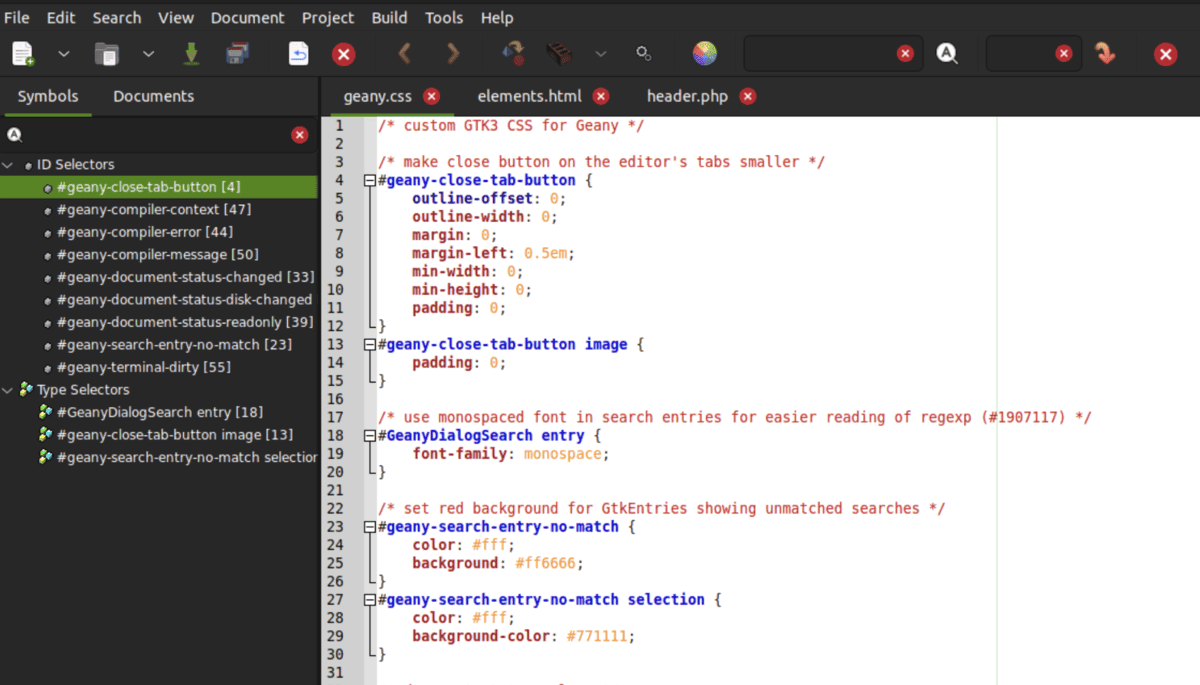 Beyond any doubt, the release of Geany 2.0 and Geany-Plugins 2.0 in October 2023 brings many improvements. Their primary focus is on file types and interface enhancements. But this version simply surpluses all the older versions in terms of changes. Let's check out what're the new things we can explore in Geany 2.0 and Geany-Plugins 2.0:
Sidebar Enhancements: Geany 2.0 comes with a new feature – a tree view in the sidebar for the documents list. This is enabled by default, so there is no need to perform any additional actions. This feature proves to be very practical if you have a large number of individual files to go through. Additionally, you can collapse specific folders to keep the interface simple and clutter-free.
Update Filetypes: Several updates were made to the filetype configurations in Geany. Kotlin's configuration was improved with updates to the basic types, while Python's standard library tags creation script was rewritten for Python 3. Additionally, support for the ctags file format was improved. Geany now supports new filetypes such as AutoIt and GDScript. Lastly, the filetype configs for Nim and PHP were updated to address some long-standing issues.
Updated Translations: The new release features updated translations in German (de), Spanish (es), Portuguese (pt), Ukrainian (ua), and many more. This version also added a new language, Sinhalese (si). This addition makes Geany even more accessible than before to a global audience.
Vimmode Improvements: For Vim enthusiasts, Geany-Plugins 2.0 now supports word-related text object commands like "ciw," "diw," and "viw." So, using Vim shortcuts will be more efficient.
Project Organizer: Geany-Plugins 2.0 now uses the system's trash for deleting files and folders. Thus, it improves the management of your projects. It lets you open a file manager and terminal directly from the interface.
Bookmarks Improvement: In Geany-Plugins 2.0, duplicate bookmarks are prevented while editing a line, making it easier to track important parts of your code.
GeanyVC Enhancements: In the directory context, GeanyVC now supports using an external diff-tool, streamlining version control tasks. With the diff tool, you can compare two files more effectively.
Besides all these new additions, this version has fixed many bugs that used to hamper your experience with this tool. It added the ability to scroll over document tabs smoothly. It also fixed bugs like keyword colorization on file type change and basic startup file order.
Well, you must be thinking about installing the new version, right? You can get the file of Geany 2.0 on their official website. This version is also available on Flathub.
Drawbacks of the New Version
---
Even though Geany 2.0 and Geany-Plugins 2.0 bring substantial improvements, I have found some issues in this version. First, it requires GTK 3.24, which may pose challenges for older Linux distros. Besides, Geany may have a slight learning curve for newcomers, especially when configuring advanced settings and plugins.
Although not a significant disadvantage, Geany 2.0 did not meet my expectations as a text editor and lightweight IDE. I was hoping for a more feature-rich IDE with extensive debugging tools, similar to what Visual Studio Code offers, but Geany 2.0 did not prioritize these features.
Wrapping Up
---
Geany remains a reliable and efficient choice for Linux users as a lightweight, customizable, and feature-rich text editor. The release of Geany 2.0 introduces significant improvements to enhance the overall user experience. 
While it may have minor drawbacks, like higher system requirements, its open-source nature, strong community support, and compatibility with numerous programming languages can easily cover those cons for professionals and hobbyists.