Linux enthusiasts have a new reason to celebrate with the arrival of 'Overskride,' a fresh and open-source application designed to simplify all your Bluetooth needs. Even though this newly released tool is still in progress, there are so many things about this tool that you'll love to admire.
What is Overskride?
---
Overskride is a Linux application created for those who appreciate the Rust programming. It's predominantly built using Rust, with a dash of GTK4/libadwaita style.
This app aims to make Bluetooth and Obex straightforward, regardless of your desktop environment or window manager. Also, the developers are working hard for future expansion.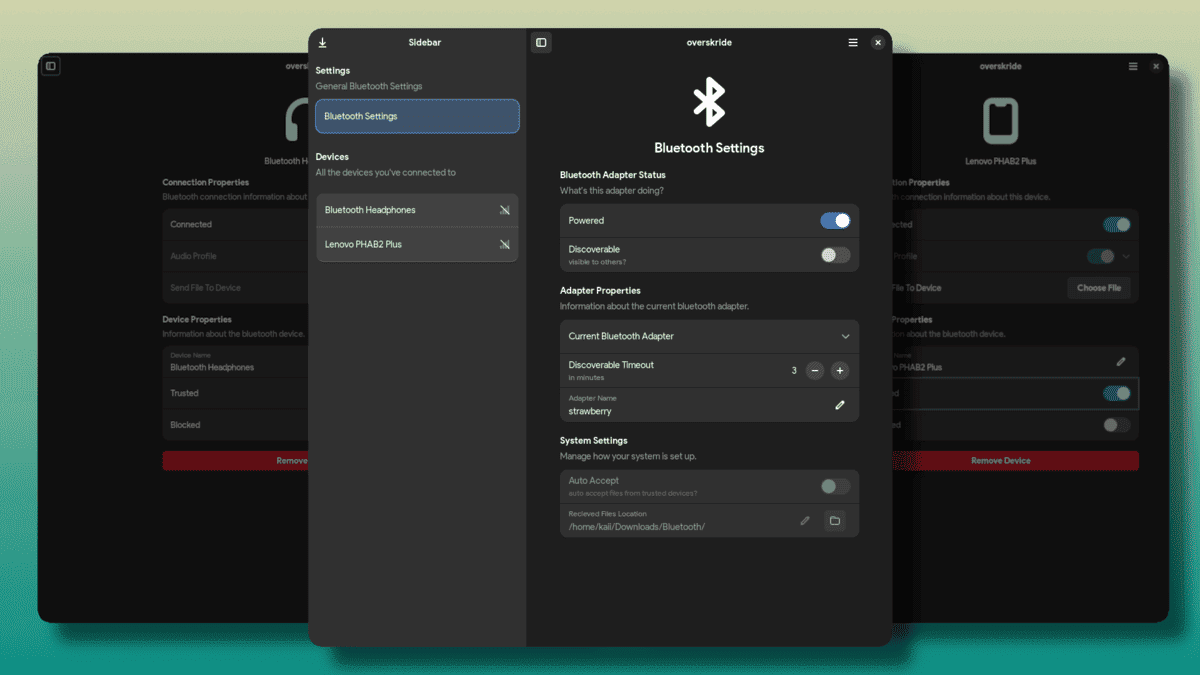 Features of Overskride
---
Even though Overskride is in its initial release, it packs some essential features. I bet you won't be able to resist installing it on your distro once you have a hint of how useful this tool can be. Let's check out what it is currently offering.
Access Control for Devices: Overskride lets you enjoy complete control over your Bluetooth devices. You can trust or block devices with a few taps. Also, you'll have control over which gadgets can connect to your Linux system.
A Minimalist Interface: Among all its features, I liked its interface the most. It's simple and minimalist. There's nothing extra that can confuse you while operating. Also, all the necessary options are right on the Setting option.
File Transfer: This app simply lets you send and receive files seamlessly via Bluetooth. So, sharing data between devices will be hassle-free and quicker than before.
Connection Timeout Settings: With Overskride, you can set connection timeout periods. This feature ensures that your devices automatically disconnect when no longer needed.
Adapter Configuration: This tool also lets you customize your Bluetooth adapter settings. You can customize the names of the connections, devices, and adapters for your personalized Linux experience.
Who Should Use Overskride?
---
Overskride can be the perfect Linux Bluetooth client for users who need to use Bluetooth for their daily tasks. Whether you're a Rust enthusiast or a common user looking for a more user-friendly Bluetooth experience, Overskride has something to offer.
This application simplifies Bluetooth management for almost all Linux distro users. Even though it might take a while to beat the best Bluetooth clients for Linux, as a newbie, it is more than you can expect.
Despite its early stage of development, Overskride is already catching the interest of potential users. If you feel excited to witness the app's growth and see the enhancements it brings in future releases, just try this one.
Challenges Ahead
---
Beyond any doubt, Overskride is off to a great start. Still, it faces some challenges. This doesn't show the battery percentage of wireless headphones. For a Bluetooth manager, it's a useful feature.
Besides being a new Bluetooth manager, Overskide has a lot of lacking. You may not find it as smooth as the most popular GNOME Bluetooth, Bluman, etc. So, before it gets fully developed, you shouldn't expect advanced features from this tool.
While Overskride's debut is promising, you shouldn't forget that it's a work in progress. Like any new application, there are many areas here for enhancement and refinement. But you can expect improvements and new features in future releases.
So, are you excited to give a try on this new Bluetooth tool? If yes, install this app from GitHub. Also, make sure to give a review of this app in the comment section. Best of luck.