The KDE developers and contributors have once again gone above and beyond to offer you Plasma 5.27, packed with tremendous enhancements for the Linux desktop environment!
Plasma 5.27 offers thrilling updates to your desktop, beginning with the Konqi-powered wizard, which will assist you in setting up the desktop!
Numerous new features are included, such as window tiling, a more stylish app theme, improved and easier-to-use tools, and widgets that give you greater control over your machine. These updates make the experience even better than before!
Moreover, Plasma 5.27 is an especially secure Long-Term Support version that has endured countless bug fixes and stability work, guaranteeing the warm embrace of a stable KDE environment for many years to come – until the next LTS arrives in 2024!
Highlights of KDE Plasma 5.27
---
Check out some of the key updates in KDE Plasma 5.27 below!
1. New Plasma Welcome app: When you first begin using Plasma, the welcome wizard will be at your disposal to guide you through the process. It can help link up with the web, become familiarized with all of Plasma's features and how to customize them effectively, install additional software pieces seamlessly —and more!
2. New Tiling System: With this functionality, you can customize the tiled windows in your workspace and resize them simultaneously.
All it takes is a few simple steps: first, navigate to System Settings > Workspace Behavior > Desktop Effects to enable the feature. Now all you need to do is grab any window by its title bar with Shift held down and drag it into place—you'll notice that its adjacent tiles will automatically adjust themselves accordingly! To make custom tile layouts even more quickly, press Meta ("Windows") + T together when holding an object.
Although this feature is still growing, it provides a desirable advantage for those longing to keep their windows neat and orderly. Despite not being able to fully replicate the qualities of a more developed tiling window manager yet, its convenience remains unquestionable!
3. Themeing Enhancement: With each iteration, Plasma is more captivating. Andy Betts' unparalleled wallpaper only begins to convey its appeal; now, Breeze-themed windows are outlined with a delicate yet sophisticated border that prevents dark themes from merging together.
Additionally, manually switching between the different Plasma themes reveals an alluring full-screen blend effect that will leave you enthralled.
4. Improved System Settings: KDE's design team has been investing their energy in refining the System Settings utility, consolidating individual pages, and housing smaller options with other settings.
For instance, the animation configuration for launching applications is now located on the Cursors page. Additionally, they have chosen to shift the Highlight Changed Settings button into a more polished hamburger menu layout.
To ensure a consistent audio experience, all global volume settings have been amalgamated into the System Settings Audio Volume page. As such, the Audio Volume widget no longer requires its own separate settings page, and initiating its 'configure' button will direct you straight to this location in System Settings.
To provide a better user experience, the configuration settings for touch-enabled devices like tablets and drawing boards have been advanced and extended.
5. Plasma's App Store – Discover: Plasma 5.27 introduces Discover, a brand-new app store and software manager with an improved homepage design featuring dynamic categories that reveal the most popular applications as well as new featured apps highlighting the best of KDE.
With Discover, searching has never been easier; if it fails to find a result for your query in the current category, then you can search all categories. Furthermore, Steam Deck gaming console owners are especially fortunate since they now have access to system updates straight from their desktops!
6. KRunner – Run Apps or Commands from the Desktop: KRunner, Plasma's go-to search and run the utility, started off as a way to launch apps or commands from the desktop. But over time, it has evolved into something more than that – now with full desktop searching capabilities, currency conversion rates, dictionary lookups, and calculator functions; plus, you can even get graphical representations of mathematical equations! All it takes is pressing Alt + Space on your keyboard for an instant start-up.
With Plasma 5.27, KRunner now allows you to know the current time in any location just by typing "time" followed by a space and either the name of a country, major city, or even its corresponding time zone code (e.g., UTC).
KRunner has become highly intelligent when it comes to displaying results. Gone are the days of irrelevant items appearing first; now, you'll see the most relevant result at the top every time.
Moreover, if what you're searching for isn't found on your device, KRunner will provide a web search instead! By using this advanced tool and all its features, finding whatever information or item you need becomes easier than ever before.
KRunner is not only a great powerhouse but incredibly user-friendly too! To access the dictionary definition of any word you want, all you have to do is type in "define" followed by a space and the specific word.
Then click on it for your convenience, as Plasma will swiftly copy it onto your clipboard – ready for pasting at any point! With KRunner's convenient features like this one, accessing precise definitions has never been more straightforward.
7. Multi-monitor Support: This release of the software provides immense improvements in its multi-monitor support—including a Display Configuration widget that's now included by default in the system tray menu, making it faster and easier to modify your screen layout.
8. Flatpak Permissions Settings: If you are an avid supporter of Flatpak apps, then your excitement will be through the roof to learn that KDE Plasma now has integrated permission settings in their System Settings app. This permits you to take complete control over all your Flatpak applications!
9. Panel, Tray, and Widgets: Plasma desktop widgets make using the system a breeze; they are continuously being enhanced with new features to meet an even wider range of needs. For instance, you can now view the Hebrew calendar in the Digital Clock widget's calendar view.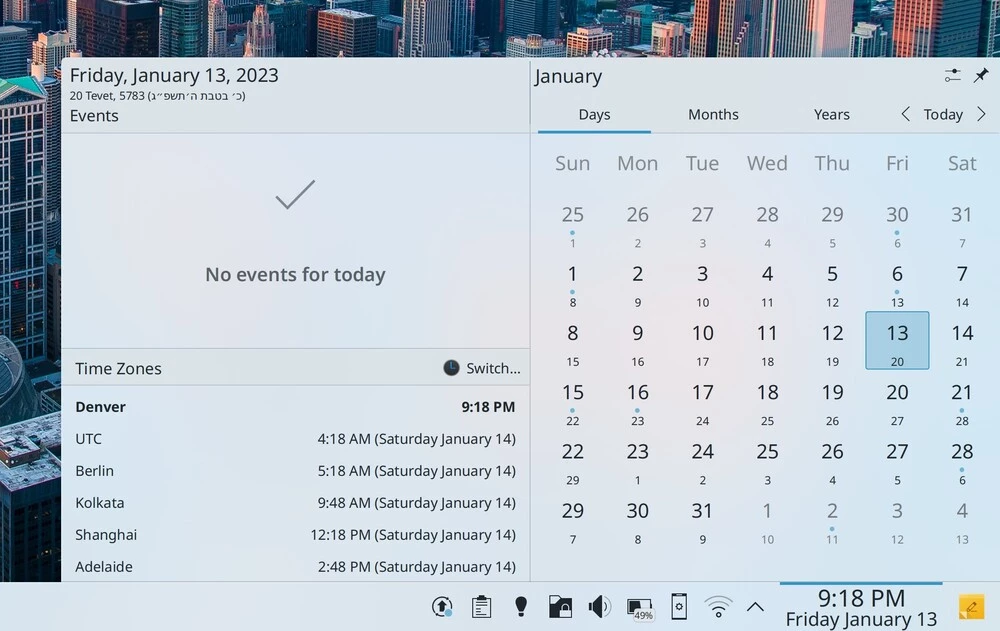 Additionally, Media Player is so user-friendly that it has become touch-sensitive: swipe up and down or left and right to adjust the volume level or playback position, respectively – how effortless!
The latest version of the Color Picker widget has been drastically improved, offering an incredible nine color circles to preview at once – a stark increase from its single-circle predecessor.

Additionally, you can simply drag and drop images onto the picker in order to identify their average hue. As an extra bonus feature, left-clicking any chosen color will automatically copy it directly into your clipboard!
With the Networks widget, setting up a VPN is simpler than ever before; it will automatically recognize any missing support packages and quickly install them so you can keep going. It's fast, easy, and efficient!
Monitoring your system is now simpler than ever with widgets – the Bluetooth widget will display the battery status of linked devices when you hover your cursor over it, and the System Monitor (widget or app) can detect power consumption for NVIDIA GPUs.
Additionally, hovering over a widget provides information on what middle-clicking or scrolling will do; using the Networks widget as an example, middle-click to put the device into airplane mode while scrolling up/down to change the audio volume via the Audio Volume widget.
10. Wayland Support: Despite the difficulty of transitioning Plasma to Wayland display server technology, it is beginning to pay dividends. With improved bug fixes and reliability enhancements in version 5.27, Plasma's support for Wayland opens up a world of possibilities when interacting with a Linux desktop!
Artists rejoice! Design software such as Krita is now capable of recognizing tilt and rotation on drawing tablets, ensuring an even more realistic painting experience. Plasma on Wayland boasts high-resolution scroll wheels for smoother navigation through lengthy windows. Create seamlessly with the help of these new developments in digital artistry tools!
Plasma on Wayland is also now supported by the Global Shortcuts portal, allowing applications to provide a consistent user interface for adjusting and modifying global shortcuts.
Moreover, it has become even easier for you to use your screens with Plasma on Wayland as it intelligently sets the optimal scale factors automatically. No more manual tweaking is needed from the user's end!
To get an in-depth look at all the changes, click here to view the complete Changelog.
KDE Plasma 5.27 is the concluding version of the Plasma 5 series before all resources shift to developing KDE Plasma 6, which will be available soon in 2023! In addition, this release features extended support for a couple of years and should already be accessible on some well-known Linux distributions like openSUSE Tumbleweed, Arch Linux, KDE neon, or Kubuntu within days.
With such great updates along with long-term stability and bug fixes provided by KDE Project's developers – it promises nothing but an unforgettable experience that you won't want to miss out on!