Linux Elementary OS is one of the beautiful MacOS like Linux out there for open source lovers. Elementary OS is based on Ubuntu Linux especially on Long Term Support Release – LTS. The primary focus of this Linux distro is to provide a simple, modern, easy to use that runs on a wide range of machines. If you are a big fan of Apple's MacOS like the interface or want to shift your system OS, I highly recommend you use this polished and stable Linux distro which will also help you to make a smooth transition from Windows OS or MacOS. It has its own customized Linux desktop environment called – "Pantheon Desktop" which makes Linux Elementary OS as stand apart from the crowd.
History
---
Initially, Linux Elementary OS used to be a set of themes and software created for Ubuntu. But later on, it became a full-fledged Linux distribution. It is an open source distro and based on Monolithic (Linux kernel). It has a unique self-made desktop environment – Pantheon. The first release came into light on 31 March 2011.
OS Development Cycle
---
Elementary OS follows Ubuntu LTS development cycle. This is why it's a considerably stable and robust Linux distro. When Ubuntu releases an LTS version, the Elementary OS developers take the codebase and integrates its in-house made software bundles and checked the system stability. After getting satisfaction, the new version of Linux Elementary OS released.
Download and Installation Process
---
The installation process is effortless and straightforward like the Ubuntu's one. It has an active community which helps the beginner and pros by offering them comprehensive online documentation. The development team follows three fundamental rules which are "concision," "avoid configuration" and "minimal documentation." This distro supports 64-bit x86 powered computers.
System Requirement
---
Elementary OS doesn't demand huge resources and high-end configuration. You can install it on any decent laptop or desktop, but it has a recommended system requirement to ensure optimum performance.
USB flash drive for making ISO as bootable
Recent Intel i3 or comparable dual-core 64-bit processor
4 GB of system memory (RAM)
Solid state drive (SSD) with 15 GB of free space
Internet access
1024×768 display
What's New in Elementary OS 5 Juno
---
This is the first things to know that what's new in the latest release. After a long time, the new version has come into the light with major updates and improvements. Let's have an overview look onto the latest features:
New night light setting
Newly redesigned sound setting
Scratch is renamed as Code which focuses on programming and coding
App center comes as a major update
New notification sound
A huge improvement and stability for look and appearance
New keyboard layout
New options for touchpad and mouse setting
New app for system cleaning
Desktop Environment: Pantheon
---
Pantheon Desktop is the default desktop environment in Linux Elementary OS which is polished and built from scratch using Vala and GTK3. The Elementry OS is good looking; the controls are crisp and focused, the icons are stylish, the theme and wallpapers are vibrant.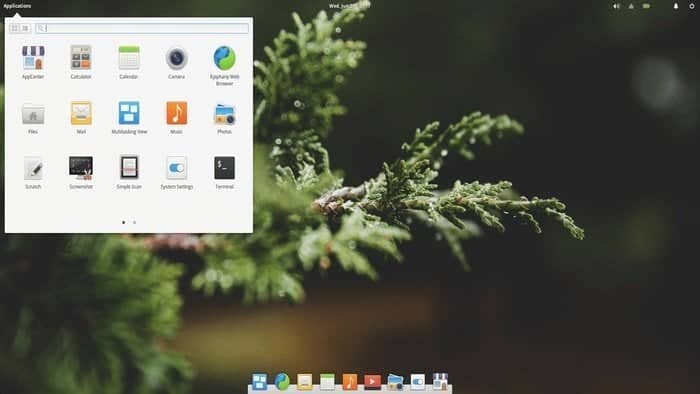 First Impression – Look and Feel
---
The interface is simplistic, inspired from material design, and easy to use for any users. It provides a smooth and consistent UI/UX. It comes with a set of custom-made applications which looks pretty, well integrated, and effortless to use for everyday Linux users. Besides the default applications, you are free to install any software either from the software center or third-party repository.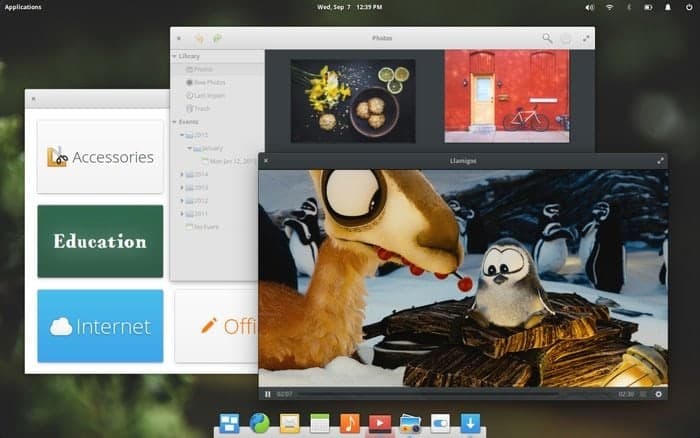 Elementary OS Software Center
---
Linux Elementary OS lets the user install required software from its AppCenter – inbuilt software store. Using AppCenter is straightforward, and users can view the apps in grid mode, sort it by categories or even do a search to find the specific one.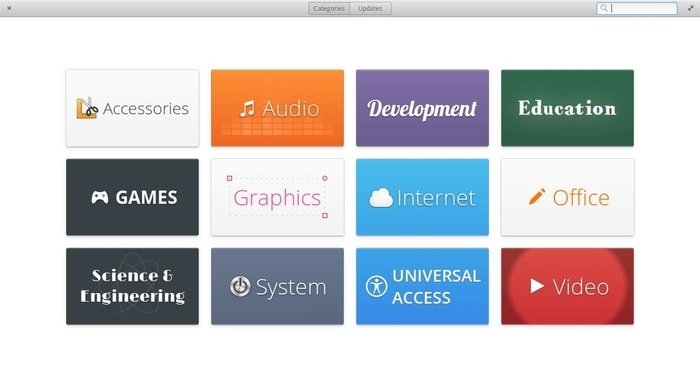 Pre-Installed Key Applications
---
Elementary OS comes with a set of open source and well-integrated apps like a nice looking dock system, Mail client, Epiphany web browser client, file manager, photo app, video app, calendar app, etc.
This Linux distro comes with an excellent web browser called Epiphany. Though it's a default browser in Gnome environments based on WebKit engine; still, Elementary OS has done an excellent job with the revamp of its design. Epiphany is not as robust as Google Chrome or Mozilla Firefox, but you can perform the essential web task.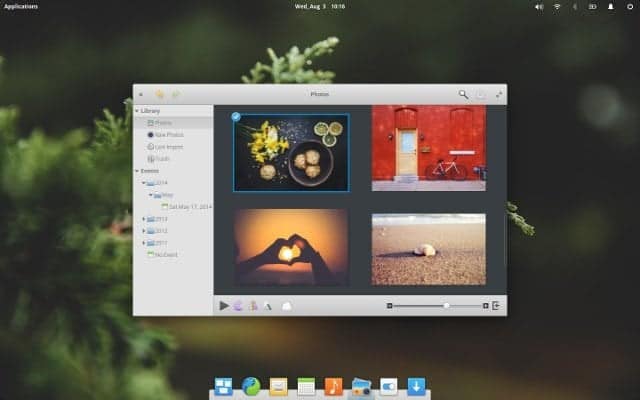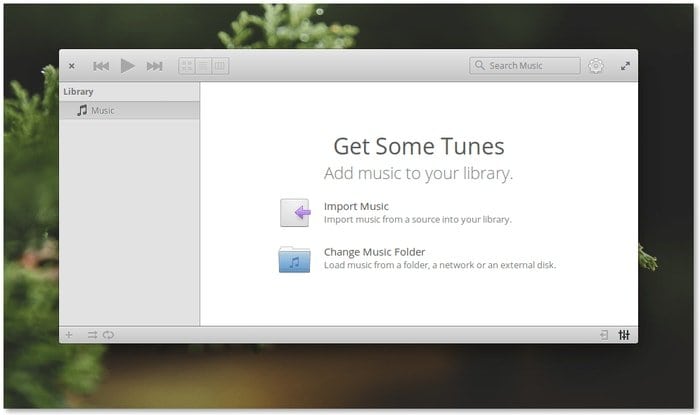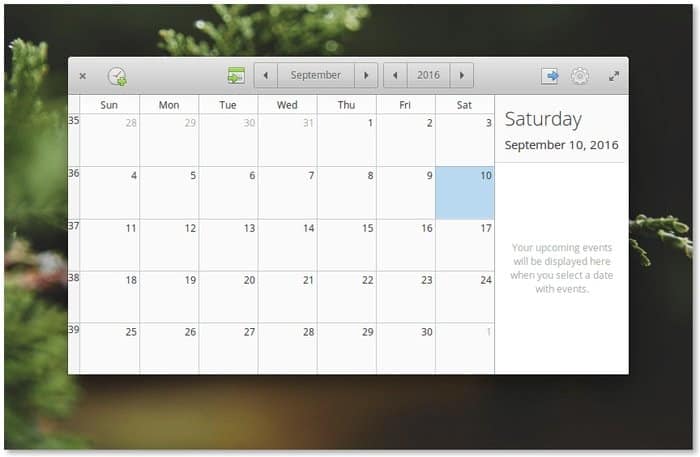 It comes pre-packed with an email client which is a fork of Geary mail client. The Elementary OS mail client works out of the box. Elementary OS is also shipped with a nice looking and useful calendar and schedule app. This Linux distro doesn't lack behind about media app support. It has a music and video app pre-installed.
MS Office Alternative or A Complete Office Suite
---
There is no official office productivity app in Elementary OS. You have to install it from AppCenter. Install LibreOffice is one of the best full-fledged office suites or else you can see this list of the best free office suite for Linux.
Photoshop Alternative or Image Editing Software
---
If you want to use Elementary OS as Windows OS alternative, then you might need Photoshop equivalent image editing software. Adobe Photoshop is not available in Linux distros, but GIMP is there for you as best Linux image editor.
Software Management
---
As Elementary OS is based on Ubuntu code, so all the software repositories and software management protocol that support Ubuntu also supports Elementary OS as well. You can install software from default AppCenter or using synaptic package manager or deb packages. Moreover, Linux Elementary OS is fully compatible with the Snap package manager, Flatpak repository, and even Ubuntu's PPA.
Final Thought
---
Despite being so beautiful and polished OS, it has some lackings also. Unlike many Linux distros, it provides fewer options to customize the system interface. There are limitations in customizing panel, dock, app menu, system's look and feel, etc.
Linux Elementary OS is a security and privacy-focused open source distro. You can install and use this distro without being traced by the government or criminal organizations. Even it can prevent adverts to pop up anywhere anytime.
If you want a Linux distro that can save you from online vulnerabilities and an excellent alternative to Windows or Mac, then I recommend you use Elementary OS. It allows the Linux users to have unique experiences.
As you have come to the last of my article on Linux Elementary OS review, you might want to give it a shot. If so, then follow this list of best things to do after installing Elementary OS and must follow "TO-DO" list for Ubuntu.
Is this article helpful? If you like my article, please share it on your social media. And don't forget to share your experience and suggestion in the comment box.