OBS Studio is a highly powerful and free open-source software for video recording and live streaming. It offers extensive essential features for any content creator, gamer, or professional, including custom transitions, an audio mixer, a scene preview editor, and support for multiple video sources.
With numerous plugins and extensions, OBS Studio provides limitless stream and recording customization options. Its intuitive interface and robust functionality make it the top choice for anyone who wants to take their content creation to the next level.
OBS Studio 30.0 Features
---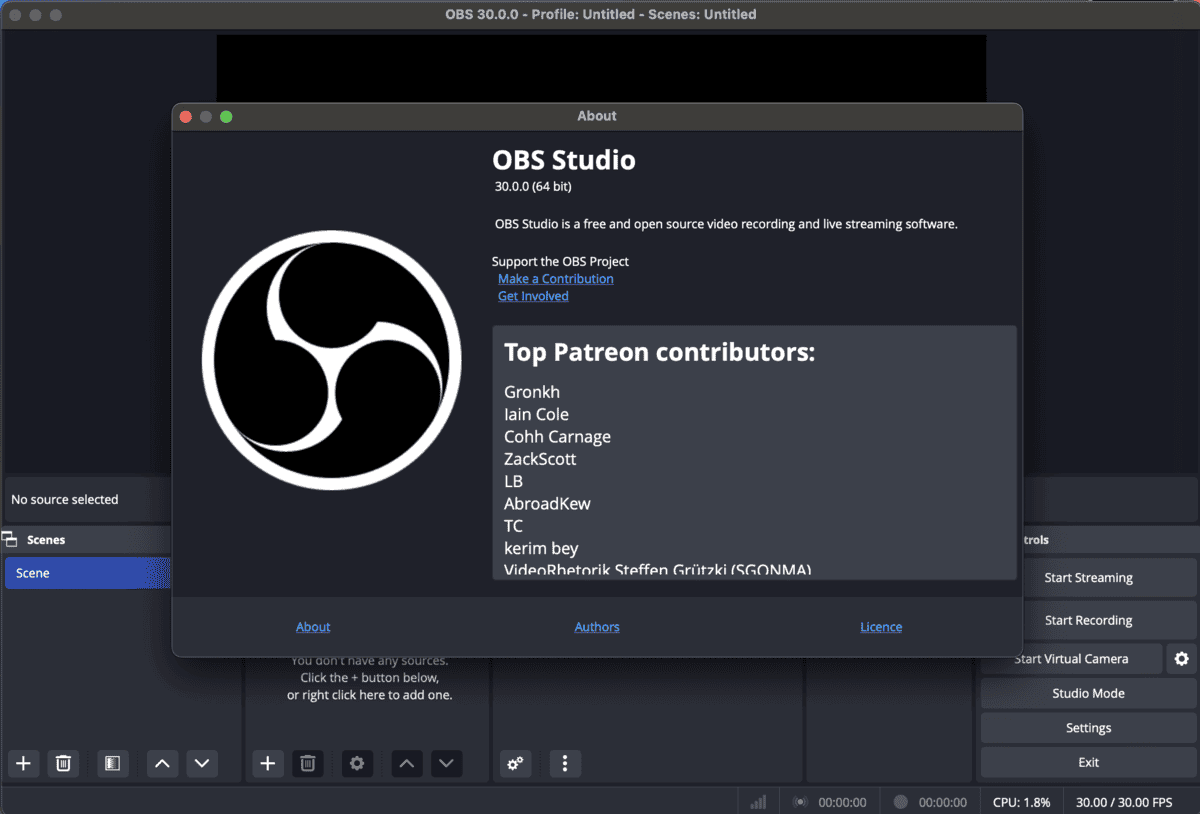 OBS Studio 30.0 introduces several new features to improve its functionality and user experience.
One of the most notable additions is the brand-new WHIP/WebRTC output, which replaces the FTL protocol. This new feature is set to be fully implemented in a release after May 2024. This new output allows users to enjoy faster and more reliable streams with improved stability and lower latency.
Recommendation: 15 Best Video Editing Software for Linux Systems
Another significant change is the redesigned status bar. The new status bar is more organized and better structured, providing users with the same information as before but in a more user-friendly format. The icons are now more representative and recognizable, making it easier for users to navigate and understand.
The new update also includes an option for Full-Height docks in the "Docks" menu. When enabled, a dock such as chat can take up the entire height of the OBS window.
Linux users can now take advantage of the added support for Intel QSV H264, HEVC, and AV1. Additionally, the new shader cache significantly improves OBS startup time on Windows.
MacOS users will appreciate the new ability to capture application audio. Meanwhile, the new "Safe Mode" allows users to run OBS without third-party plugins, scripting, and websockets. This mode is useful for troubleshooting purposes and can be easily activated via the "Help" menu.
The virtual camera on macOS has also received significant enhancements, now working seamlessly with all applications on macOS 13 and newer. Additionally, streaming to YouTube now includes a new YouTube Live Control Room Panel, providing users an improved streaming experience.
Decklink devices now have 10-bit capture support, and HDR playback support has been added for Decklink output. With the new option to hide OBS windows from macOS Screen Capture's "Display Capture," users can now enjoy a more private streaming experience.
OBS Studio 30.0 Changes
---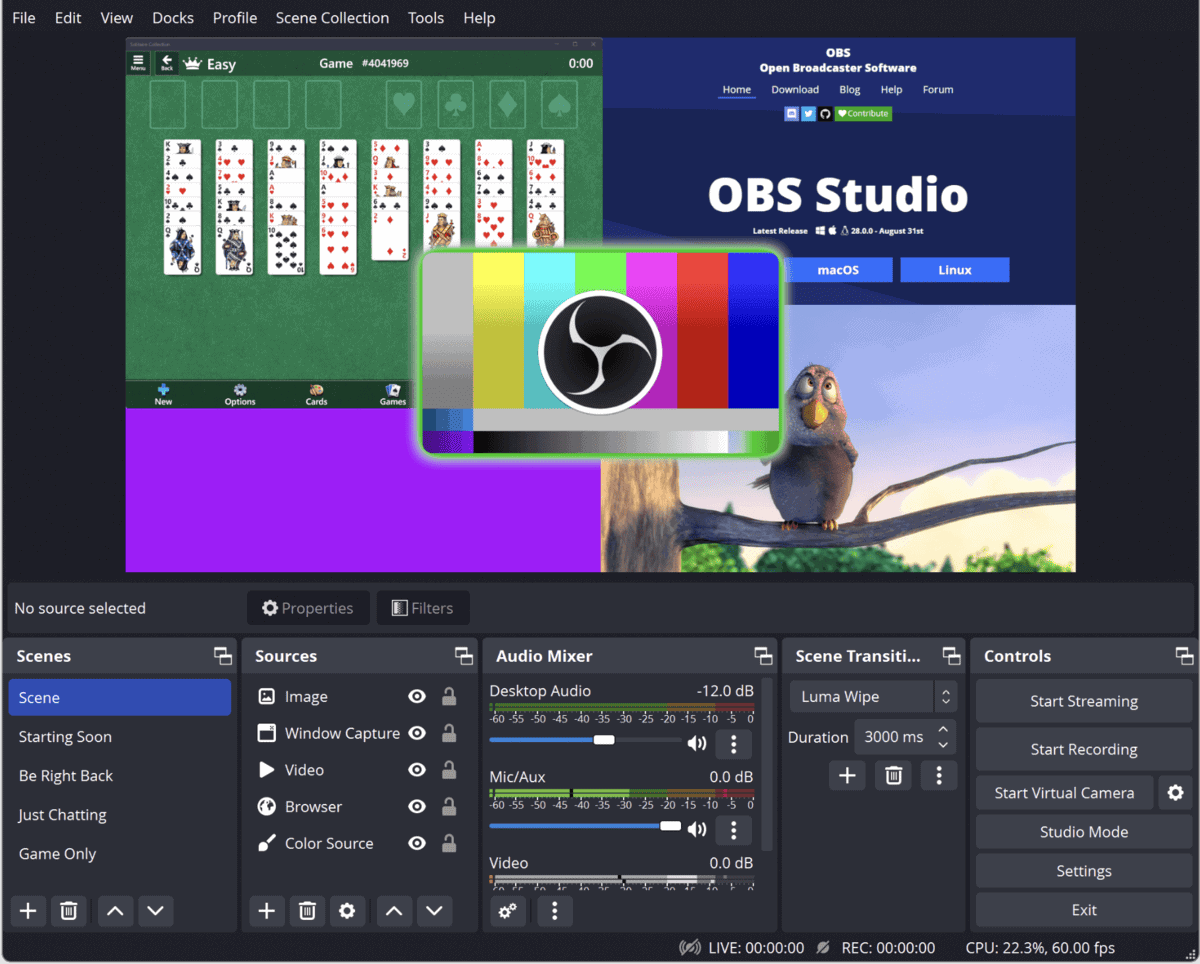 One of the major changes is the reordering of audio/video encoder dropdowns to be sorted by name, making it easier for users to select the appropriate encoder for their needs.
The list of applications in the macOS Screen Capture source has also been sorted by name, making it more convenient for users to find the application they need. Additionally, the software has been updated with newer versions of the NVIDIA Audio/Video Effects SDK, ensuring better performance and compatibility.
The software now provides more accurate logging for hardware-accelerated GPU Scheduling status and support, which is particularly useful for users who want to take full advantage of their hardware. Users can now arrange filters via drag and drop, which is a convenient feature that allows for greater customization and easy switching between filters.
Another helpful change is the clarification of the surround sound warning for YouTube 5.1 audio support. The software now warns users if Lenovo Vantage is installed, providing a more seamless experience.
OBS Studio has also added logging for scene changes in Studio Mode, which is useful for users who want to keep track of their workflow. The Video Capture Device sources on Windows have been changed not to show an audio device in the Audio Mixer if none is available/selected, while the software now supports grayscale MJPEG in V4L/DirectShow sources.
The "Text (FreeType 2)" source has an improved settings interface, and a button has been added to reactivate stopped capture in macOS Screen Capture. The software now retains a backup file (.bak) when removing scene collections, making it easier to reimport if needed.
OBS Studio has added IPv6 support for RTMP streaming output with IPv4 fallback, while the minimum output resolution has been increased to 32×32 to prevent certain encoder failure scenarios. Additionally, the software now supports dynamic bitrate for AMF encoders, and the "Paste Filters" option has been enabled after copying from scenes or mixer.
The D3D9 code has been removed from the QSV encoder plugin, and the QSV plugin settings new to Beta 1 now use translatable strings. Finally, the software has exposed shader creation errors and changed v4l2 sources always to use linear alpha blending.
OBS Studio 30.0 Bug Fixes
---
The update includes a number of bug fixes that improve the overall performance and functionality of the software.
One of the major fixes in this update is for crashes that occurred when using OBS. The update has resolved several issues related to crashes, such as when using Touch Portal to control OBS, selecting a window in PipeWire capture when one is already selected, and rapidly changing scenes.
Another significant fix in this update is for the hardware encoders that were not showing up as options on capable GPUs. This was a major issue for users who rely on hardware encoders for their live streaming and recording needs. With this fix, users can now use hardware encoders without any issues.
The update has also removed the legacy AMD encoder plugin, which was causing some problems for users. Users upgrading from an older OBS version will continue to be able to use the old plugin. The update has also fixed a bug that caused lossless recording not to work if fragmented MP4/MOV was selected.
In addition, the update has improved the video quality for the FFmpeg VAAPI AMD encoder, which is great news for those who use this encoder. The update has also fixed an issue that caused the Auto-Configuration Wizard not to save YouTube stream key and resolved a bug where the "Show fullscreen and hidden windows/applications" option in macOS Screen Capture did not apply immediately.
This is not all; there are numerous changes. For the complete list, please visit the official release page.
Install OBS Studio 30.0 in Ubuntu 22.04 and Ubuntu 23.04/23.10
---
If you want to install OBS Studio 30.0, you can use its official PPA. Use the command below to install it:
sudo add-apt-repository ppa:obsproject/obs-studio
sudo apt update
sudo apt install ffmpeg obs-studio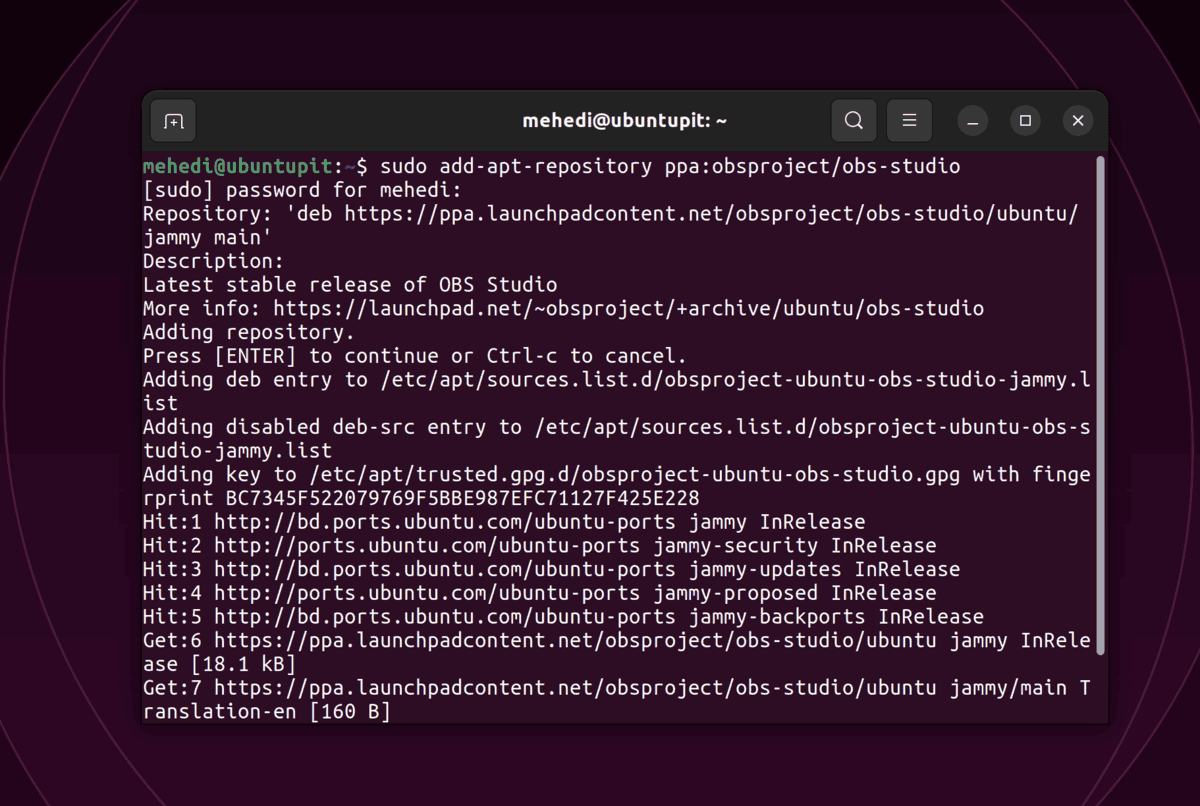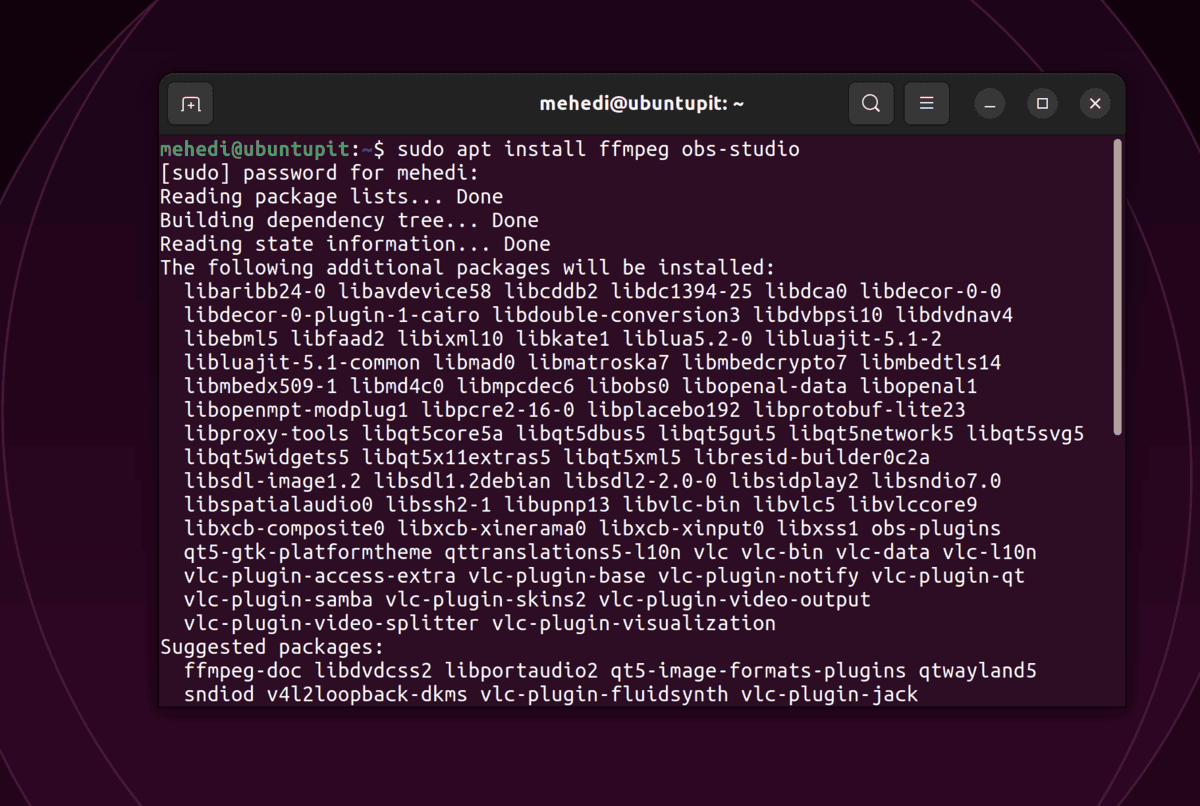 In case you have an older version of Ubuntu Linux, here is how you can install OBS Studio.
If you wish to revert the software to the system's base version, execute the following command:
sudo apt install ppa-purge && sudo ppa-purge ppa:obsproject/obs-studio
If you want to uninstall the app, use the following command:
sudo add-apt-repository --remove ppa:obsproject/obs-studio
sudo apt remove --autoremove obs-studio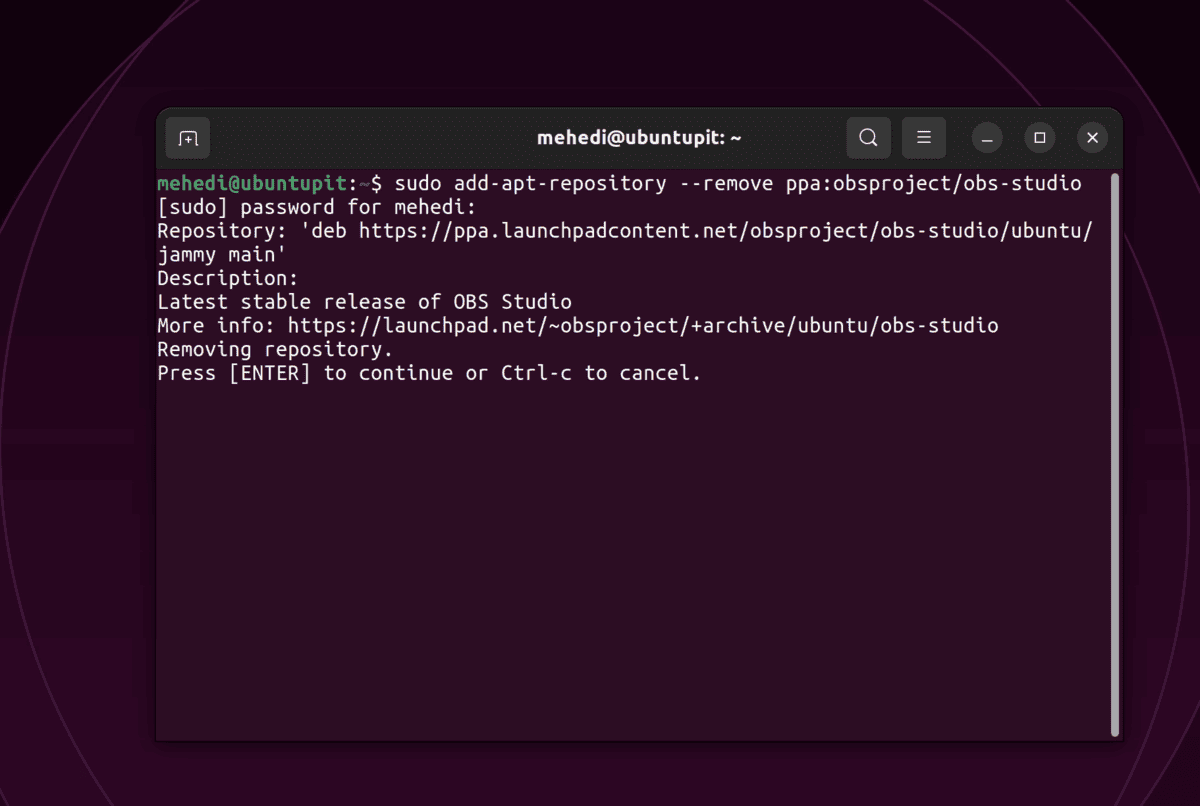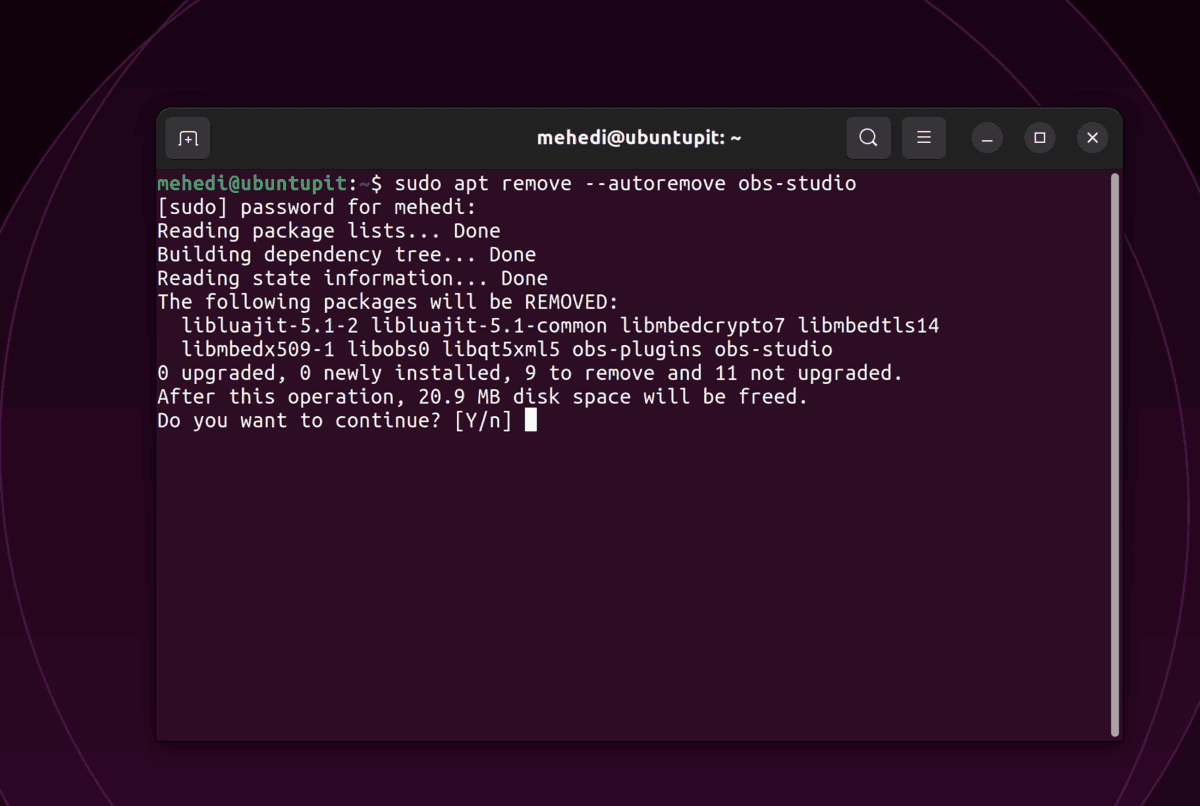 OBS Studio is also available on flathub
Or else, you can directly download the software from the official link.