Tokodon 23.02.0 has been released, and it is an exciting update for Linux users who use Mastodon, the popular open-source social network.
Tokodon is a Mastodon client designed specifically for Linux users, offering an easy-to-use interface and seamless integration with the Mastodon platform. With the latest release, Tokodon 23.02.0, comes with a range of new features and improvements that will enhance the Mastodon experience for users.
Tokodon 23.02.0 New Post Composer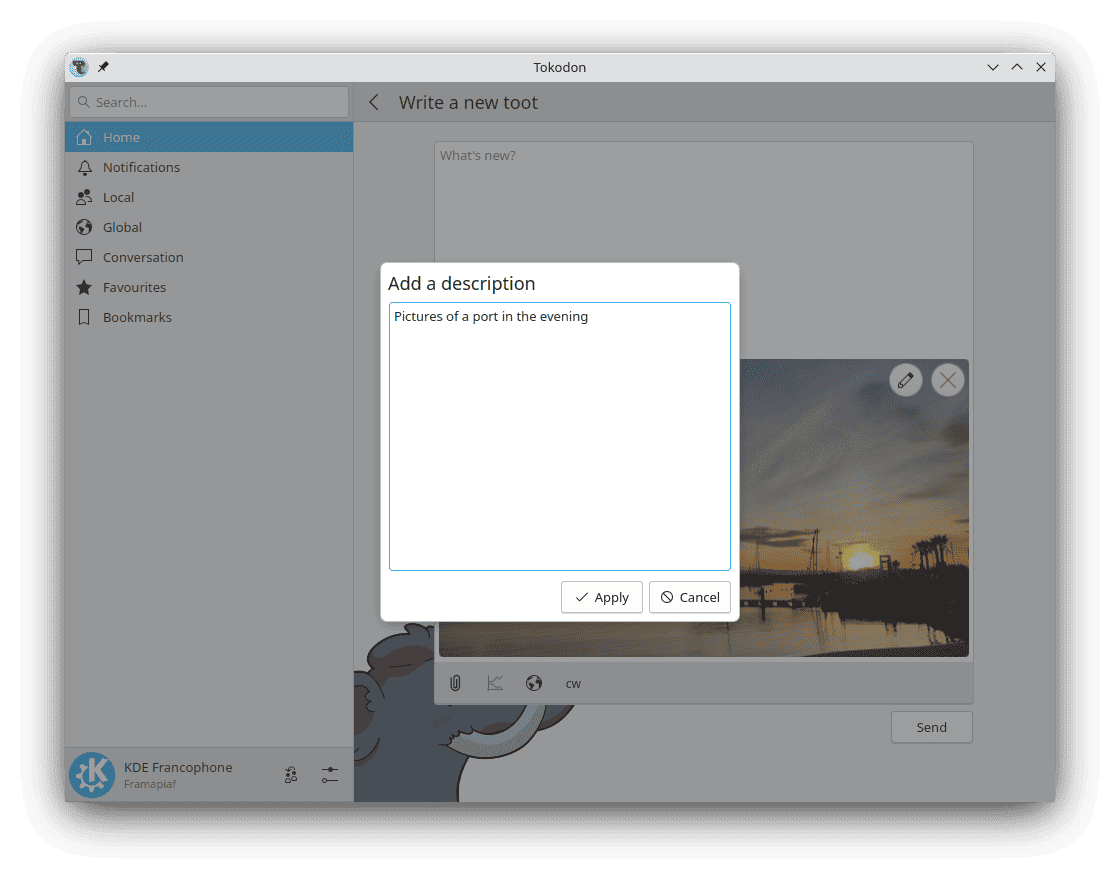 In the latest version of Tokodon (23.02.0), there is a noticeable and notable improvement to the post composer—alt descriptions can now be entered for images and videos that are sent through the app. Taking accessibility into consideration, some Mastodon instances recommend/require this feature by default, demonstrating its importance.
Progress Bar for Media Uploads
Tokodon's composer keeps users updated on the progress of their media uploads, so they can be sure that everything is running correctly. If a post fails to send out, Tokodon will provide an explanatory error message and offer helpful advice to retry if necessary.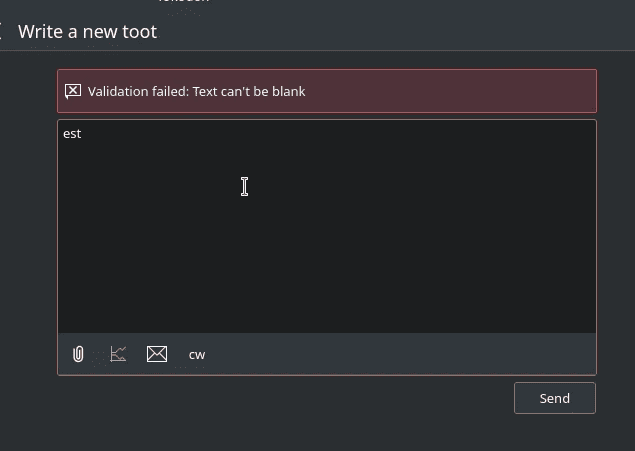 Tokodon Respects Default Sensibility and Visibility Preferences
Tokodon is such an appreciated addition with its useful post-editing capabilities. Plus, one of the most advantageous changes – that's worth acknowledging – is how users' default visibility preferences are honored when creating and replying to posts. For example, if a user replies to an unlisted post in Tokodon, it will remain unlisted; likewise, a private message remains personal as well! This alteration definitely adds value to using this platform.
Timeline Improvements
Tokodon 23.02 has introduced a plethora of timeline improvements, as developer Carl Schwan refactored the code to streamline loading times. On top of that, videos and GIF previews are now supported on the timeline with appropriate aspect ratios for various image sizes!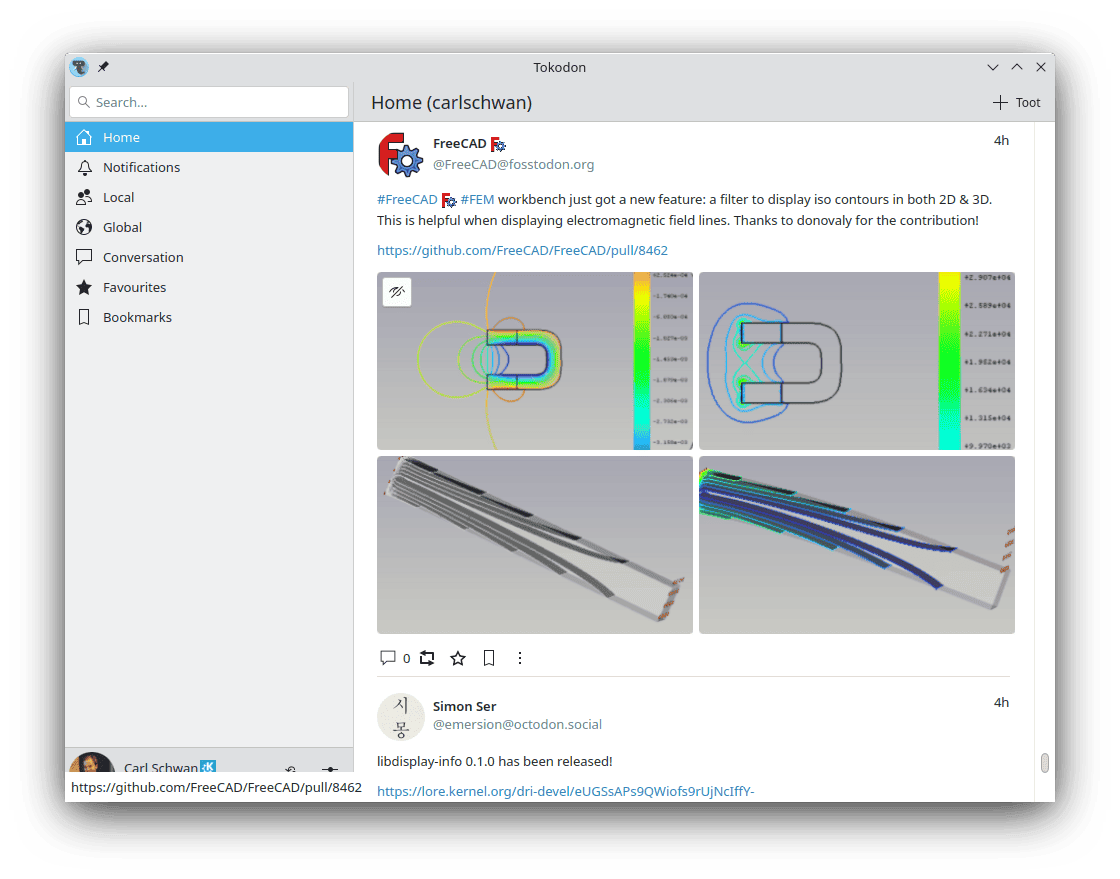 An Overflow Menu for Posts
Each post has an overflow menu with additional functions, such as the ability to "copy link to post", bookmark, and edit. Additionally, Tokodon makes it easy for users to quickly access their bookmarked and favorite posts with its user-friendly sidebar.
Search Capabilities
Tokodon 23.02 has been totally reinvented, boasting a sleek new design and hashtag support for the search process.
Plasma Color Scheme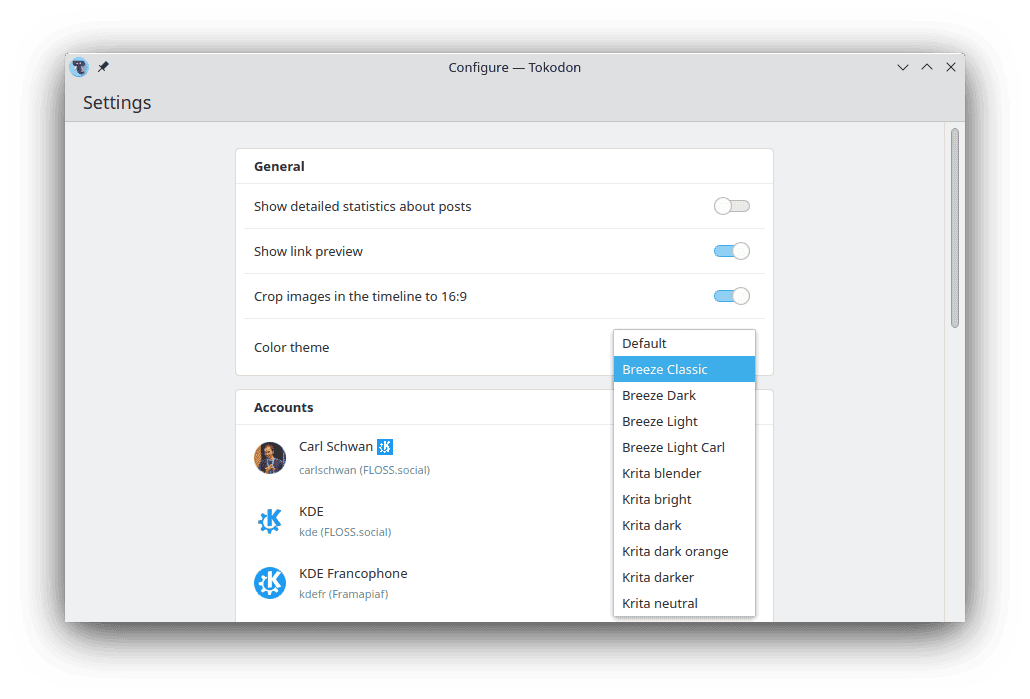 Tokodon now allows users to customize its color scheme independently from the Plasma color scheme. User can also conveniently edit their profile directly on the account page! Moreover, the user's avatar in their profile utilizes Kirigami Avatars for a unified look and feel. Additionally, selectable text fields will always behave consistently now.
Finally, Insights!
So at a glance, these are the features that now allow users to do more than ever before. Enter alternative images for media uploads, view GIF and video previews in the timeline, search hashtags, and change app color scheme, and editor profile information – these features, plus many others, will help make your social media experience smoother than ever! Additionally, you can even track your media upload progress with an indication feature as well as edit posts that were created by yourself or someone else using the overflow menu option.
Tokodon is free and accessible to everyone, so why not give it a try? It's an open source software that can be effortlessly obtained from Flathub. Also, this package will work with the majority of Linux distributions out there today. Get started now and experience the power of Tokodon for yourself!