Online Linux Terminal or emulator is the best way to practice or learn Linux commands without having a full-fledged Linux subsystem. There are no online Linux Terminals and bash scripts available in the market which let you run various shells, scripts, and commands to test or analyze the results. If you have a system other than Linux, then to learn about the core of any system or test scripts, analyze compilation time, etc., online Linux Terminal and Bash Script editors will help you out from this situation.
Online Linux Terminal Emulators and Bash Editors
---
You might be confused to choose the best one as per your requirement. So which one should you use as best Linux terminal emulator? To help you get the best one, I have made a compilation list of online Linux terminal and bash editor for learning or running a quick test using your desired Linux commands and scripts.
1. Codeanywhere
---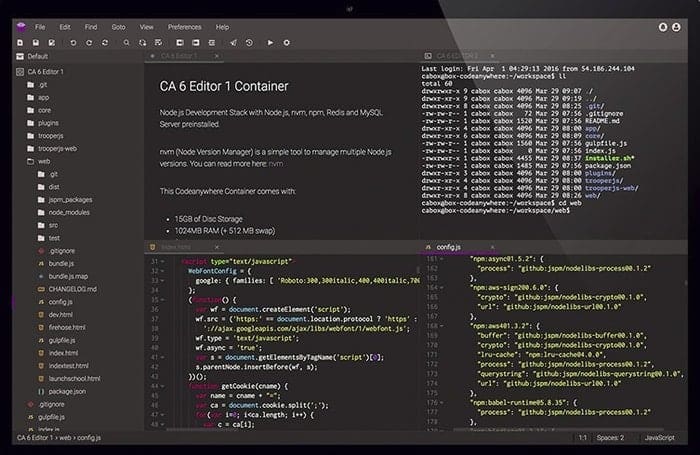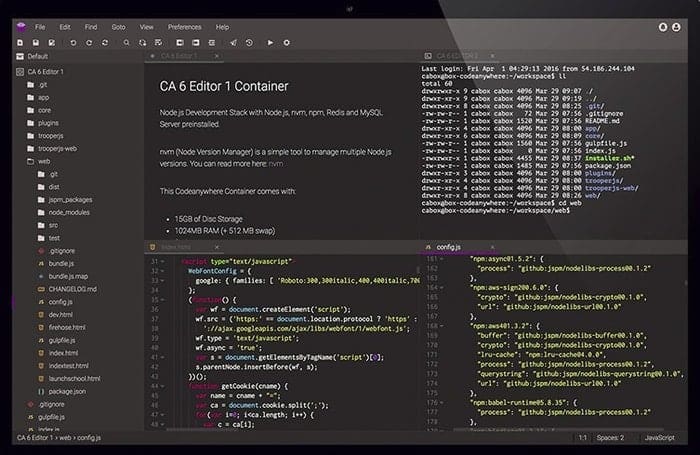 Though Codeanywhere is a paid service, still it provides a free plan with a Linux virtual machine where you can set up a container with an OS at your choice. If you choose Linux, then you will have a Linux console on your lap for learning commands. Moreover, If you are keen to get an online integrated cross-platform cloud IDEs, then Codeanywhere will be the best place to start with.
2. Learn Shell
---

Like Webminal – Online Linux/bash terminal, Learnshell is an online integrated interactive environment where you can learn shell programming and code editing at the same time with Unix/Linux shell interpreters.
3. Rextester
---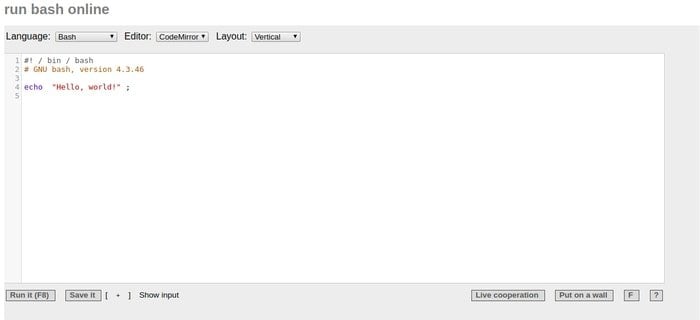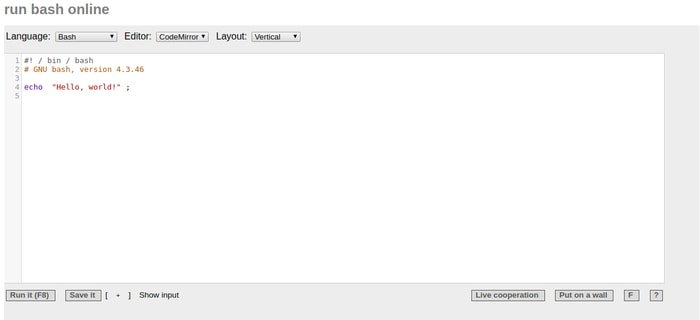 Rextester is a simple, lightweight and reliable online bash editor and compiler. It also supports other major programming languages.
4. Linux Containers
---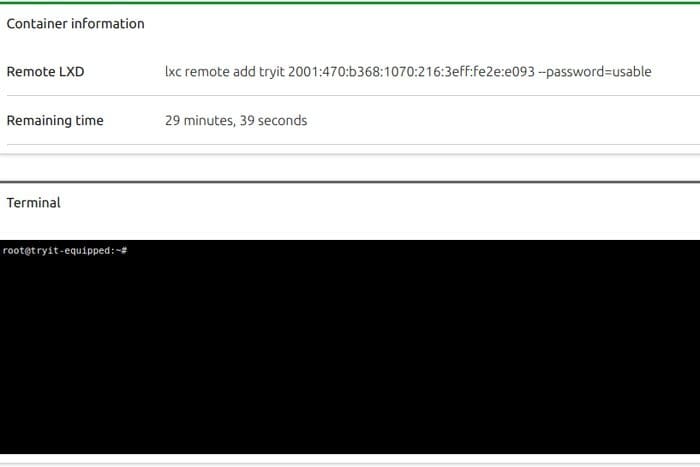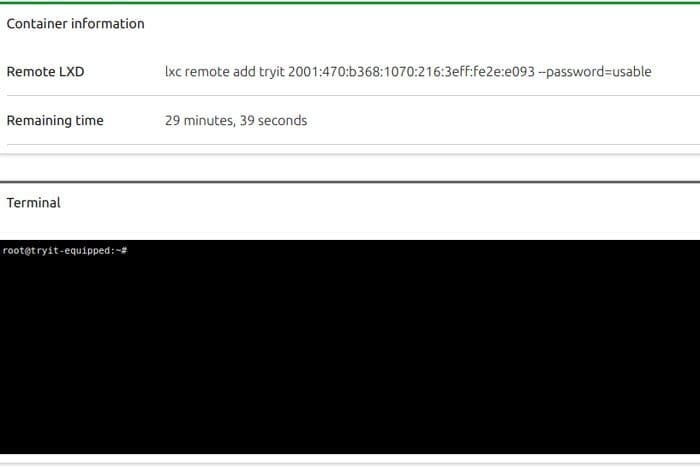 Linux Containers project is backed by Canonical and considered as one of the best online Linux Terminal which provides a demo server for 30 minutes to learn the basic Linux commands.
5. JS/UIX
---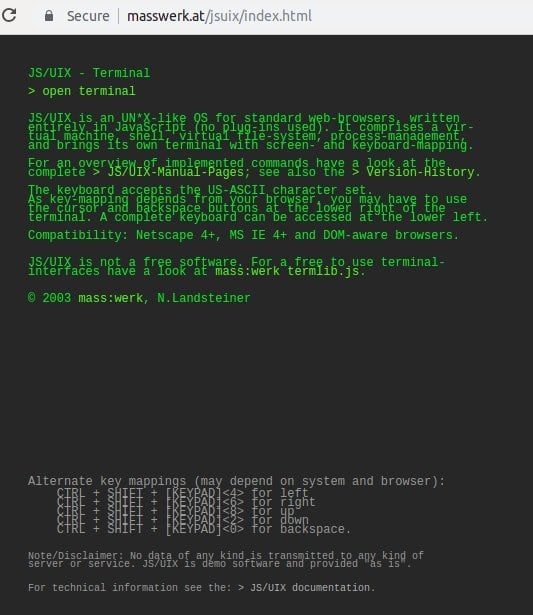 JS/UIX is an online Linux terminal and a virtual machine which provides an environment where you can learn and test various Linux commands, shell scripts, and file system management. It's entirely written in JavaScript without any plug-ins supports.
6. Webminal – Best for Beginners
---


Webminal is an impressive online Linux Terminal when it comes to teaching the Linux commands and scripts to beginners online. It's a free GNU/Linux Online Terminal learning platform about practicing commands, creates and access MySQL tables, writing shell and bash scripts, learning Python programming, and performing root user tasks.
7. Copy.sh – Fast and Reliable Online Terminal
---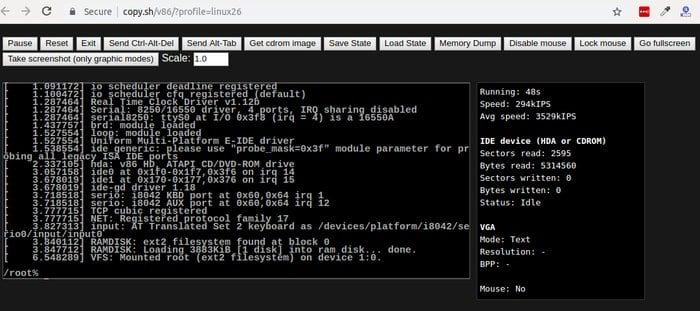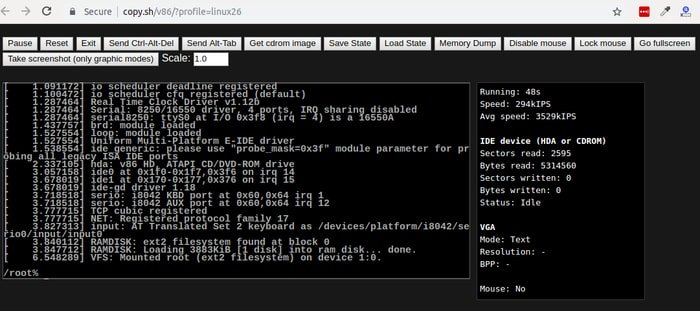 Copy.sh is another best online Linux terminal available out there for testing and practicing Linux or Unix based commands. It's lightweight, blazing-fast, and reliable which is actively maintained in GitHub. Copy.sh supports various platform including Archlinux, FreeDOS, KolibriOS, Windows 98, Windows 1.0, ReactOS etc.
8. CB.VU
---


CB.VU is a Unix-like virtual shell command line interface where you just try out the Linux commands and get the output. Here's nothing fancy or bloated with some extra features that you don't require at all.
9. ShellCheck – A Shell Script Static Analysis Tool
---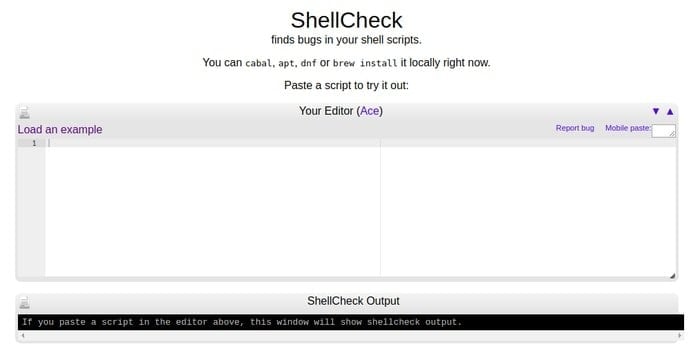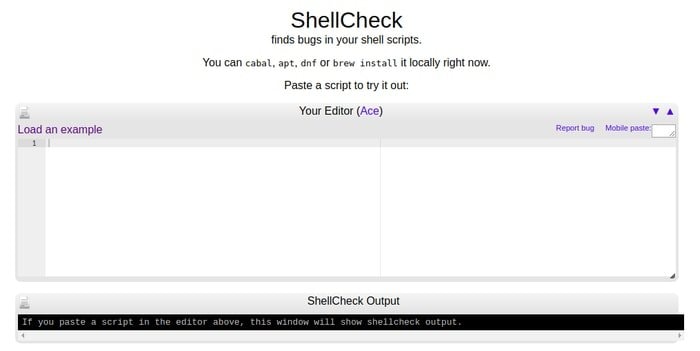 ShellCheck is an amazing online bash tool that gives warnings and suggestions for bash/sh shell scripts. It's well maintained on GitHub and supports all the major OS platform including Debian, Arch Linux, Gentoo, FreeBSD, OS X, Windows, etc.
10. Paiza.io
---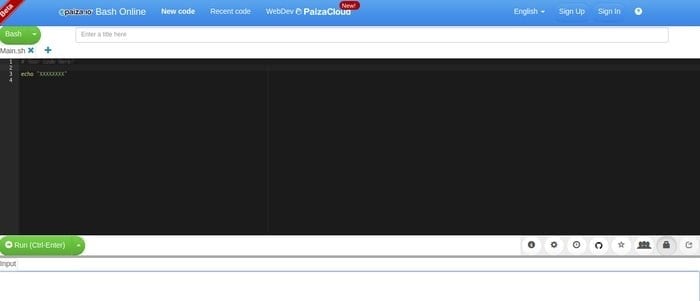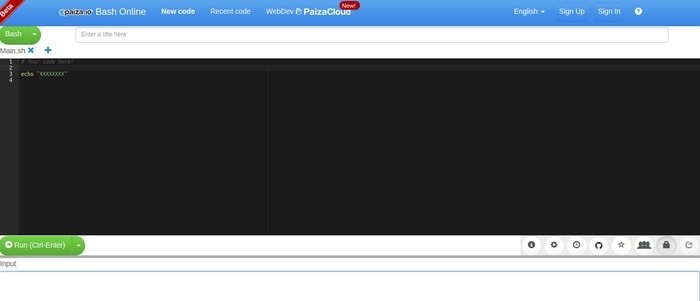 Paiza.io is a useful website where you can practice various coding and scripting languages including bash or shell scripting for free of coast. It also offers an online Terminal on its cloud platform.
11. LinuxZoo –  Ultimate Online Emulator
---
LinuxZoo is an interesting and resourceful online terminal emulator where you can learn and practice basic Linux commands. It's a python-based online Linux terminal primarily targets novice learners. In addition to practicing Linux basic commands, you can also experiment and check performance rich games in LinuxZoo.
12. JDOODLE – Online Bash Editor
---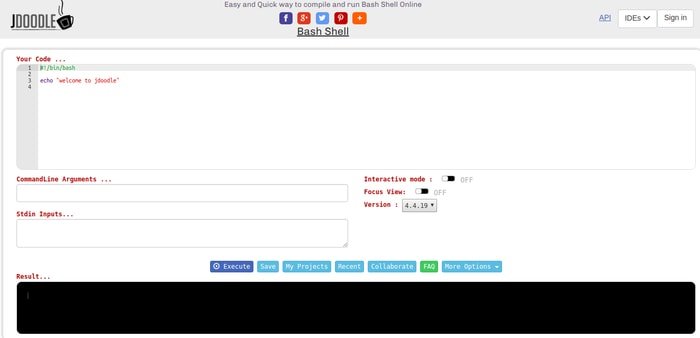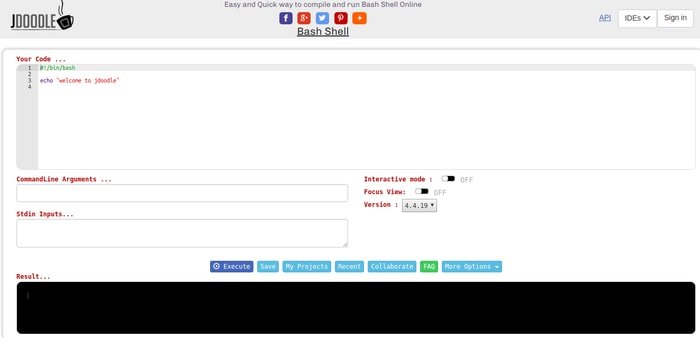 JDOODLE is yet another online cross-platform cloud-based IDEs collection hub. If you are searching an online bash editor, then you must try JDOODLE online bash editor. You can execute various bash scripts and get the output instantly.
13. Tutorialspoint – All in One Coding Platform
---


If you are looking for any online terminal or Unix terminal online, then you might be heard about Tutorialpoint coding website. It's a one in all coding and commands online practice hub where you get all the resource on about 75+ programming languages and more. You get Unix terminal online, Ipython terminal online, MySQL terminal online, online Linux Terminal, online LaTeX editor and whatnot, you named it.
14. JSLinux – Complete Online Linux Emulator
---


JSLinux is one of the best online Linux terminal combo packages which offer you both a console-based or GUI based complete Linux online system. It's written in the JavaScript programming language. If I say it's an online Linux Terminal then I may go wrong because it has to offer more, it's a complete Linux emulator where you can upload files on the virtual system and practice Linux commands. JSLinux uses Buildroot in its core which ultimately helps you to make a complete Linux system for any embedded devices.
15. Gnome Terminal on rollApp
---
As you know that Gnome Terminal is a well-integrated terminal emulator for the Gnome desktop environment. Still, it has a cloud version on rollApp where you can practice Unix shell and Linux commands.
The Last Word
---
Is this article helpful? Though this content deals with virtual terminal Linux, I have also included some useful online bash editors for fulfilling your learning enthusiast mind. To get the best one, feel free to use some of them and see which one fits as per the requirements.
Note: All the online Terminal emulators described here support all modern web browsers including Google Chrome, Mozilla Firefox, Opera, etc.
I might have missed any of the best online Linux Terminal, or online bash or shell editor which you may think should be listed here. Let me know in the comment below. Thanks for visiting UbuntuPIT.com. Hope to see you again.