The Librem 5 is a privacy-focused Linux smartphone developed by Purism, a company that focuses on creating hardware and software that respects users' privacy and security. It runs on PureOS, a free and open-source operating system that's based on Linux. One of the unique features of the Librem 5 is its focus on privacy and security, which is reflected in its hardware and software design.
Introducing the Lapdock: a laptop shell combined with an all-in-one docking station! Attaching your Librem 5 to an external USB-C hub while simultaneously connecting it to a power supply, mouse, keyboard, and monitor is one way of utilizing this device. To take that concept even further – imagine transforming those components into one slimmed-down laptop form factor frame, then adding battery life for extra portability, and you have yourself the perfect lapdock solution.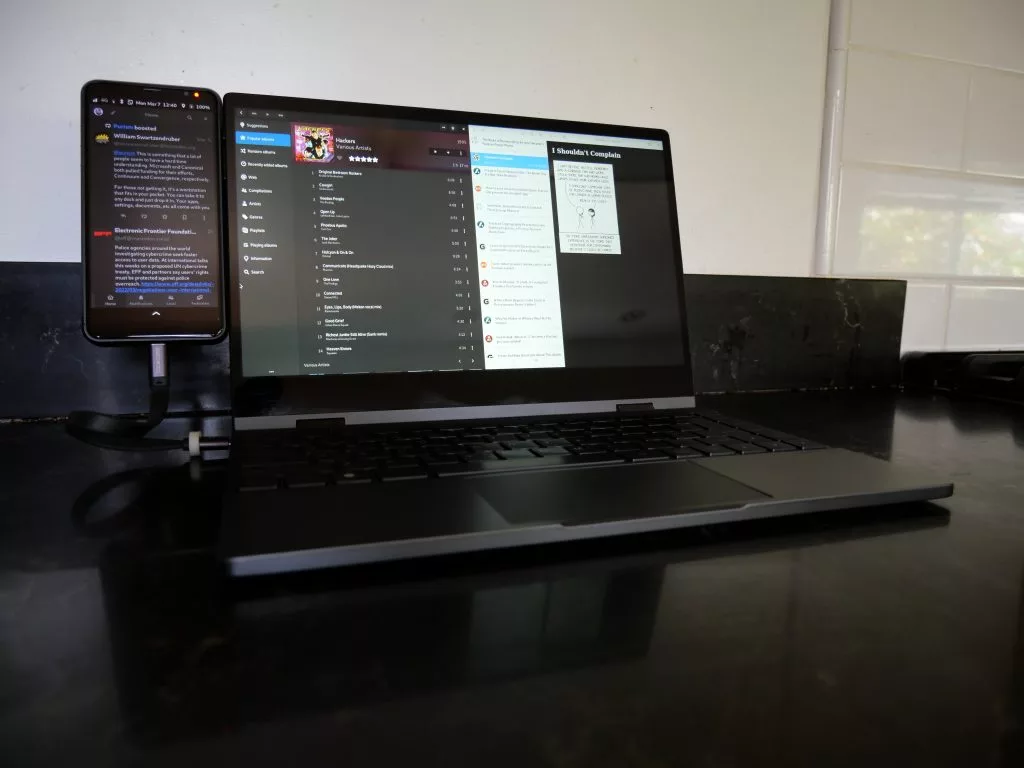 Although a lapdock might appear similar to an ordinary laptop, its internals tells another story. It does not come with any CPU, RAM, or storage of its own and instead relies on the Librem 5 for functioning as a computer. Once docked into this machine, the Librem 5's display is extended automatically onto the lapdock screen along with access to mouse and keyboard functions.
All applications run through PureOS – making it feel like you're operating on a traditional laptop! Additionally, link up your devices together to charge both simultaneously so that your Librem can last longer than ever before!
Lapdock Kit: The Lapdock Kit comes with a Nexdock 360 lapdock and two additional crucial accessories: the magnetic mount and a shorter USB-C cable. The Nexdock 360 has an ultra-sharp 1920×1080 touchscreen that rotates full circle to switch into tablet mode.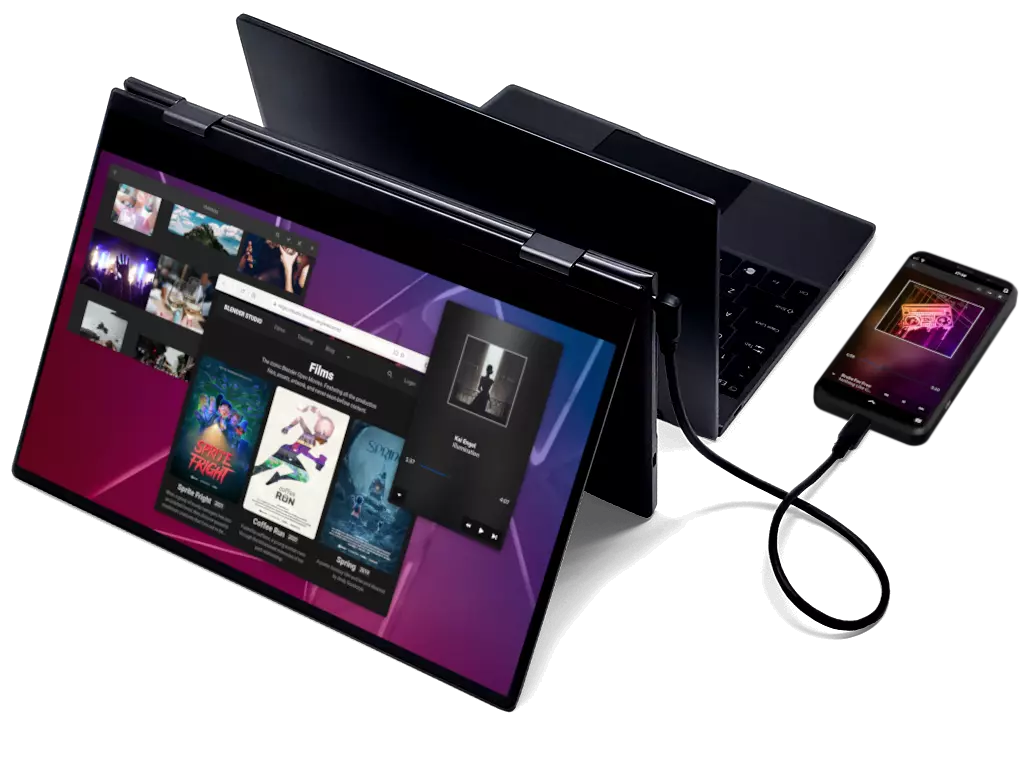 You can then use this combination on your lap in laptop form or tablet version thanks to the strong magnetic mount included in the kit. What's more, you won't be restrained by cables when docked as it includes a compact yet practical length of USB-C cable!
With the Lapdock kit, you can take advantage of the full capabilities of the Librem 5, including its ability to run desktop applications. You can use the Lapdock kit to browse the web, create documents, and perform other tasks that you would normally do on a laptop. The Lapdock kit is also very portable, which means you can take it with you wherever you go and use it on the go.
The Lapdock Kit is the ultimate tool for unlocking the optimal performance of your Librem 5 and Nexdock 360, all with expert support from Purism's experienced team. With this device, you can fit every one of your apps and information into a gadget that comfortably fits in your pocket–and it transitions between phone to laptop at any moment! Whether you're typing out an email, editing images, or streaming movies on a larger display screen, Lapdock Kit has got you covered.
With a Lapdock Kit and Librem 5, you can access thousands of traditional Linux applications such as LibreOffice Suite, GIMP, Wireshark, Gqrx, and so much more – all without the need to squint at your phone's small screen!
The extra display space provided by the Lapdock allows for greater convenience while keeping things mobile. You may never have to pack another laptop in your suitcase again when traveling with this incredible combination.
Get a closer look at the Lapdock Kit's hardware specs, enabling you to transform your Librem 5 into a laptop in an instant!
With a 13.3-inch touch screen, boasting 1920×1080 resolution, and an optimum 16:9 aspect ratio, the Lapdock is sure to provide you with an unforgettable multimedia experience!
The Lapdock boasts impressive measurements of 328mm in width, 262mm in depth, and 15mm in height.
Weighing in at 1.25 kg, the Lapdock is conveniently lightweight for portability and storage.
Impressively, the Lapdock contains two high-powered 1W speakers for an optimal audio experience.
With its full-sized keyboard and multi-touch trackpad, the Lapdock offers a user experience that can't be beaten.
Powered by a hefty 6800mAh battery, the Lapdock offers reliable energy to keep you going.
The Lapdock boasts a total of three ports that provide plenty of connectivity options: one USB-C 3.0 port, one USB-C 3.1 port with DisplayPort and power delivery, as well as an HDMI micro connection for all your media needs.
Aside from the regular ports, The Lapdock has an additional audio jack and microSD card slot for extended use.