Blockchain technology has become one of the most trending topics nowadays when we depend on data in every aspect of our life. Starting from Google, YouTube, Facebook, or any application you are currently using asks for your data before rendering the expected advantages. Blockchain technology can make the data collection process simple and store data most securely.
As a result, becoming a blockchain specialist can be a very good option to start your career.  You should also keep an eye on the best blockchain projects to better understand the fundamental concepts. It will increase your skill, and you will be able to generate new ideas. You can also start working on practical projects to explore different opportunities.
What is Blockchain?
---
Before discussing blockchain projects, it is important to know about the technology itself.  It came to light when we started talking about cryptocurrency. Being the underlying network required for cryptocurrency transactions, its primary goal was storing data securely. You can also consider it an open-source database where you get a linked list structure with an incorporated hash.
So if you change data in any block, it will change the associated hash, making it impossible to manipulate data as the next block will not point to it or any other block. Besides, it uses a P2P system, so without changing the information in the whole chain, it is impossible to tamper, which makes it the most secure.  
Why Should You Follow Blockchain Projects?
---
Blockchain technology has become so important because even if you take a look at the leaders of the tech industry, you will easily notice how data has played the most crucial role in their achievement. Blockchain can power up your business while you can also experience greater efficiency, increased productivity, and better security as well.
It is obvious that sooner or later, these projects will take over the place of existing solutions. So you should definitely remain updated on the best blockchain projects to remain ahead of the competition. Keep reading this article, and I believe you will be able to answer all the questions you have on your mind related to blockchain.
Top Blockchain Projects
---
Generating new ideas and making prototypes are important to enhance your understanding as well as technical skills. It can open up new possibilities for society and help you to establish a position. This article will best suit you if you are keen to dive deep into blockchain technology and its applications. Try to extract insights from these blockchain projects and get a headstart on your journey with blockchain. 
1. Uhive
---
As people of today's day and age, we cannot even think of a day without using social media platforms. They help us to remain connected with our friends and work online. Uhive is a new kind of social media that lets you take full control of what you share and want to see or listen to in your space.
Comparing the best blockchain projects available out there, Uhive can proudly claim its spot on this list. Uhive can bring a revolution in social media interactions and create new business opportunities.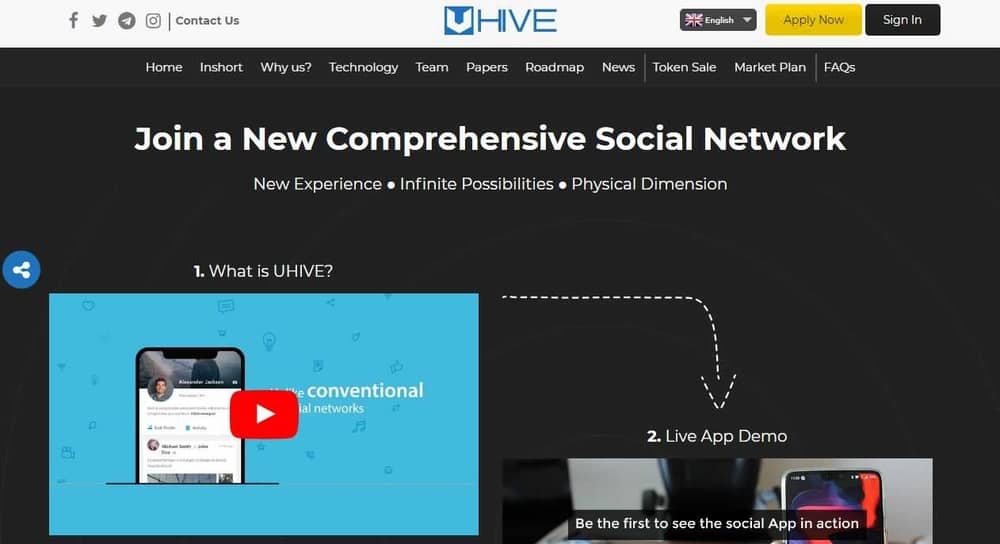 Important Features
Currently in beta mode but has already received attention from a vast community.

If you are concerned about your security on social media platforms, then you can try using Uhive.

With more than 2 million posts already, Uhive offers to value its users when they are spending on the App.

Use can get rewards with Uhive tokens and start earning from this digital platform.

Keeping blockchain technology at the core, the developers have implemented interest-based user selection to restrict the contents you don't like.

Share something like stories, posts, or anything anonymously and Uhive will not track or log your data; rather, your data will be removed forever. 
2. Solve.care
---
Blockchain can make our life easy by making the data connection and storing process really simple yet efficient. We can depend on the robust performance of blockchain technology. It can facilitate any industry with added advantages. Solve.care uses blockchain in healthcare to solve the problem of the ever-growing cost of healthcare facilities. It tries to improve the existing system's performance and certainly can contribute to a stable healthcare system.
Important Features
Starting from insurance companies, government agencies, to clinical organizations can take help from this project.

Designed to improve how healthcare is accessed, delivered, or managed and enable administrators to deliver better services.

Solve the problem of the increasing cost as you will only pay for accurate and on-time results.

Offers personalized healthcare administrator Care.wallet. You can also pay with the Care.Соіn to the care providers.

It brings Administrators, Clinicians, and Patients under one umbrella, each equipped with purpose-based useful features.

Currently, it is working with several companies to combine blockchain with healthcare information technology.
3. Botchain
---
It has connected AI with blockchain technology to deliver reliability and security. To implement AI in business, it is very important to achieve certainty, which was the primary goal of this AI-driven project.
Through this business-centric idea, developers are trying to boost the adaptation of AI technologies in business processes. If you are a manager or an entrepreneur, you can definitely follow this project. This will help you to get an idea of automation processes in a business.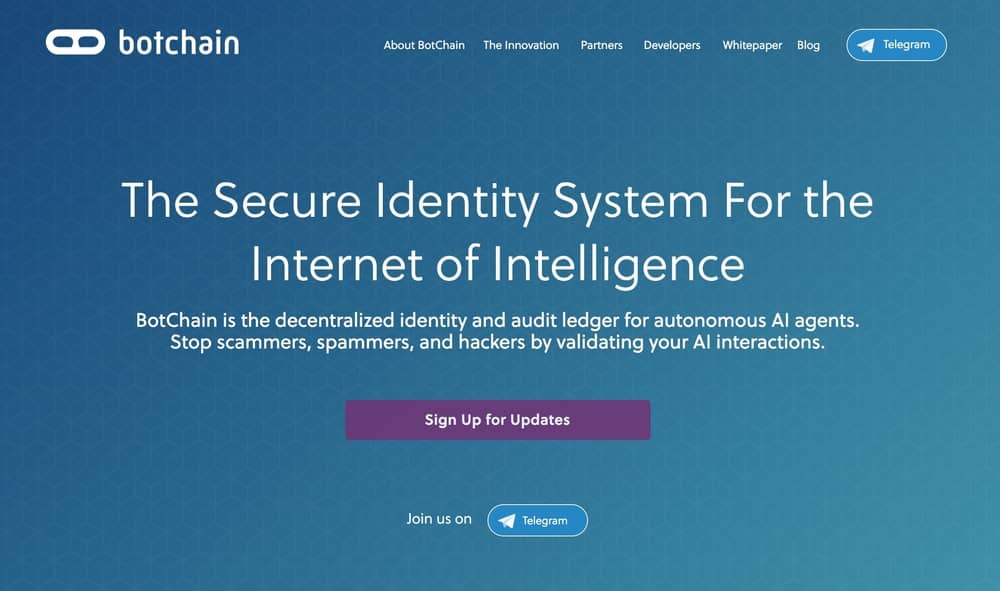 Important Features
It can enable companies to interact and exchange information with customers using a chatbot for an improved customer care experience.

Starting from universal registration and identity validation, bot audit and compliance capabilities are also available.

Combines AI-integrated intelligent tools with information management to meet the demand of enterprises.

Developed based on the blockchain mechanism, the records are immutable and irrefutable.

All the bots will be a part of a massive decentralized system, and the bots will maintain an official way to complete the exchanges.

They are also planning to sell tokens to enable users to complete transactions in the Botchain-controlled network.
4. DeepBrain Chain
---
DeepBrain Chain uses the power of blockchain technology to deliver an AI-powered platform for developers. This project's main goal is to decrease computation costs with increased privacy protection.
They were awarded first place in the Chinese man-machine competition SMP2017, which clearly makes it one of the best blockchain projects to keep an eye on. Small businesses can take the most advantage of this platform. You can also check their global platform for sharing and scheduling AI resources.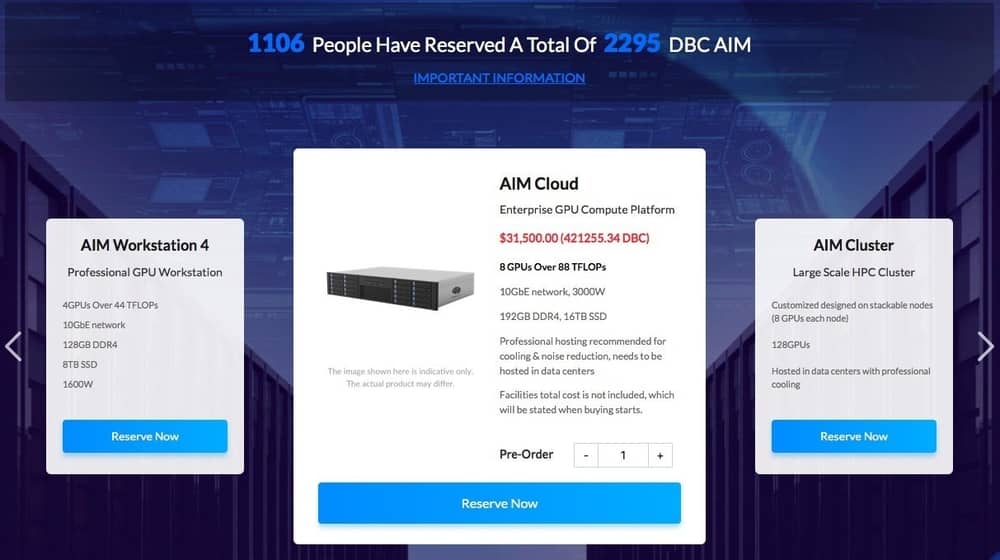 Important Features
Renders is a decentralized AI platform with all the related products and services.

It aims to use all the idle GPUs around the world to increase utilization. Besides, data transaction is secured by encryption algorithms and smart contracts.

Already over twenty AI cloud platforms and AI, mining pools have been developed based on DeepBrain Chain. They are getting great results also.

The model of this project stands at the intersection of blockchain and AI. According to the reports, it can reduce the computation cost by up to 70%.

It comes with a hybrid consensus mechanism and combines DPOS with POI for trading DBC tokens securely.

A neural network powers the entire platform. You will only pay for the computation required to meet your demand.
5. Zelwin
---
It is a unique blockchain project that you should closely monitor this year. This project uses the peer-to-peer platform to help all stakeholders to generate revenue. It is an eCommerce where customers are rewarded with ZLW tokens whenever they complete a purchase.
ZELWIN transfers the rewards/funds to the customer's visa accounts or maser cards. People can use it on other platforms. Besides, customers can also choose to save the rewards for the future.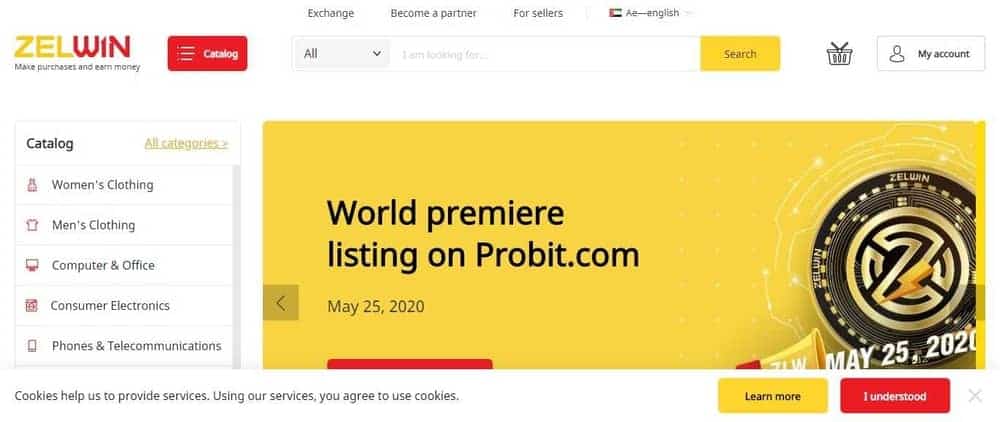 Important Features
It is the first eCommerce that has enabled customers to make money. There are more than thousands of sellers on this platform already.

To receive coins or bonuses, you can place an order from any corner of the world. The process is convenient and flexible as well.

Can complete transactions using any payment gateway. Besides, if you have ZELWIN tokens, you can ask for money or equivalent cryptocurrency.

Moreover, users can take part in the loyalty program to receive gifts or ZELWIN tokens.

It allows you to buy goods with cryptocurrency, which drew the attention of many people from all over the world.

The developers have already started working on the Zelwin. Games to enhance the features of the Zelwin ecosystem.
6. Crypto Village Accelerator
---
CVA has shown great potential to feature in the ten best blockchain projects with its idea of protecting investors' money from scams. It is intended to facilitate the best projects and has become the world's first global accelerator. Using blockchain technology and Smart Contracts, CVA has ensured the authentic flow of funds. The best ventures can follow this place ideal for raising funds.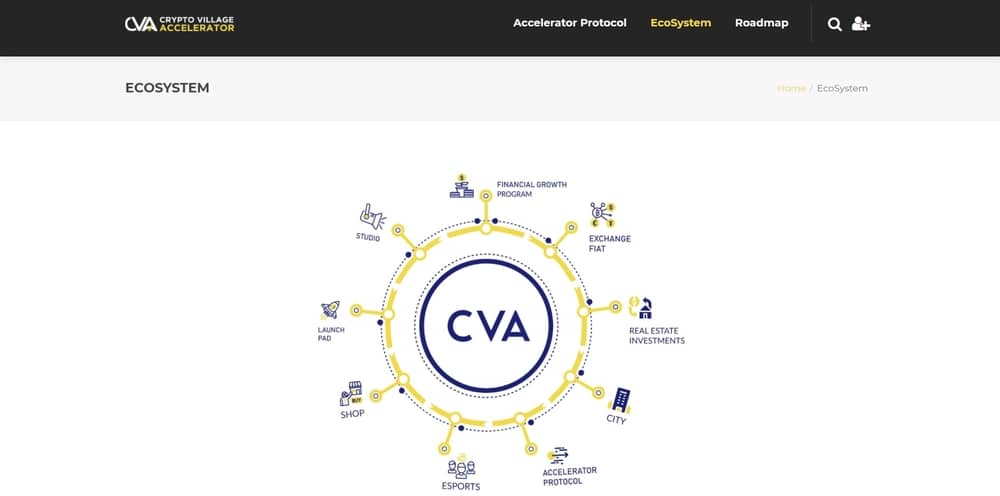 Important Features
It offers a secured platform to motivate investors, and the budget can increase to a great extent for potential projects.

If you are looking to invest your digital assets or blockchain occupation, currently, you will find no solution except CVA. 

They have also launched a mobile application already.  You can get it on Android or iOS in the name of the Financial Growth Program.

You follow the roadmap from marketing and web development to the digital asset listing strategy to successfully make your idea successful. 

The funds raised for the project are kept stored in Escrow which does not release funds until certain milestones are reached.

Started a form of Staking that can gain up to 120% per year. Larger projects like investment platforms and real estate investments are on the way.
Get Insights
7. Cinemadrom
---
Filmmakers have to go through many challenges that we cannot often realize as the audience. It takes a lot to arrange and plan everything. It takes a lot to come to the final product we are used to seeing, from financing to actual production. This platform started its journey to become the first international blockchain framework for independent filmmakers.
If you are a crypto investor, you can keep an eye on this platform as it offers investments, mining, insurance, multicurrency wallet, and so on. Besides, the decentralized online movie platform allows you to become part of any production at any time.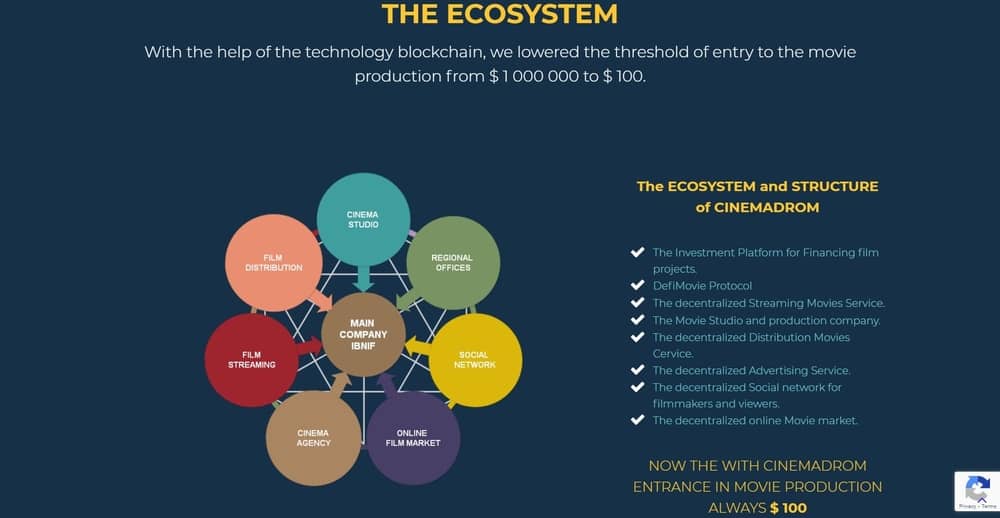 Important Features
Powered by the DefiMovie protocol, the investors can earn money from the bail of Movie Rights. They can also receive interest or borrow assets.

It intended to solve all problems a producer faces, like protecting copyrights, sourcing money, timely payment of fees, etc.

Focused on helping filmmakers with the required funding, especially when it comes to private and state cinema.

Introduced Lumiere crypto coin backed by low commissions, flexible payment, and privacy protection protocol for the users.

Due to its excellent authenticity and divisibility, you can use Lumiere coin for monetizing content, business opportunities, and services.

Besides, people should also check the Cinemadrom wallet for storing digital assets securely and conveniently. It completes transactions rapidly as well.
8. Brave
---
The Internet browser has become one of the most used software nowadays. In this era of cloud computing and internet-based activities, a stable browser on our computer is a primary need. Chrome is the most popular internet browser you will find now.
But you cannot ignore Chrome's high CPU use and lack of customization options. If you have had enough and want to start using another browser, Brave can be the best solution. It is not only free and open-source; you can browse 3x faster than Chrome.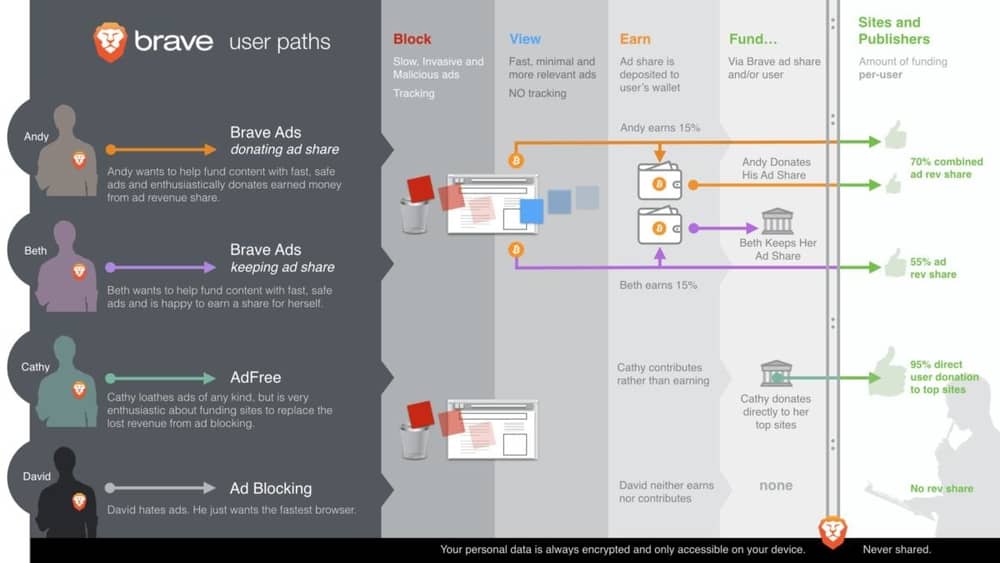 Important Features
Solves the problem of the excessive amount of ads. Protects your data from being sold to the bidders, a common phenomenon in other web browsers.

Blocks website trackers and data-grabbing software to help you gain full control over what you want to experience. 

Built with Javascript, C, C++, and Rust. So you can definitely expect to get a robust performance and super speed while browsing.

When it comes to the incognito mode, other browsers only hide your history from other users. But Brave masks your location from the websites you are visiting.

Encryption will protect your identity, and your browsing will route through several servers to increase anonymity.

Comes with the peer-to-peer hypermedia protocol for an enhanced browsing experience. It can also reduce server costs for content publishers. 
9. Constellation
---
Blockchain projects can add a significant advantage to our day-to-day activities and make our life more comfortable. Constellation is here due to its different approach to validating data and reducing the cost of insecure data pipelines.
It has introduced a software infrastructure tool that can remove bad data through a tamper-proof audit trail. We can call this project one of the best as it can play an important role in any industry and add a significant advantage.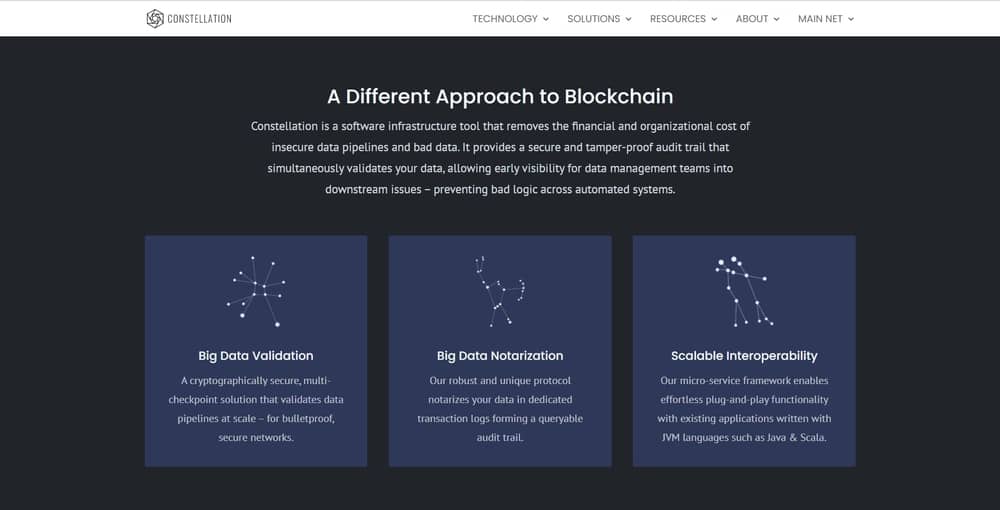 Important Features
Validates data with secure and multi-checkpoint solutions. It solves the problem of handling big data, one of the greatest challenges enterprises have to face.

It comes with a robust and unique protocol that notarizes big data to form a queryable audit trail.

Offers micro services supported by most of the existing applications written in JVM languages such as Java & Scala.

You can have a bulletproof network with nodes distributed in a wide range of operator groups. These groups can also host validated data sets. 

Users can use the SPORE Platform and start monitoring via a dashboard interface.

The $DAG token is also there to complete transactions between various state channels and bind the components within a network.
10. SingularityNET
---
If you are an AI developer looking for a decentralized solution, you must follow this emerging blockchain project. It is a full-stack AI solution. Users can create, share, and monetize all AI services under one umbrella.
You can see this platform as a customized solution also. Any business can use it to access large datasets and build machine learning algorithms. SingularityNET comes with a marketplace powered by a huge community of AI service providers.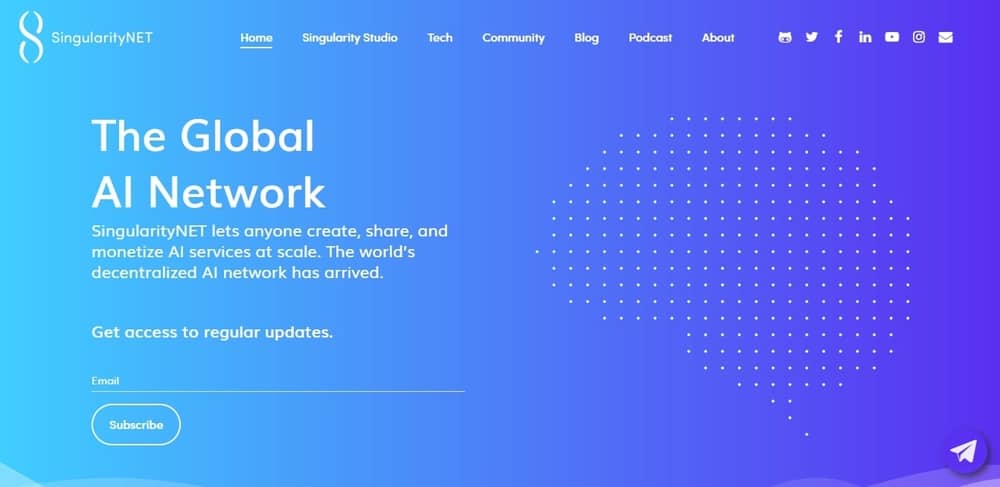 Important Features
Allows businesses to search and pick from a wide range of AI solutions. You can also go for trialing and selecting to integrate into existing applications.

Offers an AI library equipped with a variety of categories and AI types. Besides,  you can filter out the AI services to find the most suitable one for you.

It can save a lot of money. And you will be able to test all the AI services currently available in the marketplaces.

Designed to help businesses and build organizations around the blockchain mechanism to start taking advantage of AI services and agents.

Companies can monetize exclusive datasets with increased accuracy. So it becomes simple when handling relatively complicated information sets.

SingularityNET has been featured in all the leading media publishers already. It can contribute to enhancing creativity, efficiency, and the speed of information processing.
To Conclude
---
Blockchain technology is important in today's world. From medicine to finance, you can integrate blockchain into any existing infrastructure. The major reasons behind the growth of blockchain include enhanced security and easier traceability. As a result, it is evident that many people are trying to indulge themselves in this rapidly growing industry.
Students are also exploring the opportunities in this domain which has resulted in a variety of project ideas, prototypes, and working modules. Some of them are exceptionally well and can change the way of shopping, transactions, web browsing, etc.
We have covered the best blockchain projects in this article that have already received recognition and created hype all around the world. Their journey on how they started, overcame the problems, and created new possibilities to come in this position will surely motivate you as well.