A chatbot is an application that can take your place when you are unavailable. It is really useful to engage your customers even when you could never think to maintain fluent communication with people. There are many chatbot platforms used by many businesses all around the world. Choosing a useful and powerful chatbot framework completes more than 50% of your work if you want to have your chatbot. Recent developments in machine learning and AI modules has brought significant changes in chatbot's features. Even now, we are often unable to identify any difference between a chatbot and human during the time of any conversation.
Best Chatbots & Its Platforms
---
Using AI chatbot platforms can help to build interactive chatbots. You have to train your bot and determine the architecture, its goal and responsibilities, and the channel where it is going to be deployed. In this article, you are going to see some of the best and innovative machine learning companies which are solely devoted to developing the best chatbots based on artificial intelligence and machine learning.
1. Bot Framework by Microsoft
---
This chatbot framework is specially designed to interact, talk, listen, and communicate with your customers. The best part of this AI chatbot platform is the ability to integrate with the most popular application offered by Microsoft like Cortana, office 365, and so on.

Features offered by this framework
Can train chatbots using the existing conversation and azure cognitive service. 

Open-source SDK allows you to test your chatbot even before it is deployed into a channel. 

Understand people's conversation through text, SMS, video, and speech.

Microsoft allows you to integrate this chatbot with many applications that include skype, slack, facebook messenger, twitter, mail, etc.

As powered by AI and machine learning, it can even reply to the most sophisticated questions asked by the visitors.
2. Wit.ai Chatbot Platform
---
This free chatbot platform has enabled developers to use the power of natural language processing to make much more interactive applications and software. It focuses on the applications, especially which are run on mobile screen or tiny devices by activating voice interface.

Features offered by this Chatbot framework
Supports almost any languages spoken all over the world and uses various Machine learning algorithms to extract meaningful information.

Shares data between developers and help them to integrate the features on their applications and ensures that your data remains safe, private, and secure.

Enhanced the abilities of the wearable devices that have tiny screens. User can interact with their devices through voice command.

Home automation has seen the light of hope after the arrival of Wit.ai. Many opportunities and possibilities could never be imagined before.

Learns from human language when any interaction takes place.
3. Dialogflow
---
Google Assistant is a common word for any android users. To develop its voice navigating features, google has worked to build its chatbot framework known as Dialogflow. It uses Speech-to-text and natural language conversations to function an automated human-computer interaction. It is one of the popular chatbot companies used by most active members.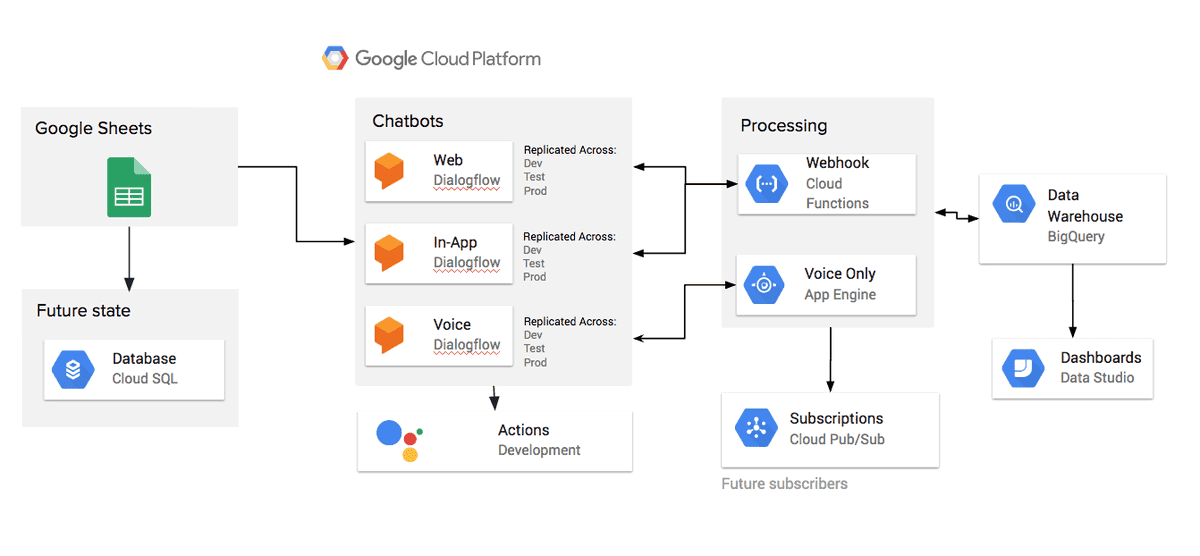 Features offered by this framework
Dialogflow has enabled developers to integrate voice interaction features into their applications.

It uses Google cloud architecture and AI-powered sophisticated system to convert speech into text. 

Google uses its years of experience of sourcing data to understand what users are saying and respond accordingly. 

As Inline code editor makes it easy, now anyone can integrate multi-functional intelligent chatbot on their social media networks and websites.

Intended to digitize the business process. Saves your time and helps you to save money for hiring expert community managers.
4. Snatchbot Powered by AI
---
This chatbot framework uses Natural language processing algorithm to eliminate the necessity of hand-written code to understand human language. It uses the power of artificial intelligence and relies on AI to build interactive chatbots. It is free, and you can integrate on any popular platform like a telegram, skype, emails, and social media platforms.

Features offered by this Chatbot framework
Uses dialogue flow and keywords to identify the meaning and respond with in-context answers.

Generates bots that are easy to integrate and train the bot for automated reply even if you are not available to chat with your customers.

It has an interactive and user-friendly interface.

If you enable this system in your eCommerce, you can even take payment and collect user data.

An end to end management system, multi-channel chatbot, and freely accessible API let you use it without any hassle.
5. IBM Watson Powered by Neural Network
---
IBM developed this project during its DeepQA project. This chatbot framework uses the neural network to respond with naturally processed replies. It is widely used by doctors to detect the symptoms of various diseases automatically and to focus on scans, x-rays, and MRI. This is the perfect example of artificial intelligence and machine learning in the healthcare sector.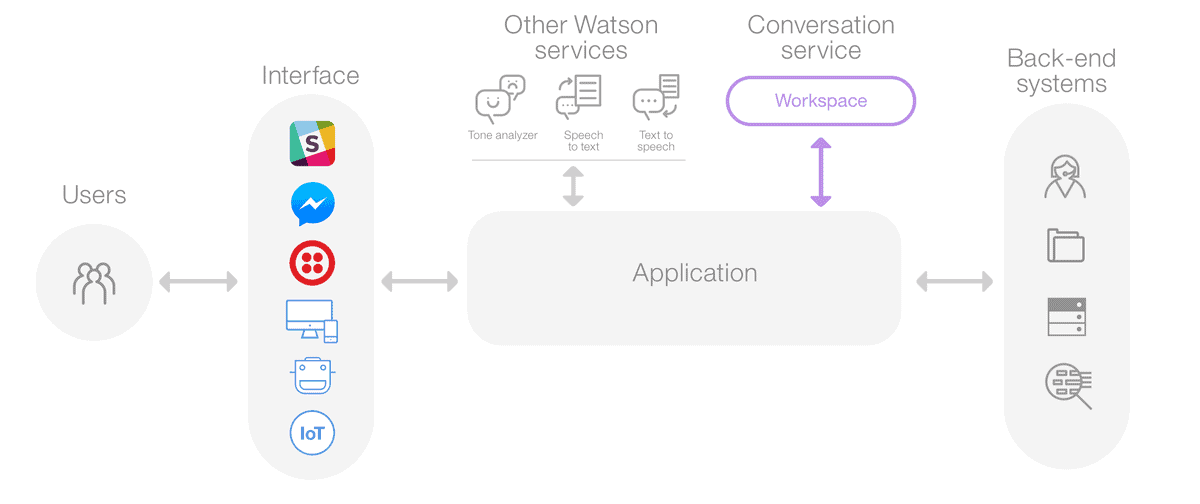 Features offered by this framework
Takes patients data and uses the power of natural language processing to identify potential diseases. 

Helps doctors to prescribe accurate treatments and medicines.

Intended to work as a question-answering system. It is now also used to retrieve information and influential data.

Uses dynamic dialogue flows and intelligent q/a system to automate chatbots and maintain interactions with users. 

Watson offers pre-trained and pre-integrated architecture so that you can accelerate the deployment and train with your business.
6. AIVO
---
AIVO is designed to provide a personalized experience to the customers of your business. It learns from each interaction it has with any of the users. As it tends to learn from humans, it quickly picks the perfect style of answer. As a result, you can get more engaged customers though converting conversations.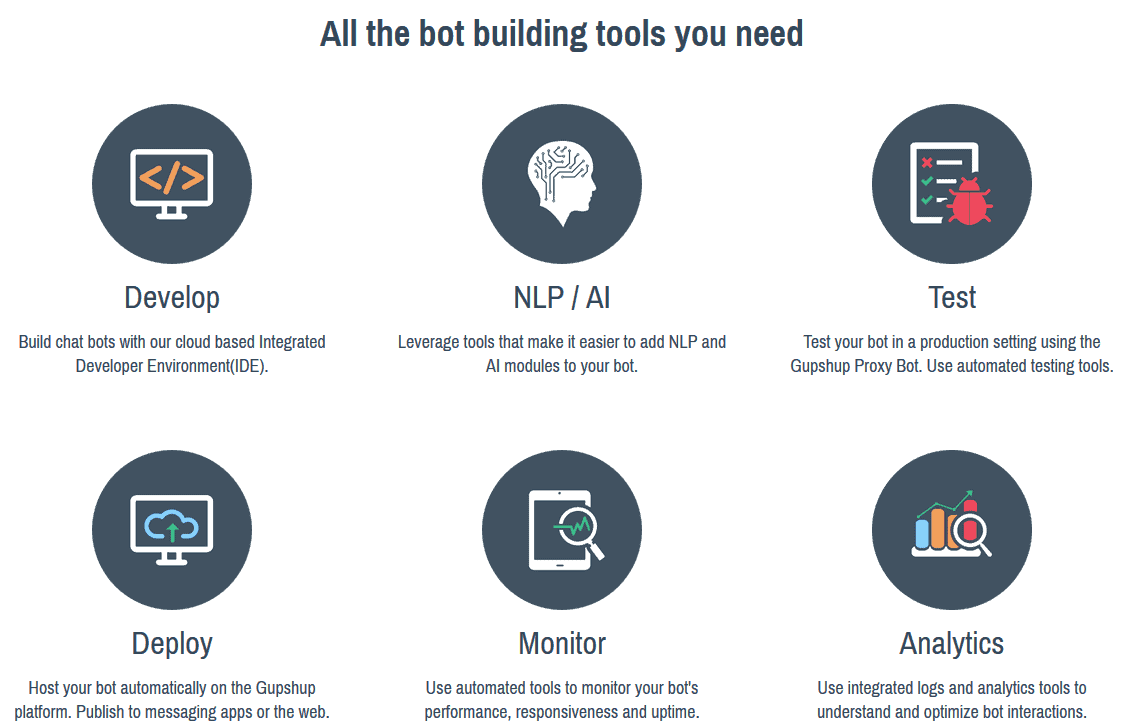 Features offered by this framework
Gathers data when someone starts a conversation and train its chatbots to answer questions related to the business process.

You can easily access and manipulate your dialogue flow that is represented by a decision tree. 

As it understands both text or voice, using middleware, it can reply to any question coming from different channels.

Adopts the informal language spoken by the visitors and formulate a naturally processed interaction.

Generates reports full of data analytics. So you can dig deep into the insights to improve the customer experience.
7. Botsify Chatbot Framework
---
Botsify is designed to focus on facebook messenger. Facebook messenger is playing a really important role in conducting business through a Facebook page. There are many entrepreneurs on facebook who are planning to establish and take place in competitive marketing. Botsify platform enables them to create an effective chatbot without any coding knowledge required.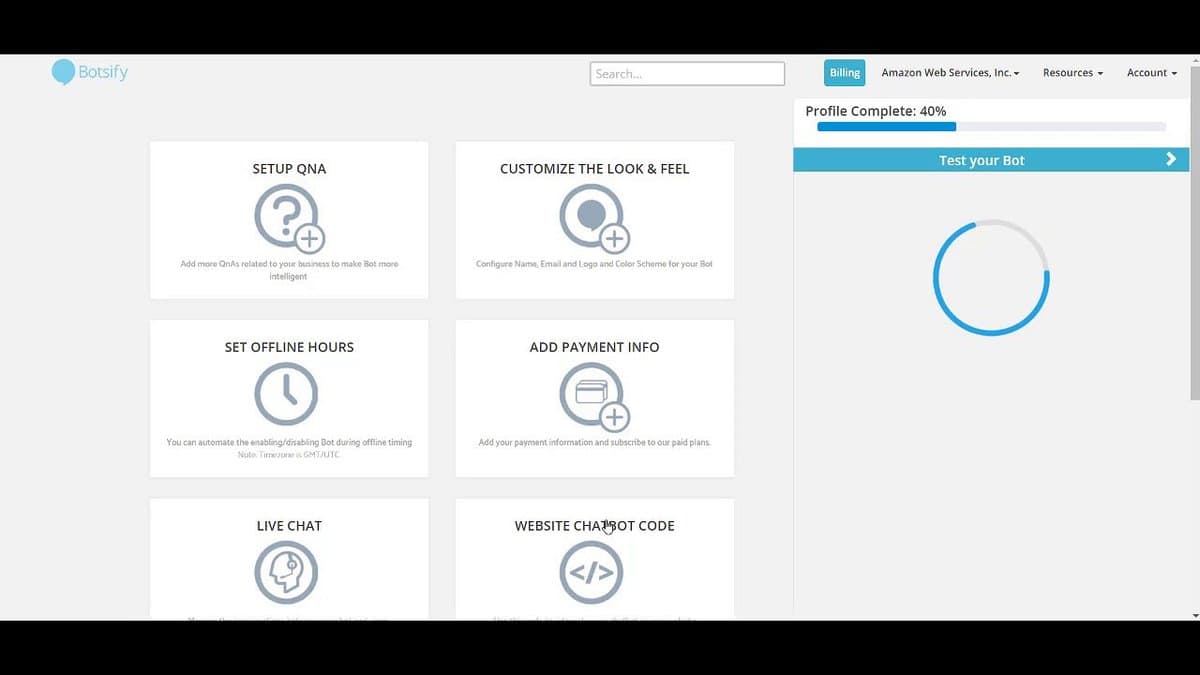 Features offered by this Chatbot framework
Easy to build interactive chatbots by its drag and drop visual builder. 

Powered by machine learning and when the system fails to answer any question, it automatically detects from the chatbot and transfers the query to the human.

Improves customer service experience by quick replies and intelligent feedback. C

ollect leads or new subscribers through the chatbot that help you to promote your product or service.

Engage customers and notifies you to take control of the conversation. 

This platform is easy to integrate with google sheets, websites, eCommerce, Shopify, and WordPress.
8. Chattypeople
---
Chattypeople is one of the most popular chatbot platforms used more than 300million business all over the world. Messenger marketing is really influential and plays a significant role in the field of digital marketing. Even facebook has dedicated ad campaign to get more people in the page inbox. This platform introduced automation in facebook messenger. Recently, it has been acquired by MobileMonkey.

Features offered by this framework
Creates user database and help business owners to retarget people during the marketing campaign.

Introduce marketing automation and lead collecting features into page messenger.

Abandon cart, inactive users, or interested people can easily be identified.

It will collect data that remain unanswered and stored in a database. You can just have a look and use them in your dialogue flow.

You can improve customer service experience by sending them a welcome email, or promotional offers during the festivals.
9.  AI Chatbot Platform: Smartloop
---
If you notice, you will probably understand that the success of a digital marketing campaign depends on the number of organic followers on your business page. If you do not have so many loyal viewers, then you will need to spend more money on ad campaigns. But still, in many cases, you won't be able to reach the expected number of potential customers. Smartloop focuses on increasing the number of organic followers to improve the engagement rate.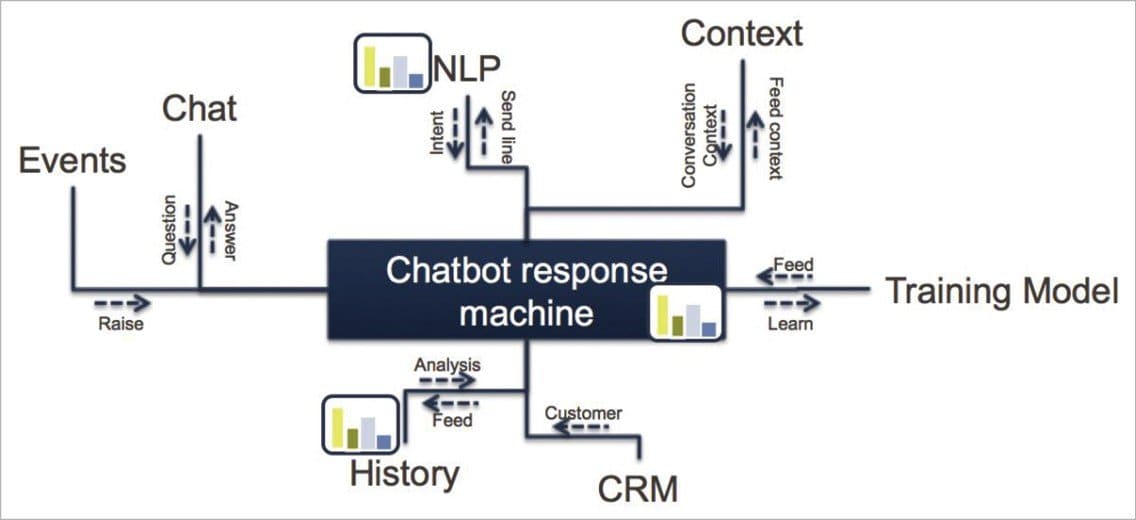 Features offered by this framework
Unlike any other chatbot providers, Smartloop platform focuses on increasing your brand value and awareness that are important to engage more people. 

Engagement rate can be evaluated using this chatbot platform, and lead collecting feature adds an extra advantage.

You can identify loophole during any conversation and redesign your dialogue flow to fix the error by signing into your account.

This chatbot platform can easily take your place to have a one-to-one conversation when you are offline by triggering engaging contents through smart chatbots.

You can see the insights of the monthly generated report by this platform to identify the problems and take actions to achieve business objectives.
10. Chatfuel
---
This chatbot platform helps you to integrate the most efficient chatbot on your Facebook page. They offer several pricing plans. Even if you do not want to spend much time on building a chatbot, you can take help from the owners. They will analyze and produce the best possible chatbot for your company.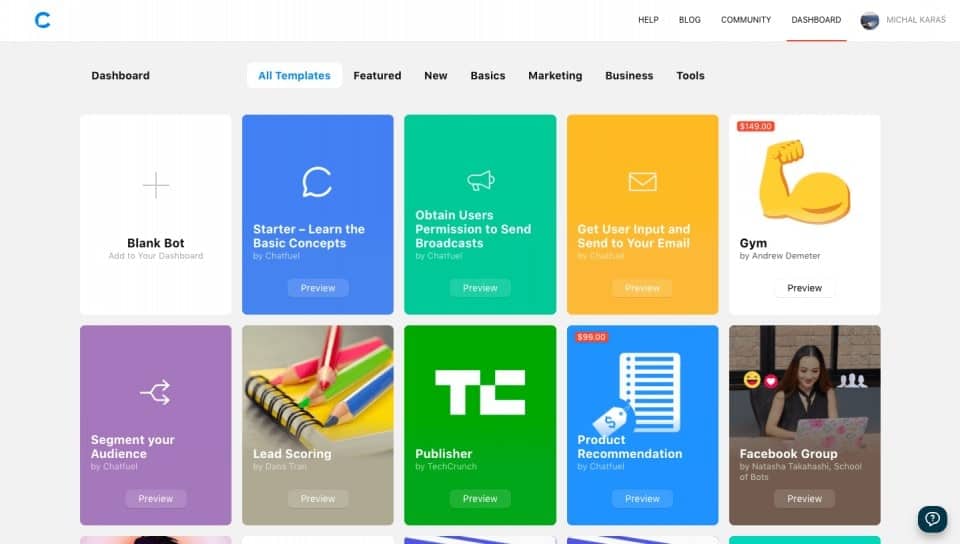 Features offered by this Chatbot framework
The framework is made to direct the chatbots to ask users from the suggested topics and produce a meaningful conversation with your customers.

Whenever any user wants to chat, the platform trigger notifications to the associated personnel and automate its chatbot to engage the customer.

Provides existing chatbot templates and prebuilt chatbots.

It offers the best customer service and dynamic reporting interface to make you satisfied.
11. MobileMonkey: Multi-functional Chatbot

---
MobileMonkey is a common name among the agency industry. Besides, it is used by millions of digital marketing strategists all over the world. It offers top-notch features like chat blasts, list building, and drip campaigns. You can run the most successful messaging campaign using this intelligent platform of AI chatbot.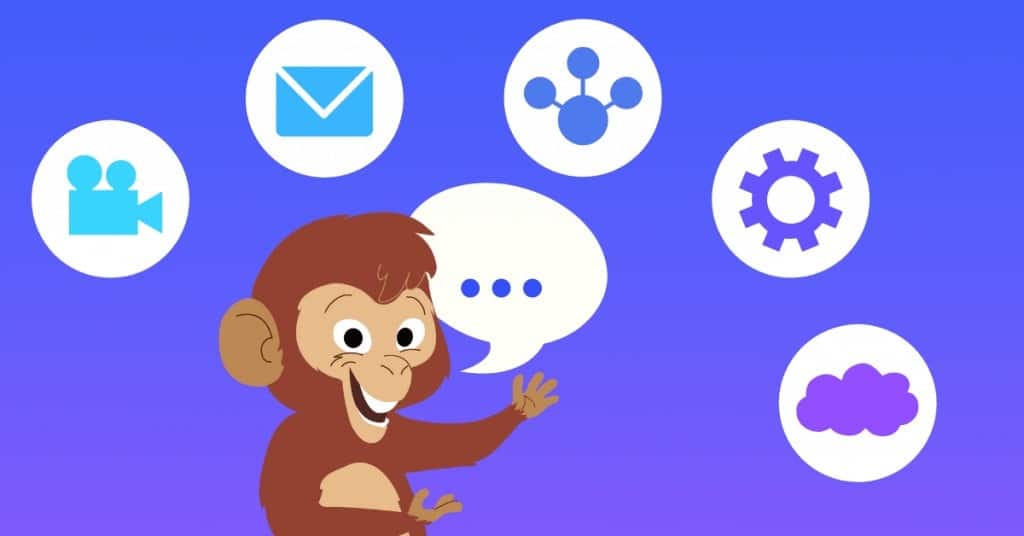 Features offered by this framework
Using chat blast feature, you can send messages to all the contacts at a time. 

It recognizes a suitable time when the maximum number of messages are read and sends a series of messages to likely customers.

Helps to integrate subscription form and collect leads. The leads are automatically stored into a list and exported into an excel or CSV file later. 

Identify enthusiastic customers, and you can run an ad campaign targeting only those viewers.

Gets you an opportunity to find your place in the customer's inbox and directly promote your service.
12. FlowXo
---
FlowXo has one of the most dynamic visual builders to make chatbots within the shortest period of time. It can host multiple chatbots to use in multiple platforms at a time. Using the straight forward logical expression, it can quickly engage your customers and produce essential results. Usability on various platforms like facebook messenger, slack, telegram, and google drive sets it apart from the other platforms.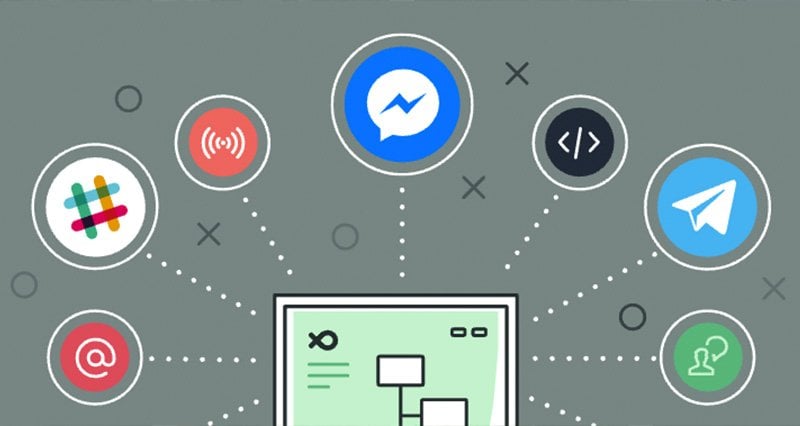 Features offered by this Chatbot framework
You can connect your web applications and increase your sales with the automation of this chatbot platform.

Great content management system makes it simple to make desired chatbots in this platform.

Dynamic features of this platform enable chatbots to work as a human assistant and communicate with people in such a way as if they do not hesitate to ask any question.

Helps to welcome new visitors and collect their information for targeting during marketing campaigns.

You can design your workflows and trigger new workflows when needed from the platform. 
13. Imperson
---
This powerful chatbot platform uses artificial intelligence to interact through text, audio, video, AR, and VR on the significant messaging platforms. Imperson tries to identify the customer's behavior and generate a response accordingly in real-time. To give your audience an authentic and effective chatting experience, you can give this platform a try to build your chatbot.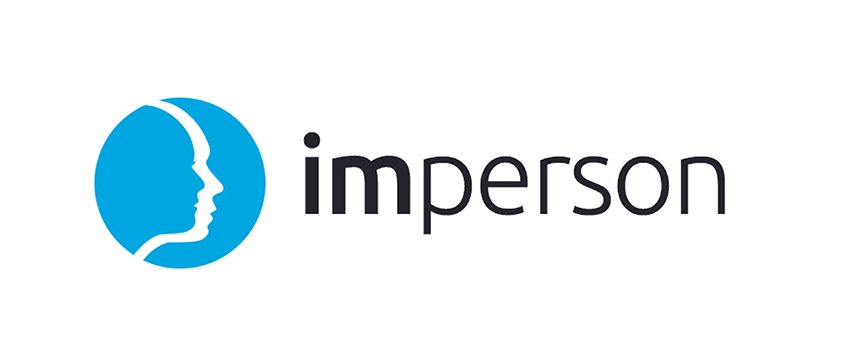 Features offered by this chatbot framework
Using relationship memory, this platform learns through the interaction with every user. Then it trains the chatbot to chat with them in the same manner in the future.

Deep dialogue is used by this chatbot platform to stimulate efficient and sustaining conversation. 

Natural language processing algorithm is used to train your bot where keywords or related words are focused on generating answers.

It is intended to build enterprise chatbots to convert your connections into sales. 

This AI-powered intelligent platform also collects leads, raises your brand awareness in the community, and promote your service through a wide range of messaging platforms. 
14. Botpress
---
Botpress is like cms for creating chatbots. This dual-licensed platform enables users to build a chatbot like they build a lego. Building chatbot was never so easy before the arrival of Botpress. You can build your bot on the go and deploy it on any popular messaging platforms. It is created to help non-technical people to build their required bot and manage after the deployment as a professional does.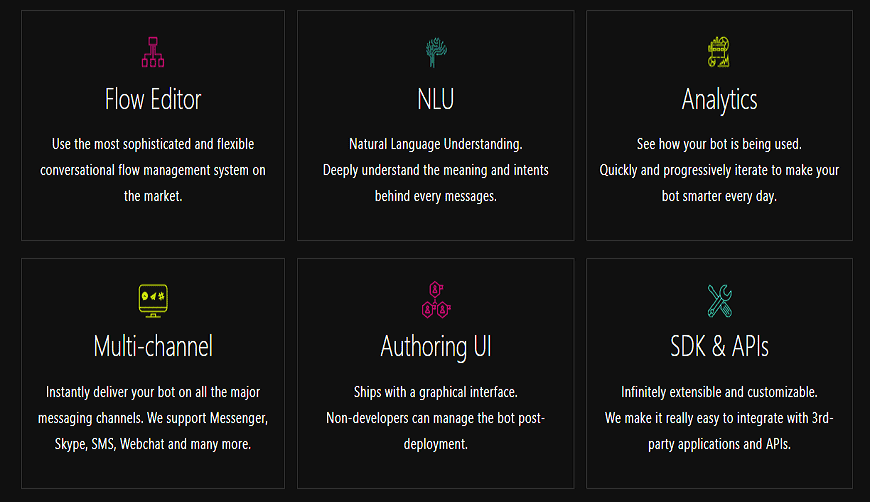 Features offered by this chatbot framework
Try to find the intended reason and meaning behind a specific question asked by a user to generate the answers using NLP.

Offers flexible flow management system to build and manage your chatbot.

Graphical representation of the detailed analytics enables users to see the insight of every conversation.

You can integrate this platform with any third-party applications and customize the SDK as many times as you want.

Provides the ability to test your bot using the cutting edge technology offered by AI and machine learning and grow your business for meeting the business objectives.
15. Its Alive Chatbot Framework
---
For any business, it is important to stay alive 24×7. Especially if your target customers are from different parts of the world, then you must ensure your availability to maintain fluent communication and generate sales. Besides, if you are running a startup raising your brand awareness and brand value to establish a place in the competitive market. Its alive chatbot platform provides the all in one solution for your business page.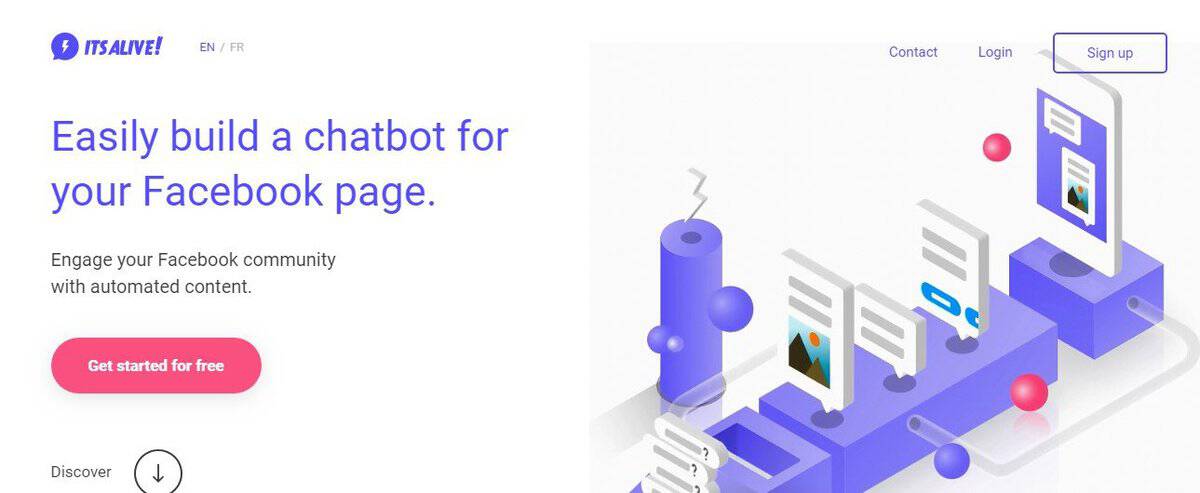 Features offered by this framework
Automatically answer to the frequently asked question and ensures 24×7 availability on your business page through the chatbots and other tools.

Identifies keywords and key phrases to generate meaningful answers quickly to produce the best result from chatbot messaging.

You can easily build, manage, optimize, and evaluate the performance of your chatbots. 

You can save suggested answers and direct users to an effective conversation depending on their choice.

Helps to conduct a one to one conversation and allows you to tell your brand's story. So, this platform enables you to reach the goal of digital marketing.
Get Its Alive Chatbot Platform
16. Manychat Chatbot
---
Manychat is a platform to build an interactive chatbot and deploy on the desired channel. It is a new tool for creating adverse digital marketing campaigns. This platform not only identifies new people but also shares your content with them to keep them engaged with your business. If you take customer service and satisfaction seriously, you should try Manychat at least for once.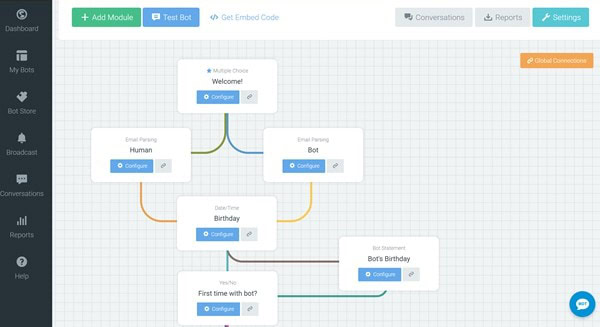 Features offered by this Chatbot framework
Important for startups as anyone can build and use this platform freely and without much complications.

Although the UI is simple, and you can build your logic, you can still build sophisticated chatbots for your business.

If you do not want to hire a communication manager and spend money on him, you can choose this AI-powered platform as an alternative.

This platform is intended to make new relationships, sales, and marketing. 

You can take an appointment, book a schedule, sell products, and run promotional campaigns through messenger.
17. Pandorabots
---
Pandorabots uses Artificial Intelligence Modelling Language. In addition, it takes help from Artificial Linguistic Internet Computer Entity to process human language naturally. As one of the oldest chatbot platforms, it offers intelligent chatbots for your business and third-party applications. You can reach the maximum number of people by leveraging two-way communication in their preferred channels.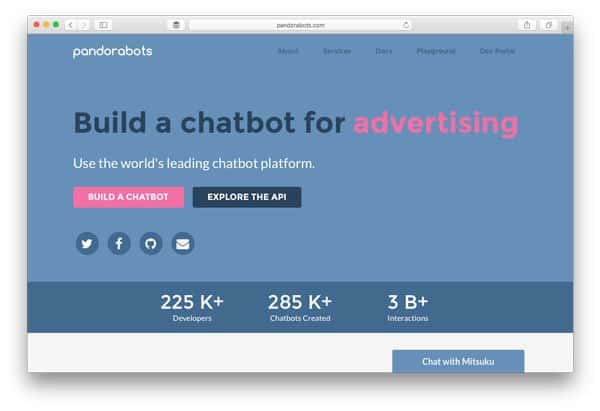 Features offered by this framework
Added artificial intelligent XML markup language for visualization and creating human interfaces to keep things simple & easily understandable.

Pandorabots offers open-source, extensible SDK that covers all the tools you need to create, launch, and emphasize your chatbots.

Offers multi-dimensional pricing plans for your business, and you can even take help for the basic stuff. 

 Machine learning has made this chatbot much more compelling, and you can drive people to your business from the most popular messaging platforms. 
18. Meya.Ai
---
Meya is designed to help businesses. It is specially intended to manage customer service through artificial intelligence. For any company ensuring flawless customer service experience is essential. Meya makes sure so that business can integrate chatbot on multi-channels and handle customer queries in a digitized way. You will need to enter into Meya's platform and start building your chatbot right away without any knowledge of coding.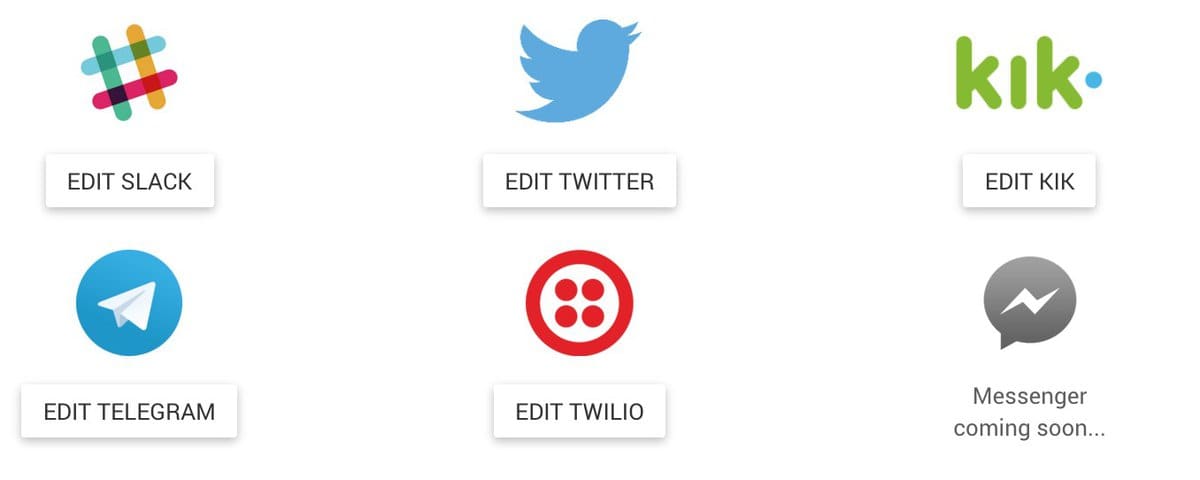 Features offered by this chatbot framework
 Meya ensures the security of your data and your privacy remain intact with the power of AI.

It has a built-in editor and introduces a new level of cognitive skill in the process of operation.

Live debugger makes it easy for the developers to find loopholes and improve the chatting experience.

Offers a modern computing environment for the users. Alongside this, improves features like artificial intelligence to use all the skills of a developer.
19. Octane AI
---
Octane can be referred to as one of the most featureful chatbot platforms available out there. When all other chatbot companies are focusing on facebook messenger only, it is designed to highlight on Shopify messaging. You can also integrate this chatbot on many other third-party applications using API. Besides, simplicity in creation and easily manageable chatbots make this platform popular among the users.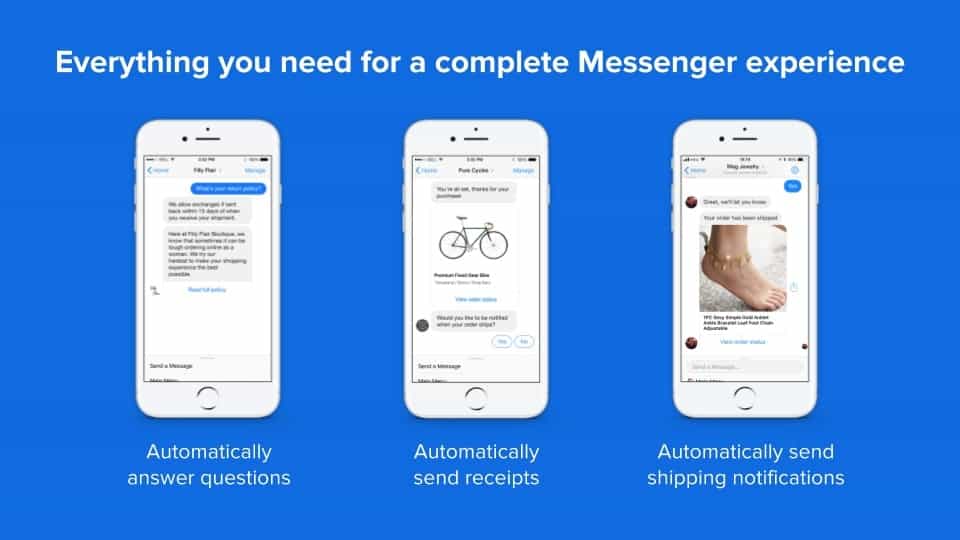 Features offered by this framework
Brings light on engaging customers with your business and ensures improved customer service experience.

Can send follow up messages, detect abandoned carts, and send promotional offers to the inactive customers automatically.

Helps business to prosper by taking data-centric decisions and increasing revenue through online transactions. 

You can integrate your Shopify database with this platform and have an automatic process of data transfer very easily.
20. Reply.ai
---
This chatbot platform emphasizes to use of machine learning and data science in building chatbots. Reply.ai offers premium chatbots for small and large businesses. It takes customers seriously and focuses on improving the rate of successful B2C conversation. Besides, pre-existing customizable templates make it easy to build chatbots within the shortest possible time. 

Features offered by this Chatbot framework
Transfer controls between the chatbots and the community manager or admin of your business.

No need to waste your time by answering the frequently asked questions. Once reply .ai platform is installed, it can reply to these questions.

Works best and designed to provide fully dynamic support for eCommerce and business websites.

You can even connect your existing contact forms from various multi-channels with your chatbot platform and can bring all the channel under one umbrella.

The visual editor ensures the simplicity in the creation of every chatbot.
21. Boost.ai: Intelligent Framework for Chatbot
---
If the customers have to wait too long to get any information associated with your business, you will eventually end up losing customers. Again, you should introduce sustainable innovation to your business to deliver better products at a lower cost. Boost.ai is a chatbot platform that helps you to maintain a good relationship with your customers and introduces technology in sales & service management.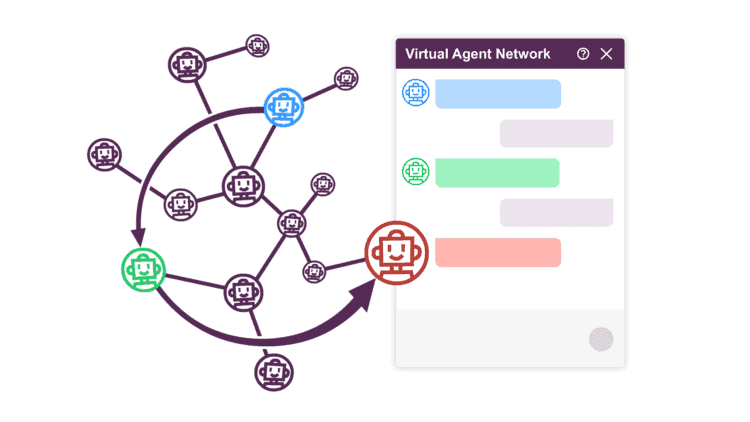 Features offered by this framework
Generate random replies for the frequently asked questions really quick. That ensures that your customers never need to wait by powering the chatbots with accurate responses.

Exciting features, dynamic UI, and a lot of promises are offered by the company to provide the best service for you.

Offers virtual customer service agent who can help you to pick the most suitable plan for your business and provide 24×7 after-sales service.

Uses conversation flow diagram to identify the answer and respond to any query conducted by any customer.

You can even portray the complex products and services to your customers through this chatbot framework.
22. Amplify.ai
---
Amplify.ai is undoubtedly the most advanced chatbot framework available that can stimulate the process of your business by driving more and more traffic. It is completely designed to focus on your business strategy. You can build interactive and dynamic chatbots using this platform rather than first-generation chatbots that only reply to the basic queries. It is one of the most used chatbot platforms used by digital marketing strategists.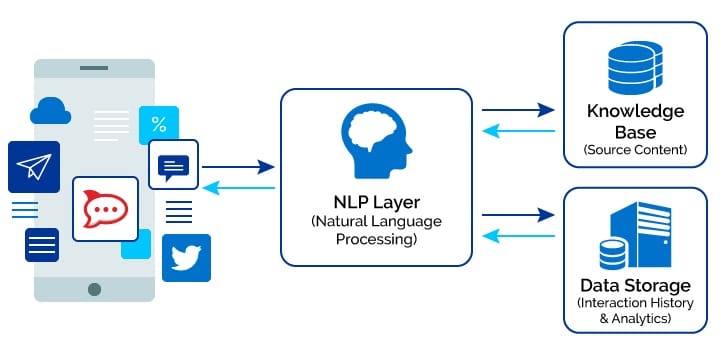 Features offered by this framework
Identify potential clients or audiences and use its advanced conversation flow for driving them into your business, eCommerce, or even politics.

Engages your clients and customers. Drive them through sales funnels and increase sales and revenues as well.

World's first AI-powered conversation flow that is persistent and can be personalized to satisfy the ever-expanding growth of messaging conversion. 

Blends with Facebook and Google Ad to boost the performance of the digital marketing campaigns for your business.

Track record of the interested audiences and retarget them in the future campaign that helps you to minimize the cost of the promotional campaign.
23. LivePerson: The Industry Leader Chatbot Framework
---
As the name suggests, Liveperson is the leading chatbot platform that offers AI chatbot as a business consultancy service. The main strength of this chatbot platform relies on the largest dataset that includes 20 years of customer conversations. Using a data-centric approach, this platform can render the most suitable chatbot for your business or any industry. Eye-Catching templates focus on the outlook while making it easy for you to build a chatbot.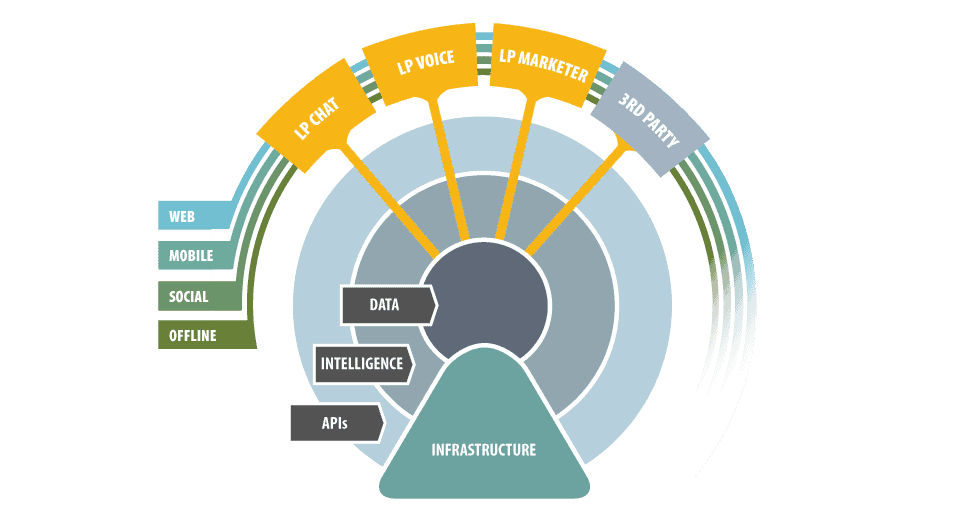 Features offered by this Chatbot framework
It has own version of chatbot builder where you just need to place and route the elements for having a functional messenger bot.

Compatible with almost all the popular messaging platform and can successfully reply to the most asked frequently asked question. 

Customizable pre-built chatbots make your life easy. Point and touch editor helps to redesign.

You can evaluate customer service performance to improve where the chatbot is failing to deliver efficient service and bring changes.
Get LivePerson Chatbot Platform
24. Beep Boop: Slack Chatbot Builder
---
This chatbot framework is designed to build chatbots for deploying, especially in Slack. If you want to use your slack's chatbot in any other platforms, you can also use the same chatbot as it generates the source code of your bot. By downloading the code shared on Github, you can easily install the same chatbots again and again. Developers can take the benefits of available codes and bring the most out of it when it comes to business.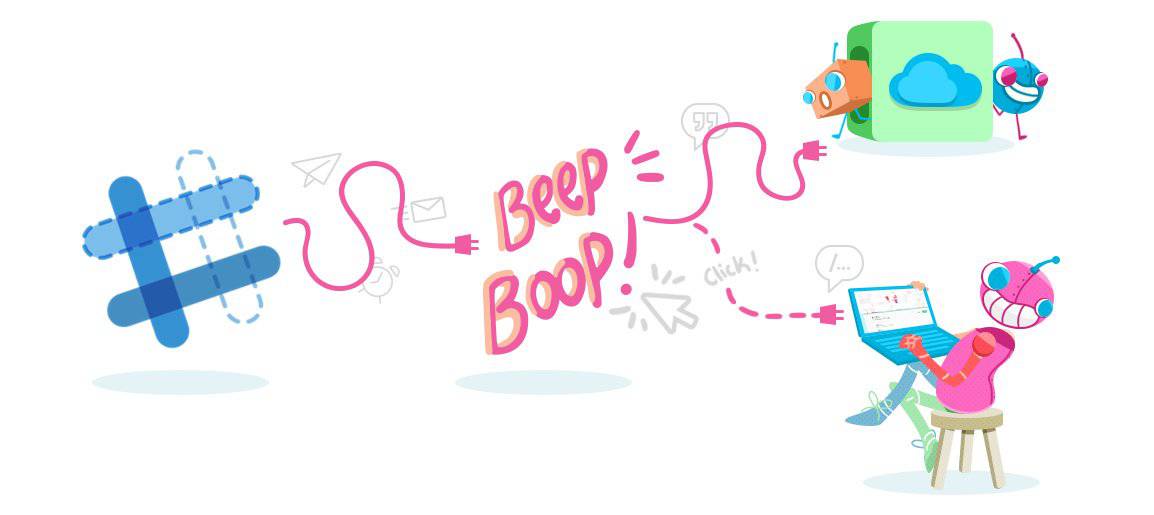 Features offered by this framework
You can share your bot with the slack community. Each member of your team can participate in growing your bot and improving performance through this platform. 

Automate connection between multiple platforms and handoff to the agent when necessary.

Build, deploy, manage, and optimize your chatbot in real-time. And you can take the help of other developers also.

Specially designed for slack but the graphical user interface makes it easy for you for building AI chatbots.
Get BeepBoop Platform
25. Chatterbot: Built with Python
---
Chatterbot is powered by machine learning. It uses a python library to automate the response of frequently asked questions. It is designed to help developers and make it easy for them to build a conversational chatbot. Accuracy and speed of the response develop over time and start learning by itself just after the deployment. 

Features offered by this framework
This chatbot gets better over time as this platform is language independent and can learn any language.

Each time the chatbot interacts with a customer, this platform uses the machine learning algorithms to gain knowledge and improve its performance of producing replies. 

Using improved techniques of ai, it can even generate random but accurate answers for the same type of question.

It stores data, manipulates data, and then searches the closest statement that matches the question pattern while stimulating responses.

Produces sophisticated and dynamic chatbots that performs much better when it comes to business.
26. Floatbot
---
This chatbot platform started its journey to highlight the priority of customer service experience for the businesses. It uses cross channel content strategy for the betterment of user experience and business process. You can easily make a chatbot by the DIY platform and customizable content. It is also possible to build and train your voice bot for satisfying the audiences that are interested in your business.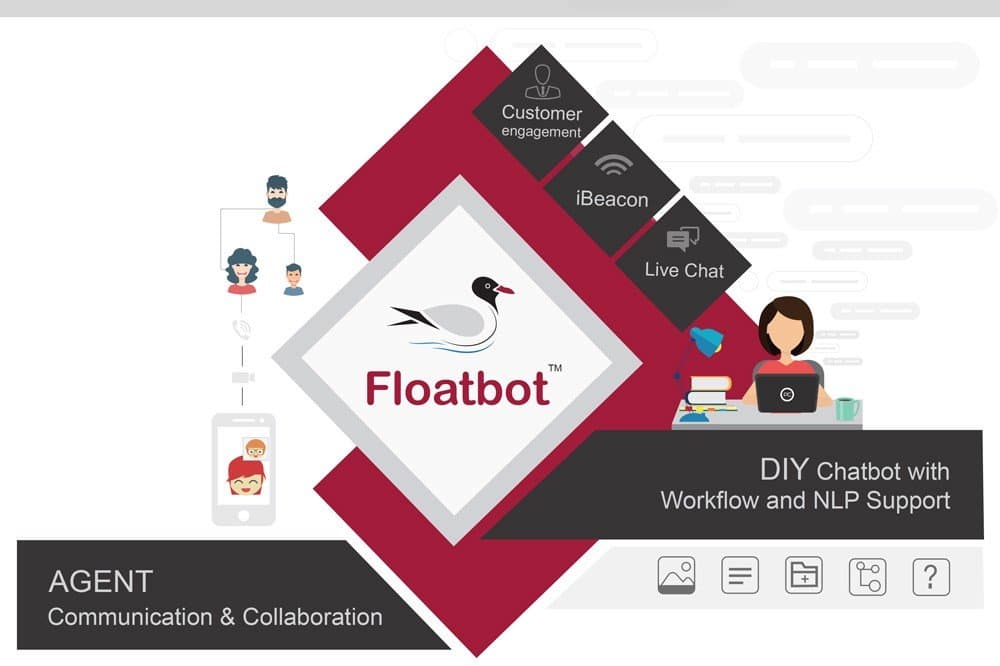 Features offered by this Chatbot framework
Uses deep neural network and advanced artificial intelligence modules to ensure that you require minimum efforts to build your bot.  

You can train your bot just by submitting the documentation of frequently asked questions or the URL of your FAQ page in the platform. 

Offers natural language processing algorithms to evaluate the user text, identify new intents, search possible meanings, and conduct interpretation.

It can break down complex queries, and analytics engine displays the performance of your bot.

Voice bot can also be built in this platform and engage more customers.
27. Gupshup
---
We all know the significance of communication and how it has become a vital part of any business. That is why chatbot companies are focusing more and more on improving the conversational strategy to engage customers with the business. Gupshup is one of the leading chatbot providers that is currently operating in India, US & UK. It provides SMS, email, IP messaging, and chatbot development service to the retail, business, eCommerce, and online businesses.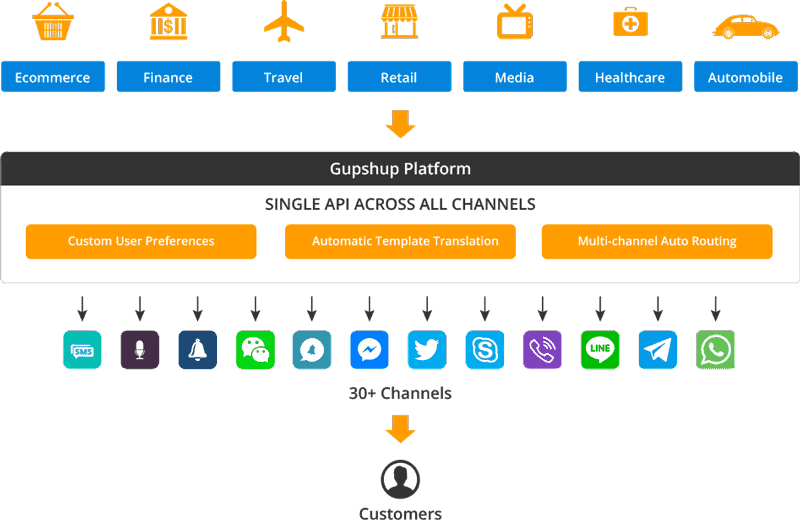 Features offered by this framework
Cross-platform API enables users to use the same API over and over again to connect with 30+ social media & online platforms.

Offers marketing strategies and inbuilt chatbot platform. You can build chatbot using the existing templates within a few minutes.  

Engages your customers with exciting welcome messages.

Seamless transfer between multi-channel connections helps you not to miss a single conversation.

Maximizes your ROI from your ad campaigns on social media platforms like Facebook, LinkedIn, Instagram, and Google.
28. Pypestream
---
Pypestream started its journey in April 2015. Since then, it has been offering an AI-based solution to improve the business process and customer service experience for the businesses. As one of the leading ai chatbot platforms, it is using a customer-centric approach to set you free from the hassle of using multi-vendor service. 

Features offered by this framework
Intended to handle multitasking efficiently and improves your bot's performance in real-time.

You can always keep the light on you and maintain your great response rate through all the messaging platforms.

You can also leverage your automation to achieve the chatbot objectives.

Conversational AI blends with the full-stack platform to remove the requirement of hiring responsible agents.

You can rely on the security protocol offered by this chatbot platform and still reach the maximum number of potential audiences.
29. SemanticMachines
---
Conversational computing is really important in the interaction of human and computer. By using natural language processing and artificial intelligence, chatbot companies are working to help businesses. SemanticMachines aims to use real-time computing to enhance the quality of chatbot. Alongside these, it has introduced thousands of possibilities in the industry of eCommerce, online business, travel agency, and corporates.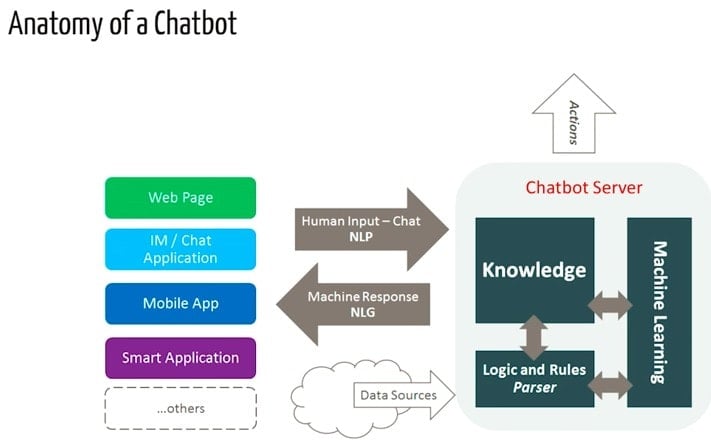 Features offered by this framework
Introduced graphical user interface for conversational computing and improved the human-computer interaction.

Use Artifical Intelligence and Machine Learning algorithms for better processing of natural language.

Has a goal to change the way of how people conduct a search on eCommerce or businesses. 

How people use their smartphones and how they interact with the business are also evaluated in this platform to set a new standard for marketing goal.
30. Tidio Online Chatting
---
Tidio is a beautiful chatbot solution for your business. You can use Tidio to engage more customers, increase sales, and achieve business objectives. The beautiful interface is straightforward to understand, and anyone can customize it to mix it with their company. Besides, the ability to integrate multiple channels at a time makes it an easy solution for any business.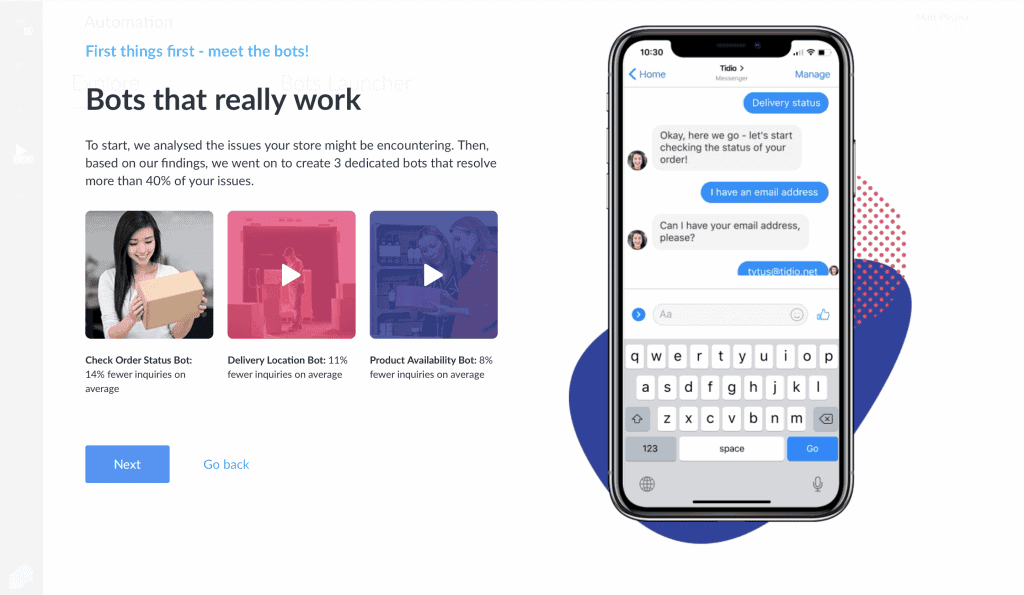 Features offered by this Chatbot framework
Offers plugin to integrate your chatbot with any WordPress website. WordPress is the most popular cms to make exciting websites.

When a user sends a message, tidio platform automatically tracks the IP, name, email of the user that plays an important role during the promotional campaigns.

Tidio can collect leads for you, and you can save a lot of money from using a subscription platform. 

Tidio has Android and IOS app. You can chat using your mobile app and never miss any message. 

You can even integrate your facebook page with the same account and reply to the customers coming from both Facebook and website through tidio chatbot. 
Get Tidio Online Chatting Platform
Finally, The Insights
---
We all know and understand how much struggle a business has to face to establish a place in the competitive market. Multifunctional chatbot platforms offer great chatbots that help you to gain a competitive advantage and digitize the processes. You can never find an alternative to a chatbot. You need to choose the most suitable chatbot platform and dive into the thousands of possibilities to maximize your business goal.