If we raise a question about the most popular game in the world, a big part will go for football. We often call it Soccer too. Not just in the gallery, football games' popularity has now crossed the boundary of the virtual world. And so, you don't have to be a real-time famous football star to play in different leagues. You can now experience the excitement of football games on your iOS devices. Giants of the football gaming industry have already launched tons of exciting football games for iPhone, and today, we are going to discuss that.
Best Football Games for iPhone/iOS
---
Whenever you search for the best football games, you will definitely find hundreds of games at once. But all of them are not compatible enough to get your time. That's why we prefer to check out the best games and their details before you start playing one. It will help you to install the right one at once.
To help you find all the details of the best soccer games for the iPhone, we are here as usual. We check twice about the football leagues, visual graphics, audio, functions, and gameplay while listing the bests. So, spend a little of your time to get the most appropriate football game for you.
1. Football Strike
---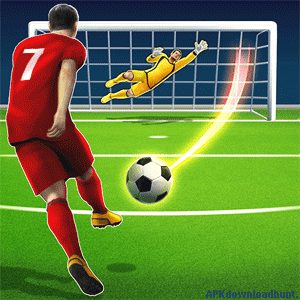 Team up with your friends for unlimited action in Football Strike. Start the game by selecting a multiplayer mode to represent your team. World-class teams like Liverpool FC, FC Barcelona, Borussia Dortmund can lead you to the medals. In this breathtaking soccer game for iPhone, players can be upgraded with their abilities. Besides, the graphics and So don't miss these Football games.
Important Features
A lot of online game modes are available to play with competitors around the globe.

Shooting Race mode is where you have to play within a time limit and hit the target as fast as you can.

There is a Free Kick mode that allows the battle between the goalkeeper and a striker.

Unlimited types of equipment can be personalized in colors and stickers according to your own style.

Different stadiums in different locations are to explore in Career mode.
Pros: The best part of this is its environment that lets you feel like playing live with other players. Plus, sound and music play a great role in making it more realistic.
Cons: Some players have complained about the connection drop up issues here. Also, while comparing to other games, it's pretty much expensive.
2. eFootball PES
---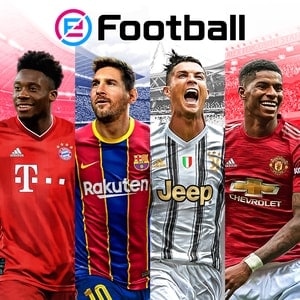 Feel the thrill of a real football stadium at eFootball PES. Konami has brought this game so that your fantasies come true here. If you play well throughout the whole week, you'll get a place in featured players. It will get you special player cards, extra skills, and added ratings. You can enjoy the authentic feel of matches from the stadium too. Still not impressed? Here are more features for you, and these will convince you for sure.
Important Features
By playing in the Iconic Moments Series, you can recreate the best career moments of present famous soccer players.

Teams like Manchester United, FC Barcelona, Juventus, and many more are featured to play with.

Online and local multiplayer matches allow you to play with friends and improve your skills.

If you want to play with world-famous characters such as D. Maradona, D. Beckham, S Gerrard, sign them in your team.

The condition of your player, roasters, and ratings are influenced by the data of live updates from real matches.
Pros: This exciting game lets you join in real-time online football matches. Besides, it supports lots of languages too.
Cons: This game requires too much space to play simultaneously. Plus, the campaign mode doesn't seem to be anything special as it shows.
3. Final Kick
---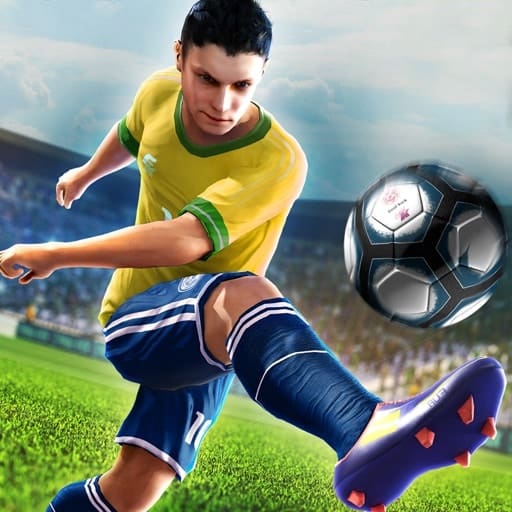 If you are a pro football fan, you better not miss Final Kick. This extensive game is well-known as one of the best football games for the iPhone for its minimal design but high-quality functions. With precise control of your finger over the ball and goalkeeper, you can strike and savings goals. You can play for only 2 minutes in the short time game. Moreover, there is a free-kick mode for unlimited goals. Intuitive graphics will ensure clear movements.
Important Features
Do not miss a single detail, as you can replay the best shots from every angle in slow motion.

In multiplayer mode, you can play with your friends as well as other players online.

To win prizes, you have to attend the weekly tournament and position among the top 100 players.

More than 20 local tournaments can be played even without an internet connection.

Over 100 finest teams there for you to play against them.

You can change any particular features of your team and players and train them.
Pros: This app provides full-time customer care support that will help you solve any confusion. You don't need to pay a penny to take part in a tournament.
Cons: The touchpad function is not very smooth in this game.
4. FIFA Soccer
---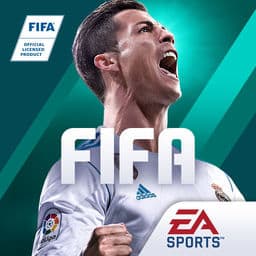 Before starting the world cup season, you can now enjoy the virtual one, FIFA Soccer. This game was launched by Electronic Arts, and it is available in a lot of countries like Argentina, Brazil, Australia, Canada, Ireland, Portugal, Spain, Germany, and many more.
In the season mode, prestigious teams will help you to get top ranks and exclusive rewards. Besides, I am pretty sure that you will love the graphics and audio quality of this game.
Important Features
The UEFA champions league and Europa league are waiting for you to participate, and you can earn players after the season ends.

You can create your own squad with players from La Liga, Bundesliga, Premier League, and players can be taken from the same nation or team for better bonding.

If you play in the attack mode, you can play against your friends.

With 100 legendary players can be chosen with their historic career.

To get a more skillful team, you can train famous international players and level up.
Pros: Lets you enjoy different types of gaming modes. In a multiplayer mode, you can challenge your friends too.
Cons: Sometimes, the players lose control over the gameplay here.
5. Soccer Stars: Football Kick
---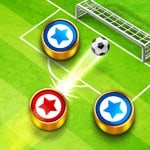 Of course, a list of football games is incomplete without Soccer Stars Football Kick. Football games for iPhone like this offer you real Football challenges to face. You and your friend can play on the same device in offline mode and multiplayer mode. Also, you can earn money here. The game is available in different languages like German, Spanish, Italian, Russian, etc. Besides, it offers very smooth control over the screen, and the gameplay is quite exciting.
Important Features
You can collect various teams to personalize your style.

Multiplayer mode lets you play with or without an internet connection.

If you want to battle against players from different countries, you have to participate in online tournaments.

After logging in with Facebook, you can take part in the game with your friends.

For winning the cup, you need to show the best skills against your opponents.
Pros: You can try both a normal and VIP subscription that comes with exclusive features. You can customize your team in this game too.
Cons: Some users find an insecure connection problem while running this game. Besides, some got fed up with unwanted bugs.
6. Retro Soccer
---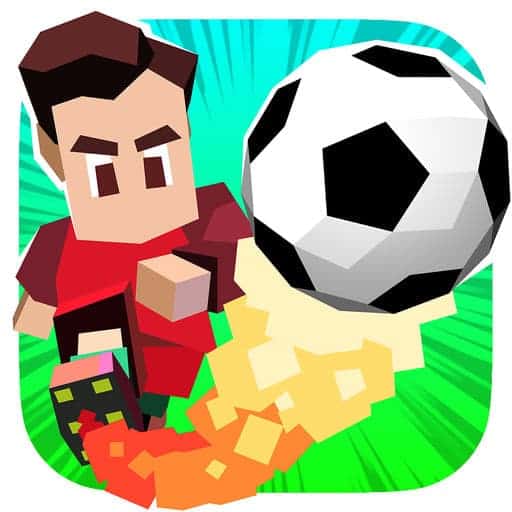 Unlike the other football games on a list, we got Retro Soccer. This is an arcade-style football game. After building the team with your favorite legends, start playing in your own style. It will keep you up-to-date with new challenges, features, and players. You can use the app with six family members. So, the multiplayer mode has become funnier and exciting. Let's see what's more it will offer.
Important Features
You can make your own all-star team by collecting and upgrading players of your choice.

There are different types of matches like full league seasons, challenge matches, and world trophy competitions.

Lives will be recharged instantly, and it will cost you nothing.

The best scores you made can be shared with everyone by using ReplyKit live.

Make a goal against your friend to see who can reach the highest score.
Pros: This game offers a free subscription in over 70 countries. You can also enjoy it on iPhone, iPad, iPad Mini, iPad Air, iPad Air, iPad Pro, and iPod Touch.
Cons: This game doesn't have a synchronize option, and so you can't use it on your other device with the same account.
Download
7. Top Eleven Be a Soccer Manager
---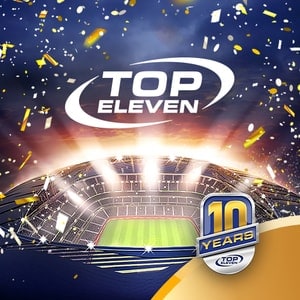 Check out a soccer game managing strategy game called Top Eleven Be a soccer manager. You can play it for free on your iPads and iPhones without any issues. This game offers you all the popular players and teams of the world. You will also get regular updates from the developers.
You can build a completely personalized soccer team by selecting different players and other tools of your choice. It allows you to play with your friends and interact with other players online. So, join now in the community of ever-growing soccer management games on the iOS platform.
Important Features
Offers a huge community of over 200 million players.

Make the best possible team and use new tactics to win live events and challenges.

Allows the players to manage your custom team as you wish.

Try to win as many events and tournaments as you like and gather rewards and daily gifts.

It features team-building capabilities. You can build your team and improve in your own way.

Supports multiple languages along with English as default.
Pros: This free football game for iPhone works on all kinds of iOS devices flawlessly. You will be happy to know that this game offers regular training sessions, a guide for using ta tactics, and other gameplay tips.
Cons: Some might find this game boring for its management related to strategy-based gameplay. It requires devices over iOS 10.0 to run it smoothly.
8. Blocky Soccer
---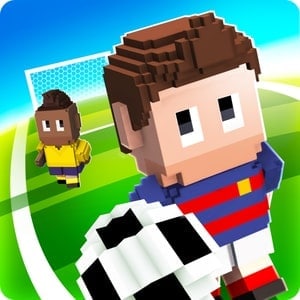 Let's check out Blocky Soccer, one of the most versatile block animation based soccer games for iOS. It works on both phones and tablet devices for its outstanding optimization by the developers. Blocky Soccer is free to play and offers easy gameplay. You must gather as many trophies as you can by winning lots of matches and campaigns.
It renders high-quality graphics and adaptive sound effects. The game is also backed up by regular updates and frequent fixes to provide you with the best possible gaming experience.
Important Features
Offers retro style in-game environment and visual effects.

Includes highly responsive touch-based controls.

Features numerous characters that you can choose from.

Comes with advanced sharing options, and you can also compete with other players.

Provides a set of different grounds and adaptive weather effects.

Offers a lot of campaigns and tournaments that players can join.
Pros: This game comes with very clear and HD visual graphics and sound quality. Moreover, it is completely a free football game for iPhone.
Cons: Many players of this game have questioned the poor defense strategies of this game.
9. Flick Shoot 2
---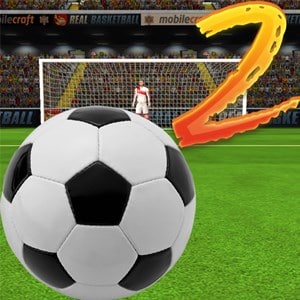 If you want to play a realistic soccer game on your iPhone or iPad, try Flick Shoot 2. It is one of the best soccer games for iPhone you will find on AppStore. This game is free to play with optional subscription packages at affordable pricing. It comes with an interactive online multiplayer mode.
You will be able to play different matches with friends and other players. It offers endless hours of exciting game sessions. The game also gets regular updates and new content to provide you seamless gaming experience.
Important Features
Offers stunning realistic 3D graphics and sound effects.

It offers multiple game modes, such as single-player mode, missions, campaigns, and minigames.

The controlling system of the game is very smooth and familiar with similar games.

Comes with multiple language support along with English as default.

Provides numerous vests, balls, shoes, and players with complete customization options.
Pros: You will love its versatile single-player gameplay, which features 6 different game modes, including Challenge, Time Attack, Arcade, Not Miss, etc. Also, you can try the tournament and multiplayer modes too.
Cons: You might find the game to be slower when playing in multiplayer mode.
10. Winning Soccer
---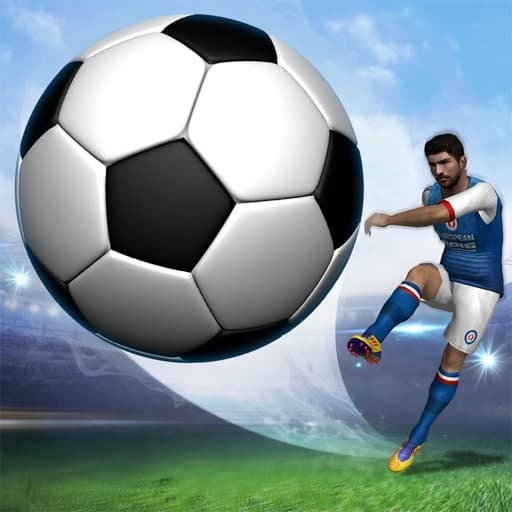 Winning Soccer by gamegou is a highly optimized 3D football game for iPhone. It is made for iPads but works flawlessly on iPhones too. You will love its realistic gameplay and competitive multiplayer modes. It allows playing with your friends or any other players around the world in real-time.
Its live person VS person game sessions is highly demanding. So join the ever-growing community of Winning Soccer now. The following features will make you eager to download it without a doubt.
Important Features
You can create and manage your custom soccer team.

Offers smooth and responsive touch controls for easy gameplay.

Master your controls to win in the international live matches and tournaments to gather experience points and rewards.

It allows you to challenge other players around the world in real-time live matches.

Comes with total customization options for all kinds of tools, such as balls, vests, stadiums, settings, etc.
Pros: Renders jaw-dropping 3D graphics and stunning visuals with advanced physics works. Plus, people of any age can enjoy this game.
Cons: Some users find it very slow in their devices regarding having a proper internet connection. Besides, some of them lose control over the screen too.
Our Recommendation
---
No game, to be true, can be just perfect for everyone. The cons of the following games are not the experience of all the users. Rather, most of them end up loving these games for their individualities and amazing gameplay. However, as there are 10 equally compatible games, you might get confused about them. Let me help you one more time. If you prefer playing the best free football games, then you should try either Top Eleven Be a soccer manager or Blocky Soccer.
But if you prefer quality over the cost, then Final Kick and Football Strike would be the best options for you. And you should try Retro Soccer if you like an arcade-style football game in any way. All these games are good enough to boost your gaming experience.
Finally, Insights
---
So, we have reached the very final part of today's discussion where you have learned about the 10 best football games for the iPhone. Whether it is the real football game or the virtual one, Football is always the name of our love. So, don't get bored in your leisure and just boost your gaming experience with these games.
I am sure that whatever game you are going to choose, you'll end up loving it. However, don't forget to share your experience of playing the game you select. And also, let us know if you know about any game that is ever more compatible. Thank you in advance for your support.