Most people search for the antivirus for windows just after boarding on to this popular operating system. It's not the fault of Windows in most cases. The engineers of Microsoft are trying very hard to make Windows more stable and secure. However, the popularity and user base makes bad people create and spread the virus in this system.
But if you stay alert and use some protective measures, you can say safe maximum virus programs. But even being cautious, sometimes you can't help falling into the trap of malware. In that case, you have to use security tools for Windows. It will help you detect viruses and quarantine them so that they can not harm your filesystem.
Again, some antivirus programs are preloaded with bonus features that help speed up your computer using various techniques. There are many security tools actively developed for Windows that can save your precious documents from the attack of malicious scripts.
Best Antivirus for Windows PC
---
Windows has a built-in protection system called Microsoft Defender. This is a pretty good tool with some great improvements over the past few years. Yet, some people prefer third-party antivirus tools because of the additional features. Although most of the antivirus software is paid, some decent tools are completely free to use.
However, you can always upgrade to the paid plan if you want more automation and this kind of stuff. As an avid Windows user for a long time, I had to use many antivirus programs. Here is a list of the best antivirus solutions for Windows PC that I've experienced so far.
1. McAfee Antivirus Plus
---
McAfee is a big name in the security world. John McAfee developed this antivirus for Windows PC. But later, after gaining much popularity, this farm was bought by Intel. So, you are getting Intel standard security in your computers. However, this is not a free tool. All good things come at a price, you know. You will have to buy their yearly subscription packs to avail the features of this security tool.
In this era of connected things, privacy is a concerning matter. Hence, McAfee put much more emphasis on privacy, along with security. The comprehensive internet-protection feature will help you to stay away from unethical trackers and scripts. Besides, you will get peace of mind by relying on their expert engineers.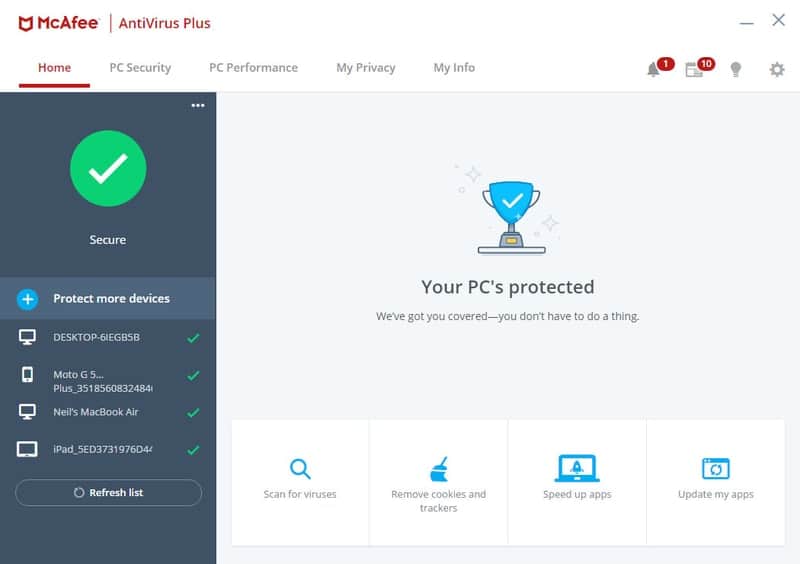 Key Features of  McAfee Antivirus Plus
It has a performance optimization feature for saving bandwidth and boosting speed.
There is a built-in guided tour for beginners who are not that familiar with antivirus tools.
Identity Theft Protection feature is great for anonymously browsing on the internet.
The full system scanning is high-speed and efficient to quarantine harmful scripts.
They have a money-back guarantee in case you are not satisfied with their service.
Pros: They have an award-winning virus detection algorithm with millions of satisfied users.
Cons: The basic budget plan doesn't come with disk encryption and parental control features, which is frustrating.
2. Norton 360
---
Norton 360 was able to secure the second position in this list because of the advanced features. This Antivirus is not a new player in this industry. Their classical antivirus tool is depreciated now. However, they have risen again with their new lineup called Norton 360. This is an all in one security platform developed by Symantec, which is a part of Broadcom.
The developers have great experience in security systems, especially if you are talking about Windows and enterprise-level security. However, Norton is a bit costly for home users. But if you can afford the high subscription price for the sake of your security, then this is worth buying.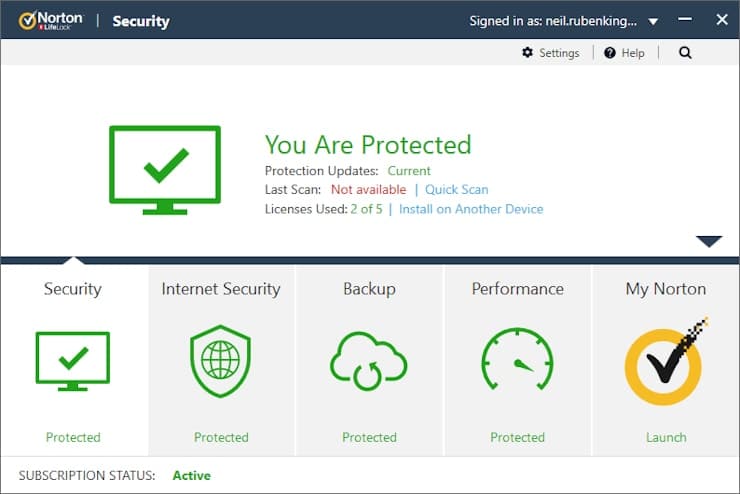 Key Features of Norton 360
Cloud backup service up to 500GB in case anything happens accidentally.
A password manager that will make you not reuse the same password on every site.
It protects you against breaking into your webcam or microphone.
Identity Lock and Smart Firewall are two great features that I use daily.
Parental control features are great if you want to use this tool in your organization.
Pros: It features almost 20 individual features and services with their Ultimate Plus subscription plan. The base package also has a lot of features.
Cons: The subscription is costly, and most people don't even require the advanced features it offers.
3. Bitdefender Antivirus Plus
---
This is one of the most affordable paid solutions out there for Windows. However, you aren't missing anything in this software. The developers are continuously improving this tool with new features and bug fixes. In various benchmarks, Bitdefender is slightly ahead of other competitors.
Yet, I won't say that this is the absolute best antivirus for Windows. Instead, this follows a balanced approach in terms of stability and reliability. Apart from protecting your local computer, Bitdefender excels in protecting your online privacy. There is also a built-in VPN with this tool that you can use on any of your devices.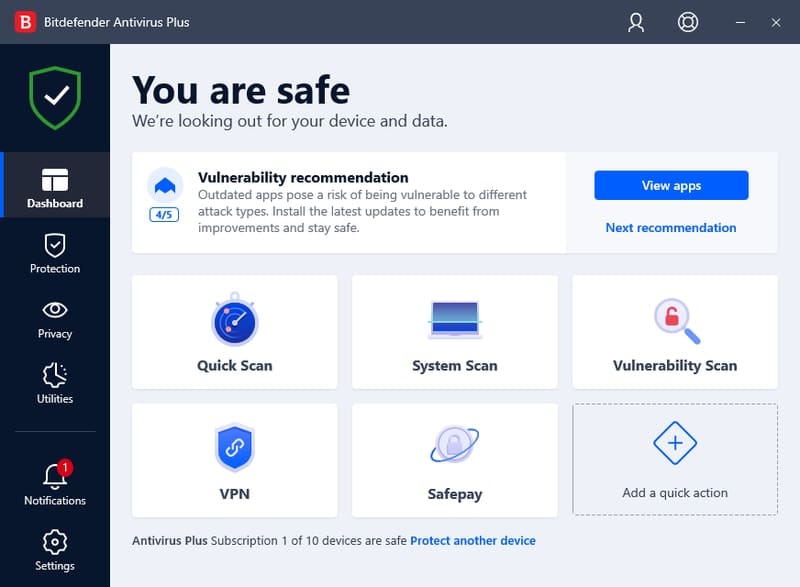 Key Features of Bitdefender Antivirus Plus
It features advanced data protection against known and unknown ransomware.
You can get a complete health checkup of your PC to discover security holes.
Bitdefender has advanced modules that can block phishing and fraud transaction websites.
This tool lets you set up custom profiles for high demanding tasks like gaming.
The real-time cloud protection and regular updates make it stand out against others.
Pros: Multi-device protection within an affordable subscription plan is the biggest pro of this antivirus.
Cons: They have three different security solutions with unique features. This is a bit confusing for the new users.
4. Microsoft Defender
---
Most of you will be surprised to know that Microsoft has its own antivirus program built-in with their Windows PC. Believe me; this is a great tool with the best integration with the Windows PC. But still, some people can't utilize the power of this tool because of their ignorance. So, you can say this is quite underrated. Microsoft knows the in and out of their system more than anyone else.
So, it is obvious that you can rely on their antivirus. The best part of using this tool is that you don't need any installation or additional subscriptions. So, even if you miss some features that other third-party software offers, this is a great deal and deserves to be on this list.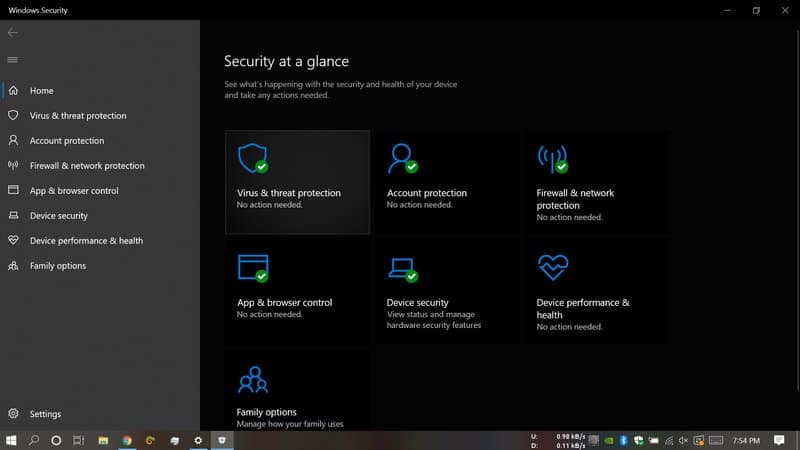 Key Features of Microsoft Defender
You can access this tool right from your UWP Settings app at ease.
There is a built-in firewall for protecting against public and private networks.
You can scan for malicious scripts in different drives by using custom criteria.
It features three different protection methods, including real-time, cloud-delivered.
Microsoft regularly updates the virus definitions for better security.
Pros: It doesn't put additional pressure on your disk and requires no prior experience to get used to this tool.
Cons: It will only detect and block malware. There is a lack of additional features that are very common in the third party paid tools.
5. Malwarebytes
---
The thing I like most about Malwarebytes is the lightweight footprint of this software. We all know that antivirus tools are heavy. The runs all the time and puts much pressure on the CPU and memory. This is why gamers and power-users don't like installing antivirus programs on their computer.
The hackers take the chance of this scenario. However, Malwarebytes is fast and fluid. It doesn't even load with any unnecessary features. Rather, you will get all the basic features through various monthly subscription models. They also provide a free antivirus for Windows on a trial basis.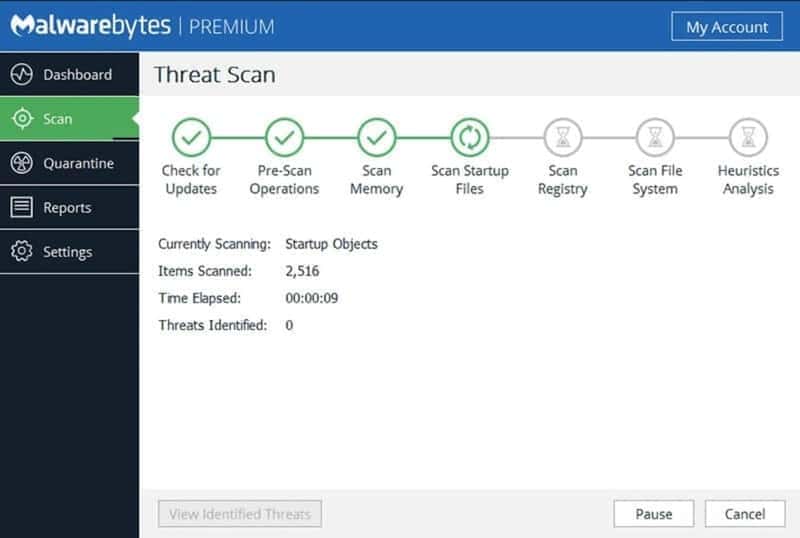 Key Features of Malwarebytes
It can scan the whole system by using fifty percent fewer CPU resources than the competitors.
There are a lot of automation and scheduling tools that can save your valuable time.
The virus detection engine named Katana is equipped with a lot of AI features.
It has a simple but elegant user interface that is accessible right from the taskbar.
If your computer is already infected, you can use this tool to clean that up.
Pros: This tool can suspend notifications and distractions while gaming and doesn't take a toll on the performance.
Cons: The features are pretty basic that can be availed by the free plan of some antivirus tools. So, considering this, it may seem costly.
6. Avira Antivirus Pro
---
Avira is a German antivirus tool. It was developed thinking about the end-users. So, you will find many features in this tool that are actually useful. Thanks to the developers for not including any bloat features and unnecessary stuff. The core objective of Avira is to give you digital freedom in the era of security breaches and privacy violations.
This tool will scan your computer for malicious programs, just like other typical antivirus tools. On top of that, you will get the freedom to shop safely, download safely, and send confidential emails without worries. There is a hassle-free moneyback guarantee from the developers. So, you must check it out!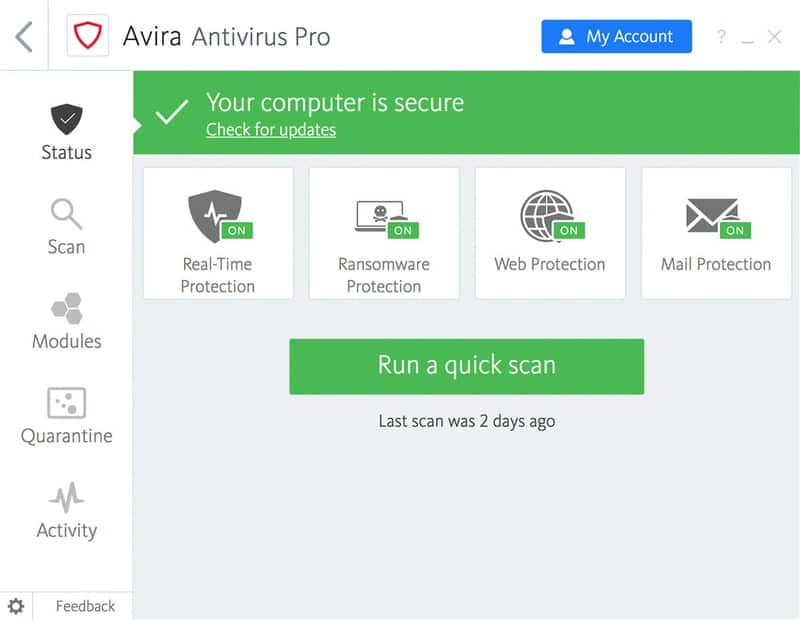 Key Features of Avira Antivirus Pro
The core of the tool is powered by artificial intelligence, which learns and improves itself gradually.
You will get a premium browser extension to help you block ads and social trackers. (Hope you will support the creators like us by watching ads.)
It automatically scans USB devices upon mounting, which is called the gateway of the virus.
The built-in firewall can be configured within a click that requires no customization.
Behavior-based analysis of this tool can block most ransomware.
Pros: Avira is powered by machine learning and AI that will automate things for you to focus on productivity.
Cons: The free version is quite enough for most users. Hence, the price of the pro version is a burden for most home users. They should lower the price.
7. Kaspersky Total Security
---
Kaspersky Lab is a Russian cyber-security farm. Despite being a family-based company, they have a large userbase and employees. Once, Kaspersky was a top player in the personal computer antivirus game. However, the development of other antivirus programs made them struggle a bit.
Yet they are a great contender of Antivirus for Windows PC. They have three different packages at different price points. Kaspersky Total Security is the costliest with most features. If you don't go online that much, then their basic plan is adequate for you. However, if you are running an organization and connected to the internet, you'd better go for this one even if you have to spend some extra bucks.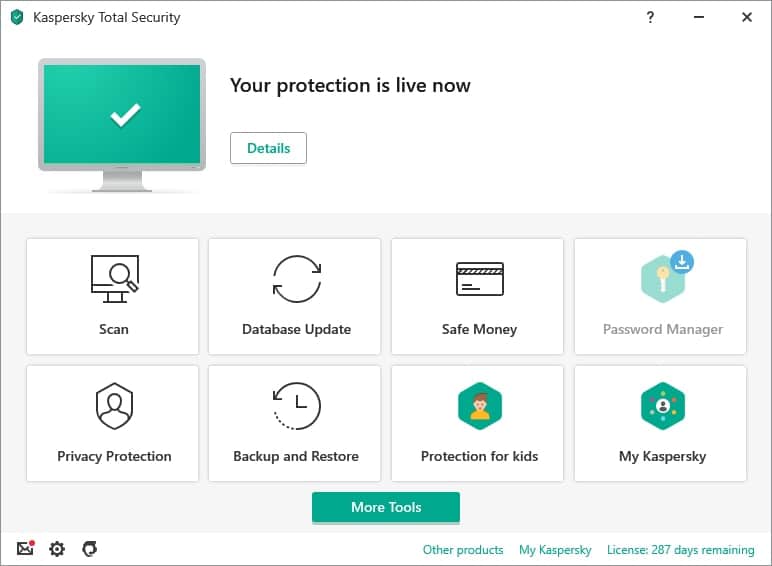 Key Features of Kaspersky Total Security
It has a built-in private browser for safer transactions that is a unique feature.
You will get a free backup option for your important files to keep you safe from ransomware.
It protects your webcam and other input devices from being compromised by hackers.
There is a lot of filters built-in so that your kids can get to know the internet safely.
Kaspersky has great protection against unknown malware and Zero-day threats.
Pros: They did a great job with performance optimization. Also, the installation and setup are quite straightforward.
Cons: Their basic antivirus plan has minimal features. That is a con if you can't afford their top-tier subscription plans.
8. ESET Smart Security Premium
---
ESET is most popular for home and small office usage. Although it is not that famous like all other antiviruses in this list, it has a pretty large userbase of more than a hundred million. Just like every other commercial antivirus programs, they have different plans for different types of users. Their Smart Security Premium is the one loaded with the most features.
Yet, I am not sure whether you will need all of them if you are just a casual computer user. But the features are great for managing an organization of internet-connected devices. The fun fact is that there is a Linux version of ESET, which is pretty uncommon. So, you are getting protection for all your devices within a single product, which is amazing.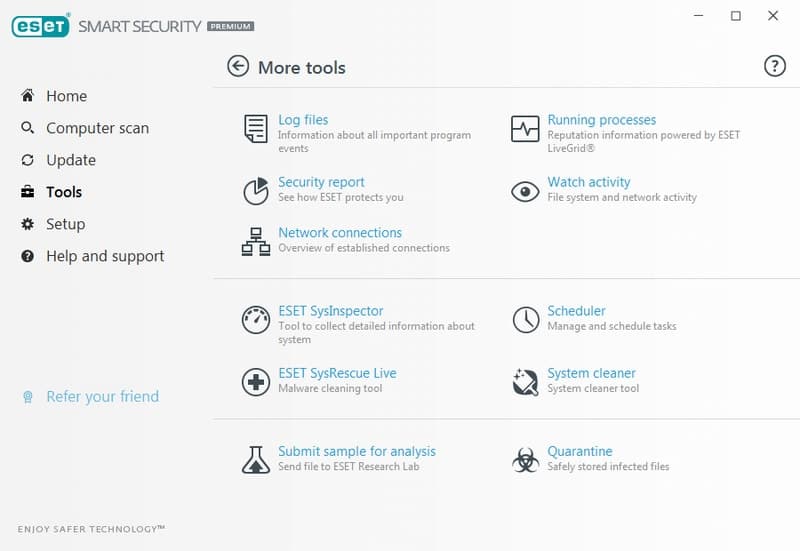 Key Features of ESET Smart Security Premium
The virus cleaner uses ESET's cloud-based Live Grid feature and machine learning for maximum accuracy.
It has an anti-theft feature that is similar to Google's Find My Phone. It will use the laptop's webcam to identify the thief and track its location.
The overall footprint is very lightweight. It doesn't draw that much power, which helps portable computer users.
You can design scheduled tasks after the installation so that you don't need to take actions manually.
ESET has a built-in photo encryption feature to save your private memories.
Pros: ESET is more leaned towards small businesses. They have some great and affordable business plans for your organization.
Cons: The top-tier plan has only two extra features, such as photo encryption and password management. So, if you can live without them, it's better the stick with the basic plan.
9. TotalAV
---
TotalAV is a relatively small player in the antivirus industry. I was a bit skeptical about it. But after using it a bit on my personal computer, I was overwhelmed. This thing definitely deserves attention. On top of that, the price is also lower, which will not break your bank. In terms of features and security, I have positive impressions of it.
Apart from the regular virus cleaning and internet safety features, you are getting a free password manager, premium VPN, and a premium adblocker. If you consider the package and price to features ratio, this is really a good deal.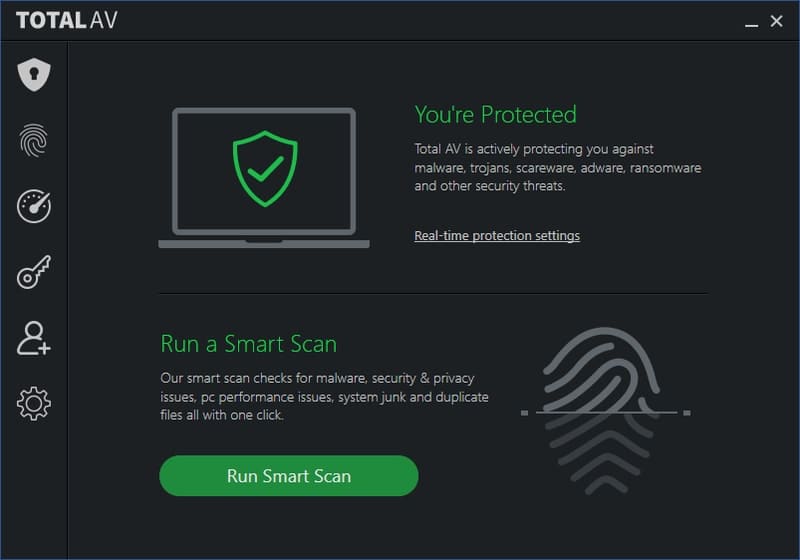 Key Features of TotalAV
The real-time virus removal engine gives cloud-delivered protection against ransomware and spyware.
It comes with a powerful browser extension that protects the privacy and cleans up your records.
Here is a great system optimizer and file cleaner built-in with this to save up computer space.
TotalAV can detect 100% malware from the sample scripts, which is a great achievement for this less popular tool.
You will get to access your device's firewall settings remotely from anywhere in the world.
Pros: The basic plan allows you to use this tool on three of your devices. The basic plan doesn't have any feature limitations except for the device count and password manager.
Cons: This is not a big name in the industry, and hence you may get updates and customer support slower than other large antivirus companies.
10. Webroot Antivirus for Gamers
---
As I said earlier, antivirus has a negative impact on computer performance. This is why gamers don't like to use antivirus. Even I haven't installed any antivirus on my gaming rig. However, different developers are claiming that they have optimized their antivirus for the gamers.
Unfortunately, I didn't notice any significant performance bump. But to my surprise, Webroot came up with the idea of making an antivirus dedicated to the gamers. They have removed the power-hungry stuff and clutters from the original antivirus to make this incredible product. It barely impacts the performance, and to me, this is the best antivirus for Windows gamers.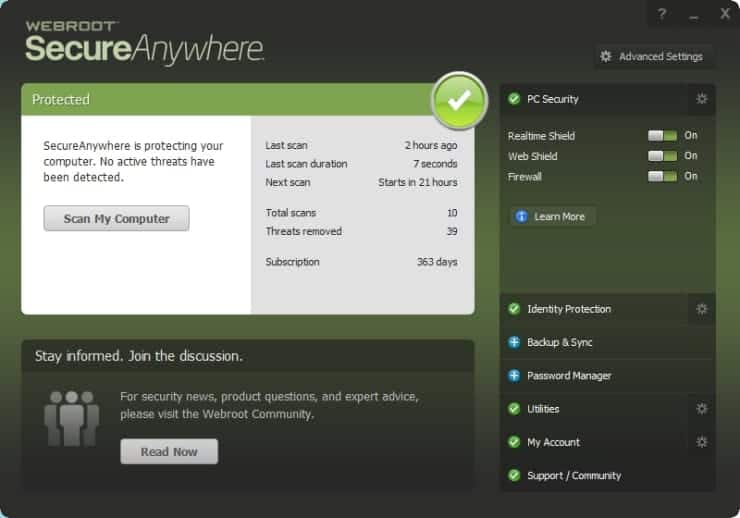 Key Features of Webroot Antivirus for Gamers
The developers have optimized this for delivering high-performance from the source-code level.
It doesn't get turned off while gaming like any other antivirus to deliver speed. Hence, you will feel secured even while gaming.
The system scanner is superfast with delivering more than sixty percent more speed than typical antivirus products.
You will get an anti-phishing feature along with protection against hijacking your webcam and mic.
The cloud-based protection is no less than popular antivirus tools, and you will get a full refund even after 70 days.
Pros: If you are a gamer and don't want to compromise a single frame drop while gaming, this can be your pick. It's much effective than the so-called gaming mode of popular tools.
Cons: The price is not affordable at all. If you are on a tight budget, then you'd better go for other options on the list.
Our Recommendation
---
Well, all of the above tools are extensively tested by my colleagues and me. So, they are quite capable of being installed on your daily driver or super-sensitive office PC. However, while choosing an antivirus, there comes a question of additional features and affordability. So, if you want the best all-round antivirus with a lot of features, then I will recommend you to go for the Norton 360.
However, if your computer sucks in terms of demanding tasks, then Malewarebytes is a good alternative. The gamers out there can choose the Webroot Antivirus for Gamers if they are serious about protecting their PC. Again, if you are just a casual computer user, my recommendation will be to stick with the Microsoft Defender and invest the money into something else, e.g., SSD.
Final Thoughts
---
People often have different opinions regarding antivirus software. I am not against antivirus at all. But I personally think that Windows' own security system, aka Microsoft Defender, is great for normal users. But if you want some advanced features and automation, then investing in an Antivirus is not a waste of money at all.
Anyway, I hope this article has helped you to choose an antivirus for Windows PC. However, if you have already chosen an antivirus that is not included in the list, you can comment below to let us know.