You may be heard of the all-time classic Rambo movie franchise. Action-super, human-super, soldier-fight, survivance-entertainment, all you can get in one package. We are Linux lover, why we are talking about Rambo here? Because, our childhood Rambo is here back again as Linux game, it's Turok! Turok is a 3D first person shooting game first introduced in Nintendo 1997. This game is a classic action game which shaped the shooting game era. It was the first choice for 90s kids to must play the game. Time flies by, hardware and software system updated long way now, but nostalgia never goes away.
Dinosaur Hunter is Here
---
After releasing from the way past the dinosaur hunter, Turok is here again to play with our nostalgia. If you never heard of the game, never thrilled with puzzle and shooting, you must try the new Toruk remastered and it is available for Linux! New reborn Toruk has come from Night Dive Studios with sharp widescreen HD graphics support, improved level design and OpenGL backend support.
Since the game was the idea changer for the gaming world, you can still find the same flavors of Doom(FPS), Tomb Raider(Exploration and solving puzzles) and also Jurassic Park (dinosaurs, versatile weapon) and science fiction.
You have to keep open your eagle sharp eyes and stay alert all the time to run from bio-engineered dinosaurs and aliens at every corner. You have to run in 8 epic harsh 3D environments to find the ancient artifact called "Chronoscepter." Sounds easy? No way, when you start playing, you can understand why it is so flavorsome! To get things done, you have to run, jump climb and first fight with epic weapons to survive in the game. Telling you, you can't just leave the game without killing. It reminds of my childhood, and you also feel the same!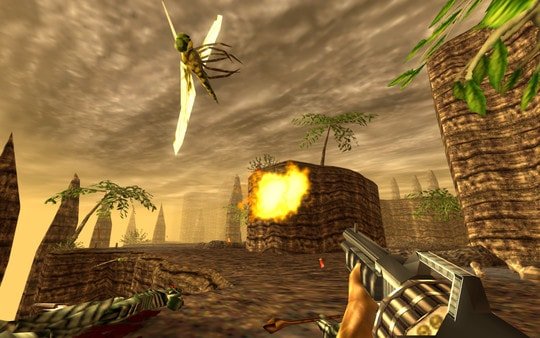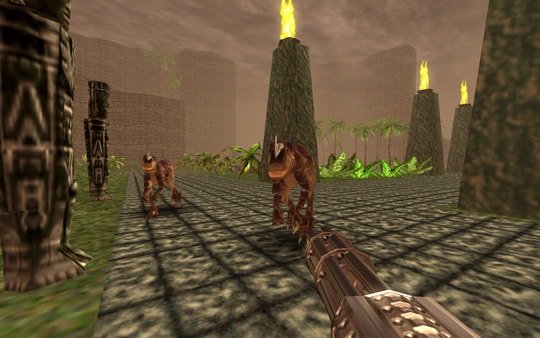 New features Included
---
– Support for high resolutions, and widescreen
– Improved gameplay and level design
– OpenGL for video backend to provide portability and support for vertical sync
– Dynamic lighting, bloom, FXAA, lights shafts, enhanced water effects
– Online streaming feature
System Requirements
---
This game is for all current devices. It's not a massive power eater game, it's more like for all! This game is compatible with the old machines with the current high power device; it works fine. However, it gets better in the following configuration.
-Ubuntu 16.04 LTS (or later)
-Intel Core i5 (or better) processor
-Ram 2 GB
-For excellent graphics, you need NVIDIA GeForce 7800/7900/8600 series or ATI/AMD Radeon HD2600/3600 or X1800/X1900
You can steam!
---
Yes, you heard me correctly. This newer version of Toruk is available on Steam for online playing. However, you have to spend a little cash to dive into nostalgic-action life. The game is in the steam's summer sale! Within $5 budget you can install for Linux, windows or mac to play online. Can you believe it, under $5 you are running in the Jurassic world with intense action feeling!