Data is the most powerful resource for any industry to be in the leading position in today's world. If you want to make a decision that can be resulted in a sustainable outcome, you will have no other choice but to depend vastly on data. Besides, if you have enough data, you can predict the outcome and take appropriate actions. As a result, data recovery tools have become more critical than ever to recover user-stored and system-created data. This article represents a list of available recovery software for Windows out there that you can use to get back accidentally deleted files, videos, images, audio files, documents, and so on. 
Best Recovery Software for Windows PC
---
We have highlighted the essential features, pros, and cons of the most popular recovery software under one umbrella. You should also check the video tutorials before using one of these software as the process of data recovery can often become complicated, especially for people coming from a non-technical background. 
1. Puran File Recovery
---
This data recovery software is designed for people who are not comfortable with computers. It provides a simple solution where a user can navigate the deleted files to find the exact files he/she wants to restore. It is equipped with many advanced options while also detecting files from your Windows PC's lost partitions. On top of that, if you do not want to install it on your computer, there is a portable for you as well.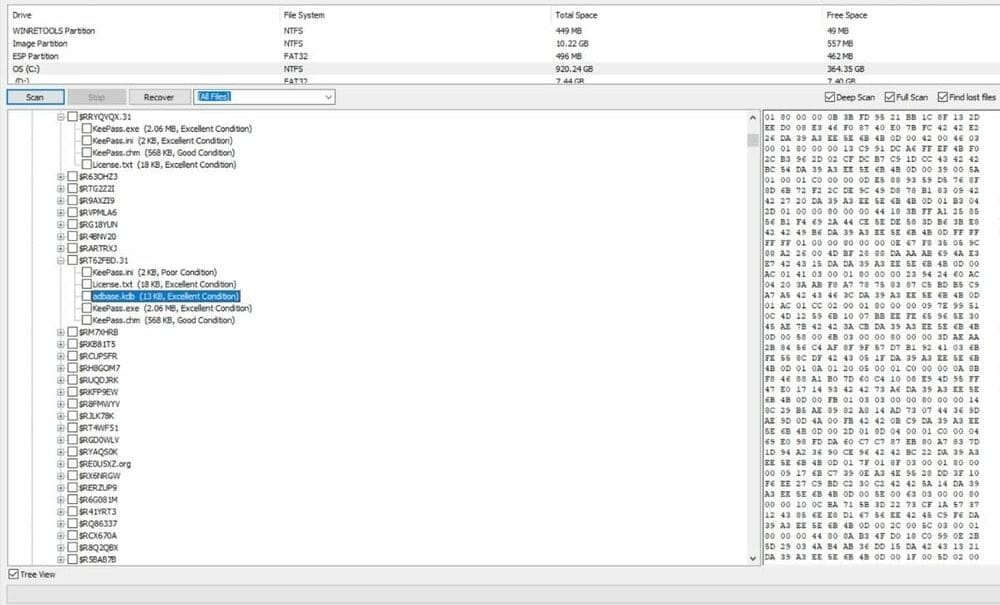 Important Features
Provides a Tree View Option and a ListView Option for users to overview all the deleted files. 

It can often detect more deleted files than its competitors, while you can also get back the NTFS and FAT12/16/32 files. 

Before recovering a file, you can see whether a file can be recovered well or not. 

Usually, the restored files are saved to the place where they were originally stored. So you do not have to manage each file separately.

You can download all the restored files altogether, and the file size usually remains pretty small.

There are several scan options like Deep Scan and Full Scan.
Pros: It can be used on any version of Windows starting from Windows 7, and you can filter the deleted files based on their types, such as  pictures, music, documents, videos, or compressed files 
Cons: The free version of this software is only available for home users or non-commercial purposes.
2. Recuva
---
If you have ever faced a situation where you needed to use any recovery software for PC, then you should have already know the name of this tool. It is hugely popular among all kinds of computer users and can be easily considered one of the best data recovery software.
It comes with all the advanced features, but the user interface is simple and easy to use. You can use this software to recover data from hard drives, external drives such as USB drives, BD/DVD/CDs, and even memory cards.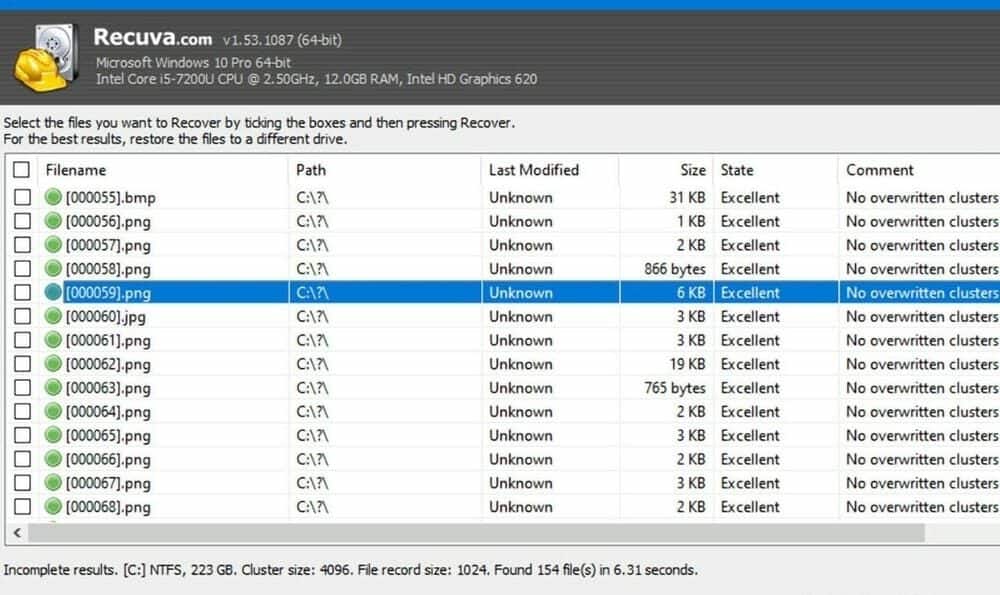 Important Features
Recuva has made data recovery as simple as deleting files. Available in the installable and portable version as well. 

It asks questions to the users through the easy-to-use wizard and completes the complex processes behind the scene. 

It offers a quick standard scan for recovering files while you can use the deep scan option to get the most technological benefit from Recuva. 

You can search within a file, so it is possible to find even a string from a document. 

It comes with IDoD 5220.22-M, NSA, Gutmann, and Secure Erase to enable you to restrict other people from restoring particular files. 

If you select the setting, the files will be restored and organized in a folder structure. 
Pros: You can expect to get support to recover files from the drive as large as 3 TB, and both 32-bit and 64-bit versions are available. 
Cons: The number of disadvantages is minimal, although you may face trouble while downloading and installing the software as it asks the user to install additional programs unnecessarily.
3. Disk Drill
---
When you are talking about Windows recovery software, Disk Drill is a common name. It has got many people's attention through its simple design and straightforward approach. You can expect to restore data from virtually any storage device.
So, be it Windows PC, USB devices, Digital camera, iPhone or Android,  memory cards, or any other external hard drive, there is no chance of losing valuable data. It is a free recovery software for Windows, although there is no portable version available of this software.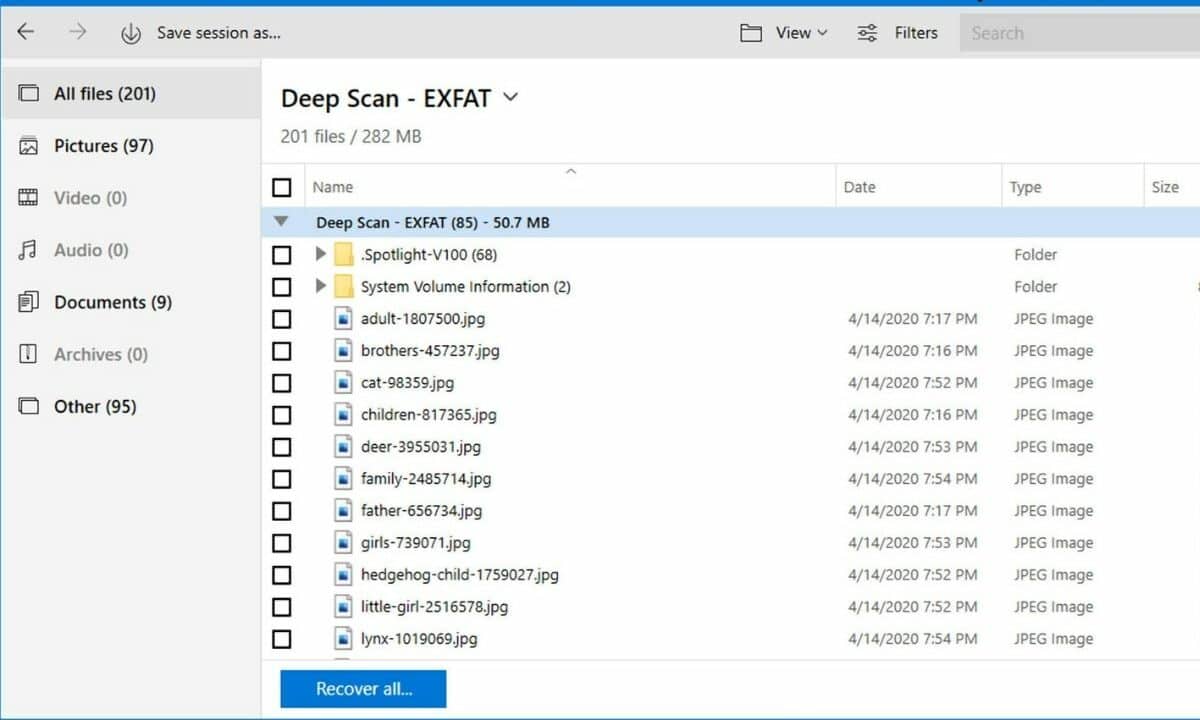 Important Features
All the deleted files are displayed in an organized way depending on their category, making them easy to view. 

Users can search for any specific file and filter the deleted files by size and date. 

Just like Recuva recovery software, Disk Drill also offers a quick scan and a deep scan mode. 

It supports a wide array of file types that you can recover on your computer. 

Free data recovery of up to 500 MB while you will also get data protection through its Recovery vault. 

You can store recovered data on a  DMG file, which is really important when your hard drive is about to die. 
Pros: Scanning can be controlled according to your choice, and  FAT, exFAT, NTFS, HFS+, and EXT2/3/4 formatted drives can also be scanned anytime. 
Cons: You can not see the condition of a file before trying to recover it.
4. EaseUS Data Recovery Wizard
---
If you do not want to spend much time looking for one of the most reliable data recovery software, then EaseUS Data Recovery Wizard is the one you might be looking for. The file searching operation on this software is simple, and you can also include the date, time, and file-type to filter the deleted files. Besides, when you intend to recover a file, the original folder structure remains intact to simplify the organization.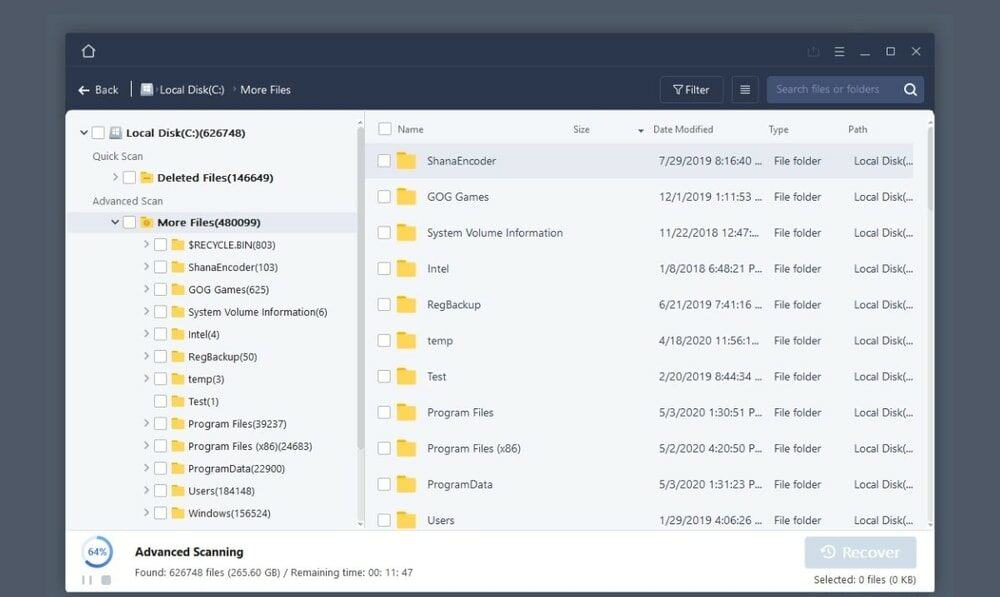 Important Features
FIle recovery is super simple due to its similarity to browse folders in Windows Explorer. 

Unlike Disk Drill, EaseUS Data Recovery Wizard will provide an overview of the condition of any file before recovering. 

One of the most exciting features is saving the scan result, which removes the necessity of starting a scan from scratch. 

The Deep Scan option is relatively faster and can scan the drive thoroughly.

Enables users to search through the results of a scan by an extension. 

Besides, you will also be allowed to recover files from drives formatted with the Mac HFS+ file system. 
Pros: You can undelete multiple files simultaneously, and a total of 500 MB of data can be recovered with the free version. 
Cons: It will ask you to share the software on your social media platforms for recovering up to 2GB of data for free while no portable version is available.
5. SoftPerfect File Recovery
---
SoftPerfect File Recovery is another awesome that you can use as a recovery software for Windows OS. When it comes to undeleting files, this undelete program can recover files from hard drives, memory cards, and so on. But unlike other recovery software, this software cannot restore data from any CD/DVD drive. Besides, it comes with a portable version, making it possible to run this software even on a USB drive or floppy disk.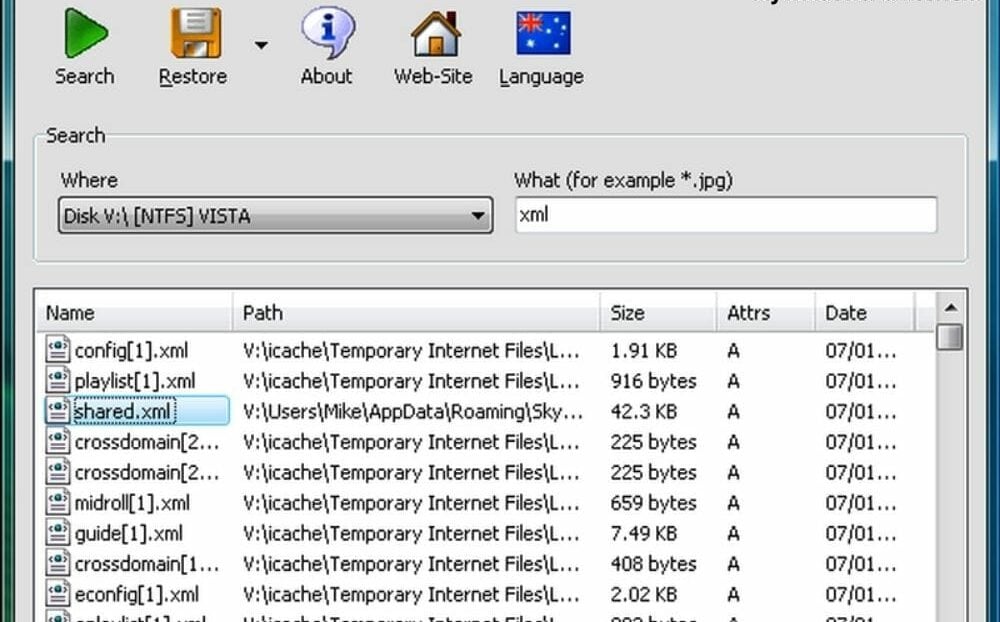 Important Features
Allow users to recover up to 2GB of data for free, which makes it convenient. 

You can search by file extension and file name to find particular files that have been deleted from your computer. 

Besides, you can select all the files you want to restore at once to process multiple files simultaneously. 

You can recover files even from formatted, hidden, and lost partitions. 

Besides, SoftPerfect File Recovery is Lightweight and works great with FAT and NTFS.

Compressed and encrypted volumes are also supported, while this software can recognize most of the storage media available currently. 
Pros: The user interface is easy to understand and solves all the file loss problems without any trouble. 
Cons: No file can be previewed, and you will not understand how successful the file recovery will be before recovering.
6. Stellar Data Recovery
---
If you are looking for professional-grade data recovery software, you should look at the advantages Stellar Data Recovery offers. It is suitable for any recognition concerned about data safety and wants to protect their critical data at any cost. It is one of the most powerful recovery software for PC that can restore or undelete files from your Windows PC or any kind of storage media.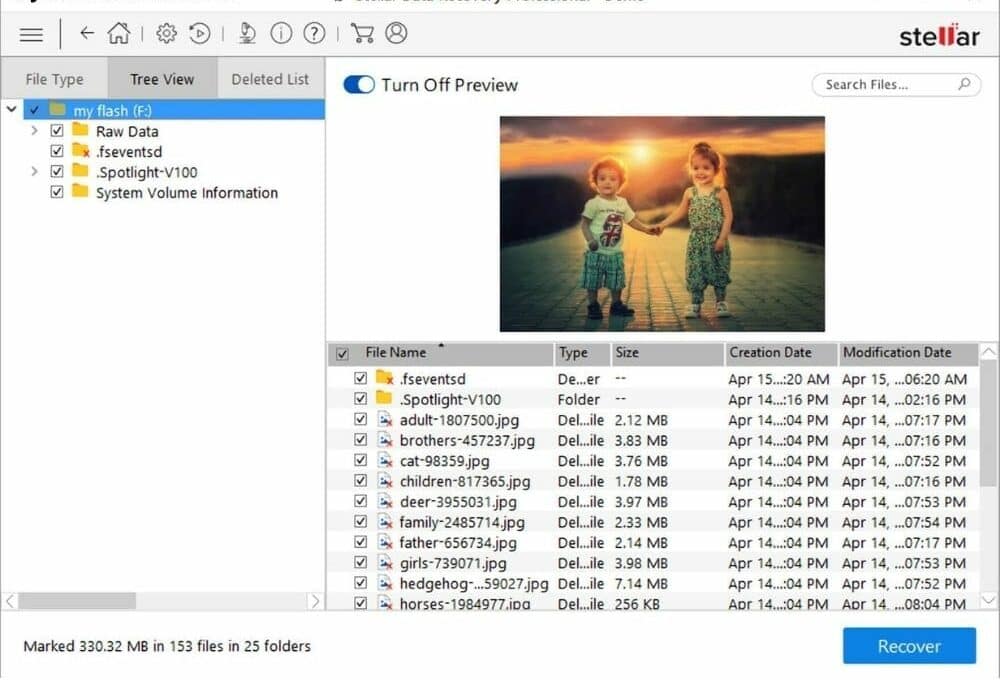 Important Features
It lets you recover files from hard drives, SSDs, USB drives, crashed and unbootable systems. 

Also, users can recover files even from partially burnt and scratched CDs or DVDs. 

Any file format can be recovered, including documents, emails, photos, videos, audio, etc. 

You can preview the scanned files to get an overview before trying to recover. 

It comes with SMART Drive Monitoring and Cloning, which can detect whether a hard drive is at risk of sudden failure. 

Allows recovering email data files such as Microsoft Outlook, Outlook Express, Exchange Server, Lotus Notes, etc. 
Pros: Can also recover files from the "BitLocker" encrypted drives or any other external storage media. 
Cons: Free version only allows up to 1GB of files to undelete, and there is no portable option. The free version can not recover files larger than 25MB.
7. iBoysoft Data Recovery
---
When you are talking about the free data recovery software, no tool can beat the iBoysoft Data Recovery tool. You can expect to get back all kinds of accidentally deleted files using this software. It can detect lost documents, photos, videos, audio, and emails as well.
Data can be stored from NTFS, exFAT, and FAT32 drives. It is equipped with powerful built-in features and simple to use. Besides, its friendly interface allows users to complete the recovery process through the help of a wizard.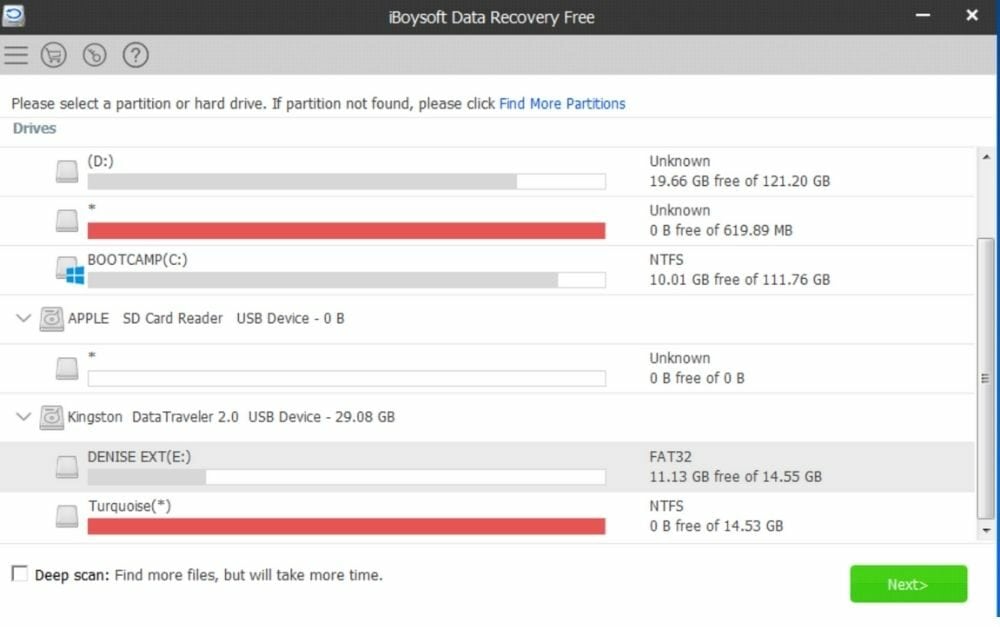 Important Features
You will be able to recover files from formatted, RAW, inaccessible, deleted partitions. 

Recover your files from other flash drives and SD cards, memory sticks, CF cards, USB sticks, and so on. 

Besides, using the password, data can be accessed from the lost Bitlocker encrypted partitions. 

The data recovery process only takes three steps, which include selecting, scanning, and undeleting. 

The minimalistic design and quick installation make it really unique. 

The free version allows you to recover up to 1GB of data.
Pros: Lets you save the search result to an SR file, and you can save the recovered files to any desired folder of your computer. 
Cons: No portable version is available, and you cannot check the health of a file before undeleting it, which may often kill much time unnecessarily.
8. OnTrack EasyRecovery
---
If you ever lost your important files, influential data, or critical resources, then this Windows data recovery software will certainly help to get back on track again. It can be easily considered a world-class recovery tool powerful enough to handle any data loss situation. There is a free version available that you can try before spending even a penny on this software. Mac users also experience the advantages of this tool on their desktop.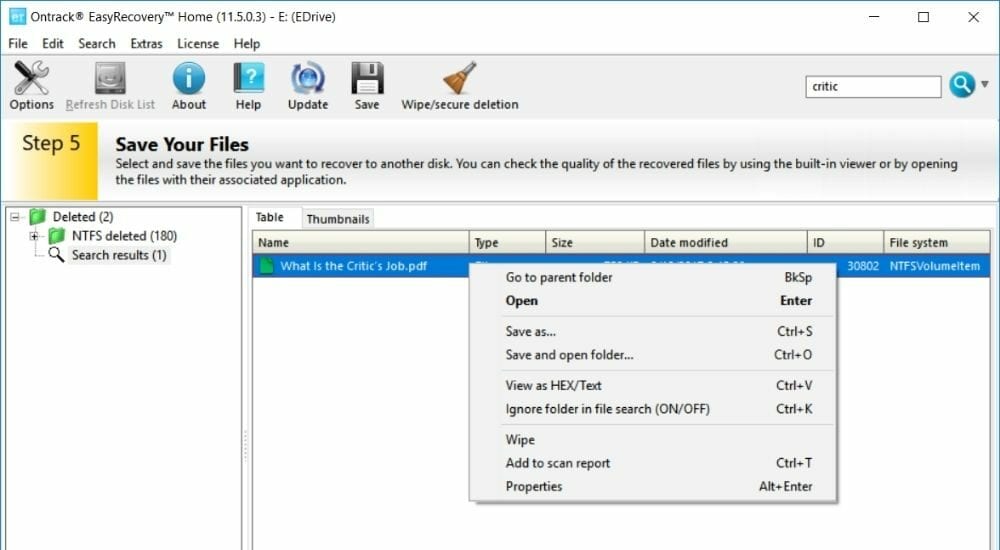 Important Features
Offers a precise file recovery system through reformatting and deletion. 

Deleted files can be recovered from all traditional hard drives even if it is corrupted, damaged, deleted or reformatted.

It is a great image recovery software for Windows as it can repair damaged photos and videos. 

Two scanning options are available, which are a quick scan and a deep scan.

You will have full control over the pace while recovering files as you can start scanning exactly where you left. 

Besides, this software can clone your HDD or SSD. You can also create disk images. 
Pros: Free version can recover up to 1 GB of data, making it a convenient option, and you can recover files from virus-infected drives. 
Cons: Setup and install procedures are complicated, and you can not search for a specific type of file.
9. Wise Data Recovery
---
Wise Data Recovery is a free data recovery software for Windows. It comes with all the traditional features of undeleting files and offers an easy to understand interface. Although, like other Windows data recovery software, you will not get wizard guidance for completing the recovery process.
The configuration is so simple that you will have nothing to worry about. It maintains a simple manner to sort the discoverable files, and you will just need to check and scan to get your desired file back in no time.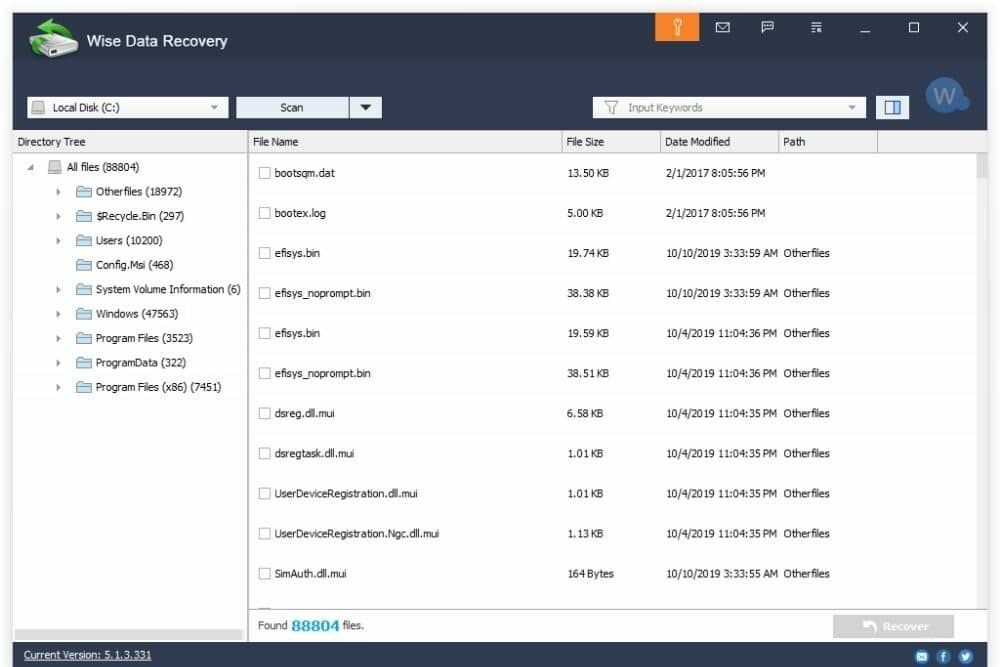 Important Features
You can search for any file using a keyword and save a lot of time finding your intended file. 

The recoverable data is represented in the Explorer-like tree structure to let you know where the file was originally stored. 

You can also see the health status of a file through its traffic light system indicator. 

Individual files and also entire folders can be recovered at once. 

The filters it offers to search are convenient and unique. 

Works great as an image recovery software for Windows as more than 1000 types of files can be recovered.
Pros: Can recover files from any form of storage media, and you will get support for FAT, NTFS, HFS, HFS+, HFSX, Ext2, and Ext3 file systems. 
Cons: It does not come with backup support while files can not be recovered from a partitioned disk.
10. Prosoft Data Rescue
---
If you consider the best image recovery software, then Prosoft Data Rescue can beat any of its alternatives. This great tool can retrieve your priceless data with a series of simple steps. So your photos, videos, documents, or files will remain safe even if they are unintentionally deleted. You will need a stable internet connection and any computer using Windows 7 or later version to use this software without any interruption.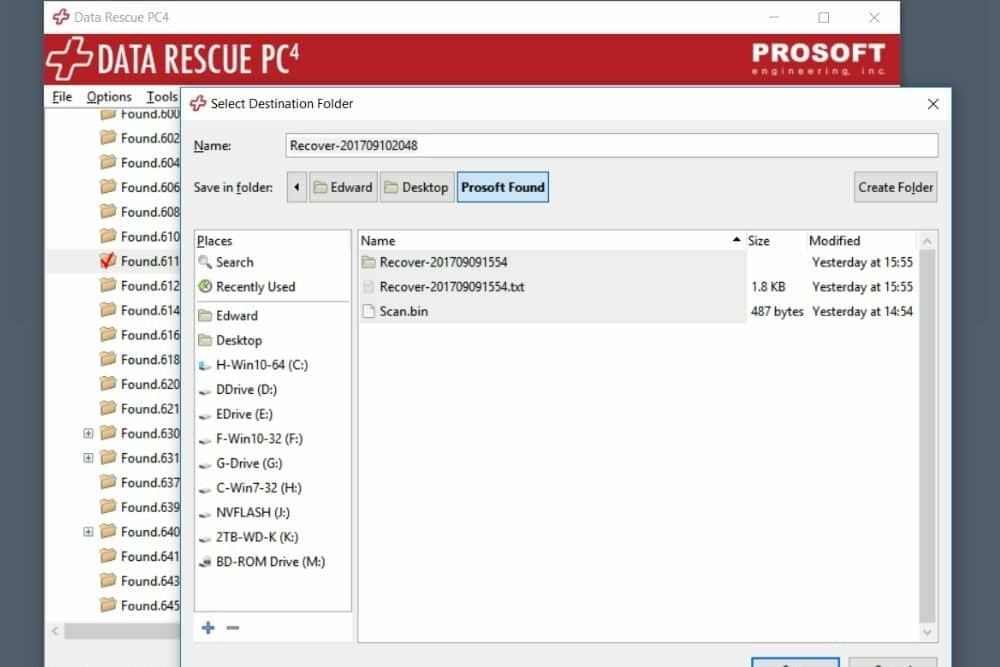 Important Features
It can save the result after a scan operation is completed to enable you to locate files for recovery. 

You can clone your hard drive if it appears to be at the chance of failure or in case of any emergency.

Users can get their files back from hard drives, USB flash drives, and also SD cards. 

Like other prominent recovery software, there are two options for scanning: Deep Scan and Quick Scan. 

Deep Scan can recover files that were originally in the trash or a reformatted drive. 

While RAID arrays are supported, their data transfer speed is incredible. 
Pros: Its cross-compatibility allows users to use this software on both Windows and Macintosh with the same license. 
Cons: You will need to upgrade to the annual plan for unlimited recovery, and the trial version will not allow you to recover any file.
Our Recommendation
---
We have tried to include the most used and reliable data recovery software for Windows you can use in 2020. We have considered the availability of data recovery in free versions, supported file types, data transferring speed, pricing plans, and many other things to make this list. It was a tough choice to declare only one as the best data recovery software for Windows.
After much analysis, we can say that Stellar Data Recovery is the tool of our choice. It is exceptional in every aspect. Starting from the awesome features, advanced options like photos and video repair to the great variety of pricing plans have set it apart from others, and you can undoubtedly depend on its performance.  
Finally, Insights
---
So, these are the best recovery software for Windows you can use to recover your deleted files. These specialized applications are quite capable of undeleting files from the digital storage media. If you accidentally delete anything, you can use these data recovery tools, which work with your raw data on the storage device, to restore them.
Although they may vary from each other, the fundamental operations are pretty identical. But you should check the supported file types and file formats to match your requirement. 
Besides, we have included the official website of these apps to enable you to collect more resources and information. Some of them can be used to take a backup of your important data to ensure safety. You can also use these tools to regularly check your hard drive's health status to avoid the unfortunate loss of data. 
If you lose data from encrypted storage, it can become tricky to get the deleted files back on your drive. But recovery software like iBoysoft Data Recovery can also do this for you. So, it is important to consider what type of file you are looking to recover, which OS you are using, and evaluate performance, security, user-friendliness while picking any of these applications to recover your deleted files.