Suppose you have an emergency situation and need an internet connection badly, but you don't have any cellular data or Wi-Fi connection nearby. And noticed that some of your friends or colleagues are with you at this moment who are having cellular data on their phones. The thing is, you have to use your Android device to complete the task. So what to do now? Turn on your friends' or colleagues phones' cellular data and hotspot and Wi-Fi of your phone. Just connect your device to their hotspot. The setup and limit hotspot data procedure on your Android is as easy as pie.
Similarly, you can set up your hotspot on your Android device and also limit the users according to your requirements. Normally, if you're giving your cellular data to another user through a hotspot, then the rate of data consumption is huge.
As a result, you need to limit your users at a time, though there's an option called Unlimited users that will be in the hotspot setting. Let's start with the setup and limit hotspot data on your Android easily.
How to Set Hotspot Data Usage on Your Android
---
If you're an Android user, then you are definitely familiar with its benefits. However, nowadays, almost every android phone has this feature, and it has become part and parcel of your day-to-day life for sure.
What's a mobile hotspot? A mobile hotspot basically allows other devices to use your cellular data by enabling their Wi-Fi. And for doing that, you need to turn on your devices' cellular data and enable the mobile hotspot option.
In the entire post, you'll be with me to see the process of setup and limiting mobile hotspot data on your Android. Despite having different procedures for doing this, the basic settings will be the same for any Android device.
Okay, let's start with the process without wasting any further time. Moreover, you need to make your full concentration to understand precisely. Thus, you shouldn't skip a word here.
Step 1: Portable Hotspot on Your Android
---
To get started, find your Settings app on your Android and tap for reaching on the below-resulting page. Here's you'll find the Portable hotspot option. Without scrolling here and there anymore, click on portable hotspot for further proceedings.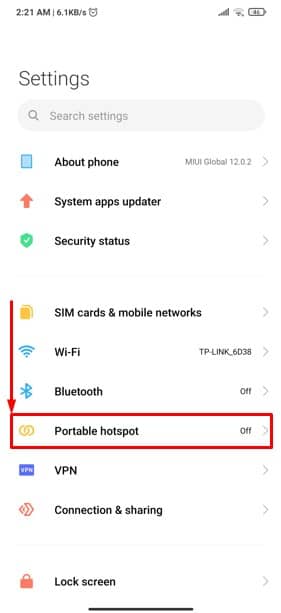 Step 2: Setup Portable Hotspot on Your Android Device
---
As you've followed the last instruction, you should be on the below-resulting page right now. To get going with the setup further, you need to tap on the below-marked option called Set up portable hotspot on your Android device.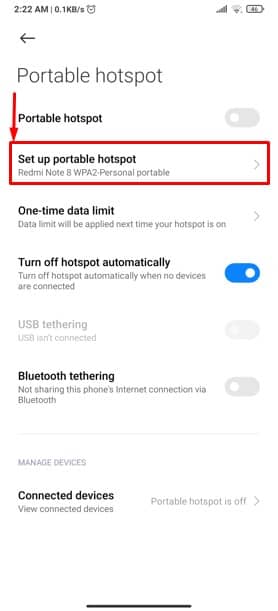 Step 3: Set All Things Up Easily on Your Android
---
Here's the ultimate setup page that we're searching for to set the portable hotspot up on your Android. Have a look at the marked sections, where you need to set some basic things up.
You're allowed to set at least 8 character password on your hotspot setting. It means when someone tries to get access to your portable hotspot, they need to connect with your cellular data with the password you're setting up.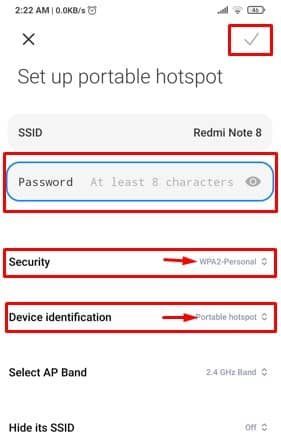 Furthermore, in Security and Device identification section, tap on each, and you'll be given two choosing options in each section. Please select WPA2-Personal for Security and Portable hotspot for Device identification.
At this point, I would say that you've already known how to set up portable hotspot data on your Android successfully.
How to Limit and Block Hotspot Data Users on Your Android
---
As you've already set the portable hotspot on your Android, now it's time to know to limit your users. Since I've already mentioned earlier that hotspots consume more data than regular cellular data using your own. As a result, you also need to get familiar with the process of how to limit hotspot data users.
If anyone connects to your hotspot, then you'll be able to see how many users are connected. Besides, you can limit and block the users according to your wish. Okay, then let's get started. Once you complete the below steps, you'll be feeling relaxed surely.
Step 1: Connected Devices to Your Portable Hotspot
---
To begin with, you need to go back above-mentioned Step-2 result page and at the bottom of the page. You should have found the Connected devices option. Let's tap to proceed further.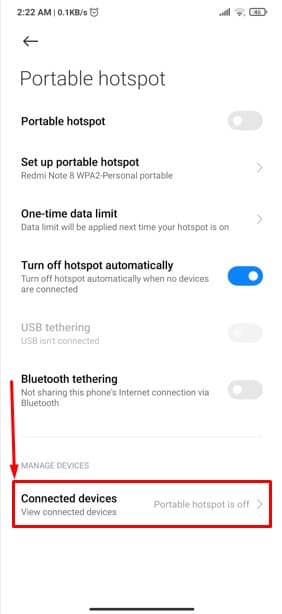 Step 2: Limit Users and Blocked Users on Your Portable Hotspot
---
You can set the hotspot users limit on your Android device by tapping on List of connected devices in the below-marked section. Right now, I've set my users limit to Unlimited. You can set the user's limit to 6 devices max (may vary from device to device) or Unlimited.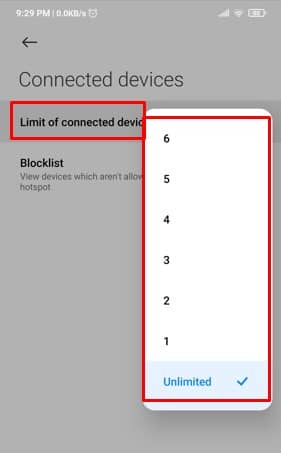 Also, you can see those devices that you've blocked already with whom you don't want to share your hotspot data by tapping on the below-marked Blocklist section. However, you can simply unblock them from here as well. Just tap on the device name you want to unblock and Select Unblock Device.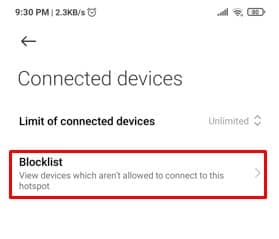 Here's the whole procedure of how to limit and check block hotspot data users and unblock them if you want on your Android easily.
Automatic Turn-off Hotspot Data on Your Android
---
Here's come most interesting feature of a portable hotspot on your Android. The feature is available right now for Mi/Xiaomi devices. If your Android devices have this feature, then consider yourself as the lucky one.
So, what's this about? It's about; when no devices are connected to your portable hotspot, then your hotspot connection will be turned off automatically to reduce the battery consumption of your Android device. Pretty cool, right?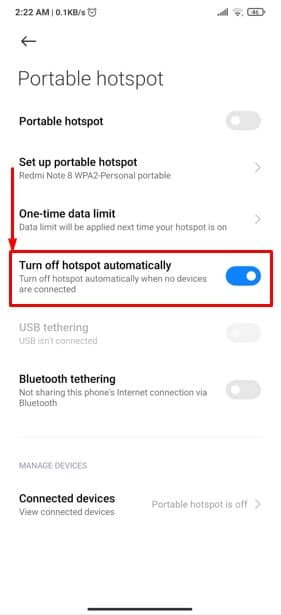 Final Words
---
If you didn't miss any above instructions, then you can set up and limit portable hotspot data on your Android from now on. Besides, you'll also get to know how to turn off your Android's hotspot automatically.
From now on, there's no chance of worrying about setting up the hotspot and limiting your users. You just need to follow the above instruction and set up and limit your hotspot data easily.
Well, that's it, I'm taking a leave for now. I hope you've found it easy to do. Let me know your thoughts in the comments section below. I'm hoping you'll find the whole procedure easy to understand.
Please feel free to share this with your colleagues, friends, family, and near and dear ones. Thanks for your interest and patience in reading it out. Take good care of yourself, and always keep you updated on the latest tricks and tips for your Android.