CPU coolers are generally provided with the CPU but not for granted. Some high-end CPUs don't come with any stock cooler. Moreover, the stock coolers are not much efficient in cooling performance. If you are a heavy gamer or A content creator, you must shift to an aftermarket cooler without any doubt. We will mark down some of the best CPU coolers currently available in the market for your convenience. Also, we have covered both liquid-based AIOs and air coolers for desktop-grade CPUs.
What to Check Before Buying the Best CPU Cooler?
---
You must have a list of features before choosing any CPU coolers for PC. Moreover, this is an additional investment for your setup. You must not buy a low-quality CPU cooler that cannot dissipate heat adequately. Also, getting an incompetent CPU cooler will be a waste. For your convenience, we have listed here some checklists that will guide you to get the best AIO coolers and best budget CPU coolers for gaming PC.
Budget: The most important thing before buying any kind of computer component is your allocated budget. Using the CPU coolers for desktop PC is, of course, good, but that is an additional component if your CPU comes with a regular stock cooler.
First, you should list your workloads and decide which type you should buy according to your fixed budget. We would suggest you allocate at least 50 to 80 USD for your next CPU cooler.
There are numerous types of AIOs, liquid coolers, Air flow-based coolers, and almost all coolers come in low to high budgets. It is not always true that the more you pay, the better. Even some beefy air coolers outperform fancy 240mm liquid-based best AIO coolers for PC. Finally, you must choose the best-reviewed and widely used one that fits your budget to get the budget CPU cooler.
AIO or Traditional Air Cooler: One of the most important parts of choosing the best budget CPU cooler for PC is deciding which type of aftermarket cooler you require or prefer. The CPU air coolers are generally cost less but not always.
There are plenty of beefy best CPU air coolers that are expensive, and there are reasons for that. The other option is AIO coolers for CPU; this option is better and hassle-free than custom liquid coolers for CPU.
This is completely your choice and requirement if you should buy a liquid-based AIO or regular air coolers for CPUs. If you want to settle your need with a small amount of money, go with air coolers.
There are a lot of CPU air coolers at quite an affordable price range, such as Cooler Master MasterAir MA410M. If you need heavy gaming or high graphics-based works which require extra CPU power, of course, choose a known AIO cooler with at least 240mm standard size.
Type of CPU: You can not just pick an aftermarket market CPU cooler for a PC without knowing your processor's model, TDP rating, and heating profiles. Some CPUs have high TDP and power draw along with extreme OC capabilities. These CPUs require the best quality AIO coolers or custom liquid cooling solutions to get the most out of that.
As in the PC industry, the most preferable and reliable names are AMD and Intel. Though there is VIA and a couple of other competitors too, we will discuss the most preferred ones.
AMD and Intel both bring out the mainstream, HEDT, and server-class CPUs. Server CPUs have other workloads and are quite different from regular desktop workloads and gaming. So, mainstream and HEDT platform can use almost the same type of aftermarket coolers.
So, if you have a non-overclocking or Locked CPU, you can choose a normal CPU air cooler or even stay with the stock cooler. Additionally, your use case scenario affects the cooling requirement too. If you are a casual gamer, amateur streamer, and video editor, get the best CPU cooler like Noctua NH-U14S.
Casing Size: Don't forget to check out your casing size before deciding about an aftermarket CPU cooler. Some casings are built for Micro-ATX and mini-ITX motherboards and then tend to be slimmer and smaller than the average mid-tower casings.
Many beefy dual-chamber CPU air coolers will not fit in those compact PC cases. Here, AIO coolers for CPUs work out most of the time. So, this should be on your checklist before buying the best CPU coolers for gaming PC.
Noise Preference: Another thing you must keep in your mind is the noise ratio of your overall CPU setup. If you want a silent system, fanless CPU coolers or AIO coolers fit the profile. On the contrary, if you don't mind a bit of noise or fan-moving sound, you can get the best quality CPU air cooler at an affordable price with RGB lights and other features.
Of course, you will find great 140mm and 120mm single fan-based AIOs at a low price. Additionally, they will not make any significant noise and will provide a far better OV headroom if needed.
OC Preference: If you want to overclock your CPU to get the max out of the chip, you must not use the stock cooler or any low-end CPU air coolers. Here, it would help if you chose a good quality 240mm radiator-based AIO or better.
If you don't have the budget for getting the best CPU liquid cooler, you can get a high-quality CPU air cooler like; Deepcool Assassin III. It will surely give you an OC boost to your current CPU to a certain extent with any thermal issues.
Where Can I Get the Best CPU Cooler?
---
You can get the CPU coolers in almost any good computer shop in your area. The high-end AIO coolers for PC and liquid coolers for CPU can be rare to find in the local market. In online shops and computer giants like Amazon, NewEgg, Microcenter, PCPartPicker, etc., you can find the best deals with a hefty amount of price cut.
You will surely find the best budget CPU coolers in online shops. No matter what, you must buy a cooler from well-known brands. Almost all the times, non-brand CPU coolers perform worse than stock coolers.
Moreover, it will put the whole system in danger, in extreme cases, burn issues. If you follow our mentioned buying tips or choose one from the suggested coolers, you will certainly get one of the budget CPU coolers for gaming PC.
Best CPU Cooler for Your PC
---
We have picked some of the CPU coolers for PC that are currently available in the market. They cover almost all the necessary features for CPU cooling solutions. If you don't have any heavy workloads or gaming needs, you might skip the aftermarket coolers. As some AMD Ryzen CPUs come with good quality stock coolers with adequate heat pipes and metal fins. Check out the following section to see our recommended aftermarket coolers for gaming PC.
1. Enermax Liqtech 360 OC TR4
---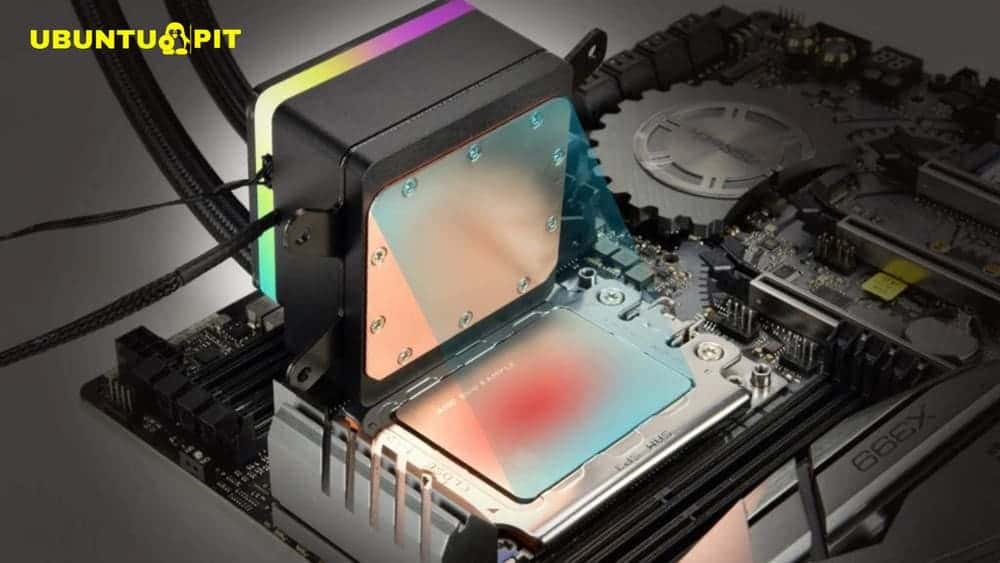 Thickness: 1.125″ (2.25″ w/fans) | Width: 4.75″ (120.65mm) | Depth: 15.50″ (393.7mm) | Fans: 3x – 120 x 25mm | Warranty: 2 years | Socket Support: AMD TR4, SP3
+ Specially made for TR4 and SP3 platform
+ Easy to assemble
+ Affordable in price
+ Great cooling capabilities
+ Clean and modern design
+ Includes high performance 120mm fans
+ After-sale support up to 2 years
+ Professional grade radiator
+ Offers industry's best pipes and base plate
– Does not include any RGB or LED lights
– Can not access real-time management by default
– Offers no support for mainstream platforms.
It is by far one of the best CPU coolers for PC in the 360mm radiator segment. The pricing is in the affordable range and supports the HEDT platform without any issues. If you are a hardcore gamer or professional content creator, you must use a high-quality AIO or liquid-based cooler to cool down your high core count packed CPU. The radiator is more than capable of dissipating heat from the CPU in high OC settings.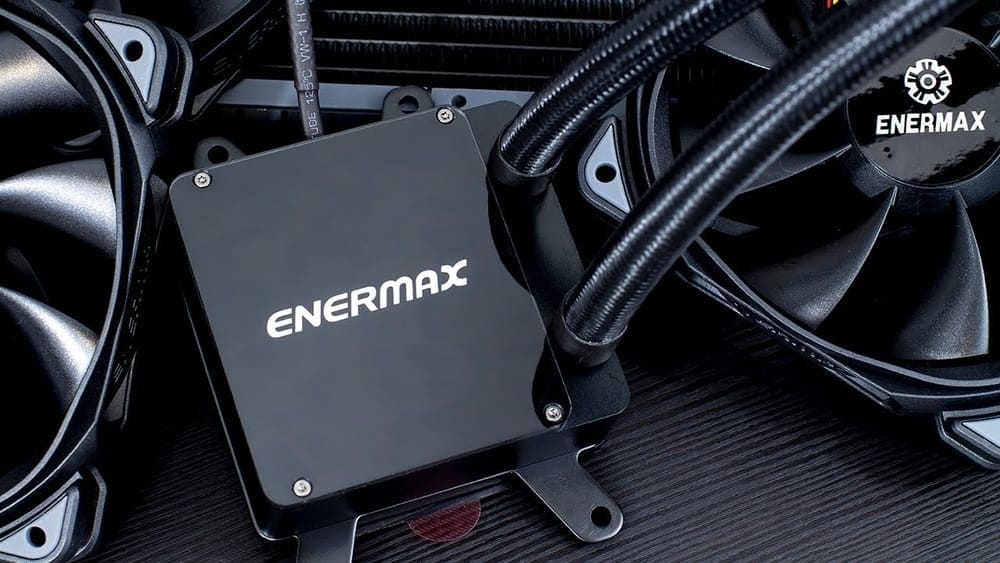 This CPU cooler for gaming PC is also suitable for low air flow-based PC casings. Especially the all-side glass-built cases that are available in the market. You can assemble it in almost all types of mid-tower to full-tower PC cases.
Moreover, the liquid-flowing pipes are highly secured and flexible. The CPU cooler's significant downside is that it does not support the mainstream sockets, such as LGA-1366, LGA 1200, AM3, AM4, etc.
2. Cooler Master MasterAir MA624 Stealth
---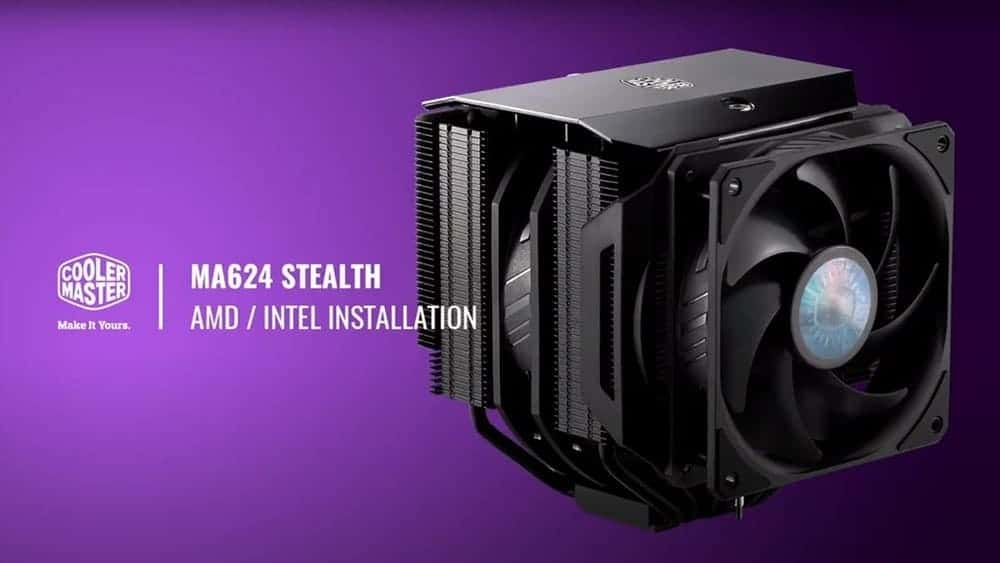 Base Height: 31.8mm | Dimensions: 165.1 x 149.4 x 127.0 mm | Weight: 46.3 oz (1312g) | Fans: 2x – 140 x 25 mm | Warranty: 5 years | Socket Support: 115x, 1366, 1200, 2011x, 2066; FM2(+), FM1, AM2(+), AM3(+), AM4
+ Long warranty period
+ High-quality base materials
+ Performs on par with any 120/140mm AIO
+ Includes 6 heat pipes
+ Dual tower heatsink with Dual high performance 140mm fan
+ Easy to assemble
+ Silent operations
– A bit pricey
– Does not support the AMD Threadripper platform
– Requires Mid-tower case at a minimum
Cooler Master is a great name in the PC cooling industry. They make many computer components, but they shine in making aftermarket CPU coolers and versatile desktop casings. Cooler Master MasterAir MA624 Stealth is by far one of the best CPU coolers for gaming PC. Also, it performs really well in near-silent conditions. One of the plus points of this CPU cooler for PC is its wide support for mainstream desktop platforms from both Intel and AMD.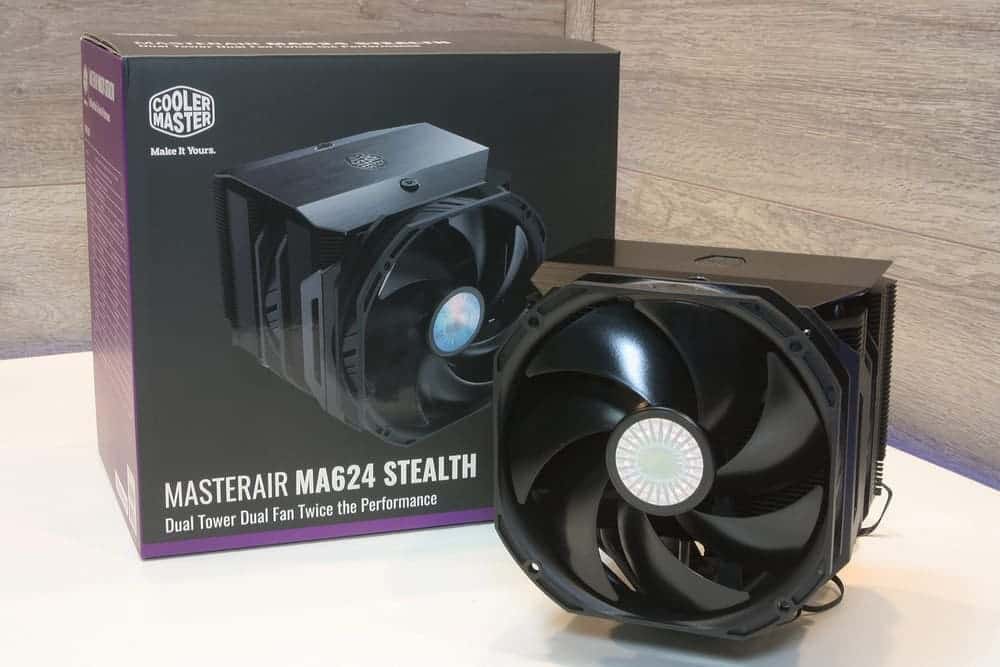 Though you might find similar coolers at a lower price, it is almost unopposed in near-silent operations. The base is made of two towers with nickel alloys and 6 different heat pipes, and it offers up to 10C heat decrease comparing stock coolers.
You will also have an overclocking headroom without shifting towards a premium 240mm liquid cooler or AIO. Furthermore, the overall design of the cooler is very appealing and gaming-oriented.
3. Corsair H100i RGB PRO XT
---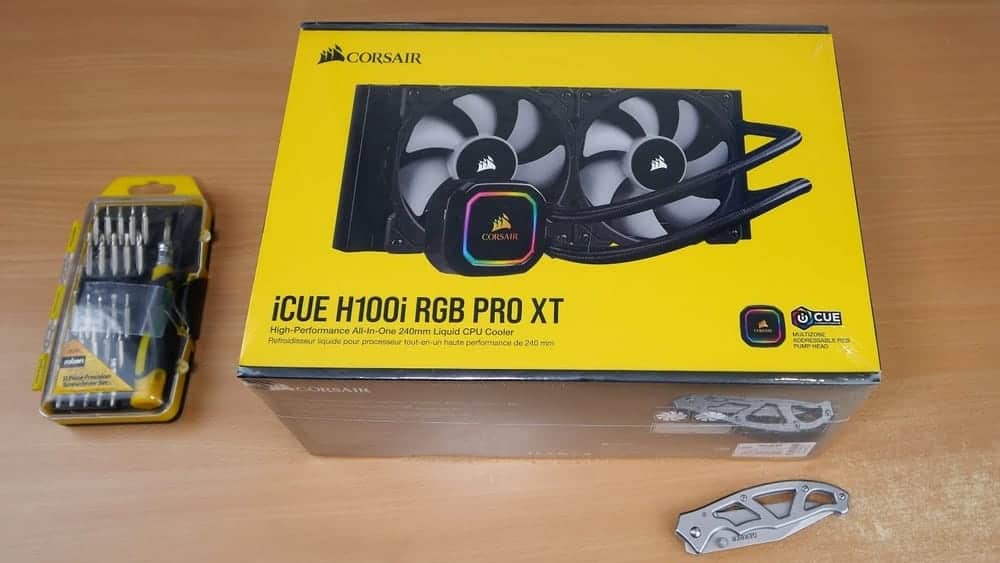 Thickness: 1.0″ (2.13″ w/fans) | Width: 4.75″ (120.7mm) | Depth: 10.9″ (277mm) | Fans: 2x – 120 x 25mm | Warranty: 5 years | Socket Support: Intel 2066, 2011x, 1366, 115x, AMD AM2(+), AM3(+) AM4, FM1, FM2(+), TR(X)4
+ Provides the best budget value
+ 240mm AIO cooling system with a very rich performance
+ iCUE software
+ Amazing light control
+ RGB lights are included
+ 5 years of warranty
– Make noise at 100% speed
– Fan security screws are too smaller and not very much protective
Corsair is a wide-known name in the computer component market for its quality products. Their new Corsair H100i RGB PRO XT is also a satisfactory cooler. To say anything about the performance, I must admit that it is nearly similar to its base model Corsair H100i Pro.
The major difference is the appearance and the elegant RGB lighting that goes with any minimalistic RGB build. Corsair H100i RGB PRO XT is a great performer with its 240mm AIO packaging.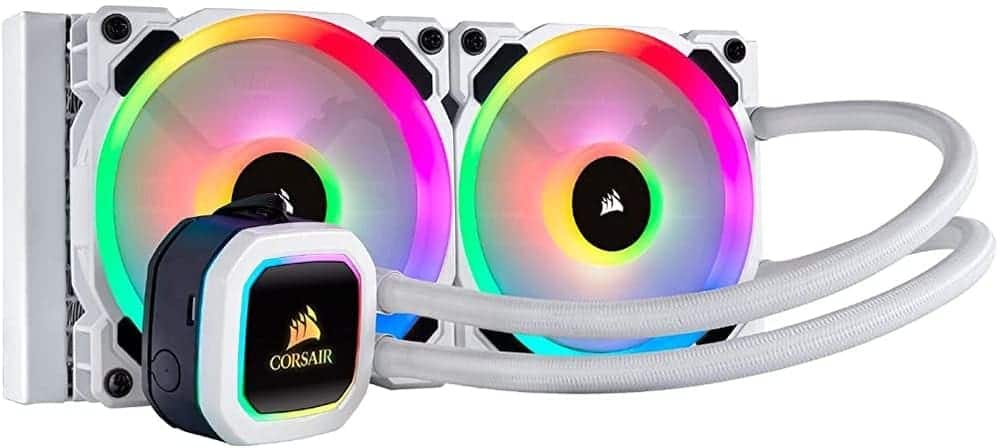 This budget cooler supports lots of the intel and AMD CPU sockets, including AMD's new Threadripper TR4 and TRX4 processors. It also comes with a backplate for intel 115x boards. Corsair H100i RGB PRO XT offers two 2400 RPM 4-pin PWM fans. Each of these cooling fans has padded corners to minimize both vibration and noise.
Moreover, its dual-pass aluminum radiator is like a topping on the cake. Though it is not a huge upgrade from the previous H100i Pro, it is definitely preferable if you are looking for a budget-friendly one.
4. NZXT Kraken M22
---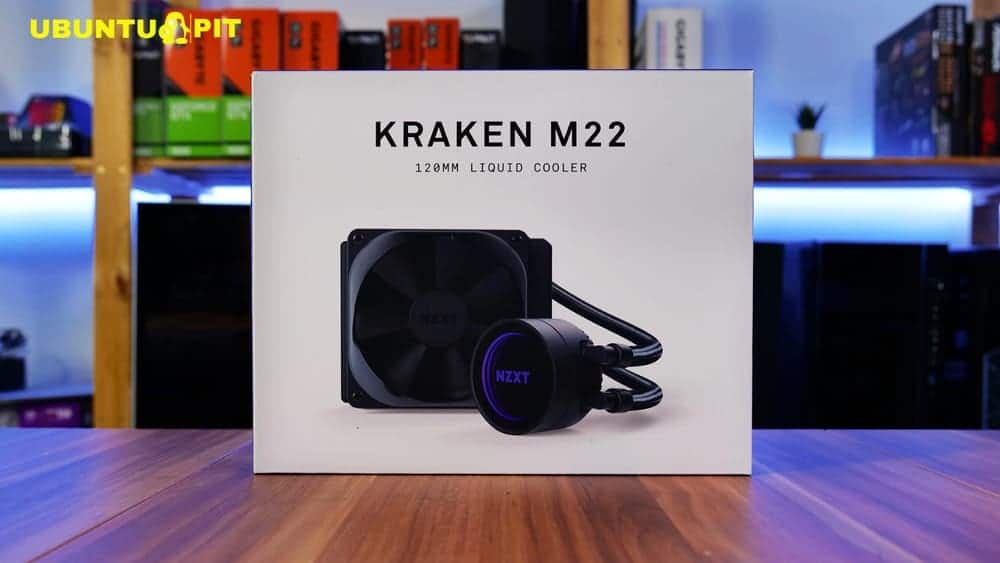 Thickness: 1.1″ (2.25″ w/fans) | Width: 4.75″ (120.7mm) | Depth: 6.15″ (156.1mm) | Fans: 1x – 120 x 25mm | Warranty: 6 years | Socket Support: Intel 2066, 2011x, 1366, 115x, AMD AM2(+), AM3(+) AM4, FM1, FM2(+)
+ Work excellent on a compact AIO
+ Sleek design with amazing RGB
+ Includes activated CAM software
+ Offers the longest warranty
+ Milled copper cooling plate
– The RGB can only control the CPU blocks
– Relatively pricey
With a compact design, great performance, and room for adjustments, the NZXT Kraken M22 might be the cooler you are looking for. This powerful liquid cooler features a 120mm aluminum radiator with a 120mm 2000 RPM rated NZXT Aer P120 fan. Plus, the pump is situated at the very center of the radiator to reduce heat dispersal.
The bottom plates are made of milled copper. It also comes with a pre-applied thermal compound. Meaning, mounting NZXT Kraken M22 is a much easier task.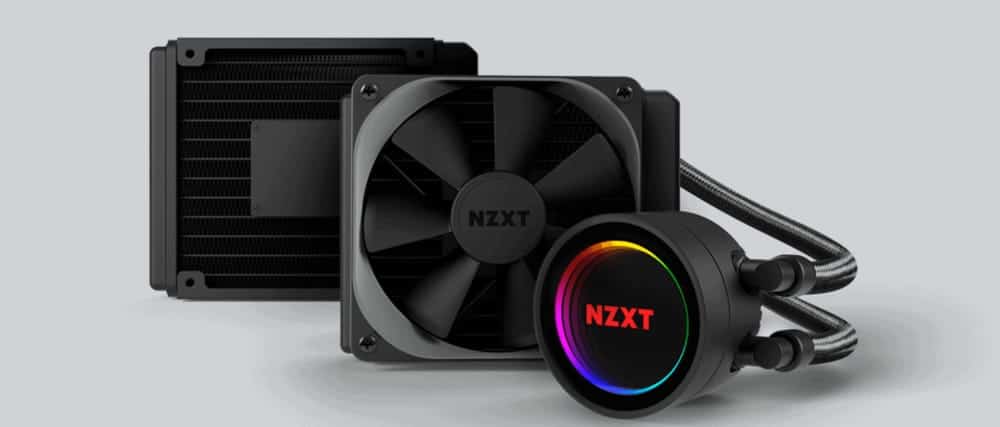 Additionally, this best CPU cooler includes interchangeable mounting plates to support most of the existing intel and AMD sockets. Unfortunately, this cooler is not compatible with the AMD Threadripper line. However, NZXT provides user-friendly software that lets you control and observe the total system of the cooler, excluding the pump speed.
You can also pick an RGB color for the cooler top and to define your personality. In addition, it has a direct-below USB header. Apparently, it is a great help for the single PCI-e motherboards with graphic cards.
5. Noctua NH-U14S
---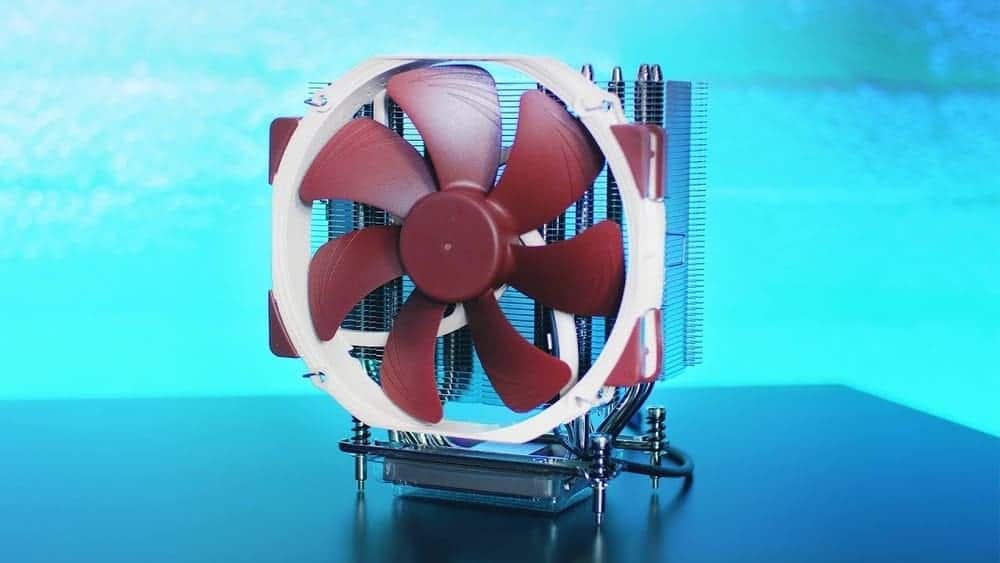 Base Height: 25.1mm | Dimensions: 171.45 x 151.4 x 52.3mm | Weight: 36.5oz (1035g) | Fans: 1x – 140 x 25mm | Warranty: 6 years | Socket Support: AMD TR4, SP3
+ Includes SecuFirm2 Mounting System
+ Extra anti-vibration pad to reduce noice
+ Build with 140mm NF-A15 PWM fan
+ Compatible on LGA20xx
+ Overall balanced performance
– Comes in a premium price range
– Taller than average
Noctua NH-U14S is a great cooler if you are dealing with Intel's Haswell-based CPU. This cooler has a minimalistic form with a single radiator design. Also, it can effectively reduce weight on the motherboard and lets you build small-sized PCs. The NH-U14S is particularly designed for mainstream platforms and comes with only a single socket support plate.
The support plate conveniently fits Intel's socket and nicely seats upon the board. Furthermore, the Ryzen HEDT CPUs, such as the Threadripper 2000 and 3000 series CPUs, are supported by this best CPU air cooler by Noctua without any issues.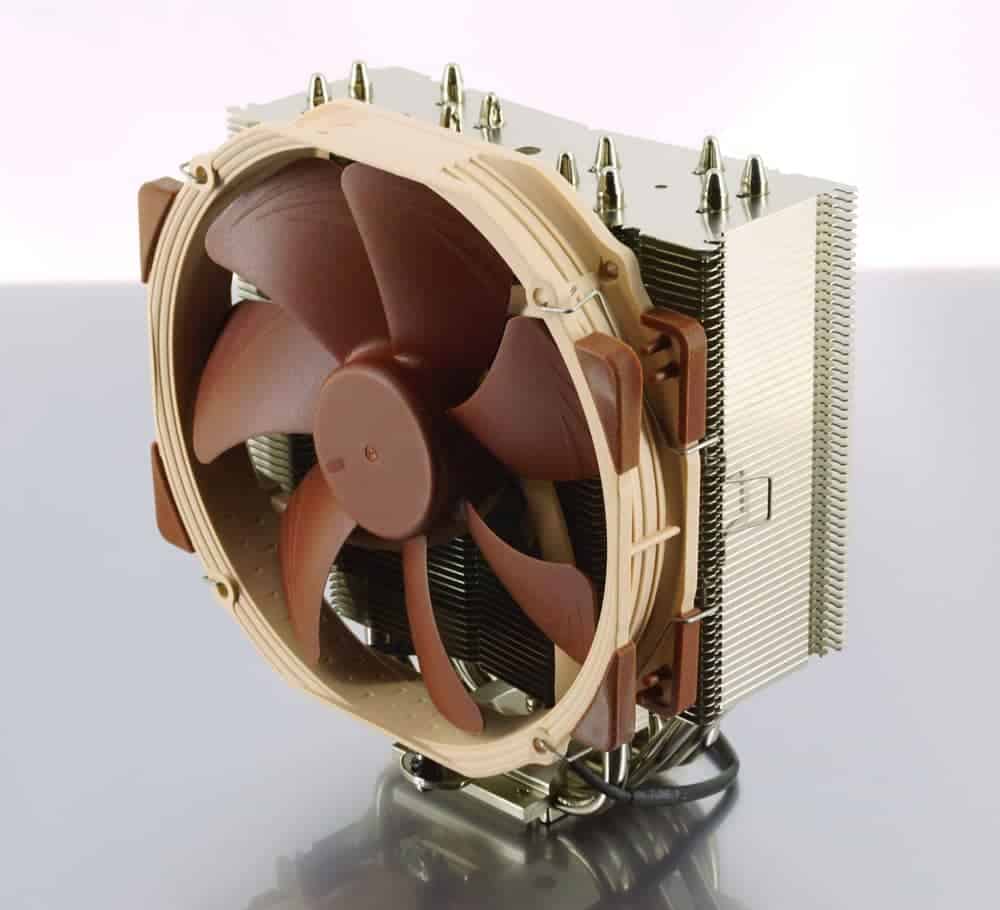 Noctua NH-U14S supports Intel LGA 1150, 1155, and 1156. There is also a second set of brackets specifically for AMD processors. These brackets use the motherboard's support plates to do the job.
The base is highly polished and coated to provide good CPU contact and topmost heat emission performance. Moreover, it uses a thin insulating film for shorts prevention. Overall, it would be a great option if you want a budget-friendly cooler for of office or personal PC.
6. Zalman CNPS10x Performa Black
---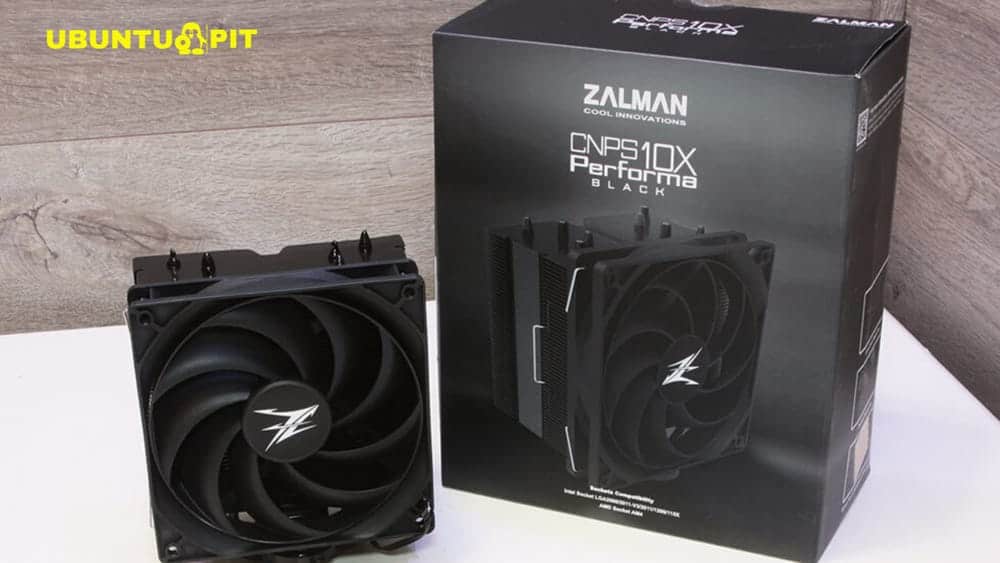 Base Height: 33mm | Dimensions: 155.6 x 136.7 x 69.9mm | Weight: 29.7 oz (842g) | Fans: 1x – 135 x 25mm | Warranty: 2 years | Socket Support: AMD, Intel 115x, 1200, 2011, 2066
+ Excellent overall performance
+ Perfect budget value
+ Lower noise production
+ Includes a set of 4 heatpipes
+ Easy to install
– The spring tension screws are not properly integrated
– Offer only 2 years of warranty
For over two decades, Zalman has been widely famous for its cooler industry. And Zalman CNPS10x Performa Black is their bestseller. And if you are looking for the quietest cooler for your PC, I wonder what can beat this one easily.
However, with the best budget value, this cooler can work perfectly to chill your hard-working CPU. This quad-Heatpipe cooler is quite compact in size, and it comes with a jet-black motif. Additionally, it is built with a single 135 fan which makes almost no sound.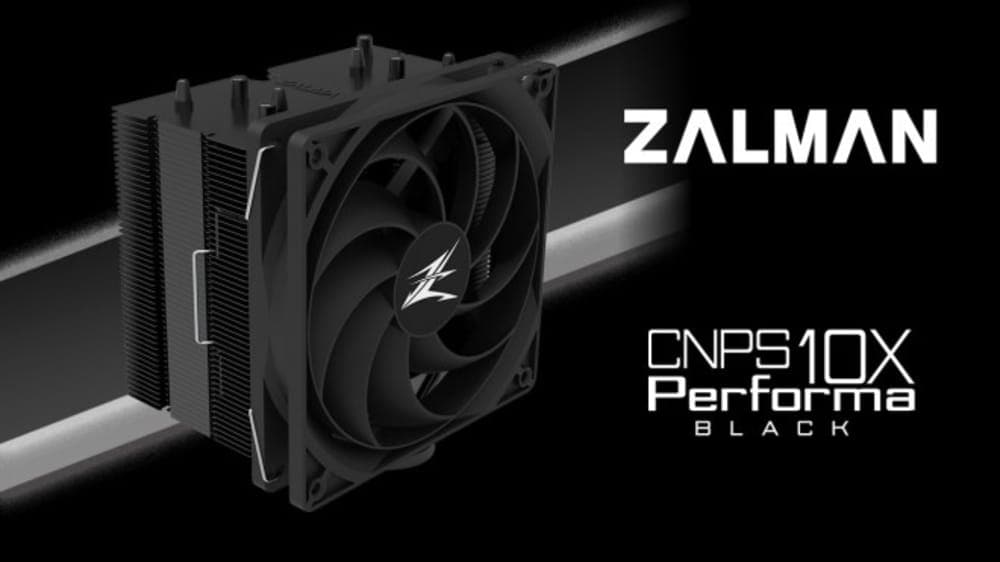 This cooler provides a warranty service for 2 years, and we think that it could be longer like most of its competitors. Still, most reviews confirm its long-lasting performance with the quiet working capability. Also, its sockets fit almost all AMD and Intel's CPUs and so, you don't have to think about its compatibility at all.
A set of four copper heat pipes are also there to let the CNPS10x Performa Black absorb the heat away from the CPU. So, why not try it if you are looking for a pocket-friendly cooler?
7. Cooler Master MasterAir MA410M
---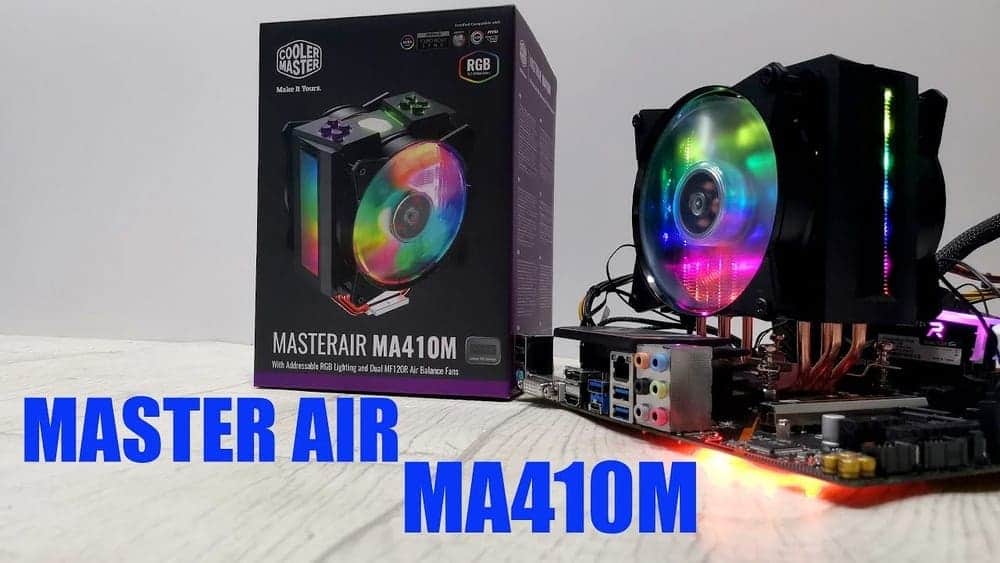 Base Height: 37.88mm | Dimensions: 158.8 x 132.4 x 58.2mm | Weight: 43.87oz (1247g) | Fans: 2x – 120 x 25mm RGB | Warranty: 5 years | Socket Support: AMD FM2(+), FM1, AM2(+), AM3(+), AM4, Intel 7115x, 1366, 2011x, 2066
+ Excellent control over RGB light
+ Comes with behemoth cooling tower LED lights
+ Best performance in the compact footprint
+ 5 Years of warranty
+ Includes 4-pin RGB splitter
+ Build with 6mm-diameter copper Heatpipe cooling tower
– Comparatively expensive
– Could have a better build quality
Build for the gamers; this MasterAir MA410M can give some haptic performance. Like the MA410P, the MA410M also has a direct contact copper heatpipe base. It makes the cooling performance much more improved and effective. It has two gigantic 120mm RGB fans cool each side of the cooling tower.
This best CPU cooler makes a push-and-pull airflow setup and improves cooling. In addition, it can be installed on most AMD and Intel sockets and includes all the necessary mounting components.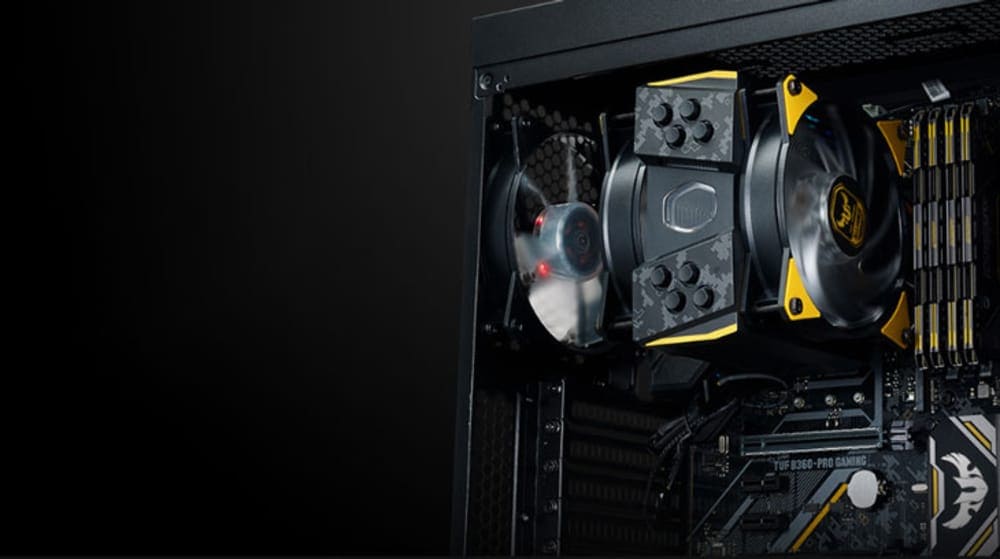 This high-performance cooler is quite easy to set on the motherboard. The fans can be simply removed via the thumbscrews. Moreover, the heatsink is so narrow that you can use a screwdriver directly to manipulate the spring-loaded bolts.
A gaming-level cooler is never complete without lightings. Therefore, the MA410M features 28 addressable LEDs with 16.7+ million possible color combinations. It has both PWM and 4-pin RGB splitters. Apparently, it has a newer RGB controller with a dedicated micro USB.
8. Arctic Liquid Freezer II 280
---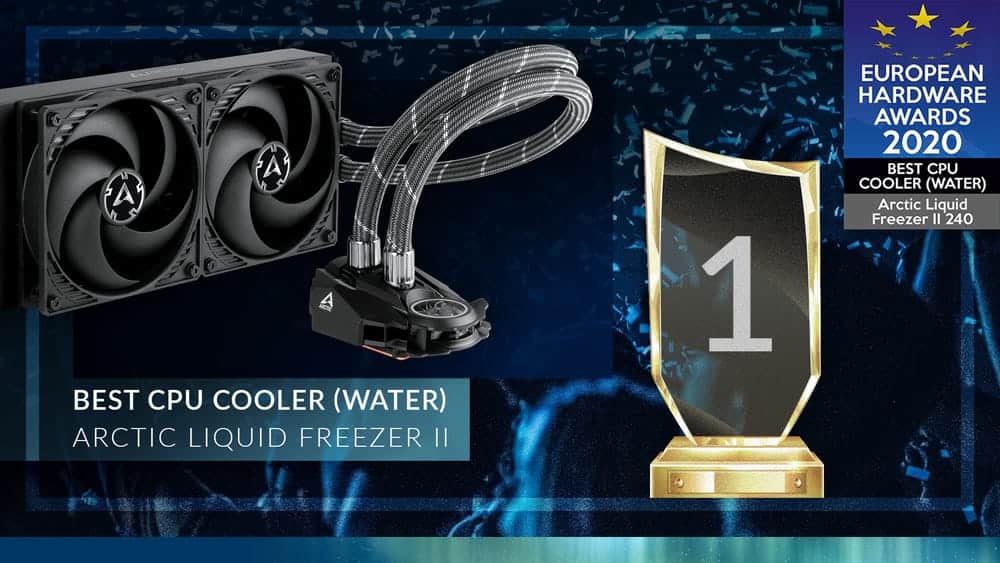 Thickness: 1.5″ (2.75″ w/fans) | Width: 5.5″ (139.7mm) | Depth: 12.5″ (317.5mm) | Fans: 2x – 140 x 25mm | Warranty: 2 years | Socket Support: Intel 2066, 2011x, 115x; AMD AM4
+ Amazing overall performance
+ Comparatively affordable
+ Lower noise production even in its highest speed
+ Very easy to install
+ Good to circulate air in all the CPU blocks
+ Milled and stain copper made cooling block
– No RGB lights included in the package
– Only 2 years of warranty
– Only comes with a single PWM splitter
If you are thinking of a futuristically designed cooler with great performance, don't think much and grab Arctic Liquid Freezer II. This powerful and affordable cooler comes with an integrated cooling fan that circulates air near the CPU block to make heat emission more effective.
It includes two P14 fans that are rated up to 1700 RPM. The manufactures come up with their own pump design that is much effective than most alternatives. Moreover, this powerful cooler can be installed on maximum Intel and AMD CPUs, including the Threadripper socket.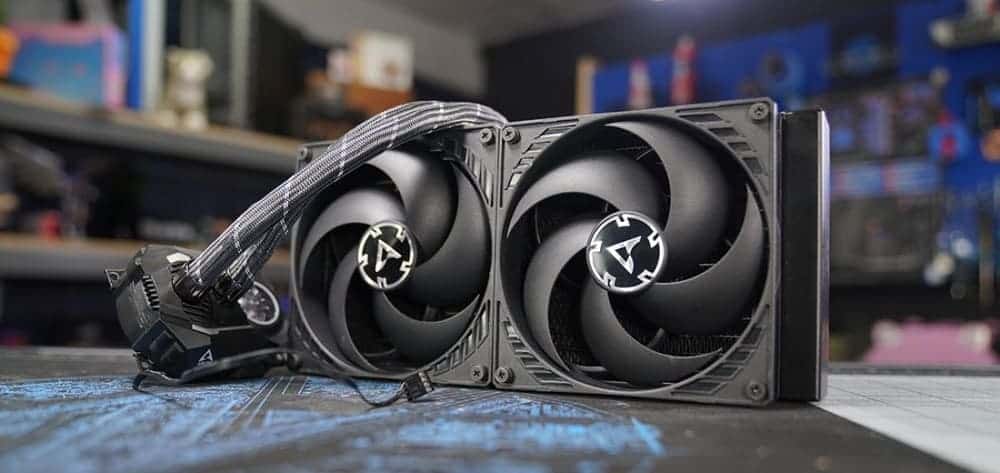 This base fan is automatic and only turns on while the pump is working. The base block of this cooler is made of milled copper with is quite a favorite material for cooler manufactures nowadays.
Though Arctic Liquid Freezer II 280 doesn't have a pre-applied thermal paste, it doesn't come with a packet of MX4 thermal compound for applying. A drawback that I found it doesn't come with any installation manual. Eventually, you have to go to the webpage to see the manual.
9. Deepcool Assassin III
---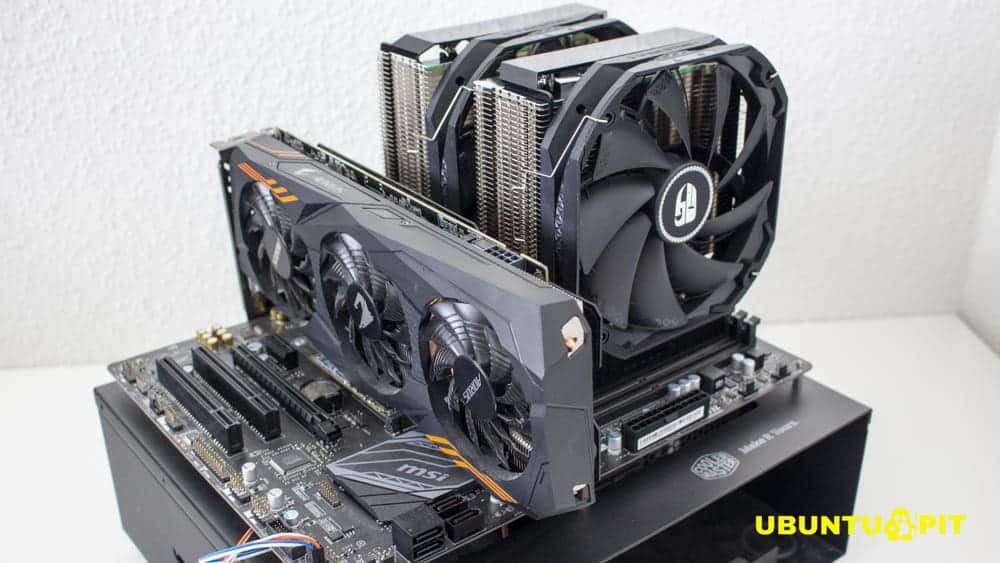 Base Height: 38.1mm | Dimensions: 171.5 x 139.7 x 133.4mm | Weight: 42.7oz (1210g) | Fans: 2x – 140 x 25mm | Warranty: 5 years | Socket Support: 115x, 1366, 2011x, 2066; FM2(+), FM1, AM2(+), AM3(+), AM4
+ Amazing thermal performance
+ High-end design
+ Aesthetic light setup
+ Very easy to install
+ Nickel plated finishing
+ Very wide compatibility
+ 5 years of warranty
– Makes noise at its highest performance
– Quite expensive
The Deepcool Assassin III is certainly a high recommendation if you are a hardcore gamer or in a heavy-performance profession. This incredible CPU cooler comes with seven copper heat pipes and a pair of 140mm cooling fans to keep the CPU totally comfortable.
At the base, the seven heat pipes are sandwiched between the mounting block and the base plate. This makes cooling way effective than most alternatives you can find. Besides, it has two TF-140S fans that are rated up to 1400 RPM at full speed.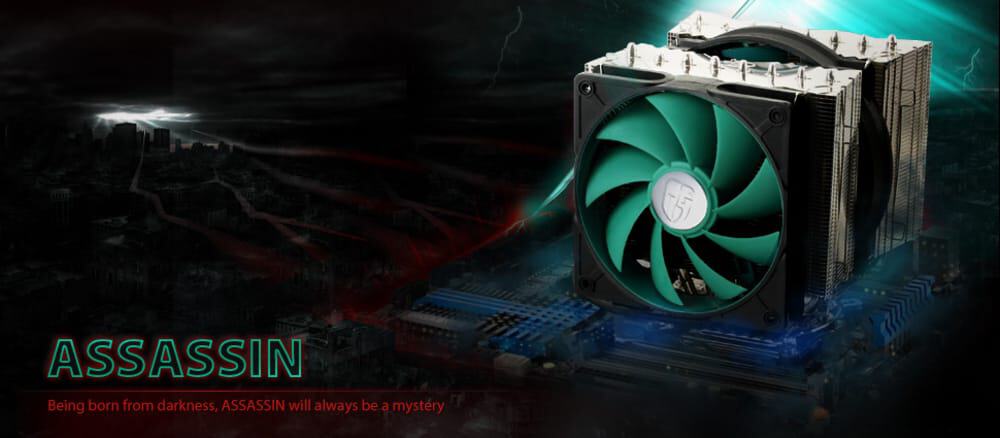 Not only the performance, this best CPU cooler includes nickel-plated chromed mounting components and deep black plastic parts on the cooling tower. Apparently, it provides the cooler and eye-catchy look that suits most builds.
Though the whole cooler setup is a little bulky, it really gives a satisfying performance. The Deepcool Assassin III does come with all the necessary hardware and mounts to set it on both CPUs. It also includes a magnetic screwdriver and thermal pastes to make the setup hassle-free.
10. CoolerMaster MasterLiquid ML360R RGB
---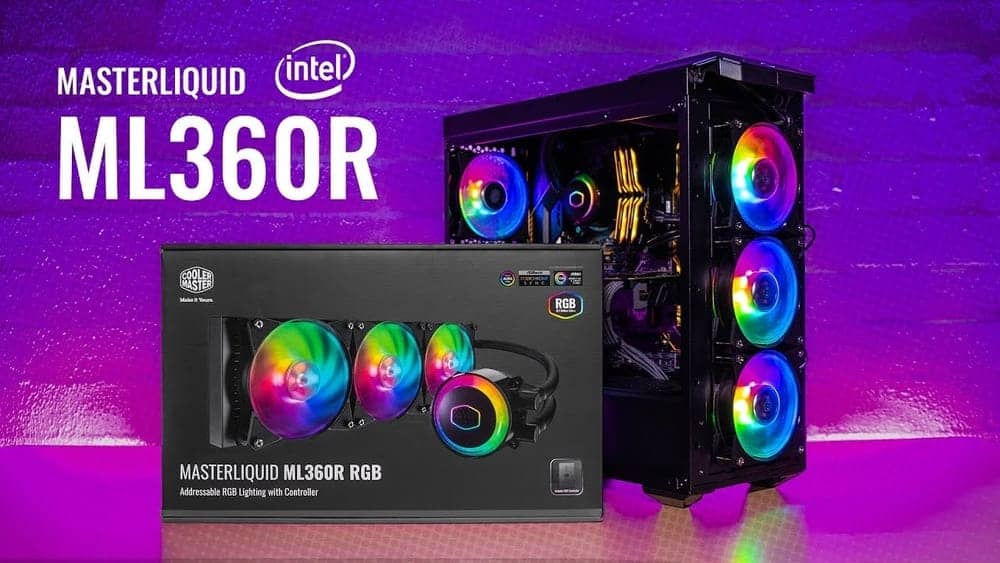 Thickness: 1.1" (2.3″ w/fans) | Width: 4.8″ (120.7mm) | Depth: 15.5″ (393.7mm) | Fans: 3x – 120 x 25mm | Warranty: 2 years | Socket Support: Intel 2066, 2011x, 1366, 115x, 775, AMD AM2(+), AM3(+) AM4, FM1, FM2(+)
+ Amazing cooling system
+ Work well with overclocked CPU
+ Comparatively cheaper than its competitors
+ Aesthetic design and color 
+ Gaming outlook
+ Great RGB light control
+ Comes with single-piece copper baseplate and linear grain milling
– Very poor cable managing system
– Only 2 years of warranty
If you need a cooler to deal with the load temperature of an overclocked CPU, our recommendation for you will be CoolerMaster MasterLiquid ML36pR. This budget-friendly cooler performs really too good to chill your hardworking CPU and make a nice environment for your PC. It comes with a 33 percent extra radiator surface area so that it can cool things faster. Eventually, it comes with pre-applied thermal compounds on the base plate.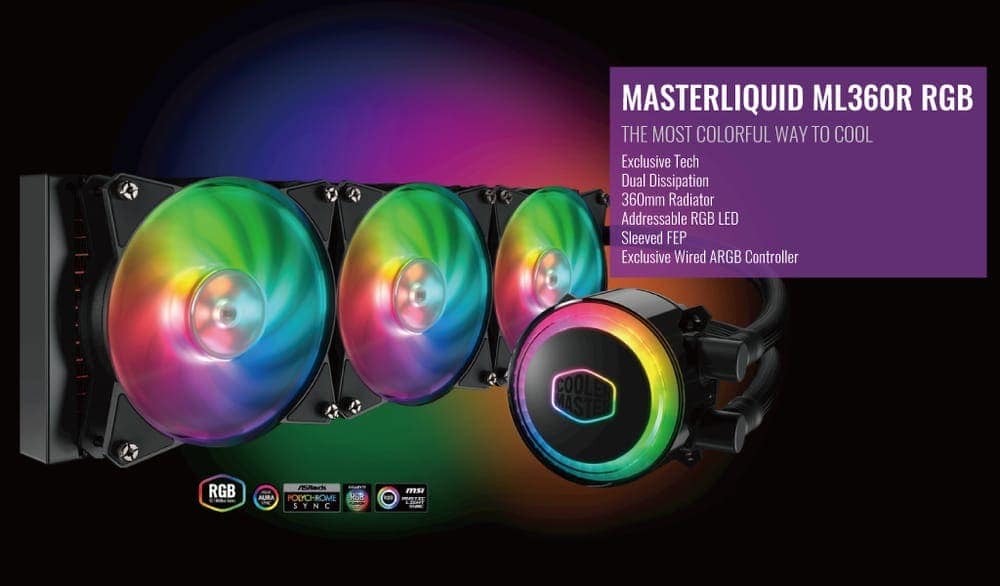 For offering the best-in-class service, this powerful cooler accompanies all its accessories in the most arranged way. Besides, you will get an RGB lighting control module, a syringe of thermal compound, and a USB connectivity cable with this cooler. But there are facts that we don't like about this fact.
Where most coolers provide 5 years of warranty, it only offers it for 2 years only. Additionally, reviews of this cooler confirmed its poor quality cable system as well. But still, it's one of the best choices for the overclocked build.
FAQ
---
Q: What is the best CPU cooler for gaming?
A: Arctic Liquid Freezer II 280 is the best CPU cooler for gaming and overall performance. This one was even awarded as the best CPU Cooler in 2020. Eventually, if you consider the price of its competitors, you must be amazed that it is pretty much affordable.
But remember that it's the best among the best high-budget CPU cooling System. When you are planning to go for a liquid cooler, we suggest spending a little more to get this one.
However, if you have a tight budget and so, looking for the best budget-friendly cooler, Cooler Master MasterAir MA410M will undoubtedly be the best option for you. It comes with fantastic build quality, and you will be amazed at its control over RGB.
Besides, it's very compact in size, and so it will fit nicely on any PC casing. Other than that, CoolerMaster MasterLiquid ML360R RGB is also a good option that will please your pocket.
Q: Is CPU cooling necessary?
A: Yes, a CPU cooling system is an essential part of any PC. Basically, a CPU gets heat when it runs continuously. Even some of the powerful CPUs get extremely heated just after running for a few minutes.
So, a CPU cooler becomes a mandatory part of running the CPU. Also, without a CPU cooler, the CPU must fail to boot, and then it can be burnt immediately. So, you cannot think of building a PC without a CPU cooler.
Q: Is liquid cooling better for gaming?
A: Yes, the liquid cooler is better for gaming. A liquid cooler is a must-have for you, especially when you are playing games for a long time, streaming even, or playing games with high graphics. But for the average gamer, an air cooler is enough.
Generally, hardcore games increase the temperature, and most air coolers fail to chill your CPU at that time. But a liquid cooler works impressive in that case for sure.
Q: What is the best CPU water cooler for gaming?
A: NZXT Kraken M22 is the best CPU water cooler for gaming. Basically, most water coolers are big in size, so they cannot fit in the small casings. But this AIO cooling system comes in a smaller size and so, you can set it in any buildup.
Also, it provides the longest warranty of 6 years. And its sleek design and winking RGB will definitely blow your mind. So, you can try this one if you prepare a water-cooling system for your PC.
Finally, Insights
---
In the end, we are optimistic that you will get the best CPU cooler for your PC without any fail. The suggested ones are great for all types of users who have some extra workloads. Also, there are many different types of CPU coolers available in the market, and if you follow the buying tips correctly, you will surely land a high-quality CPU cooler. If you have any questions about PC gaming and any computer hardware-related issues, please contact us here. Thank you.