Since its first launch, Raspberry Pi has been gaining more and more popularity among kids and other tech enthusiasts. In fact, there are a whole bunch of opportunities for you to try with this low-cost single board computer. However, if you think about doing exciting projects or learning to code with pi, you will need some other components that do not come with Pi. Luckily, many brands have brought a complete package of pi accessories, including a version of the Pi to help you get started, commonly known as the Raspberry Pi starter kits.
Best Raspberry Pi Starter Kits
---
The starter kits are generally a combination of several components that allow you to do multiple projects. Now, you can find a variety of starter kits available in the market. But not all of them are suitable for you. This article will talk about the best starter kits based on our experience and customer reviews that can be used by both beginners and professionals. Once you know how to operate the kit, getting started will be nothing!
1. CanaKit Raspberry Pi 4 4GB Starter Kit – 4GB RAM
---
When it comes to Raspberry Pi Starter Kits, it's hard to beat the Canakit 4 GB Starter kit's popularity. This kit includes the latest version of the Pi with all the essential accessories you will need to get started, making it ideal for anyone from beginners to experts. You will get a microSD card with pre-installed NOOBS so that you can start right away without having to go through the whole operating system installation process.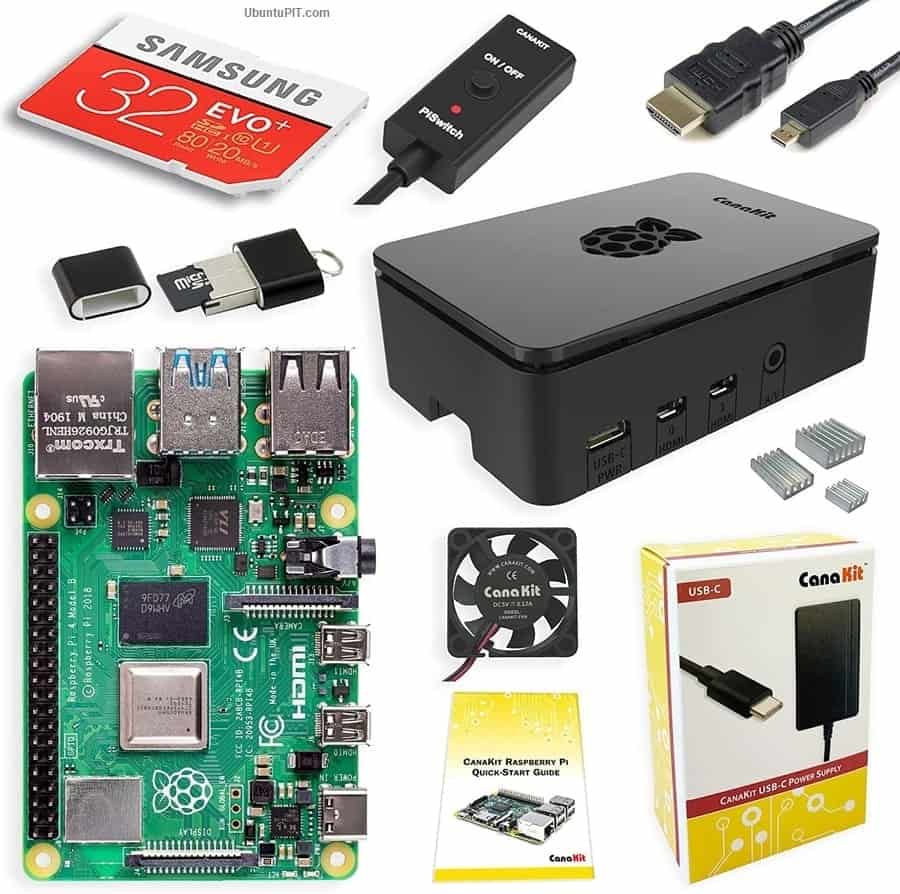 One of the best things about this kit is the PiSwitch that includes a LED indicator for the Pi. Moreover, the micro-HDMI cable allows you to connect your Pi to the monitor or television. The kit contains a case with a built-in fan and a heat sink that will stop your raspberry pi from overheating. You can also select this kit with a 1 GB or 2 GB Pi if you think 4 GB is too much for you.
Things Included
Raspberry Pi 4 Model B (4GB RAM)
MicroSD Card with pre-installed NOOBS
Noise Bearing system fan
6 foot long HDMI fan
5A USB-C power supply for Pi 4
USB-C PiSwitch
MicroSD Card Reader
A quick-start guide and a GPIO reference card
2. Vilros Raspberry Pi 4 Complete Kit with Clear Transparent Fan Cooled Case (4GB)
---
This kit is the best option if you look forward to making some awesome and innovative projects with your Pi. It was made especially for beginners and hobbyists with every accessory necessary to start something new.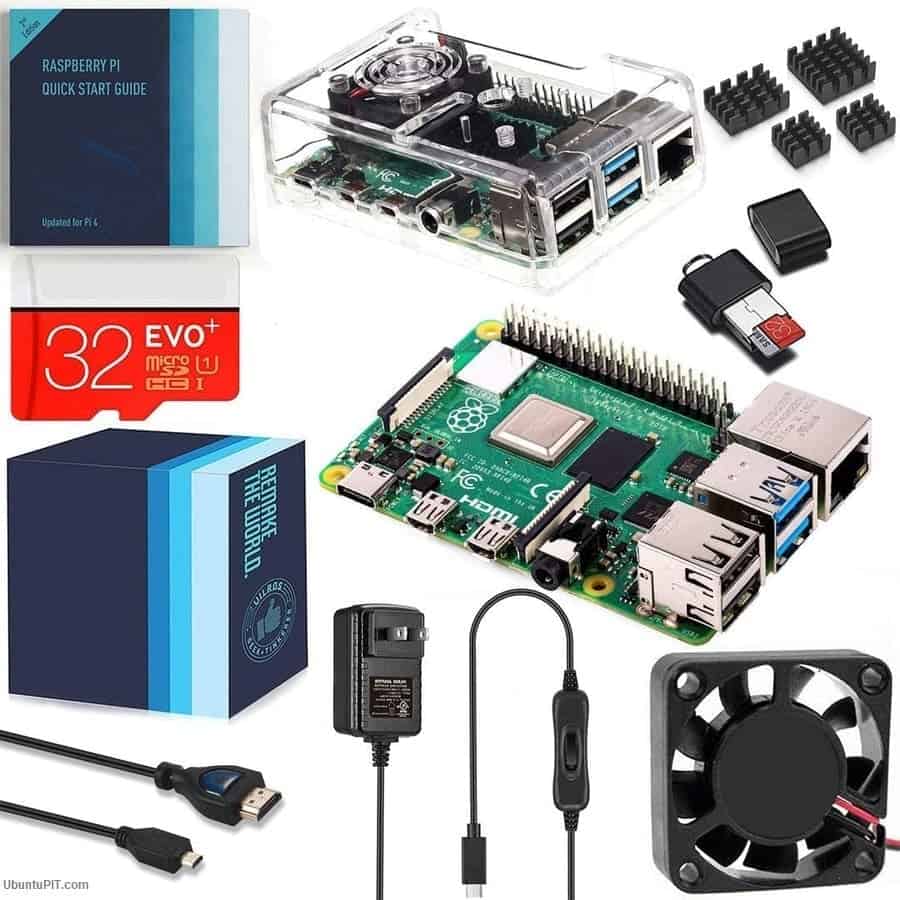 The starter guide with various materials is included with the kit to help you get started with any Raspberry Pi project you want. You can also transfer your data from your computer to the SD card with the SD adapter that comes with the kit. In brief, this kit is excellent for anyone who wants to start doing amazing projects with Raspberry Pi.
Things Included
Raspberry Pi Model B 4GB
Transparent case with pre-installed fan
USB-C 5V 3A Power supply
32 GB microSD Card with pre-installed NOOBS
Four heatsinks
8 meter long micro HDMI Cable
Quick Start guide
3. Freenove Ultimate Starter Kit for Raspberry Pi
---
When you are looking for the best raspberry pi starter kit at a low price, the Freenove Ultimate Starter kit is the best one. You can now buy this kit only if you already have a raspberry pi and want other accessories to start doing projects with it since the kit does not come with any pi. With 300 different components filled in the kit, you will get everything you need, including sensors, displays, LEDs, motors, buttons, and many more.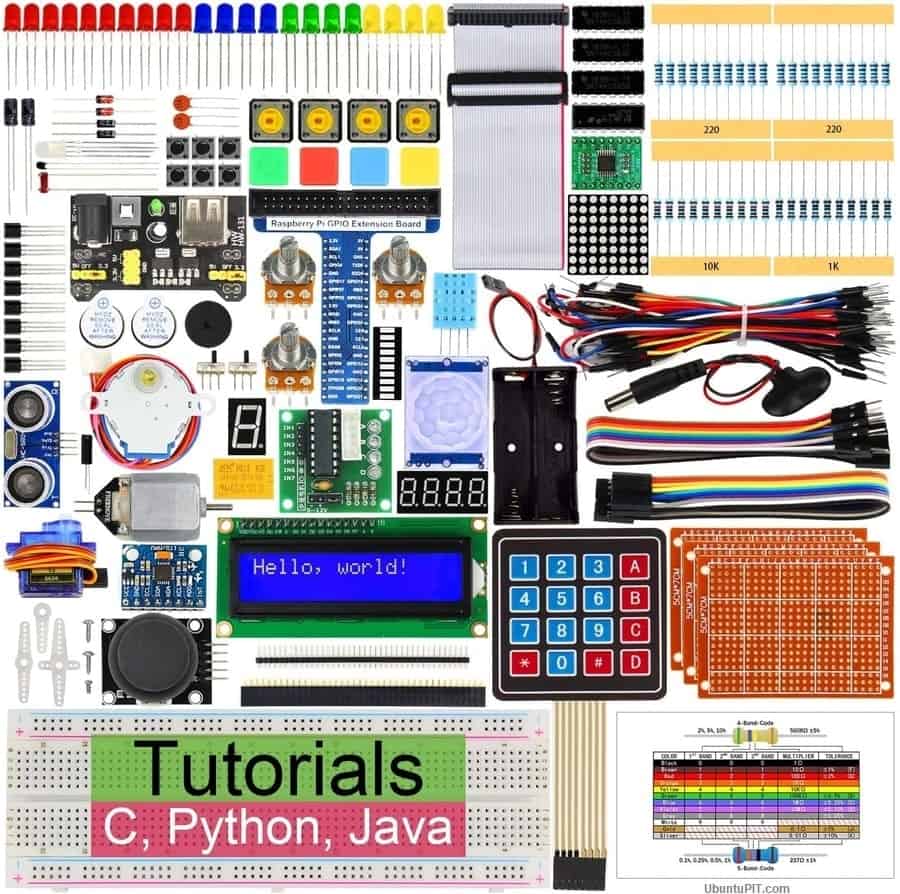 You can use any pi version; however, the manufacturers mostly recommend using 4B, 3B, and 3 B+ options. The 434-page detailed tutorial of almost 57 unique Pi projects is enough to create unlimited opportunities and help you to learn everything about the Pi.
Overall, this kit can be a great addition of accessories if you already have a raspberry pi or other components lying around in your house. The materials are compatible with programming languages like Python, Java, or C.
Things Included
A Motor Driver
16×2 alphanumeric LCD
Seven Segment Display
Ultrasonic and PIR motion Sensor
Servo and stepper motor
LEDs
Breadboard
Keypad
4.  V-Kits Raspberry Pi 3 Model B+ Complete Starter Kit
---
Considering the ever-growing popularity of touch screen devices, this V-kits Raspberry Pi Complete Starter Kit is sure to get a lot of attention. The Kit is especially compatible with the Raspberry Pi 3 Model B+, one of the Raspberry Pi's updated versions.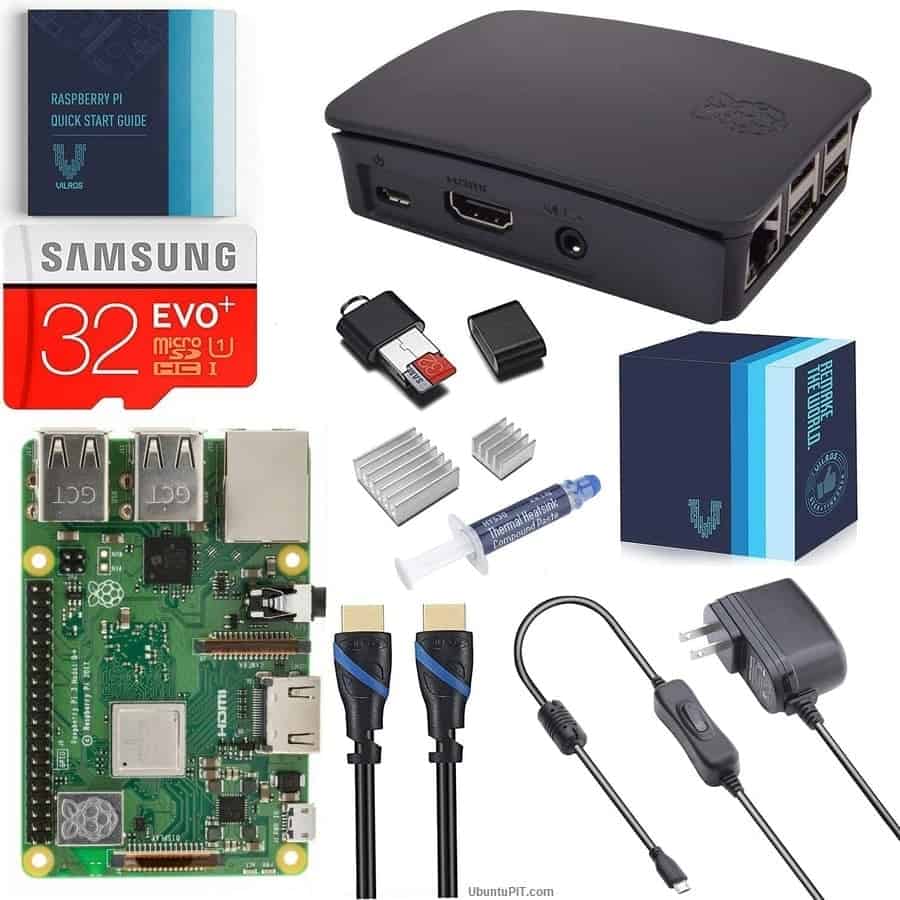 Though it features many useful components for Pi beginners, it doesn't include the most basic things like LED lights or sensors. Instead, you will get many unique elements like a touchscreen display with a wireless mouse and keyboard. Moreover, it contains a guide with sufficient information to help you get all the accessories together to complete the kit. However, it's really easy to assemble, and the Pi comes with pre-loaded Raspbian OS.
One of the lacks that get in the way of a variety of opportunities with this kit is that it doesn't contain any sensors. The electrical accessors are strictly limited. But overall, this can be a handy kit for absolute beginners.
Things Included
7 inch 800×480 touchscreen display
4G wireless keyboard and mouse
32 GB MicroSD Card
A set of heatsinks
5A USB power supply
A USB adapter
A variety of USB ports
An HDMI ports
An Ethernet gigabit port
5. ABOX Raspberry Pi 3 B+ Complete Starter Kit
---
When you are looking for high-quality products at affordable rates, ABox is the brand you should choose. Their high-quality products with exclusive features make the kits an ideal fit for your children who want to learn using the Raspberry Pi. Almost everything comes ready-made and assembled. You need to learn the codes to run the program and craft amazing projects with the pi.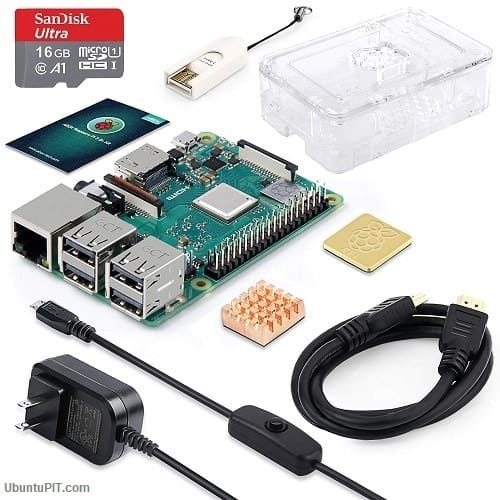 You can use the pi with the kit for many other things like playing retro games, using it as a cloud server, designing robots, building a house automation system, and doing electronic projects with GPIO's sensors. Working with super complex algorithms is easier due to the 1.4 GHz quad-core processor it includes. Also, you can connect it to your mobile with the Bluetooth feature.
Things Included
16 GB microSD card
Raspberry Pi 3 Model B+
5V 3A power adapter
Heat sink made with premium copper
Starter guide
Card reader suitable for USB-c and USB-A
28 feet long HDMI Cable
Pi premium case
6. ELECROW Crowpi Raspberry Pi 4B 3B+ Kit for Learning Computer Science
---
This kit by Elecrow called the "Crowpi" is an advanced-level kit built to help enthusiasts learn computer science, coding, and electronics. It is also regarded as an all-in-one kit that is supposed to be a complete package of everything you need to do exciting projects with the raspberry pi. Moreover, it contains a durable ABS plastic suitcase so that you can save all the accessories securely.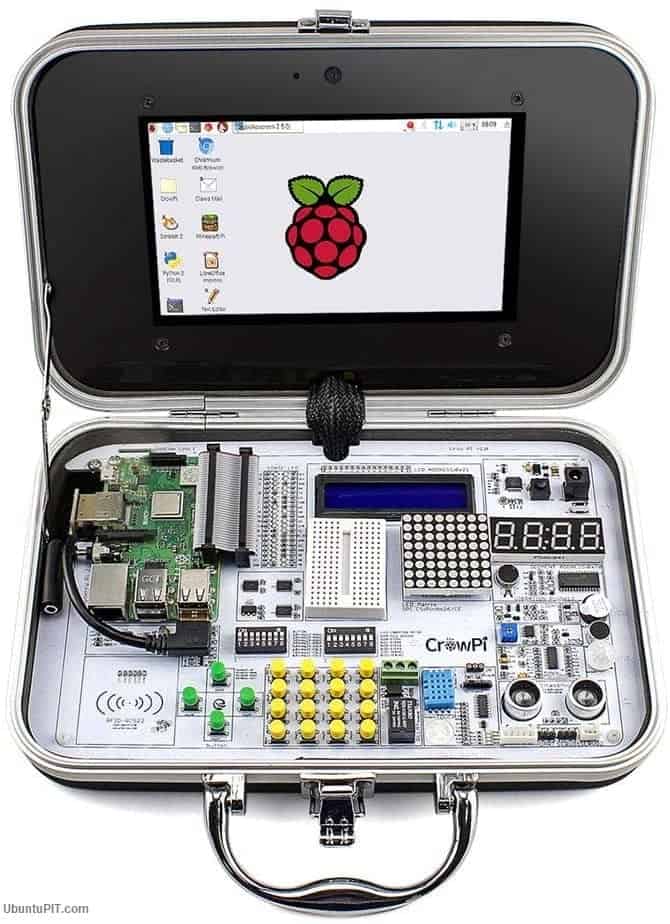 Though the projects included in the kit can be somewhat advanced, this kit is mainly designed to help you get started with the projects more quickly. You can also take help from the Crowpi website, where they have many instructions and videos on the projects.
Things Included
Raspberry Pi 4 Model B
7 inch HD Touch Screen
32 GB MicroSD Card with a card reader
LCD
Power adapter
Servo and Stepper Motors
Touch Pen
Seven Segment Display
RFID Card
Heat Sinks
Camera
Wireless Keyboard and Mouse
7. CanaKit Raspberry Pi 4 4GB Basic Starter Kit with Fan
---
Here comes another outstanding kit from CanaKit called the Basic Starter Kit. As you may have guessed from the name, this kit includes everything required for basic startups with the Raspberry Pi version 4 and also comes with an extra CanaKit fan. The Raspberry Pi included in the kit can handle every kind of project from the beginner level to the advanced with the help of the 1.5 GHz quad-core CPU.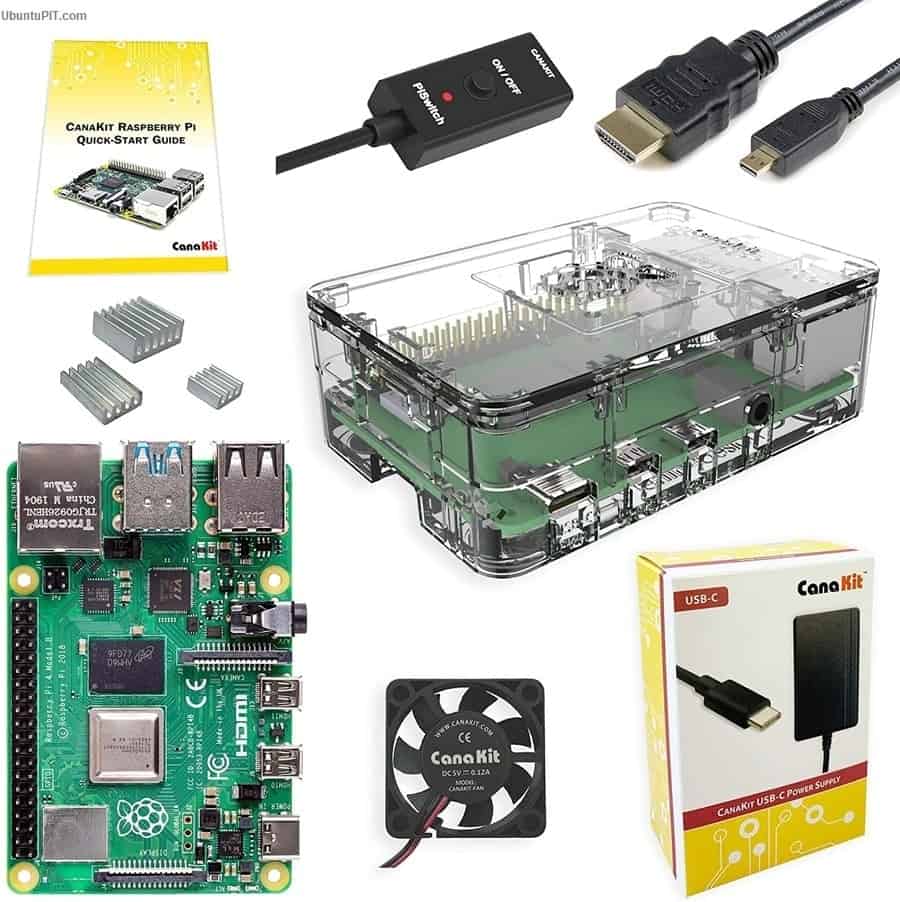 For easy connectivity to your PC or TV, you will get a 6 feet long HDMI cable that can support a maximum of 4K 60p outcome. To power up the pi, the kit consists of a 3.5A USB-C with a noise filter designed especially to be compatible with the Pi 4. Though the kit includes various useful and advanced featured accessories, it does not come with any microSD card.
Things Included
Raspberry Pi 4 4 GB Model B
CanaKit fan
Premium clear case
6 foot long micro HDMI to HDMI cable
A set of heat sinks
5A USB-C power supply with noise filter
USB-C PiSwitch
GPIO Reference Card
Quick Start guide
8. SunFounder Raspberry Pi Starter Kit Compatible with Raspberry Pi 4
---
Another budget-friendly yet with advanced Pi components is this Sunfounder raspberry pi starter kit. This one is not only low-cost but also ensures reliable performance with its excellent quality hardware accessories. Besides, it comes with quite a stylish name (Da Vinci Kit) that has got a lot of attention from enthusiasts so far. You can make up to 30 different types of projects using the accessories and the PDF tutorials included with them.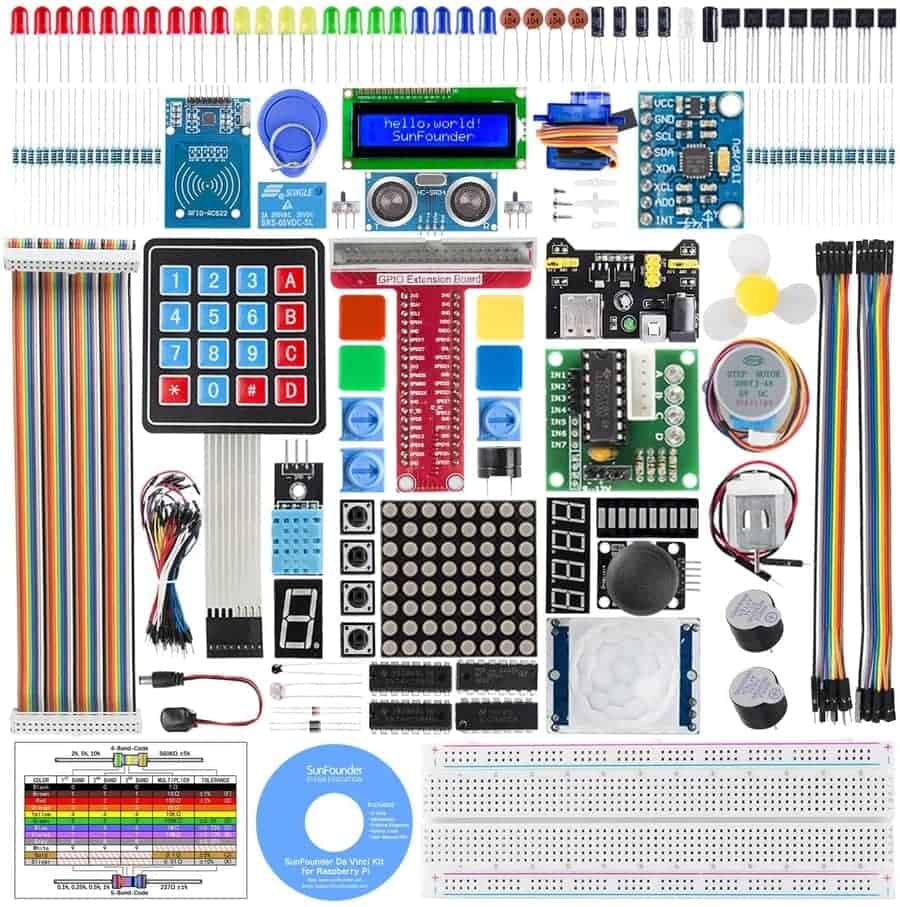 This kit can be a great source for learning basic programming languages like Python, Java, C programming, and some electronics stuff. But you should know that this kit is only a supporting component. That means you will have to buy a raspberry pi separately. The best thing is that this one is compatible with almost all versions of the Raspberry Pi.
Things Included
RGB LEDs
Seven segment display
LED Bar Graph
LED Dot Matrix
Active and Passive Buzzer
Servo and Stepper motors
Button, Relay, and Slide Switch
Keypad and Joystick
Potentiometer and Photoresistor
Thermistor and Tilt Switch
Ultrasonic Sensor Module
9. LABISTS Raspberry Pi 4 Complete Starter Kit
---
This all-rounder kit is one of the easiest raspberry pi kits to use and get started with new projects. It might look smaller considering all other kits in our lists, but the components are quite powerful. You can get a 4K display with the 2x micro HDMI ports included in the package. The data transferring is a lot higher than most other pi versions. The Pi comes highly secured in a handy case that has a GPIO cable slot.
Moreover, the kit includes a 32 GB microSD card, and the Pi is pre-installed with NOOBS. You will also get two ports for USB-A and USB-C. With this kit, you won't have to worry about heat dissipation since it contains two aluminum and one copper heatsink. Lastly, the components are capable of handling advanced software quite efficiently.
Things Included
Raspberry Pi 4 Model B 4 GB
Two screens capable of handling 4K streams at 60fps
Dual-band WIFI and Bluetooth module
microSD card and card reader
2x micro HDMI ports
One copper and two aluminum heatsink
10. NeeGo Raspberry Pi 3 B+ Ultimate Kit
---
​Among all the kits NeeGo has designed, the Raspberry Pi 3 B+ ultimate kit is the best and complete starter kit. It comes with high quality and uniquely organized case that makes it easy for you to tidy up the components and locate them quickly. One of the best features of this case is that it offers GPIO pin access. Moreover, the microSD card comes pre-installed with NOOBS.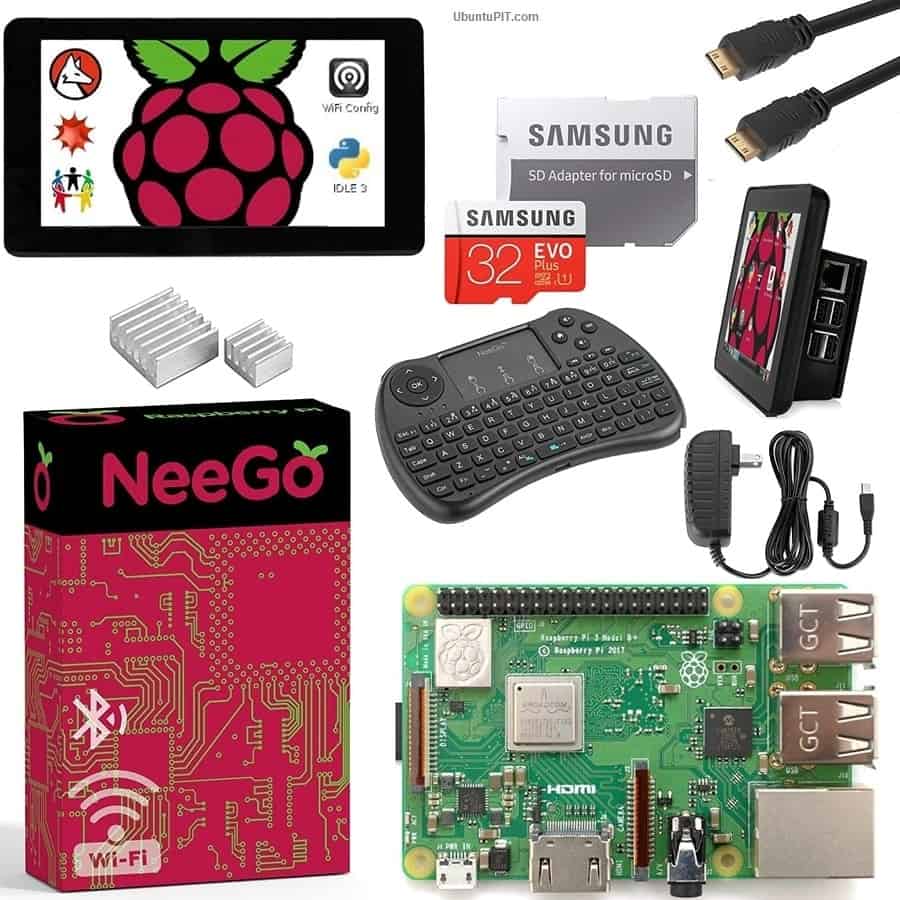 The pi is capable of handling a variety of software due to the 64 but quad-core CPU. Not to mention the high connectivity with WIFI and Bluetooth. You will get a 6 foot long HDMI cable that will allow you to connect the Pi to your monitor or TV without mounting a board next to the ports. With a refresh rate of 12 Hz, the kit offers 3D and 4K displays. So, with an unlimited number of project possibilities, this kit is ideal for both beginners and experts.
Things Included
Raspberry Pi 3 B+
Built-in WIFI and Bluetooth
1 GB RAM
7-inch touch screen display
32 GB microSD card pre-loaded with NOOBS
SD card adapter
two heatsink
6 foot long HDMI Cable
5A Power Charger
NeeGO Keyboard
Case enclosure
Finally, Insights
---
The raspberry pi starter kits mentioned in the article offer an excellent service in helping you make new and fantastic raspberry pi projects. It's also ok if you don't know how to use some of the components since most of the kits include a starter guide with a quick tutorial for several projects.
So, with these kits, building your personal computer can be the easiest thing to do! These Raspberry Pi kits mostly include all the basic components but are open to a variety of possibilities. With the right components and coding, you can have the whole world in your hand!