If you are looking for a source to get a high rate of return, then opening a crypto-saving account can be a brilliant choice. However, once you understand how crypto savings work and their advantages and disadvantages, there is little or no regulation. You will not get the same level of security as we get from the traditional banking system, so it is important to be on the right track from the start. To help you get the best yields and make more money, we are presenting this article to highlight the best Crypto Interest Account Companies. They are trustworthy, and even if you are planning for a long-time investment, your coins will be safe while accruing acute interest as well. 
How A Crypto Interest Account Works
---
If you have ever deposited money in a bank account, you will find it easy to understand how a crypto account works. When we deposit money in a bank account, the bank loans out our money to 3rd parties or invests in other projects upon which we receive interest each year.
Crypto saving account companies follow the same method but render relatively higher interest to the depositors. But note that users cannot withdraw money before a certain time period, and investment may decrease in value, which may also incur a loss. So I advise you to consider cryptocurrency interest as an investment project only instead of saving accounts. 
Top Crypto Interest Account Companies
---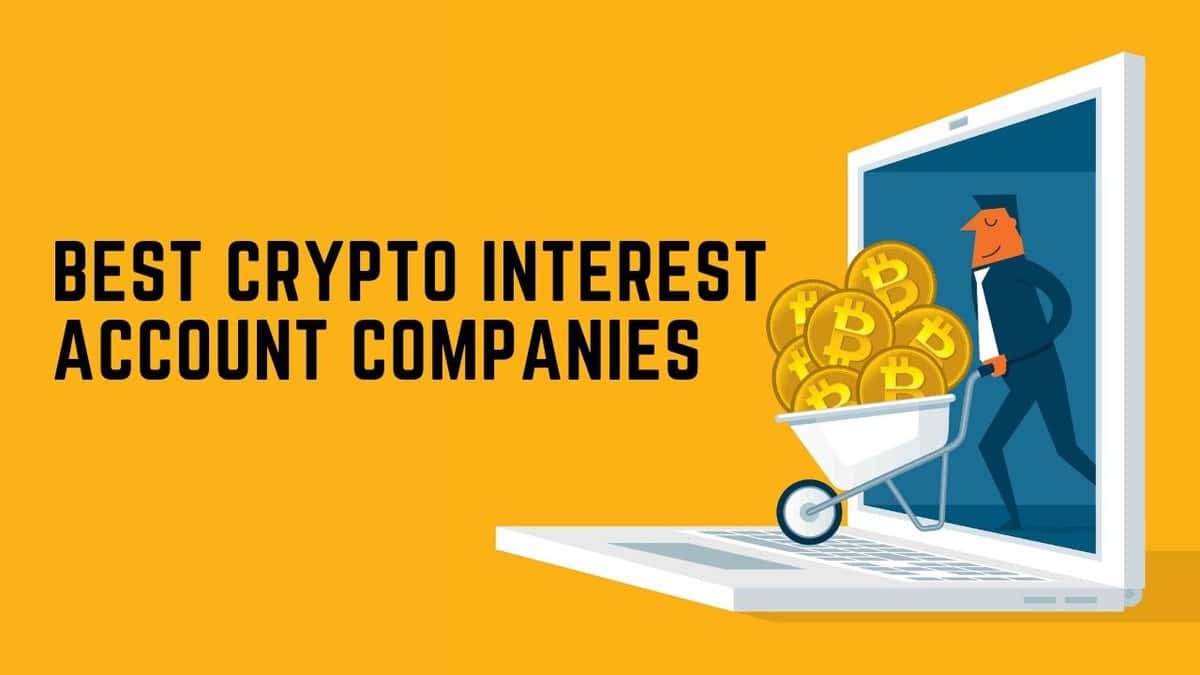 If you are looking to start your journey with a crypto interest account, then there are several factors you might take into count. First, of course, you can start comparing account providers, while safety, supported coins, and purchase availability can also play a major role in picking the most suitable company for your investment. So let's get started to know about the best companies you must check before starting your journey with the crypto interest.
1. Coinbase
---
If you have little experience with cryptocurrency or crypto saving, you may find it complicated and different from the traditional banking system. Coinbase might be the perfect account provider for you as it is designed especially for beginners.
Besides, it is one of the most trusted cryptocurrency portfolio providers you will find out there. It has dedicated features for bing and selling cryptos which is pretty straightforward. However, it is a great place to begin if you are concerned about reliability.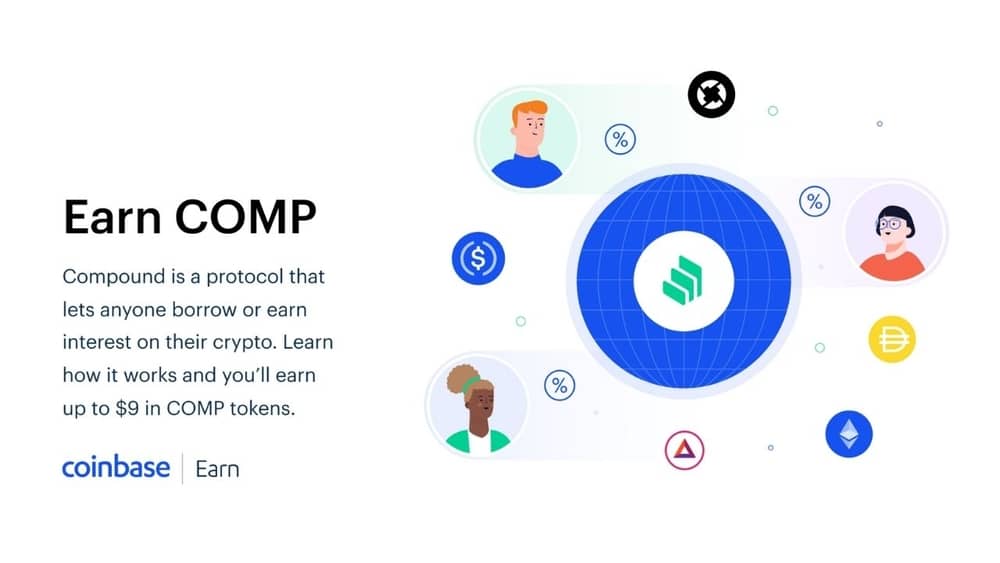 Important Features
You can buy and sell cryptos from your wallet, and users can link their bank accounts which makes it really convenient. 

A suitable platform for traders who are still learning. It will allow you to track your portfolio over time.

If you are considering investing in Bitcoin, Coinbase renders some of the highest fees for its customers. 

Charges are comparatively low, starting from $0.99 for a transaction value less than $10 and $1.49 if the transaction value is higher. 

Coinbase's extensive anti-fraud features are also there to protect you, although you will have to wait for 3days to transfer your fund to an exterior wallet. 

Buying options are appealing and easy to understand. But the options for supported cryptocurrencies are limited. 
Pros: The user interface is great, and you will find no trouble when you start using it. If you are a casual investor or just want to invest in popular cryptos, Coinbase is the best you will find right now. 
Cons: It is not a great platform for an experienced crypto investor. The charges are high for high-value transactions, and also it takes multiple days to get your money into the bank account once transferred.
2. Voyager
---
Cryptocurrency is going to take over the traditional banking system soon. Besides, the adoption of cryptocurrency by popular payment gateways like Paypal is also boosting the speed of its expansion.
As a result, the number of crypto wallets and platforms is skyrocketing. So if it is hard for you to choose the best option for you, then you should check Voyager's leading name in the crypto industry. With over 50 tokens and coins, Voyager is also one of the most flexible currently available in the market.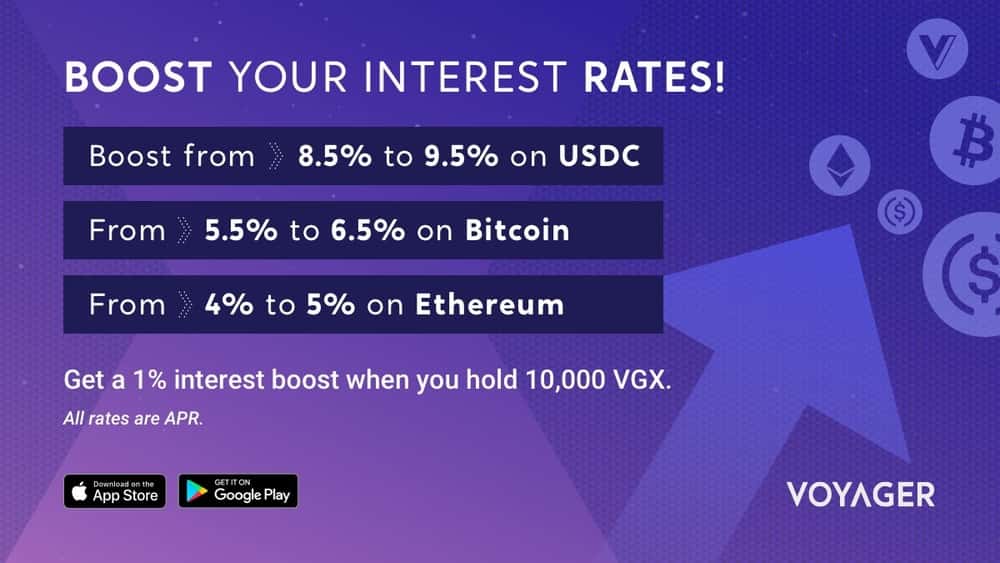 Important Features
Voyager is powered by fraud detection. It has a dedicated iOS and an Android app is also there that you can download for free. 

It will allow you to buy, sell and swap assets without any interruption. 

Compared to other cryptocurrency brokers, the commission rate while paying is low in Voyager. 

You will get very few crypto savings account providers that render high interest as Voyager, making it a great choice for small to medium investors. 

Users will have full control to maintain their crypto portfolio. In addition, mobile apps are so powerful that you will never miss a trade again. 

Also, Voyager offers advanced market data, interactive charts, and professional research that can give you the extra edge to remain ahead of the competition. 
Pros: Voyager is equipped with all the useful features required to shine in the crypto market. Besides, you can not question the authenticity of this platform as it is publicly traded, licensed, and regulated as well. 
Cons: Customer service is the major downgrade of this platform. Besides, the lack of desktop apps makes it hard for many users to take part in trading.
3. Crypto.com
---
It is another great choice for people to whom the wide array of supported cryptocurrencies is the priority. Crypto.com is a well-known platform and has been in the market for quite a long time. You can surely rely on their service, and the authenticity is unquestionable.
Unlike other cryptocurrency savings accounts, Crypto.com does not limit its users to the type of cryptos you can earn interest on. If you are a longtime runner in this field, you will find Crypto.com flexible and love its features.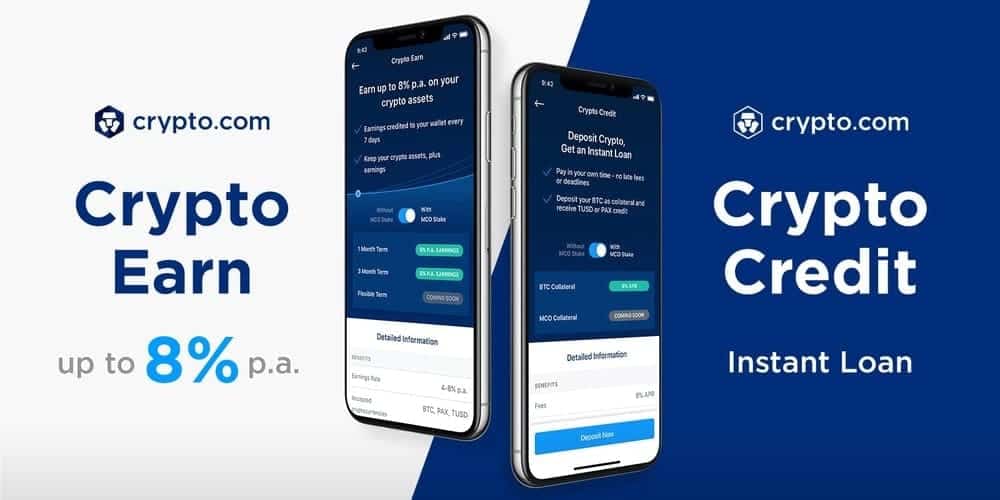 Important Features
There is no crypto interest account provider that can come close to Crypto.com when it comes to the number of supported cryptocurrencies. 

You will even get support for stable coins like Tether and TrueUSD to smaller amounts. 

Besides, volatile offers like Chainlink, Maker, Bitcoin and Ethereum are also supported to match the demand of each investor. 

It provides a $50 exchange sign-up bonus, which is great for newbies, and associated low fees can also be mentioned. 

You can buy and sell digital assets using fiat and credit/debit cards. Besides, with the 50% LTV, you can also access crypto loans. 

Offers a decentralized exchange platform known as Defi Swap. In addition, you can store your assets more securely with the Defi Wallet. 
Pros: You can track the token prices from within the platform. This platform also displays market movement while you can earn up to 12% p.a; by depositing cryptos.
Cons: The major problem of this platform is low privacy. Besides, you can not exchange unless you are a US resident.
4. Nexo
---
There are many people who depend on the interest from their investments to maintain their expenses. Nexo can be a splendid choice for them as it does not make you wait for months to get interest/profit from your investment in digital assets.
With the simple interest payments, Nexo has gotten the attention it deserves, and its customers have been growing rapidly in recent years. Besides, lock-up times are also short, and you will get your money within 24 hours, which makes it an obvious choice for investors.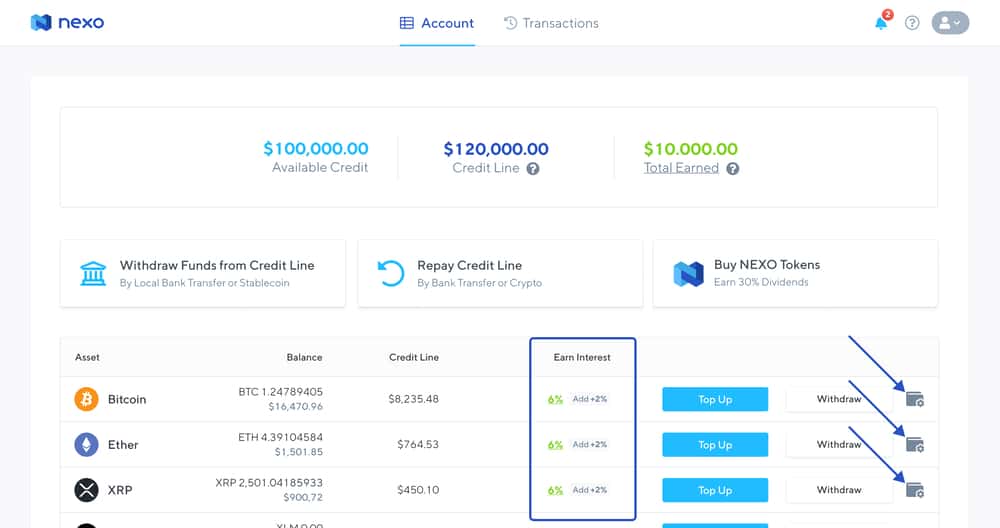 Important Features
Nexo allows people to get favorable interest rates, and when it comes to crypto collateral, Nexo also renders guaranteed loans. 

You will be able to make money from idle assets, and you can also claim fiat currency whenever required. 

Suitable for long-term crypto investors as well as people who already own stablecoins or altcoins. 

If you are a beginner in this domain, you can start your journey with Nexo due to its advanced security features. 

The platform is straightforward, and you can also access the advantage of automatic interest calculation and payment. 

Sign up for a Nexo account to get crypto loans along with a Nexo Card.
Pros: It covers a wide range of cryptocurrencies while you will earn interest from 6 unique stable coins and 11 altcoins. No minimum balance is required, and users can deposit or withdraw coins whenever they want. 
Cons: It does not offer enough resources to get going with the platform and its features compared to its competitors. As a result, the learning path can become more challenging if you have never used any cryptocurrency platform before.
5. BlockFi
---
BlockFi has proudly claimed its spot on this list of the best crypto interest account companies with its reliable high yields. With the 8.6% interest on the investment, BlockFi has successfully got many customers and established a strong position in the crypto industry.
The customer service is also fantastic and will surely make your journey smooth with 24/7 support. Besides, the interest will depend on your investment, so more investment will surely bring you more interest.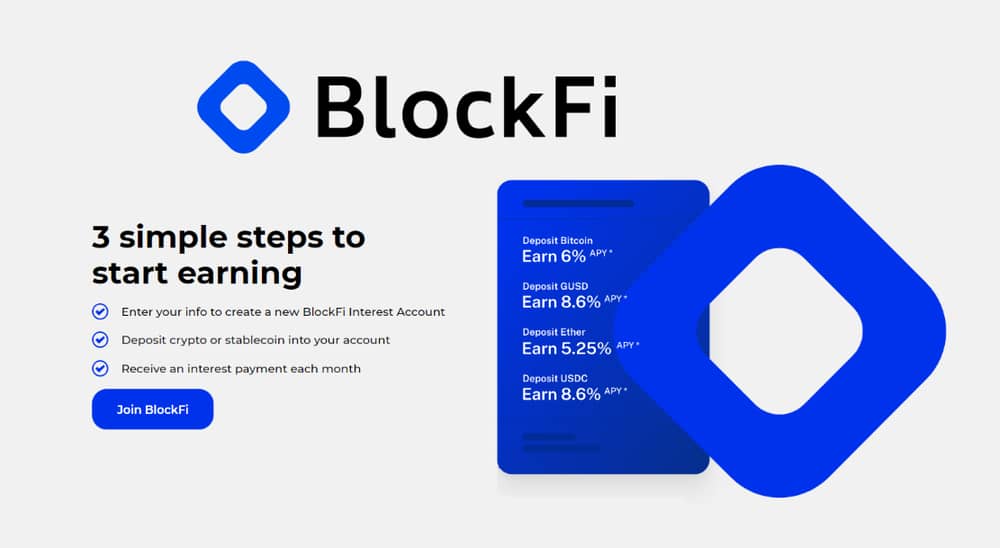 Important Features
BlockFI offers the highest return among the most popular crypto-saving account providers available out there.

Besides, this platform is powered by an impressive security repertoire, so you will not need to worry about your privacy again. 

Backed by Valar Ventures and Morgan Creek Capital Management, you will be safe. 

Suitable for crypto native clients, crypto fringe clients, and curious crypto clients. With institutional-grade financial products, you will earn the maximum profit. 

The application is simple, and you will face little or no problems starting trading. In addition, BlockFI uses Gemini to deliver cold storage custodian services for investors. 

There are no hidden fees associated with trading, and it supports the most popular cryptocurrencies to become a flexible platform for traders. 
Pros: If the highest return is your primary concern BlockFi is an ideal choice for you. The BlockFi app can buy, sell, or borrow crypto coins from a centralized hub.
Cons: Without a base knowledge of cryptocurrency, you will find BlockFI really complicated, and the lack of an investment advisor makes it even worse for the new traders.
6. Gemini
---
If you are already familiar with cryptocurrency and have insights into the crypto industry, then you have probably heard the name of this platform. Gemini has been in the market for a long time and has earned the reputation of being a trustworthy place for crypto traders.
Because of its extraordinary security and transparency, you will find many people who have already stored their cryptocurrencies in Gemini. Besides, many platforms currently operating in the market use Gemini as the backbone to render services to their customers.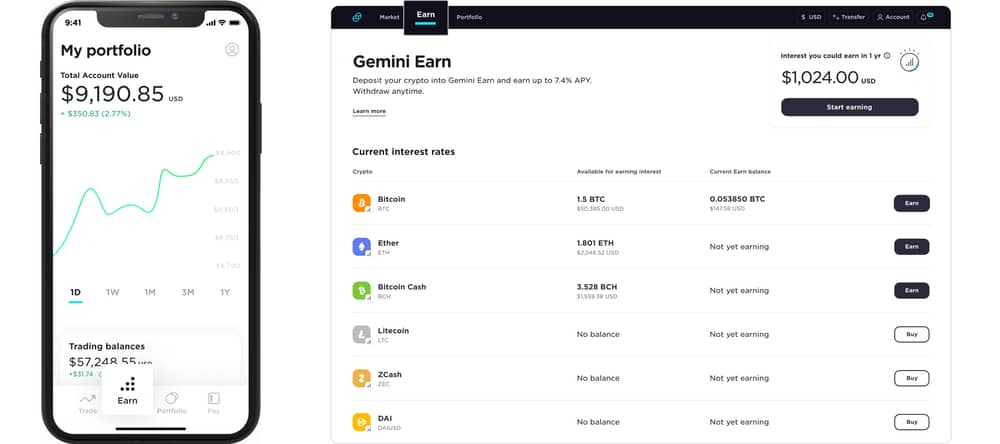 Important Features
Gemini is a popular name in the crypto domain, but it recently joined the savings game. So exciting offers are still available for the traders.

This platform takes customer protection as its highest priority, and you will remain safe from vulnerable exchanges. 

You will be able to earn up to 7.4% interest, while for BTC, the interest rate starts from 2.05%. 

With over 20 supported cryptocurrencies, this US-based company can be great for any trader. 

Transaction fees range from $0.99 to 1.49%, and it has its own currency, known as Gemini dollars. 

It comes with a well-designed mobile application, making it easier to trade than its desktop application. 
Pros: With the partnership with Flexa, Gemini users can now purchase products using Gemini dollars, Bitcoin, Bitcoin Cash, and Ether from retailers like Nordstrom, GameStop, Whole Foods, and Home Depot. 
Cons: Although Gemini is undoubtedly an adaptable, outgoing, and intelligent platform, users may find it indecisive, impulsive, unreliable, and noisy sometimes. So you will always have to be careful to become a successful trader in Gemini.
7. Kraken
---
If you are looking for an original crypto trading platform, then you should keep an eye on Kraken. It is a great platform where you will find a wide selection of coins and tokens, along with all the exciting features. You can easily find your preferred coin and start investing to earn interest. But it is not at all suitable for beginners. You must have a solid understanding of crypto trading platforms and how to invest in a crypto interest account.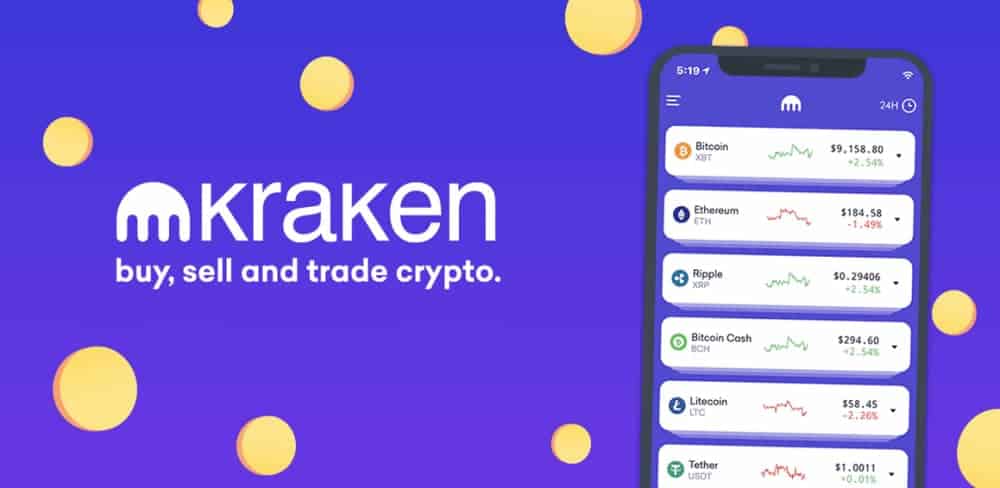 Important Features
You can consider this a real exchange where you can trade in with more risky tokens like DOGE. 

You will find one of the market's most reliable and secure crypto exchange platforms. 

Besides, no one has ever been able to hack Kraken, which gives it a competitive edge over its competitors. 

With over 50 supported cryptocurrencies, you will surely enjoy trading on this platform. 

There are many alternatives, but Kraken is one of the few companies operating in the market with a good reputation when it comes to quality and experience. 

On top of that, you will find the most advanced tools required to remain ahead of the competition, such as margin and futures trading. 
Pros: The best part of Kraken is it allows users to use fiat currencies that include USD, Canadian Dollar, Euro, and GBP to make it a more convenient place for traders. 
Cons: The customer support is not well-equipped compared to its competitors. And the number of coins and tokens available to US citizens is limited.
8. YouHodler
---
YouHodler is another great platform that crypto traders must check if they are concerned about protection and high-interest rate. It is a simple platform designed only to make your buying and selling experience smooth in the cryptography blockchain network.
Besides, you can withdraw your revenue anytime you want, which makes it suitable for small investors. Although the minimum amount of investment starts from $100, the high yield will surely make it up for the investors.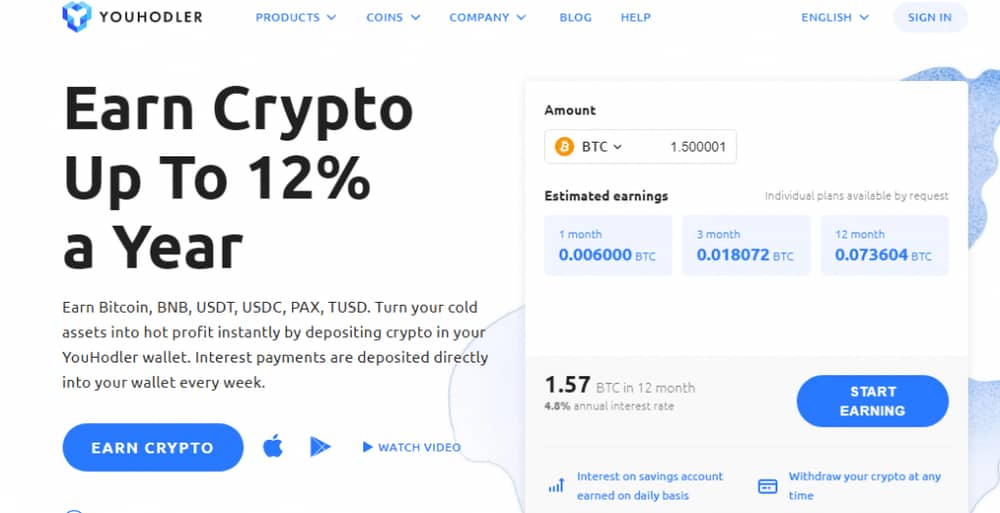 Important Features
Supports a wide variety of crypto coins such as Bitcoin (BTC), Pax Gold, USD Coin, True USD, and so on. 

It provides a great opportunity to convert idle assets into profitable investments and earn up to 12.7% interest each year. 

You will not even have to wait for a month to get the profit due to the availability of weekly interest payments. 

On top of that, it offers multiple fiat payment methods to provide flexible trading for investors of all kinds. 

If you are planning to take crypto loans as collateral, then YouHodler can be a splendid choice. 

Users can hold interest in their saving account to get compound interest to boost financial growth.
Pros: Users can complete paying, storing, and exchanging within the platform while earning the maximum profit. Besides, you can deposit or instantly withdraw money using credit cards or bank accounts. 
Cons: It is most suitable for people with a large amount to invest. And also, when it comes to long-term crypto loans, you will find better alternatives available out there.
9. Hodlnaut
---
Being a certified Fintech by the Singapore Fintech Association, Hodlnaut has already earned a great reputation. As a result, they could draw the attention of many traders all around the world. Although inherent large price swings can often become the reason for your headache, a crypto interest account in reliable companies like Hodlnaut can make our life comfortable. Especially if you are a long-term investor, Hodlnaut can be an ideal choice for you to get interested out of the holdings.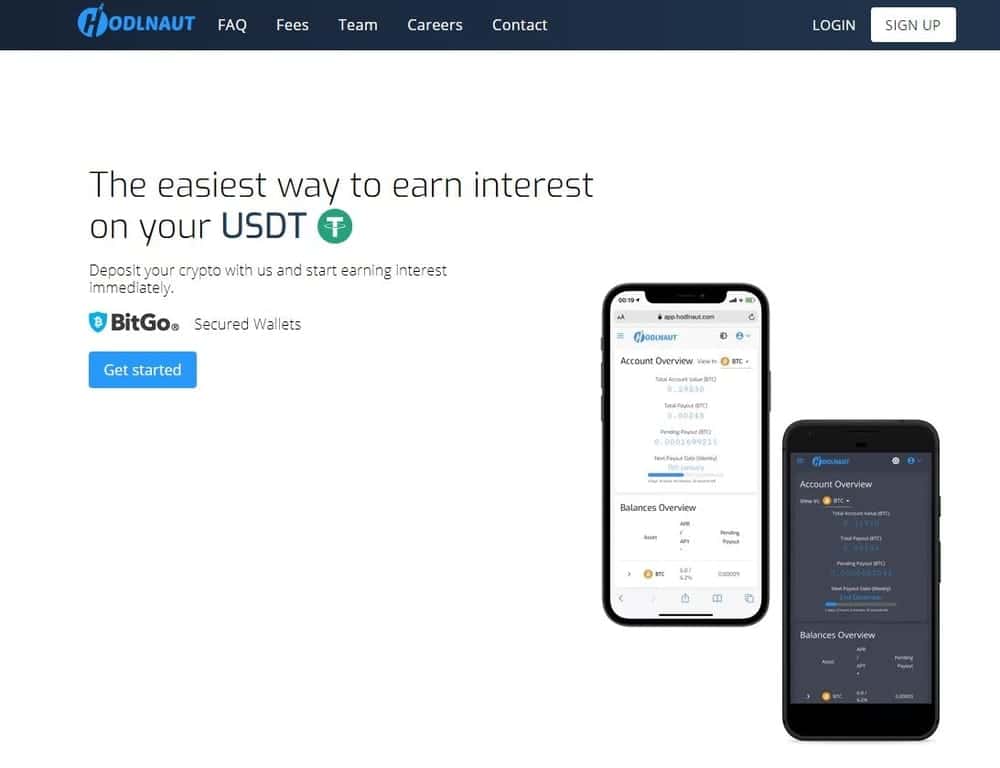 Important Features
One of the most trusted crypto trading platforms powered by extensive security features and privacy protection. 

It allows investors to earn up to 8.3% interest, which is relatively high compared to the alternatives. 

Besides, small investors can start trading with any amount. There is nothing called a minimum amount to start trading in Hodlnaut. 

There is no lock-in period to make your transaction more transparent and handy at the same time. 

Select from a wide selection of cryptocurrencies such as Bitcoin, Ethereum, Dai, USD coin, Tether, and so on. 

Again, for institutional clients, it offers digital asset loans starting from $50,000. 
Pros: If the UX and dashboard are your concern, you will become astonished once you start using Hodlnaut. It is easy to use, and you will not face any problem understanding how things work. 
Cons: You will have to manually handle the withdrawals and KYCs, while the unavailability of an application is the major drawback of this platform.
10. Celsius Network
---
Although I am mentioning this platform at the last of our list, there is no way you can ignore its incredible rates and impressive bonuses. Furthermore, no minimum amount is required to invest in Celcius Network, while no lock-ups on your keys make it even more attractive for traders.
Besides, it is a relatively newer platform than others on this list and offers a $20 bonus in free bitcoin for the signup. However, it has already risen to the top, and you can easily rely on it to start your journey with a crypto interest account.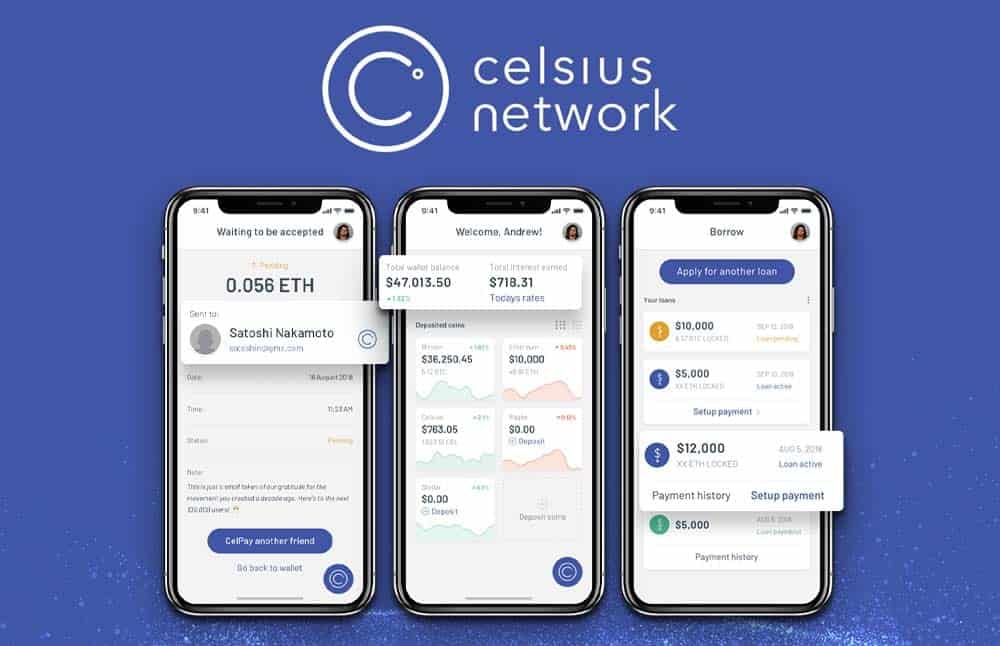 Important Features
One of the few cryptocurrency companies that offer such high reward rates on deposited cryptocurrency. 

Besides, Celsius Network will allow you to borrow cash or coins using your cryptocurrency. 

There is no hidden charge or associated fees for sending or receiving crypto coins or tokens. 

It is a blockchain-based lending platform, and you can use the loan-to-value (LTV) ratio feature to receive loans.

You can get up to 18.55% APY on your crypto, making it an obvious choice for all investors and newcomers. 

Payouts are cleared weekly, so you do not have to wait longer to get your hands on the interest. 
Pros: It comes with a dedicated iOS and Android application and is regulated by the U.K. government, so you cannot question the authenticity and reliability as well.
Cons: If you are a US citizen, you will not get the highest interest, and there is no desktop application available for this platform.
Our Recommendation
---
Cryptocurrency has seen huge growth in recent years. It has already got recognition in almost all the leading countries in the world. So, we can say it is undoubtedly the future of global transactions, and it is the right time to start investing in converting your idle assets into revenue.
But if you ever get confused about where to start, then I want to mention that a crypto interest account in a trusted and reliable cryptocurrency company is all you need to start trading in this emerging industry.
I am going to take the name of BlockFi as the best platform to create a crypto saving account. It is suitable for beginners and long-term traders, and also you will get a $250 bonus upon signing up. Furthermore, it supports all the popular cryptocurrencies like BTC, ETH, LTC, USDC, and GUSD.
Also, security is nothing to worry about, as well-known crypto companies like Gemini back it. Mobile applications are also available, and a great customer care service makes it an easy choice for most traders. 
Finally, Insights
---
Due to the advancement of blockchain technology, cryptocurrency has been growing faster than expected. As a result, more and more people are indulging themselves in this industry. And the number of crypto companies is also increasing rapidly. Although earning interest without a better understanding and long-term trading is difficult, a good platform can always help protect your money and achieve the maximum yield.
Here are the best crypto-saving account providers you must check before opening an account and starting investing. Of course, you should also go through the features, pros, and cons to make the most of your holdings.