The cryptocurrency industry has seen a significant turnover in recent years. With the development and increasing demand, crypto platforms are working to offer more than ever to their clients and investors. Cryptocurrency wallets are created to store digital assets and manage security issues like saving secret keys and identity verification. To let you know, the best cryptocurrency wallet is much more secure than the exchanging platforms as a long string, which is referred to as the key, represents your portfolio's address and generates through sophisticated cryptography techniques.

Best Cryptocurrency Wallets
---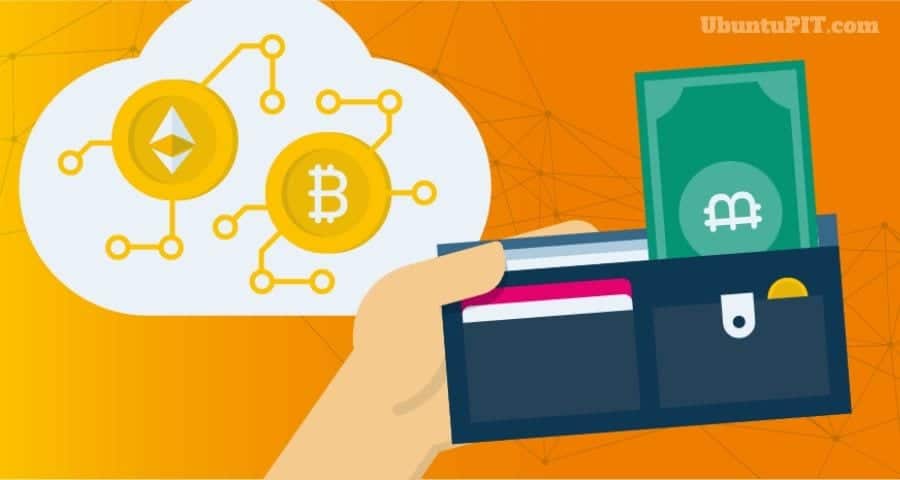 The key is the crucial part of a crypto wallet. Before picking a wallet to use or store your money, you should analyze the pros and cons of a platform. Besides, there are five kinds of crypto wallets available out there. Go through this article as the top 20 best cryptocurrency wallets are highlighted to enable you to make the right decision.
1. Coinbase Wallet
---
Coinbase has already earned the reputation of rendering it one of the most secure crypto trading platforms. Besides, all the cryptocurrencies that investors store on the server are covered by the insurance policies offered by Coinbase. You can further associate your bank account and start selling or buying using your wallet.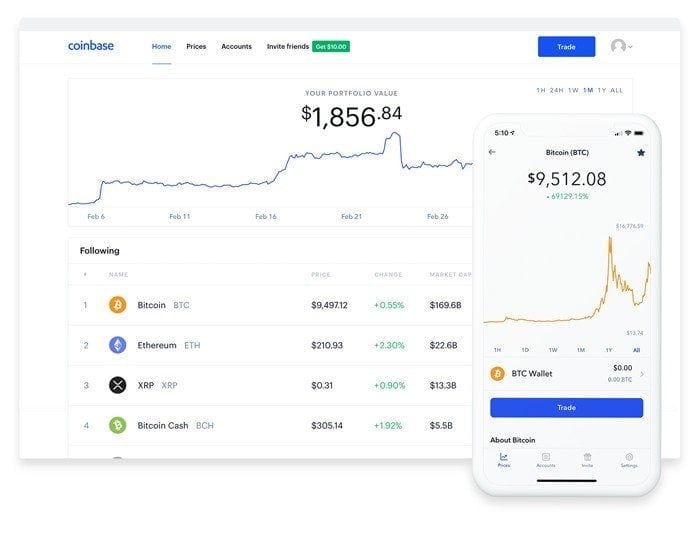 Features of Coinbase Wallet 
It offers a lucrative user interface that beginners can easily understand and support digital financial instruments and popular cryptocurrencies. 

You can store more than just one signature, and two-factor authentication ensures the safety of your wallet. 

It has a huge number of investors and is backed by multiple reputable exchanges. 

Bitcoin is not supported currently, although it has a great future and can be called the safest cryptocurrency wallet in today's world. 

Undoubtedly it has a great future ahead. As one of the best crypto wallets, it is hosted where keys are stored somewhere else.
2. Copay Wallet
---
A company called Bitpay created Copay. Bitpay has enabled many businesses to allow bitcoin as a payment, which is why Copay is the most accepted bitcoin wallet worldwide. A light node wallet uses simple processes to complete a transaction, although two-factor authentication is not available.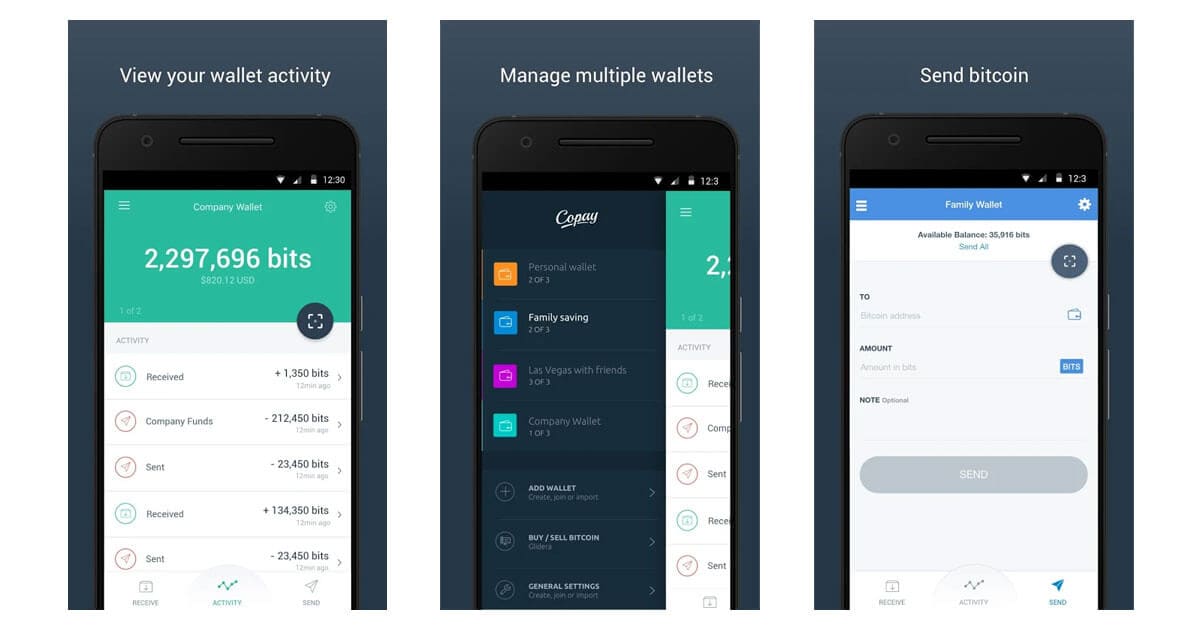 Features of Copay Wallet 
It supports bitcoin and bitcoin cash. All the keys are stored locally rather than cloud to ensure device-based security. 

Addresses are generated through hierarchical determination, and the BIP70-BIP73 payment protocol easily identifies payment requests and verifies payments. 

Although it supports bitcoins, this best BTC wallet offers only multiple wallets alongside multiple signatures.

You can pay using your wallet on some popular eCommerce websites and businesses like Amazon.com.

Group payments can also be conducted using shared wallets, and email and push notifications are there to keep you up to date.

Copay is an open-source wallet backed by developers to keep your assets safe and secure.
3. BRD Wallet
---
The first bitcoin wallet renders a customer loyalty and rewards program. Using the wallet, you can exchange BTC, BCH, ETH, and all ERC-20 tokens. Besides, it is highly secure as it connects directly to the Bitcoin network. Using your device's hardware encryption makes sure that your assets remain safe.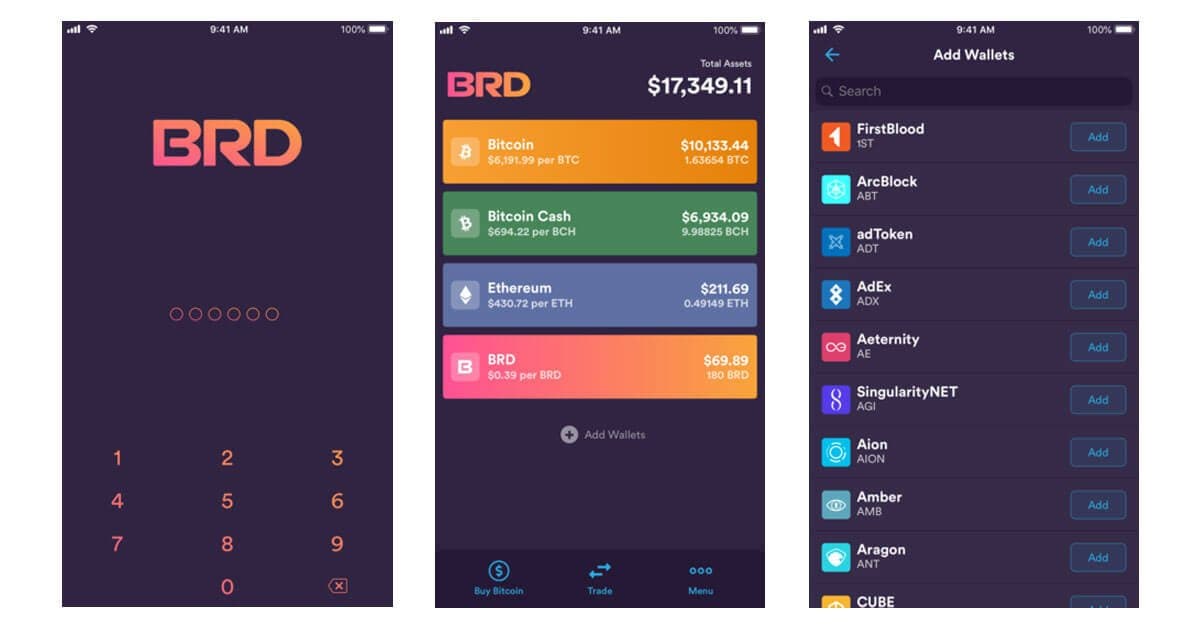 Features of BRD Wallet
It enables users to exchange bitcoin almost anytime, anywhere. You can also convert your bitcoin into other cryptos like bitcoin cash and ethereum.

It aims to make cryptocurrency accessible to everyone while an easily usable interface and privacy remain the main focus. 

Users do not require to produce an account as it is a fully decentralized wallet connected to blockchain technology using the sophisticated 12-word paper key. 

It provides great support to its customers, and you can contact the authorities anytime using any sized screen. 

No desktop application is available, but great Android and ios apps can fulfill any kind of requirement. You can even purchase bitcoin directly from the app. 

Free to use and supports multi-signed transactions. Highly priorities user privacy, as none of your information is stored on the server.
4. Jaxx Liberty Wallet
---
 Jaxx is known as a multi-currency, multi-platform, all-in-one cryptocurrency wallet that has been operating since 2014. You can exchange more than 80 cryptocurrencies using the Jaxx wallet. Besides, it renders all the important features like transaction history, coin balance, and insights into a particular coin. Although this is not an open-source app, the source code is available online.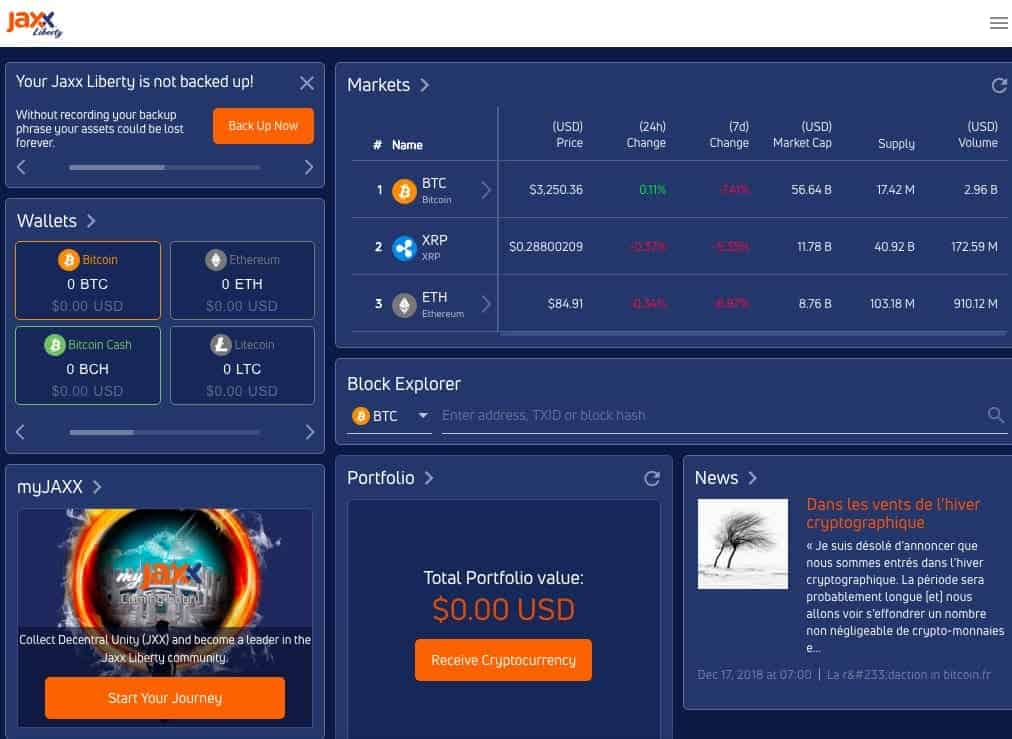 Features of Jaxx Liberty Wallet 
Android, ios, windows, and Linux versions of the app are available, while you can also use the chrome extension. 

As a freshman, you can begin your journey with the Jaxx Liberty wallet, which is 100% free and trusted by many worldwide. 

Generates excellent platform support and customer care through different media like social platforms or email. 

Using block explorer, you can check your balance and complete transactions using multiple blockchains. 

The news module enhances the app's value as it continually shares valuable updates and essential information on blockchain and cryptocurrency. 

 It enables users to track the market by analyzing the price challenges and market caps and following the latest trends.
5. KeepKey Wallet
---
A hardware wallet stores your keys in cold storage to keep them safe from computer vulnerabilities. A 12-word security key is generated in every device, and you can also retrieve it if you lose it. BTC, BCH, DASH, DOGE, ETH, LTC, and NMC cryptocurrency are supported, and you can complete the transaction using the software, Electrum and MultiBit.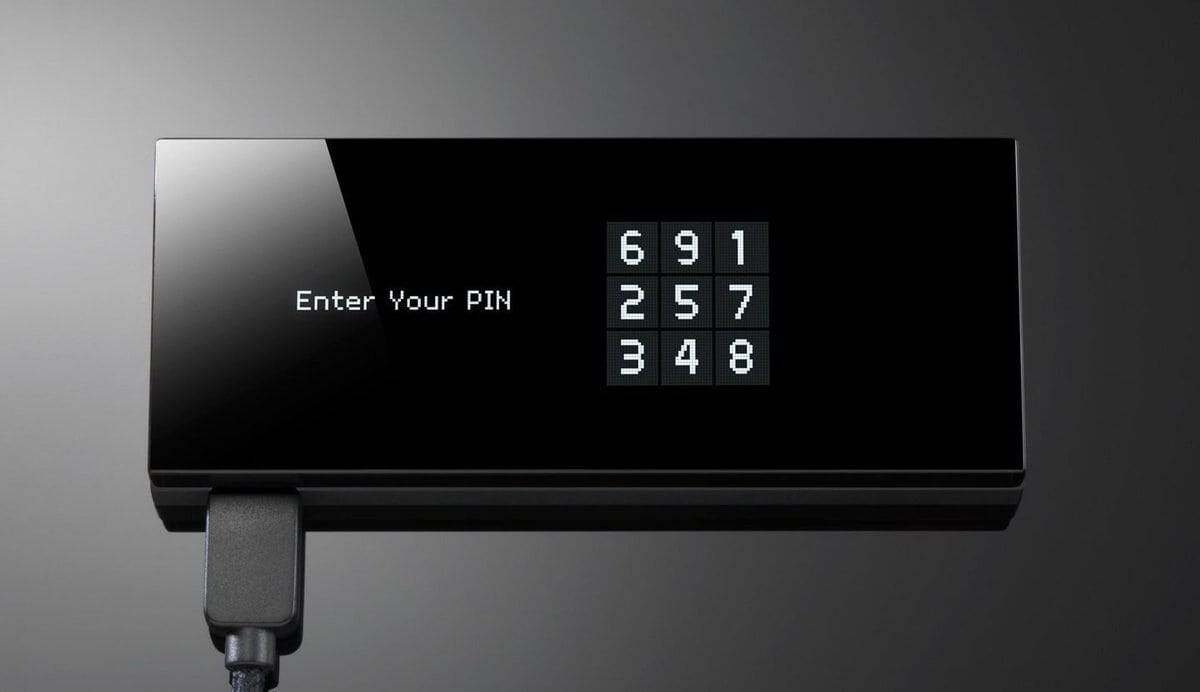 Features of KeepKey Wallet 
It is the best HD wallet if we consider security. It is safe from any kind of physical or virtual attack. 

It uses a security sentence used as a backup to recover the keys you have forgotten, and you can add an extra word to enhance the security. 

You cannot carry KeepKey due to the size of the device, which is much larger than TREZOR or Ledger, which can be carried in your pocket. 

It offers a web platform alongside desktop and mobile applications that brings many crypto tools under one umbrella to increase efficiency. 

You rely on many users, and if you want to build a portfolio around digital assets, you must try it.
6. Trezor Wallet
---
If we consider hardware wallets only, then Trezor is the best Bitcoin wallet. It gives you the power to store your assets in cold storage and use it like a hot wallet. It can be safely used on a computer affected by malware. The size is small and can be carried easily. The screen is protected with extra layers, but the price is affordable.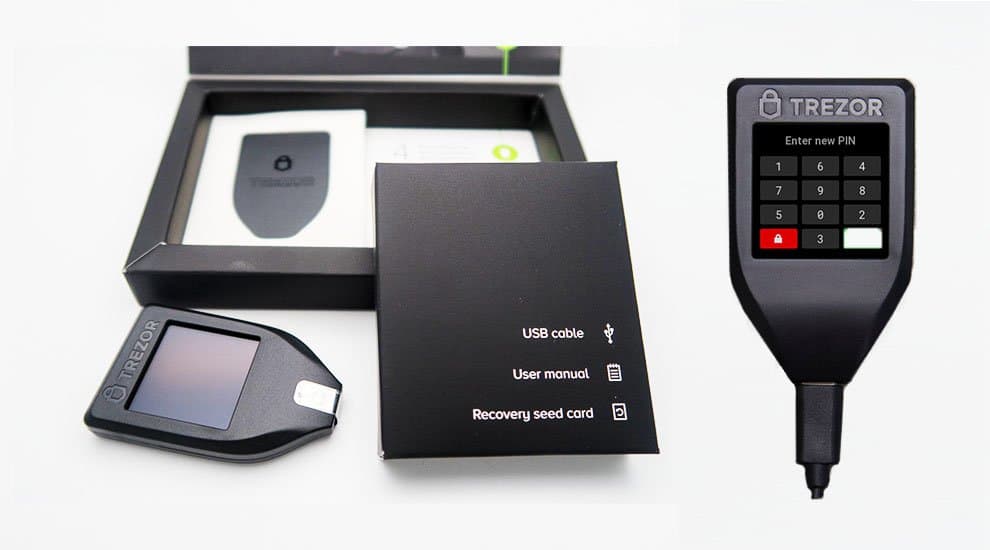 Features of Trezor Wallet
Backed by millions of users and can be connected to your computer through USB. One of the best cryptocurrency wallets that supports multiple currencies at a time. 

You can have over 100% control over your private keys, and the price starts only from €89. 

The device can be backed up by a 24-letter recovery seed generated by a random number generator algorithm built-in into the device. 

You can set a pin for the first time. On top of that, you can add a paraphrase as the 25th letter. 

Two-factor authentication is also available. Besides, it signs uniquely with each transaction to keep your currencies safe. 

It has seen some attacks and experienced threats due to its firmware.
7. Electrum Wallet
---
It takes place in the list of the best cryptocurrency wallet due to its experience and reliability. It is designed to use cryptocurrency as a regular payment method as it offers easy and straightforward transaction solutions. More secure than online storage and uses a server to download the blockchain instantly.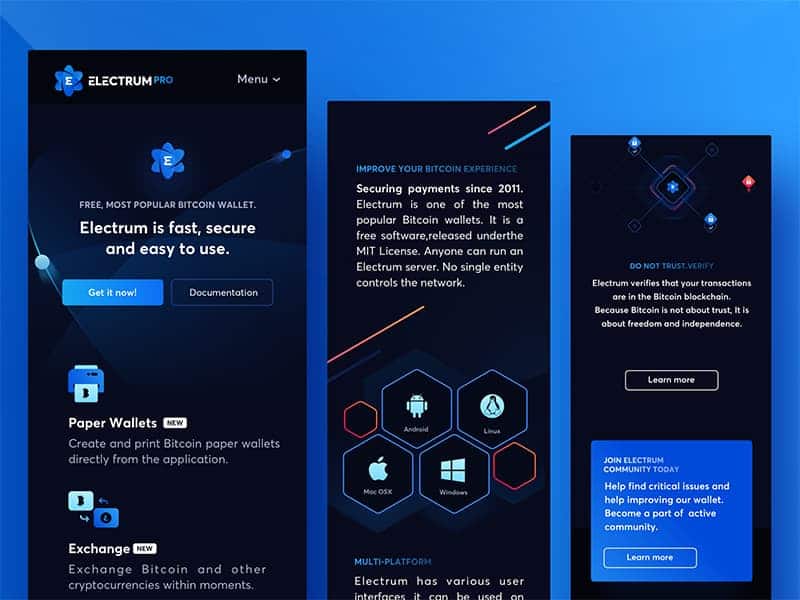 Features of Electrum Wallet
The simple payment verification method is used to verify the transactions to enable you to use it as a regular wallet. 

Due to its automatic interface is effortless to use even for the newbies, and two stages of encryption keep your funds well protected. 

It is open-source software, and anyone can contribute to further development. 

Privacy is highly maintained, and no data is stored online. The user controls all of his keys and bitcoins, but only the bitcoin is supported. 

A recent security breach has been reported, although Electrum has already recovered from it. It is a hot wallet, and hackers can get into individual portfolios.
8. Guarda Wallet
---
This Europe-based company offers a multi-currency noncustodial wallet. It supports over 40 cryptocurrencies and 10,000 currently. A vast number of crypto tools are available to exchange, manage digital assets, and generate Guarda tokens. The system is user-friendly and can be used on all platforms. It is also available as desktop, mobile, web, and chrome extensions.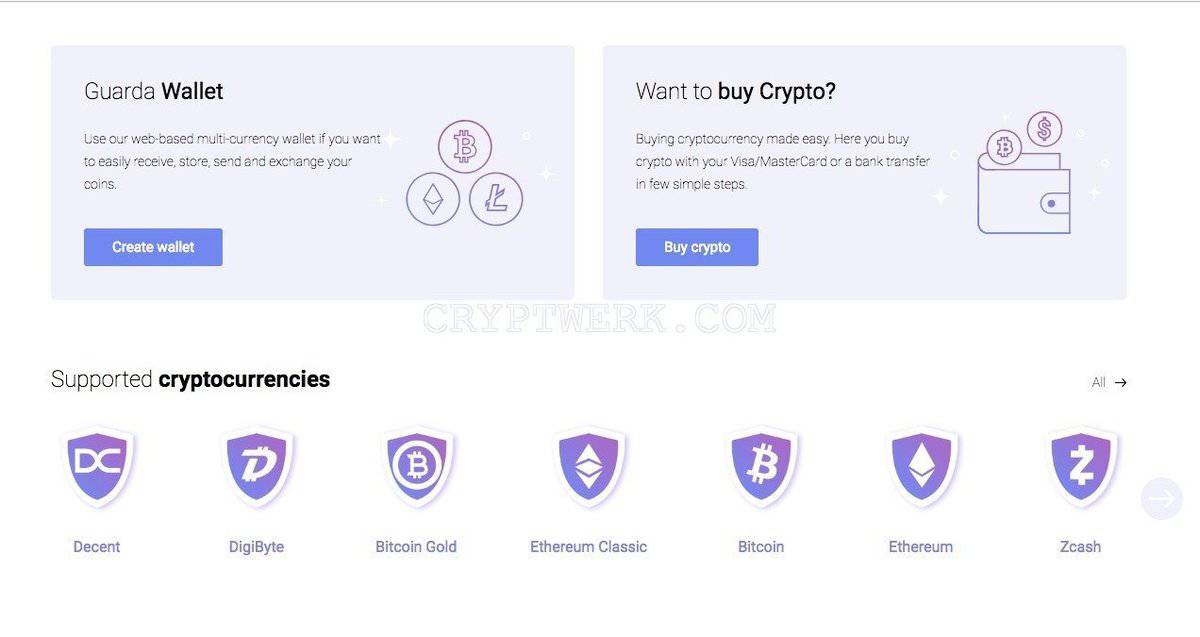 Features of Guarda Wallet 
Does not store your influential data like wallet data, client information, or private keys. Once you log out, it clears the safe memory as soon as possible. 

It will never ask for registration and sophisticated authorization steps if you want to shift your assets from one coin to another. 

It will not let you buy coins directly from your wallet. Instead, you can use your credit card or bank transfer to purchase. 

It is possible to take a backup manually, and you can retrieve your data using the downloader backup file in .txt format and password. 

It can work on all the dominant operating systems and supports many cryptocurrencies, making it a perfect fit for day-to-day use.
9. Freewallet
---
Freewallet is the best cryptocurrency wallet with a built-in crypto exchange system that allows you to acquire and trade all the significant cryptos. That helps you to save funds from spending on exchange platforms. This digital wallet is Hierarchical Deterministic and supports multi-signature. Besides, Freewallet is also compatible with Android, iOS, and Online platforms.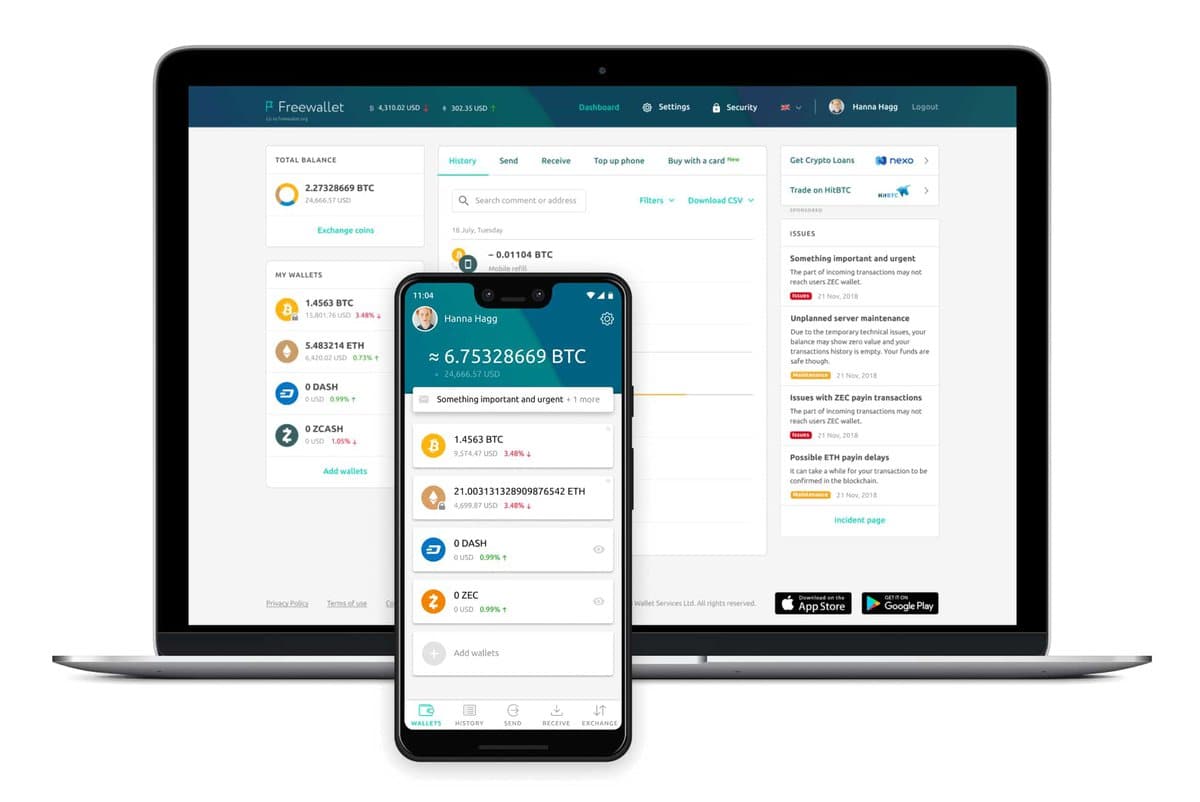 Features of Freewallet 
Platform users can complete transactions between them without fees, while only a network fee is required for any other transaction. 

The address is displayed to receive payments and acts as a hot wallet. The cash is transferred to cold storage rapidly after receiving funds. 

Unlike noncustodial wallets, it does not provide secret keys to the users, and users do not control their keys. 

You can limit the possibility of damage if hacked or damaged by someone by setting monthly and yearly subscription limits. 

Although regulatory compliance is absent, you can terminate all the sessions if you detect any kind of suspicious activity. 

The web platform is full of vulnerabilities and malicious attacks. Some advanced features ask for email and phone numbers also.

10. Ledger Nano S Wallet
---
This is one of the best cryptocurrency wallets that offers unique features at the lowest price. Portable and can be carried easily, although it is a hardware wallet. The simplistic procedures are hassle-free and support a wide variety of cryptos. It looks like a foldable USB-sized device, but security is reliable and trusted by many people.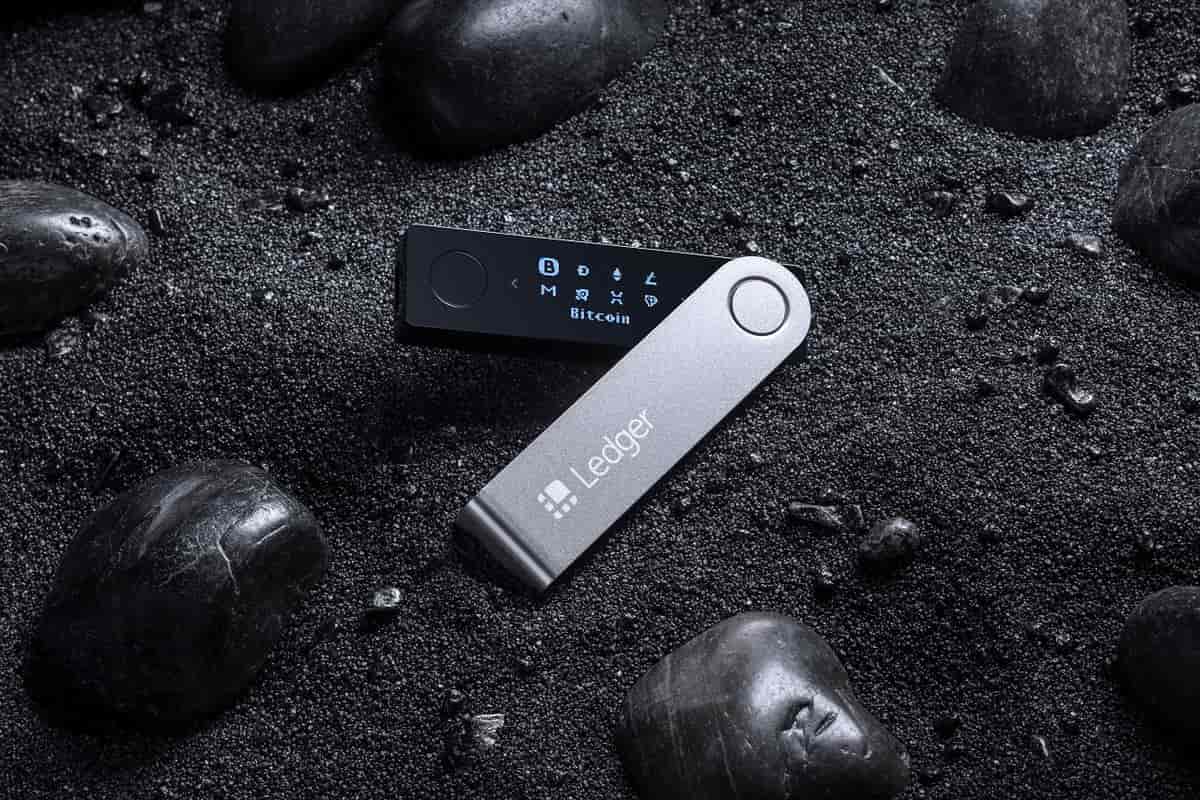 Features of Ledger Nano S
The price is really low, and the malware is proofed. It is practically impossible to hack and can run multiple apps at the same time. 

It offers an OLED screen, and there is still no chance of exposing your private keys as nothing is stored online. 

The nano version of the Ledger device is much easier to use as it does not require a computer. Instead, it can be connected via Bluetooth with an Android or iOS device. 

It could be secured with a pin code necessary for ensuring security if you lose a device. 

It is useful for crypto miners as it allows them to collect rewards and send or receive funds using the built-in crypto exchange feature.

Multiple accounts can be managed. You can check all the accounts from the same device at a certain time.
11. Infinito Wallet
---
It is the first cryptocurrency wallet that has made global transactions available to users. This universal cryptocurrency wallet ensures faster transactions through the 24/7 regulation of blockchain. Fast access to the application with optimized security steps is also responsible for its popularity. It supports many cryptos, including Bitcoin, Ethereum, Litecoin, and Neo tokens.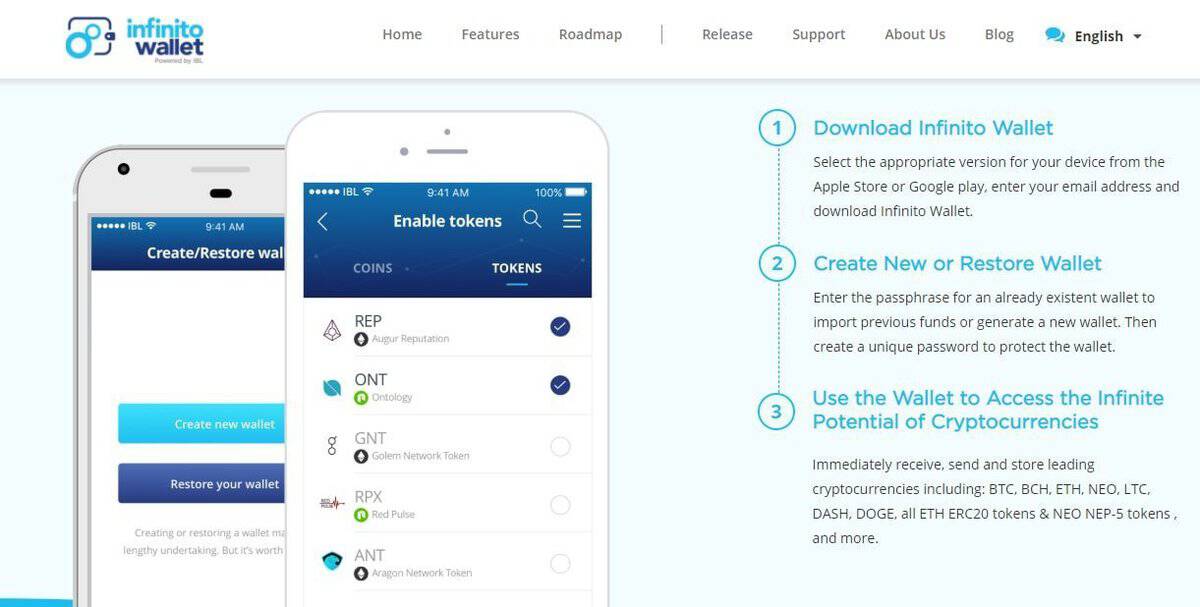 Features of Infinito Wallet 
This is a mobile wallet, and its touch id claiming security sets it apart from other wallets of any type. 

Features like Contacts and Price Management, multi-language, transaction history, QR code scanners, and virtual portfolios are also available. 

The private key protects you from the scammer, while others can use the public key to send payments. 

Although users can optimize the fees in 3 categories: Economic, Regular, and Premium, transaction fees are required. 

Coin management allows you to store coins for specific purposes. You can organize your assets in different folders and name them according to your wish.

It can be infected by mobile malware. In other words, you can lose your funds in case you lose it, or the device is damaged.
12. Nexo Wallet
---
If you have a Nexo token, then this is the best cryptocurrency wallet for you. Nexo wallet gives away 30% of the profit to its users as dividend payments. So you can have a passive income as the owner of the tokens. It is available on iOS and Android apps. It can serve all the features offered by the Nexo platform.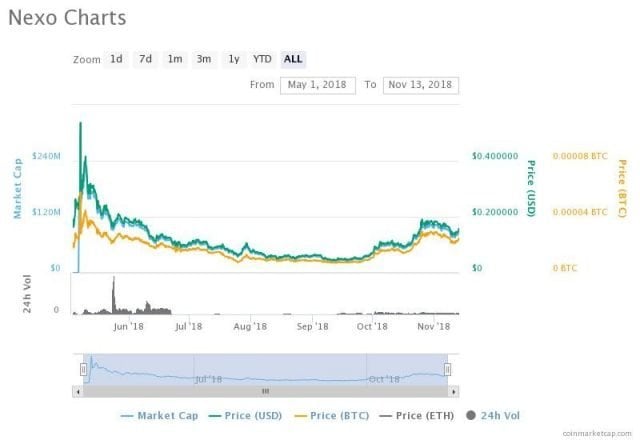 Features of Nexo Wallet
 You can check the value of your assets without even selling them. So you can decide the perfect time and know the amount of money you will get if you sell. 

Nexo allows users to take a crypto loan, and the Nexo wallet also offers crypto-backed loans.

It sets you free from the hassle of tax, as if you take a loan, no sale will occur during that time. 

This app allows you to use crypto banking while on the go. It requires minimum time and utilizes the efficiency of cryptocurrency. 

As one of the best cryptocurrency wallets, an individual can earn up to 8% from idle funds, and the interface is also interesting and handy.
13. Bitcoin Wallet
---
 Bitcoin is the most trusted and popular cryptocurrency around the world. The same Bitcoin wallet has also earned the reputation of the most used crypto wallet in the competitive market. It is also the safest wallet and has already engaged more than 42 million wallet users. Besides, over $200 billion in transactions have been reported already.
Features of Bitcoin Wallet 
It is the best BTC wallet, which gives you the power to have full control over your funds, and you are the custodian. 

It can be accessed anytime from anywhere. Buy, sell, and exchange from the same wallet. 

It has introduced USD PAX in the crypto wallet, and you can store a stable digital USD in the wallet alongside crypto. 

Creating a new wallet is pretty simple and can be operated using iOS, Android, Windows, Linux, or Mac.

You can back up your funds and files. And through sophisticated security steps, one can protect his fund from unauthorized access.
14. Blockchain.Info Wallet
---
The blockchain wallet is similar to a coinbase. It allows users to send or receive payments directly in the mobile app. Supported in more than thirty-five countries. The transaction fee is affordable and supports Bitcoin, Bitcoin Cash, Ethereum, and Stellar Lumens. The app is well-equipped and performs well in managing security issues.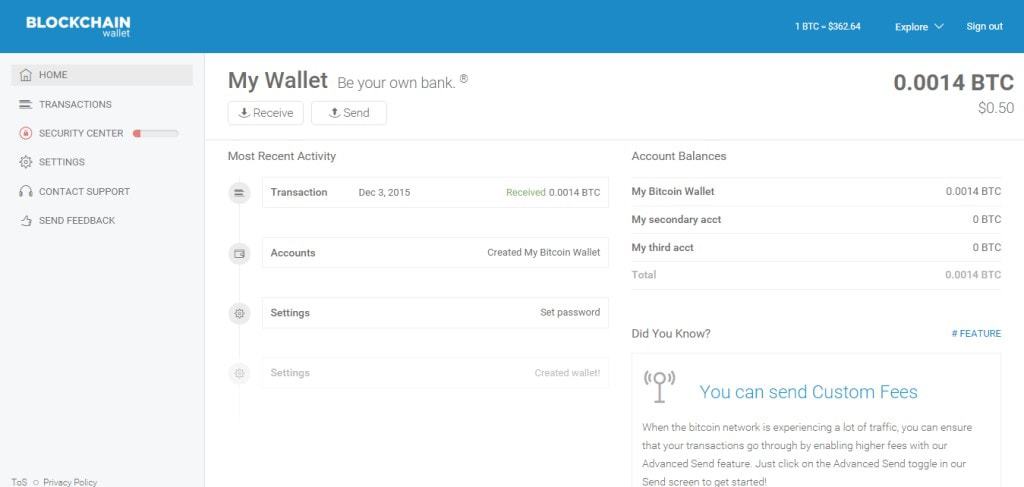 Features of Blockchain Wallet 
Connects users to exchange funds all around the world while there are no intermediaries. 

Instance transaction enables the user to use this wallet like a regular wallet, but the private key is never exposed. 

You can store your funds in the cold wallet and use the hot wallet for daily transactions. 

It supports both Bitcoin and Ethereum. Open source API is provided so you can modify our wallet according to your demand. 

Public and Private keys have to be written in the paper that will be stored offline later. 

Although so many people complain about the crypto wallet's security, bitcoin is a good wallet and can be secured further using 2FA.
15. Greencoin Wallet
---
It is the best BTC wallet because of its balancing between the convenient and secure transactions of bitcoin. Designed for experienced investors, and the system is powerful. It can be integrated with Android or iOS to use while on the go. Users can send, receive, or exchange bitcoins through the beautiful and responsive UI.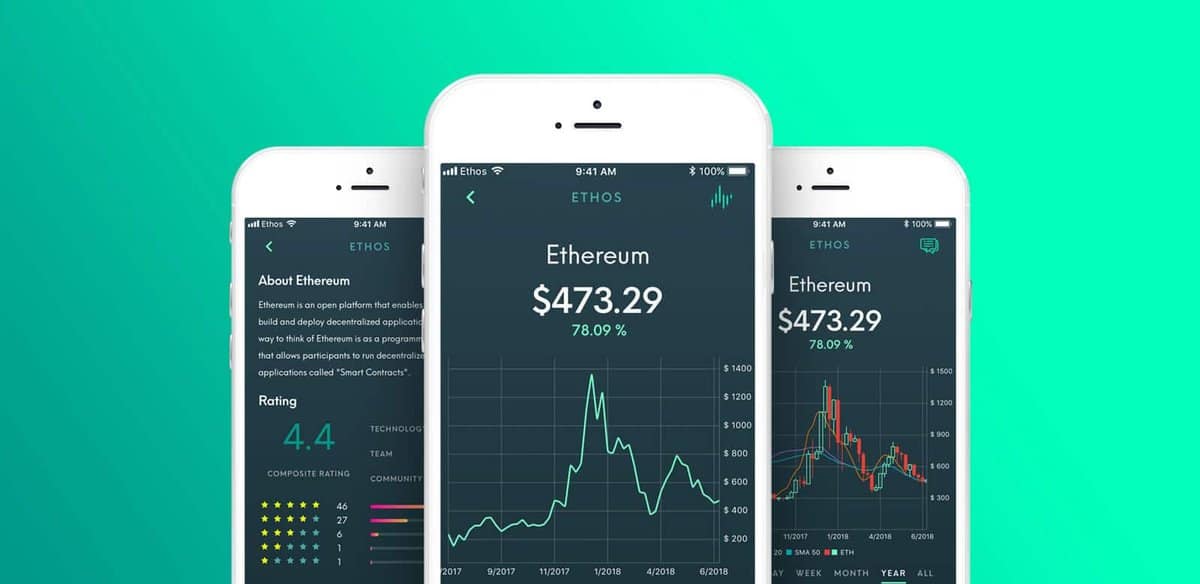 Features of Greencoin Wallet
Known as the most flexible HD wallet available in the current market. 

It is suitable for long-term traders as it provides tons of features and add-ons to render the best service to its users. 

Malware protection and 2FA are also available. Users can use this wallet on a desktop using the chrome browser. 

They do not charge for registering or opening an account. Instead, you will be charged only after a transaction is marked completed by the miners. 

Your public address will always remain unique. A new address will be generated automatically after each transaction. 

You can check your balance quickly using the watch-only feature. 

The setup process may take much longer than the other wallets available and is not always fruitful for beginners.
16. Robinhood Wallet
---
This app focuses on offering unique features that are unmatched and helpful features for users. It intends to provide commission-free transactions to its users. It has also brought light to ETF trades. Supports Bitcoin, Ethereum, Dogecoin, and other popular cryptocurrencies. Besides, it provides 24/7 customer support to achieve an optimum outcome. Renders access to becoming an investor among the mass people and provides ways to make the investment more profitable.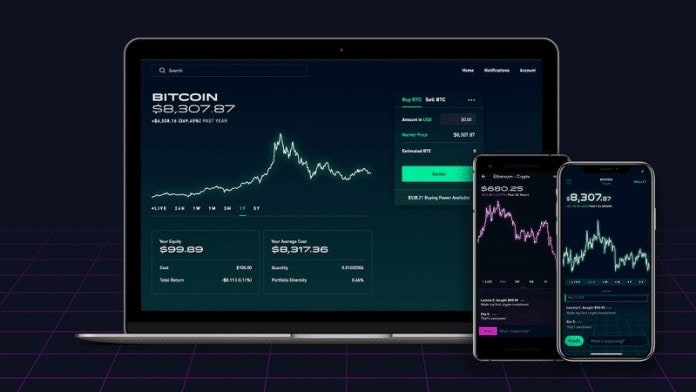 Features of Robinhood Wallet 
Users can not open multiple accounts or mutual accounts. But if you are concerned about limiting the cost, this is the best cryptocurrency wallet. 

They do not offer any retirement accounts, but the account limit can be as low as $0. 

The mobile app is powerful; you can complete buying, selling, or trading your assets using the smartphone application. 

Robinhood Gold enables users to take borrow. This ability to trade on margin is useful, but a monthly bill will be generated based on the margin. 

The dividend reinvestment program is not available, although the company is working to make it available as soon as possible.
17. Airbitz Wallet
---
The best BTC wallet allows users to store, collect, and send bitcoin worldwide as a hot wallet. iPhone and smartphone users can easily handle their digital assets using this app while the desktop is not yet ready to serve. Customized PIN codes and passwords will be attached and written down for further use.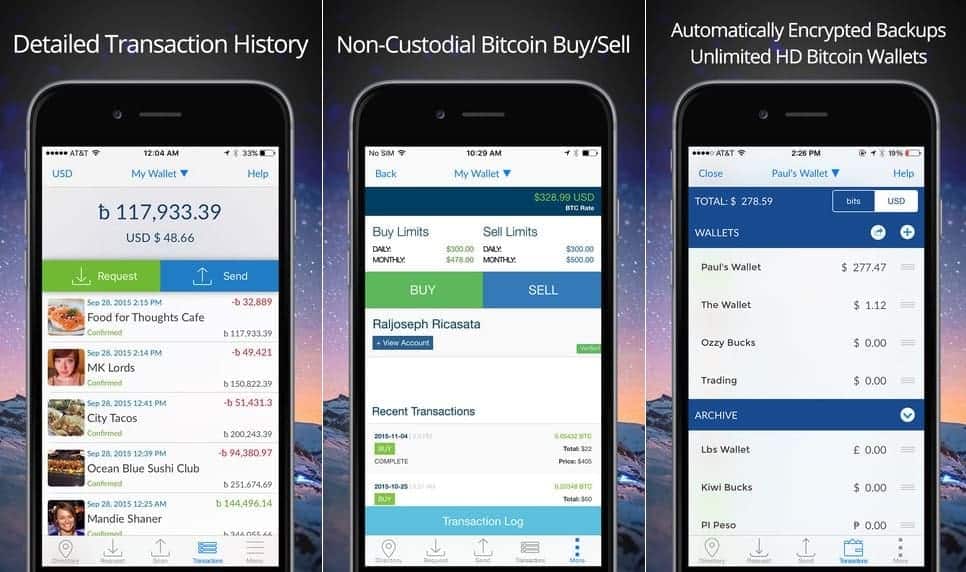 Features of Airbitz Wallet 
Address codes are determined hierarchically, and you can use your bank account to receive and send cryptos for trading. 

 Data is well protected, while unprotected or unencrypted data is never stored in mobile cache memory or storage. 

Bluetooth is available, while you can also connect through near-field communication, known as the bitcoin transfer channel. 

You can transmit an email or start a conversation within the app before starting the bitcoins transaction. 

It uses a decentralized server to keep your assets available 24/7 and protects you from hackers by not sharing common ground. 

Simplistic and secure transactions, as the user can send or receive money using the QR code.
18. Hive Wallet
---
It intended to provide more convenience to the traders. Instead of starting as a desktop wallet, it started developing a mobile platform to increase efficiency and minimize transaction time. It offers a simplified user interface where you can use the navigation buttons to get increased visibility. Traders can buy and sell cryptocurrency using two main screens.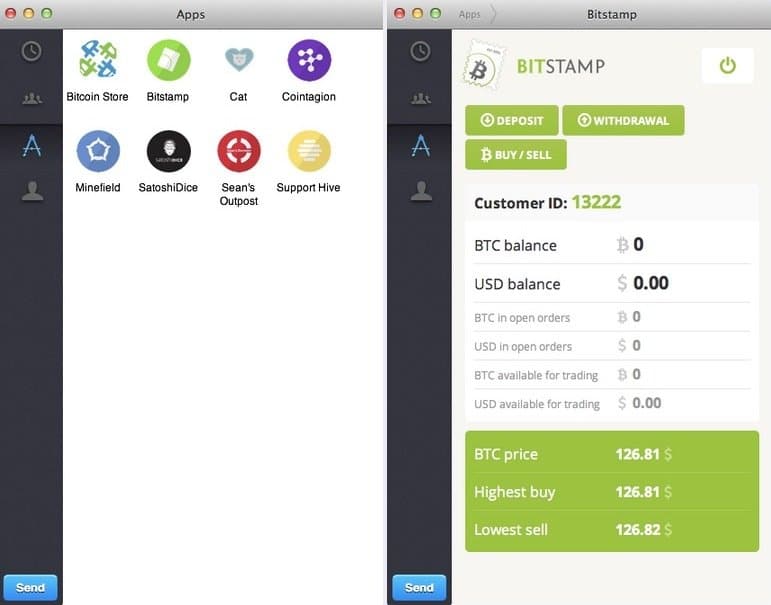 Features of Bread Wallet 
One of the best cryptocurrency wallets is its simplified payment verification process, eliminating the necessity of using any third-party application. 

Provides unrestricted access to its users while privacy remains the main focus. Even you can enter the coin address for receiving or sending payments.  

Premium customer support and instant service are responsible for its immense growth in the last few years. 

It aims to implement more advanced features with the current system, including billing, peer-to-peer lending, financial processes, and deposits. 

Introduces a game-changing feature, the first bitcoin AppStore, which lets users interact with other systems within the blockchain environment.
19. Schildbach Wallet
---
It is one of the best cryptocurrency wallets that is available in the market. This light application is handy for new traders. The convenient environment is comparable to other crypto wallets suitable for day-to-day use. Supported by the maximum number of people and backed by a huge number of investors.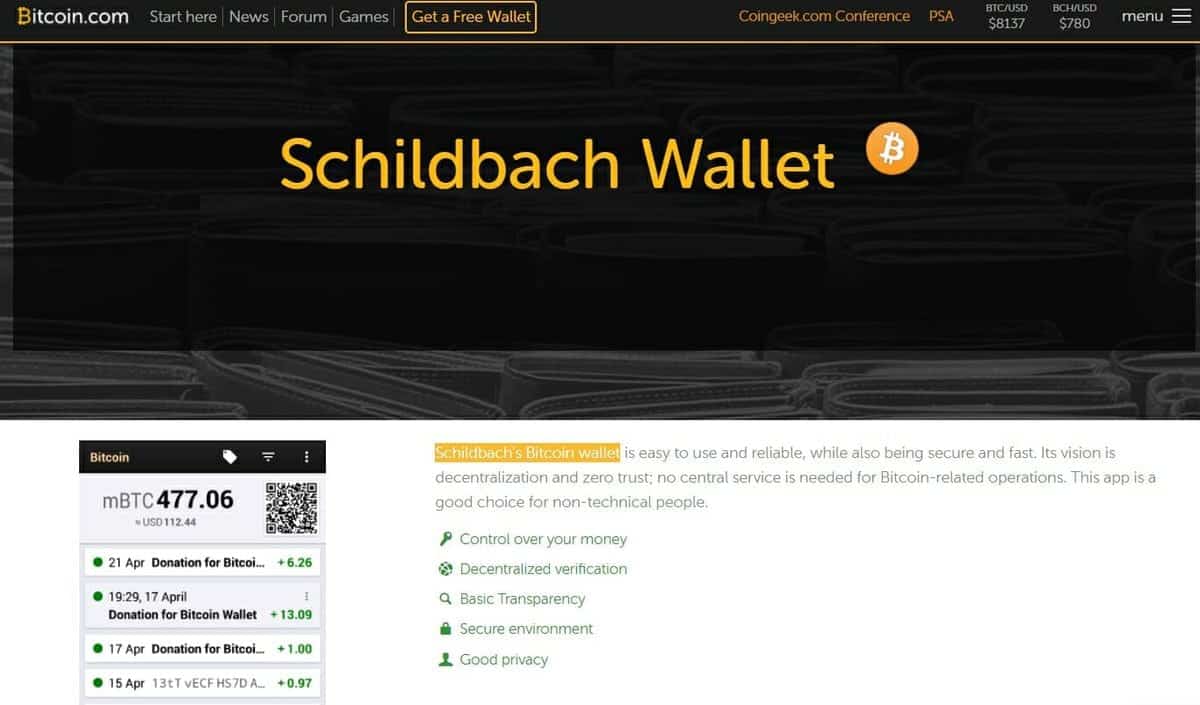 Features of Schildbach Wallet 
Undoubtedly offers reliable security, and it is as easy as securing your private key. 

You can transact globally and will not have to face any barriers. Any support from third-party software is not really needed to complete transactions. 

It supports a wide range of cryptocurrencies, and you can exchange multiple currencies using the same platform. 

You can get rid of all the hassles of maintaining accounts and balances by using the wallet, which offers all the features you need in banking. 

Supports Bitcoin, Bitcoin Cash, and Ethereum and verifies transactions within the shortest time.
20. ZenGo
---
From the beginning of their crypto journey, people often get overwhelmed with the complexity of cryptocurrency exchange. ZenGo was introduced to solve this problem by simply buying, storing, and earning cryptos as possible. It is the first keyless wallet, making the setup process as easy as possible without compromising security – only you can access your digital assets. You have full control over your funds.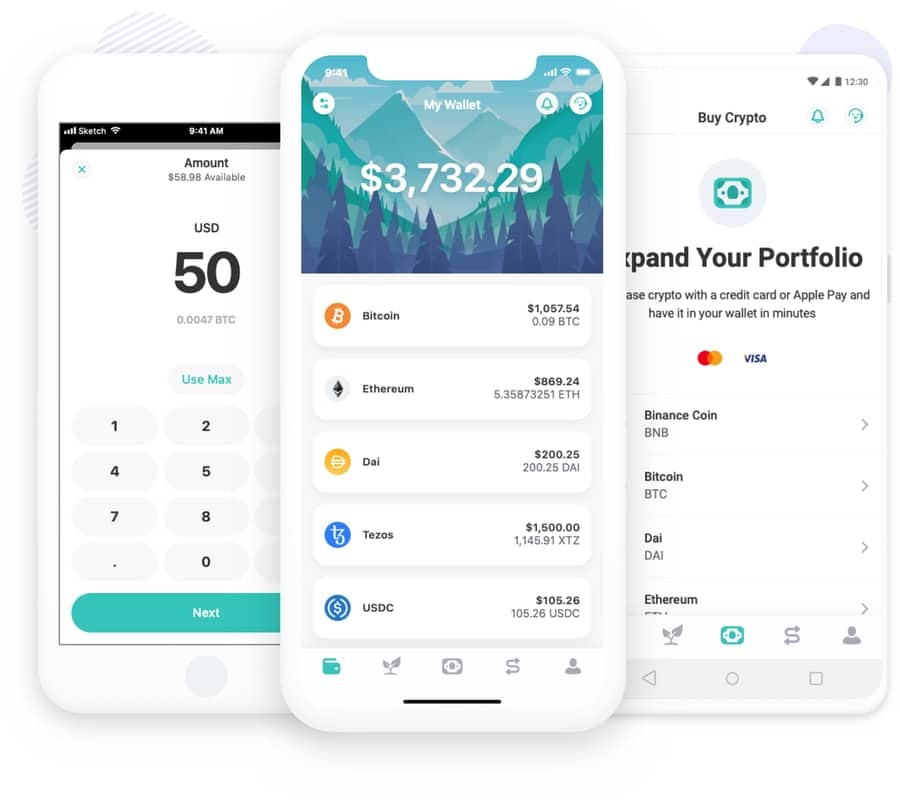 Features of ZenGo Wallet
As the first keyless Crypto wallet, ZenGo does not require any private key, and it ensures full control even if the ZenGo server is hacked or if you lose your phone.

Buy crypto directly from your wallet with a credit card or a wire transfer, put your crypto in a savings account, earn interest, and trade your crypto assets (including Bitcoin).

Security is maintained using innovative MPC cryptography that distributes a secret shared between your device and ZenGo servers to enable you to complete your transaction with maximum security.

This third-generation crypto wallet comes with a super simple user interface and introduces a new private backup method.

Backup is made easy using an encrypted 3D biometric face scan for authentication – your face is encrypted on your device without risking your privacy.

The cryptographic solutions behind ZenGo are an open source project which helps build a strong community with the best developers who are always contributing and collaborating to make it more powerful.
Finally, Insights
---
Cryptocurrency wallets are useful for the crypto industry and play a significant role in enhancing crypto use worldwide. People are becoming more interested in trading with cryptocurrency, and the cryptocurrency wallet is there to make their journey convenient, secure, and simple.
Every wallet is different from others and has unique features. It is absolutely your call to choose the most suitable wallet for you. If a wallet seems best for you may not be good for someone else. The technologies involved, backup features, supported cryptos, conversion, available account types, liquidity, and customer support are the things you should focus on before choosing a crypto wallet to achieve the best result.