Cryptocurrency has already made its way into the payment methods, which are expected to only rise in the coming years. Even popular payment platforms have already started allowing customers or merchants to complete transactions with cryptocurrency.
At the time, bitcoin was the only recognized crypto available in the market. But now, you will find many types of cryptocurrency circulating, such as Ethereum, XRP, Tether, Cardano, Stellar, Chainlink, Uniswa, etc.
Besides, with the growing adoption as a payment method and increased value, many people have become interested in crypto trading. If you are one of them and want to mine or start trading with crypto coins, you are in the right place.
Trading bitcoins for beginners can often become challenging. This article will discuss the best courses that showcase the techniques you will require to become a successful player in the crypto industry.

What is Cryptocurrency?
---
You can see cryptocurrency as a form of payment. But unlike existing payment methods, it uses a decentralized network or blockchain to manage and record transactions. It is often referred to as a digital currency that anyone can use for purchasing goods or completing transactions.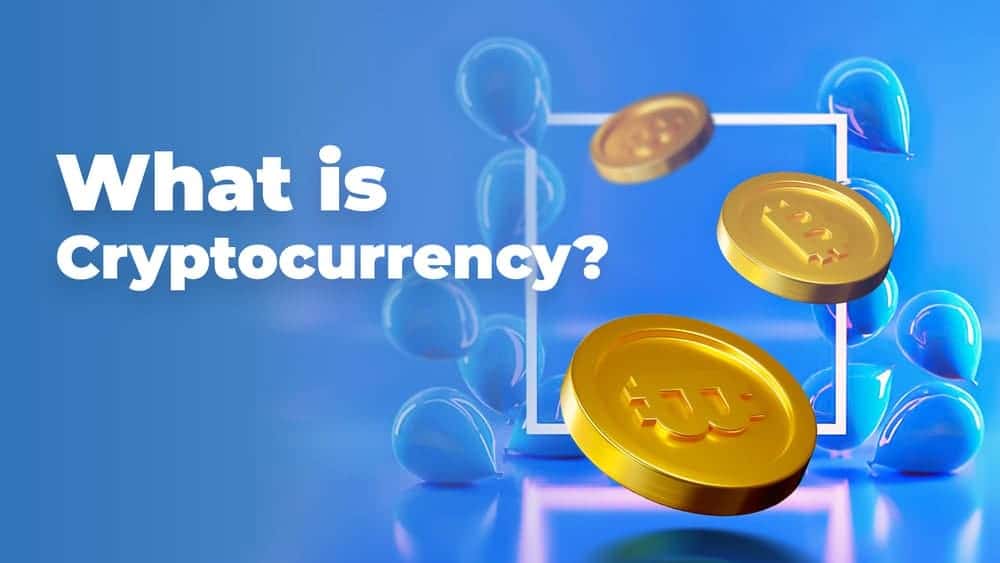 Although any central bank does not regulate it, a secure online ledger is used to keep records of all the transactions powered by cryptography. Throughout this article, we will try to identify the potential benefits and risk factors to make trading bitcoins for beginners as simple as possible. 
There are many companies that have already released their own crypto coins or tokens to buy goods, specifically from their website or eCommerce. The most appealing thing is still the security, although companies offer exclusive offers and deals to inspire people to invest in the crypto industry.
You will need to spend real money to earn crypto coins and exchange them online for buying goods. People can also earn cryptocurrency by mining or completing "blocks" of verified transactions. 
What Makes Bitcoin So Popular?
---
You will find a variety of reasons which make crypto trading appealing to people of any age. But a solid understanding of cryptocurrency works is important to become a successful trader in this industry.
Especially the situation of, trading bitcoins for beginners is much more challenging and comes with a lot of risks. Because the price of bitcoin is skyrocketing, and if you face any loss, it may devastate you.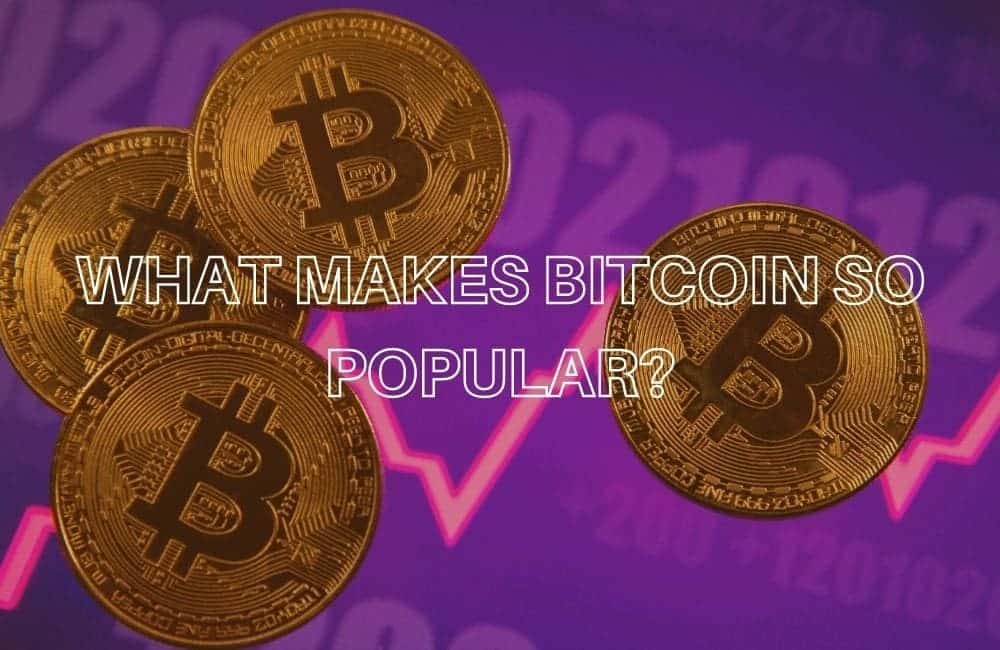 Currently, there are over 40 million Bitcoin users. It is the most successful cryptocurrency, even after the introduction of 4,000 cryptocurrencies in the market. There are several factors that are triggering bitcoin's successful journey. So let's try to find out what makes bitcoin so popular.
Decentralized Blockchain Technology: If you look at the BTC transactions, you will easily identify how the decentralized blockchain technology facilitates crypto traders. With top-notch security, it has also offered transparency of the data, the anonymity of the users, and fast BTC transactions to make it popular across the world.
Online Trading Sites: While the new form of cryptocurrencies has to face a lot of challenges to be accepted and trustworthy, bitcoin has already earned its place. You will find many AI-powered trading platforms that use sophisticated algorithms to make bitcoin trading simple. Thus, the increased win rate and enormous interest have also played a vital role in engaging more people with bitcoin.
Bitcoin Protocols: Bitcoin was founded by Satoshi Nakamoto, who clearly tried to enable bitcoins to operate without assistance. Bitcoin halving is a great example of his effort to create great value for miners and boost the supply of bitcoins in the market. Besides, it has slowed down the new BTC release, which is continuously increasing the demand.
How To Pick The Best Course To Learn Cryptocurrency Trading
---
To become a successful crypto trader, you will have to gain in-depth knowledge of how cryptocurrency works. Otherwise, you may lose all of your investments, especially when it comes to trading bitcoins.
Besides, bitcoin is the most demanding crypto, making it even tougher to handle and make the most out of your investment. In this section, we will talk about the qualities one course must inherit to share adequate knowledge for trading bitcoins for beginners.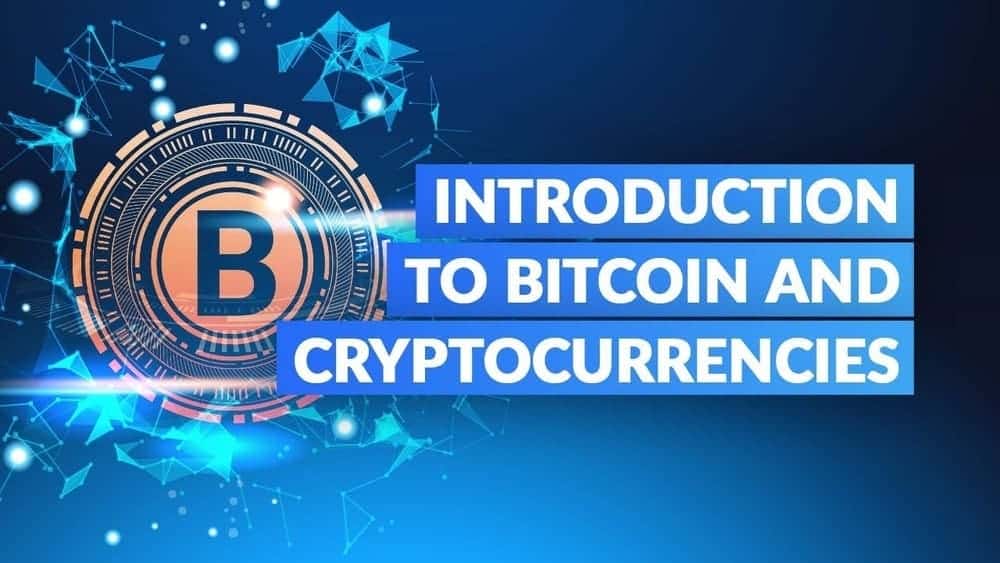 When choosing a crypto trading course for yourself, you must check whether the course offers visual representation, practical problems, articles, video tutorials, or downloadable resources. Besides, the exact segment of the cryptocurrency field should be explained in easy terms to make the learning curve simple for you.
You might also be interested in quizzes and exams to authenticate your expertise. Subtopics are also important that enable you to approach cryptocurrency platforms from a different point of view.
Top Cryptocurrency Trading Courses For Beginners
---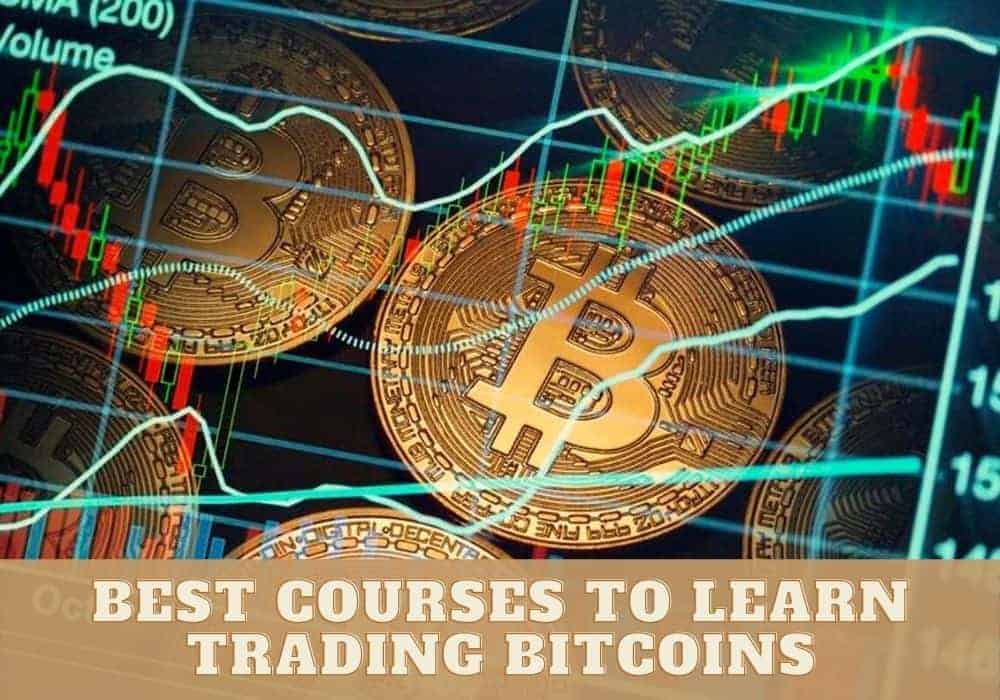 You will find a wide variety of courses that talk about trading bitcoin for beginners available online. Before starting trading in the crypto industry, the most important topics you must consider include blockchain technology, crypto trading crypto types, fundamental and technical analysis of cryptocurrencies, and cryptocurrency mining.
This article will guide you to pick the best course for yourself so that you do not get lost in the advanced topics of cryptocurrency. 
1. Blockchain and Cryptocurrency Explained
---
It will be a great course to start with. Especially for beginners, this course can be an ideal guide to boost their confidence before starting their journey in this domain. It recognizes the sudden growth of cryptocurrency and regularly updates the course contents to cover the latest topics. All the fundamentals of blockchain technology and cryptography network will be covered. 
Insights of this course 
It portrays how things actually work behind the scenes to build your own strategies before investing money. 

Technical underpinnings of blockchain will be covered, and you can start this course anytime when you want. 

Discusses the underlying technology of crypto trading platforms. Besides, the course is available in languages like English, German, Russian, English, and Spanish. 

Offered by the University of Michigan brings light to key concepts such as decentralization and consensus algorithms.

At the end of this course, you will be able to identify the strengths and weaknesses of any cryptocurrency. 

Besides, how you can consider blockchain as a business solution will be displayed as you evaluate the tradeoffs during the course.
2. Cryptocurrency Fundamentals: Buy, Sell, Trade Cryptocurrency
---
It is another great addition to the list of available courses that prioritize trading bitcoins for beginners. Even if the course is currently on sale, you can enjoy enrolling before the offer becomes invalid.
Most of the contents of this course discuss how we can use, buy, sell and trade Cryptocurrency of any type. It is also one of the best crypto trading courses; any student will get lifetime access to the course contents. 
Insights of this course
This course will start with all the basic concepts of cryptocurrency and how they work together to build the crypto industry. 

You can expect to have a solid understanding of the cryptography network required to start trading. 

No prior knowledge will be required, which makes it an ideal choice for beginners. 

All the tweaks and tricks will be shared with you to buy and sell cryptocurrency using any platform. 

The curriculum of this course is pretty concise and clear. FIAT integration, wallet, tokens, and other important topics will be discussed. 

Get to know about the available cryptocurrencies like Bitcoin, Ethereum, Litecoin, Dash, and Monero. You will learn to protect your cryptocurrency as well. 
3. Cryptocurrency and Blockchain: An Introduction to Digital Currencies
---
Just like any other course from Coursera, you can expect the same great quality from this course. Besides, it is taught by two great instructors: Jessica Wachter and Sarah Hammer, who are known for their talent in cryptography and digital currency.
When it comes to trading bitcoins for beginners, there is no course that can beat its simplicity and the point of discussion. Besides, it is offered by the University of Pennsylvania, and you will get a shareable certificate. 
Insights of this course
Understand the value of bitcoin as a digital currency and learn to define its journey to forecast the future of the crypto market. 

Uncovers Methodologies behind the bitcoin transaction enable you to predict how bitcoin will be accepted as a cash-alternative method worldwide. 

It focuses on the underlying problems you must analyze to succeed while working with a decentralized currency. 

Highlights cryptology, as well as blockchain technology, along with the important concepts of property rights. 

Get to know how cryptocurrency like Bitcoin utilizes digital signatures to ensure privacy for each trader. 

It can enable students to define cryptocurrency as an asset class and talks about Capital Asset Pricing Model and Modern Portfolio Theories.
4. Cryptocurrency Investing & Trading | Beginners Masterclass
---
You can consider this course slightly more general than the above courses. Although the course contents are pretty compact, they target newcomers with a short syllabus. You will not get any advanced knowledge here but will gain a lot of information before advancing to the more complex concepts of crypto trading. This course tries to represent cryptocurrency differently and engage students effectively. 
Insights of this course

Security is a major concern when you are trading any cryptocurrency. This course highlights the techniques and processes you must follow to ensure your privacy. 

It is intended to enable you to safely understand the methods for purchasing bitcoins and other cryptocurrencies. 

Get to know about the best crypto wallets and how you can use them to make the most. 

You might be interested in this course if you wonder how we can withdraw bitcoin from ATMs or exchange them with other assets. 

It highlights the important cryptocurrency terminologies and includes 4 hours of on-demand video available to all students. 

This course will share all the proven technical analysis strategies to facilitate your journey with cryptocurrency.  
5. Bitcoin and Cryptocurrency Technologies
---
With over five hundred reviews and an astonishing 4.8 rating, we proudly present this course here on this list. Trading bitcoins for beginners can often become more challenging if not guided in the right direction.
But with this course, we can guarantee you that you will never feel alone and get everything under one umbrella required to become a successful trader. Already 530240 students have completed this course and started their journey in this industry. 
Insights of this course
You will understand all the fundamentals clearly and know how bitcoin works at the technical level. 

Learn to identify the differences between bitcoin and cryptocurrencies and measure the security strengths of your digital asset. 

At the end of this course, students can forecast any cryptocurrency's future to a certain extent before investing or trading. 

It will teach conceptual foundations to enable you to engineer secure software for interacting with the blockchain network. 

Understand how bitcoin achieves decentralization to store bitcoins with keys, proper security measures, and integrate with various types of services.

Besides, this course discusses community, politics, regulation, alternative mining puzzles, bitcoin mining and anonymity, and so on. 
6. Algorithmic Cryptocurrency Trading
---
There are many people who have been in the cryptocurrency industry for a long time but do not understand the strategies required for successful trading. Cryptocurrency does not work like traditional payment systems or assets; you will have to take a fresh approach to stand out in this ever-growing competition. Although it is not suitable for beginners, we have enlisted this course because of its compact syllabus. 
Insights of this course
Students can expect to learn five different cryptocurrency trading strategies required for automatic trading and building their own accounts. 

You will learn how to manage your emotions while indulging in crypto trading, which can cause you a major loss anytime. 

You will see cryptocurrency from a professional approach and discover the important parameters according to the market condition. 

Highlights the most popular cryptocurrency, BTC and ETH, to enable you to implement professional algorithmic cryptocurrency trading methods for maximum revenue. 

The best part of this course includes virtual account training, where you can complete demo trading until you are not confident about your strategies. 

Besides the instructor will also teach how to analyze the risk of 2 different cryptocurrencies in 2 different time frames in this course. 
7. Bitcoin and Cryptocurrencies
---
If you have enough time to gain in-depth knowledge of cryptocurrency, this will be the best course for you. It is one of the highest-rated courses and can certainly answer all the questions regarding trading bitcoins for beginners. The University of California offers it, and the instructors are well-known individuals in the crypto industry. This course will start with covering all the fundamentals of Bitcoin before entering into the advanced modules. 
Insights of this course
After completing the basics of cryptocurrency, you will learn about smart contracts, the Ethereum platform, and how you can build decentralized applications.

It will cover Bitcoin properties, including cryptographic hash functions, Bitcoin Script, privacy, and hash commitment schemes. 

Shares knowledge on practical applications required for bitcoin trading like wallets and mining, how to destroy bitcoins, network attacks, and malicious mining strategies. 

Suitable for people of any background and looking to start a career as a blockchain developer, crypto trader, data analyst, researcher, or even crypto consultant as well. 

If you are interested in attending the Blockchain Fundamentals Professional Certificate program, enroll in this course to prepare yourself for the exam. 

You will also get enough information about Bitcoin Protocol & Consensus, Blockchain History, Bitcoin Optimization, Game Theory, etc. 
8. The Ultimate Cryptocurrency Trading Course
---
If you are familiar with the cryptocurrency industry, then you may have already heard the name of PiggiBacks. It is a renowned organization facilitating trading bitcoin for beginners and is already trusted by more than 22,500 students.
Students attend this course from over twenty countries, which can clearly motivate you to check its curriculum and go through the resources at least once. In this course, you will get the necessary guidelines to kickstart your career as a crypto trader. 
Insights of this course
It is a comprehensive and always-trading online course. So the contents are regularly updated and cover all the latest topics required to shine in this industry. 

You will get step-by-step guidance to perform technical analysis and become an expert trader at the end of this course. 

Tries to deliver the best result within the shortest possible time. Besides, once you enroll, you will get new topics added each month to remain ahead in the competition. 

Distributed among 33 lessons designed to prepare you for the day, swing trading, and generate profit immediately. 

It covers technical analysis charting tools, TradingView account setup, drawing tools, and navigation to enhance your knowledge. 

Unlike any other course, this course talks about support, resistance, breakout strategies, golden crossover, dead cross, and even Bull & Bear traps as well. 
9. Cryptocurrency Foundations
---
LinkedIn Learning has its own place and brand value as an online learning platform. Besides, you can showcase your certificate and expertise in your LinkedIn profile and share it anytime with anyone, making LinkedIn Learning a popular choice among students. Like any other course from this platform, this course comes with a compact outline and sticks to the topics to render a clear understanding. 
Insights of this course
It starts with a discussion of the current cryptocurrency environment and how the journey of bitcoin started for the first time in the market. 

As a student, you will be able to successfully identify the challenges you need to overcome to succeed in the cryptocurrency industry. 

Learn to differentiate between bitcoin and blockchain technology. It will also teach how to measure any cryptocurrency's potential before investing. 

Get to know about the underlying methods of cryptocurrency creation, initial coin offering, and even advanced topics of crypto mining. 

It talks about all the important technologies that you will know about blockchain databases, hashing, etc. 

It comes with a project file and 3 chapters of quizzes to authenticate your skills and knowledge before diving deep into crypto trading. 
10. Cryptocurrency Trading: Technical Analysis Masterclass
---
This course comes with great value that brings light to the important trading strategies and prioritizes the technical analysis segments. Unlike any other course in the market, this course covers some of the most important components of cryptocurrency screening. However, this course does not require any prior knowledge of crypto trading. But if you have any sort of cryptocurrency trading experience, it will be easy for you to get going. 
Insights of this course
Focuses on daily and weekly returns of cryptocurrency, and you will learn to implement technical analysis for trading cryptocurrency. 

Discuss the fundamental components required to set up your own chart, including Levels, Trend Lines, and channels throughout the course. 

Students will get to know how to use Volume properly with support and resistance. It will enable them to identify trend strengths. 

It covers advanced Risk Management Strategies and MACD oscillators to enable you to determine market trends and reversals. 

Shares the key concepts of Double Tops & Double Bottoms and Rectangle Tops & Rectangle Bottoms required for successful trading. 

However, you will read Candlestick Charts and use Fibonacci & Fibonacci Extensions for determining potential risks and technical indicators.  



11. Learning Bitcoin and Other Cryptocurrencies
---
It is another course in this list that can clearly amaze you with its straightforward approach to cryptocurrency fundamentals. You will find this course in LinkedIn Learning. It tries to take your knowledge and understanding of cryptocurrency to the next stage. So if you have completed any trading bitcoins for beginner courses, this course can be an ideal choice. It is a self-directed course that won't take over 1.5 hours. 
Insights of this course
Instructed by Tom Geller, known for his versatile knowledge of the financial institution and cryptography knowledge. 

Discusses how bitcoin works, bitcoin as an asset and currency. It also brings light to the strengths and weaknesses of Bitcoin. 

Along with Bitcoin, the instructor will also showcase other cryptocurrencies such as Ripple, Ethereum, etc. 

You will learn how to use IOTA for the Internet of Things and ICOs for crowdfunding. It will highlight applications for using Ethereum as well. 

Students will learn about the associated threats with the bitcoin community, bitcoin mining, and the bitcoin community. 

However, before buying and selling bitcoin, this course will enable you to distinguish between exchanges and institutional markets. 
12. The Complete Cryptocurrency Course
---
This course is a package of five courses to learn everything about cryptocurrency and blockchain technology. This is a relatively long online course where you will find all the key concepts, trading techniques, challenges, and tips to become a successful trader. Besides, it comes with downloadable resources that will guide you step-by-step to overcome all the problems you might face while trading bitcoins. 
Insights of this course
It can help you invest, mine, and trade bitcoins, and you will understand the mistakes you might make as a beginner. 

At the end of this course, you will be able to identify the next great cryptocurrency and invest at the right time accordingly. 

Understand the advantages and disadvantages of Bitcoins properly before selling, buying, or exchanging bitcoins. 

Along with Bitcoin, it discusses Ethereum, Ripple, Zcash, Monero, Neo, Dash, Gemini, Kraken, and Bittrex throughout the course topics.

You will also know about QR Code Wallets and how to use them for any transaction or buying digital assets. 

At the end of this course, you will be able to get a diversified cryptocurrency portfolio, check for scams and manage risks as well. 
13. The Complete Cryptocurrency Investment Course
---
You should already understand the syllabus of this course by reading its name. It is one of the finest courses available that makes trading bitcoins for beginners simple. It brings light to all the important topics and tries to dig deeper into the most advanced concepts. You will learn almost anything about investment techniques and become a successful trader in the cryptocurrency industry. 
Insights of this course
More than twenty thousand students have already completed the course. It can clearly justify its value when it comes to blockchain technology. 

This course will guide you thoroughly and cover everything you need for trading bitcoins/Altcoins on different exchanging platforms. 

At the end of this course, you will be able to conduct fundamental analysis to pick the best coins where you can invest in generating profit. 

It will display all the important parameters required to incorporate advanced portfolio management techniques like portfolio rebalancing.

You will know about the best crypto wallets available in the market. It will also discuss how you can use them for storing bitcoins. 

Besides, it will showcase technical analysis for identifying entry points, asset allocation, and effective tools for increasing the reward-to-risk ratio.
14. TraderCobb – Become a Trader
---
This course is designed by a professional trader named Craig Cobb, who has shared his experience, tips & tricks to become successful in the crypto industry. It is another great addition to this shortlist, where we are talking about trading bitcoins for beginners. If you are looking for ways to earn extra income, you can enroll yourself in this course. This course will surely help you to start your own trading business. 
Insights of this course
Intended to enable beginners to understand the fundamentals of cryptocurrency clearly and comes in two versions: free and paid. 

The free version offers enough information to deliver a complete overview of blockchain technology. 

Highlights the key concepts like price action while learning to identify which indicator you should use and which you can ignore. 

It brings to light the importance of managing risk and shares strategies so that you can determine trends. 

It talks about how we can handle emotional interference and plan trading to maximize revenue. 

At the end of this course, you can review your trades, manage checklists to identify worthy trades, and evaluate market conditions. 
15. The Crypto Lark–Cryptocurrency Explained
---
A few people have made a mark in the crypto industry. Lark Davis is one of them who has devoted his life to digging deeper into Bitcoin and cryptocurrency for the last few years. You will be excited to know that this excellent course is offered by this well-known trader who will share his knowledge, skills, and experience with you. 
Insights of this course
It is a beginner-friendly course. And so, if you are looking to learn to trade bitcoins, this course can come first on the priority list.

The instructor will uncover the critical tools, resources, and practical wisdom. He will enable you to shine in the crypto industry. 

After covering the fundamentals of how cryptocurrency works, the instructor will share different scenarios based on cryptocurrencies like Bitcoin and Ethereum. 

This course can provide a solid foundation. Also you can then move to the more advanced concepts, strategies, and techniques to gain more knowledge. 

You will get step-by-step guidance to buy Bitcoin and Ethereum rapidly from anywhere. 

Be able to build a crypto wallet as well as send Bitcoin and Ethereum. Also, it discusses topics like Bitcoin Mining, Crypto Staking, Portfolio Building, and so on. 
Enroll Now
Final Thoughts
---
Bitcoin and the market for other cryptocurrencies are still growing. As a result, the educational scopes, adequate resources, and even tutorials are not yet regulated. So it often becomes difficult to start a journey if you want to start buying, selling, mining, and trading cryptocurrency.
You may find many courses on trading bitcoins for beginners currently on offer. But you should pick the course depending on your available time and objectives. 
With a poor understanding of crypto trading, it will be hard for you to become a successful trader. Cryptocurrency is the future of digital payment. But if you cannot handle the investments well, you may become a victim of bubble effects and severe depression.
You should also keep in mind that cryptocurrencies are still not liquid. You cannot yet treat crypto as an alternative to paying for your bills, school, or mortgage. 
The course mentioned above can be your companion to tackle the complex market of the crypto industry. If you are still wondering, just identify your needs, determine your goals, and pick a course accordingly. I believe this article will help you find the best course for yourself. Also, it will contribute to making your journey comfortable in the cryptocurrency domain.