Cybersecurity or information security (IT) refers to the practice or process of ensuring the integrity of different networks. In a broad sense, this concept is all about protecting our data, apps, networks, or devices from cyber-attacks or unauthorized access. The necessity of securing our networks is increasing day by day. Few people have the master skill to secure the networks. With the increasing demand for cybersecurity specialists, we believe that one of the cybersecurity courses below will enhance your skill.
Best Online Cybersecurity Courses
---
Becoming an expert requires qualification, experience, and cybersecurity certifications. There is a bewildering array of online cybersecurity courses. We tried to filter out the best 20 cybersecurity courses for you.
1. The Complete Cybersecurity Course: Hackers Exposed!
---
For the beginner level, this course is the best one. This course covers all the fundamental cybersecurity training of the required skill set. The learner will gain advanced practical skills in defeating all online threats with this course. In the end, you will realize topics like darknets, phishing, encryption method, hacking infrastructures, and how important this is for being a security specialist.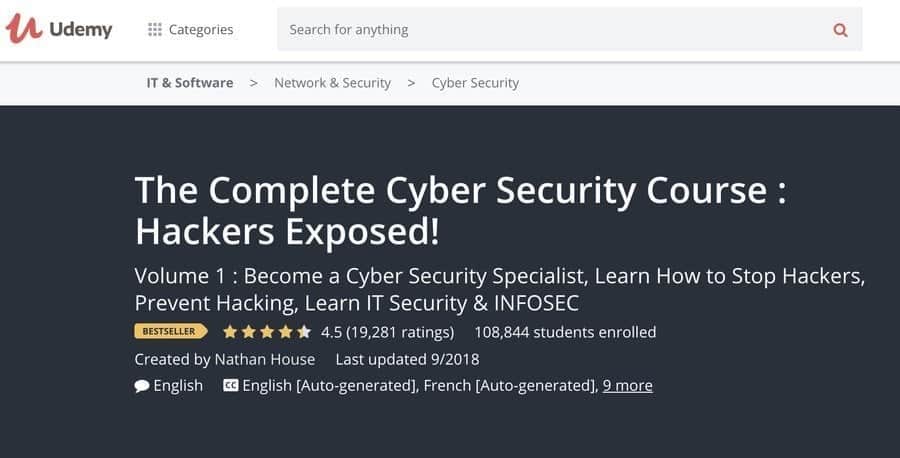 This Course Focuses on
The learner will be able to defeat different cybersecurity threats like malware, hacker, ransomware, etc.
Analyzes the security infrastructure of popular operating systems like windows 7, windows 10, and macOS.
It helps you protect against scams, identity theft, SMShing, or threat from the darknet.
Teach you about underused security control of compartmentalization and isolation.
This is for anyone who wants to protect their files, emails, personal information, social identity, etc., from online threats.
The learner will get cyber security certifications signed by the instructor of this course.
2. Introduction to Cyber Attack
---
Following its name, the purpose of this course is to understand different cyber threats and vulnerabilities. Description of different types of attacks in software and network systems can give you a precise notion of system vulnerabilities. This cybersecurity course also provides an overview of threat asset matrices for risk analysis. Throughout the course, the learner will analyze different cyber threats.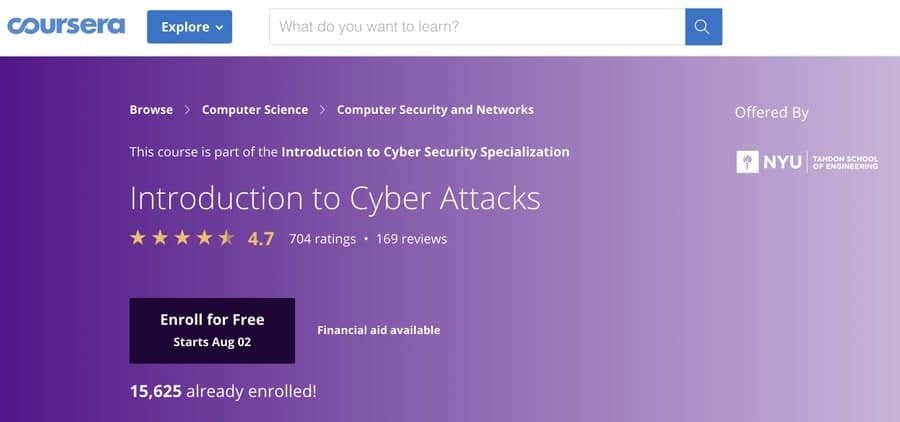 This Course Focuses on
This free cyber security training course consists of 45 videos, quizzes, and assignments, which will take 18 hours to complete.
Includes an example of a constructed cyber-attack that is applied to the real system.
The learner will clearly understand the Distributed denial of service(DDOS), a common threat to network systems.
This course also talks about cybersecurity risk analysis.
After completion, the learner will get shareable cybersecurity certifications.
3. Learn the Fundamentals of Cybersecurity
---
Nowadays, we all are connected to web platforms with different harmful issues. This course was developed by The SANS Institute based on the professional development curriculum. This course teaches the core concepts needed to protect information security systems. After completing this online cybersecurity course, learners will get a solid foundation in cybersecurity before entering a professional career.
This Course Focuses on
This course describes Linux as guiding students through using a CentOS LiveCD in VMware Player.
It provides an overview of networking so that cyber specialists can secure the network from online threats.
This course also describes various protocols and attacks on each layer.
The system administration module of this course will provide tools to perform the common administrative function.
Examine web security using PHP language, GNU BASH, and Microsoft PowerShell scripting.
4. Software Security
---
Software security is a prime concern for various organizations. Different vulnerabilities like SQL injection, session, and how to prevent those attacks are subject to discussion in this course. The learner needs to have some programming knowledge to complete this course. This course also includes advanced testing and program analysis techniques.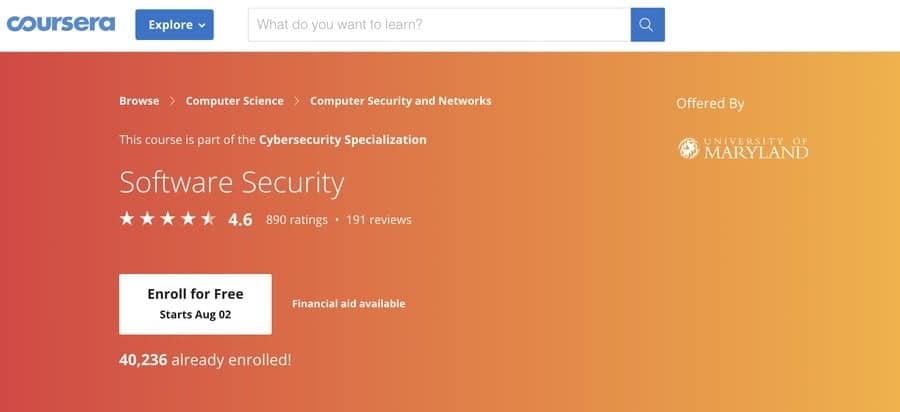 This Course Focuses on
After completing this course, the learner will gain some skills like penetration testing, buffer overflow, fuzz testing, and more.
As the contents are rich, this course is 12 hours long.
This cybersecurity course also provides cross-site scripting and cross-site request forgery with real-time examples.
Control flow integrity with secure coding makes this course more effective.
Shareable cybersecurity certifications after completion, of course.
5. Cybersecurity: Managing Risk in the Information Age
---
Harvard University built this course from the perspective of organizational approach and business. This 8-week online course will give you the ability to draft, strategize, and develop a cyber-risk mitigation strategy. The learner will understand the different types of cyber-attacks and the organizational approach to cybersecurity.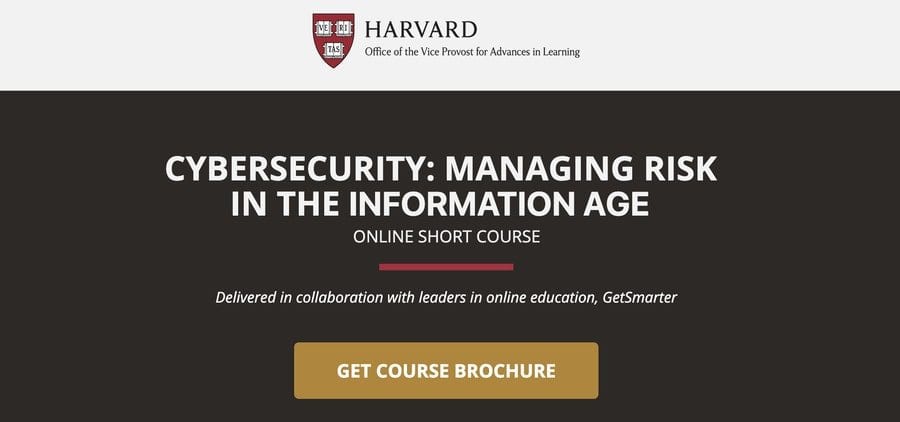 This Course Focuses on
Teaches through a discussion forum, which boosts students to share knowledge between them.
This online cybersecurity course consists of 8 modules, including six noteworthy cases of security breaches.
Most of the discussion is about operational business risk, litigation risk, and reputational risk.
This course explores three types of actors: nation-states, cybercriminals, and international organizational threats.
Identification of internal assets and business-critical systems that need to be protected from cyber-attack. This course also explores the degree of risk concerning an organization's systems, networks, and data.
The learner will gain cyber security certifications after completion of this course.
Get the course
6. Ethical Hacking: Introduction to Ethical Hacking
---
When we talk about cybersecurity hacking, it comes in different colors, like black, gray, and white. Among that, white hackers use their skills for good purposes. They inject different types of code into the system to check whether the organization's network is vulnerable to outside attacks or not. This beginner-level training will help a learner enforce the security objectives of an organization.
This Course Focuses on
Describes the threat landscape and different attack vectors, including a comparison between them.
Creating and using security policies with different components will help a learner build strong fundamental knowledge of cybersecurity.
This training also says how to maintain the standard and regulation of protecting data in a digital world with the COBIT network.
Precise notion over penetration testing methodology for ethical hacking.
The human factor in ethical hacking also made this course unique.
7. Introduction to Cloud Security with Microsoft Azure
---
Almost every organization stores its information on the cloud platform. Security specialists on the cloud platform will increase more shortly. The learner will gain knowledge of fundamental cloud-based service technologies from this course. This cybersecurity course also includes creating a concentrated and integrated virtualized network inside Microsoft's Azure cloud computing system and making it secure.
This Course Focuses on
Build for IT managers, system administrators, cybersecurity specialists, and future cloud architects.
A detailed description of each service model SaaS, PaaS, and IaaS.
A Microsoft Azure account is compulsory to complete this course.
This online security training covers multi- and single-tenancy solutions with their integrated security aspect.
Shearable cybersecurity certifications system via email.
8. Web Security Fundamentals
---
I recommend this course to everyone who uses a computer. This cybersecurity course focuses on basic web security rules with common cyber threat syndrome and how to prevent those. You will understand how injection on both the server and client sides can destroy your system. This course proposes the knowledge and skill set for building secure and smooth web applications.
This Course Focuses on
It provides an overview of the most common attacks and insights into threats that each web application face.
Familiarity with HTML, CSS, and Javascript will help the user to understand this course.
The learner will know the dangers of an insecure communication channel and the evolution facts of HTTP deployments on the systems.
Analyzes the security of the authentication process and the prevention of authentication bypasses.
A deeper understanding of SQL injection attacks and the implementation of various defenses.
9. Cryptography
---
Cryptography is an essential tool for the protection of computer systems. This course will help us understand why people use cryptography methodology for message passing on various real-world applications. We will test different protocols to analyze problems and see how public-key works. Students of this course will also test a ciphertext attack on a dummy website.
This Course Focuses on
The user of this cybersecurity training will get lots of open-world existing problems with projects.
This course covers pseudo-randomness and how to use it in encryption to solve a problem.
The learner will gain knowledge of block ciphers to build a more powerful encryption system.
Description of the hash chain to secure data integrity on a network.
This course describes the authenticated encryption method that ensures both confidentiality and integrity.
10. Bitcoin and Cryptocurrency Technologies
---
Bitcoin plays a vital role nowadays on different web platforms. To handle the Bitcoin transaction, you must know how it works at the professional level. After completing this cybersecurity course, the learner will gain a conceptual foundation for web applications that handle cryptocurrency. You will be able to use bitcoin exchange on your web projects.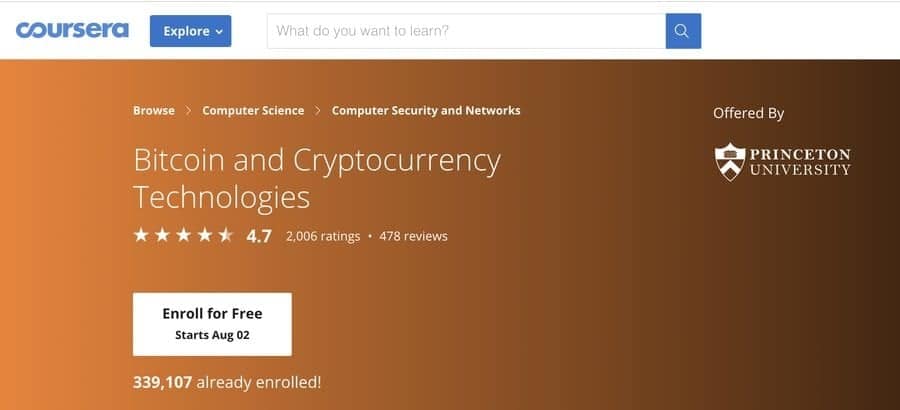 This Course Focuses on
The learner will gain skills in the bitcoin network, cryptocurrency and blockchains, and more.
Description of cryptographic hash functions, hash pointer, digital signature, and public keys.
You will know how to use the bitcoins consensus mechanism and how it ensures security.
Different ways of storing bitcoin keys and various types of services will allow you to trade in online.
You will not get any cyber security certifications after completion of this course.
11. Introduction to Cybersecurity
---
Anyone can enroll in this course to secure their online life at home or work. This cybersecurity course will make you focus on threats coming from the wider online world. After completing this course, you will know about the different notions of online threats and how to save your online world from them.
This Course Focuses on
Introduction to different cyber threats like malware, identity theft, internet worm, virus, etc.
Access control and description over two-factor authentication and why we should use that.
UK Government's National Cyber Security Programme is funding this program.
You will learn about the implementation of symmetric and asymmetric cryptography.
Description of network security like firewalls and how to use that correctly.
12. Enterprise and Infrastructure Security
---
This course consists of advanced and current security issues; most of them are related to enterprise and infrastructure. The cyber threat in the blockchain, binding algorithm, IoT infrastructure, etc., is one of the prime concerns of this course, which will help you secure your system. At the end of the course, you will find some career advice in the cybersecurity field.
This Course Focuses on
Introduction PCI and NIST will make you understand the basics of enterprise compliance.
To fix many security weaknesses, learners will learn about hybrid cloud architectures in this cybersecurity course.
You have to read different core articles to make your understanding more appropriate.
An advanced topic like Mobility security and deception can help secure your system more appropriately.
Achievement of cybersecurity certifications from this course.
13. Computer Networking – Digital Network Security – Revised
---
This online cybersecurity course starts by defining network infrastructure and network security. In this course, you will learn the relations between L2TP and IPSec. You will also investigate how the firewall protects a network from unauthorized access to malicious content. End of the course, you will look into the Network Intrusion Detection System(NIDS), which detects network traffic.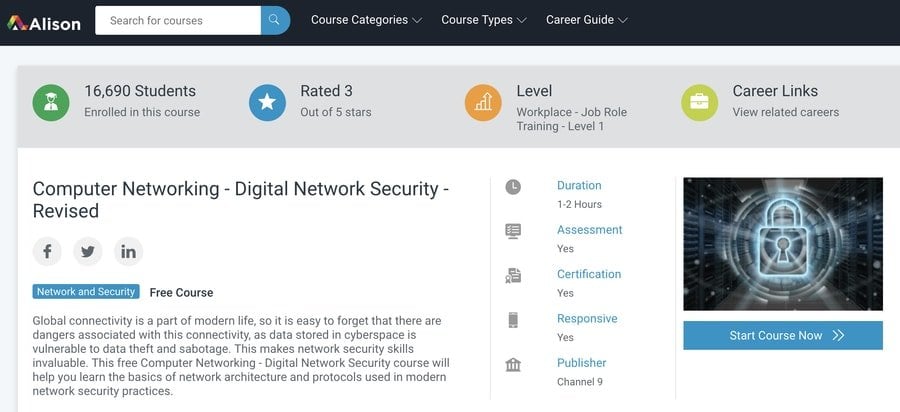 This Course Focuses on
This cybersecurity training course describes the role of the Perimeter network.
Analyzes the functionality of  PPTP into IP datagrams in the transmission layer.
The learner will understand the VPN protocol and how it works in the network system.
It explains different types of network security and online threat on those network security systems.
Describes the features of point-to-point tunneling protocol with real examples.
14. Cyber Security for IT professionals
---
Cybersecurity is becoming a common concern for governments and businesses. The professional area of cybersecurity is rapidly growing. This cyber security course will introduce different tools to prevent the hacker from unauthorized access to your system. This online course also teaches you how to fight application-level threats and how to detect intruders.
This Course Focuses on
Discussion over different cyber threats like viruses, malware, spyware, adware, etc.
Detail analysis of security protections in your system with antivirus.
Usage of windows firewalls properly and Linux Iptables will help learners enhance the security of personal computers.
Nmap and how to scan the full system using Nmap is an important feature.
This cybersecurity course's unique characteristic is how to capture intruders through packet inspection.
15. Cybersecurity for Industrial Control Systems-Current Trends (Vulnerabilities)
---
The US Department of Homeland Security provides some cybersecurity courses which can enhance your skill in this field. Vulnerabilities in the industrial control system are growing day by day. So we are proposing this course to enhance your cybersecurity expertise. Understanding the different threat levels' approaches to develop a protection system is important.
This Course Focuses on
Proposes a discussion over three attributes of human threat.
Describe how the attacker uses their tool and technique to destroy your systems.
Differentiate between intentional and unintentional "insider" cyber-attack.
This course also discusses trends of different levels of threat to the industrial control system.
Downloadable certifications after completion of the course.
16. CND-Certified Network Defender Certification
---
According to a study, in 2050, there will be a shortage of 1.5 million cybersecurity professionals. If you want to boost your knowledge of cybersecurity, you can sign up for this course. You can follow this course to be an expert in computer network and defense fundamentals to understand network security policy.
This Course Focuses on
This course is designed for network security administrators, network defense technicians, CND analysts, and more.
It covers different network security, threat, attacks in various devices, and how to prevent them.
The intruder can attack your system anytime. So before that, you will know about how to protect and recover data.
You will comprehend the whole computer network and defense fundamentals.
Monitoring network traffic and control is a part of cybersecurity. This course focuses on this part.
Cybersecurity certifications will be provided after completion of this course.
17. Cybersecurity for Normal People: Protect Yourself Online
---
Today the digital world is the criminal's playground. Most people think that "Why would someone steal my information?" Well, the reality is there are plenty of people in cyberspace to steal your identity and money. This cybersecurity training online can provide you knowledge on protecting your private data, but you don't have to be an IT expert.
This Course Focuses on
Realization of how to secure your smartphone and the common security threats of it.
How to use two-factor authentications on social media to put an extra barrier on the security level.
Very few people know about the term called "right mindset of browsing." You will understand why this is important in daily life.
Encryption of data will make it unreadable to intruders, and normal people hardly know about this.
The learner will know different forms of unique password formation so that hackers can't break it.
18. Microsoft Azure Security Center: Securing Cloud Resources
---
This course provides knowledge of how Microsoft Azure Security can help secure your cloud resources from intruders. The learner will know how to enhance the capability of cloud security. The instructor also provides some good practices on azure security and suggests Azure data security, SQL security, network security, etc.
This Course Focuses on
This online cybersecurity training includes Azure data and SQL security best practices.
It also suggests how to monitor file integrity with different resources.
Access and protection of the virtual machine are also described in this course.
You will get the skills on how to secure your cloud computing in the business area.
Utilization of Azure Security Center console and how to resource placement in that environment.
19. Cyber-Physical Systems Security
---
In industrial control systems, various security issues emerge. This free course is organized by industry professionals and has a great student community for help. By definition, The cyber-physical system is the simple embedded application of both software and hardware. This course explains how to secure cyber-physical systems. The next step of this course can lead a learner to the security of autonomous flight engineering.
This Course Focuses on
You need to have intermediate programming skills to complete this cybersecurity course.
The content of this online training course is so rich.
Throughout this course, you will learn what computer networking, information security, and industrial networks are.
This course also covers industrial control systems and industrial network design.
Analyzes privacy on cyber-physical systems so that hackers can't steal secured information.
20. The Complete Cybersecurity Course: Anonymous Browsing!
---
This course is for you if you want to be a cybersecurity specialist from beginner to advanced level. You will get the skillset of staying anonymous online with experience in threat detection.
The learner will get the expertise of SSH Secure Shell and the invisible internet project. This online cybersecurity training also talks about bypassing censors, firewalls, and proxies.
This Course Focuses on
This course will give you knowledge about how proxy servers can secure your data and cover your IP address.
Students of this course will learn about the weakness of the Tor browser.
Described advanced anonymization very well with its weakness and strength.
Analyzes the functionality of the cellular network and its optimum use to secure privacy.
The learner will experience the collaboration of theory and practical knowledge in an organized manner.
Finally, Insights
---
The demand for cybersecurity specialists is enhancing day by day. The usage of online cybersecurity courses is increasing day by day to protect cyberspace. According to our research, we represented here some of the best cybersecurity courses. Some of them are paid, and some are free.
We hope you will select one of these courses to shift your career path to a more advanced level. If you like this article, please share it on social media and expand the knowledge you get from this site.