Debt collection software optimizes business operation by accelerating the invoicing to the payment collection process. That's why it is also known as Accounts Receivable (AR) software. Usually, it automates customer contact management. Most AR software is integrated with accounts software or Enterprise Resource Planning System (ERP). Besides, this software features either cloud-based or on-premise. This software helps to increase the liquidity of a firm. Besides, it reduces the bad debt rate. Besides, it ensures a good receivable turnover ratio.
Best Debt Collection Software
---
The common features of accounts receivable software are automated follow-up, payment processing, collection scoring, integration. The cost of this software varies depending on the number of users, accounts, customization, and integrations. We are going to discuss the top 10 best debt collection software products in this article. 
1. Latitude by Genesys
---
Latitude by Genesys is the right solution package for accounts receivable management. It is a standalone product that provides a complete debt collection solution. This software accounts analytical query tool helps to access every account information. It provides current and historical account data. Besides, it has a data visualization configurable dashboard, which helps to manage account performance. Latitude users can exchange data with other platforms.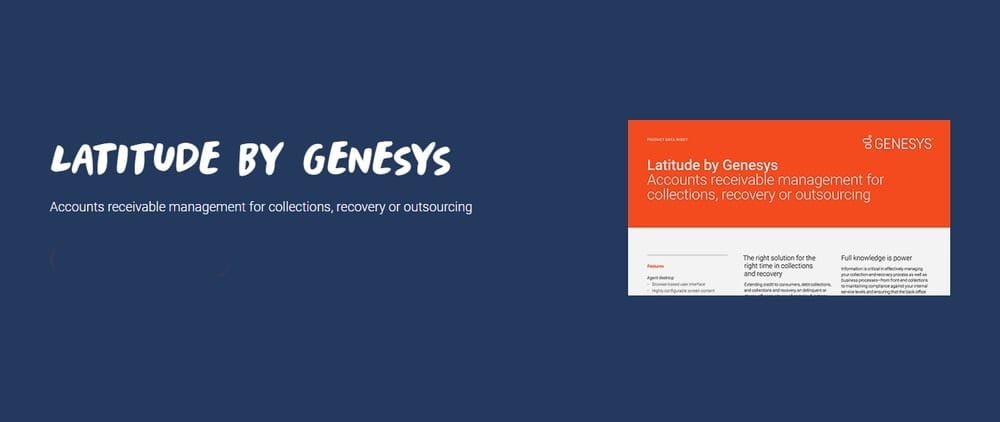 Key Features of Latitude by Genesys
It provides a web-based user interface. The interface is a highly configurable and simple drag-and-drop workflow.
Besides, users can access all account's information – current and historical- in a single workflow.
ETL (Extract, Transform and Load) tool can easily extract and integrate data from one platform to another.
The bi-directional data exchange tool helps to analyze the outsourced agency performance.
Moreover, it has prebuilt integration with leading third-party applications. This integration conducts the debt collection process more smoothly.
Pros: Latitude by Genesys provides a user-friendly and easy customization interface. It can formulate strategies for either simple or multi-tier complex situations. 
Cons: This system does not allow users to create custom fields. Users are limited to access information within Latitude predefined fields. 
Pricing: No trial or demo is available. You need to contact the vendor for pricing. But, you can get a premium consulting service from Genesys before integrating this software.
2. Kuhlekt
---
Kuhlekt is a cloud-based account receivable software. It follows Software-as-a-Service (SAAS) subscription. This software user interface is very simple. So, credit managers can easily track debit collection performance.
It has a daily noticeboard that updates DSO (Daily Sales Outstanding) reports. Besides, users can also generate customs reports. Besides, users can categorize fields to visualize data according to requirements. Kuhlekt provides a monthly subscription package.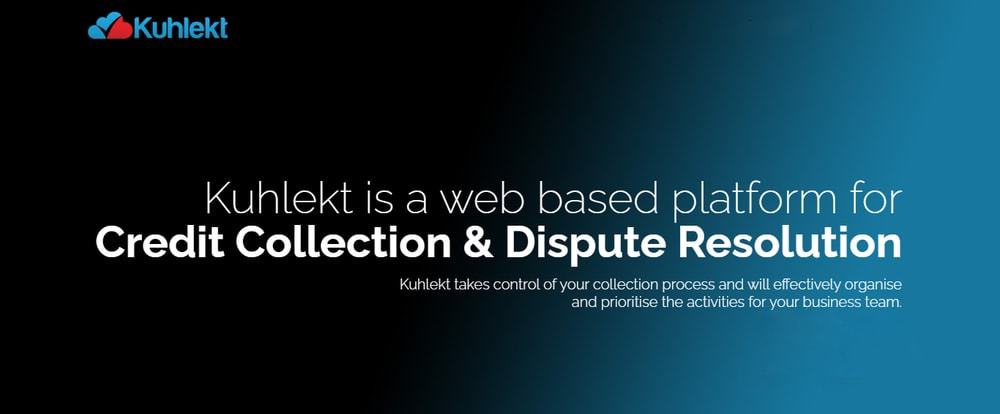 Key Features of Kuhlekt
It provides a simplified visualization dashboard—this dashboard snapshot collectors' overall performance and total collection status.
Besides, this software creates a to-do list for collectors. This to-do list helps collectors priorities credit accounts.
Users can view the daily sales outstanding graphs, receivable accounts status, and aged trial balance.
A powerful dunning system can centralize all account activities. For example, it can record account follow-up, promise notes, and account status.
It automates customer dispute management through automated investigation, approval, and adjustment with a credit memo.
Pros: Kuhlekt can manage real-time provisional receivable balance that ensures proper utilization of collectors to create to-do lists. It is the easiest and adaptive debt collection solution that minimize debtor risk. 
Cons: No CC (carbon copy) of the email has been sent. Kuhlekt should create an additional email recipients box to send a single email to many recipients at a time. 
Pricing: The starting price is provided by the vendor. You can request a demo. 
3. Upflow
---
Upflow helps B2B companies to accelerate business communication through the automated payment process. This debt collection software increases customer satisfaction by offering a simplified payment experience. Moreover, customers can set personalized reminders for payment. It has a smart dashboard that provides cash flow projection and DSO report. Besides, It automates follow-up by setting up a systematic collection schedule. Upflow has integrated with the SAAS tool.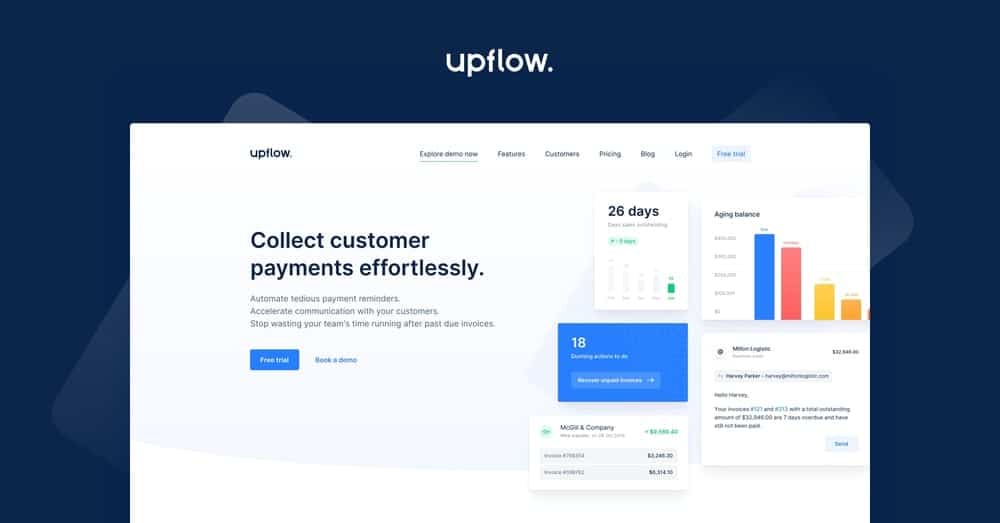 Key Features of Upflow
It set up an automated collection schedule. This automated system sends invoices automatically to customers to remind them of the due amount.
Upflow offers verities payment method. Besides, the user can add a new payment method if required.
A powerful dashboard presents financial projections and trend analysis reports. So, users can make better decisions for financial analysis and cash management.
Customers can set personalized reminders for payment. These personalized reminders self-motivate them to pay in time. As a result, the company cash collection rate is increased.
It has an integration option with leading accounting software.
Pros: Upflow offers a flexible payment schedule and online payment platform. As a result, it can easily make good business relations with customers. It automates bank reconciliation. 
Cons: It would be great if the dashboard data can be customized. More integrations with Upflow are not automated. Every time, You need to contact the Upflow support team to integrate with other software manually. 
Pricing: It starts at $99/month per user. But the price may vary depending on the annual turnover of your business. There is a free trial version. 
4. CSS IMPACT
---
CSS IMPACT is a next-generation financial data management platform that is designed for a receivable management system. It is a cloud-based accounts receivable software featuring HD 2.0 and AI (Artificial Intelligence).
This software optimizes business through revenue cycle management, contract management, and vendor management. Besides, CSS products automate from invoicing to the payment process. Moreover, it automates compliance issues using modern communication tools.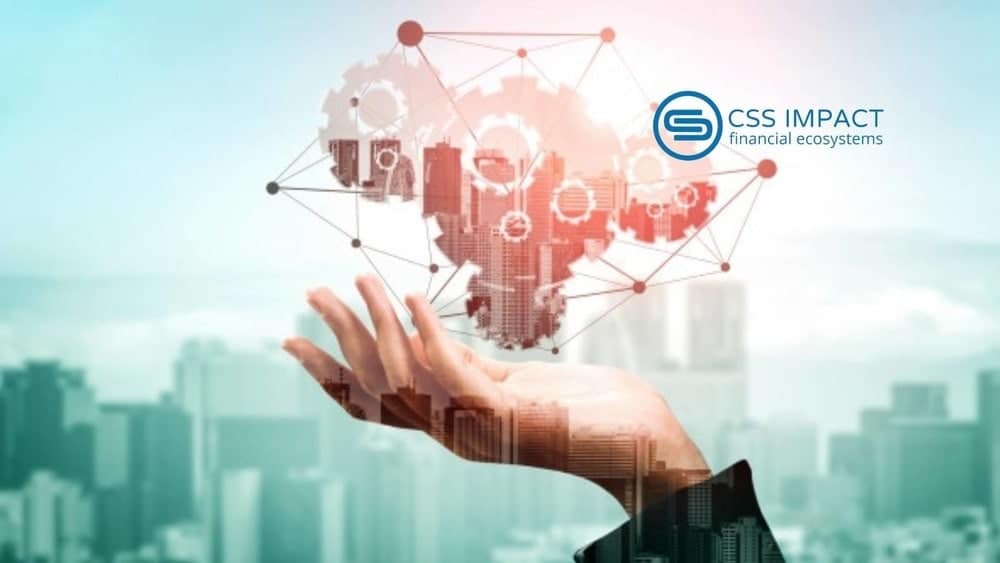 Key Features of CSS IMPACT

This software automates invoicing and billing process. Besides, It also automates the debt collection process.
It introduces an automated call center using AI voice & text messaging. As a result, the customer engagement rate is increased.
Moreover, it also automates notices about receivable balance and customers' payment status.
This platform can manage legal, compliance, and non-performing receivable collection recovery processes.
CSS IMPACT can eliminate costly receivable recovery processes that optimize business operation.
Pros: CSS IMPACT offers a standalone debt collection solution for all business entities. It provides callback scheduling an in-house collection facilities. Besides, this software can formulate payment plans.
Cons: Though it is a cloud-based account receivable management system, its mobile platform is not activated.
Pricing: CSS IMPACT offers both monthly or yearly subscription packages. It has four types of packages for customers: startups, SMEs, Agencies, and enterprises. Please contact the CSS IMPACT team to let them know which package is appropriate for your business. There is no trial version.
5. SimplicityCollect
---
SimplicityCollect is a cloud-based excellent account receivable software. It is designed for all business entities. This software solution can manage an unlimited number of clients and an unlimited number of receivable cases. This solution offers at an affordable price. This software allows users to import/export data in a single click. Besides, it offers online data storage facilities related to debt collection cases.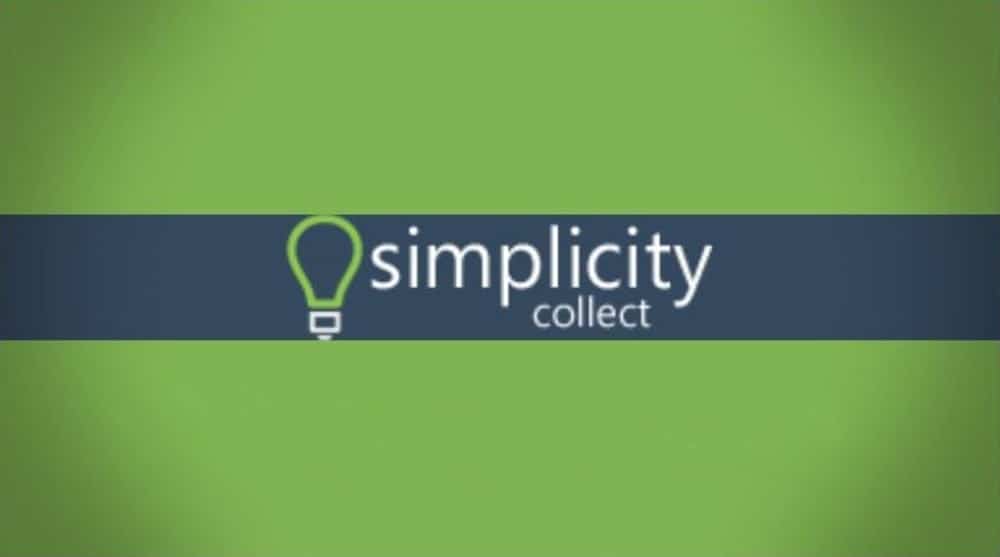 Key Features of SimplicityCollect
Simplicity bulk case management tools can manage unlimited users and unlimited clients. Moreover, this tool also manages unlimited cases at a lower price.
It provides an automation system for case management were automatically generated necessary documents for cases.
This software features a mobile-enabled platform. So, users can manage the debt collection process via smartphone or tablet.
It integrates with accounting software QuickBooks. This accounting software keeps financial data. So, SimplicityCollect gets receivable accounts status easily.
This debt collection tool provides an online data storage facility and ensures the security of the data.
Pros: SimplicityCollect is designed as the best debt collection solution at an affordable price. It reduces paperwork because of providing an online data storage facility with security.
Cons: Data import/export feature is complex compared to other debt collection software.
Pricing: SimplicityCollect offers both monthly or yearly subscription packages. Its package starts at $79/month. You can request a demo.
6. ezyCollect
---
ezyCollect is an affordable cloud-based debt collection software solution. It automates debt collection by introducing pre-reminders and overdue reminders features. Besides, online payment processing makes payment collection smooth and faster.
The ezyCollect credit risk insight tool can analyze customers' payment performance. Besides, this tool makes payment predictions. This software is integrated with the most popular accounting software such as Xero, Myob, Sage300, etc.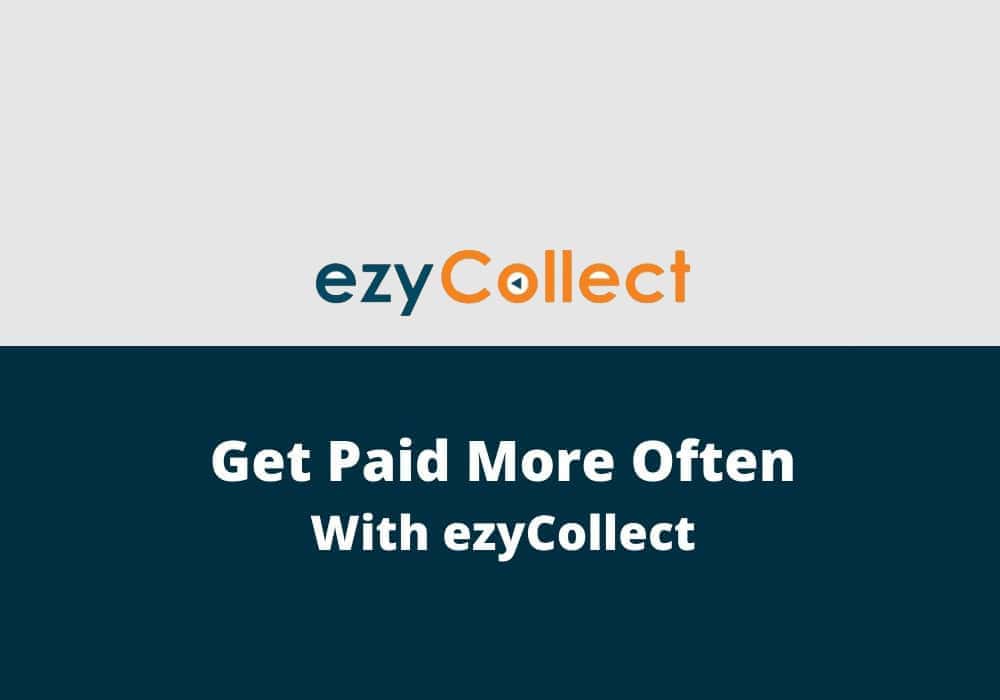 Key Features of ezyCollect
It presents a user-friendly dashboard. So, users instantly inform about overall debt collection performance and drill into any account.
The automated workflow eliminates tedious manual tasks and increases the payment collection rate.
This software prioritizes phone call lists according to the credit scores of the clients.
The platform is integrated with an online payment portal with a major payment method. Every customer enjoys a personalized payment option.
Besides, A single click can send a proposal for assigning a recovery agency.
Pros: ezyCollect automates the complete debt collection process. So, it not only eliminates tedious receivable follow-up but also increases cash collection. As a result, businesses optimize more profit.
Cons: Communication through Fax and SMS should be included. 
Pricing: Start at $25/month. But the packages vary depending on the integration with user accounting software. There is a free trial for users.
7. InterProse ACE
---
InterProse ACE is a true web-based account receivable software. This software processes invoicing and billing efficiently. Users can customize this software according to requirements. It provides document attachments and an online storage facility. Besides, it ensures the security of documents. InterProse ACE is more flexible to integrate with third-party applications.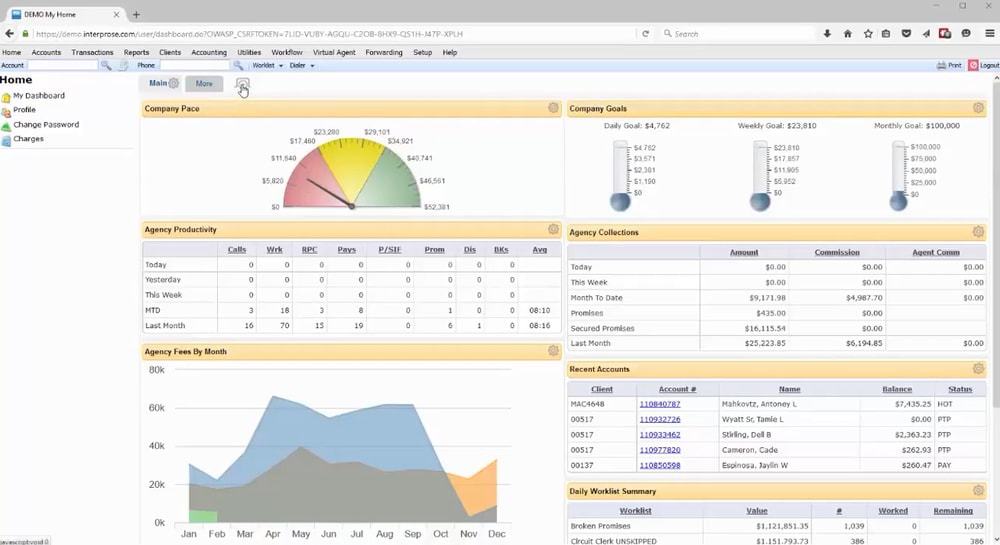 Key Features of InterProse ACE
This software is integrated with leading third-party applications. Certainly, it offers a cost-effective solution.
It can store real-time data. So, users can make decisions to extract data through analytical tools.
Your data is highly protected and encrypted by powerful web application firewalls. Besides, it provides compliance certifications.
Users can access and manage accounts in a single screen from anywhere.
InterProse ACE regularly innovates new updates. So, existing users enjoy new updates completely free.
Pros: InterProse ACE is a highly customizable receivable management solution. InterProse team is continuously innovating new features to solve new problems.
Cons: The starting price is high for startups.
Pricing: Start at $975/month. The price varies depending on data storage and audit certificates.
8. Cogent
---
Cogent delivers a personalized experience on debt collection and case management. AgreeYa Solutions, the number 1 IT consulting company, develops Cogent. It introduces a rule engine that sets a predefined rule for data assessment. Its case management tool can analyze cases and store cases according to dates. Cogent can integrate with the scanner so that all cases can be stored in a digital form easily. 

Key Features of Cogent
Cogent can organize the legal workflow and automates receivable management.
It has an intuitive dashboard providing real-time data and trend analysis reports.
Document management tools can store cases with dates. Besides, it analyzes data using AI technology.
It has activity alerts and reminders features. So, it automates a receivable management system.
A cogent mobile app makes the debt collection operation. Users can manage accounts and data at any time and anywhere.
Pros: The robust platform in debt collection solutions is very easy to use. 
Cons: The starting price of the software is attractive, but the renewal package is higher compared to other applications.
Pricing: Please contact the vendor for price quotes for your firm. You can request a demo. 
9. Lexop
---
Lexop is a smart debt collection software that allows users to send thousands of notices in a second to customers. Moreover, Lexop AI technology can monitor the customer's response after receiving the notices. Besides, it can analyze behavioral data. Therefore, it points out the best communication channel and message for higher response. Moreover, it offers more flexible payment options for customers.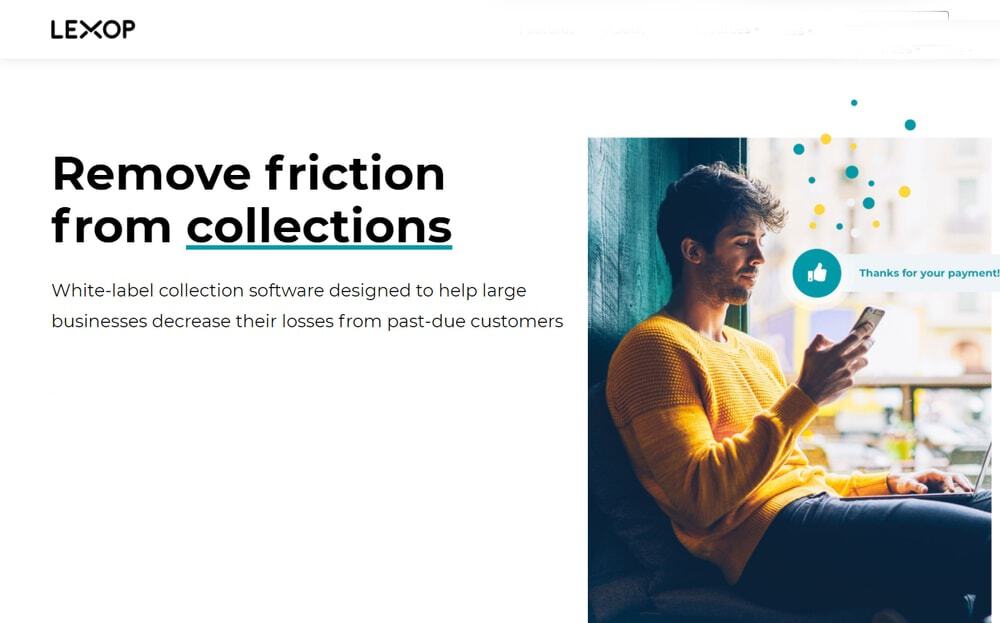 Key Features of Lexop
It provides seamless integration with an ERP system that makes easy data organization.
It can send an electronic notification in mere seconds so that it can handle large volume clients easily.
Different communication templates are available for use. Besides, this software also tracks response rate, response time.
A customer feels the freedom to get more payment options. Consequently, it increases the cash collection rate.
The data is encrypted with 256-bit SSL-AES. So, Lexop offers maximum security infrastructure for users.
Pros: Lexop provides a faster communication funnel. It regularly updates new features according to customer needs.
Cons: Though it works with large volume data, its searching feature would be more user-friendly.
Pricing: Please contact the vendor for a price quote. 
10. Beyond ARM
---
Beyond ARM introduces a smart debt collection solution. It is not only an accounts receivable software but also provides financial and legal services. This platform reduces the debt collection period. Consequently, it increases company liquidity. Though Beyond ARM is integrated with QwikDial, it can provide IVR communication technology. So, it automates contact management with customers.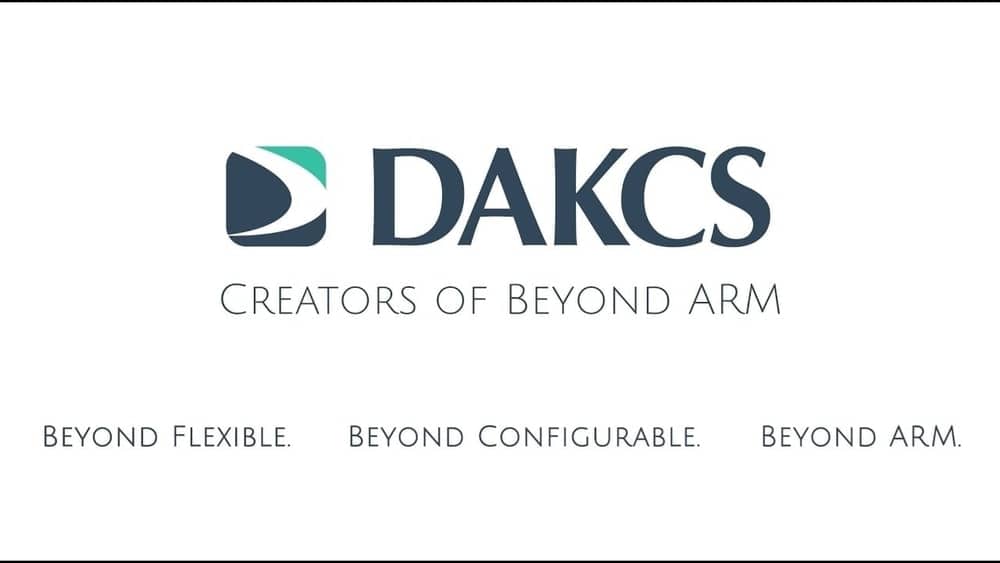 Key Features of Beyond ARM
It designs and intelligent workflow for making a simple process of debt collection.
Powerful configuration features make it compatible with any business module.
This platform provides a cloud-based system that is highly secured with a Tier4 data center.
It introduces authentic e-signature that makes faster document authorization processes. Therefore, it increases the auto payment rate.
Your client gets access to upload an electronic file for future use. Consequently, it increases customer satisfaction services.
Pros: Beyond ARM advances, inquiry tools make the workflow easier and analyze data. It ensures fast response customer service.  Besides, it is dedicated to solving service-related problems.
Cons: No third-party integration is accepted with this application.
Pricing: Please contact the vendor for a price quote. There is a free trial version.
Get Now
Our Recommendation
---
Thousands of business organizations are looking for perfect debt collection solutions. Because it automates due recovery cases and eliminates manpower overhead costs, consequently, it optimizes business operation. There are many debt collection software to manage receivable management.
But the proper suitable software for your business depending on your business type, a number of accounts, and budget. Before subscribing to any platform, you should consider its automation, contact management, report presentation, and security of the software. 
From the above list, we can conclude that Latitude by Genesys is the best package for collection agencies. SimplicityCollect and ezyCollect would be the best choice for startups or small enterprises. Those organizations have to maintain large volume clients, and they can subscribe to lexop or Beyond ARM.
For enjoying complete automation service, you can choose Kuhlekt or Upflow. Moreover, those organizations are more concerned about data security, and they can subscribe to InterProse ACE or Cogent.  
Finally, Insights
---
In conclusion, every company has an individual business aspect and standalone plan for receivable management. For this reason, we have discussed 10 accounts receivable software considering some common functionality—obviously, every payment collection software has standalone features.
So, we cannot recommend a specific software for your business. You can choose the best-suited software from the above-described list if you want to recommend any other debt collection software which is listed in this list. Please share your recommendation in the comment box and let us know the reason for your recommendation.