I've been using Windows OS for almost my entire life–ever since I first learned about computers. And whenever I needed to do any development work, I would use macOS. But now Linux has changed everything regarding what I think about operating systems and desktop environments.
While Windows and macOS are both user-friendly systems, they don't allow users to change things per their own requirements or interests. Both systems prevent me from making my own computer exactly how it should be.
If you want a system that will allow your creativity to flourish, use Linux. It's an open source operating system that is smooth, customizable, user-friendly, and, best of all – it's free! You can tailor it specifically for your needs, whether you're using it for work or leisure activities.
Best Looking Linux Distros
---
I compiled a list of the 8 most aesthetically pleasing best looking Linux distributions that I think many new users will love. The following list is based on my personal opinion and excludes any objective criteria. It may not be perfect for everyone, but it's a great starting point if you're looking for something specific. If you are a power user, I prefer to follow the Best Linux Distro I recommend.
8. Nitrux
---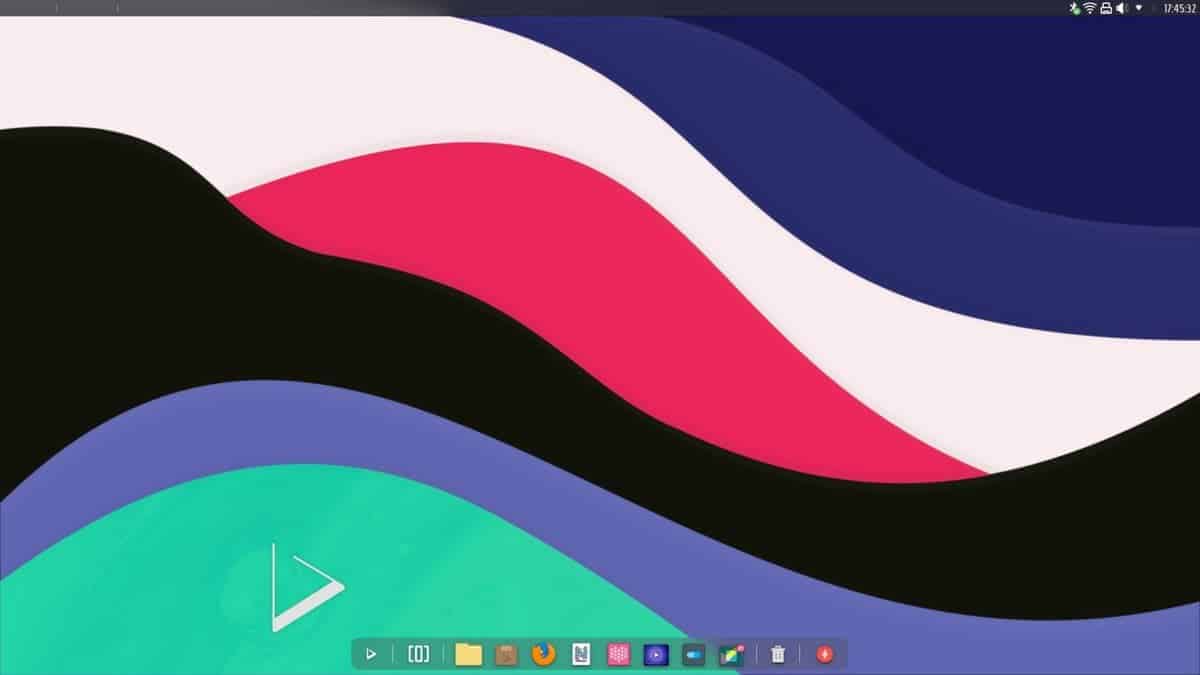 Distinguishing itself from the rest, Nitrux OS is one of the best looking Linux distributions that, instead of continuing to use Ubuntu as its base, it shifted to Debian. Primarily targeting users who appreciate aesthetics and uniqueness, the Nomad desktop—which is based on KDE-Library software—offers just that with its interesting design language.
Nitrux sets itself apart by utilizing AppImages to manage end-user software and OpenRC, instead of the systemd init system. Additionally, it includes the Calamares installer and NX Desktop/NX Firewall.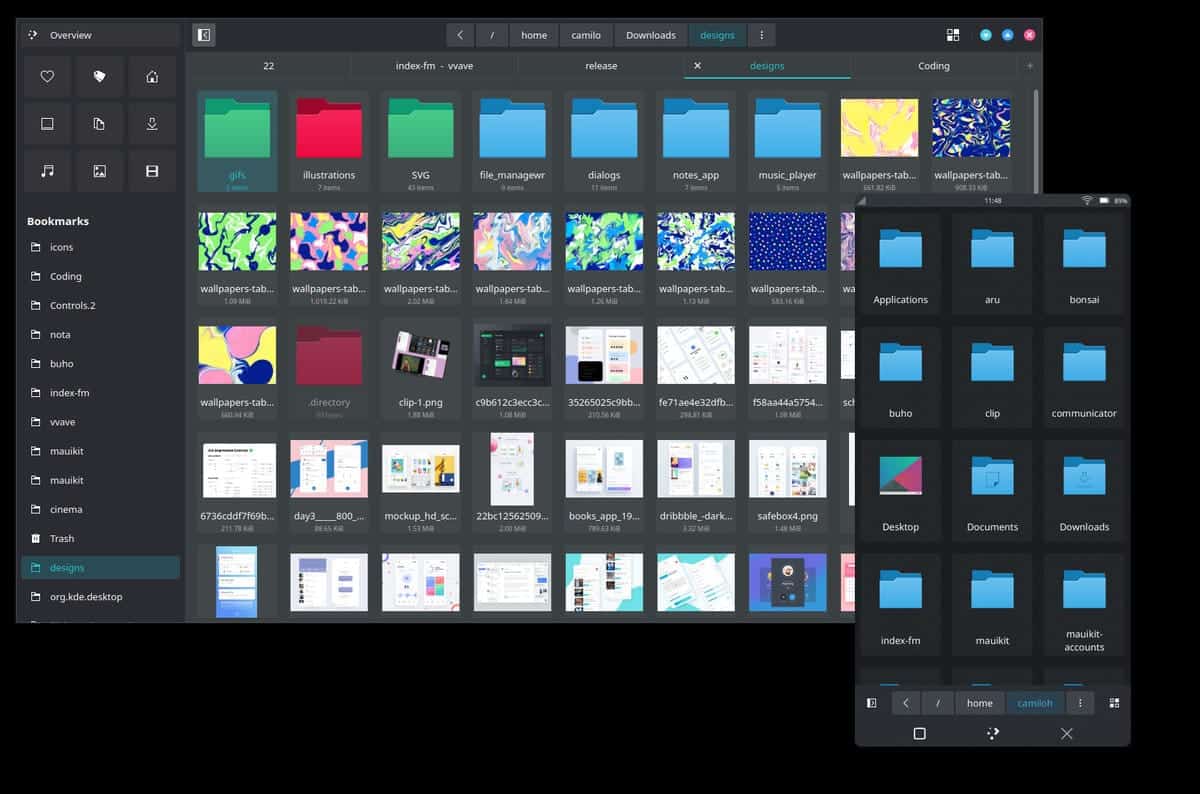 Nitrux includes a set of Maui Apps that are convergent. These apps use Mauikit, which is a cross-platform UI framework that is also open source and free. Not only does Nitrux include a curated selection of free and open-source software, but it also doesn't add any proprietary software.
Nitrux is always current because it uses the latest Debian base and receives regular updates from KDE Neon developers. For example, they provide stable releases of Plasma as soon as they are available. In addition, Nitrux also offers MESA drivers that are pulled directly from Git, along with XanMod kernels that have been optimized for gaming–allowing for a smoother experience.
The developers have achieved a consistent look throughout the system by creating their own icons, wallpapers, and themes. The system requirements are quite low as well, making it a perfect choice for older computers.
Unfortunately, being based on Debian also means that Nitrux OS is not as easy to use as Ubuntu. But if you're willing to put in the effort, you'll be rewarded with an eye-candy operating system that will make your friends jealous.
7. Garuda Linux
---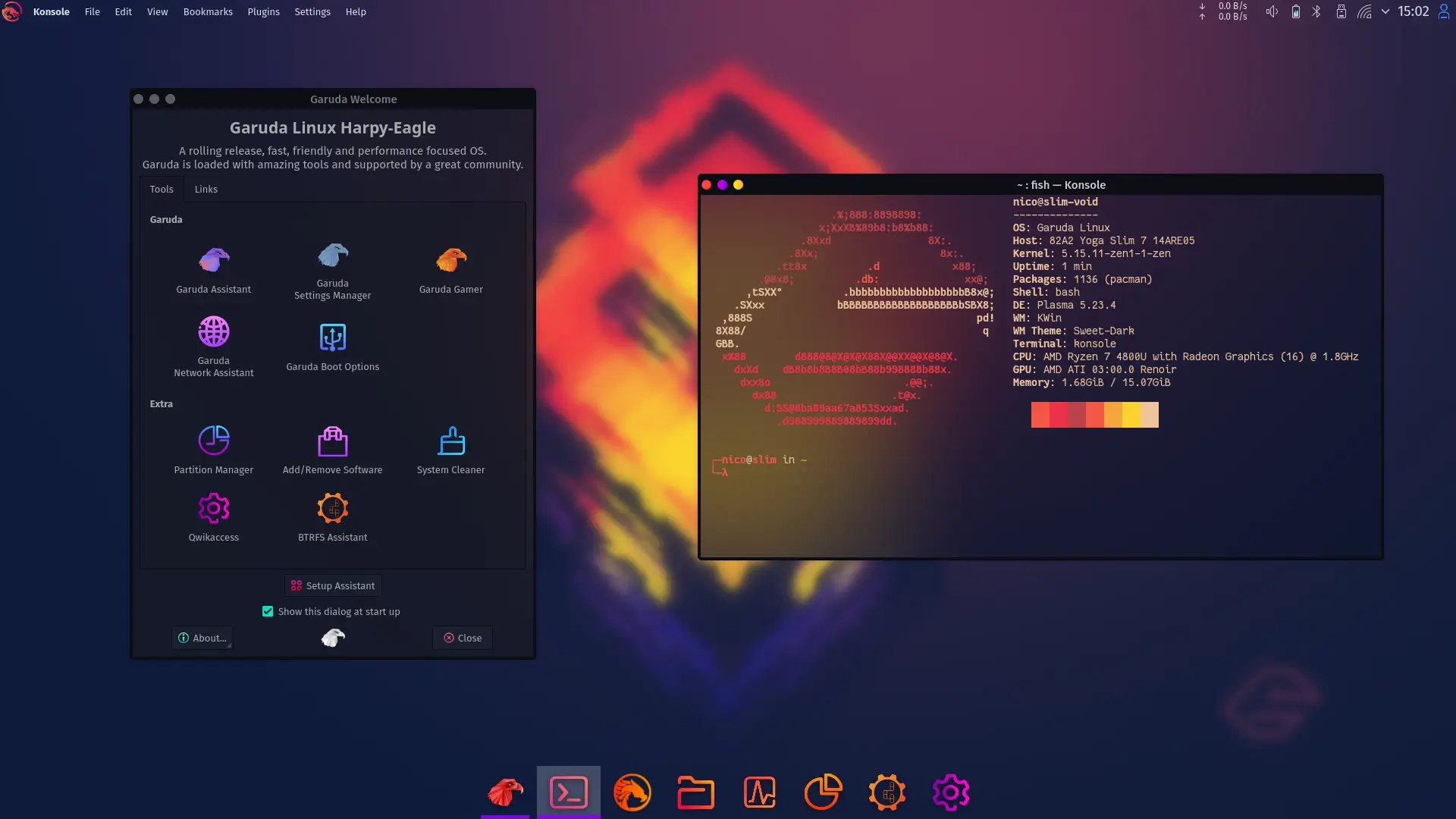 Garuda Linux is another beautiful Linux distribution based on Arch Linux. It features a rolling release update model and uses a package manager called Pacman. Garuda Linux is available in both 64-bit and 32-bit versions.
Garuda Linux is a desktop-oriented operating system. It ships with a number of pre-installed applications, including the GNOME desktop environment, the FireDragon web browser, and the LibreOffice office suite. It also includes a number of tools for system administration, such as the Pacman package manager and the yaourt AUR helper.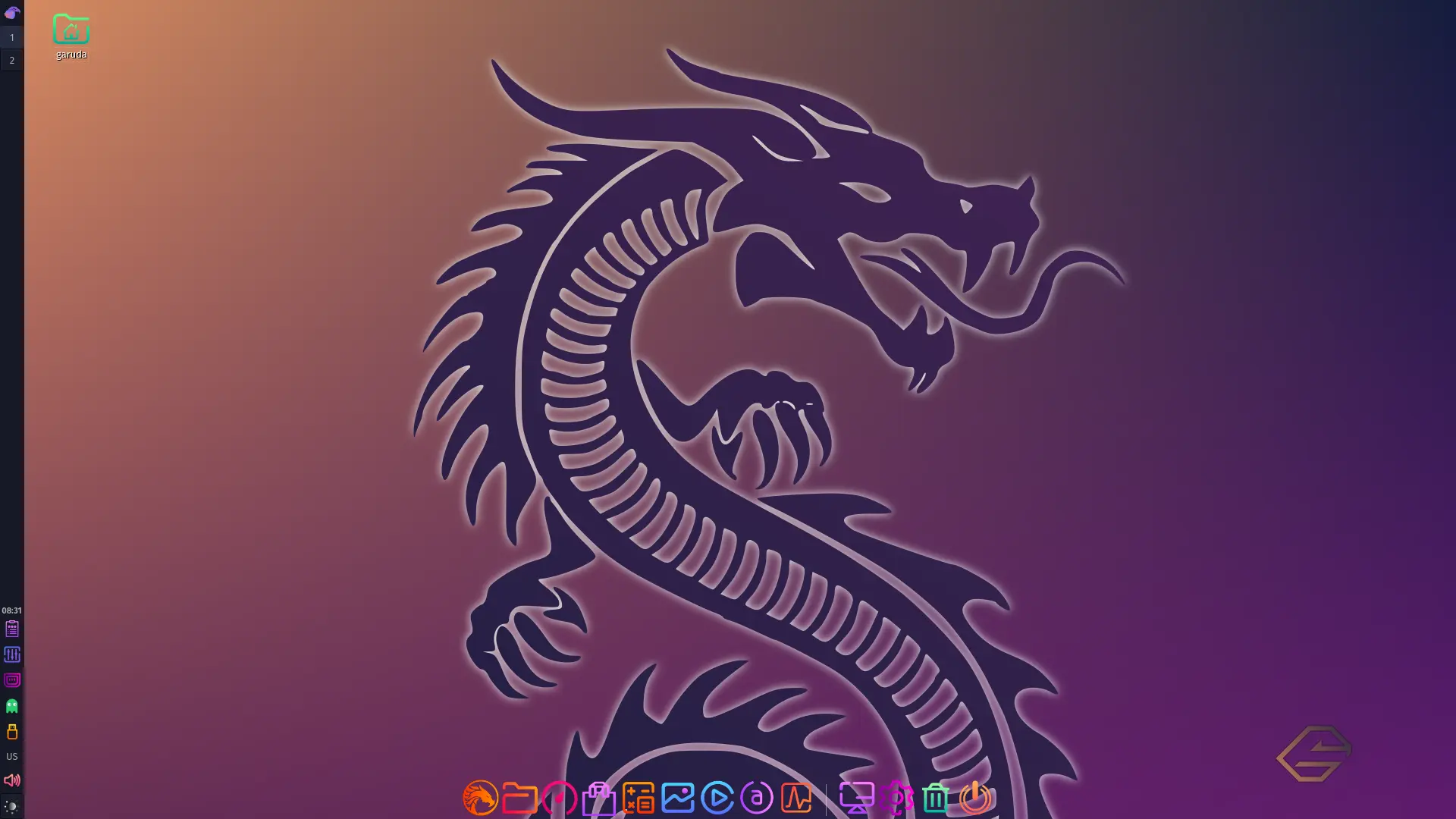 Garuda Linux is a popular choice for many users due to its ease of use and flexibility. The project provides a number of official and unofficial derivatives, including versions for different desktop environments and special-purpose operating systems. With this distro, you have your pick of KDE, Xfce, GNOME, LXQt-kwin, Cinnamon, Mate, and Wayfire.
Garuda Linux is the perfect choice for anyone looking for a beautiful desktop experience. With handpicked themes and stunning blur effects, Garuda Linux is guaranteed to impress.
Garuda Linux uses automatic snapshots of the BTRFS filesystem by default. BTRFS is a sophisticated CoW file system for Linux that emphasizes functionality, tolerance to faults, and ease of management.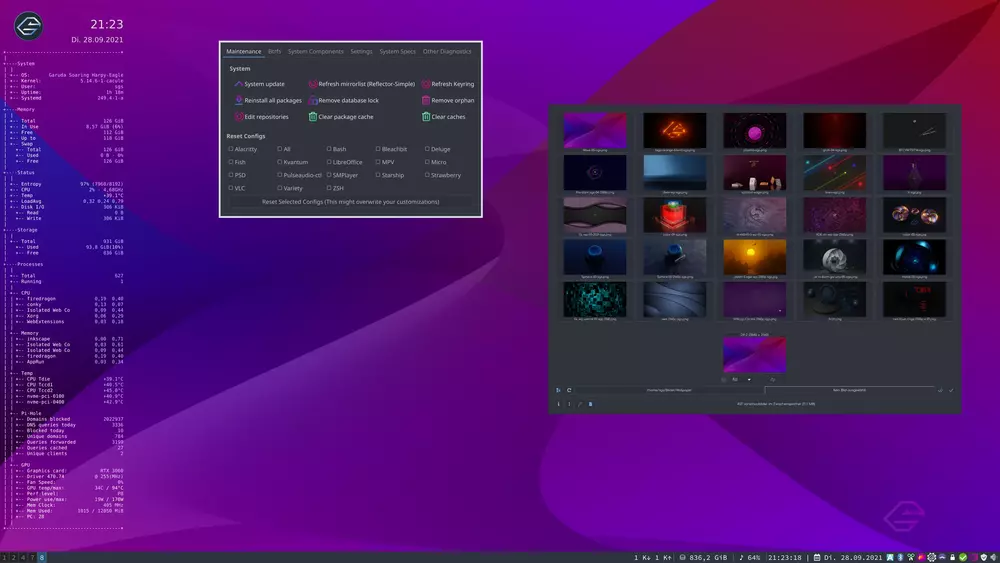 This distro is a rolling release distro, which means that your system will always be up-to-date. Garuda Linux uses the BTRFS filesystem with Snapper to ensure that your system won't be left unbootable after a problematic update.
Snapper takes snapshots of your system configuration before each update, so you can always roll back to a previous version if needed. You can access recent snapshots directly from GRUB*.
Garuda's Chaotic-AUR repository offers one of the biggest precompiled software selections, with over 2400 packages available. You'll find emulators, games, kernels, themes, and other commonly used tools all in one place.
A team of volunteers develops Garuda Linux. The project is managed by a small group of core developers, with contributions from a growing community of users and developers. Garuda Linux is released under the GNU General Public License (GPL).
Official Homepage Screenshot Download
6. Deepin
---
Deepin Linux is a great operating system for anyone looking for a Debian-based distribution that is elegant, user-friendly, and reliable. What sets Deepin apart from other distributions is its focus on the user experience with features like the Deepin Desktop Environment (DDE). DDE is based on Qt and offers smooth animations and beautiful graphical effects.
It also comes with a number of default applications, such as Deepin Music Player, Deepin Movie Player, Deepin Image Viewer, and more.
Deepin is available in two editions: Desktop Edition and Community Edition. The Desktop Edition is the main edition of Deepin, and it is aimed at regular users. The Community Edition is a slightly stripped-down version of Deepin that is provided for free to the community.
Deepin Linux is a great distribution for both beginners and experienced Linux users. If you are looking for a beautiful and user-friendly Linux distribution, then Deepin is definitely worth checking out.
Official Homepage Screenshot Download
5. Linux Mint Cinnamon
---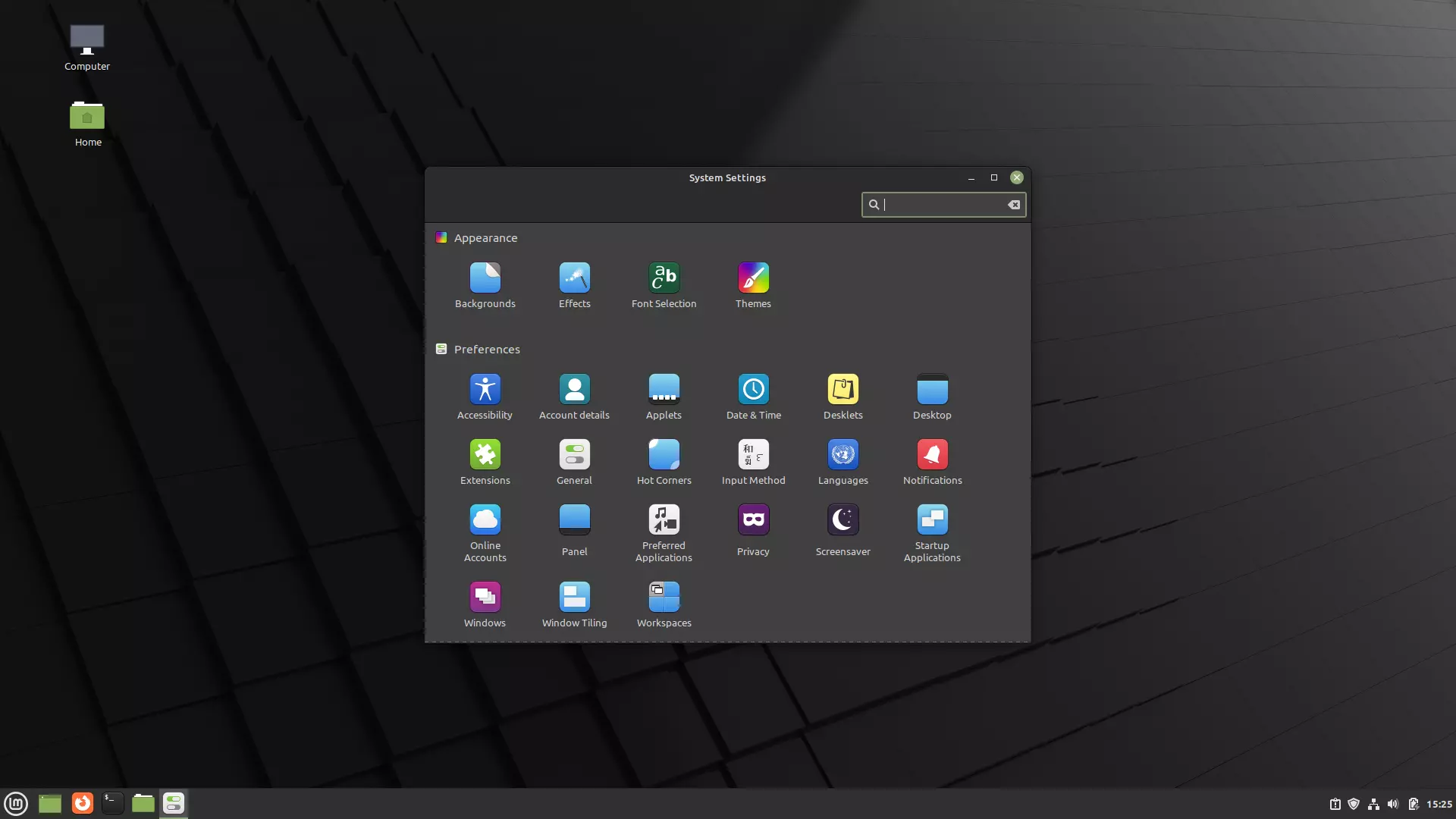 If you're looking for a beautiful Linux distro, look no further than Linux Mint Cinnamon. This is one of the most polished Linux distributions available, and it's based on Ubuntu, so it's pretty easy to use. Mint comes with a lot of pre-installed software, so you don't have to go searching for the things you need. It's also got a great selection of themes and wallpapers.
Linux Mint is a fork of Ubuntu, having 3 variations – Cinnamon, MATE, and Xfce. Its traditional feel and modern interface make it perfect for anyone who wants the best out of a Linux system. And if you have a good computer configuration, go for the cinnamon desktop environment – otherwise, stick with Mate.
Official Homepage Screenshot Download
4. Bodhi Linux
---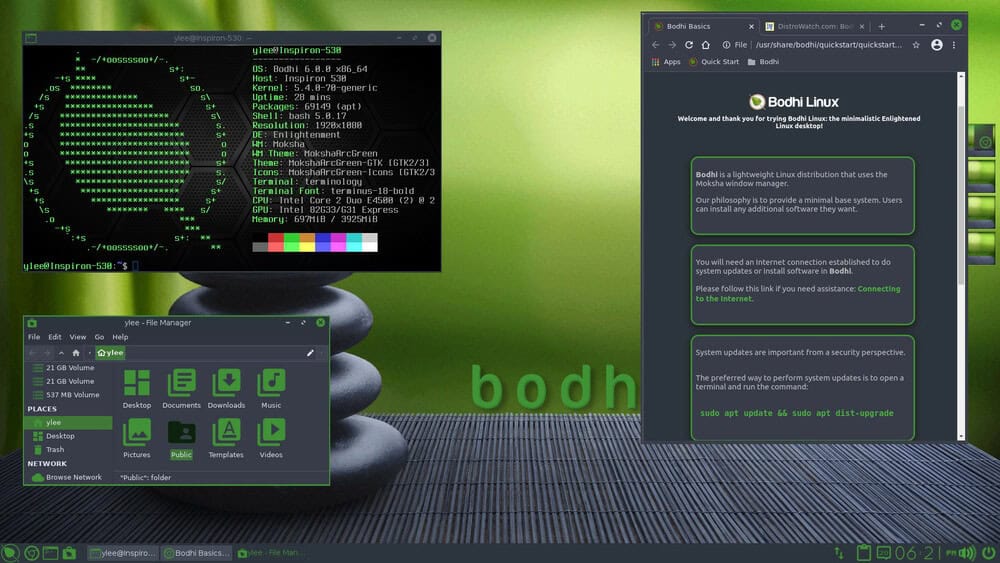 Bodhi is a Ubuntu-based system that uses the Moksha desktop environment based on Enlightenment 17. It has fewer applications pre-installed than most systems, but this doesn't mean it's less usable or flexible. Bodhi is regularly updated and supported, offering a cutting-edge yet stable user experience.
Bodhi Linux uses the Enlightenment Foundation Libraries (EFL), providing a clean and unique interface. It also notably runs well on older machines, partly due to the lightweight set of pre-installed applications, including Midori, Terminology, PCManFM, ePhoto, and ePad.
Bodhi Linux's main distinguishing factor is its modularity, which offers users high levels of customization. You can choose from different editions (including Standard and Legacy), each with varying degrees of programs preinstalled. And if you need more software, Bodhi makes it easy to find and install what you're looking for with the web-based AppCenter, Synaptic, or APT.
Official Homepage Screenshot Download
3. Chrome OS
---
You might be surprised to see Chrome OS on this list, but it's one of the best-designed Linux distros. It comes with a great design, desktop environment, cloud synchronization out of the box, and much more.
Chrome OS is a Linux-based open source operating system that has been designed with users who are mostly online in mind. Its cloud-based design offers its users a simple, fast, and secure computing experience. Moreover, this OS was created by tech giant Google Inc.
Some of the key features of Chrome OS include:
A desktop environment that is optimized for web applications.
Integrated support for cloud services such as Google Drive and Docs.
Automatic update system that keeps your system up-to-date with the latest security fixes.
A simple yet powerful set of tools for managing your files and applications.
If you are looking for a Linux distro that is simple, fast, and secure, then Chrome OS might be the right choice for you.
2. Solus OS
---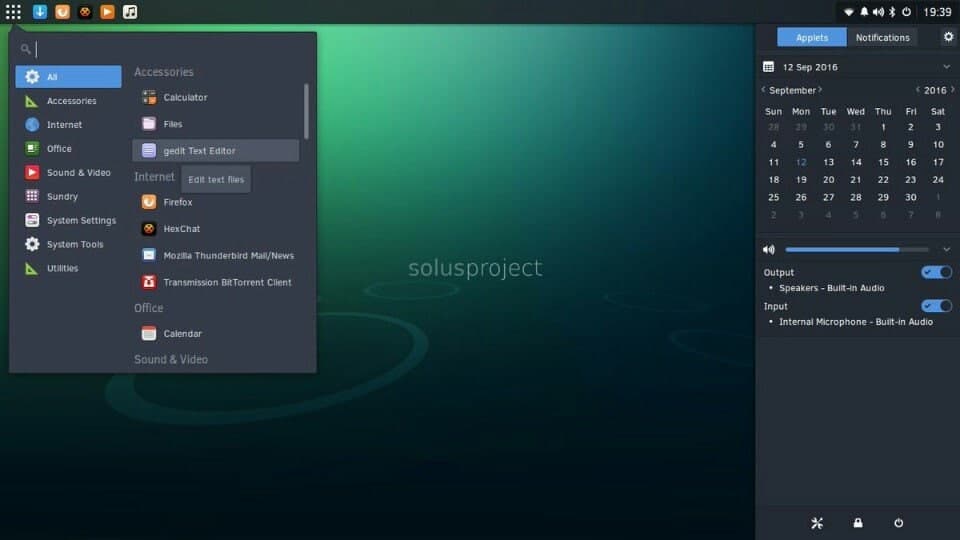 Among the good-looking Linux distributions with minimalistic interfaces, Solus OS is one of them. This new distro features a Budgie desktop environment designed from scratch to complement Gnome. While most other popular Linux distros are based on Ubuntu or Debian, Solus OS is different in that it has been made completely from scratch. As such, it sports the same clean and minimalistic interface as Google's Chrome OS.
If you're looking for a fast and lightweight Linux distribution, then Solus OS is definitely worth checking out. The developers have done an excellent job in making sure that the system is as simple and streamlined as possible.
Official Homepage Screenshot Download
1. Elementary OS
---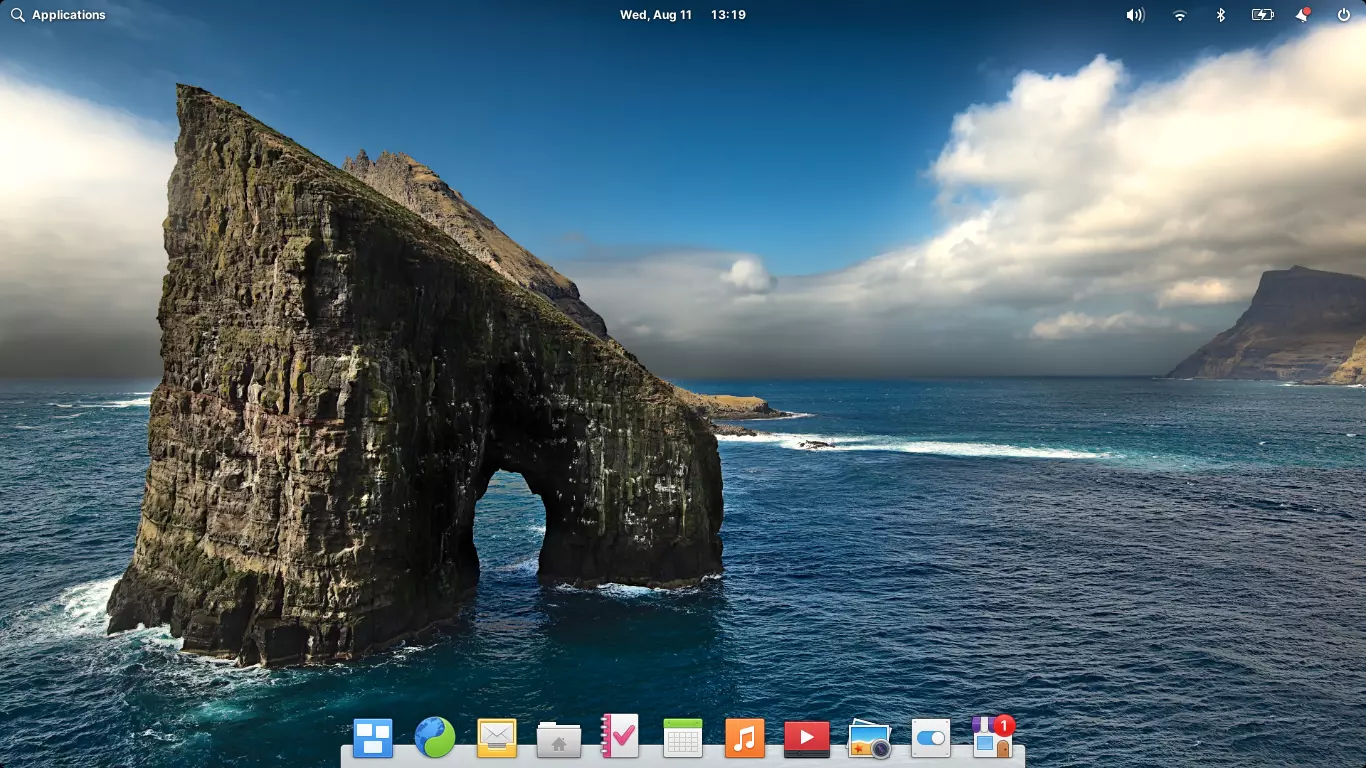 Elementary OS was named the most attractive Linux Distro, and it's not hard to see why. It has the beauty and carefully designed appearance of both Windows and Mac OS. Furthermore, you can read on the official website that it is "A fast and open replacement for Windows and macOS." Elementary OS is an Ubuntu LTS-based open source operating system that uses the Pantheon desktop environment.
Elementary OS is perfect for those seeking a Clean and sharp UI, beautiful wallpapers and icons, and stable performance based on Ubuntu LTS, which is regularly updated and well-documented.
Official Homepage Screenshot Download
Finally, Insights!
---
Finally, we've reached the end of our article on the best-looking Linux distros. These 8 distros are Linux stand-outs, each with its own unique style that continues to appeal to users. If you're looking for a visually appealing operating system, any one of these would be a great choice.
We would like to know your opinion. Which among the above-listed distributions is your favorite? We will also love to hear if you have any other recommendations. Do let us know in the comments section below. Also, don't forget to share this article with your friends and followers.