Whether you are a student or an office job holder, you must deal with different projects. And exposing your presentation is one of the most common tasks of any project. Especially for university students, lots of their marks depend on their presentation. And a big part of your performance depends on how you are making the slide presentation. Once you have a great topic and a bucket full of information, you can rely on the best presentation-making apps for your Android and iOS devices.
Best Presentation-making Apps to Help Make Something Great
---
Most people make their presentations on Microsoft Powerpoint using their PC. But often we don't have a PC or just don't have time to use it. Making presentations has become easier just by your smartphone with the best apps for students and jobholders. And we have already tried tons of apps that help make presentations. And the following ten apps we found to be the most useful in this case.
1. Keynote
---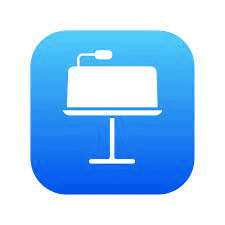 If you just have your iPhone to make your next presentation, Keynote may be the best app to help you. In fact, it is one of the best presentation-making apps on the list. Also, it lets you use your Apple Pencil to highlight any section during the live presentation. Moreover, you will get multiple animations and graphs and even use them on the slides. Furthermore, there will be object animations and magic move effects. And you can enjoy the live-on canvas preview of your animated slides.
Important Features
There are more than 40 apple designed themes, and you can simply start with the text outline.

A whole bunch of people can work together on one presentation at a time.

A slide navigator will initially help for a quick skim but won't add new or reorder the slide.

It indeed lets you add photos and videos from 700 editable shapes.

You can also remove images from backgrounds using instant alpha.
Pros: It automatically saves your presentation, and you can store it in iCloud or a box. In addition, it lets you export the presentation in PDF, image files, HTML, PowerPoint, or movies.
Cons: You won't find any rotation feature in it.
2. Microsoft PowerPoint: Slideshows and presentations
---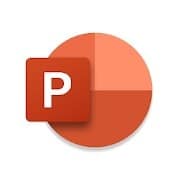 Next, it is Microsoft PowerPoint, one of the most popular presentation-making apps. It works great to create, edit, and present, and you can even share presentations directly from your device. In fact, there will be a full-on presentation section, and you will find a lot of themes there. And Once you choose the templates and themes, you can just paste your data. Moreover, it will help you with real-time suggestions while you practice your presentation. In addition, you can get a quick view of your recent editing files from your device.
Important Features
You can easily sync the presentation into OneDrive, and start and edit it on your device.

It has highly customizable options such as illustrations, graphics, shapes, etc.

The application lets you share the presentation via email with others.

It indeed allows you to invite others, and they can edit, view, and give suggestions on your slides.

You can make a PDF file for your presentation with this app.
Pros: This app lets you save the presentation in multiple formats or as a video. Furthermore, it enables you to set the time and transitions for each slide that will be displayed.
3. FlowVella Presentation App
---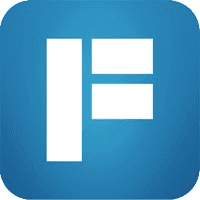 You can also try FlowVella Presentation App, which gets you quick access to your recent files, and you can present it to anyone, anywhere. Besides, it is designed in such a way that you can practice your presentation, and it will help with real-time suggestions. No wonder you can create and edit the slide with highly customizable options, and you can make it to different formats as well. Also, it lets you add pictures on each slide to create a more optimistic view of it.
Important Features
There are more than 25 unique and professionally designed presentation templates, and you can pick the suitable one for the presentation.

It will ensure you instant access to any cloud source, including Dropbox, Creative Cloud, Google Drive, Adobe Market, Instagram, Facebook, etc.

You will get a presenter view option with speaker notes. Indeed, the audience won't see the notes.

You can easily share and collaborate your presentation with others on social media.

With your invitation, others can edit, create or add pictures to the slide.
Pros: There will be different fonts and colors, and you can even save any slide. Moreover, you can save it on cloud storage or simply sync it to OneDrive.
Cons: It's not a completely free app though you can enjoy making ten slides as trials.
4. Canva: Design, Photo & Video
---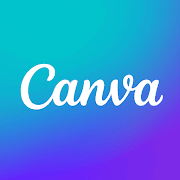 Canva is not just a mere presentation-making app, and you can do graphic design, create posters, PPT presentations, etc., on it. Moreover, its full-on presentation section will get you a large number of presentation templates, and you can pick any theme that matches your slide. Furthermore, you can put animated text stickers or transition effects on the slide. Besides, it has a logo marker option, and you can create a watermark and logo design for a brand or business.
Important Features
There are more than 500 fonts, and you can use glitch, effect, curved, or neon text styles.

It initially allows you to save videos as GIFs for social media usage.

You can simply cut out product pictures for online shops or collages.

The audio track system will help you to add music to the video in your slide.

You can also put effects on the font or cut out photos using background remover.
Pros: It will help you with YouTube intro maker, podcast, motivational quotes creator, etc. Additionally, you can resize any image or poster banner with a single tap.
Cons: The app doesn't work offline.
5. Google Slides
---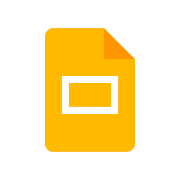 Most of the time, we have to make our presentation on slides. And when it is about slides, nothing can beat Google Slides anyway. This powerful app from the tech giant Google is so far the second most popular solution for creating stunning presentations for all purposes.
The best part of this app is that it lets you make any presentation almost effortlessly. Apparently, it would be a clever selection if you make presentation slides at the eleventh hour. Moreover, both iPhone and Android users can use it for free.
Important Features
You can collaborate with your friend or co-workers on a presentation. Apparently, it makes creating group presentations more hassle-free and fun.

With this app, you can make or modify presentations offline.

This incredible app lets you present your presentation slides from your smartphone over the internet.

It automatically saves the presentation progress whenever it gets an internet connection.

The persons who are linked with your presentation can mark any spot on the slide and comment on it.

This app features "smart suggestions," which let you create attractive slides almost instantly.
Pros: You can modify files from other presentation maker software like PowerPoint. Besides, you can continue your left presentation-making from other devices that are linked with your Gmail.
Cons: It has relatively fewer creative capabilities and templates than some alternatives.
iPhone Android
6. Haiku Deck
---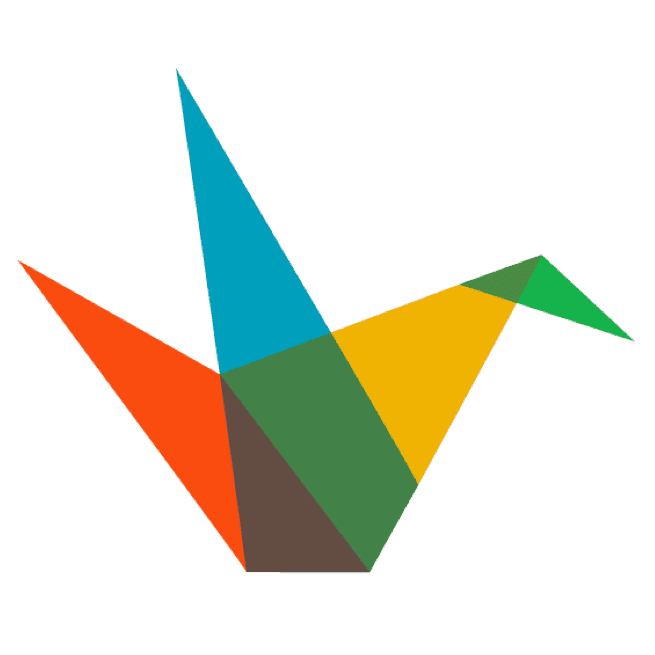 Haiku Deck could be an excellent choice for making presentations if you own iDevices. Its unique style workplace and user-friendly interface let you make excellent presentation slides in no time. Since this is an online-based presentation-making app, it won't pile up unnecessary files on your device.
This app decreases pressure on the device's CPU while working. Apparently, it gives you a lag-free experience even while making a presentation in a hurry. The only thing you will need is a stable internet connection.
Important Features
You won't lose your progress on a sudden internet cut with this app.

There are more than 40 million stock image features in this app. Apparently, these let you create unique and mind booging presentation slides.

All the features of the app are at one interface and pretty easy to reach.

This helpful app lets you share your presentation directly from the app.

It can automatically align text and spacing. Thdoesn'ture eventually makes presentation-making much easy and hassle-free for everyone.

You can simply collaborate with you friends or co-worker to make a stunning presentation.
Pros: It lets you search images for your side, which makes this app very favorable. In addition, you can connect with various social media to grab pictures for your presentation slides.
Cons: It doesn't let you choose the designs for your slides.
7. Zoho Show
---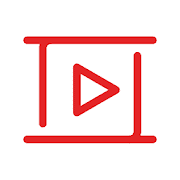 We have another handy app that helps you make presentations quite easily. With Zoho Show, making a presentation is super simple. Generally, it offers detailed and thoughtful templates, which are great for big project presentations.
It is so easy that you can simply paste your text and add a favorite template to make a standard presentation. Plus, it has a handy workspace where most of the features are right beside your fingertip. You can also collaborate with your co-workers to modify the same presentation together.
Important Features
It initially features tons of standard and professional templates and charts. Plus, the developers add the latest templates and other items quite frequently.

You can simply add logos for your slides. Apparently, it will automatically be added to the rest slides of the presentation.

This incredible app lets you insert videos from YouTube and Dailymotion directly.

There are more than 30 transition effects and 45 animations on this app.

You can also open and modify PowerPoint files through it.

This app is compatible with Android wearables and Apple watchOS. Eventually, you can navigate the slides with a smartwatch.
Pros: Your projects are automatically saved in cloud storage so that you won't lose them ever. Moreover, it lets you keep your presentation as a PDF or video.
8. Remote for PowerPoint Keynote
---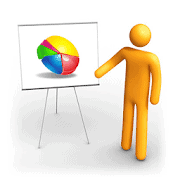 If you are already using the most popular presentation-making apps, Microsoft PowerPoint and Apple Keynote, anyway, I can recommend a tool to handle those apps. As per its name, Remote for PowerPoint Keynote is a remote app to manage those two valuable apps. This app simply lets you control your slides with your Android or Apple smartphone while presenting. Moreover, it is a lightweight app and works lag-free, so you won't have to get embarrassed at all while presenting. 
Important Features
It can connect through both Wi-Fi and Bluetooth. Apparently, the Wi-Fi connection works faster than Bluetooth.

If you want, you can see the presentation preview on your smartphone.

This amusing app features a laser pointer and annotation that are helpful in many ways, especially for teaching purposes.

It also supports video and audio files for your slides.

You can simply convert the texts to many other languages immediately.
Pros: This app also lets you connect using barcode scanning. Moreover, it supports animation and notes.
Cons: The design looks quite outdated.
iPhone Android
9. SlideShare
---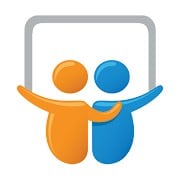 SlideShare by Scribd, Inc. is a presentation-sharing app rather than the one to make it. This is great for people who want ready presentations on their expected topics. Another great usage of SlideShare is using it for learning. From its enormous collection, you can select the topic of your interest and read informative slides on that topic.
Moreover, the animations and translations of the presentations are beautiful and standard for any scenario. You can also share your presentations with others directly from SlideShare.
Important Features
Searching and finding presentation slides are hassle-free on this app. Apparently, all slides are sorted by themes and topics.

You can simply comment on any presentation through it.

It has one of the world's largest collections of presentation files, with over 15 million presentation files.

This incredible app also lets you follow famous companies who share their expertise on SlideShare.

You are allowed to save your files in favorites. It also lets you download and see slides offline.
Pros: It lets you limit the number of audiences who can see your slides. Besides, this incredible app is available for both Android and Apple devices.
Cons: You can't create a slide with it.
10. Prezi Viewer
---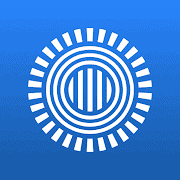 Prezi Viewer is undoubtedly one of the most powerful yet user-friendly presentation-making apps, without any doubt. And it is the final option I will suggest today. With this app, you can view, edit, or show your presentation slide, no matter what purpose you have. It features a good amount of templates, backgrounds, shapes, and others for your presentation slides.
Moreover, it lets you add video and audio files to your presentation. Applying and modifying transactions and animations are pretty effortless.
Important Features
This incredible app lets you collaborate with others to make a presentation together. Apparently, they can comment on their suggestions too.

You can simply make slides in more than 10 different languages through Prezi.

With this app, you can connect to any big screen via Bluetooth and present your slides through it.

It indeed lets you zoom in on your slides. Eventually, it is a great feature to present graphs and tables clearly.

You can also share your project with others via email or social media links.
Pros: It will give you access to your presentation project even if you are offline. Besides, you can save your presentation as PDF or Video files too.
Cons: It may need an internet connection to use various features of it.
FAQ
---
Q: What is the best presentation-making app?
A: Microsoft Powerpoint and Google Slide are the best presentation-making apps. These apps are available for Android and iPhone users, making things easier while preparing your next presentation. Eventually, they are free to use, and you can make different presentations on your device.
You can also try Keynote for iPhone and Prezi Viewer for both. This presentation-making software also provides the best tools for that as well. But if you want an app to share slides, then you better try SlideShare.
It is also essential to inform you that SlideShare only allows you to share slides, not make them. So, to have complete help dealing with your presentations just with your smart device, you should have a few apps to use their different functions.
Q: Can I use Microsoft Powerpoint on my smartphone to make presentations?
A: Yes, you can use Microsoft Powerpoint on your smartphone to make presentations. Almost all the tools you can use on your PC to prepare your presentation are available here. Indeed it's a free app and available for both Android and iOS devices.
Q: Is Canva better than PowerPoint?
A: Because of having lots of advanced features, Canva is considered to be better than Powerpoint. Also, Canva comes with a more sophisticated design and user interface. While Canva makes using tools user, even on your Android device, Microsoft PowerPoint has many complications. So, Canva is better than PowerPoint.
Q: Can you convert PowerPoint to Google Slides?
A: Yes, you can simply convert PowerPoint to Google Slides. Indeed, the process is very easy and takes a few minutes only. Well, first, you need to open the PowerPoint file on your Google Drive, and next, you have to save the file there.
After that, just open your Google Slide, import the file from Google Drive, and simply do the customizations you need. In the same way, you can also import a file from Google Slide to Drive and then to PowerPoint.
Finally, Insights
---
So, to make your presentations attractive and successful, you can completely depend on your smartphone. Just pick up the best presentation-making apps for your device and complete them. If you find it working perfectly, just leave a comment about your experience of using it. New viewers will get help choosing the best one for them. Also, share this content with your friends, classmates, and colleagues who often need to prepare presentations. Thank you for your time and support.