If you are here searching for the Microsoft Edge themes, then I am sure you will get some gems in this list. The original version of Microsoft Edge didn't support additional themes apart from the default dark or light theme built-in. But many of you might know that Microsoft Edge is currently powered by the Chromium engine, which is why you will be able to use some great themes just like you could do with Google Chrome.
Chromium-based Microsoft Edge and Support For Chrome Themes
---
Let me talk about some history before we go to our themes list. Microsoft Edge is the replacement for the classic Internet Explorer on Microsoft Windows and other devices. But the original Microsoft Edge had the same old rendering engine that was used in the Internet Explorer. So, you should understand why people hated the original edge. It seemed quite incompetent in front of Google Chrome and even Mozilla Firefox.
But, thanks to the awesome developer team of Microsoft, they finally listened to the user feedback and revamped the Microsoft Edge browser from scratch. This time they have used Google's open-source Chromium engine at the core. That's the same thing that is powering up Google Chrome which is considered the most powerful desktop browser.
So, it is obvious that the brand new Microsoft Edge will serve the users better with powerful Chromium Engine and the innovative design from Microsoft developers. And, still, now Microsoft Edge is doing well, and they have already rolled out the new edition to all the users. Even some people are switching to Microsoft Edge from Google Chrome because of some extra features of Edge.
Although Microsoft Edge has official support for themes, the problem is that the Edge extensions library doesn't have many themes yet. But it's growing slowly. However, the most interesting fact is that you can install themes directly from the Chrome Web Store with guaranteed compatibility being a Chromium-based browser. And, Chrome Web Store is an ocean of Microsoft Edge themes.
Best Microsoft Edge Themes
---
As a full-time tech blogger myself, I have to stay a lot of time in front of my browser. And, after the launch of the Chromium-based Microsoft Edge, I am in love with this. If you are familiar with me, then you might have already known that I am customization savvy. So, applying new themes to my Edge browser has become a habit, you can say.
But as I said earlier, Microsoft Edge supports sideloading themes, so you are getting a lot of themes compatible with it. So, it's difficult to find out the most beautiful themes. But here, I have done some homework and decided to present you all an ultimate list of the best themes for Microsoft Edge that you should try out.
1. Just Black
---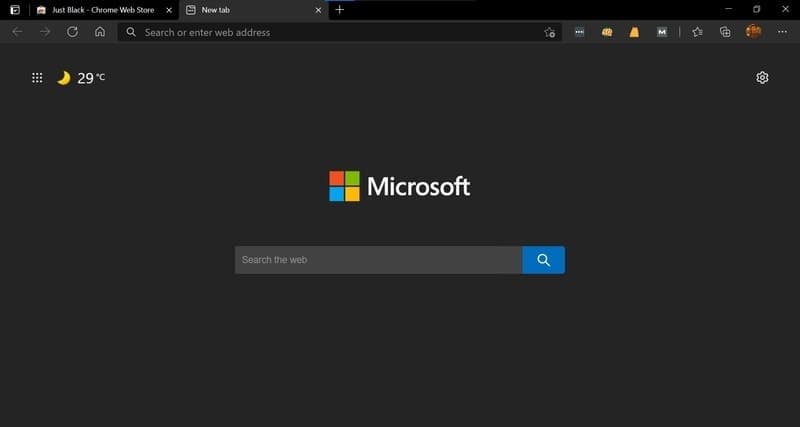 Just Black is a solid and minimal theme from Google. This is an official theme built for Google Chrome, but you can use it with Microsoft Edge. As you can see from the name, this one will make your Microsoft Edge completely dark. The difference with the default dark mode of Microsoft Edge is that Just Black will make your browser pitch black which will make you more comfortable at midnight.
2. High Contrast Colorful
---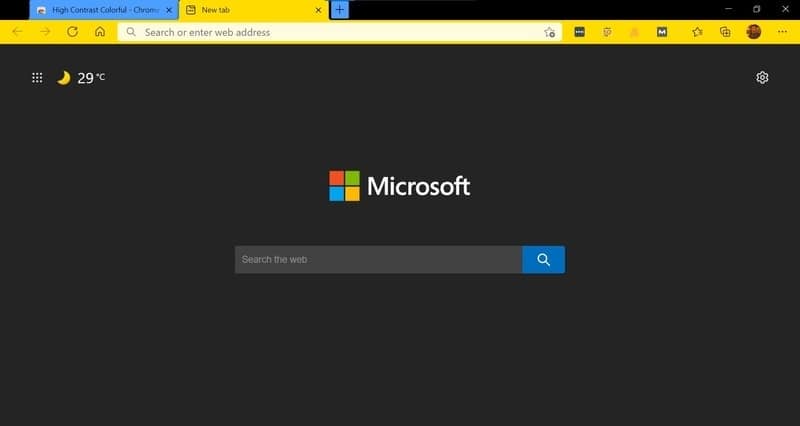 This one is also from the developer team of Google Chrome. Normally the high contrast themes are monochrome with black and white accents. But this one took a different approach and made the whole high-contrasty this colorful and vibrant. It has used pitch black, bright blue, and light yellow colors, and the theme looks gorgeous. The tabs are always highlighted, and this is a great advantage too.
3. Halo
---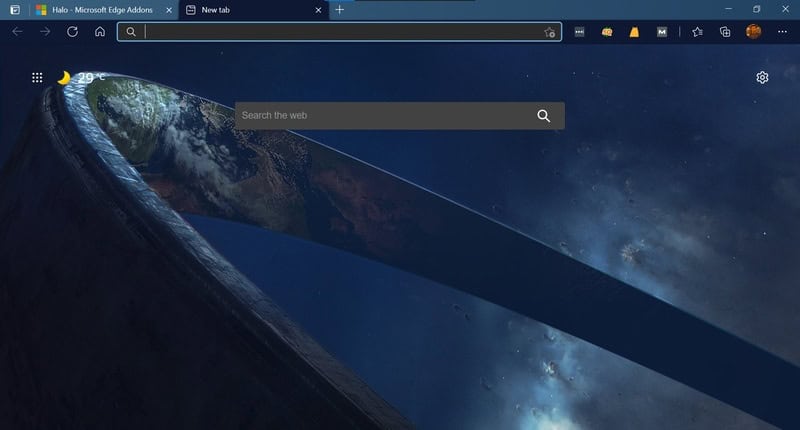 Halo is currently one of the most popular themes in the Microsoft Edge Addons Store. This one is developed by Microsoft itself, and they have used their popular game title Halo for inspiration. It features a navy-blue title bar with a beautiful Halo-inspired wallpaper. Overall this theme looks dope, and it has that nerdy vibe into it.
4. Microsoft Flight Simulator – Twilight Vista
---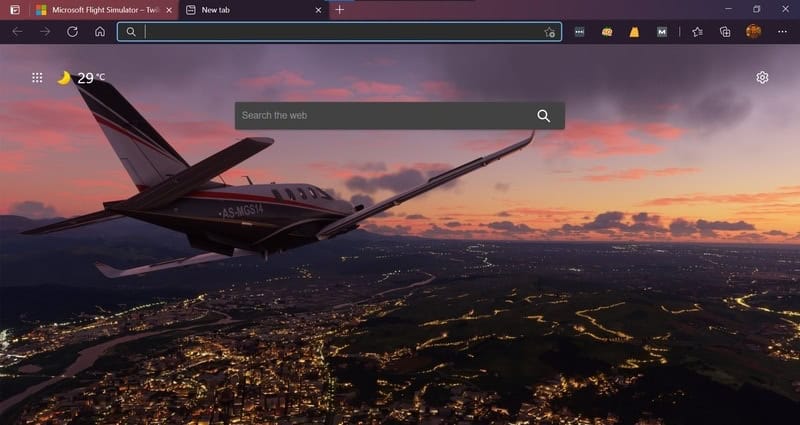 This is yet another theme exclusively available at the Edge Addons Store. This is also designed by Microsoft based on their popular game franchise Microsoft Flight Simulator. If you love this game and have an interest in aviation, this is a great choice. The maroon color scheme of the title bar with gradient effect will surely remind you of the twilight. And, the matching wallpaper with a beautiful plane – it's fantastic.
5. A Passion
---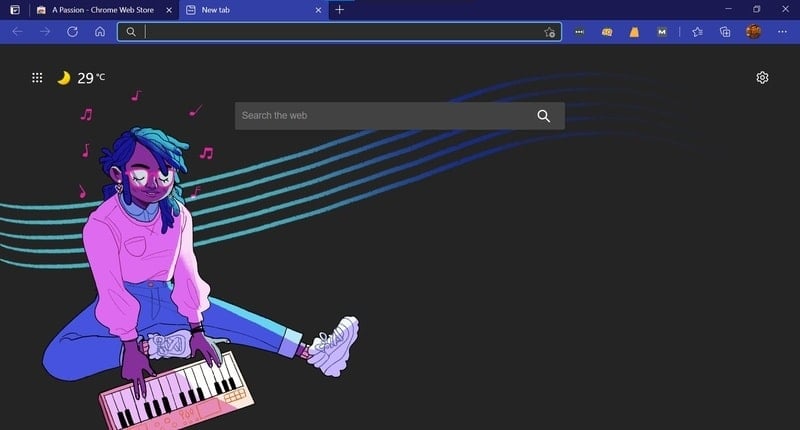 A Passion is a Microsoft Edge theme designed by a digital artist named Abelle Hayford. This motif of this theme was the passion inside a creative artist. The title bar of the theme is blue with a glowing effect. There is also a beautiful start page wallpaper that comes preloaded with the theme. I loved this theme at first sight, and this is one of my most favorite themes out there.
6. Pink Triangles
---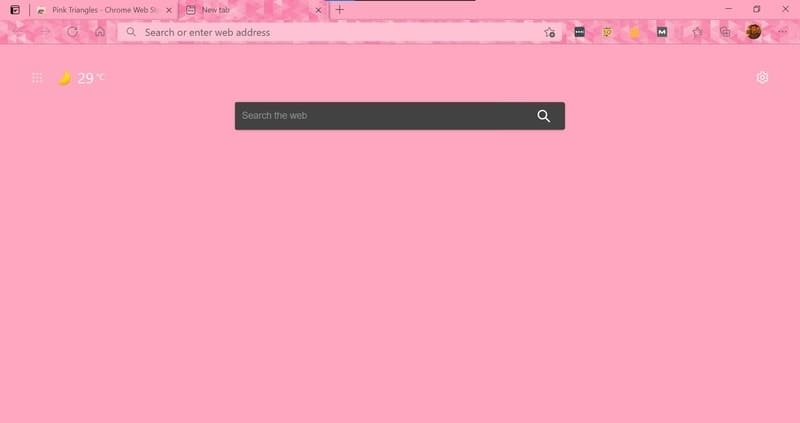 This is a beautiful theme for the Microsoft Edge browser. This theme is all pink with little triangle-like textures. There is a feminine vibe in this theme, and I am sure the girls will fall for this theme. Some people might not like it because of the bright pink color, which is too contrasty. But I found this one quite gorgeous, and it matches nicely with my current desktop setup.
7. Pro Grey
---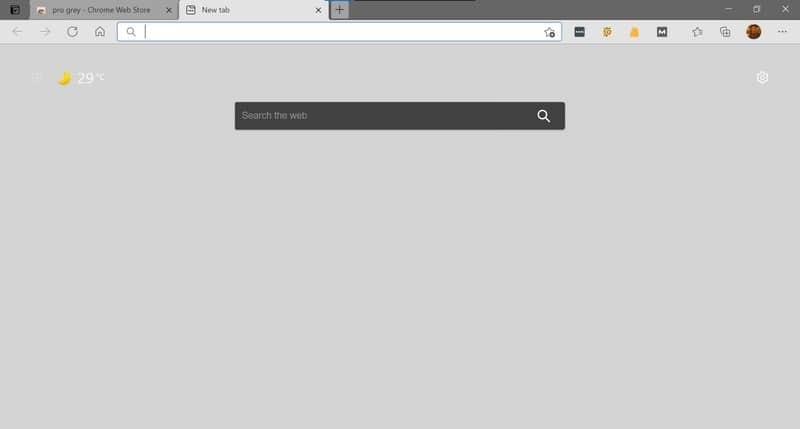 If you are neither in the dark mode squad nor in the light mode squad, then this is the perfect theme for your Microsoft Edge Browser. This is a middle ground between all the blackish and whiteish themes. Besides, the color scheme of this theme looks minimal and clean. It is very comfortable to the eyes, and you won't regret it after installing.
8. Iron Man – Material Design
---
The list will remain incomplete without a superhero theme. About Iron Man, who doesn't love him? No matter whether you are a Marvel fan or a DC freak, this Iron man theme will make your Microsoft Edge browser look classy and elegant. The start page background of this Microsoft Edge theme is beautifully crafted, and the title bar nicely blends with the wallpaper. I also liked the washed-out color scheme of the inactive tabs.
9. Blue Green Cubes
---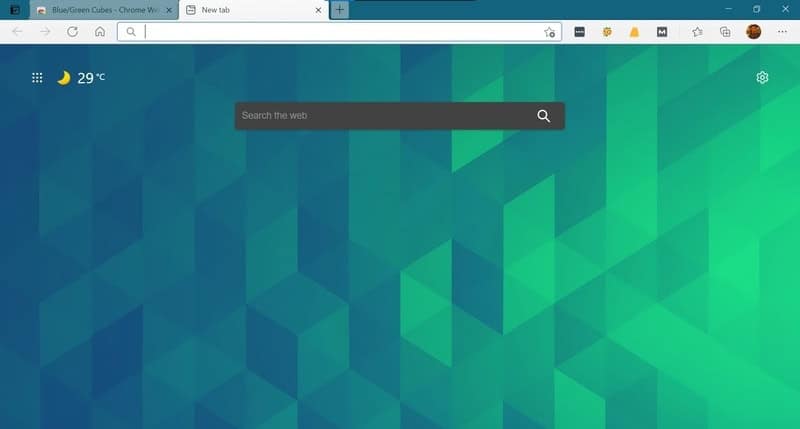 This is a refreshing theme developed for Chromium-based browsers. The green color is always soothing, and it feels great to the eyes. On the other hand, blue has a cool tone which will bring an elegant vibe. So, when these two blend together, you get this amazing theme. The built-in wallpaper of this theme has geometric patterns that resemble cubes. Overall, the color palette matches well with the Microsoft Edge logo.
10. Retro Robots
---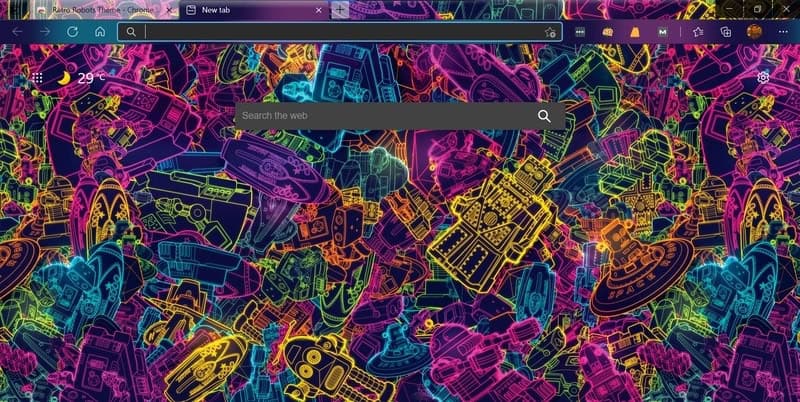 Retro Robots is a colorful theme with beautiful start page background. The background features a retro illustration of robots. If you are a robot-geek, then I am sure that you are going to love this theme. The title bar has a lot of gradients and glowing effects. The color choice of the designer amazed me most. Although most of the time I lean towards minimal themes, this has become my new favorite.
How To Install Themes on Microsoft Edge
---
Installing themes on Microsoft edge is quite easy. As you already know, the new Chromium-based Microsoft Edge offers much flexibility, and you can install themes from various sources. Even sideloading themes from third-party websites is also possible. But I will definitely ask you not to do so because that might compromise the security of your browser.
The official source for downloading and installing Microsoft Edge themes is the Microsoft Edge Addons Store. The library is still in its beta stage, and there aren't that many themes as of now. So, another safe source of themes is Google's Chrome Web Store. Here you will find a bunch of themes to install.
To install themes on your Microsoft Edge, first, go to the browser settings page and then go to the Appearance section. Here you will see the Microsoft Edge Add-ons Store and other stores options. The first option will take you to the official Edge Add-ons Store, while the second option will take you to the Chrome Web Store. After accessing your desired store, you will see a lot of themes listed there. From here, you can download and install the themes.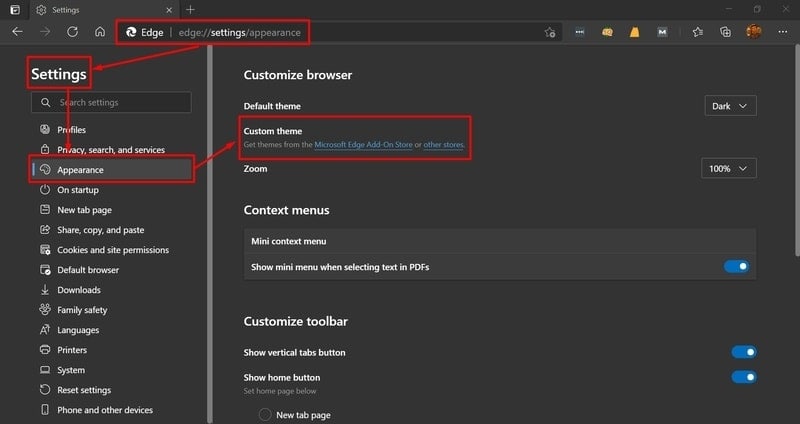 Edge Add-ons Store: From here, you have to click on the Get button beside your desired theme. It will download the theme. Then you will see a pop-up, and you have to click Add button to get the theme installed.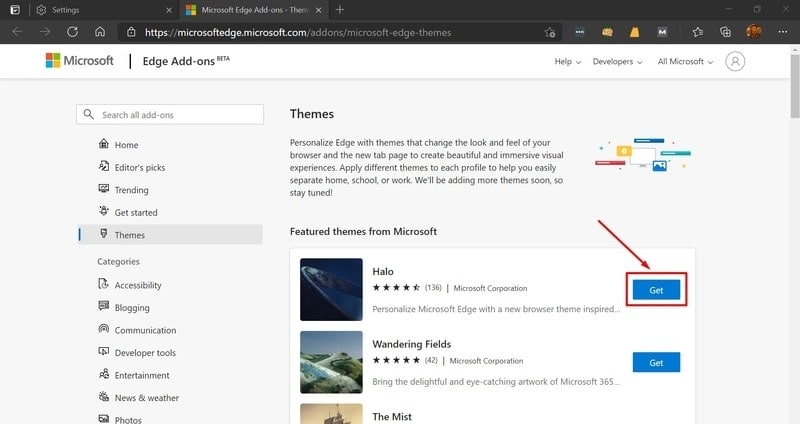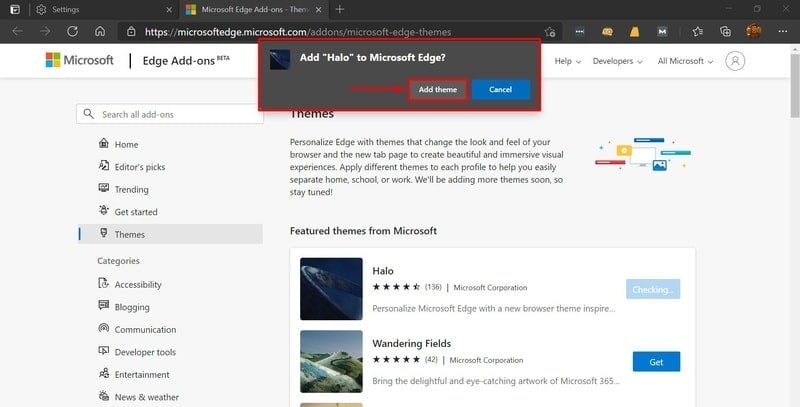 Chrome Web Store: In the Chrome Web Store themes section, you have to click on your desired theme first. It will open the preview page of the theme. You have to click on the Add to Chrome button to download and install the theme directly on your Microsoft Edge Browser.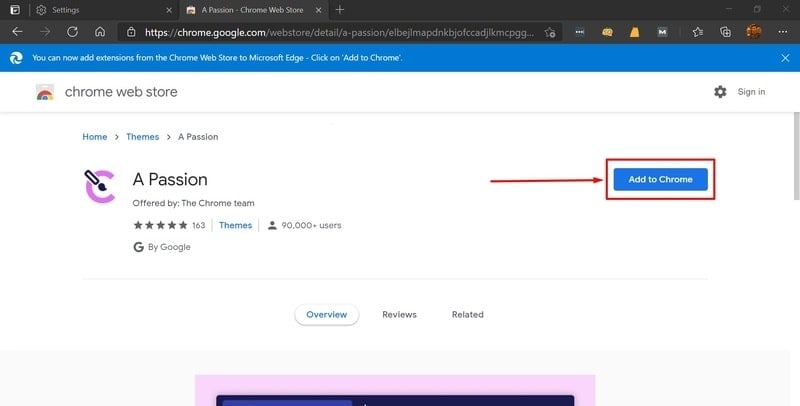 Final Thoughts
---
Browser themes are small in size, and their functionality is limited. But it can surely enhance your browsing experience. I hope this list of my favorite Microsoft edge themes will help you choose your desired theme for customizing your browser. Don't forget to share this article with your friends. It will definitely motivate us to create great content, as always. Happy browsing!