If you are looking for the best Windows dark themes, then you are in the right place. Dark themes have become a new trend nowadays. Although, there are some benefits of using dark themes. For example, dark mode is comfortable for our eyes in the low light situation. Besides, the dark desktop setup looks aesthetically pleasing, and many people like it.
The default Windows dark mode that comes preloaded with Windows 10 can be toggled right from the personalization option in the Settings app. However, it looks pretty simple, and you will see only one dark black background. So, if you want to spice up your dark mode, some third-party skins can be the savior.
Best Windows Dark Themes
---
The Windows system doesn't support third-party dark themes directly. Of course, you can install some from the Microsoft Store, but those are only wallpaper themes. Fortunately, a lot of designers are designing third-party dark skins for Windows that can be applied by patching your system.
This is a risky process but totally worth it to beautify your desktop. Since those themes are hard to find here, I am presenting you with a list of my favorite dark themes for Windows systems.
1. Dark Graphite
---
Dark Graphite is a beautiful dark theme package for Windows 10. It includes a matte black background and some grey icons. The overall look and feel are very minimalistic and neat. The red accent and the colorful window buttons made this gorgeous. If you are looking for something clutter-free yet eye-soothing, then this is the best option.
2. xTheme
---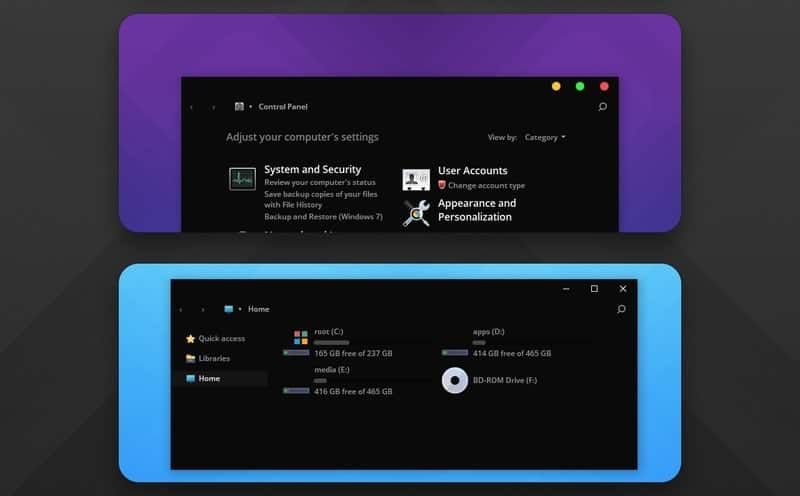 xTheme is a modern Mac-inspired dark theme for your desktop. The background of this theme is pitch black that looks similar to the default dark mode of Windows. Besides, the icons for file managers and the control panel are colorful and gorgeous. The designer followed the material design language while creating the icons and the UI elements, and the whole UI is quite polished.
3. Gruvy
---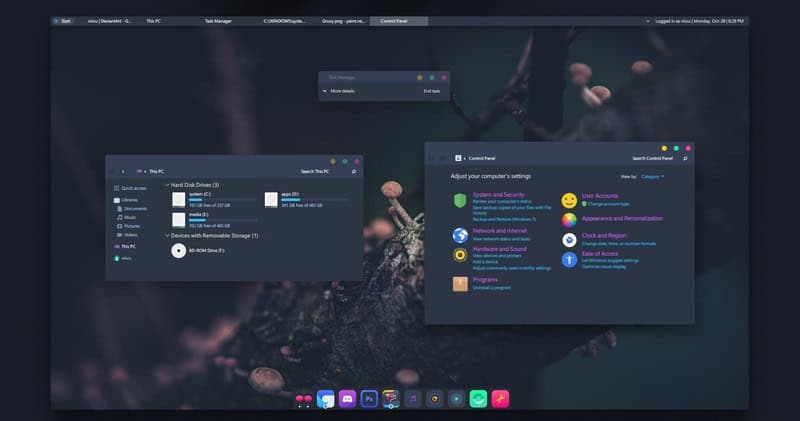 This theme is my personal favorite. This is because of the elegant and clean look of this theme. The icons are beautifully crafted too. The background is not completely dark in this theme. Rather it has a purple tint, and it has made the theme look even more beautiful. If you apply it with an app dock, it will look like macOS. This is because the window buttons are also designed in a Mac-way.
4. ADT
---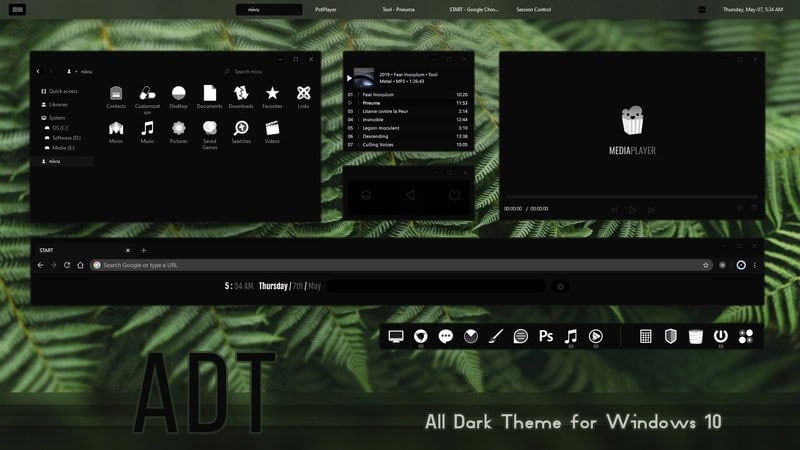 ADT is the acronym for "All Dark Theme". This is really a true dark theme for Windows. From the icons to the UI elements, everything is monochromatic here. The icons are pure white, while the background is pitch black. So, you can say this is a high-contrast theme. Some people might not be comfortable with this type of minimalist theme. But the people seeking productivity will surely like this theme.
5. Bouquet
---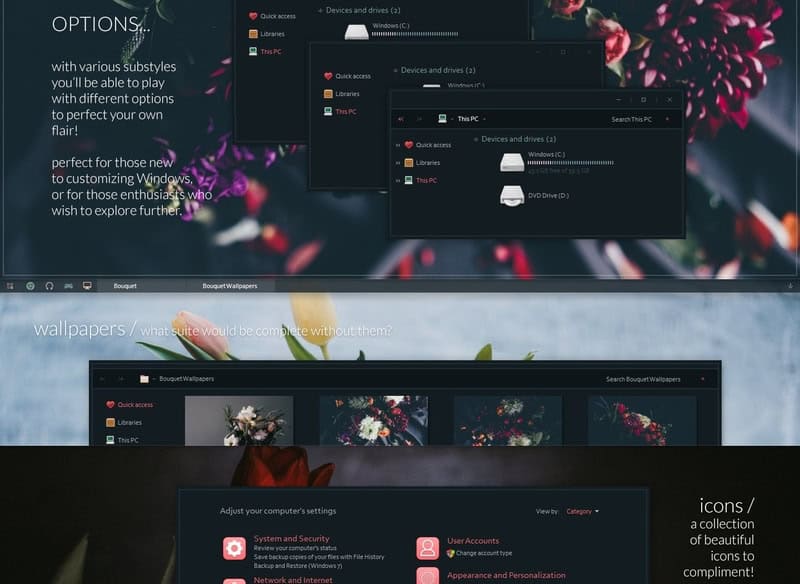 Bouquet is a flower-themed skin for Windows 10. This dark theme has a pink accent which looks gorgeous. The icons are cartoonish in terms of appearance, but they add up to the overall beauty. Various substyles come bundled with the theme, so you can play with them to get the best possible look. I would rather say that this is the most customizable dark theme out there for aesthetic people.
6. Goon
---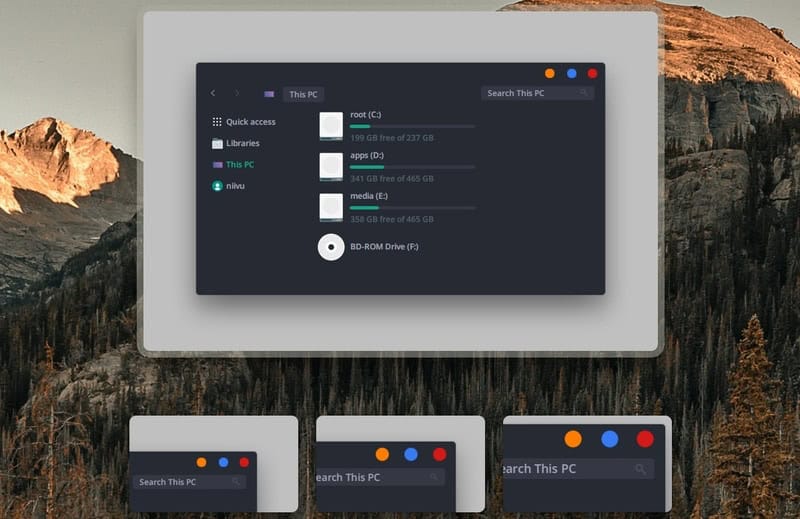 Unlike the name, Goon is a cute and beautiful dark theme available on the internet. This is originally a fork of the popular theme Dragon X. However, it has brought some improvements and added the caption button from another theme Flat Remix. So, combined with all these things, Goon has become quite a popular theme. The green and purple accent color has increased the beauty to a great extent.
7. Dark Theme
---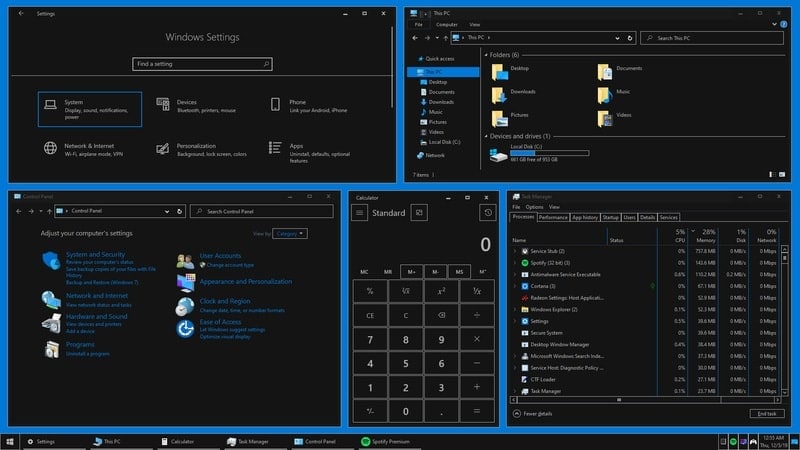 I don't know why the developer used a generic name for this beautifully crafted theme. This is a true dark theme, and at first glance, I didn't find much difference between this and the default dark mode. But after exploring a bit, I found out that this is quite a powerful theme. Unlike most other themes, this can skin both UWP and x86 apps which is an amazing feature. Besides, the high-contrast color palette will be helpful for many users.
8. Windows 20 Dark
---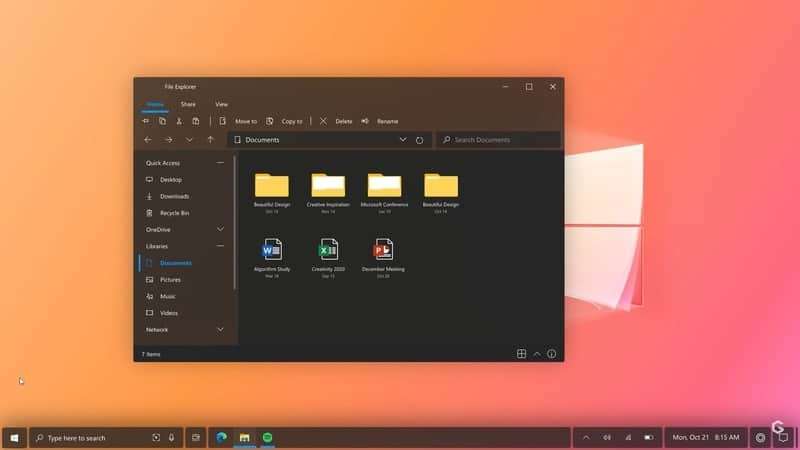 This dark theme is inspired by the fan-made concepts of the Windows 20 operating system as we all know that it is very unlikely that Microsoft will ever bring something named Windows 20. However, I liked the fact how the designer implemented a semi-transparency and fluent design into this theme. The theme author has also replaced the file explorer and system icons with a modern set of icons which is quite appreciable.
9. MacOS Big Sur Dark
---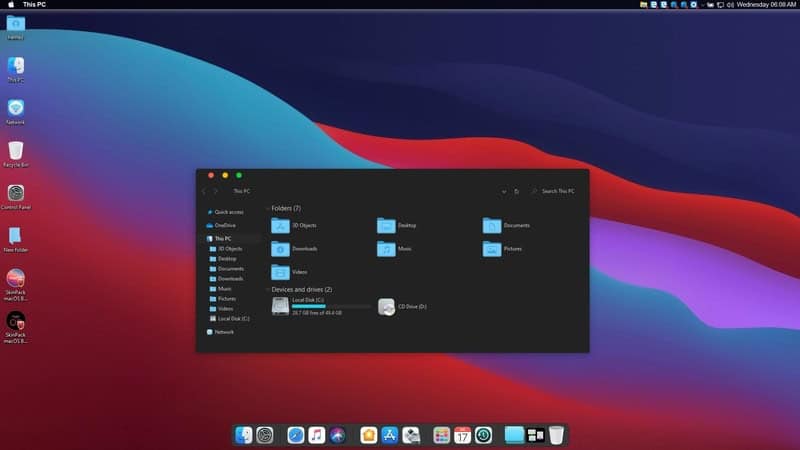 If you want to make your Windows desktop looks like MacOS, then this is the best pick. It is the dark version, and you will also get Mac-styled icons with this theme. Although the Window buttons look like those on Mac, you won't get the app dock. In that case, you have to install a third-party tool to bring the app dock, and your desktop will turn into an Apple computer in terms of appearance.
10. Matte
---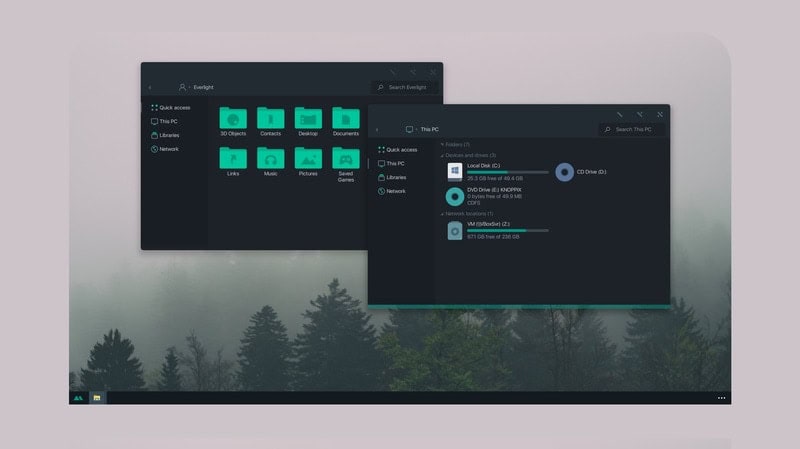 Matte is a complete package of customization for Windows 10. It includes the skin, accent color, icons, and some other tweaks. This dark theme is inspired by Dragon X and Harbor UI themes. As the name suggests, the background, icons, and other UI elements used a matte color palette. So, icons have a greenish accent which blends nicely with the dark appearance of the theme. Overall, it looks simple yet elegant.
How To Apply Dark Theme To Windows 10
---
Applying these third-party dark themes to your system is a risky process. Since it requires patching your system files, I would highly recommend you to backup the current state of your PC to stay on the safer side. Still, if anything goes wrong, we won't take any kind of responsibility for that. So, do this at your own risk.
To install the above-mentioned themes, there is easy-to-use software available out there. The name of the tool is UltraUXThemePatcher which can be downloaded from this link. Always install the latest version and read the instructions carefully before proceeding. Also, double-check whether your version of Windows is compatible with this or not.
After patching the system with this software, you have to download and place your desired theme file into the Windows/Resources/Themes folder. Then from the desktop context menu, select personalize option and then select your desired theme. If everything is alright, you will immediately see the changes.
Final Thoughts
---
You can see that if you can take a bit of hassle, you can customize your Windows PC the way you want. I hope these dark themes mentioned in this article will beautify your desktop. If you think so, then try them out and share the article with your friends. It really motivates me to create more curated lists like this. Happy customizing!