Almost all of us, who love to enjoy loud music, face the volume issue when using our smartphones. Basically, smartphones don't come with very loud speakers, as most people prefer using headphones to enjoy music. However, many of us still cannot take this part of lower sound volume. However, for PC, there are many tools that can boost the sound volume. Likewise, app developers have already launched the best volume booster apps for both iPhone and Android. And today, our discussion will follow everything about those apps.
Best Volume Booster Apps for Loud Music Experience
---
Most of the high-end volume booster apps come with simple sound equalizer functions. It helps you to adjust the sound specifically. However, there are lots of apps that claim themselves as the best volume booster. But unfortunately, they cannot even provide you a simple sound adjusting functions. But there are also some high-functioning apps that won't disappoint you. We have tried to list them together with the basic details. Hopefully, you will get the right app you need from the list.
1. AmpMe – Speaker Booster
---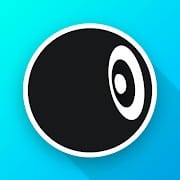 AmpMe is one of the best volume booster apps if you are looking for an effective music booster for parties. The appealing fact of this app is that it won't just boost the device speaker. It also makes a surrounding audio environment by synchronizing many devices together. While synced, all the devices will play simultaneously whatever the host device play.
You and your friends will definitely experience a surrounding sound atmosphere with it. In simple words, all the connected phones act like extended speakers of the host phone.
Important Features
The broadcasted music will run on all the connected smartphones with no lagging in-between. Apparently, you will feel like only one music is playing.

Not just from your local music library, you can also play music from YouTube, Spotify, Deezer, and SoundCloud directly from it.

All the connected people can react to the music of the host.

You can also watch the same music or video which is playing on the host phone. It also lets you live stream, which eventually amplifies the fun.

Syncing devices through this app is super simple. And also, you can connect with others with a simple tap.

While boosting the sounds, it won't cause any damage to the speaker of your phone.
Pros: There is a "Live Chat" feature in this app where you can chat with others or suggest new songs as well. In addition, it runs fluently on most of the modern Androids and iPhones.
Cons: You can find the subscription canceling process a little difficult.
2. Volume Booster – Equalizer FX
---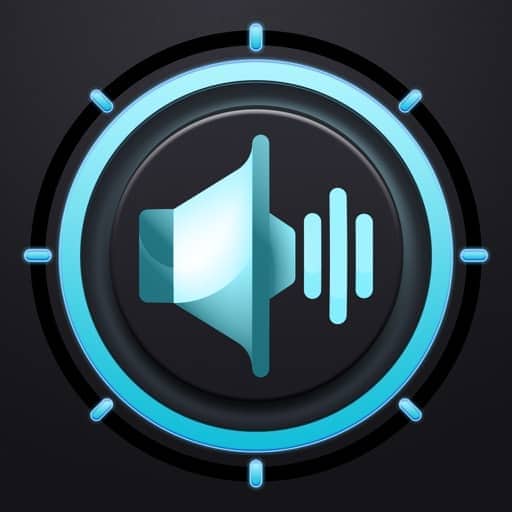 The developers from Kartum Infotech offer one of the most powerful and effective sound boosters, Volume Booster and Equalizer FX. The first thing you will notice on this app is the insanely beautiful interface. The sound boosting on this app is highly adjustable. So if you ever find music "not too good" after boosting, you can always fix them manually. Besides, it works for every audio and video that can be played on your iPhone or iPad.
Important Features
This sound booster lets you boost music file volume with a single tap.

This app's good-quality bass booster and equalizer automatically improve the sound quality. You may eventually find sounds more pleasant than before.

It is indeed a very user-friendly app. Moreover, all the functions are easy to understand by everyone.

You can also use it as an offline music player. Apparently, it has all the functionalities of a standard music player.

This app can boost sound for headphones or external speakers too.
Pros: This powerful app can boost your music sound up to 1000%. Moreover, it can reduce or mutate sound for your sound files.
Cons: It doesn't run on any iOS that is lower than 12.0.
3. Volume Booster GOODEV
---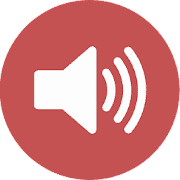 If you are looking for an extremely lightweight sound booster app, you should try Volume Booster GOODEV. This functional booster is a few megabytes in size and fluently runs on all the Androids that support it. Another reason to pick this app is its simple user interface; a person who never used it can instantly feel comfortable using it. Moreover, it works on Android version 4.4 or higher. Also, it barely lags, even if it's a very low-spec phone.
Important Features
It indeed features a simple slider-type interface to adjust or boost volume. Apparently, you can boost sound with just one tap.

The boosted sound is relatively better and has a very slight distortion on the max volume.

Not only the boosted volume, but you can also adjust the default volume of your device through this app.

It consumes a much lower amount of power. Ultimately, you can't notice any difference while it is running on your device.

You can also boost the volume of your headphone through this incredible app.

This app's "Boost on Boot" feature can start as soon as you power on/ restart your smartphone.
Pros: As a tiny size app, it doesn't disturb the device's performance significantly. Moreover, it comes with a maximum allowed controller, which warns if you cross the pre-set maximum boost volume.
Cons: It can damage your device's speaker if you use it for a really long time.
4. Max Volume Booster
---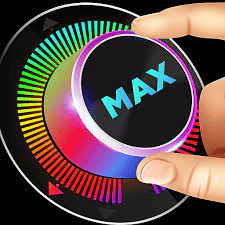 Sometimes, the volume of your iPhone is just not enough to give you a haptic feeling of an action movie or party song. To solve this problem, you can use Max Volume Booster by Chau Nguyen, a great volume booster app for iPhones and iPads. This powerful app can increase sound to 1000% without harming your device. Plus, this amazing app is super simple to interact with. It feels quite louder than most other volume booster apps in the market.
Important Features
Controlling the volume from this app is super simple. Apparently, you can adjust volumes with just one tap.

It doesn't affect the phone's performance that much.

You can also decrease or mute the phone's sound from this app.

The UI of this wonderful app is completely lag-free and minimalistic, and it will eventually give you a comfortable user experience.

This powerful app can back up small house parties without any hassle.

It also runs on almost all the latest iPhones and iPads.
Pros: You won't find any distortion on the sound with higher volume settings on it. Besides, it won't consume much battery power from your device.
Cons: The free version app has relatively limited experience compared to other volume booster apps.
5. Volume Booster PRO – Sound Booster for Android
---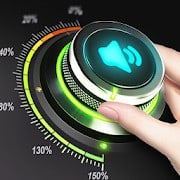 Now, you can make any of your Android phones into a sound box with Volume Booster PRO. It effectively boosts the device's sound by up to 200%. It will double your device's current maximum sound for any conditions like videos, music, games, and so on.
Moreover, you can even boost your device's ringtone sound with it, which is pretty impressive. Its powerful technology keeps the sound quality much similar to the original one, and you probably won't feel any difference except the volume change.
Important Features
You don't require to root your phone to run it.

This incredible app not only increases media volume but can also control all the system volume.

It also comes with a wonderful and handy music player.

This app features lots of cool themes that will surely make this app more appealing to you.

It is super easy to use and a very effective one.

You can enjoy the symphonic rhythm of the spectrum according to the music.

You will find this app relatively small in size. Eventually, this makes the app much more responsive.
Pros: It supports headphones, external speakers, and Bluetooth audio adjustability. In addition, there is a wonderful visual sound spectrum featured available in this app.
Cons: This app may crash on some devices without any warning.
6. Precise Volume (+ EQ/Booster)
---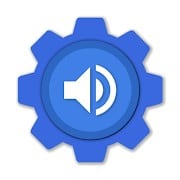 Precise Volume is an effective app that genuinely boosts up the sounds of the device without pressuring the device and the speaker. This mind-blowing app offers 100 different volume levels, which is much more than Android's default 15 volume steps.
Moreover, this magnificent app can override system volume and work just fine while the screen is off. Meaning it will run in the background without and break. It is also very much more handy and user-friendly than any other volume booster app of the Play Store.
Important Features
You can easily control its volume with the volume button. Apparently, you can set how much volume will increase with one press of the volume button.

A notification bar appears on the top after installing the app. It initially shows the current volume status with a quick volume controller.

It comes with a full-featured equalizer, and you can create great equalizer pre-sets with your favorite songs.

This app simply features an elegant dark UI theme which is perfect for night viewing.

An "Audio Curve" technology is featured in this app. You can eventually adjust the speed of the volume when it goes from minimum to maximum.

It can also combine all the volumes. If you change the volume of any spectrum, it will also change all of the other's volumes.
Pros: This powerful app lets you set volume buttons to use for media instead of ringer volume. Moreover, it features automatic volume adjustment that can activate automatically when headphones are plugged in or connected via Bluetooth.
Cons: It may turn off automatically when you switch to another app.
7. VOLUME BOOSTER, BASS BOOSTER
---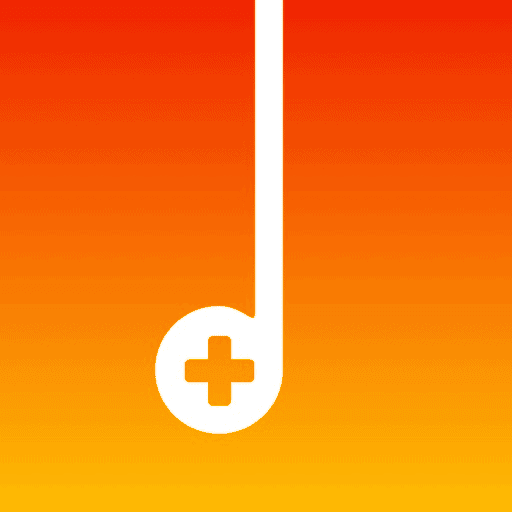 If you want a quality sound booster and do not want to hamper the speaker of your device, then try VOLUME BOOSTER; BASS BOOSTER by AmpMe Ltd is a great option for you. This wonderful app boost volume of your device while maintaining the same quality of sound. Basically, you won't feel any difference using this app. With its powerful technology, it can boost sound 2.5 times louder than the maximum default sound of the device. Besides, it also comes with an effective and user-friendly equalizer.
Important Features
This app comes with an attractive user interface.

You can listen to music from Spotify and Soundcloud on it. Apparently, the effect and sound quality will be boosted and filtered to their best with it.

It effectively filters any noise (if there is any) and clears the sound to its best.

This app is much lighter than most other volume booster apps of the App Store.

It works fluently on older iPhones, and you can ultimately run it on iPhone 7 or less.
Pros: This amusing app offers an effective sound customizer that lets you adjust the sound for each audio device, like AirPods. In addition, you even can sync between two phones and use them as a mic and speaker with this app.
Cons: The subscription policy is quite complex.
iPhone
8. Boom: Music Player, Bass Booster, and Equalizer
---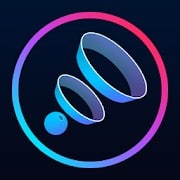 Boost the sound of your device to its maximum level with Boom. This powerful app can boost all of your device's sound to an insane level. The best part is you don't have to go through complex settings or struggle to boost sounds; all you have to do is slide the scales, and that's it. Moreover, this app perfectly increases volume according to different types of video formats to enrich your video-watching experience.
Important Features
The music bass booster is very simple to use on this app

It indeed features a 3D surround music player that lets you play music with a boom surround sound system. It eventually provides awesome 8D effects with different types of reverb.

This powerful app can boost any audio format file such as Mkv, mp3, mp4, Avi, MOV, AIFF, and more.

You can simply customize and adjust the quality of sound for music tracks.

This amusing app can also decrease or mutate sounds for the audio files.

It can run on devices with iOS 12.0 or later.
Pros: This app comes with a user-friendly interface. Moreover, this app ensures no distortion when increasing the volume on high.
Cons: This app is relatively large in size.
9. Super Volume Booster -Sound Booster for Android
---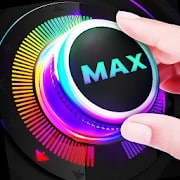 Boost your Android phone's sound with no limitation through Super Volume Booster. It never harms your phone or speaker, and you can use this app without any worry. This unique app can increase the sound of your device by 200%. You can use this app at house parties as a supplement to the soundbox. The functions of this app are simple and easily understandable. Besides, its elegant and minimalistic user interface makes everything even more effortless.
Important Features
With this app, you can simply boost your phone's volume with just one tap.

The booster amplifies the headphone as well. With it, you can eventually make the headphone sounds loud and clear.

This app offers a universal sound assistant for every user.

Its equalizer and bass booster are of great quality and very effective for every audio type.

The app affects the media sound and amplifies the ringtone, notification, and alarm volume.
Pros: You don't have to root your device to run this incredible app. Plus, it supports audio of everything like videos, games, etc.
Cons: It may crash on low-spec Androids a few times.
10. Sound Amplifier
---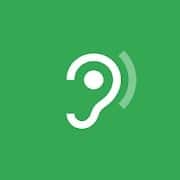 If you wish to amplify the sound quality of phone calls, you should try Sound Amplifier by Google LLC at least once. You will be surprised by its decent, loud and clear audio experience. It is the perfect app to use if you have hearing issues or your phone has a defective earpiece. The best thing is, you don't have to root your phone for this app and use it by simply downloading it from Google Play Store. Moreover, you won't find any lacking in device performance while having it.
Important Features
This incredible app can effectively reduce the surrounding noise. Apparently, it can reduce noise in three different adjustments.

This powerful app can also work for your Bluetooth headset.

The tuning and boost adjustment settings are indeed easier to adjust. You can do it in just 2/3 clicks.

This app has no record of being stopped suddenly. You can eventually jump between apps with no obstacle to sound quality.

Not only for calls, it effectively works for music or video that is playing on your device.

Since Google developed this app, there will be high security against any audio breach from your device.
Pros: You can apply settings independently for each ear, and it is also an extremely simple task. Moreover, this app doesn't drain your battery significantly.
Cons: This app runs only on Android 6.0 or later.
FAQ
---
Q: Do Volume Booster apps really work?
A: Yes, volume booster apps can work efficiently to enhance the volume of your smartphone speaker. Even if you use a set of headphones, the sound enhancer app can also boost the sound.
The basic function of the volume booster tool is to block all the barriers that lower the volume of the phone speaker. It also works to enhance the volume as well. So, if you manage to install and use a high-quality sound enhancer app, it will work perfectly on your device.
Q: Is there an app to increase speaker volume?
A: Yes, there are many apps to increase the speaker volume of your smartphone. And we call these apps the volume booster apps. These apps can increase both the speaker and headphone sound of your device.
Q: What are the best volume booster apps for Android?
A: Volume Booster GOODEV, Sound Amplifier, and AmpMe are Android's best volume booster apps. All these apps are free to install and use. But you must find variations in features and functions in these apps.
All of them share one specific thing: they can enhance speaker and headphone sounds in real-time. So, as an Android user, you can choose one of these three apps to enhance the volume of your smartphone.
Q: What is the best sound enhancer app for iPhone?
A: AmpMe and Mac Volume Booster are iPhones' best sound enhancer apps. You can use these apps on your iPad as well. They are free to install and use though you can check their premium subscription for more functions. These apps will work to block everything that lowers the sound of your phone speaker. So, the volume will be increased automatically.
Q: Does the volume booster app consume more battery power?
A: In most cases, volume booster apps don't consume more battery power. Like other basic apps, it will work efficiently and behind other apps. But it has no extreme ram absorbing functions, and so it won't eat your battery frequently.
Q: Is there a sound equalizer on a sound booster app?
A: Most of the sound booster apps come with the equalizing option. Volume Booster Bass Booster, Sound Amplifier, AmpMe, etc., are the most popular Volume enhancer apps, and all of them come with an inbuilt equalizer that lets you adjust the sound precisely.
Finally, Insights
---
Once you have the best volume booster apps on your smartphone, having the best music experience will be a snap. You can simply install the app that suits your device and needs the most. For that, make sure to check the app details properly. However, you can share this content with whomever you think is essential. Also, let us know about your experience of using these apps on your device. So, wait for us till we come up with something new. Thank you for your support and time.