Windows 10 has a built-in weather app that lets you know what is going on in the weather outside. This default app is quite good enough to provide weather updates. You may know about the next 10 days' weather updates in addition to knowing the hourly updates. Moreover, it provides information about temperature, humidity, wind speed, visibility, barometer, and other basic weather features. But you have to learn about weather updates to make your day plan, and then you can download some other advanced featured apps from the Windows store.
Best Weather Apps for Windows 10
---
When you visit the Windows store, you may find over 100 weather apps. There are no useless apps here. All apps provide vibrant information and an eye-catching interface. So it isn't easy to narrow down of few choices. We come here to find out top-rated weather apps for you. Apart from weather apps for Andriod devices or Apple products, we listed the 10 best weather apps for Windows 10. Most of them are free or a small penny to pay. Let's check it out in the below sections.
1. MSN Weather
---
MSN Weather (formerly Bing Weather) is the must-choice weather apps for your PC or laptop. After few renovations, it comes with a more informative tool. Most people love its clean appearance. In addition, it comes with basic and advanced weather updates. You can download this app free for your Windows OS, mobile, and also Xbox.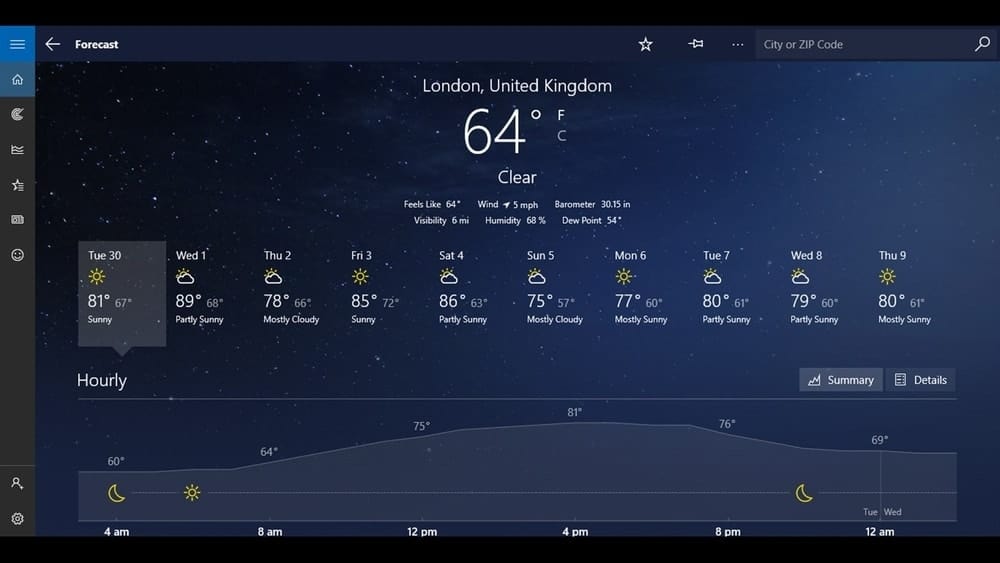 Key Features
Local forecast including real-time update, next 10 days forecast, hourly breakdown of every day, sunrise and sunset time, and many more.
Severe Weather Alerts notify you to prepare for severe weather.
Animated weather map let you imagine clear condition about temperature, precipitation, humidity, cloud, radar, and many more.
Historical weather information lets you know about a location's weather pattern.
Synchronize Live Tile support with your PC and see weather conditions right now in a particular city from the start menu.
Pros: Moreover, MSN Weather app adds news section that let you know all weather updates including articles, videos, presentation slide.
Cons: However, some features are not available for all locations.
2. MyRadar Weather Radar
---
MyRadar Weather Radar app is the best pick for you if you are in now the United States. Basically, this weather application displays animated radar around your location and lets you know what is coming. This high-definition radar helps you see the closet level of view. So, you can zoom in and see the weather condition of the other parts of the country. This app is free for use. You may upgrade the weather app plan if you want to remove ads and other advanced features.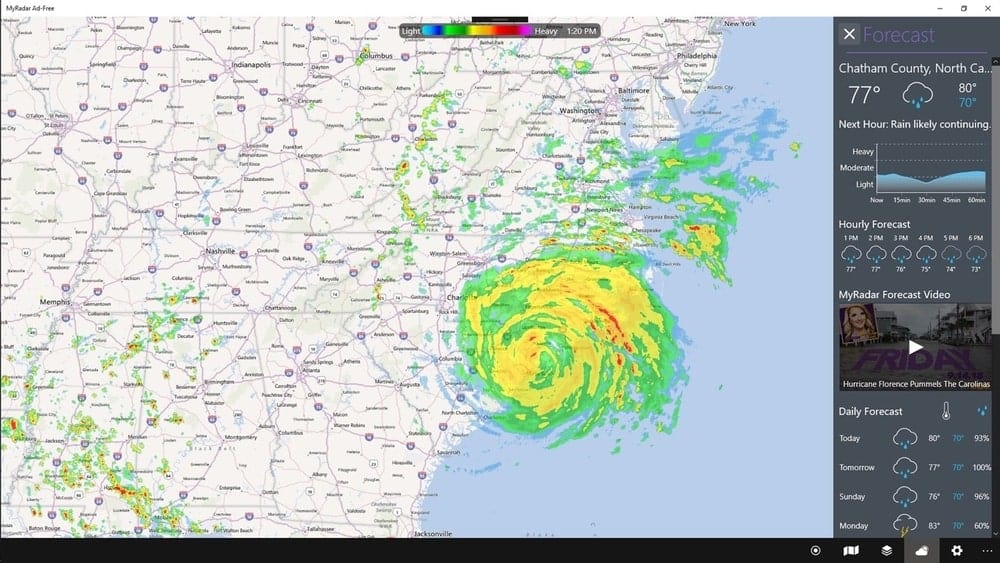 Key Features
Three radar styles (Classic, High Definition, and Temperature Map) and three map styles (Roads, Aerial and Greyscale) are available.
Toggle on or off cloud coverage.
Set severe weather notification. So you can set the level of severe weather to warn you.
Track current and historic hurricanes. Besides, you can set the layer to track hurricane reports.
Synchronize radar Live Tile with every 15 minutes updates.
Pros: This is a helpful app at times of thunderstorms and tornados.
Cons: The great features are only available in the United States! It does not cover globally.
3. Appy Weather
---
Appy Weather comes with one of the cleanest looking weather apps for Windows PC. The navigation is fast and fluid. It provides forecasting information not just in a mechanical measurement. But also it provides information as I feel. This app is available in Windows Store for 7 days trial, and you may upgrade the trial to $3.99.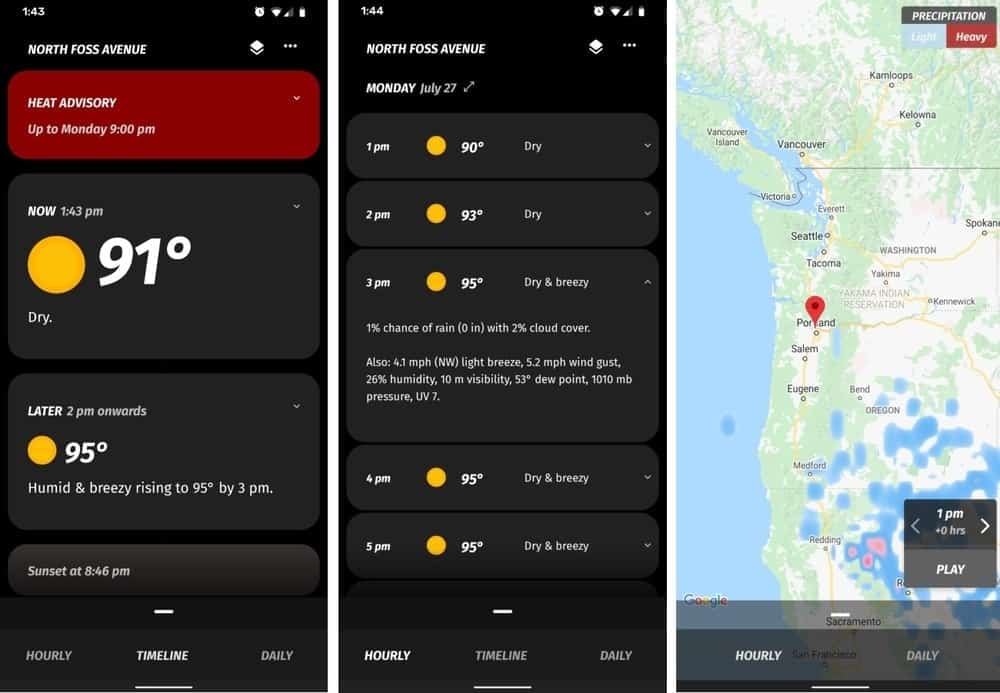 Key Features
Forecasts for today, tomorrow, and the next 7 days.
Both panoramic and modern design options are available in this weather app.
The navigation display contains many weather information such as rain forecast, cloud, wind speed, humidity, visibility, barometric pressure, dew point, and many more.
A severe weather notification feature is included with this app. Besides, if any storm near your location, you get notified.
It supports Live Tile and Lockscreen features. So you can get weather updates frequently while you are working on your PC.
Pros: The claims can provide minute-to-minute weather updates for the next hour in the US, UK, and Ireland. The developer has planned to cover more regions to provide real-time weather updates.
Cons: However, this app does not include a radar feature.
4. Forecast
---
Forecast comes with GPS-based weather location support. It covers weather updates in millions of locations worldwide. It supports both Fahrenheit and Celsius. Besides, it allows configuring the app's appearance with both colors, image theme, or Bing image of the day. The current cost of Forecast is $1.49. But it also has a free trial option.
Key Features
Though this app can detect GPS, it let you know your current location weather update.
You get a current day with hourly and weekly weather updates at a glance because of the excellent Meteogram feature.
Live Tile shows weather updates in a specific location or your current location. For example, while traveling, it automatically updates your location and shows it on your desktop.
Easy to configure the app's appearance. You can set a setting weather update about visibility, precipitation, humidity, dew point, barometer, sunrise, and sunset.
Multiple UI themes give you the freedom to set your app skin that suits your style.
Pros: Forecast is a very clean-looking weather detailed application that provides to track GPS location.
Cons: It does not have any weather map or severe weather notification.
5. Strawberry Weather
---
The more apps run background on the device, the more memory, and battery usage. Strawberry Weather app comes with this solution. This lightweight app lets you know the weather update every hour with less consuming resources. Moreover, you can download this app from Windows Store for free.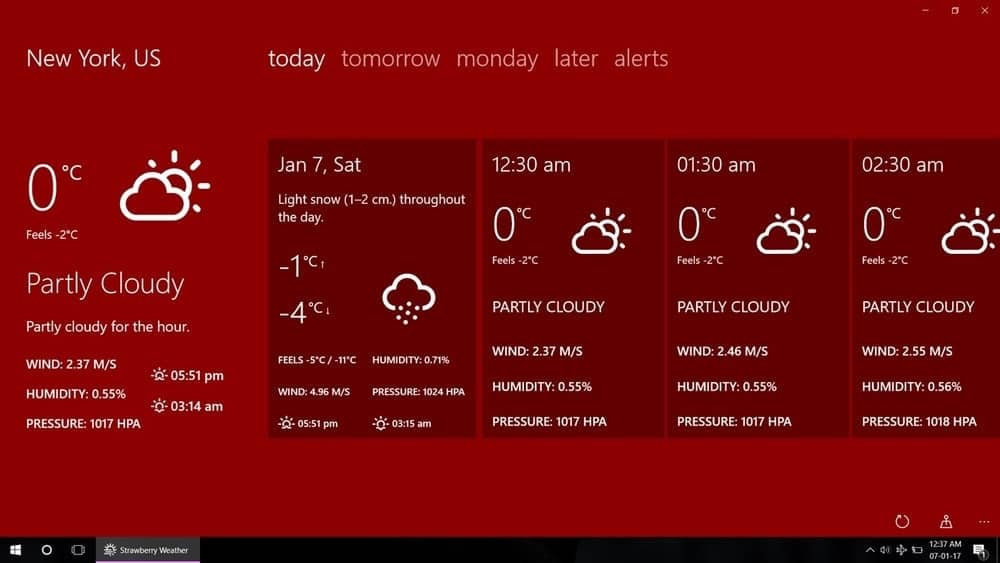 Key Features
This app lets you both option set GPS or default location. Besides, you can search any location or your nearby location and pin it to your dashboard.
Choose for weather data either OpenWeatherMap or Dark Sky. Here OpenWeatherMap lets you know about current weather, the next 5 days' forecast, and sunrise sunset.
On the other hand, Dark Ske lets you know the real feel temperature, daily with 7 days forecast, severe weather alert.
Beautiful Live Tile shows current weather or summary depending on the importance.
Set your app skin to choose your favorite colors.
Pros: This apps lets you set your favorite places with weather updates. So when you open the app dashboard, it let you know all updates at a glance.
Cons: However, the Strawberry Weather app does not have a weather map or radar features.
6. Weather Radar Pro
---
By the name, you may guess what it actually does. The developer company claims that it is an exclusive weather forecast app in the Windows Store that lets you more details about weather updates. Its radar data covers United States, Europe, and the Eastern Caribbean. If you want to use this app, you need to $2.49+.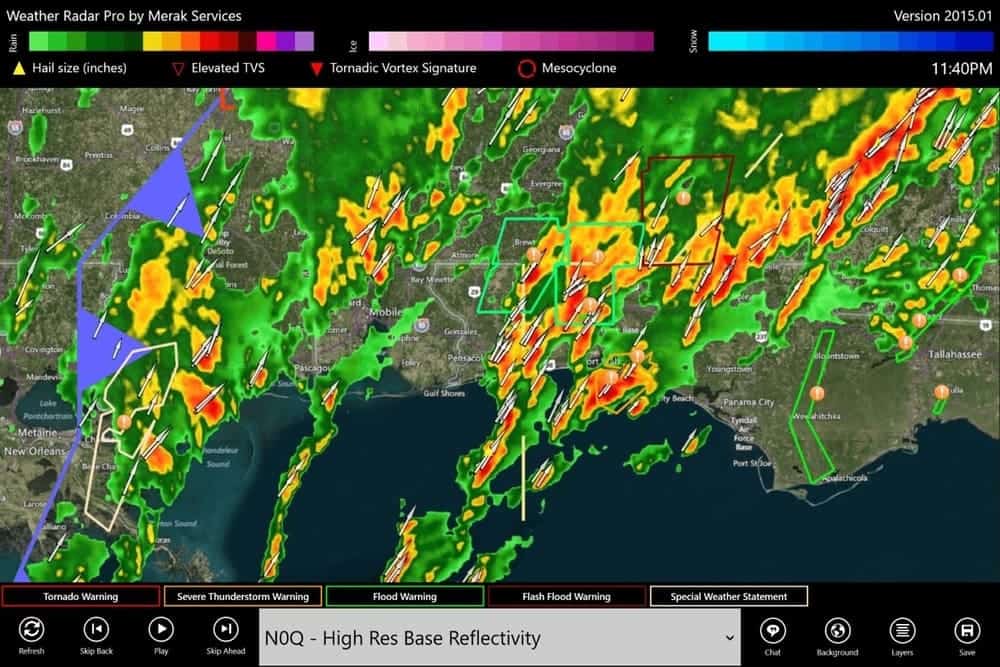 Key Features
The animated Weather Radar Pro can track hurricane and cloud overlays.
It can identify storm attributes and tornadic vortex signs.
The high-resolution radar image can identify hail sizes, TVS, mesocyclone, and measure storm attributes.
With GOES satellite imagery, you can know about global temperature data and global sea level pressure.
Besides, you can optimize these weather apps with your PC by synchronizing the Live Tile feature.
Pros: If you are a professional weather scientist, it is a helpful app for you. Moreover, you can choose radar animation frame, animation speed, and interval time between frames.
Cons: This radar data only covers the United States, Europe, Guam, and the Eastern Caribbean, the outsider of these areas are not analyzed with this app.
7. ArabiaWeather
---
ArabiaWeather provides weather updates in the Arabic language. So it is a great option for Arabic country people. Though it also supports the English language. In addition, all other basic weather features are included in this app. Moreover, you can share weather update news with your friends and family. You can download this app free from Windows Store.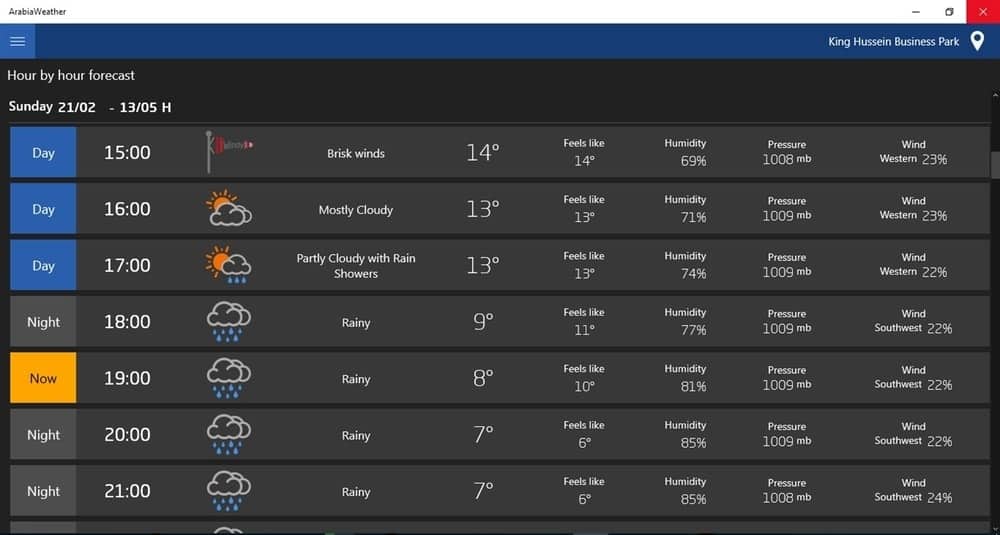 Key Features
This app displays weather updates daily. Besides, it can forecast every hour's weather.
This app informs both actual temperature and what actually feels.
You get notifications while forecasting severe weather conditions or current weather condition is changed.
Moreover, you can make a "Favorite List" of multiple locations and share the specific location weather updates with your friends and family.
In addition, this app informs you about all weather-related lifestyle activities like sports, health, activity.
Pros: This app is exceptional than other weather because of including two features. One is Arabic language support, and another is regular updates about weather-related lifestyle activities.
Cons: This app miss radar feature, Live Tile features.
8. Weather View
---
This app for Windows 10 users is a simple and easy way to forecast weather conditions for the next 10 days. This app provides weather updates to more than 7 million locations, including the US, Asia, Europe, Russia, etc. The weather data is collected from the Norwegian Meteorological Institute and NRK. The cost of this app is just $1.29.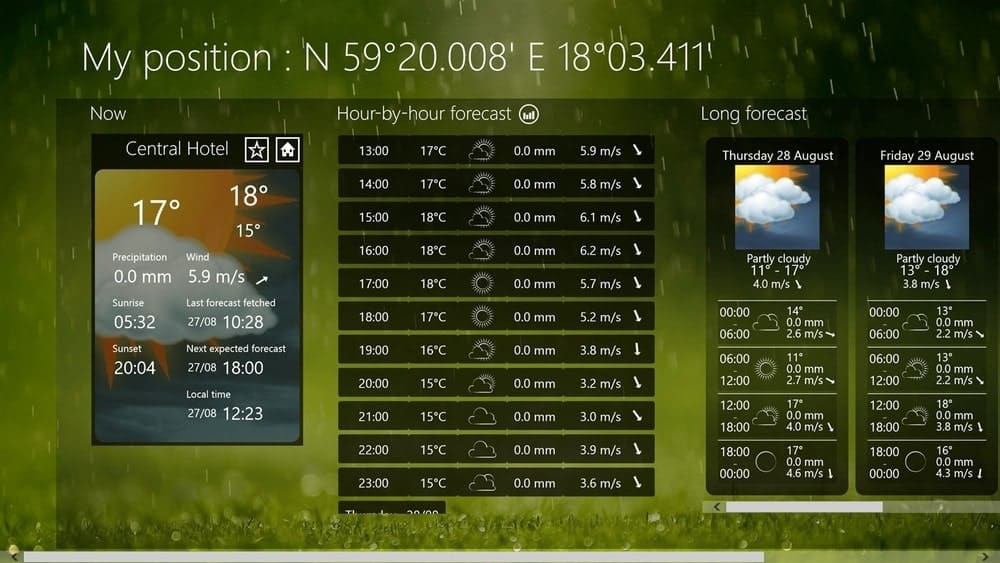 Key Features
This weather app provides hour-by-hour weather updates.
You can know current temperature, precipitation, and wind speeds at the dashboard of the app.
The beautiful Meteogram lets you know the next 48 hours' weather forecast at a glance.
You can search any region of the world to find out weather conditions. Besides this app allow creating of a favorite list location to update that certain locations weather condition.
It supports multiple languages.
Pros: Though this app can track GPS, so wherever you go, you don't miss weather updates.
Cons: This app misses radar and severe weather notification.
9. Simple Weather
---
By the name, you may guess what it actually does. This app user interface is straightforward. After installing this app on your computer, first, you select your location. Next, you need some configuration such as temperature units, update frequency, and notification criteria. Congratulations! You are almost done. Now you see a clean weather interface on your app dashboard. Moreover, you can select earth mode on your radar area. Download this from Windows Store for free.
Key Features
This app displays current weather conditions and this week's weather forecast.
You may update weather details such as pressure, humidity, wind conditions, dew points, feels like, visibility, sunrise and sunset times, moonrise, and moonset times.
If your weather notification alert is on, then you get weather notification on severe weather conditions.
Moreover, you can have multiple favorite places to know weather updates.
You can resize the Live Tile so you customize it for what you want.
Pros: The uniqueness of this app is that it has an air quality index. So you can confirm about your current location air freshener.
Cons: This beautiful weather app does not have a radar map.
10. Weather Notify
---
Weather Notify is a beautiful weather app that has a transparent dashboard. Its design and weather information is perfect and detailed—no cost for this app. You can download this app from the Windows store for free. However, these free apps include an ads bar at the top, which is not disturbing. In addition, the weather update page is fairly detailed.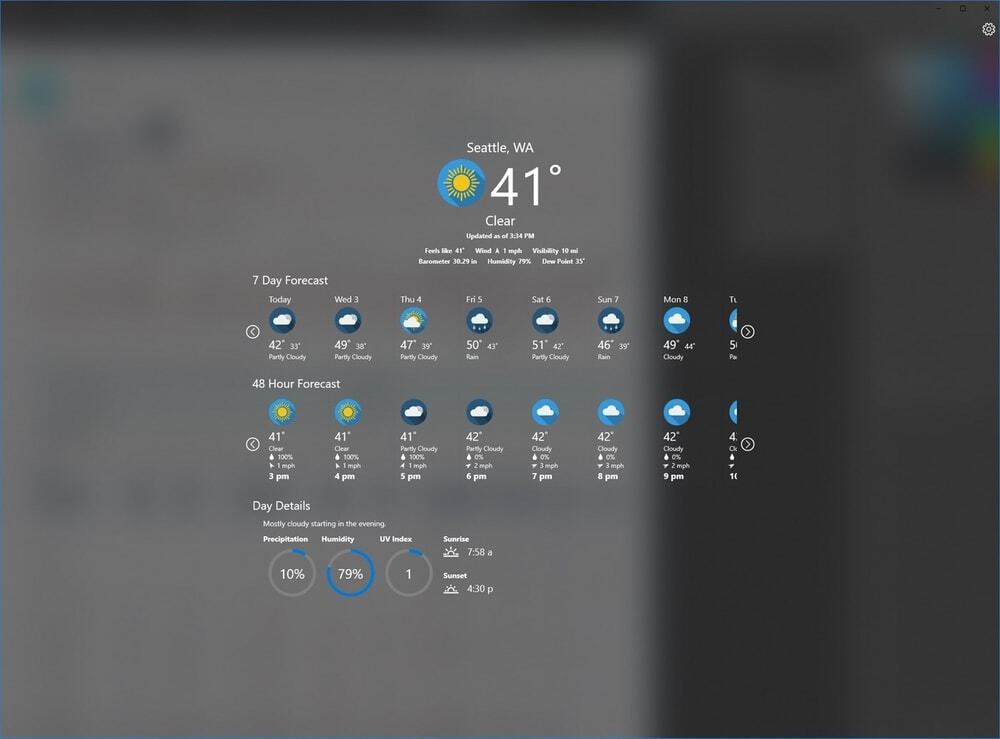 Key Features
Similar to all other weather apps, it provides current weather conditions and next week's weather forecast.
Besides, it provides hourly weather forecasts for the next 48 hours.
The day details lets you know about precipitation, humidity, UV index, sunrise, and sunset times.
You can schedule a weather notification for a particular day.
It can automatically detect your location and provide your current location weather updates.
Pros: This weather app supports Metric and Imperial Measurements. It also has a Live Tile feature.
Cons: However, it does not provide radar maps.
Our Recommendations
---
Many weather apps for Windows 10 can find in online, but many of them are worthless or include malware. So we recommend you install a weather application from a trusted Windows store, and most of them are free. You can pick any of the weather apps from the above lists. But MSN Weather is the best pick for everyone because it is free and full-featured as a weather app.
If you are living cyclone-prone area, then you may install either MyRadar Weather Radar or Weather Radar Pro. However, Appy Weather, Forecast both are nice weather apps, but it is not free. You need to pay $1-$3 to buy these apps.
Finally, Insights
---
Well, you may get weather updates from different weather forecast websites. But most convenient to get a weather app to update about the weather forecast. So here we pick the 10 best-rated weather apps for Windows 10. Apart from this, if you have any recommendations, please let us know by describing this app in the comment box.