When it is about music, most of us don't like to compromise anyway. But in AndroidOS, we have lots of limitations. Most often, the apps don't have many sound customizing functions, and so we cannot fix the sound quality as we wish. Additionally, there are many devices that don't have in-built EQ functions, and that makes a big problem for the music lover. However, I have a great solution in this case. You can just use the best equalizer apps for your Android device and then boost and customize the sound quality of the device.
Best Equalizer Apps for Android Device
---
To make a list of 10 EQ apps, we face a little bit of difficulty for a particular reason. It's not that we couldn't find many apps with good functions, but there are lots of good apps indeed. So, choosing only 10 apps was confusing for today.
But we prioritize stereo-quality sound, customizing functions, and simplicity over other features. And then we got these 10 best equalizer apps for Android with all your requirements. You can simply check out the features of these apps and select one to boost your device's sound system.
1. Bass Booster & Equalizer
---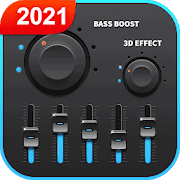 You can now enjoy a better audio and video effect using this high-quality sound booster, Bass Booster & Equalizer. The app is integrated with Different types of band equalizers. Aside from that, you will get some preset equalizer such as normal, dance, flat, jazz, pop, rock, classic, and others. Happy to inform you that the app also works on video. You just have to open up any video and let the app run in the background. It will automatically control the sound effect and make a better quality sound.
Important Features
This app has 16 themes available with colorful effects. You can eventually switch to any that you like.

You will find three widgets which are 1×1, 2×2, and 1×1 premium.

Here, you don't need to play the music in this equalizer. You can initially control the effect from the notification bar.

There are 5 band equalizers available. The band equalizer indeed brings a better bass boost effect.

When you are using a Bluetooth speaker, and the app can help you as it also improves the quality of the Bluetooth speaker.
Pros: Notification from control is a great feature of this app. You can also stop the app just by removing the app from the status bar and pressing the close button on the notification bar.
2. Music Volume EQ – Equalizer Bass Booster Amplifier
---
Dub Studio Production has brought up an excellent music Equalizer, Music Volume EQ. It is one of the most popular equalizer apps for Android, and it is built with lots of open system features and an easy interface. The app works on both audio and video players. One little negativity, for the best performance, they suggest using HiFi earphones. There are available five-band music equalizers that let you control the sound. Wherever you are, you can manage the sound using this fabulous equalizer.
Important Features
The equalizer contains 2 stunning themes, Material and Classic.

You can add it to the home screen using the home screen widget. And then you have to open it with a single tap.

There is also live wallpaper available. It brings more beauty to the music player.

Another better and unique feature is the closing system. You can close it by long-pressing the power button.

While using a speaker, you can also use the bass booster effect. It is also known as a speaker booster.

You will get the access while running it in the background. Control the app from the notification bar.
Pros: There are preset 9 equalizers. You can initially use them in their different limit and discover lots of effects.
Cons: The app may not support some particular types of audio and video players.
3. Equalizer Music Player Booster
---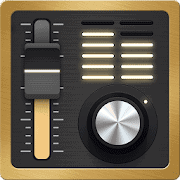 Now it's time for a multi-functional Equalizer designed by MWM. When most of the music boosters contain 3-5 band equalizers, Equalizer Music Player Booster comes with 7 band equalizers. Besides, there are 10 preset equalizers available. The app can be used widely, especially when you can connect it with others having wifi access. However, for the best use of it, the developers suggest using headphones.
Important Features
There are 7 band-equalizers available. Set the equalizer at a certain level according to your taste.

The app also has a share button. Use it to share your playlist or favorite track with your friends.

When you and your friend are in the same wifi zone, you can connect and access all songs on the playlist.

The app is also compatible with Android TV, Android Auto, and Android wear.

Keep an eye on the app; very often, they offer discount in-app purchases. The premium version indeed has no ads.

There is in-built 3 status available. You can eventually repeat a song, repeat a list, and do not repeat at all.
Pros: The app allows you to control the depth of music, and at the same time, you can control the booster level as well.
Cons: Sometimes, you can get annoyed by ads.
4. Music Equalizer
---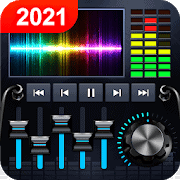 Another fascinating music booster is Music Equalizer. KUCAPP is the developer of this app and built it using a bass boost effect and an easy control system. You will eventually find around 5 super cool band equalizers and 10 pre-set music band equalizers. But remember that all of them are only available for Android 10 or above. Another fascinating feature is edge lighting that shows the app on the screen's border and other apps.
Important Features
You can enable this best-ever equalizer app in both the notification bar and using the app widget.

You will love the preset equalizers, including pop, metal, hip-hop, folk, classic, dance, etc.

There are also stereo sound effects available that lets you enjoy stereo effects without using stereo earphones.

There is an in-built volume booster available. You can initially control the overall volume using it.

You can switch to any color theme you want. There are indeed 18 colorful themes available.
Pros: Comparing with other apps, the app comes will simple boasting and equalizing buttons. It has soft control to level the effect, and you can add it to the home screen.
Cons: This app doesn't work for video players.
5. Equalizer & Bass Booster
---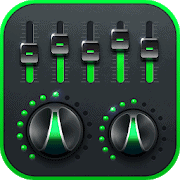 Thanks to iJoysoft for launching an outstanding app, Equalizer & Bass Booster. It is one of the best equalizer apps for android, and it has lots of functions and 3D surrounding effects. The best part of this app lets you use it with streaming sites such as Spotify, Pandora, etc. Additionally, there are available UI themes that indeed make the app more popular. So, just learn a bit about the band and boost equalizer, and enjoy premium sound in every audio.
Important Features
There are huge preset equalizers available—22 equalizers for editing hundreds of types of audio effects.

You can apparently edit and set your customized preset. Save it for enjoying it later.

Very easy to control the equalizer buttons. Also, start and eject it in one touch.

The app will run smoothly on tablets and smartphones. You can control it on the notification bar.

There are both virtualizer and bass boost effects available and a dynamic audio map mix music effect.
Pros: You can enjoy accessing the app very quickly using the built-in notification shortcut buttons. It doesn't even require rooting.
Cons: The app isn't compatible with Android TV.
6. Equalizer
---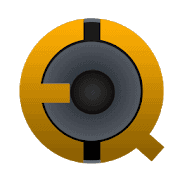 You can also try Equalizer, a simple EQ app, especially for the beginner. It is developed by Smart Android Apps, LLC, and it contains lots of presets such as folk, dance, pop, heavy metal, hip hop, and others. Additionally, the added bass boost and band equalizers help you bring supreme audio quality to your smartphone. Though they are not for video players, they will even work on the android version 2.3. Lastly, set your own preset with power mode to enjoy unique and smooth effects on audio.
Important Features
There are around 11 presets available and 5 band-level equalizers. Properly use them to create ideal audio sound.

You can initially create a custom preset and save it. You can even delete it, and there is a backup option too.

The app has 2 equalizer widgets available, including 4×1 and 2×1.

You will find an option to add the equalizer or the widgets on the home screen. Get quick access by adding them on the home screen.

They are also compatible with popular streaming apps such as Spotify, Pandora, and others.

It will work perfectly on tablets and smartphones. Eventually, the app doesn't require any root.

There are also skins for widgets. You have to download them to enjoy it.
Pros: The stock android users get a better feel and easy access. It's because the app is integrated with stock android music players.
Cons: The app is not for video players.
Download
7. Equalizer Music Player and Video Player
---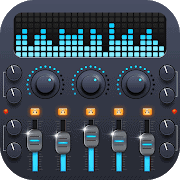 Here is another exciting equalizer music Player app powered by Gentleman Dev Studio. Equalizer Music Player and Video Player is one of the best equalizer apps for Android, having lots of preset equalizer and bass boosters. The app supports almost all types of audio and video files. It also helps in finding files by classifying them into 6 formations. There are 8 spectrums available, and you can run the app in the background.
Important Features
The app makes classification in music. You can eventually browse for audios in 6 different ways.

Shaking gesture available. Just shake it to run next to or previous music.

There is also an available sleep timer. Set the time and sleep hearing music.

The app also contains a music cutter. You can indeed create any ringtone using the cutter.

When you are wearing a headphone, you can control the equalizer using it. Make sure your headphones are functional.

The app can scan lots of files and set the proper lyric for the right song.
Pros: You can use the equalizer for both audio and video player. In the video player, you can control video speed.
8. Poweramp Music Player (Trial)
---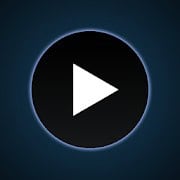 Poweramp Music Player is just like its name, a powerful yet compact equalizer app for Android. You don't need to settle for liner-type sounds when you can have complete freedom to choose from hundreds of sound effects. This app comes with a modern UI and offers easy operations, making it highly accessible to a wide range of users. This all is developed by Max MP and gets regular updates and improvements to provide seamless performance. This app integrates variable volume levels according to the user's preference.
Important Features
It includes up to 10 band equalizers for all supported presets and formats.

This app natively supports Google Assistant and Chromecast.

It integrates advanced sound effects such as crossfade, replay gain, hapless transition, and so on.

You can get lyrics on this app with lyric search plug support.

This app includes numerous themes, app skins, and layouts for visual customization.

It supports lock screens and customizable widgets for your phone's homepage.
Pros: The core processing is based on 64bit advanced technology. This app supports almost all the music files without any issues, such as mp3, ogg, mka, wav, Flv, etc.
Cons: Some users found data inaccuracies in their music files.
9. Max Volume Booster – Sound Amplifier & Equalizer
---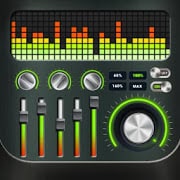 Toolbox Mobile comes with Max Volume Booster, one of the best free-to-access equalizer apps for Android. It is highly accessible and offers a beautiful UI. This app boasts a volume increase of up to 200 percent than the normal range. Moreover, this app includes one-tap sound boosting facilities and quick shortcuts for user's convenience. If you are a regular headphone or earpods user, then you will have a great time using this sound-boosting app. You can listen to music directly using this app which offers amazing sound quality.
Important Features
You can use sound effects freely using a custom tuning panel.

This app includes an eye-catching media player for listening to music with details for music files.

It comes with a lightweight package while packing professional-grade audio equalizing tools.

This app includes bass control with a virtual equalizer which enhances the overall sound quality of any music.

The built-in music player works anytime, and it does not require you to be online to use it to the full extent.

It boosts the system sounds without any lag, such as the volume of ringtones, notifications, alerts, etc.
Pros: This is completely free to use and includes in-app purchases for unlocking an ads-free app interface. It can enhance the sound effects when you watch movies, play games, and listen to music on other apps without any issues.
10. Dub Music Player – Free Audio Player, Equalizer
---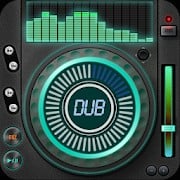 Dub Studio Productions has an EQ app that is worth mentioning for its better and simplified functions. And Dub Music Player is the final option for today. This app comes with the perfect interface for both mobile and tablet. Additionally, it lets you compose new playlists, and you can also add new tracks as well. And then, you can mix songs in this music-making app. For gapless playback, it must be the best choice anyway. Let's see what's more it will offer.
Important Features
It comes with around 9 professional equalizers presets of different genres for the beginner.

You will get stereo-quality sounds using this equalizer on your smartphone.

This app comes with a five-band music equalizer with a very high-quality audio reproduction.

The player of this app supports almost all the file formats, including MP3, AAC, FLAC, 3GP, WAV, OGG, MIDI, etc.

With a few clicks, you can save and delete any custom preset.

Media volume control is very smooth here, and you can play music in the background.
Pros: You will get about 9 different themes, including Material, Studio, Gold, Studio Orange, classic, etc. Besides, it does not require rooting your Android device.
Our Recommendations
---
I can ensure that none of these 10 apps will disappoint you anyway. We check the loop and pitch setting function with the other preset layouts. And these 10 apps are nearly compatible with one another. But if you want to learn about my personal selection, I must mention Poweramp Music Player and Bass Booster.
As I always prefer simplicity, these two apps look better for me. Even they have video player access too. Except for a few apps, most of the mentioned apps have video player access as well.
Finally, Insights
---
So, if you want to boost your music experience with or without a headphone, It's better to try an equalizer app for your Android device. You can check and customize the functions of Bluetooth AirPods using the apps as well. So, let us know which app you have selected and how you feel about it. Thank you once again for your support.