Linux lovers always love to work with an embedded system and projects, you can see the embedded open source projects library, then you will understand what I am talking about. Now AI projects are trend and fun for geeks and researchers. We have devices like Raspberry PI or Arduino, they are the small techs with less power. But we need more now to work with big data, AI. So we were looking for something more to play with. Here we have, a compact embedded portable device– Axiomtek eBOX560-900-FL with no fan and no sound for big AI projects. And the best news is you can use your loving ubuntu 16.04.
Axiomtek is a silicon giant in industrial computer and embedded device field. From industrial machine to medical devices you can find them everywhere. After hearing lots of geeks mind, they started working with compact computers, and we have their newest device- Axiomtek eBOX560-900-FL.
Fanless Fully Functional Rigged Body
---
Let's search for love at first sight! A rigged body with the aluminum cold-rolled device with metallic colored. The rigged body works as a thermal solution to support fanless power. The body also absorbs sudden falling vibration up to 3 Grms (5 ~ 500 Hz, X, Y, Z). The unique design with functional property help the device to work in the temperature from -20°C to +50°C (-4°F to +122°F).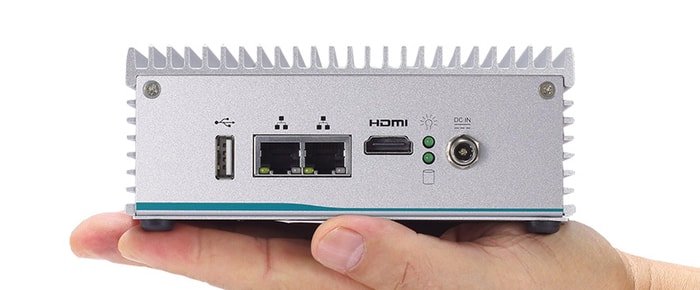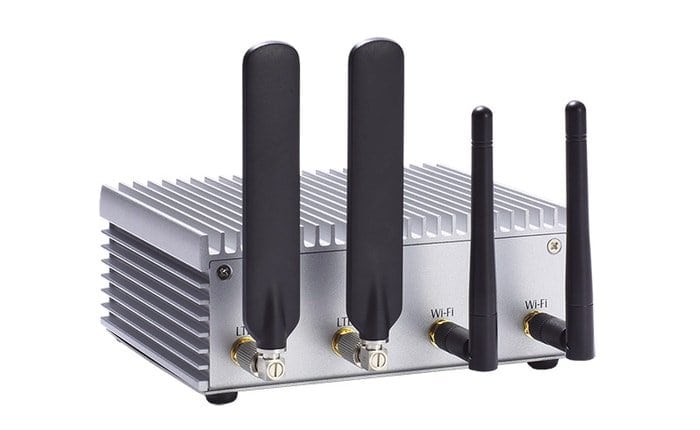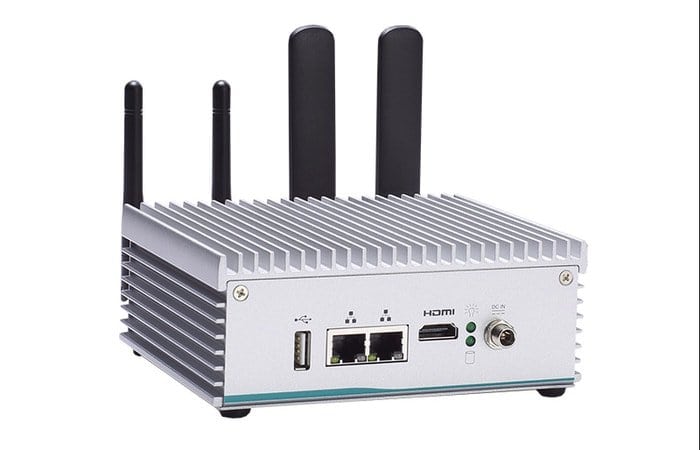 You will also get 2 wifi router and 3G/LTE support. Looks heavy? Think again under the 141 x 106 x 55mm it only weighs 0.8 kilograms. Thinking about reliability? IP40-protection rate gives your answer. I am in love with this palm-sized machine!
What is Under the Hood?
---
Under the shiny heavy aluminum steel, we got a pure mind blowing machine. It is coming with Nvidia's Jetson TX2 module. The device is powered up different intel techs. You can have access to Intel® Celeron® 2980U or your loving Core™ i5-4300U Haswell, even Core™ i3-5010U Broadwell ULT SoC. The TX2 lights up the device with flying power ram.
If you want you can have 8GB of LPDDR4 RAM up to 32GB of eMMC 5.1, a watchdog. I am not finished here! You can have 4K and 2K video support with powerful HDMI 2.0 port. Onboard you have 802.11ac and Bluetooth support. The eBOX560-900-FL equipped with mini-PCIe 2.0 x4 slots and USB 2.0 ports. 4 different SMA connectors will connect you with wifi zone and LTE/3G connection.
In a nutshell, Axiomtek's eBOX560-900-FL is a high-performance AI device supports different toolkits like TensorRT, cuDNN, CUDA Toolkit, VisionWorks, GStreamer, and OpenCV. All these tools will work on top of L4T with LTS Linux kernel.
Full Specification
---
-Intel® Celeron® 2980U processor
Or Core™ i5-4300U Haswell, even you have the choice to get Core™ i3-5010U Broadwell ULT SoC
204-pin DDR3L-1600 SO-DIMM, up to 8GB
-No fan no sound
-Vibration absorbing design with aluminum alloy rigged boy
-1 RS-232/422/485 and 1 RS-232 port
-One 2.5" SATA HDD drive bay and SATA interface
-1 PCI Express Mini Card slot and 4 USB 3.0 ports
-DisplayPort and HDMI with dual-view supported
Should I Have It?
---
In July it will be available to dig in but why should I have it? Simple answer, If you need power with portability, you should have it. Nvidia supported 256 core Pascal GPU with CUDA libraries are ready to run machine learning AI projects.