In this new era of Open AI, tools that generate text like ChatGPT are commonly used. Eventually, it's becoming harder to know which text is generated by AI or human creativity. So, it has become an issue because people who work with human-written content like blogs, journals, etc, can't depend on text written by others. In this case, some of the best AI detector tools can be a great idea.
The way AI is used to generate text, Open AI engineers have developed tools and software using AI to detect AI texts. These are the AI detector tools I'm talking about. However, if you are looking for such tools, we got your back. Today, we'll talk about the 10 best AI detectors you can partially rely on.
Best AI Detectors for Distinguishing AI Text and Human Creativity
---
Before we begin, let me clear one thing: there is no specific tool that can detect AI text with a hundred percent accuracy. So, depending on one specific tool is never recommended. You should use different tools and also think it yourself to judge a text. Even though many tools claim to detect AI text, only a few of them have a better accuracy rate. We list only those tools, and you will find them right below:
1. Content at Scale's AI Detector
---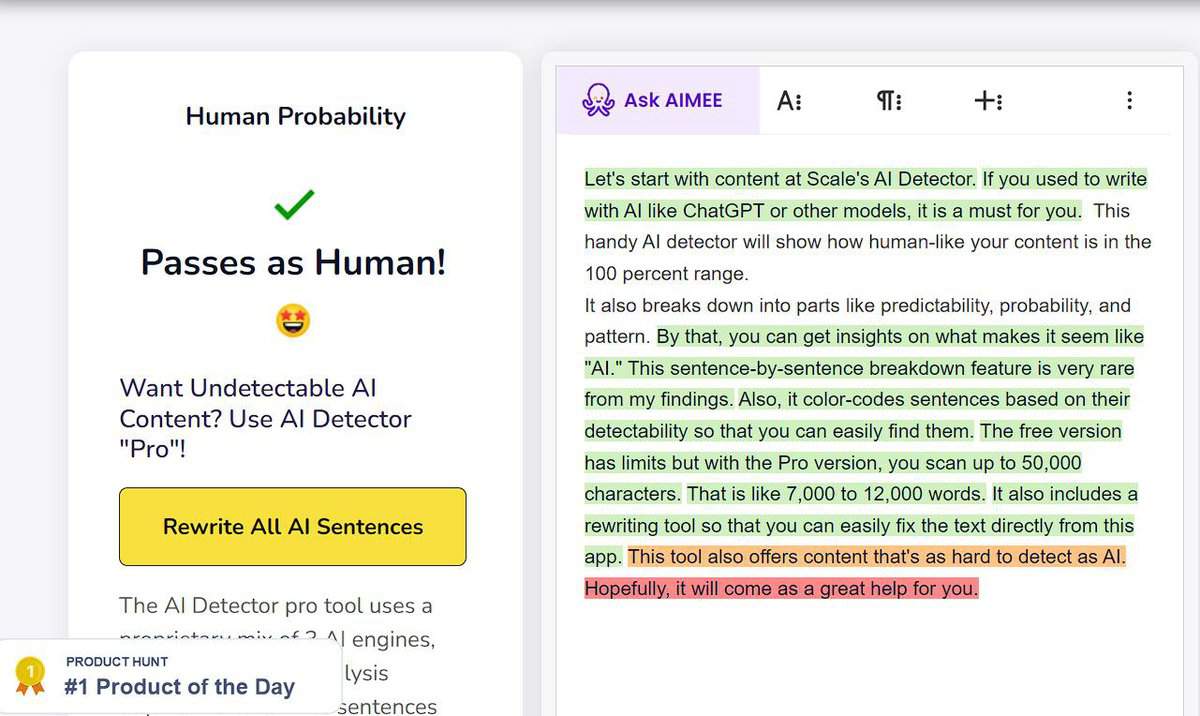 Let's start with content at Scale's AI Detector. If you are used to writing with AI like ChatGPT or other models, it is a must for you. This handy AI detector will show how human-like your content is in the 100 percent range.
It also breaks down into parts like predictability, probability, and pattern. By that, you can get insights on what makes it seem like "AI." This sentence-by-sentence breakdown feature is very rare from my findings. Also, it color-codes sentences based on their detectability so that you can easily find them.
The free version has limits, but with the Pro version, you can scan up to 50,000 characters. That is like 7,000 to 12,000 words. It also includes a rewriting tool to fix the text directly from this app. This tool also offers content that's as hard to detect as AI. Hopefully, it will come as a great help for you.
2. ZeroGPT
---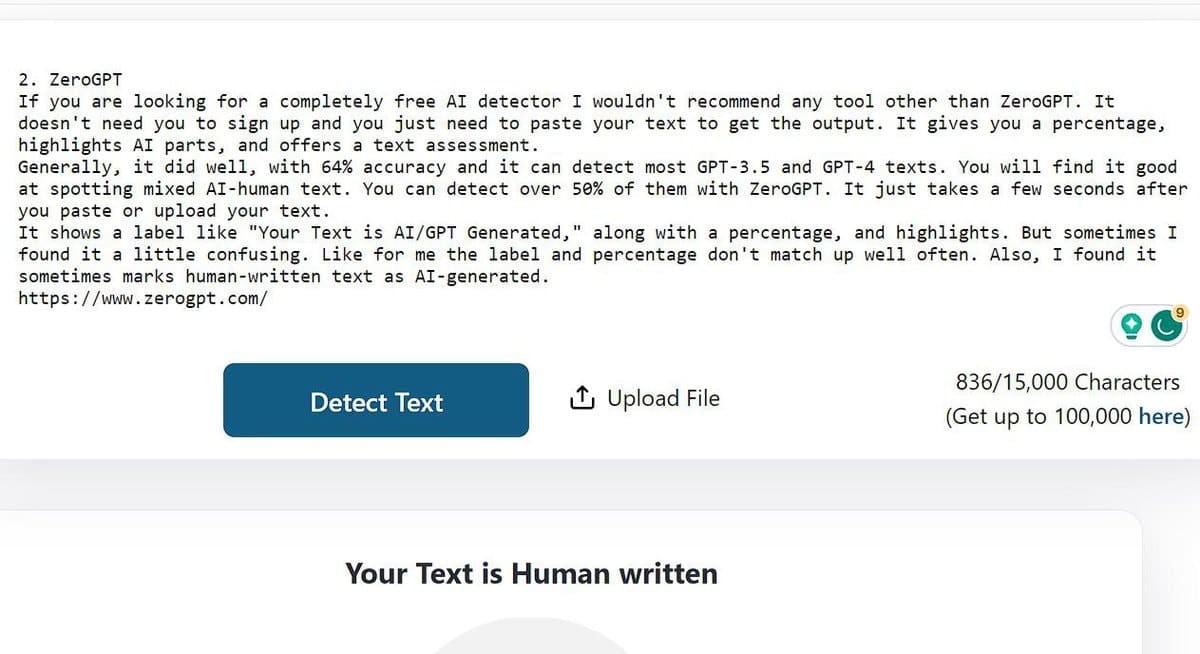 If you want a completely free AI detector, I wouldn't recommend any tool other than ZeroGPT. It doesn't require signing up; you need to paste your text to get the output. It gives you a percentage, highlights AI parts, and offers a text assessment.
Generally, it did well, with 64% accuracy, and it can detect most GPT-3.5 and GPT-4 texts. You will find it good at spotting mixed AI-human text. You can detect over 50% of them with ZeroGPT. It just takes a few seconds after you paste or upload your text.
It shows a label like "Your Text is AI/GPT Generated," along with a percentage and highlights. But sometimes, I found it a little confusing. Like me, the label and percentage don't match up well often. Also, I found it sometimes marks human-written text as AI-generated.
3. Winston AI
---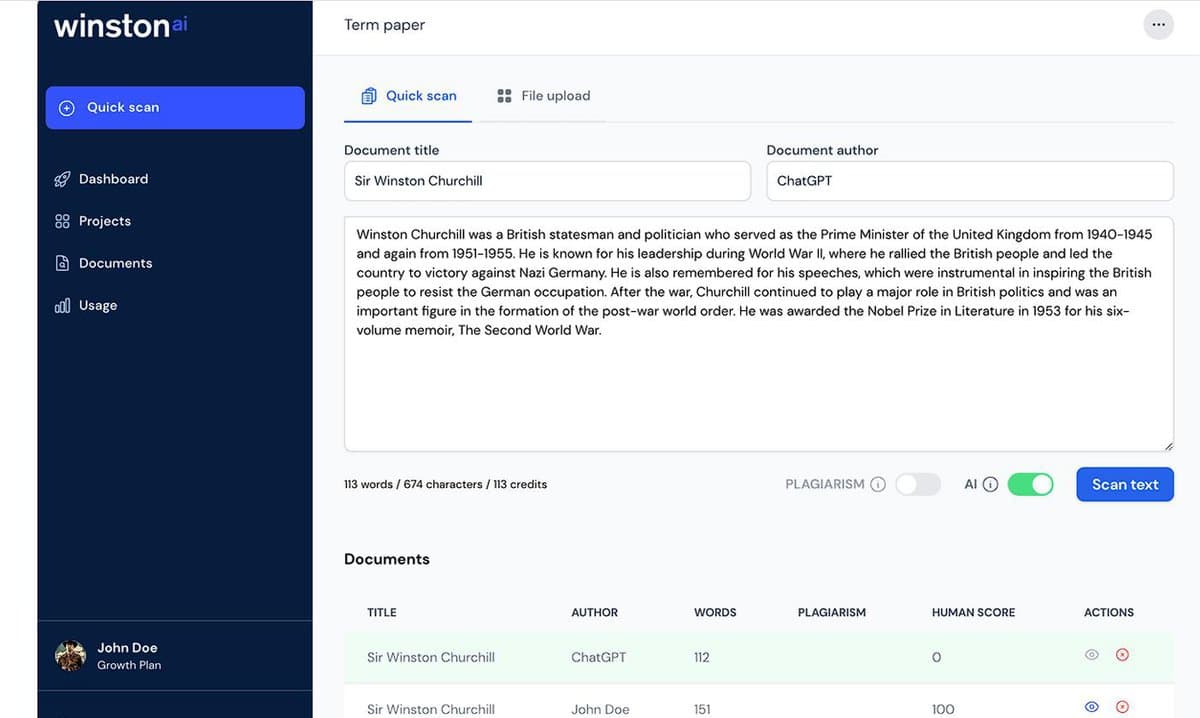 To distinguish between human and AI-written text, you can also use Winston AI. You will get a remarkable 99% accuracy rate in identifying content generated by ChatGPT, GPT-4, and Bard. The mentioned result is based on their tests. Moreover, it helps you by saving reports for convenient future reference.
Winston AI has a minimalist interface, and you won't feel bored using it. There are accurate AI writing identification, advanced plagiarism detection, and readability assessments. It also accommodates team plans to let you collaborate within a shared workspace.
Not just AI detection, this tool also comes with a plagiarism reporting feature. It skillfully categorizes text sections as Likely AI-generated, Possibly AI-generated, or Unlikely AI-generated. Also, it offers color coding for potential problematic lines. But this tool needs a lot of formalities just to begin. And that's because I don't always like to use it.
4. Originality.Ai
---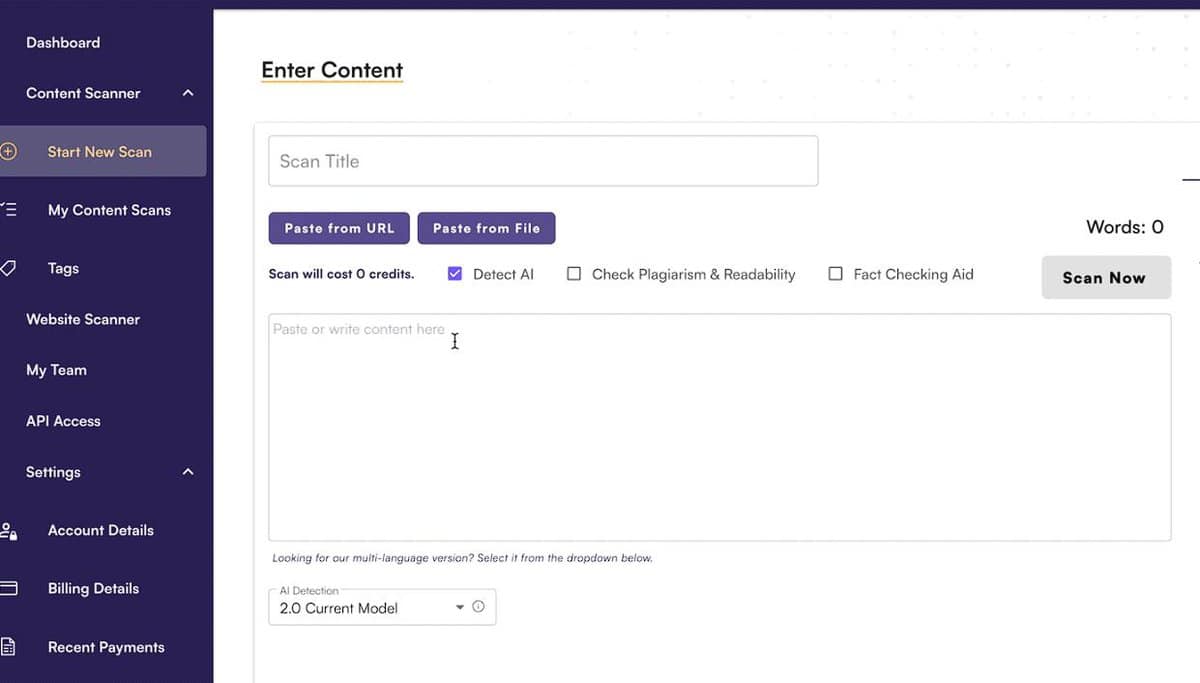 My next recommendation is Originality.ai. It is a top-notch tool for finding AI-made content. It's great at quickly and correctly spotting AI-generated material. So, using this tool, you'll be sure that what you read is real and unique. This tool usually checks for AI content in real time.
It's fast and dependable, so it helps keep your content honest. Plus, it has a Chrome extension, so you can check text while you surf the web. Among all the options, it was found to be super-accurate at identifying ChatGPT-written content.
The Chrome extension makes it even easier to browse. It breaks down AI and human text, so you know what's what. If you need to analyze lots of text, it has an API to help you. With Originality.ai, you've got a trustworthy partner to maintain the integrity of your content.
5. GPT-2 Output Detector
---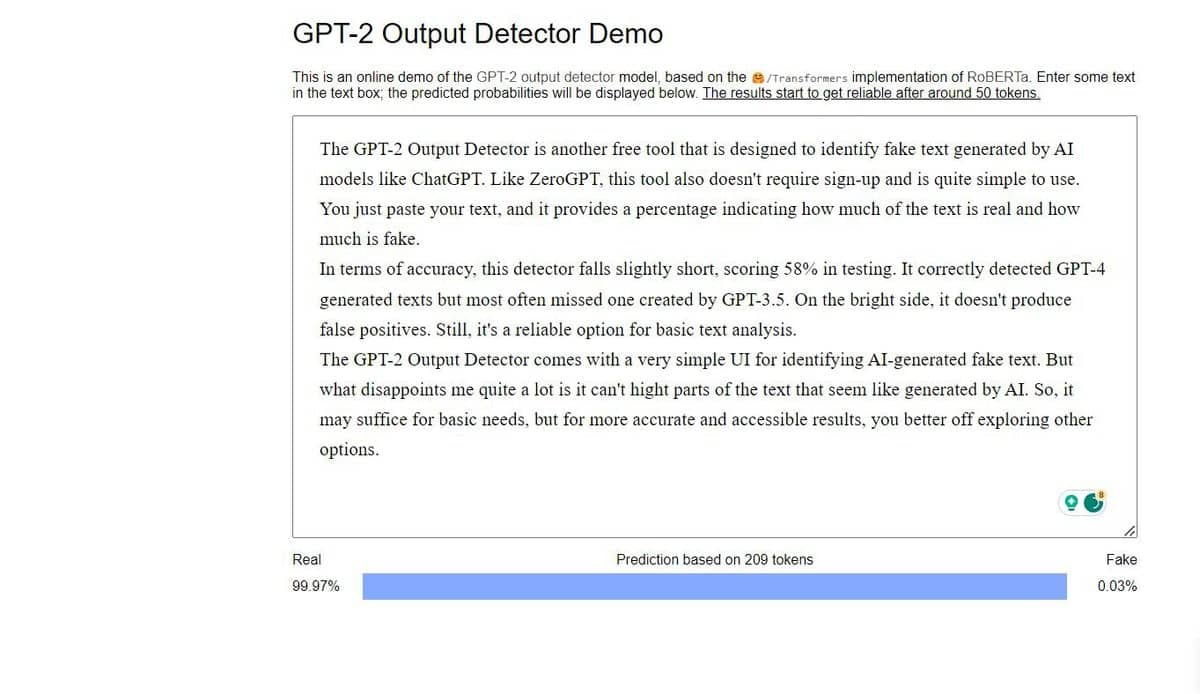 The GPT-2 Output Detector is another free tool designed to identify fake text generated by AI models like ChatGPT. Like ZeroGPT, this tool also doesn't require sign-up and is quite simple. You just paste your text, and it provides a percentage indicating how much of the text is real and how much is fake.
In terms of accuracy, this detector falls slightly short, scoring 58% in testing. It correctly detected GPT-4 generated texts but most often missed one created by GPT-3.5. On the bright side, it doesn't produce false positives. Still, it's a reliable option for basic text analysis.
The GPT-2 Output Detector has a simple UI for identifying AI-generated fake text. But what disappoints me quite a lot is it can't highlight parts of the text that seem like AI-generated ones. So, it may suffice for basic needs, but for more accurate and accessible results, you are better off exploring other options.
6. Undetectable.AI
---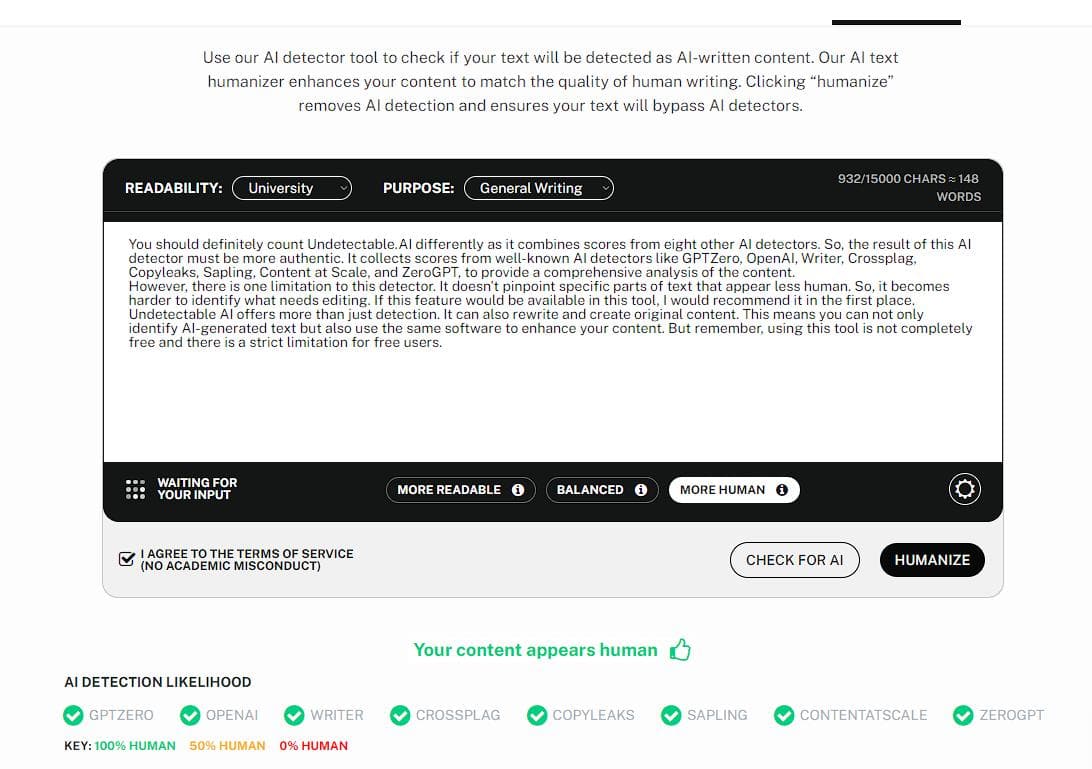 You should definitely count Undetectable.AI differently, as it combines scores from eight other AI detectors. So, the result of this AI detector must be more authentic. It collects scores from well-known AI detectors like GPTZero, OpenAI, Writer, Crossplag, Copyleaks, Sapling, Content at Scale, and ZeroGPT to provide a comprehensive analysis of the content.
However, there is one limitation to this detector. It doesn't pinpoint specific parts of text that appear less human. So it becomes harder to identify what needs editing. If this feature would be available in this tool, I would recommend it in the first place.
Undetectable AI offers more than just detection. It can also rewrite and create original content. This means you can not only identify AI-generated text but also use the same software to enhance your content. But remember, using this tool is not completely free, and there is a strict limitation for free users.
7. CrossPlag
---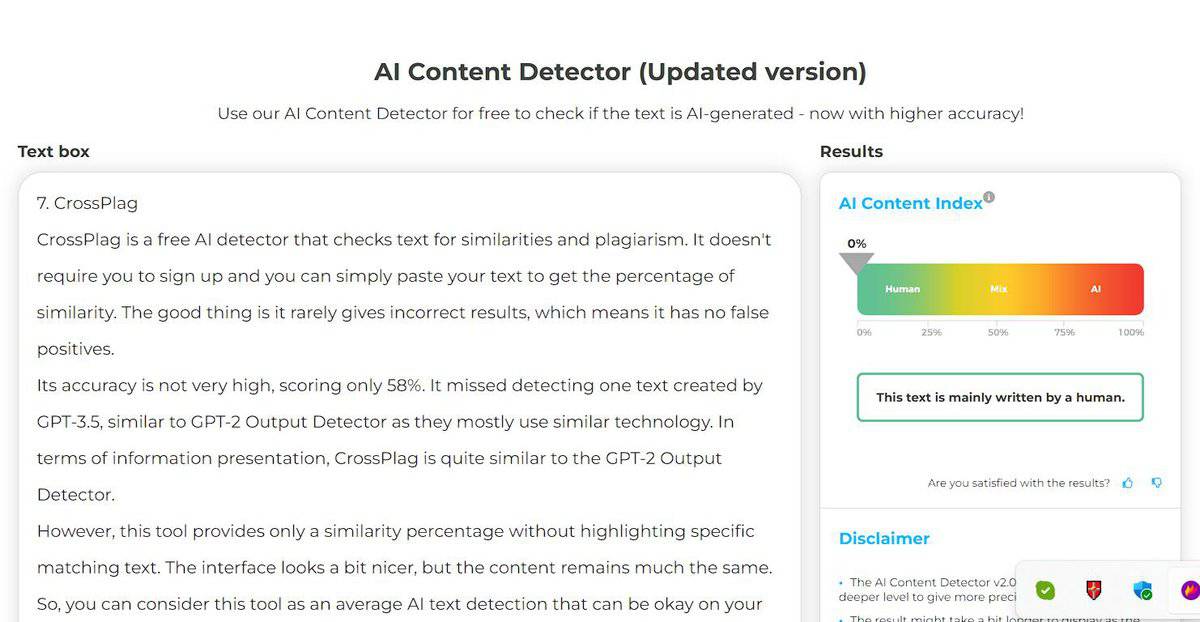 CrossPlag is a free AI detector that checks text for similarities and plagiarism. It doesn't require you to sign up; you can paste your text to get the percentage of similarity. The good thing is it rarely gives incorrect results, which means it has no false positives.
Its accuracy is not very high, scoring only 58%. It missed detecting one text created by GPT-3.5, similar to GPT-2 Output Detector, as they mostly use similar technology. In terms of information presentation, CrossPlag is quite similar to the GPT-2 Output Detector.
However, this tool provides only a similarity percentage without highlighting specific matching text. The interface looks a bit nicer, but the content remains the same. So, you can consider this tool as an average AI text detection that can be okay on your simple text.
8. Sapling AI Detector
---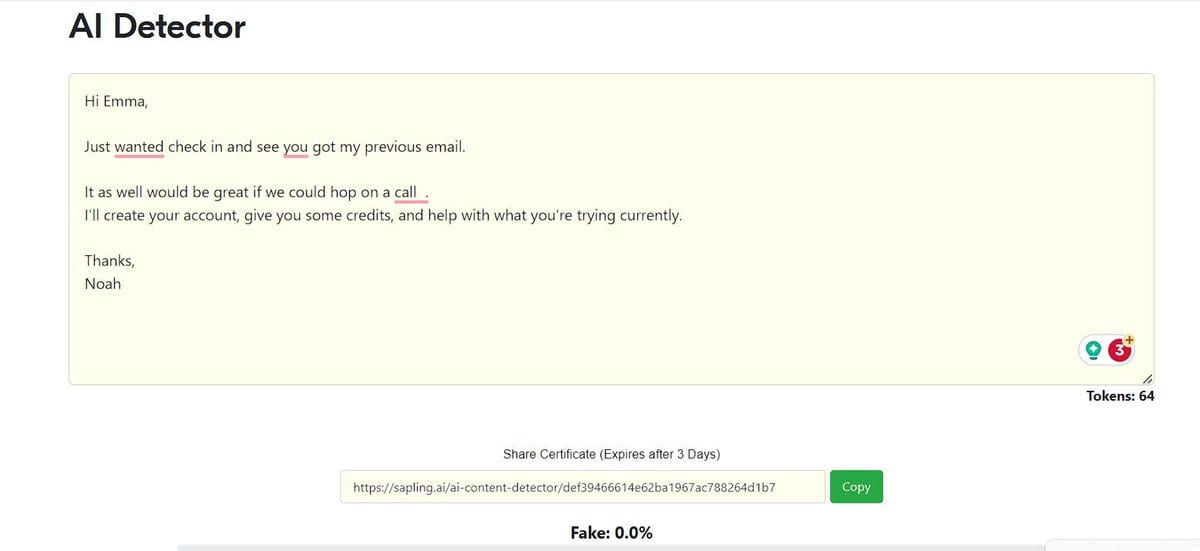 You can also use the Sapling AI Detector. This AI text detector was released in May 2023, and it is a tool from Sapling, which is known for its AI solutions. This tool spots AI-made content with high accuracy, even in short 50-word pieces. Its color-coded results make understanding easy, ensuring content authenticity.
This tool is well-known for its accuracy and minimalist UI. It usually gives you the percentage of fake content and offers an API for checking lots of content. Besides, it works with CRMs and email clients to make it even more convenient.
Even if this tool seems very useful, for me, many functions were unclear. But in detecting AI-generated text, it's solid. By the way, you should remember that it has word count limits on the free plan, and the paid plans are quite costly.
9. Writer AI detector
---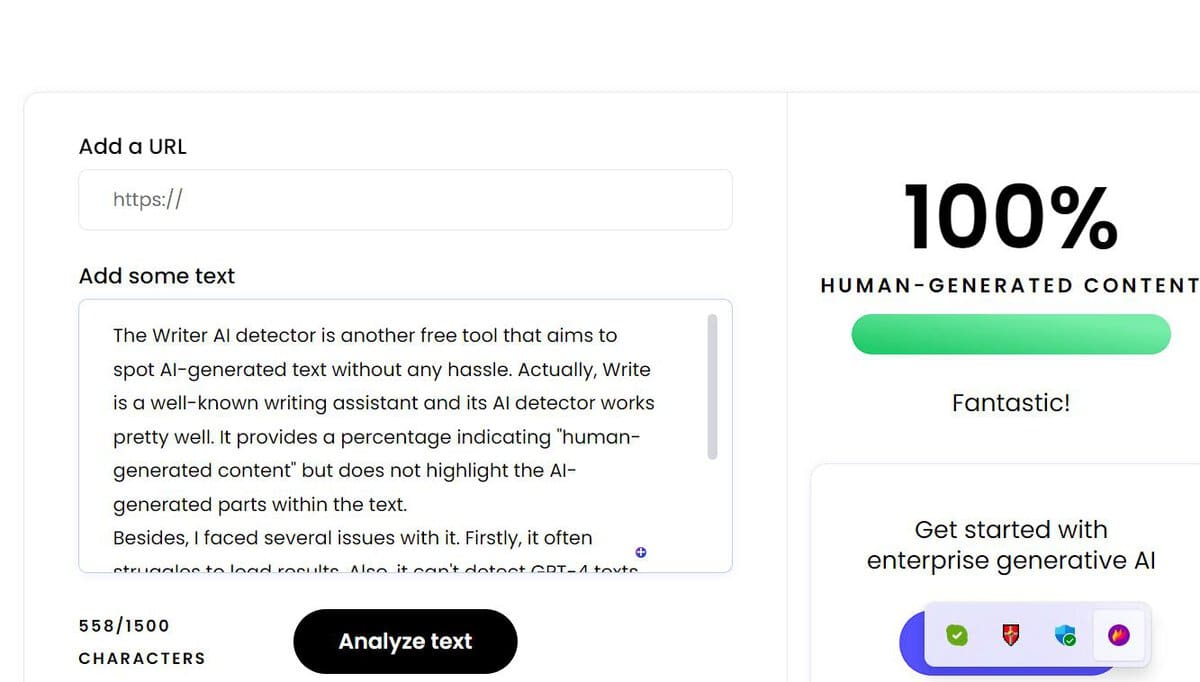 The Writer AI detector is another free tool that aims to spot AI-generated text without any hassle. Actually, Write is a well-known writing assistant, and its AI detector works pretty well. It provides a percentage indicating "human-generated content" but does not highlight the AI-generated parts within the text.
Besides, I faced several issues with it. Firstly, it often struggles to load results. Also, it can't detect GPT-4 texts entirely. But it manages to catch 70% of GPT -3.5 texts. Except for these issues, a Write AI detector can be a good option.
The UI is pretty minimalist here, and you don't need to sign up to use this tool. Additionally, it's free even though there is a word count. Still, using this tool is relaxing as it only takes a few clicks and a few seconds to detect AI text.
10. AISEO
---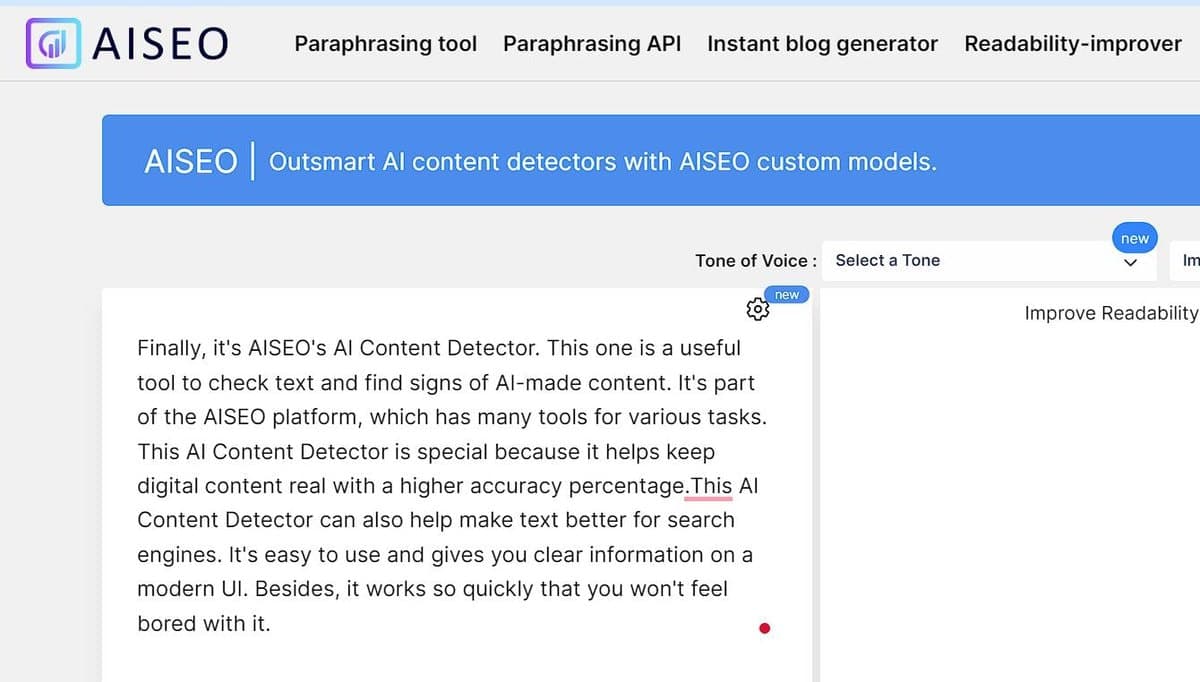 Finally, it's AISEO's AI Content Detector. This one is a useful tool to check text and find signs of AI-made content. It's part of the AISEO platform, which has many tools for various tasks. This AI Content Detector is special because it helps keep digital content real with a higher accuracy percentage.
This AI Content Detector can also help make text better for search engines. It's easy to use and provides clear information on a modern UI. Besides, it works so quickly that you won't feel bored.
If you want to know more about your content and also to make it better, you should use this tool. It will help you generate unique content for your websites, too. But this one is pretty expensive compared to other tools. That's why I wouldn't recommend this one to people looking for a free AI detector.
Wrapping Up
---
Before saying Goodbye, let me inform you of some important information. I used almost all of the well-known and best AI detectors, both premium and free. From my findings, none of them 100% accurately identifies AI text. Sometimes, these tools highlight human-written text as the AI one and vice versa.
So, it wouldn't be a good thing to judge human creativity completely based on the results of a single AI detector. If you are an experienced and good reader, you should use your brain and read the text yourself besides using these tools. You will definitely be able to identify text that is not coming from human creativity.