If you are here searching for disk analyzer software, then I am sure that you already know about it. But for those who don't know yet, it is generally a computer program or tool which you can use for analyzing the storage space of an electro-mechanical drive. Here the term "analyze" stands for different purposes like exploring documents, cleaning up space, or even optimizing the disk when needed. Disk analyzers are very important tools to save and optimize disk usage on your Linux system.
Best Disk Analyzer Software for Linux
---
There is a bunch of disk analyzer tools for different platforms. Even if you search specifically for Linux, the options are abundant. So it's very difficult to choose the right one. Here we will introduce you to a list of our most favorite disk space analyzer tools for Linux.
The most important part is that you can install them on any Linux distro without any hassle. We have also got you covered, providing the download links for each of the Linux disk space analyzer software.
1. Disk Usage Analyzer
---
This is a pretty simple tool for analyzing Linux disk space, but its minimal graphical UI makes it people's favorite. Some of you may be familiar with "Baobab," which is the old name for this tool. Yes, it doesn't do much other than analyzing and visualizing your data. But you may want to use it for being easy to use.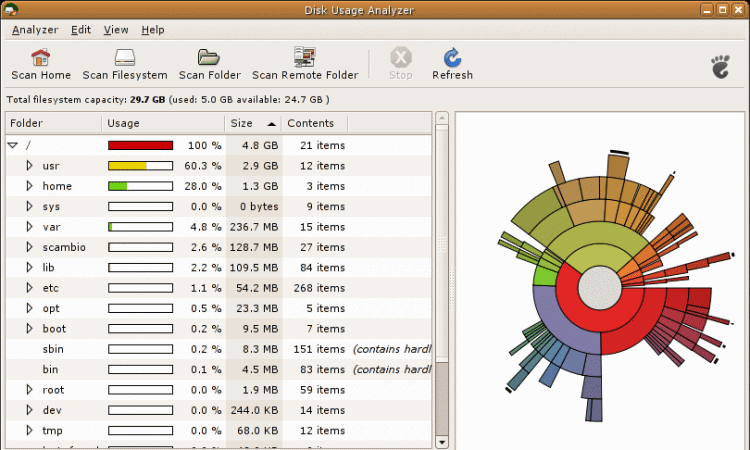 Key Features of Disk Usage Analyzer
It shows the live illustration of Linux disk usage in the form of a pie chart.

This tool can scan the full file system at a time or even individual folders.

DUA can connect to a remote file system via ssh, ftp, smb, HTTP, and HTTPS protocols.

The program will constantly monitor any changes in the home directory if you want to.
2. QDirStat
---
QDirStat is a popular GUI-based tool. This tool is a replacement for KDirStat, which was another KDE-based Linux storage analyzer. QDirStat will show your storage usage visually, like any other disk analyzer tool. Apart from this, it can clean up your storage too.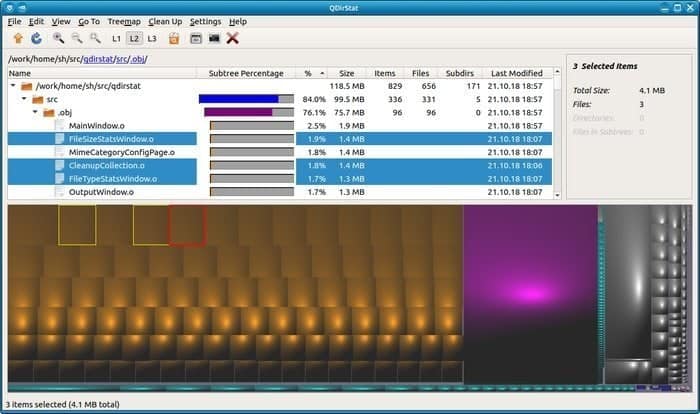 Key Features of QDirStat
It represents the storage usage by visualizing with rectangular and square grids.

Users can set different cleanup functions based on their preferences.

It is possible to configure treemap colors according to file type.

QDirStat is desktop-independent and works on any environment, unlike its predecessor.
3. Ncurses Disk Usage (ncdu)
---
Now, this tool is quite handy, simple, and fast, except it doesn't have a graphical UI. This program performs instructions through command lines. ncdu will scan your entire system automatically just after you launch the program. You just need to go through the tool's official instructions set to rule over your storage space.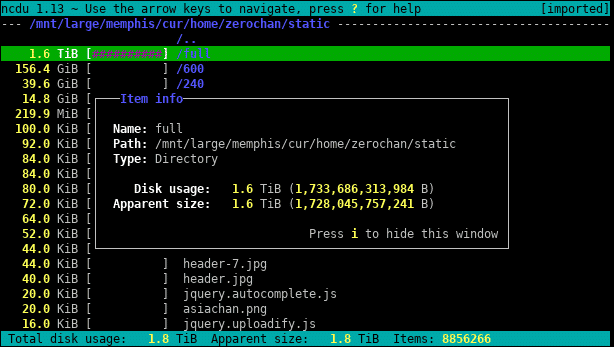 Key Features of Ncurses Disk Usage
It can easily run on any minimal configuration setup.

The interface of the program is interactive and can be tweaked.

It can report system storage space for individual directories.

Users can manage a web directory using ssh protocol.
4. XDiskUsage
---
This tool is, again, a GUI-based tool. But its user interface is not that fancy. Many people love their simple manner. It represents different directories in a basic tree format where the branches are rectangle-shaped. The more you fill up space in a directory, the bulkier the rectangle gets.
Key Features of XDiskUsage
This tool clearly shows the directory name and space used.

It is easier to navigate through the input device across the directory rectangles.

Users can conveniently copy the directory path to use that in other programs.

You can even download the source and compile it into your system for installation.
5. JDiskReport
---
This is a Java-based program, and for this beautiful reason, it is cross-platform.  You can use this tool on any type of Linux machine to analyze your storage space. The left panel of this program shows you the list view of the directory. At the same time, the other portion of the display shows you a pie chart of your disk statistics.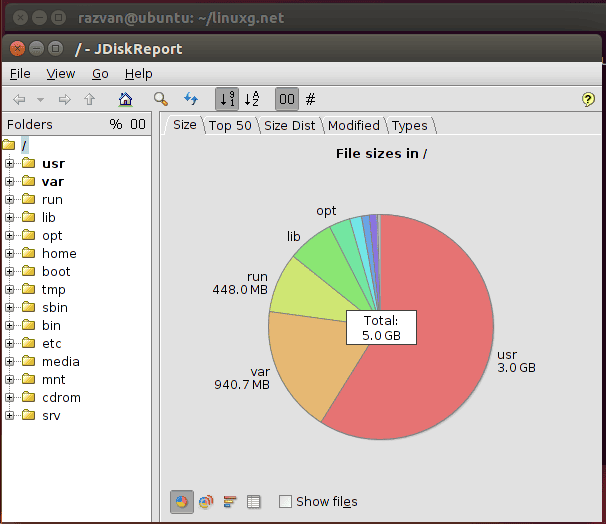 Key Features of JDiskReport
It can find and clean obsolete files from your system.

This tool shows the top chart of the largest files according to file type.

 Users can view the statistics in a tabular form too.

There are and will be no advertisements as the maker claims.
6. Filelight
---
Filelight has a very clean and minimal user interface. It represents the disk usage of the entire system through a special pie chart. You can call it a sunburst visualization. You can also use your mouse to deep dive into different parts of the pie chart.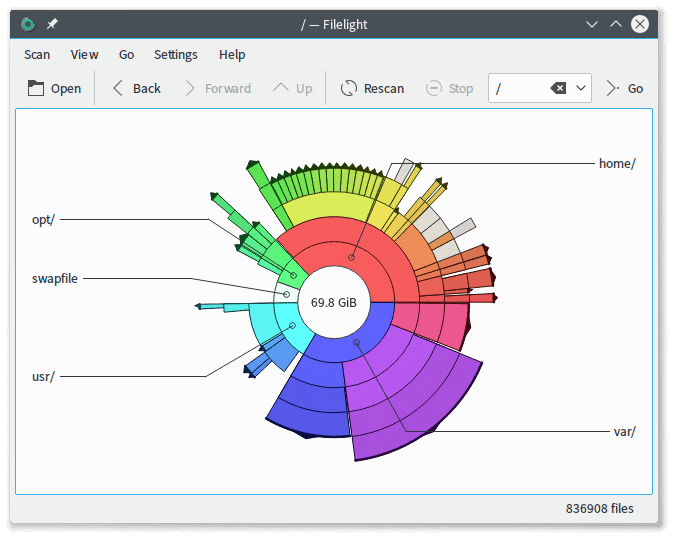 Key Features of Filelight
You can exclude directories from the list so that it doesn't scan those directories.

The color scheme of the user interface can be changed based on user preference.

A particular directory can be opened in the file manager as well as in the terminal window.

Users can hover their mouse to get detailed information on a particular directory.
7. DUC
---
This is a versatile and useful tool that can be used through a graphical interface and a console interface. You can connect it to the web using CGI. The most interesting part is it visualizes the statistics in different types of beautiful graphs.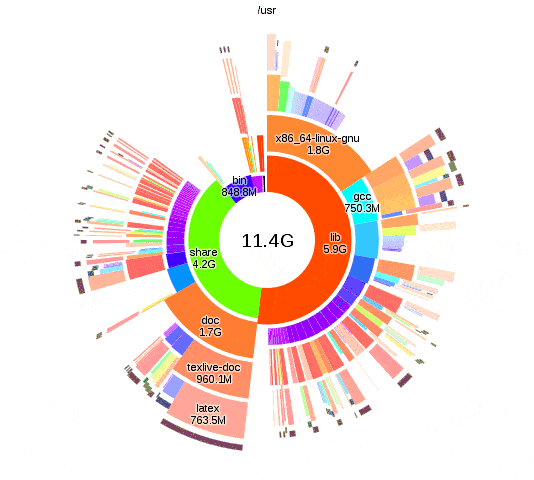 Key Features of DUC
It can handle huge storage disks without any hassle.

Different types of user interface design in a single package make it versatile and loved by many people.

DUC stores data in an optimized database, so users don't need to wait for indexing every time.

It has extensive documentation on its official website.
8. DUtree
---
It is another Linux disk usage analyzer. It is written in the RUST programming language, and this is why it runs blazingly fast. It can show disk usage in graphs and charts like most other applications. Besides, it can show the entire directory as a tree-like structure.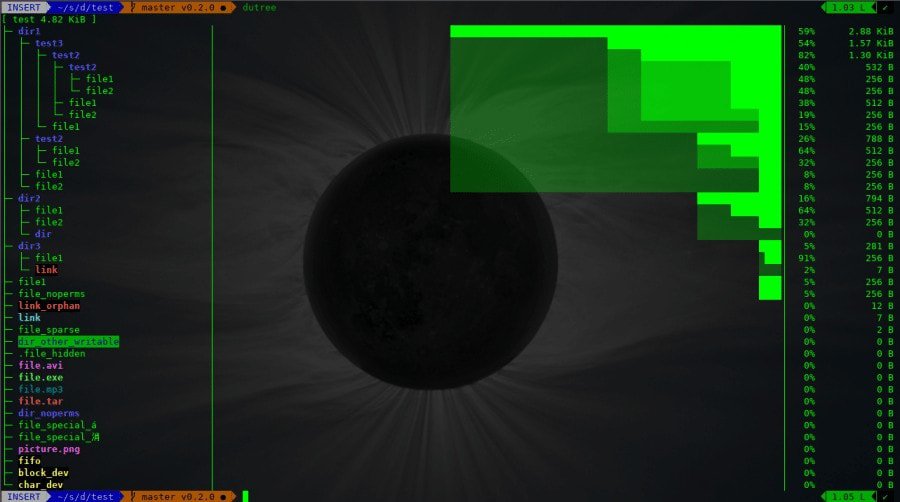 Key Features of DUtree
It can represent the output in a fancy and colorful way.

Users can easily aggregate small files using this program.

You can select and compare two directories by using this tool.

It is possible to exclude any directory from further scanning.
9. GdMap
---
GdMap has an old-school user interface. Cushion treemaps are used in this program to visualize data. The directories and files are displayed in rectangular shapes of different colors. The size of the rectangle increases for the directory size.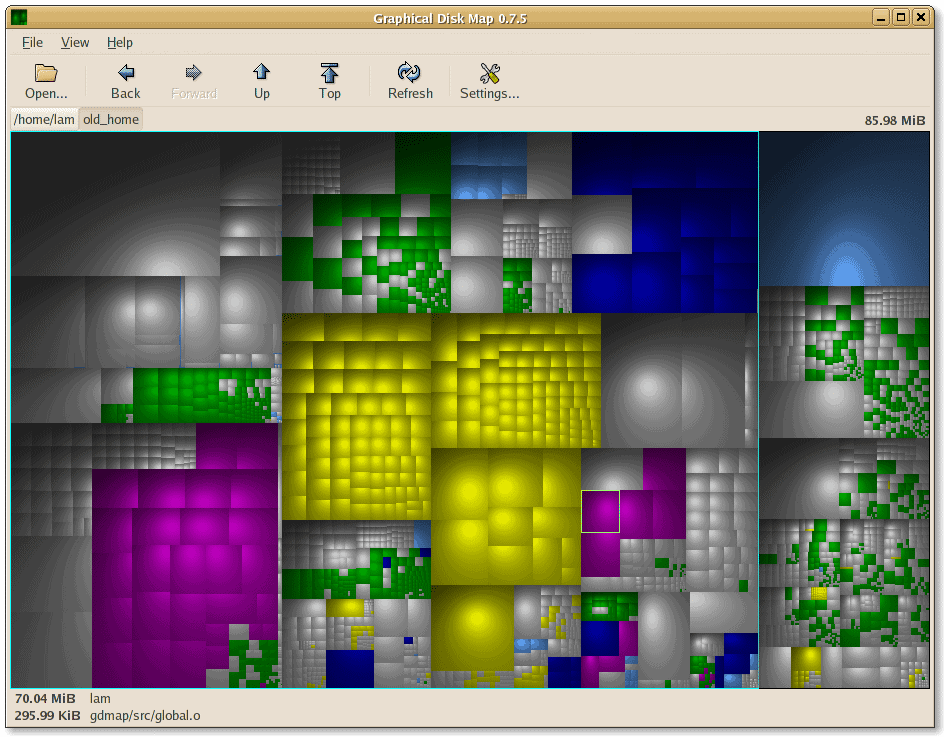 Key Features of GdMap
It can be used in all POSIX machines.

There is a color editor for editing the cushion color.

All the files in a directory are represented by color in a rectangle.

It is simple and easy to use.
10. CrossDirStat
---
It is a relatively new tool. As the name suggests, it is a cross-platform program. It has a beautiful Android-like material design, and it represents disk usage in colorful rectangles. This program is easy to use, and the basic settings can be found on the start screen. So you don't have to look out for the settings.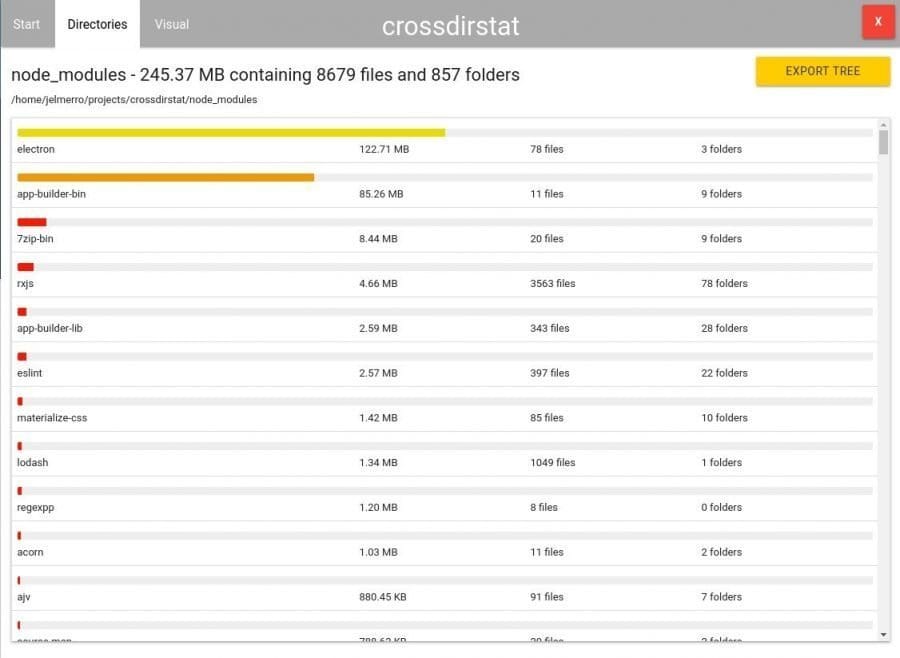 Key Features of CrosDirStat
The colors of the rectangular visualization can be changed easily.

Users can export the graphical representation in JSON, SVG, and PNG format.

It can create the tree structure of a selected directory.

The tree structure of the directories can be exported as JSON with file sizes.
Final Thoughts
---
Day by day, we are migrating to cloud storage services. But still, we need to use and manage local disks. So the storage space analyzer tools are a very important part of a Linux-based machine. Hopefully, the above list will help you choose the best possible storage space analyzer for your Linux system.
Are there any of your favorite tools that you had expected to see here? Share your thoughts in the comment section. And, if you think this article is an informative one, share it with your friends.