Time Machine backup software is top-rated in Apple's Mac OS X. This backup software is used to make backups in external storage and let you restore in case of any damage of the system or files. Moreover, the Mac user also can restore the previous healthy order if the present system gets corrupted.
You, as a die heart Linux user, might be thinking that why I am discussing MacOS application in Linux blog. Because today I am going to share a Linux backup software which is a clone and alternative to MacOS Time Machine Backup Tool named "Cronopete." It helps us to take periodic backup of the Linux system. It supports all the major Linux distros including Ubuntu, Arch Linux, Fedora, Debian, etc.
Install Cronopete – an alternative to Time Machine Backup
---
In this quick tutorial, I show you how to install and use Time machine like backup tool Cronopete in Ubuntu to take backup and restore data. First of all Download the latest version from the official site.
This file is in .deb package system. So after downloading the file, you can do two things; either you can double-click the software package which takes you to the software center with install option or install a better .deb package management tool from the software center.

Here, I suggest you install Gdebi package installer and using this software, you install the Cronopete deb package. Or else, you can run the following command into the Terminal to install:
sudo dpkg -i ~/Downloads/cronopete-*.deb; sudo apt-get -f install
Now you can open the software by searching Cronopete in the app drawer.

Or run the below command:
cronopete
After the first launch, you see a configuration screen. It's effortless to set up the software for the first time.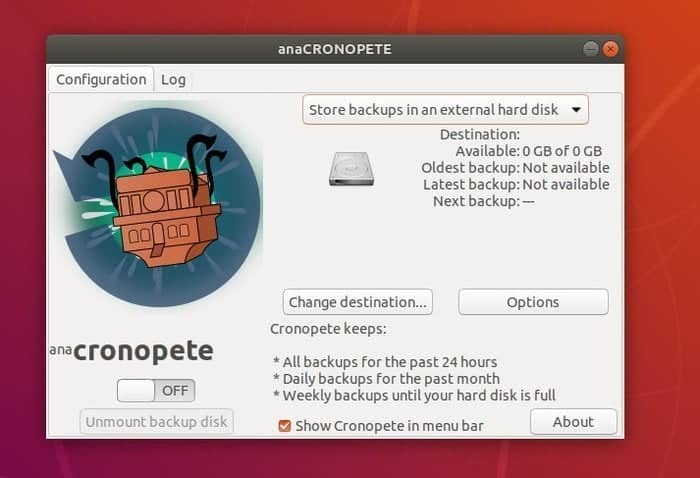 Here you can see few basic options are there for changing destination external storage, option to choose the folder which you need to backup and an on-off button. Moreover, there is some vital information for the scheduled backup time. Cronopete can take backup for past 24 hrs, daily backup for past the month and weekly backup until the storage gets full.
How to Remove
---
In case you don't like this Linux backup tool, run the below command to remove it from the system:
sudo apt-get remove --autoremove cronopete
Is this tutorial helpful? If so, please spend a moment to share this article on your social media and professional network. And if you face any difficulties or want to share some suggestions, please use the comment box below.