Turn your photos into videos is now easier than expected. You can present your memory, portfolio, or photography smartly by adding text, transition effects, background audio with the help of a slideshow maker. Most of this softwares are free. You can use this software in both your desktop and online. In this article, I only covered the best free online slideshow makers. Because the online application is easy to use. No software installation is required. So, you do not need to utilize your system resources. Just use the online slide maker tool and create your video presentation.
Make your own slideshow in different video formats. These programs support the most popular video output formats like AVI, MOV, WEBM, MP4, and more. Moreover, so many exclusive features are offered by the online slideshow creator. In addition, many of the online tools allow sharing your slideshow in social media and cloud stores. Use these online tools and restore your memories or portfolio smartly.
Best Free Online Slideshow Makers
---
Basically, there is no fundamental difference between online and desktop slideshow makers. But the key advantage of an online slideshow maker is that you can instantly use the tool and share it in the cloud store easily. You do not need any design skills or technical knowledge. You can use these tools to make awesome presentations.
Here I have compiled the 12 best free online slideshow makers, including key features, weblinks, pros, and cons. So this article helps you to find out the best online slideshow creator tool. Let's check out the list.
01. Renderforest
---
Renderforest is one of the best online slideshow makers for creating branded videos, animations, and logos with minimal effort and time. With Renderforest, you can produce high-quality video presentations. Here, you find hundreds of slideshow templates in various categories. You can use this template and create a more engaging video slideshow in a few minutes.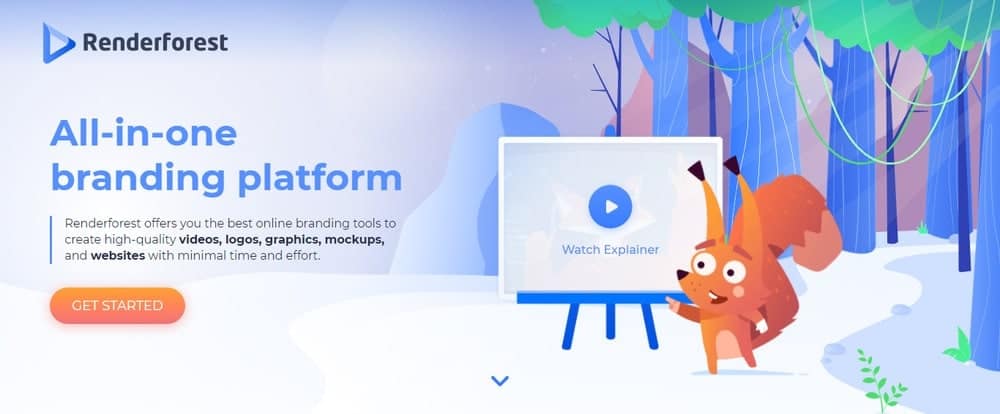 Key Features:
With Renderforest, you can make intro and outros videos for YouTube or any branding purposes.
The template customization tool is easy to use. So anyone can customize templates and can create their own video presentation without having a video-making experience.
There are thousands of stock videos and more than hundreds of music tracks for commercial use. So you can create branded or promo videos easily in this site.
You can share your video online or use commercial purposes.
Renderforest has a dedicated support team. So you can get 24/7 support for queries or problem solutions.
Licensing: free, subscription, pay per product.
Pros: Renderforest offer you to create high-quality video presentations. It supports 1080p HD video. But Renderofest only allows for paid subscribers to download HD videos.
Cons: You can create a square video in this site. Moreover, the free user only exports 360P video.
02. Adobe Spark
---
Adobe spark is an integral part of the creative content creator company Adobe Inc. With Adobe Spark; you can create beautiful video presentations without having designing skills or investing time for learning. You may find Adobe Sparks templates is easy to use.
With a few clicks, you need to change the color, layout. Besides, it has three separate design tools; Adobe Spark Post, Adobe Spark Page, and Adobe Spark Video. For making a video presentation, you need to go through Adobe Spark Video.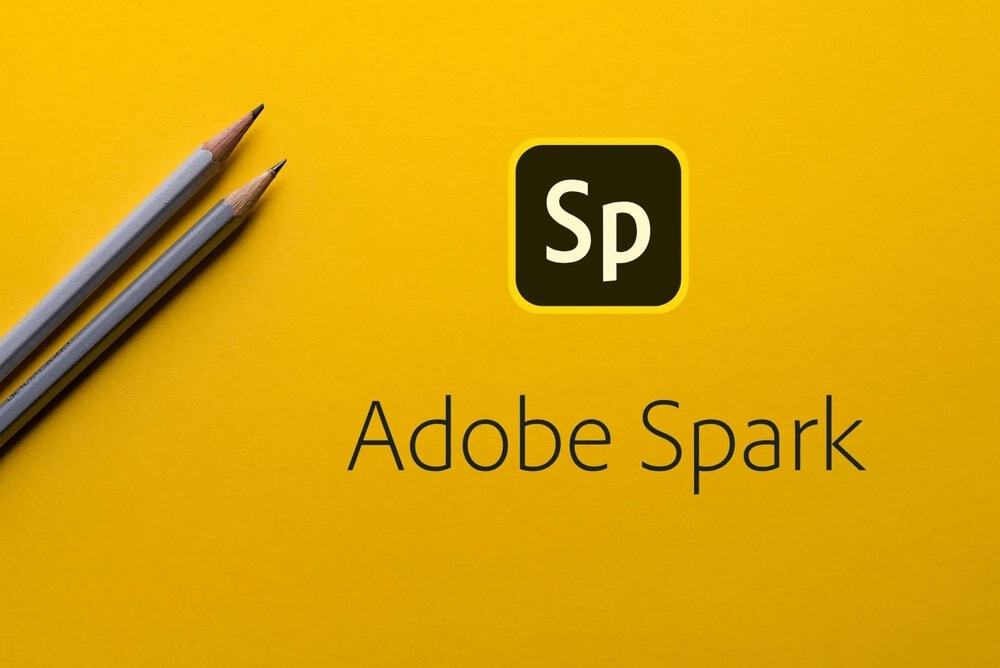 Key Features:
You can share your Adobe Spark video project with others by sharing your project output link.
You can create videos in both widescreen and square layouts.
Moreover, You can add music from the Adobe Spark music library.
You can create a completely new video using this Adobe Spark Video basic tool.
There has a broad range of tutorials. So you get help from the tutorial section.
Licensing: free, subscription
Pros: With Adobe Spark, the video presentation can be shared in social media easily.
Cons: It has limited customization features. Moreover, the subscription process is quite difficult.
03. Kapwing
---
Kapwing is an outstanding slideshow maker compact with lots of slideshow features. It has many tools to create an excellent video slideshow. You can add images, videos, music, subtitle in a video. The great news for free users is that you can export your slideshow without any watermark. Besides, you can export up to 7 minutes long videos as a free user. Moreover, it supports third-party plugins that enhance your slideshow presentation.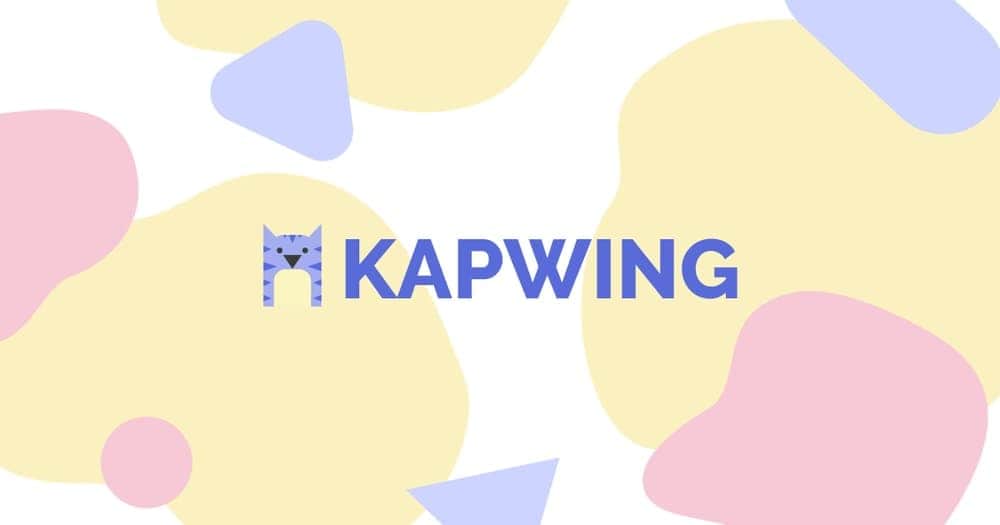 Key Features:
Kapwing's one of the exclusive tools is subtitler. This tool can automatically generate subtitles in your video in almost any language.
Moreover, it has hundreds of templates to start quickly create a slideshow.
Access hundreds of free resource articles to create an amazing slideshow for any special occasion.
You can create memes easily with this tool.
Kapwing provides a complete video editing tool. Here you can trim, crop, resize, rotate, loop, and many more. Moreover, you can add video effects to enhance your slideshow presentation.
Licensing: free subscription for individuals, subscription for the team.
Pros: Kapwing can generate HD video. Besides, Kapwinp has a green screen video tool. Additionally, you can remove background images easily with the Kapwing background image remover tool.
Cons: However, Kapwing does not support share the video in the cloud storage. Moreover, it does not have any music library for import background music.
04. Fastreel
---
Fastreel is the Movavi online version. It has a wide range of video presentation templates that give you a new idea of presenting your project. You can create a video presentation easily use this template without having video editing experience. So, you can edit your video or use a template to create a video presentation online easily.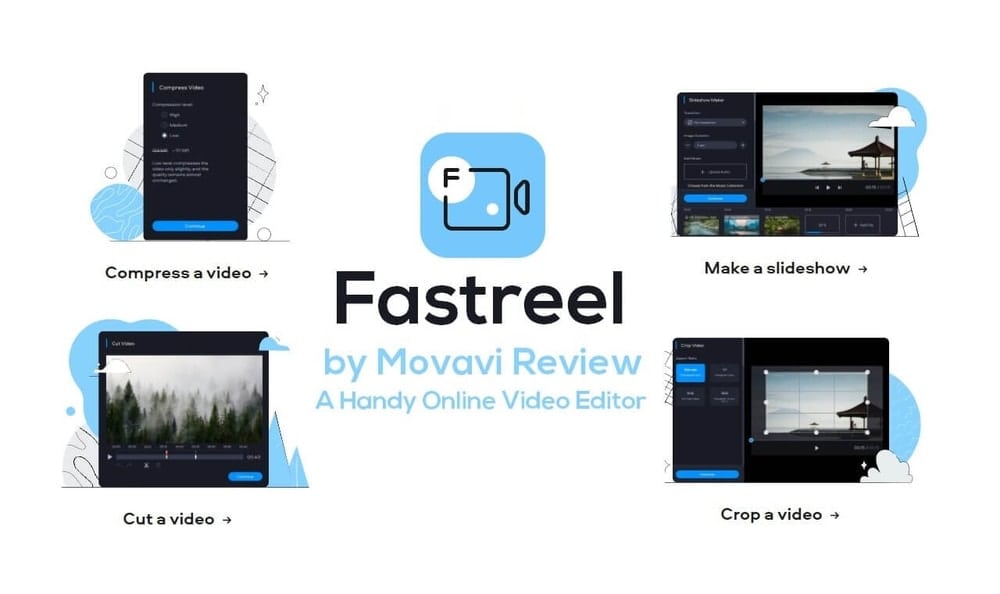 Key Features:
Fastreel has a cool video editing tool. With this video editing tool, you can crop, reverse, loop, rotate, and resize a video.
 It has a set of video effect tools such as stop motion, video collage, split video, flip, etc.
Moreover, it has plenty of filter options to present your video in different color modes.
You can add audio in a video. In addition, you can add text and subtitles in a video.
Besides, there is a dynamic and colorful video template library. You can attract more audiences while you are using Fastreel amazing templates.
Licensing: free, subscription, pro version
Pros: With Fastreel, you can create an awesome video presentation without having previous experience.
Cons: In the free version, all output video comes with watermark.
05. Promo
---
If you do not have enough time to create a slideshow, then you get help from Promo. Promo is the visual content creation platform. It is an awesome professional video maker website where has a large collection of award-winning video templates. Through using these award-winning templates, you can create amazing video presentations within a few minutes. This site is especially best for creating beautiful marketing promo videos.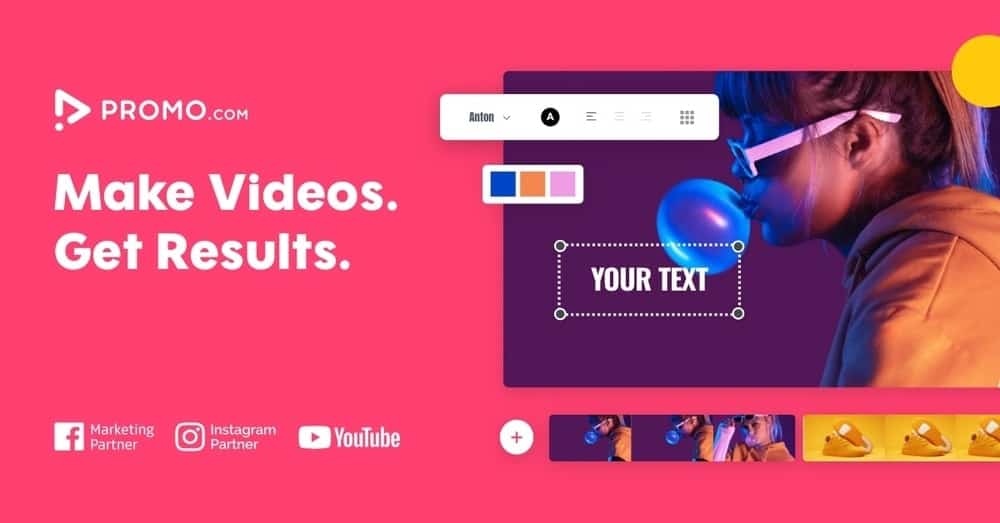 Key Features:
Promo has already created more than five million marketing videos. You can access these video and customize according to your requirement.
You can access unlimited stock images and HD videos from top-rated stock image websites like Getty Images, iStock.
Promo has an excellent music library. And music is categorized. So you can find out right music for your project instantly.
Besides, it has a stylish text design template.
You can create videos in different video aspect ratios. It supports vertical, square, and wide ratio video formats.
Licensing: trail version, three different subscription plans.
Pros: You can easily share your project output content.
Cons: If you are a free user, you only can do 5 projects for free. Moreover, the templates customization process is not easy for all.
06. Smilebox
---
Do you want to restore your memory? With Smilebox, you can create a photo story. Smilebox is another best free online photo slideshow maker application. Choose your favorite photos, add music, write a caption and turn your photos into a video reel. The whole process is quite simple. Besides, you can create personalize slideshow by using Smilebox's numerous styles and layouts.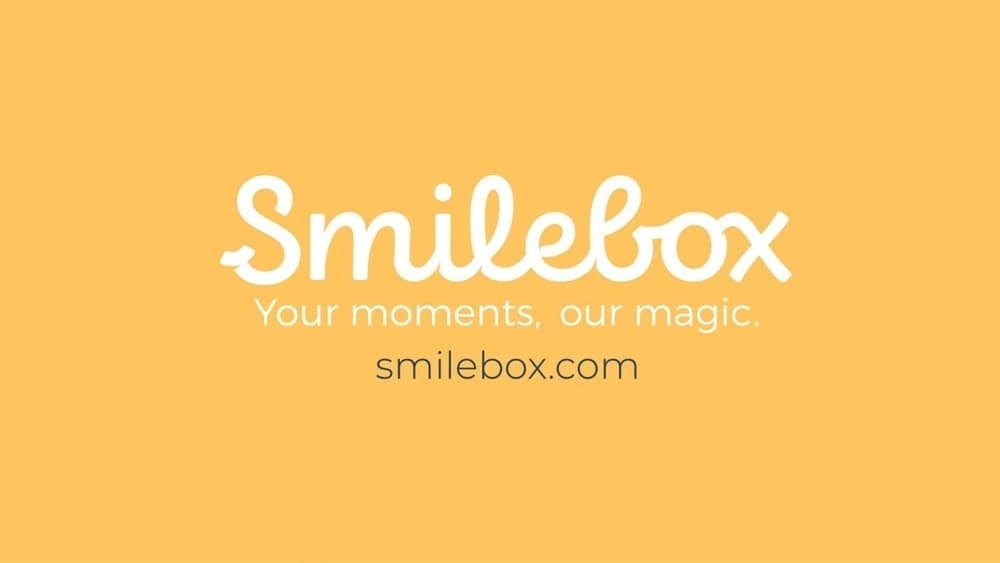 Key Features:
With Smilebox, make a slideshow for family or events is super easy.
You may find a large collection of templates library, and all templates are nicely categorized. So here, finding the best-suited template for a slideshow project is quite easy.
Besides, you can more personalize your slideshow by uploading photos and music.
You can share your photo slideshow either in social media or save it to your desktop.
Smilebox offers not only to create a slideshow, but you can also create invitation cards, collages, flyers easily.
Licensing: free subscription.
Pros: Smilebox has a wide range of templates. Moreover, the customization process is simple. So, anyone can create a beautiful slideshow easily.
Cons: Although, Smilebox offers templates free to use. But most beautiful templates can be accessed after subscription.
07. FlexClip
---
FlexClip is just like Smilebox's online slideshow application. It offers drag and drops UI to upload photos and music. You can create a beautiful slideshow with photos and add music, text, effect. The slideshow templates are categorized for different life events and memories. Moreover, you can access a well-balanced media library where millions of stock images, video footage, and music are available to use.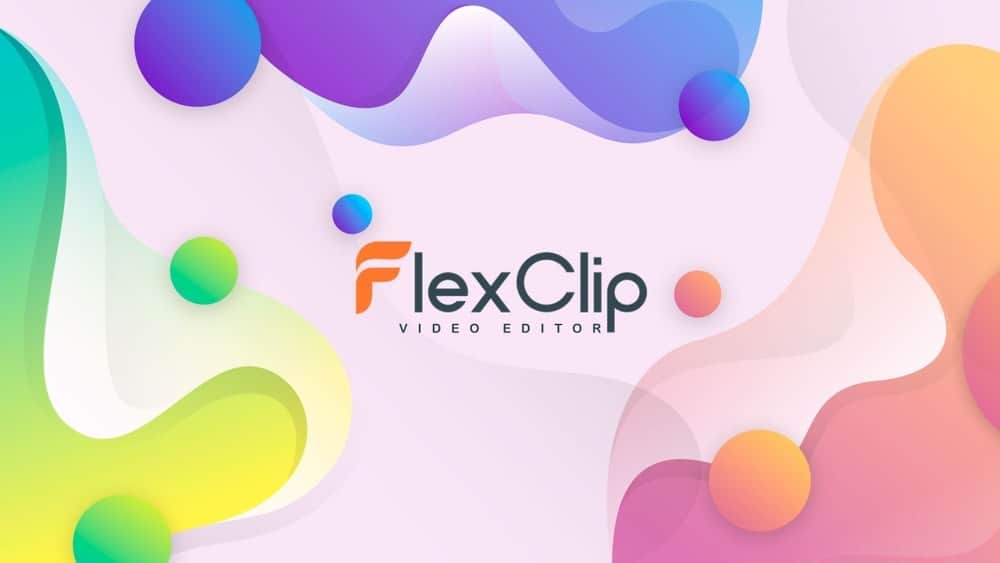 Key Features:
FlexClip simplifies the slideshow-making process. You can create a beautiful slideshow without having creative skills.
It has more than 60 preset transitions to blend perfectly with your uploaded photos.
You can animate text in the slideshow. It offers to resize your text, choose color, font, and placement to ensure more appealing text animation.
Besides, you can record your voice in a video to create more attention to your slideshow presentation to the audience.
In addition, you can choose your best-suited video aspect ratio to make it compatible with different devices.
Licensing: free, three subscription plan.
Pros: With FlexClip, you can add video filters, effects to present your slideshow in a different look. Moreover, you can merge, trim, zoom video.
Cons: FlexClip free version is limited usage. It enables you to export only 480P video format. Besides, you can create only 1 stock video per project and a maximum of 12 projects in a free account.
08. Animoto
---
Bring your story to life with Animoto. Animoto is one of the most popular free slideshow video makers. You do not need any slideshow-making experience. With the Animoto slideshow customization tool, you can easily make a slideshow video. It has a huge slideshow-making templates collection. So, you can either choose a template and start from scratch. Besides, it has an expert team to guide you through creating an amazing slideshow.
Key Features:
This online tool helps you to create a personalized slideshow.
You can share your slideshow in different social media sites. Moreover, you can share your slideshow with your friends, family, and others.
You can create a slideshow by uploading videos and photos from your desktop or downloading stock images and video footage from Getty Images.
Animoto's video-making process is too simple. Just choose a template or start from scratch, upload images and videos or choose from the media library. After that, personalize your slideshow video by changing text, color, font, and music.
Besides, Animoto let you trim and crop video for highlight a special moment or clip.
Licensing: free, two subscription plan.
Pros: Animoto is the best for its simplicity. With the help of Animoto tools, you can create an amazing slideshow video easily. Moreover, you can resize your video from landscape to vertical to square ratio with just a single click.
Cons: Animoto provides only basic video editing tools. If you don't need to customize lots, you can choose Animoto for slideshow making; otherwise, you find an alternative.
09. Google Slide
---
Google slide is the alternative to Microsoft Powerpoint. You can use this slideshow maker online for free. The basic difference from other slideshow makers is that you can collaborate with your team to create a slideshow using Google Slide. You with your team can create, change, preview in real-time.
Google Slide has a good collection of templates library. You can use this library for free to make a slideshow. Google slide is the best suited for anyone who wants to present their business idea, project plan, or class lesson in the online board.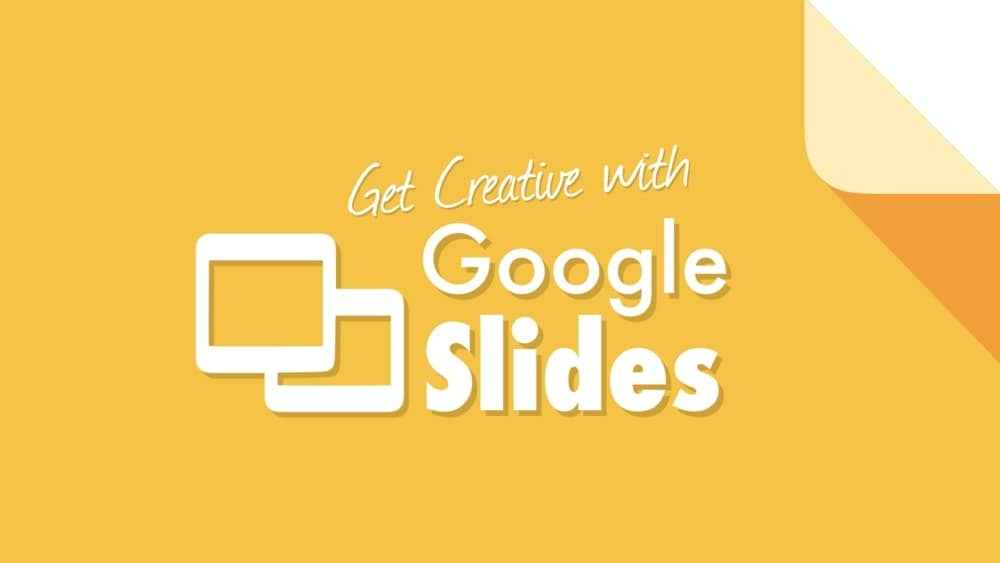 Key Features:
You can create a theoretical presentation nicely in the Google Slide.
Moreover, you can open, edit and save any Microsoft PowerPoint file at the Google Slide platform.
Besides, Google Slide files can be converted and downloaded in Microsoft PowerPoint format.
You never being saved your slideshow presentation project. It automatically saves all actions while you are using in online.
Although your presentation is saved in Google Docs automatically, you can access your presentation slideshow from anywhere, anytime on any device, even without an internet connection.
Licensing: free
Pros: Google Slide can be easily accessed. Moreover, multiple people can access and create the same file simultaneously.
Cons: There are limited themes to use. Basically, it comes with basic features. Moreover, you can enjoy limited animation and transition effects on the slide. Many advanced features and video editing tools are absent in Google Slide.
10. Creatopy
---
Do you want to make a photo slideshow? Creatopy is a nice solution to make an online slideshow. It is a wonderful visual production platform that provides awesome creative experiences. With Creatopy, you can create an animated slideshow.
Besides, it has over 5,000 templates, millions of stock images and videos, as well as over 3,000 elements. Moreover, you can add shape, text, and videos to your slideshow presentation. So you have many options to create a stunning presentation.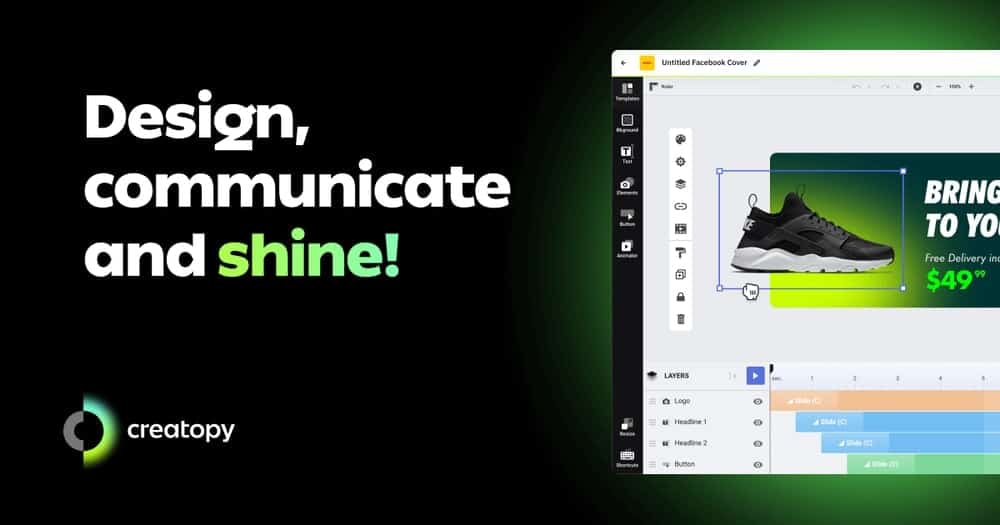 Key Features:
Creatopy has multiple designing layouts. You can convert your design template instantly with animated or non-animated designs.
It is easy to change the color scheme, logo, and elements here.
Besides, You can embed your design or export it in multiple file formats like JPG, PNG, GIF, MP4, HTML.
There are lots of animated elements like transitions, effects, presets to make your design to life.
In addition, it has a set of video editing tools.
Licensing: free, three subscription plan.
Pros: Creatopy has lots of promotional templates and tools to create an eye-catching banner design. Anyone can turn the image to life using Creatopy without having creative knowledge.
Cons: Although it has huge animation features and a media library. But free users only access limited resources. Moreover, free users can only export the output file in JPG format.
11. Motionden
---
Motionden is basically an online video slideshow maker. You can create a beautiful free online video slideshow while you are using Motionden. There is no boundary to creating videos.
You can create any presentation video with this online tool like social media content video, marketing video, life event, or anything. No skill is needed. Leave complex video-making software; use Motionden. Just choose a template from the unlimited template gallery and customize it according to your requirement.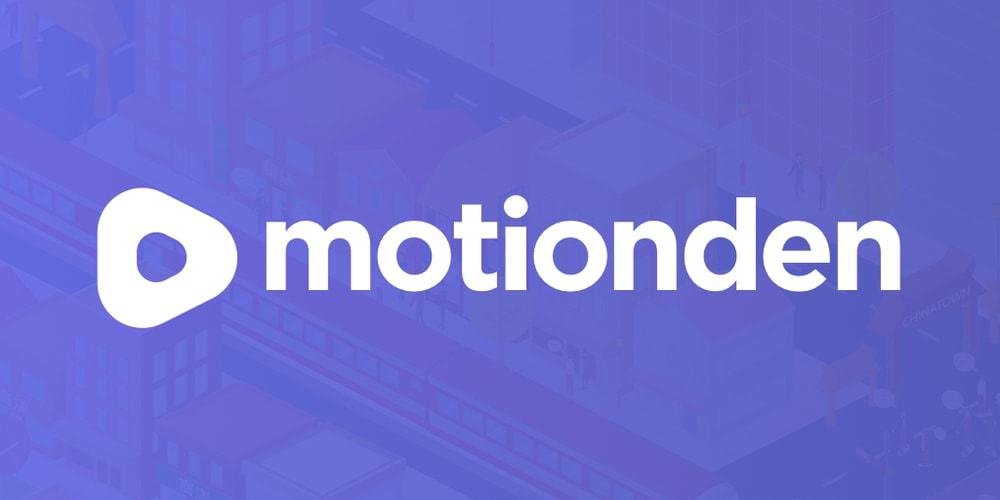 Key Features:
Motionden has an unlimited templates gallery in different categories.
You can customize your video by adding more photos, text, music, and more.
Besides, it has millions of free stock assets to use.
If you pay for video making, then you can download HD 1080p exports.
Besides, it has an engaging community where every update is announced. The company is more conscious about the user experience. So they upgrade their service features based on user's feedback.
Licensing: free, premium
Pros: Motionden offers to share the final output directly from the dashboard in social media and others. The core reason for using Motionden is its template library. You get a huge amount of best-quality HD resolution templates.
Cons: Though Motionden claims that they provide free service forever. But there is a limit in free service. The free user cannot export HD video, and all video has Motionden watermark that is disgusting.
Use Motionden
12. Pholody
---
Pholody is a simple but excellent free online photo slideshow maker. You can create a high-quality video slideshow with Pholody because it captures every pixel when rendering video. You do not need to sign up. Anonymously you can use this online application to turn your photos to life. Moreover, you can use templates. However, its template gallery is not rich. But minimal provides maximize output.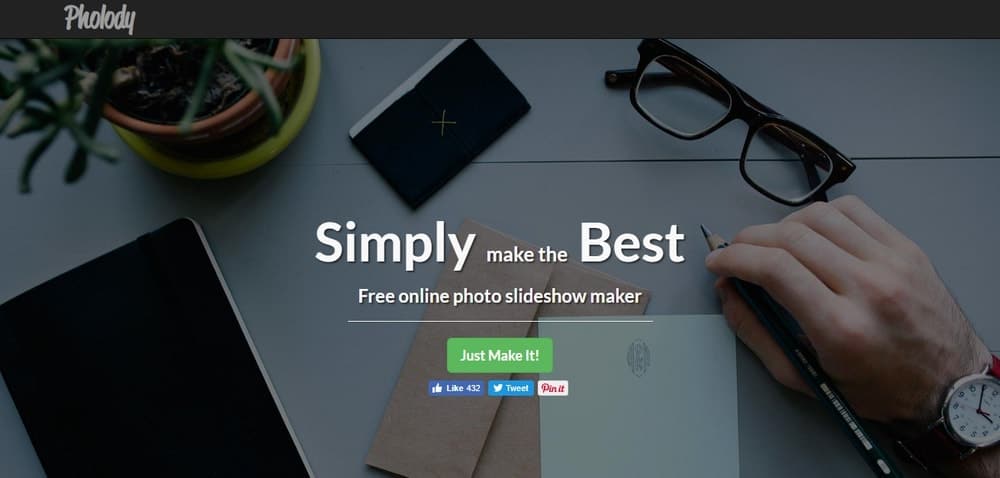 Key Features:
With Pholody, you can share your video in social media websites.
Moreover, you download videos in MP4 video format.
It provides a 1080p video format. The output resolution is amazing. For the free user, it is an awesome gift.
In addition, it supports three video aspect ratios like 4:3, 3:2, and 16:9.
Besides, Pholody has a built-in music library. You have to choose music from the music library. No external music is supported.
Licensing: free.
Pros: Pholody is an exception for the no signup requirement and HD video format. No online slideshow application provides
Cons: Pholody is a basic slideshow application. It has limited templates, effects, and transitions. This online tool is recommended for those who want to create a simple slideshow.
Our Recommendations
---
You can easily create an impressive video or presentation using a slideshow maker. It can make easier the presentation process. An ideal slideshow creator compacts various functions like pre-built templates, video editing tools, a large collection of assets, sharing option, and high-quality video output capability. So you are going to choose a slideshow you must consider the above fact.
In this article, I only covered the best free online slideshow makers list. Though, the free package has some limitations. If you want to create a single slideshow, you do not need advanced features, and this free slideshow makes a list that is good enough for you. Besides, if you need to create a slideshow frequently or need advanced features to create a slideshow, you may subscribe to a powerful slideshow-making application.
Some of the tops recommended online slideshow makers are Adobe Spark, Renderforest, Smilebox, and Animoto. On the other hand, if you are looking for completely free online slideshow makers, Google Slide and Pholody would be the solution for you.
Concluding Word
---
No doubt, a slideshow maker can ease our presentation. Here my recommended 12 best free online slideshow makers have all features to create a beautiful slideshow. You do not need any editing skills, or you do not install any software. Simply you can create a stunning slideshow. You can pick anyone from my recommended list. Besides, you can recommend any alternatives to my list. Do not forget to let me know the reason for choosing your slideshow-making online application.