Having all the musical instruments for one person is quite hard. So, it is like the dream of every musician to have a platform where they can use the music of any instrument they need. A music studio can offer all the facilities but hiring a studio is pretty expensive. Well, now you don't have to spend a lot on that. Instead, use the best music-making apps for iPhone or iPad. You can use those apps as a portable music studio as they can save their unique ideas and progressions on the go. So, if you are looking for one, just keep your focus right below.
Best Music Making Apps for iPhone to Enhance Your Musical Intuition
---
Choosing the most effective and workable music-making software for Mac, iPhone, and iPad was pretty hard for us. Initially, we are not very good at music facts, and so you asked some music experts and students of the music department to help us select the best apps. After a long discussion, we got these 10 apps as the best.
Alongside learning many things about music, we learned to use these apps and understood almost all the functions. From that experience, we can assure you that none of these apps will disappoint you anyway.
1. GarageBand
---
Let's begin with your iPad and iPhone's most popular music-making apps. Without any doubt, it will be GarageBand and it is the official music-producing app by Apple. Well, this app will initially provide you the opportunity to make musical progression on the go. It also includes almost all the studio-grade sound tools for production. In addition, you can reset and restore any tools and used settings at any time with just a few taps.
Important Features
Available powerful multi-touch systems will help you trigger a Live Loop cell and also a group of cells at once.

You can use the pre-produced custom loops to create something new.
This app lets you capture your performance just with one tap on the recording button.

You can add the alchemy touch Instrumental sounds, and it's the unique part of this app.

Want to add a DJ-style effect? You can use the remix FX functions of this app.

Using a smart string set, you can play an entire string orchestra using this powerful app.
Pros: You can play the keyboard sounds with polyphonic aftertouch using the 3D touch option. Additionally, you can adjust drum sounds with your music.
2. Figure – Make Music & Beat‪s
---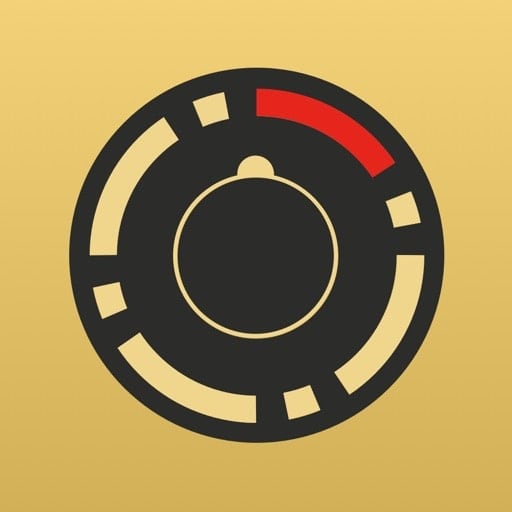 While checking the app, Figure, I got the most appreciating part of this app: its simplicity. Despite being very simple in settings and UI, this app will never disappoint you by providing many musical functions. You don't need to gather huge machinery and studio set up to save your creative ideas if you have Figure. Eventually, you can use this app most efficiently with your macOS devices.
Important Features
You can use almost all kinds of musical instruments and mix them to create new music.

Just use the slide pad and experiment to create new music most simply.

This app lets you use drums, bass, and lead melodies to form music for a song.

You can share your creation in the huge community of the iTunes library and enjoy what other artists create.

There is an arpeggiator available here that you can use to transform chords into melody lines.
Pros: You can set loops of any length, like 1, 2, 4, and 8 bars. Additionally, you can use the Reason's Thor synthesizer to select Bass & Lead Synth sounds.
Cons: Very few users have a complaint about the loops making functions to be very complicated.
3. Music Maker Jam
---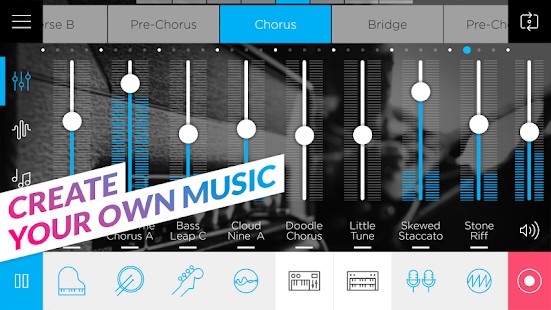 Now, making remixes and song music requires nothing but your time on Music Maker Jam. Well, it is another popular app that makes music hassle-free and cheap. Nevertheless, it is a free app, but you have to pay a little to buy the premium membership for better faculties. However, the best part of this app is its ultimate loop and mixer. The other features are indeed enough to let you expose your musical intuition.
Important Features
You can make music and earn free virtual currency that you can use to buy new features.

To create the aesthetic mixdown, you can use the powerful 8-channel mixer.

Don't know how to start? Get unlimited samples on different genres like trap, EDM, hip hop, RnB, house, and more.

You can use thousands of studio-quality beats and loops to make music and then add vocals to form a song.

This professional music-making app for iPhone is compatible with any smart device, and the inclusive tutorial will help you learn to use it properly.

You can join the music community of Music Maker Jam and share your creations with millions of users.
Pros: This app includes over 300 Mix Packs of different categories. Additionally, millions of loops are there in the library.
Cons: Getting back your account on a new device is pretty much complicated with this app.
4. iMPC Pro 2
---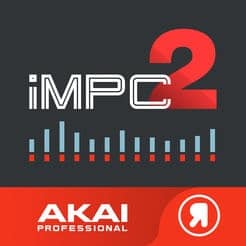 Akai Professional designed iMPC Pro 2 mainly for iPad users but works seamlessly on iPhone and MacBook. However, to keep this app listed, I got a lot of reasons to stand for it. The best part of this app is its powerful Sampler and beat mixture. You can use different functions with easy statistics to time warp, pitch shift, and rearrange beats. Besides, a sleek UI and plain workflow will definitely move you forward to make something new and aesthetic in terms of music.
Important Features
While creating and recording new music, yo

u can use a built-in mic, external mics, audio interfaces, instruments, and other essential functions.
Over 64 track mixers with EQ are available here alongside 24 scale modes.

To arrange an audio clip, you can just drag and snap them to adjust.

You can crop, duplicate, split, amplify, time stretch, and pitch shift with a few taps only.

Around 4 different mute groups are there with lots of custom-designed envelope filters.

A very extensive option for unlimited undo and redo facility is also available in this powerful music-making app for your iPhone.
Pros: You can free to use 5 new sound packs to customize your music. Eventually, an intuitive multi-touch editing system will let you customize music efficiently.
Cons: This app is not free, and it is pretty much expensive.
5. Auxy Pro – Music & Beat Maker‬
---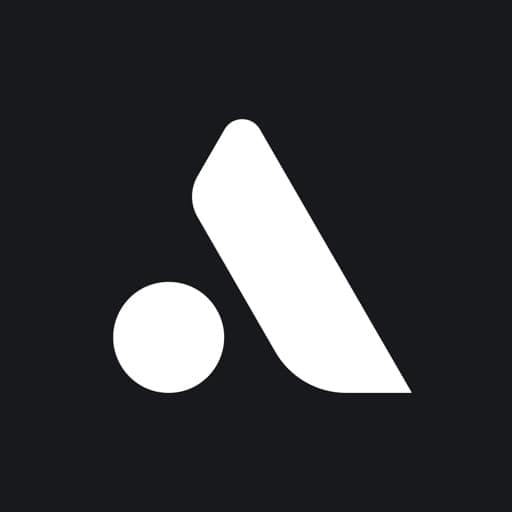 Auxy Pro; Music & Beat Maker‬ is essential for aspiring music producers. It's like a studio in your pocket. It helps you export your projects as you deal with them in a well-established music studio. Each and every instrument is indeed rendered on separate MIDI and audio files. Moreover, when working in any DAW, you can also export MIDI and audio files with this app.
Important Features
The note editor lets you create and combine the drum beats and melodies.

You can add scenes to sequence the loops of a track or song sketch.

Here you will find a massive sound library with a collection of thousands of premium-quality instruments and samples.

If you wish to share them with anyone, you can import the samples to them.

There are a variety of controls and a set of beautifully crafted effects to help you with fine-tuning.

You can use the automated mix settings for more lively effects and soothing transitions.
Pros: With this app, you can share your projects as links to collaborate with other producers. Also, you can upload any track of yours to SoundCloud in several formats.
Cons: You cannot pause while editing a loop and have to wait for the loop to come back.
6. BandLab – Music Making Studio
---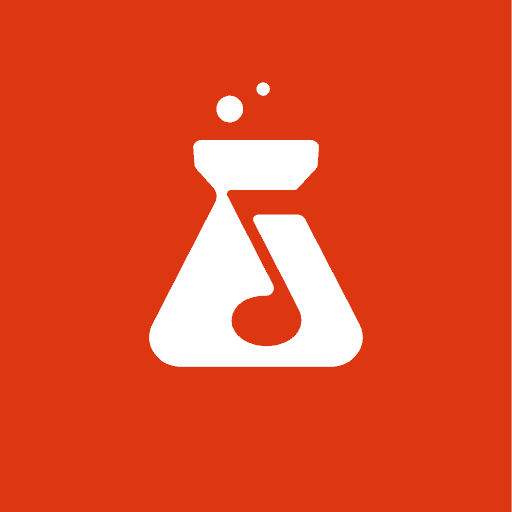 When most of the music-making apps for iPhone and iPad are trying to add new functions and end up making the process complicated, BandLab comes to simplify all of them. This app is quite easy to use for its elegant UI, but it doesn't mean it lacks functions. Initially, it is a free music-making platform that you can use to create your own song from scratch. Eventually, you can mix and mix many instruments' sounds to form something new.
Important Features
A launchpad with a multi-track editor will easily help you create new music, even on your iPhone.

You can create music of different genres like EDM, dubstep, rock, rap, garage, hip-hop, house, and so on.

Not just the audio music, you can indeed use this music video editing app to create video music remixes.

You can record and preserve all the content securely with cloud storage access.

This app also lets you explore others' creations and learn new things as well.

More than 200 Virtual MIDI Instruments and hundreds of base presets are available here.
Pros: You can use this app to collaborate with a bigger community and publish your masterpiece there. Additionally, you can add DJ-like loops to your music using this app.
Cons: Some users complained about the editing option of recorded music.
7. KORG Gadget ‪2‬
---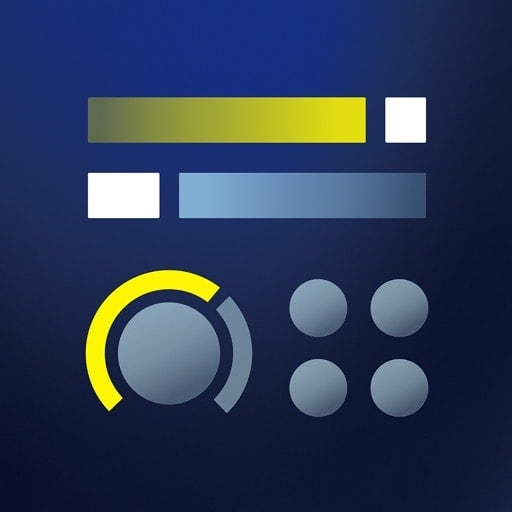 KORG INC. brings out KORG Gadget 2, a perfect companion in your musical journey. It is one of the most competitive music-making apps for iOS, and you will also find it on iPad and iMac. Initially, it will require payment to provide complete access to this app. Users of this app will be able to save their unique ideas and musical ideas at any time. This helps the amateur to professional musician a lot and waivers the need for heavy instruments.
Important Features
You can use KORG Gadget 2 on any of your devices and share the data within them without any issues.

It allows the users to link with real instruments and studio hardware. This makes it even more versatile and offers unbeatable possibilities.

You can find over 40 different musical gadgets in its system, such as drum machines, MIDI utilities, samplers, mixers, audio, etc.

It provides regular updates, and users can change the outlooks and color schemes of this app interface.

You can alter the tempo and pitch of sound with just one tap, and new IFX features are added regularly.

It shows different instruments and tools according to categories.
Pros: This award-winning music app's interface is very modern and materialistic. The touch sensitivity of this app is very smooth and lag-free.
Cons: Some users found the app UI too overwhelming.
8. Cubasis ‪2
---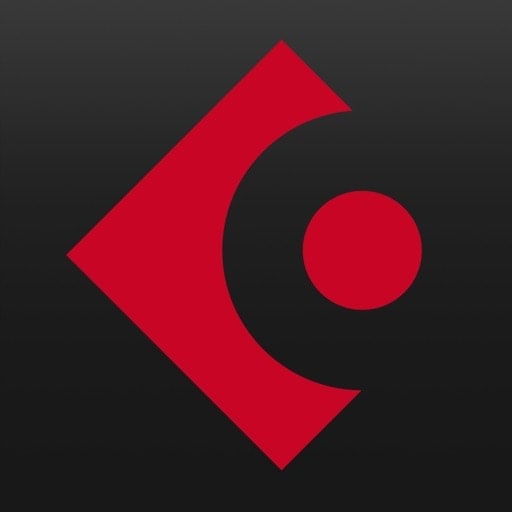 Cubasis 2 is another great music-making app for iPhone and iPad. You can use this app and synchronize among all the devices within the same account. It offers a highly accessible and dependable music-producing ecosystem. So, a lot of instruments are not essential anymore. Your iPhone or iPad is all you need to compose your music, and this app also supports studio hardware without any issues.
Important Features
Users can add unlimited audio and MIDI tracks with support for external sources.

It features an advanced audio engine featuring 32bit floating points with audio resolution support up to 24bit/96 kHz.

You will be able to use a virtual keyboard, chords, drum pads, etc., on this app.

You can make duplicate tracks without losing any quality and use DJ-like mixing tools with useful plug-ins.

It allows MIDI over Bluetooth LE and is fully compatible with Core Audio, Core MIDI, MIDI clock, etc.

This app also includes advanced sharing facilities with cloud storage support.
Pros: This app requires a one-time payment and offers a very user-friendly work environment. It includes advanced Audio mixing and MIDI support with exporting capabilities.
Cons: The navigation system might seem a bit tricky to new users.
9. Audiobus: Mixer for music app‪s
---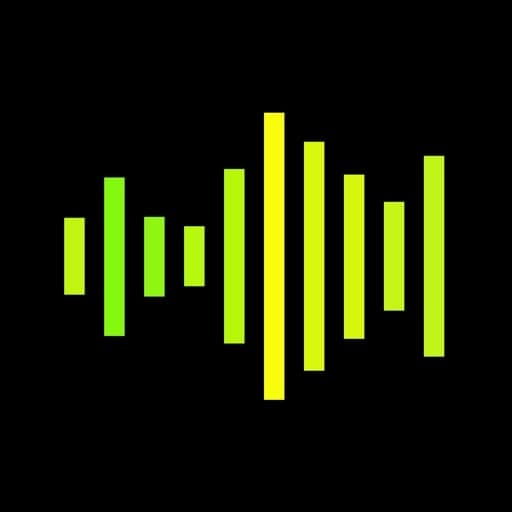 For those who are craving complete music production, Audiobus can be an excellent choice for sure. The app is designed to take your creative music to a renowned platform and provides all the songwriting tools.
Likewise, you will get advanced mixing and balance with the mixer of this powerful music-making app for iPhone. Eventually, the app offers Digital Audio Workstation that will help you compose, record, produce, edit the audio, and much more.
Important Features
Audiobus supports MIDI, and through this, you can send live audio. As with you can send AUv3 Audio Unit to another.

You can add effects to your favorite synthesizer or even create your own effects in a series.

You can fuse your music gear and connect with a Bluetooth or Wired MIDI keyboard.

All you need to do is plug in your guitar or other mastering tools, and it goes parallel with the mic input.

As it has come with advanced MIDI, you can take control over adjust levels, toggle, switch presents, and manipulate effects.
Pros: There, you will get a multi-channel audio interface and perform live audio sessions. Besides, You will get a wide range of third-party app functionality.
Cons: The app is too complex to control, and the user might face difficulty while plugging.
10. Song Maker: Music Mixer Beat‪s
---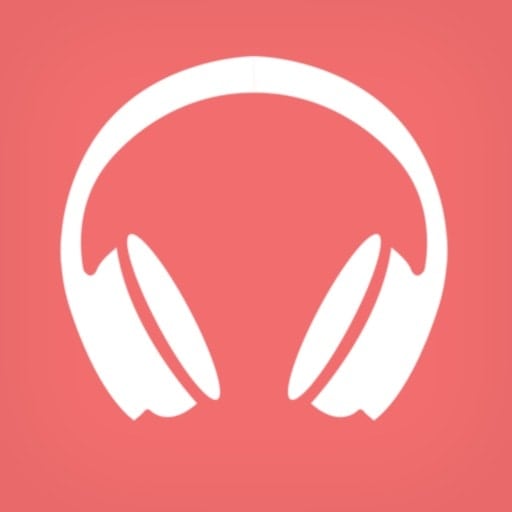 Song Maker works great for music enthusiasts to manage their passion and the music creation process. And it's the last app I will describe today. Well, this app lets you harmonize different sounds and melodies. Equally, it has come with an impressive level of customization. Initially, you can tone down loops and sounds while editing, and it lets you add beats. So, all you need to do is record your voice and add the composed tune to it.
Important Features
Song Maker has a wide area of free sounds, loops, and beats to make a unique combination of music.

A music library will offer fine beats like Trap, Hip Hop, Metal, Drums, Future Bass, etc.

This efficient app is good for making music and works as a music editor and advanced mixer.

You can edit the sound by repeating it, cutting songs from the start, cutting from the end, fade-in, and a lot more.

You can add all the beats altogether in a single melody, and you can save it later.
Pros: The app offers demo music samples, and you can compose music in unlimited programs. Plus, you will find a backup of your melodies in iCloud.
Cons: The app doesn't support any metal guitar loops.
Our Recommendations
---
Today, it is pretty hard to say which one is the most efficient music-making app for iOS. Our effort to understand these apps is not enough to judge their capability and point to the best one. But I can help you choose the suitable one for you.
If you prefer functions over cost, go for iMPC Pro 2 or the pro version of BandLab. And if you prefer it to be free and flawless, then you should try GarageBand or Figure. Also, you can use Music Maker Jam or Figure if you are looking for music-making software for your Mac.
Finally, Insights
---
To be honest, music is like an Ocean; learning everything about music is pretty much impossible if you are not spending years on it. But we tried our best to discuss these apps with experts and check them by ourselves. And now, we are quite sure that whatever app you are planning to select from these 10 best music-making apps for iPhone, you will fall for it in no time. So, share how it would win your mind with us if you manage to make time for it. Thank you for staying with us.