For many of you, the keyboard is the least important part of a PC, and you can simply buy a random set of a mouse and a keyboard to use. Unfortunately, I suppose you might be wrong if you think like that. Remember that you are dealing with the PC just using these two parts directly. So, it has to be responsive, fast, and technologically advanced. However, when it is about gaming, we doubt how a person can enjoy the game with the best gaming keyboard. Well, gaming keyboards are entirely different from the general optical one. And today, we'll briefly learn everything about the gaming keyboard.
Things You Should Prioritize While Buying the Best Gaming Keyboard
---
A gaming keyboard and a general one are quite different in many aspects and functions. For the best gaming experience, you cannot rely on an available keyboard anyway. Also, gaming keyboards are costly, and so you should think twice before buying one. We point out a few factors that confuse in most cases. Check out the elements to have a clear thought that leads you to get the most appropriate keyboard for yourself.
Budget: You must fix a budget before choosing any gaming keyboard for a PC. There are lots of different best gaming keyboards in numerous price ranges. So, allocate a fixed amount of money then lo Ask for the keyboards available in the market.
Types of Gaming Keyboards: Choose whether you should buy a mechanical type keyboard or a regular keyboard. Mechanical keyboards are much more well built and suit gaming workloads. You can also get high-quality non-mechanical keyboards with convenient features.
RGB Availablity: Another vital thing nowadays is the inclusion of RGB on the keyboard switches and sides. Some RGB keyboards give a gaming vibe with an eye-catching light effect, but that does not affect any type of performance gain. It's indeed up to personal taste if RGB is needed or not.
Switch Types: The next thing is to decide on the switch type for pressing sound preference and the overall feel. Switch type is somehow effective in gaming modes, as many gamers want the clicking sound more crispy and tactile in touch. It's better to choose over linear, clicky tactical, and quiet tactical types.
Users' Review: You have to check the user reviews of different gaming keyboards if possible. Nobody wants to land on a crappy keyboard with contact issues. It's better to get keyboards from known brands than random keyboards at an insane offer or unrealistic price tags.
Keyboard Size: Don't forget to check on the size of the best gaming keyboard you are looking for. You should research If it is of full size, compact, small, tenkeyless, number pad less, or else. For most gamers, full-size keyboards are better suited. You can also get a tenkeyless keyboard if you want. If you are serious about gaming, then avoid the small-sized keyboards.
Shortcut Keys: You can also check the number of shortcut keys available on the target keyboard. Some keyboards have additional keys for gaming with reinforced keys and switches for extra durability.
These are basically the facts we always suggest to check while buying the best gaming keyboard. You must be aware that gaming keyboards are costly, so nobody wishes to buy the wrong one. Hopefully, the followed list of the best gaming keyboard will help you get the most appropriate one for yourself.
Best Gaming Keyboard You Should Regret Never Give a Try
---
Well, for years, everyone in our community has been using gaming keyboards. And we always try different models to learn about the best gaming keyboards out there. After trying lots of gaming keyboards from different brands, we reach the conclusion of the best gaming keyboards.
Here, we added the Amazon link and little but essential details of each keyboard so that you can choose the appropriate one for the best gaming performance. 
1. Logitech G915 TKL Wireless RGB Gaming Keyboard
---
There is no doubt that Logitech is the most popular tech giant in the mouse and keyboard industry. Its G915 TKL wireless RGB keyboard is the bestseller and most suggestive for gamers. This keyboard is available with wire and without wire functions.
Also, it is known to be the most remarkable and the best wireless gaming keyboard for its lightspeed wireless performance. Additionally, it looks aesthetic and beautifully crafted.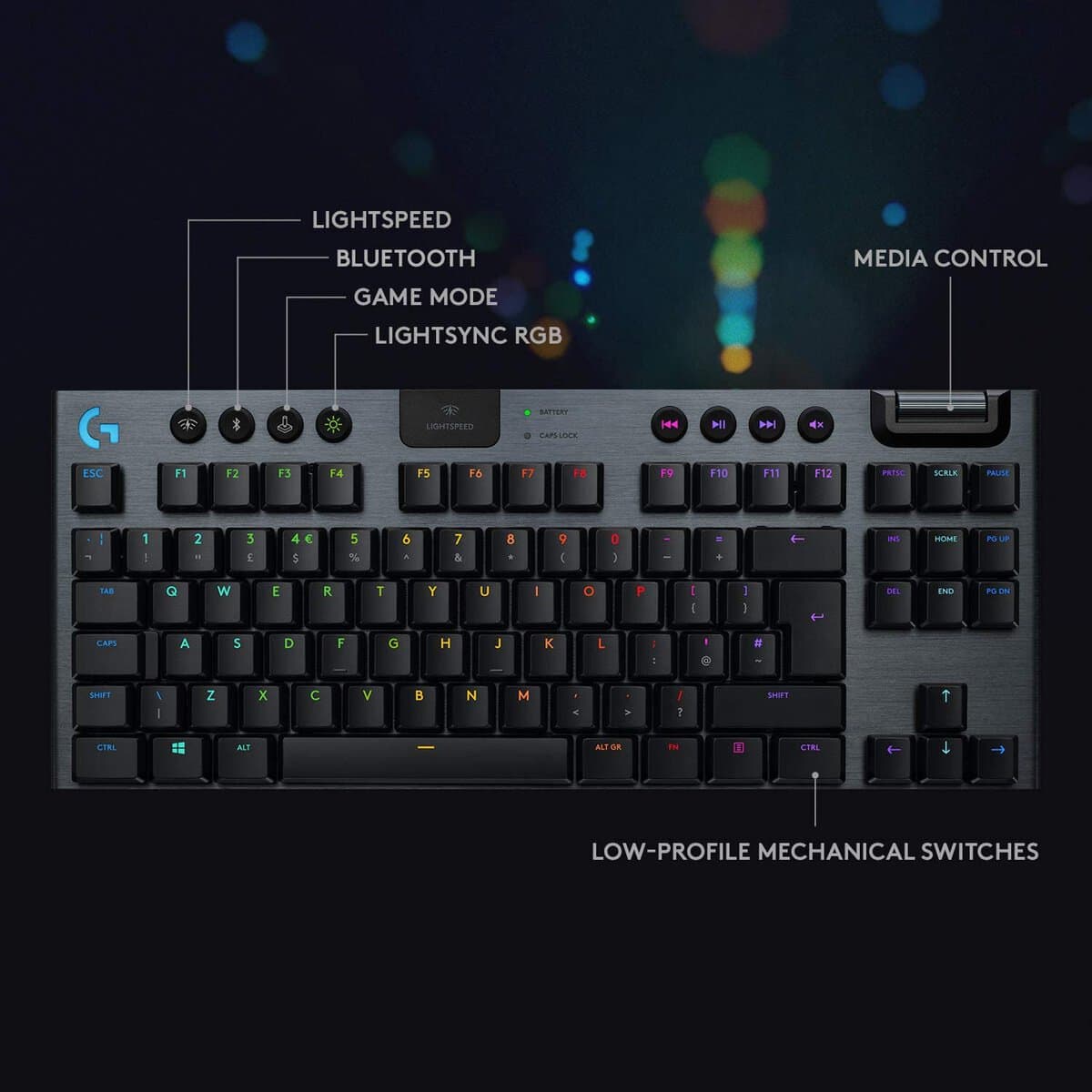 This powerful keyboard is now available with four different color variations and designs. So, you can get enough options to choose from. Besides, it is available with both Bluetooth and USB supports. The wireless keyboard generally delivers more than 40 hours of support with a single full charge. The Lightsync technology is available here that provides amazing RGB lighting too.
Reasons to Purchase
+ Made of aircraft-grade aluminum alloy
+ Rigid and elegant design
+ Longer gaming time with a single full charge
+ Will provide signal on 15% battery life
+ Different colors and designs
+ Amazing grip and perfect size
+ Soothing RGB light
Reasons to Reject
– Take e hours for a full charge
– Some users found loose keycaps
2. RedThunder One Handed Gaming Keyboard
---
If you are looking for the most responsive small gaming keyboard, RedThunder One Handed Gaming Keyboard must be the best option for you. The structure of this keyboard is exceptionally perfect.
Additionally, they have added changed background sound, so you don't need to switch out of the game. Also, using it, you can quickly get access to different functions. Besides, you don't need to clean it frequently, and it resists dust buildup.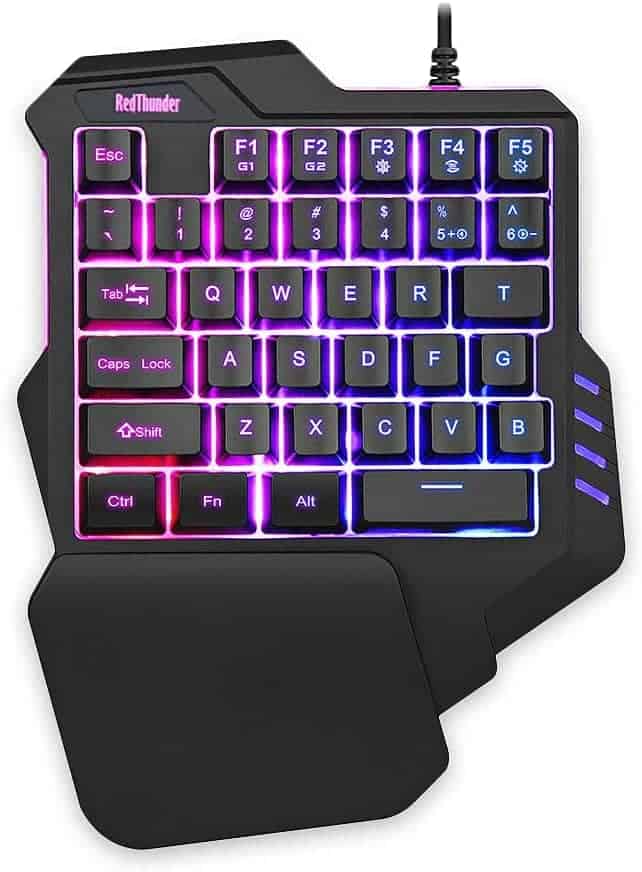 With seven different RGB colors and two color-changing modes, this small-size keyboard provides a grand appearance at night. Also, the onboard operation is very responsive on this board.
All the keys are built with anti-ghosting technology, and the onboard macro keys are also available there as well. But what makes you feel so good with this board is its comfortable grip and user-friendly key placement. Streaming will be a lot enjoyable with this RGB gaming keyboard. 
Reasons to Purchase
+ Total of 35 portable keys
+ One of the best cheap gaming keyboards
+ 7 different color variations
+ Comfortable ergonomic design
+ 3ms fast response speed
+ Comes with RGB backlit support
+ Excellent performance for gaming
Reasons to Reject
– The construction material could be durable
– Often becomes slippery
3. CORSAIR K55 RGB PRO Keyboard
---
On the third recommendation, we will talk about the best budget gaming keyboard from CORSAIR. The keyboard boosts your MMO gaming experience with high-end functions. There are six onboarding lighting effects with 5 RGB lighting zones.
Here the CORSAIR iCUE software is used for a vibrant lighting effect. Aside from that, the IP42 protection is another helpful feature, and it will protect the board from all types of spill accidents. Plus, there will be no more dust buildup. So, you don't have to keep it under maintenance. There are six dedicated macro keys available.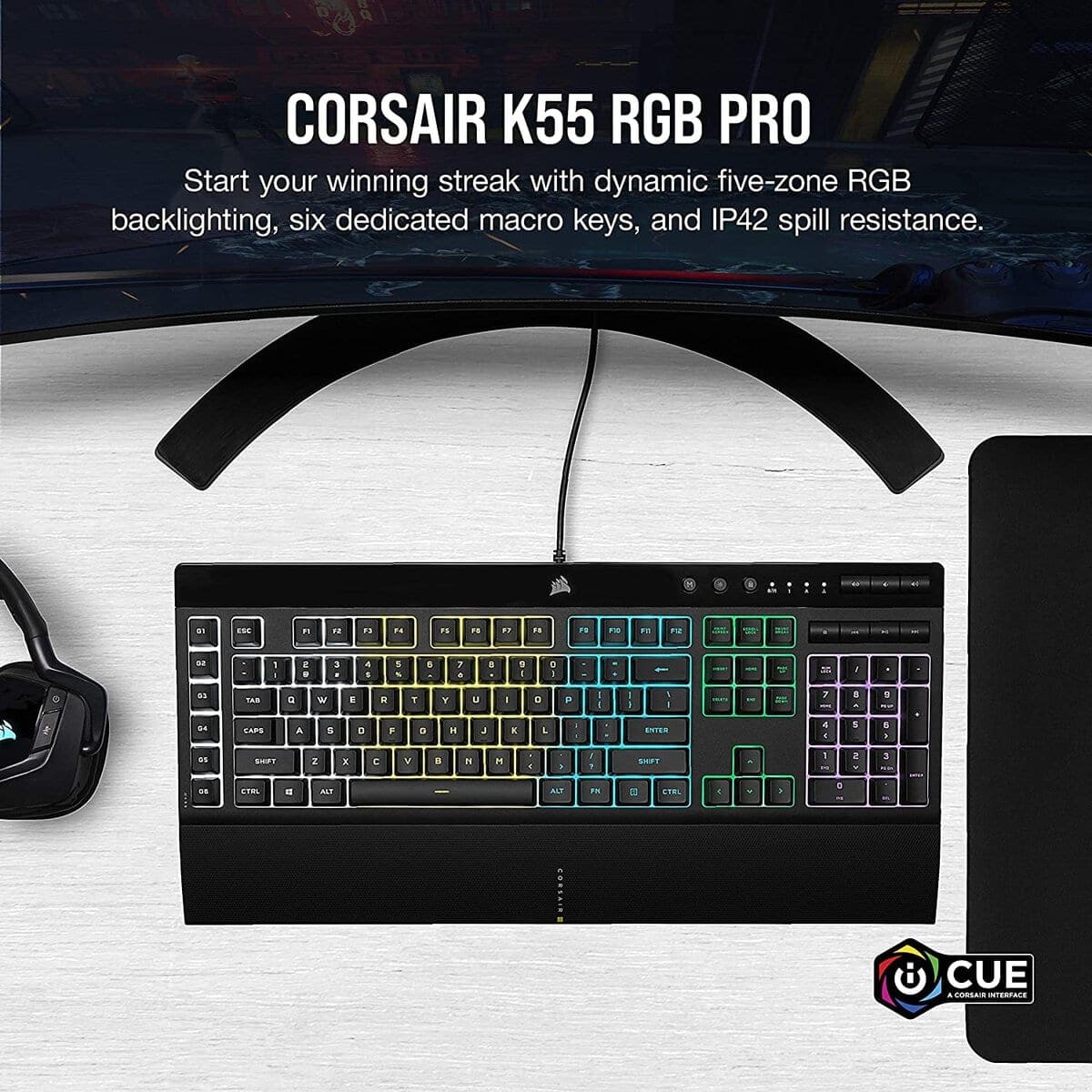 You can apply different commands using the keys without switching off the game. Another thing that must make your gaming long-lasting is the soft rubber palm rest, and it is also detachable and constructed with a textured surface.
So, your hand will no more slip while playing games. It also ensures uninterrupted gameplay sessions with a windows key lock button. Besides, it will prevent accidental contextual menu keypresses while you're in the game. 
Reasons to Purchase
+ Responsive and quiet keys
+ The keyboard is designed for both office and gaming use
+ Integrated with anti-ghosting features
+ Dedicated media keys available to adjust volume, mute, etc
+  Lightweight yet durable construction
Reasons to Reject
– The keyboard may not remain completely quiet while typing.
4. Razer Huntsman Elite Gaming Keyboard
---
If your priority is to find the fastest keyboard, then try Razer Huntsman Elite Gaming Keyboard. It integrates the most rapid switches, the keyboard is quite popular in the current market and uses optical technology, and they become one of the fastest keyboards. Plus, there is a crucial stabilizer bar available. So, no matter how many times you press the key, it will be precise and accurate. Customers also love the programmable digital dial of the keyboard.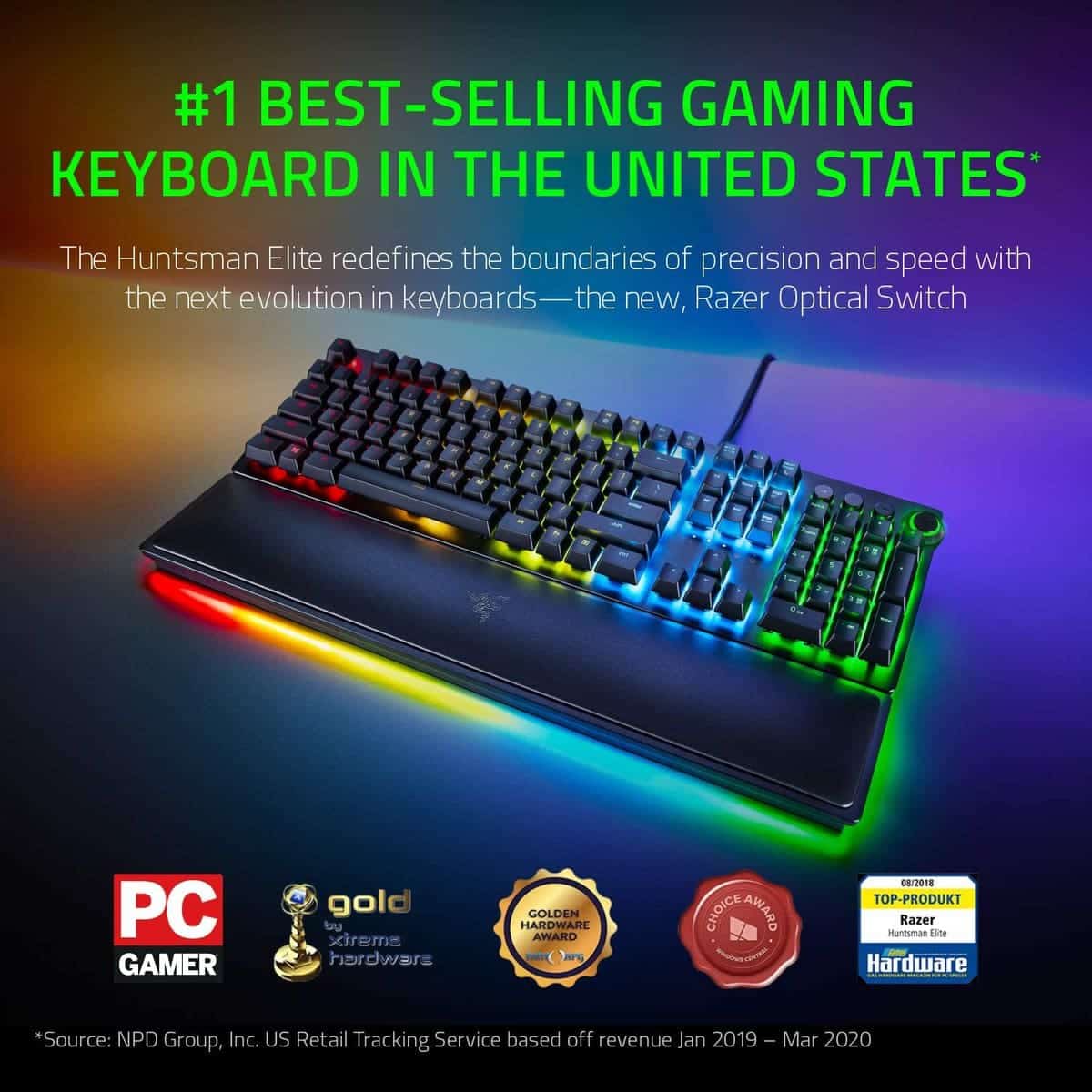 For the ultimate comfort of the users, there is a magnetic ergonomic wrist rest available at the front of the keyboard. The wrist rest is designed with plush leatherette and underflow lighting.
The keyboard is constructed with a high-quality aluminum top frame, and the overall structure is user-friendly. At last, if you have any questions about durability, then you should know the keyboard supports up to 100 million clicks.
Reasons to Purchase
+ High-quality lighting with different modes
+ Affordable price
+ 2 years manufacturer's warranty
+ Fully programmable key keyboard
+ Excellent structure, including a comfortable palm rest
+ Available media keys
Reasons to Reject
– Not supported Mac software
– Only a few users found issues with responsiveness
5. SteelSeries Apex Pro TKL Mechanical Gaming Keyboard
---
Like the previous one, the SteelSeries Apex Pro gaming keyboard is also a faster keyboard with excellent lighting. The keyboard is compatible with Omnipoint adjustable switches, which allows the users to customize the actuation distance from 0.4-3.6 mm.
It is fast and highly durable, and it is constructed with aircraft-grade aluminum for ultimate durability and stability. Another beneficial feature of the keyboard is the OLED smart display.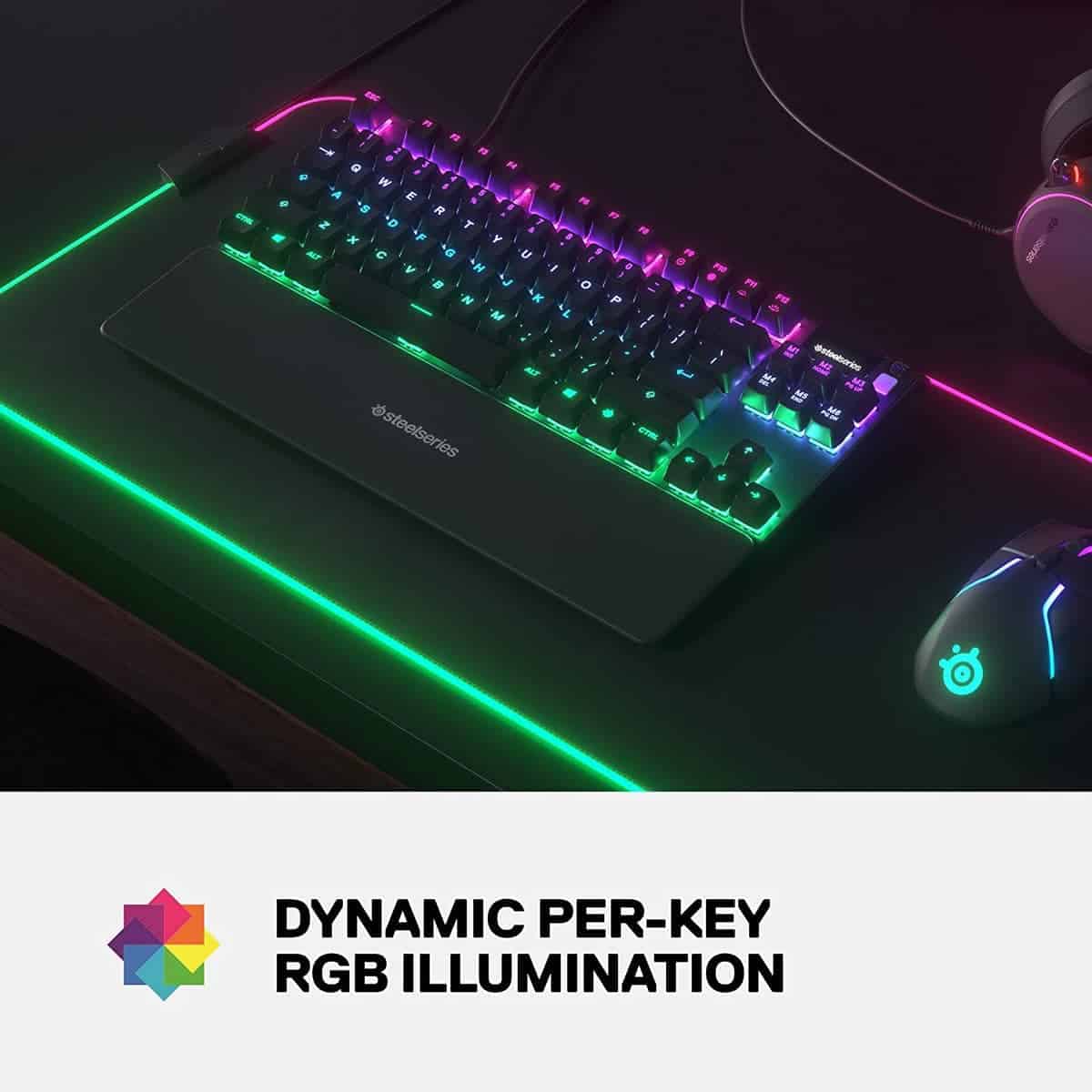 An integrated command section is also available that allows you to adjust settings and track straight from the game. The keyboard always ensures a comfortable feel as there is palm Support Available, and there Is A Magnetic wrist rest available to support your palm and wrist. Also, an RGB illumination function is available, which ensures unmatched customization displaying up to 16.8M colors per key.  
Reasons to Purchase
+ 8x faster response compared to random gaming keyboard
+ 5x faster actuation
+ Highly durable lasts for over 100 million keypresses
+ Adjustable brightness of lighting
+  Media volume is available
Reasons to Reject
– Isn't compatible with multiple presets for a single button
6. RK ROYAL KLUDGE RK61 Gaming Keyboard
---
If you're searching for an office mechanical and gaming keyboard, opt for this ultra-compact gaming keyboard from RK Royale Kludge. The keyboard is 60% gaming and Type-C USB wired. Plus, the games will get extra benefits because of the RGB backlight. There are eight monochrome backlight modes, colorful 18 RGB backlight modes, and a full-color backlight mode.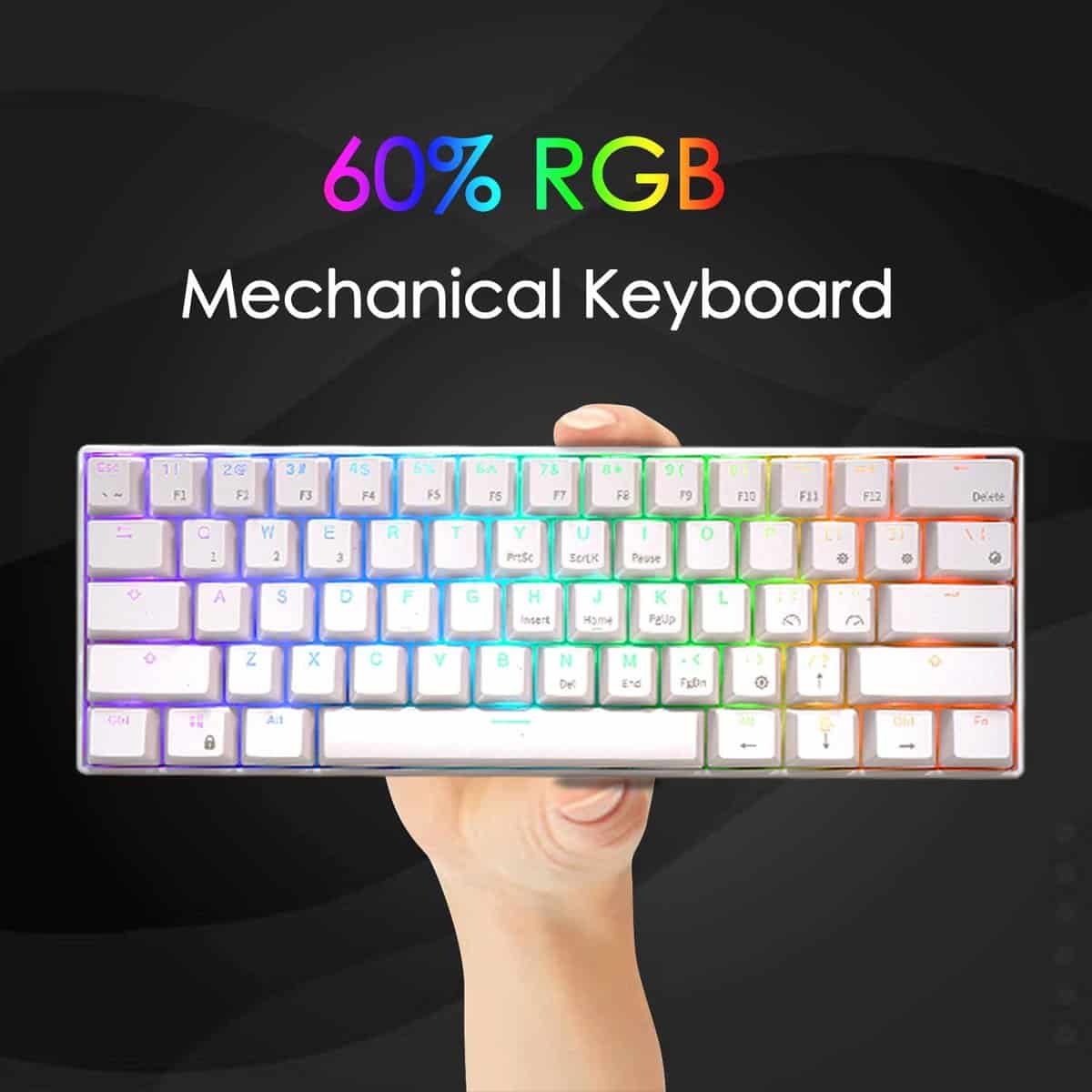 The keyboard will also ensure high-speed transmission having the Type-C connection mode. So connectivity will be more stable. Another great benefit the users will get is the critical setting mode. Moreover, the highly compact design will also leave enough space for the mouse. There are 61 keys available. In addition, there are blue switch systems available. Here every key, you can get feedback with katakana sound.
Reasons to Purchase
+ High-quality performance and first-class feel
+ Multiple application designs
+ Allows you to set your program
+ Wide range compatibility, macOS, Android, and windows
+ Colorful effects on keys
Reasons to Reject
– Not suitable for Xbox or PS4 users
7. Razer Ornata Chroma Gaming Keyboard
---
Get introduced to another best gaming keyboard with individually backlit keys, and this one is from Razer. Fortunately, this Gaming Keyboard is fully programmable. So, if you are a professional programmer, you can set your own program and make it like your dream keyboard. Besides, you can save any profile and switch to another whenever you want.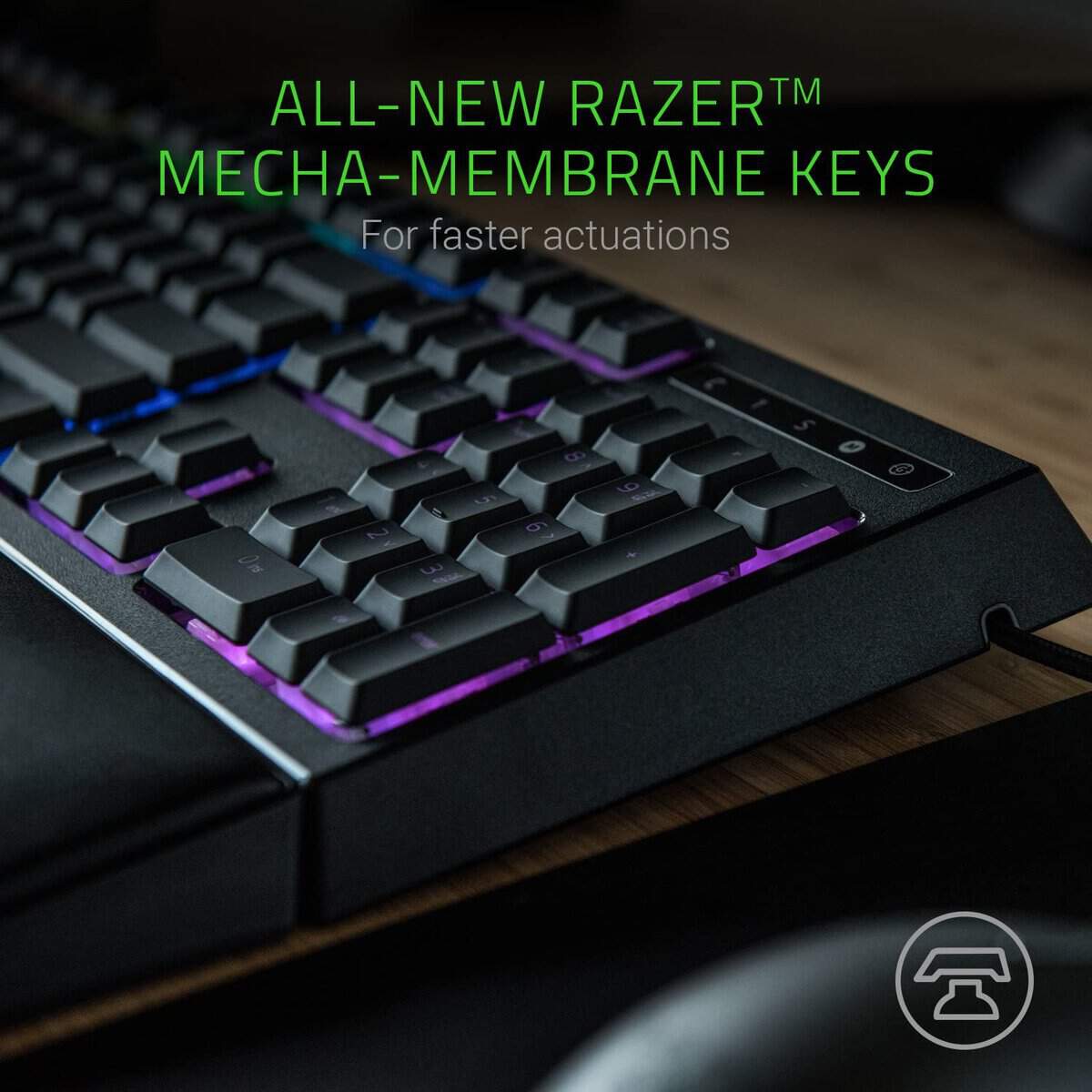 If you are fond of lighting, then this keyboard will serve you the best. It is compatible with 16.8 million colors, and Razer always emphasizes durability. The same goes for this one because it will support up to 80 million clicks.
Also, in the case of comfort, there are no lackings. Here the ergonomic magnetic Wrist Rest uses soft-touch leatherette that ensures the max level of comfort. And finally, for regular use, this one must be the best gaming keyboard.
Reasons to Purchase
+ Users can execute complex comments using the program.
+ Reasonable price.
+ Maximum level of comfort.
+ Completely suitable for gaming.
+ Easy to operate.
+ Available manual.
Reasons to Refuse
– A bit wider.
8. Redragon K556 Gaming Keyboard
---
If you're a gamer, then you must've heard of Redragon. This time an excellent gaming keyboard from Redragon, and just like the previous one, this one is compatible with multiple lighting and easy programming. There are 18 backlit modes and six themed backlights available. Moreover, the brightness of the key lights is adjustable.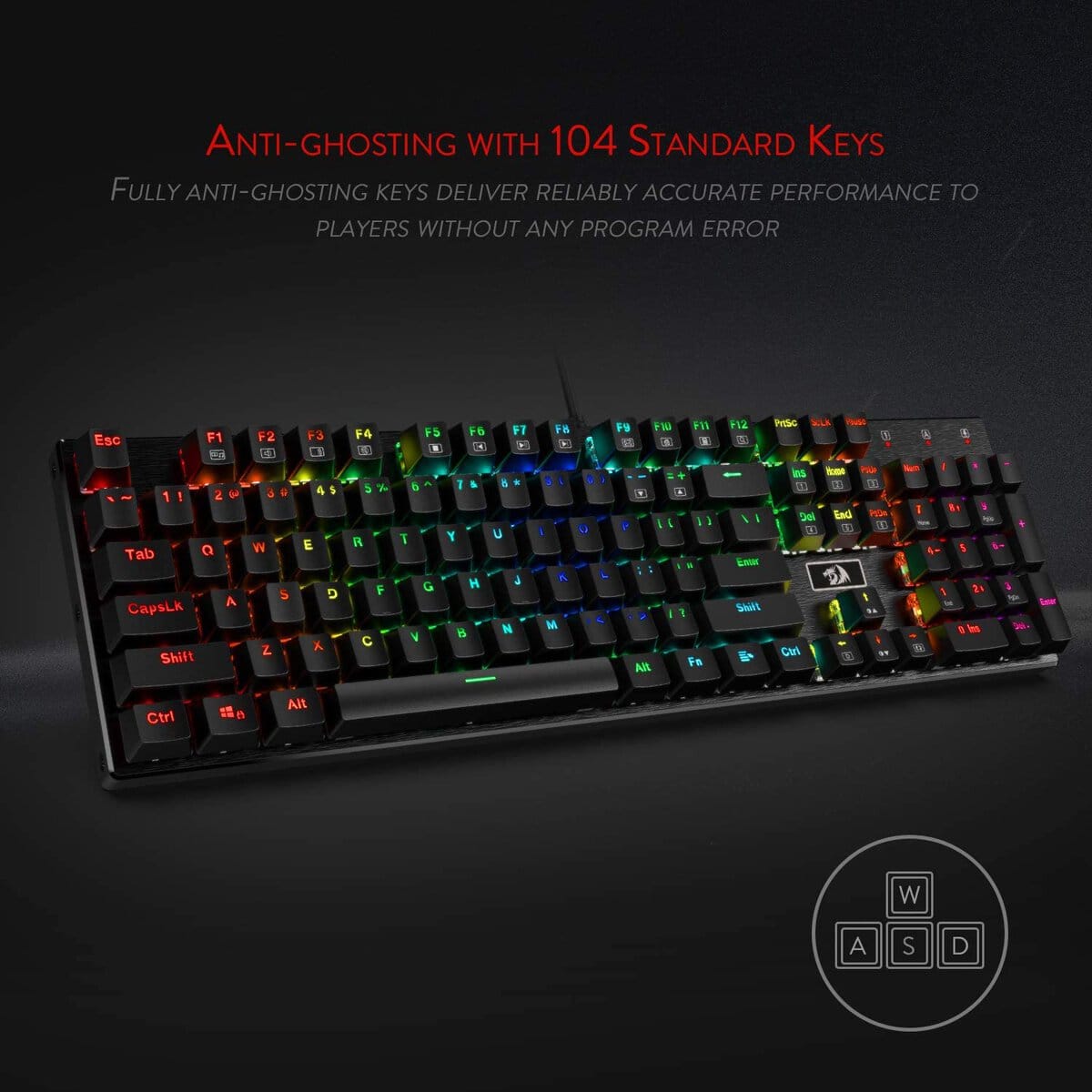 No questions will arise about the construction. The keyboard is constructed with full metal material along with matte-finish texture. Eventually, it'll protect your keyboard from all types of scratches. The manufacturers also added the removable keycap design. Plus, there is also a keycap puller included with the package. Finally, the users will get eight spare switches which the user can consider as a gift.
Reasons to Purchase
+ Compatible with almost all computer systems.
+ Lightweight construction.
+ Ergonomic space-saving design.
+ High-level brightness-adjustable lighting.
+ Easily customizable keyboard.
Reasons to Refuse
– No additional button to clutter it up.
9. ROCCAT Vulcan 122 Gaming Keyboard
---
Do you want to experience a swift, precise keystroke with every press on your keyboard? Why not try the ROCCAT Vulcan 122 gaming keyboard. The keyboard is going to ensure a crisp mechanical yet responsive feel.
Another great thing about the keyboard is they require low maintenance. Plus, the shortened keycaps are designed in a unique way that is extremely easy to clean. Aimo illumination lighting system is another exciting feature. Fortunately, to connect the lighting, you don't need to go through an external configuration.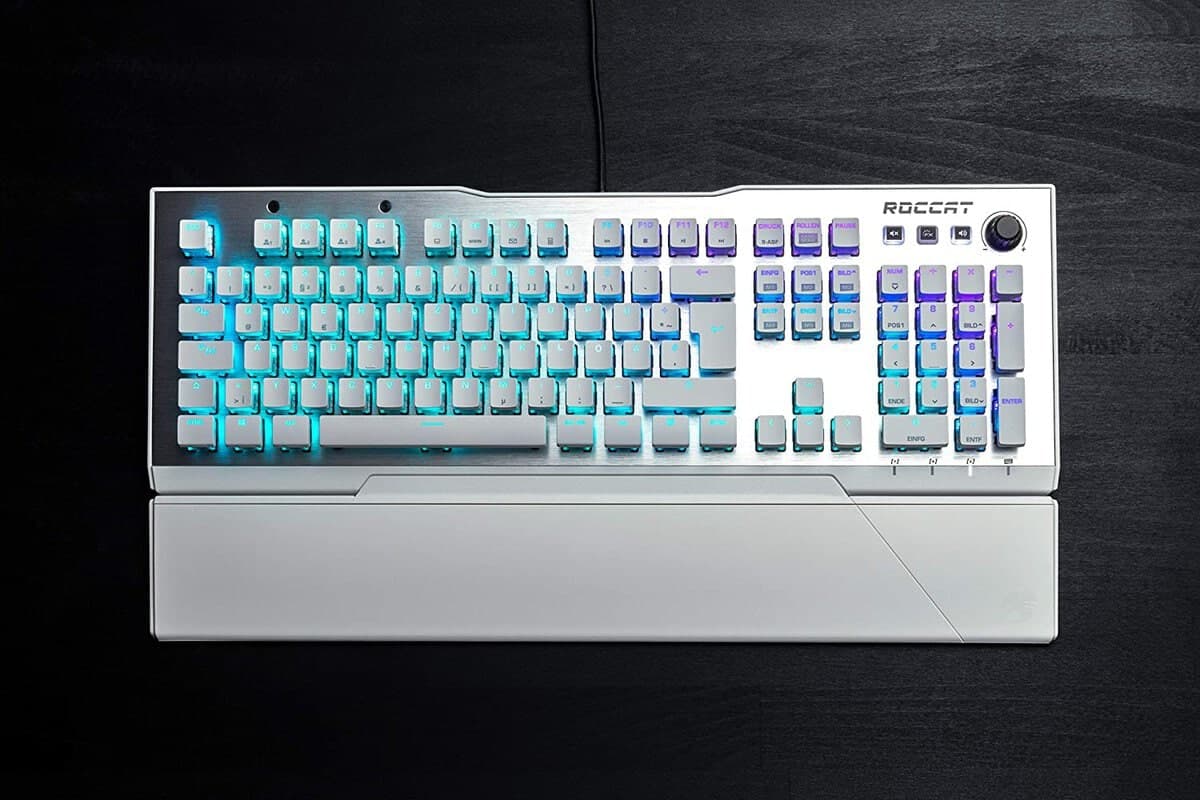 The keyboard also runs with full backlighting with 16.8M colors. Again, for working with ease, you will get the detachable palm rest feature highly comfortable. You can easily adjust the setup as it is integrated with a premium magnetic solution for the palm rest.
At last, in case of durability, the keyboard stands out. It is designed with a premium-quality aircraft-grade aluminum layer and titan switch. So even after millions of pressing, the keyboard will remain like a new one.
Reasons to Purchase
+ You can customize it like your own style
+ High-quality feeling with everyone press
+ High-level durability
+ Comparatively cheaper in price
+ Sound system available, and you can adjust and mute it when needed
Reasons to Reject
– This one isn't a wireless keyboard
– Comparatively expensive
10. Logitech G910 Gaming Keyboard
---
Most probably, the Logitech G910 Orion is the fastest keyboard Logitech has ever made. Here, the actuation level is 1.5mm, allowing it to receive input 25% faster than high-performing keyboards. Besides, it is 40% more durable than random keyboards. Another exciting addition is the Arx control.
It allows your smartphone to display vital statistics, in-game info, and others. The gaming keyboard also functions with a dedicated media control system. You can mute videos, songs, skip videos, or adjust videos. All you need is just to touch a button.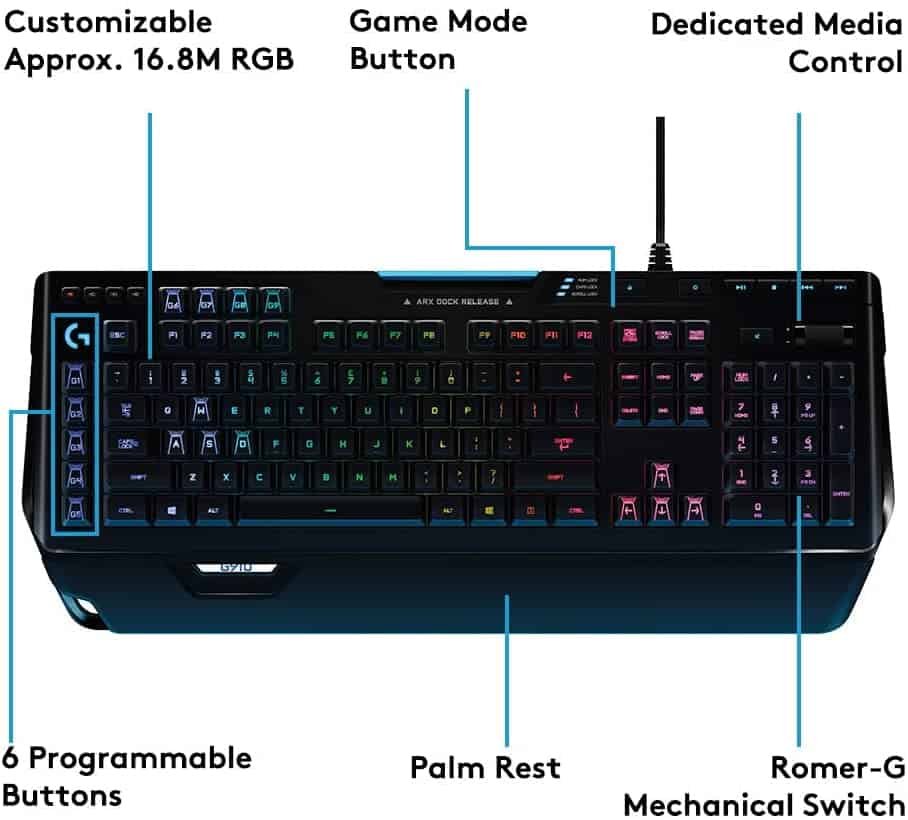 The users also find the palm resting portion more convenient. Also, there are 9. G-keys are fully customizable and usually used for assigning any command. And finally, about the lighting system, it is wonderful. It uses an intelligent RGB illumination system with up to 16M colors to display. However, you can customize everything and adjust the level of lighting according to your need.
Reasons to Purchase
+ Customizable lighting system with huge functions
+ Applicable for both mechanical and official use
+ Additional programmable and gaming buttons available
+ Goes through testing under 70M keystroke
+ Offers maximum comfort
Reasons to Refuse
– Only one wrist rest is available
– durability issue according to a few users
FAQ
---
Q: What is the best small gaming keyboard?
A: RedThunder One Handed Gaming Keyboard is the best small gaming keyboard you can get at a reasonable price. This unique one-hand gaming keyboard comes with all keyboard shortcuts and provides extra comfort. It also performs the best for gaming, and the varieties of RGB light functions make it an aesthetic one.
Q: What is the best budget gaming keyboard?
A: CORSAIR K55 RGB PRO Keyboard and Logitech G915 TKL Wireless RGB Gaming Keyboard are the best budget gaming keyboard. These two keyboards are widely famous for being the fastest keyboard with excellent build quality, and they are from trusted brands as well.
Q: Is Red Dragon a good Brand for keyboards?
A: Yes, Red Dragon is definitely a very trusted brand for both mouse and keyboard. Their products are low cost, highly available, excellent in features, and build quality. So, we cannot deny the potentiality of this brand to be a future tech giant. If you want to try their gaming keyboard, just try out Redragon K556 Gaming Keyboard.
Finally, Insights
---
This is our mini guide to the best gaming keyboards you can buy from Amazon. You must check the brief buying guide in the beginning. Please check the factors and be selective to get the most appropriate one for yourself. Also, make sure to check the price and other details from the given Amazon link. Besides, inform us about which one you select and how it works. We will wait for your response. Thank you for being supportive and always staying with us.