There is a big debate about what's better, a gaming mouse or gaming controller. The argument cannot change anything when you prefer comfortability. However, those who are comfortable with the mouse cannot easily suit with a controller. So, different brands have launched hundreds of high-end gaming mice. However, if you prefer a gaming mouse over a console, maybe you are on the right track. Here, we will talk about the best gaming mouse and everything about it.
Our Mini-Guide to Choose the Best Gaming Mouse
---
Just a random mouse cannot provide you with the best gaming performance. Indeed, you have to look for the best mouse that you feel comfortable using and gives you all the essential features. Many of us often fail to choose the appropriate mouse and end up wasting our money on it. However, being the best wired or wireless gaming mouse doesn't mean it has to be costly; there are many reasonable gaming mouses you can find. 
We have listed the most confusing facts people face while buying a gaming mouse. And we wish to make all those facts clearer to you. So, we suggest you check the following points that will possibly help you understand the facts that you should prioritize while buying the best gaming mouse.
Firstly, you have to decide whether you want a wired or wireless mouse to play games. Most professional or eSports gamers like to use a wired gaming mouse, and wired ones provide a lag-free and continuous connection without any issues. There are also many high-quality wireless gaming mice available in the market with near-zero connection dropouts.
Check the latency rate of the best gaming mouse you want to buy before purchasing—the less the latency rate, the better for a smooth gaming experience.
You should decide on the playstyle before checking the next best budget gaming mouse for your gaming PC. It initially depends on the handgrip, such as palm grip, fingertip grip, claw grip. So decide which one suits you and then filter out the preferred gaming mouse.
The sensor type is a deciding fact in buying the best gaming mouse. There are two types of popular sensors available in the market now; they are optional and laser. For sole gaming purposes, laser sensor-based gaming mouses are superior to optical ones, and Laser-based ones are accurate and usable on almost all types of flat surfaces.
Don't forget to check out about DPI/CPI rating on the specifications list. Initially, it shows the maximum sensitivity of the gaming mouse. Try to buy a mouse with a high sensitivity rating with adjustable physical buttons.
Tracking the speed of the mouse is also a significant point to get a high-quality gaming mouse. It indeed is measured in IPS, and the more the number, the better. It would help to target a mouse with around 450-600 IPS to get a more accurate motion tracking in heavy gaming sessions.
You should also check the polling rate of a mouse, and it is measured in Hz. The highest-rated ones we have seen tend to have 1000Hz and the Lowest 100Hz. If you don't have a powerful enough CPU, don't go for over 650Hz. This condition will cause a bottleneck between CPU and mouse that will degrade your gaming performance significantly.
So, these are the primary factors you need to have a clear thought while buying the most appropriate gaming mouse for yourself. Still, you can check out the list of the best gaming mouse we picked from Amazon. Hopefully, you will get something appropriate for you.
Best Gaming Mouse Pro Gamers' Must-try
---
We have already checked a lot of gaming mice grossly. Also, we asked people who use some branded gaming mouses and have lots of experience. And then, we made a list of the ten best gaming mice anyone will love to use. Here, we added a little discussion, reasons to select and avoid as well. From the given Amazon link, you can check the price too. 
1. Corsair Ironclaw Wireless RGB Gaming Mouse
---
When it is about the world of PC hardware, Corsair must be a very familiar name. From PC cooling systems to other smaller hardware, it has its control on all of them. However, their gaming mouse model, Ironclaw, is like a game-changer. This model is built to provide the gamers with the most comfortable movement with smooth control. This RGB wireless mouse is super-fast in work and comes with low-latency Bluetooth functions.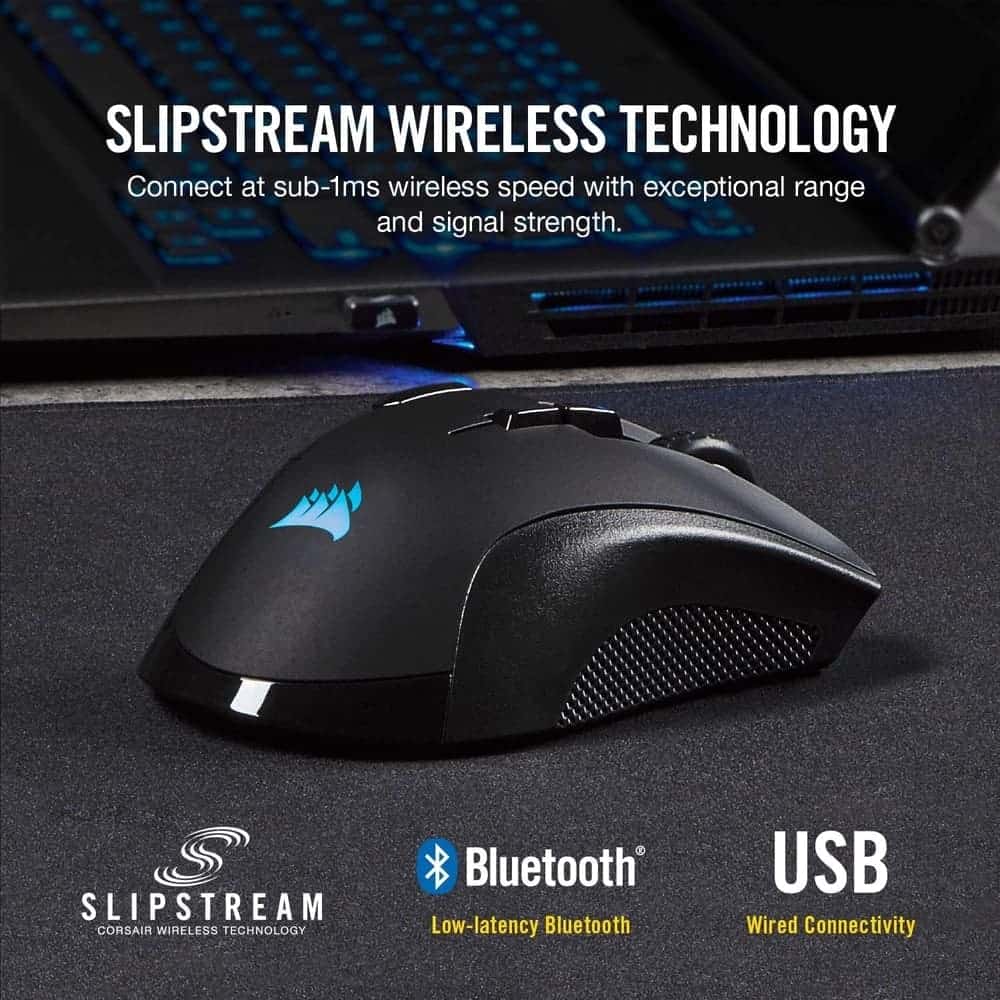 The Ultra-durable Omron switch is the best part of this high-definition mouse. Eventually, this switching system ensures more than 50 million clicks in its lifetime. Additionally, the shape of this mouse is amazingly designed to provide a comfortable grip. There's no way you will feel uncomfortable with it as it is pretty lightweight too. Above that, its programmable buttons and feature-rich macros will ensure more in-game advantages for sure.
Reasons to Purchase
+ Available both with and without wire
+ Perfectly fits most hands
+ Affordable price
+ 18K DPI optical sensor and 1 DPI resolution sensor
+ Comes with ten complete buttons
+ 16 to 24 hours of battery life
Reasons to Reject
– Comparatively heavier
– Rare case of causing misclicks
– RGB lights consume battery faster
2. Roccat Kone Pro Ergonomic Optical Performance Gaming Mouse
---
Secondly, we would like to cover the Roccat Kone Pro Ergonomic Optical Performance Gaming Mouse. Roccat is another big head when it comes to gaming accessories like a keyboard and mouse. However, this one is their best-selling product, and you can definitely go for it to have smooth movement. This feature-rich mouse comes with a vivid AIMO RGB lighting system that features 16.8 million colors.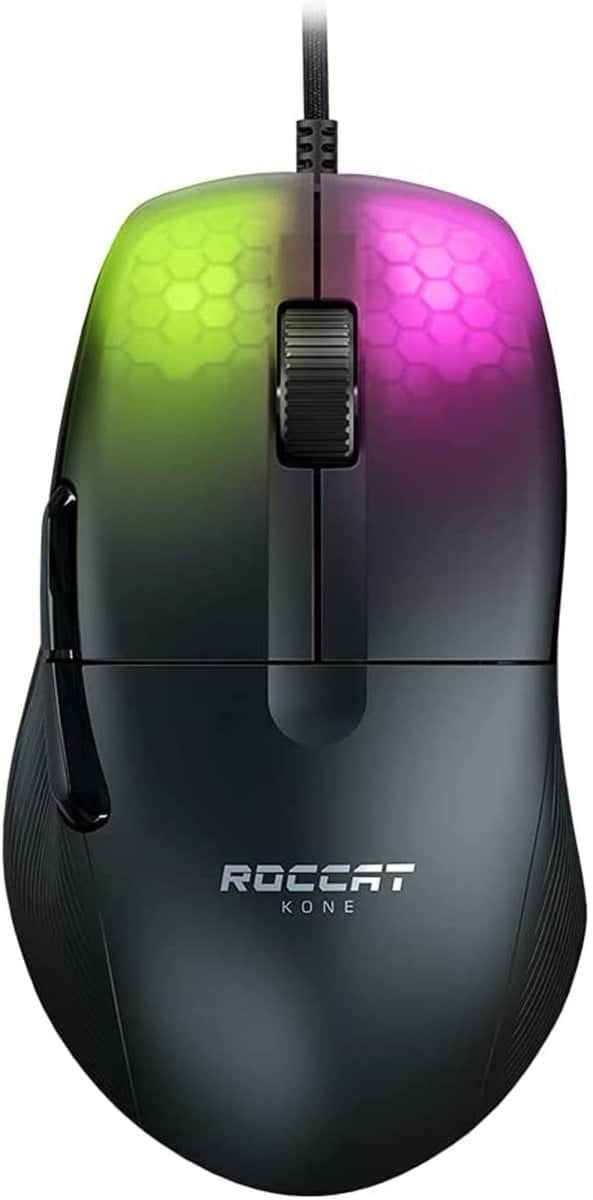 Being compatible with almost all recent versions of Windows, this mouse provides Titan Wheels to scroll. The wheel is even milled with solid aluminum, and the Titan Switch optical system ensures responsive clicks every time. Also, the RGB light is excellent with this mouse.
About its appearance, I cannot deny its beauty, and you will get it in two different colors: black and white. This is even known to be the best wired gaming mouse for its smooth performance, especially while playing video games.
Reasons to Purchase
+ Cheap gaming mouse
+ Excellent build quality and materials
+ RGB light setting is perfect
+ Very lightweight and no more than 66 grams
+ Comes with Owl-Eye 19K DPI optical sensor
+ USB 2.0 support
+ Heat and shock resistance
Reasons to Reject
– Wired mouse
– Rare case of technical issue of the wheel movement.
3. Razer DeathAdder Essential Gaming Mouse
---
If you ask some pro gamers about the best gaming mouse, you must hear the name Razer from most of them. This brand got its gross popularity in the accessories market. And their DeathAdder wired gaming mouse is quite like a revolutionary creation. With a 6400 DPI optical sensor, this mouse provides five programmable buttons. You must enjoy its smooth movement and accurate click-spot while using.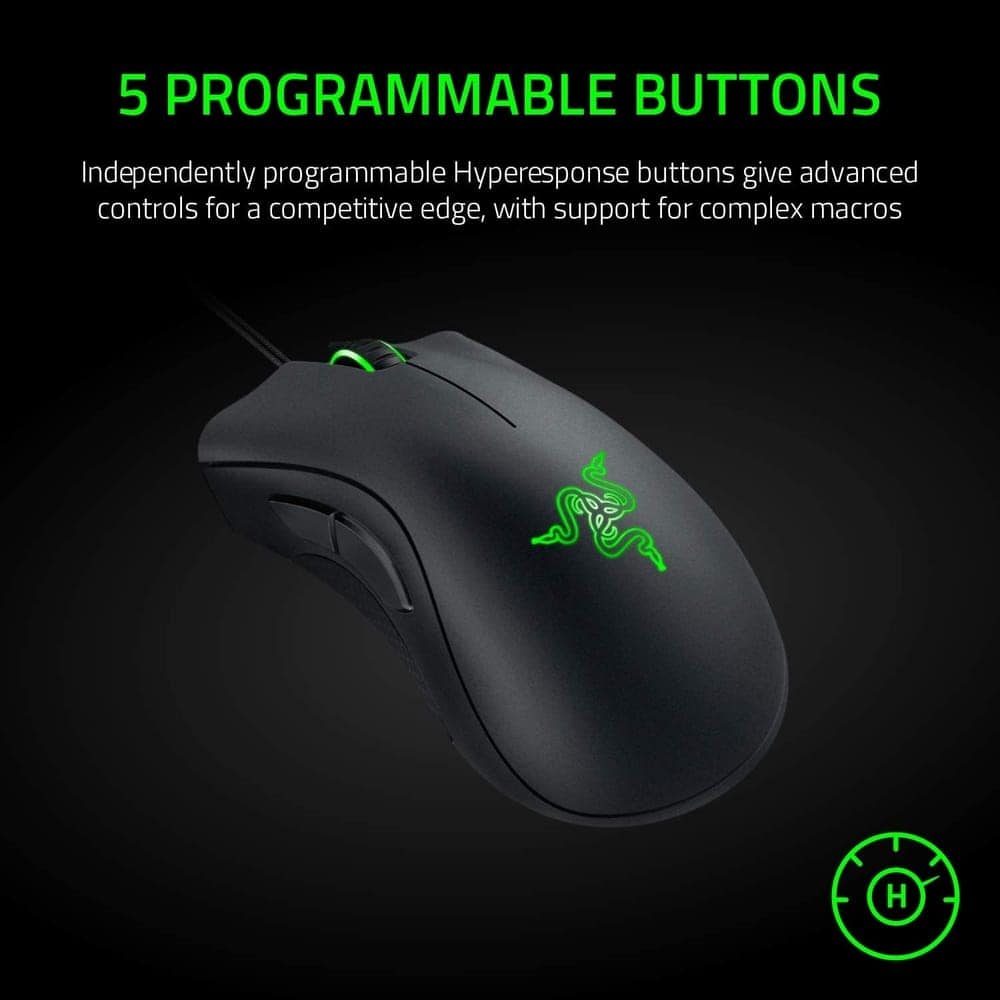 When it comes to durability, this cheap gaming mouse will be the toughest one to beat. The whole shell is built with very durable material, and the metal wheel comes with a soft surface area of a layer of rubber.
Besides, the manufacturer ensures two years of warranty with more than 10 million clicks. The controlling system is excellent as usual, and even while playing the high shaking games, it causes no lagging as well.
Reasons to Purchase
+ 6,400 DPI high precision optical sensor
+ Durable and heat resistant
+ Provides a perfect and comfortable grip
+ Work well on complex macro functions
+ Butterfly clicking system is available
+ Excellent build quality and lightest gaming mouse
Reasons to Reject
– Not a wireless mouse
– No color variations
– The side grip should have a layer of rubber to give a comfortable grip.
4. Logitech G502 HERO High-Performance Wired Gaming Mouse
---
Here comes the most famous computer accessories brand Logitech. It doesn't matter where on earth you are living; I am sure you used a mouse or keyboard from Logitech if you used to have a computer. Not just the general optical mouse, Logitech has its best-wired gaming mouse as well. And their G502 Hero series is definitely a different one to get a competitor. Well, this mighty wired mouse comes with 11 reprogrammable buttons.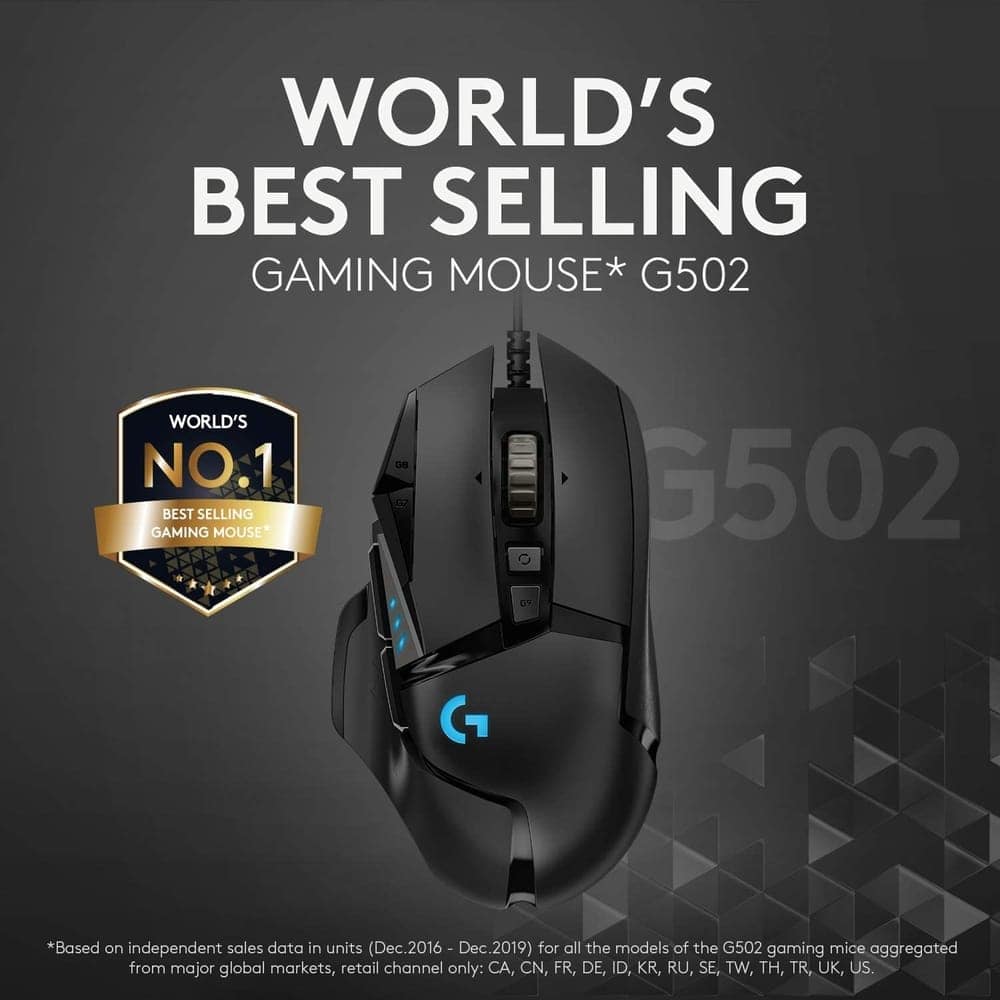 This gaming mouse features 25,600 DPI optical sensors and 16.8 million light sync RGB. I am sure you must not get another mouse with this much DPI and color schemes. Additionally, the dual-mode hyper-fast scroll wheel ensures smoother scrolling on your PC, But you know, what's the best part of this mouse? Its adjustable weight mechanism and extra in-game benefits will provide the best gaming experience for sure.
Reasons to Purchase
+ Advanced next-generation optical sensor
+ Ensures hyper-fast precision scrolling
+ Weight adjusting system
+ Comfortable grip and sides buttons
+ Sub-micron level movement detecting capacity
+ Superfast scroll wheel
Reasons to Reject
– Not suggested for fps gaming
– A few users find technical issues with the scrolling wheel sensor
– Doesn't have a lot of color variations
5. SteelSeries Rival 3 Model Gaming Mouse
---
Our next suggestion is from SteelSeries. The Rival 3 model of their gaming mouse is an unavoidable option for pro gamers. This one has excellent build quality, and you cannot deny the beauty of its outlook.
Eventually, the prism Lighting system on the edge of this mouse even adds extra aesthetics to its appearance. And ultimately, it looks like the perfect gaming mouse for its excellent shape and grip style. Also, the polling rate is 1000hz, and it guarantees more than 60 million clicks.
Whatever you are using, Windows, MAC, Linux, or even your Xbox, this mouse is compatible with all those platforms. Additionally, the hyper-durable material ensures long-lasting service and has an ergonomic construction.
However, it's a wired mouse and ultra-lightweight with only 77 grams. And also, it lets you customize the color of the RGB setting as well. Additionally, the mouse empires a perfect grip and comfortable scrolling too.
Reasons to Purchase
+ Comes with 5 programmable C.P.I.s
+ Customizable RGB prism lights
+ Excellent design with matte black color
+ Extremely durable and shock resistance
+ Comfortable design perfect grip
+ Lightest gaming mouse
Reasons to Reject
– No color variations
– Comparatively overpriced
6. Corsair Scimitar ELITE RGB Optical Gaming Mouse
---
The reasons to love Corsair Scimitar ELITE RGB Optical MOBA/MMO Gaming Mouse are countless. The powerful macros and button remap make it stand out. It is available in two different colors, which are fully black and yellow with a black combination. Total 17 buttons are there, and from them, 12 are placed at the side of the mouse. Interestingly enough, the side panel patent has a key slider to reposition them.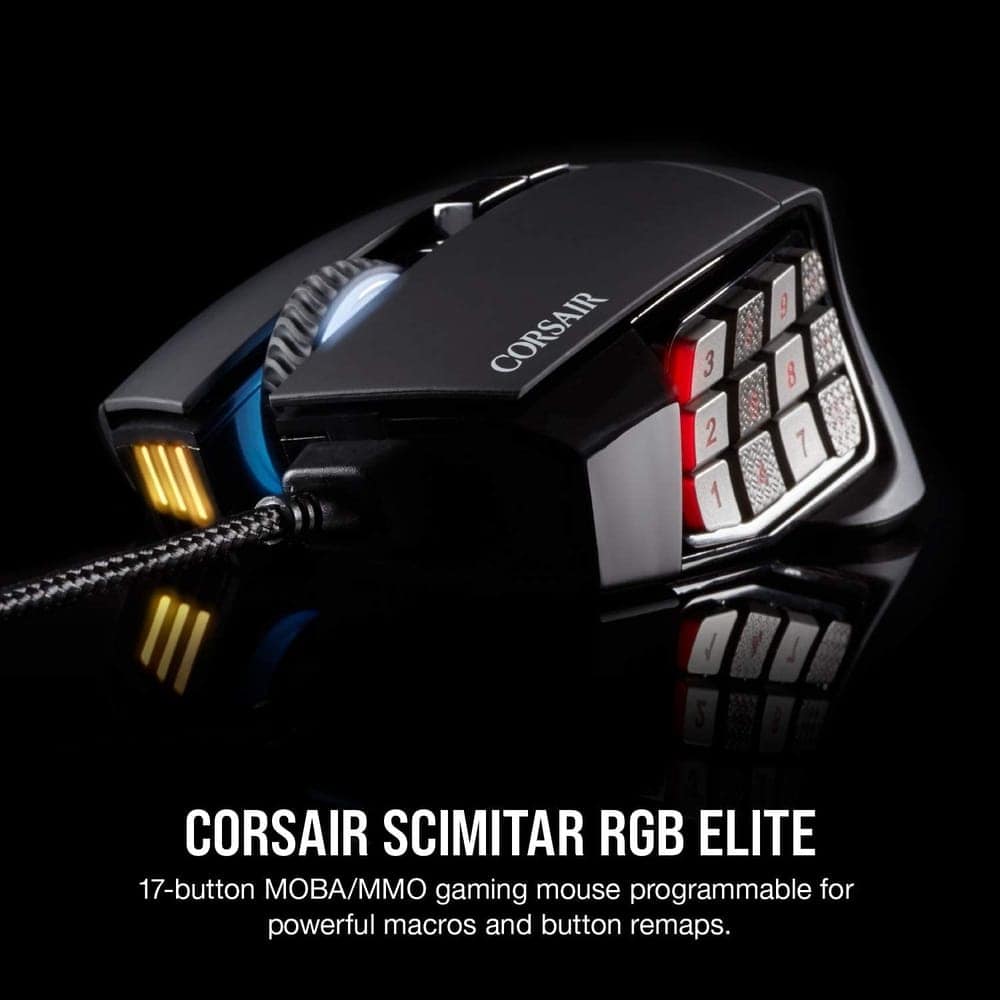 More facilities include a right-side finger rest. The perfect sculpted shape of the mouse matches according to your grip. It weighs around 122g. It will make your game-winning more effortless with rapid and swift tracking.
Besides, the mouse has onboard profile storage. Surface calibration utility helps you to work better with the mouse pad surface. You can select any color for backlighting. Button durability is extended up to 50 million clicks.
Reasons to Purchase
+ Has contoured shape for your palm
+ About 17 fully programmable buttons added
+ Side panel includes patented key slider
+ Around 18K DPI accurate optical sensor for fastest response
+ Resolution steps up to 1 DPI to achieve absolute sensitivity
+ Four-zone RGB backlighting with unlimited personalization of presets and effects
Reasons to Reject
– Setting up the keybinds may seem complicated
– Side buttons may not seem fast enough
– Too stiff cable
7. MAD CATZ RAT Pro X3 Gaming Mouse
---
A high-performance gaming mouse is a must for skillful gamers. So why don't you give it a try to MAD CATZ RAT Pro X3 Gaming Mouse? This mouse is designed with optical technology for the scroll wheel, and you can precisely control the speed and swap the wheel at a time while playing. RGB Illumination Zones lets you utilize preset themes, and you can select the lighting and color of your choice.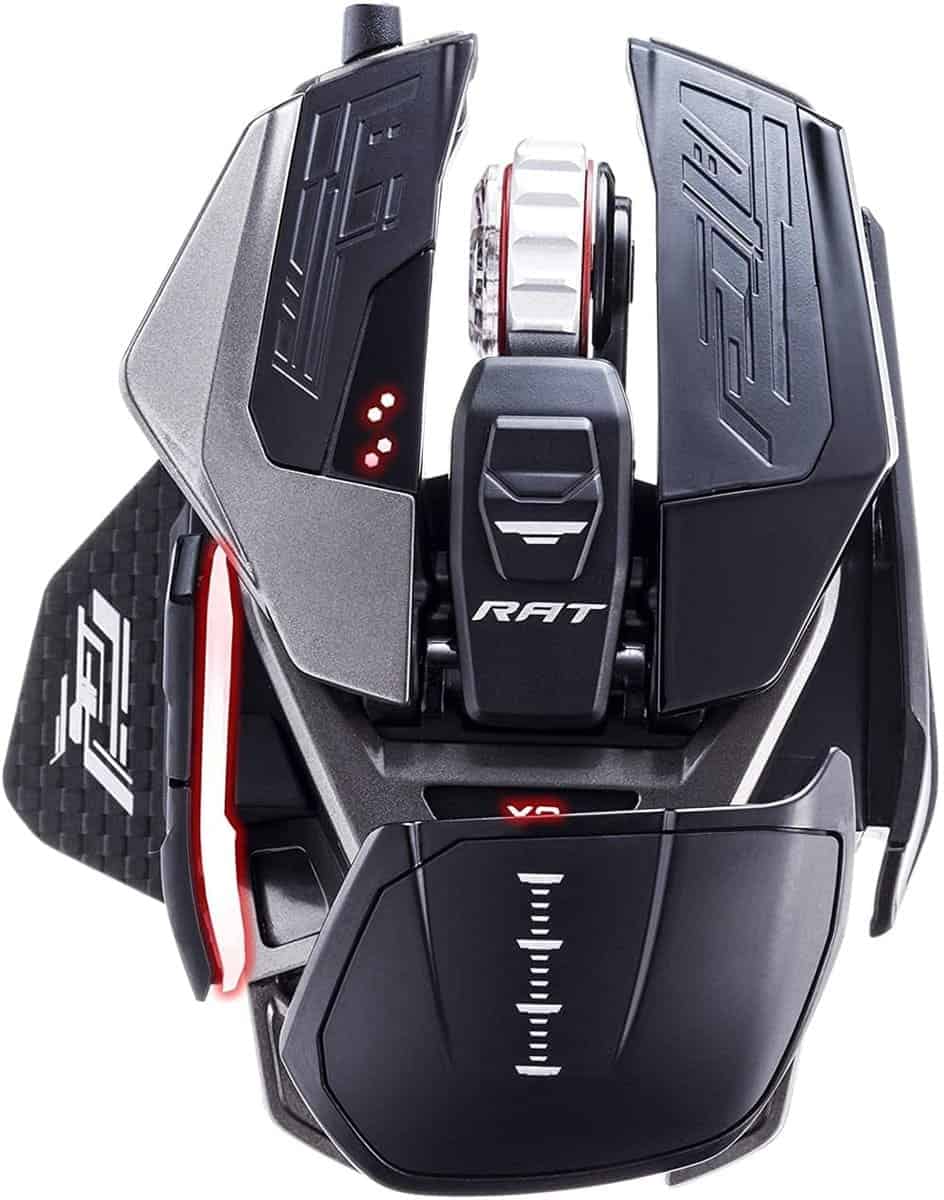 The mouse has interchangeable scroll wheels; pinkie rests, thumb rests, which allow you to keep up with 2700 different physical configurations. Also, about 50G acceleration is achievable. Without the cable, this mouse is weighted almost 105G, which is convenient for easy movement.
Ogue axis movements are another great addition. Moreover, the ergonomics of this mouse are suitable for gamers. You can enjoy lag-free clicks and enhance your style of playing.
Reasons to Purchase
+ Two independent RGB Illumination Zones with effect and speed control
+ Adaptable palm rest for comfortable grip
+ DPI range is more than 16,000
+ Around 400IPS tracking speed is reachable
+ USB report rate almost 3000HZ
Reasons to Reject
– No option to hold the input
– Windows users may face difficulty because of driver conflicts
8. Razer Basilisk X Hyperspeed Wireless Gaming Mouse
---
You can also try Razer Basilisk X Hyperspeed Wireless Gaming Mouse if you are looking for the best wireless gaming mouse. It initially provides extended control for game lovers, and the accurate cutting edge fits in your palm.
This mouse offers a speedy response with dependable Bluetooth connectivity. Plus, the optical sensor is 16,000 DPI for swipes within the blink of an eye. And the mechanical technology is designed for seamless performance. Also, the mouse weighs only 82.9 g.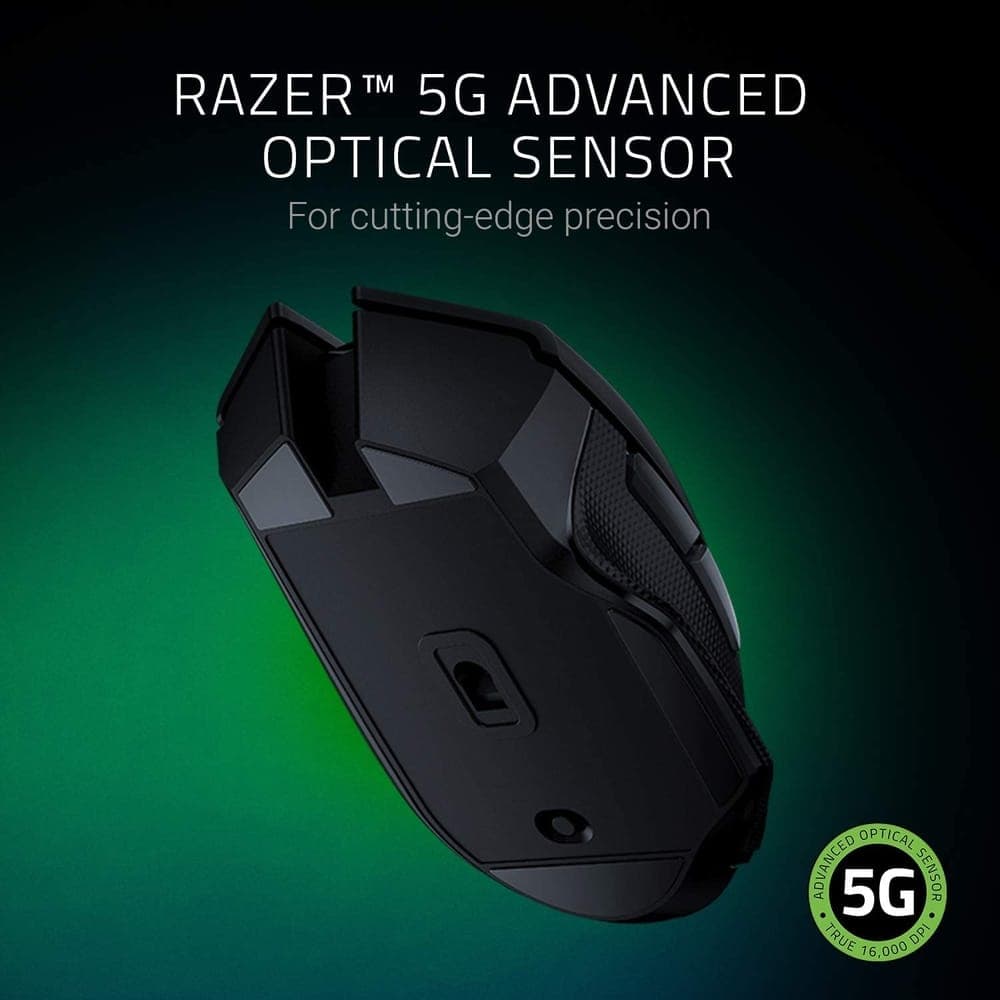 This mouse is highly adaptive for switching instantly between frequencies. At the same time, it manages stability to give you the ultimate gaming experience. It has an acceleration of 450 inches per second. Furthermore, it is designed using a 2.4GHz dongle. In addition, six programmable buttons will help you to compete faster. They work with mac book software as well. To sum up, it will serve you better than other wireless mice available out there.
Reasons to Purchase
+ More than 50 million clicks durability
+ Has onboard DPI storage to save your customized choices
+ About six programmable buttons included
+ Supports around 450 hours of battery life
+ Advanced 5G optical sensor maintenance
+ Offers dual wireless connectivity
Reasons to Reject
– Sometimes cuts out or freezes
– Double clicks may seem to have issues erratically
– No color options
9. Logitech G903 LIGHTSPEED Wireless Gaming Mouse
---
Once again, we are going to review another best wireless gaming mouse by Logitech. And this time, it's a pretty much high-end and expensive one. The G903 wireless RGB mouse has come with the most aesthetic outlook and structure. It is Ultra lightweight and provides the perfect grip. Additionally, the size and the button placement ensure comfortable movement. Also, it comes with 6-11 reprogrammable buttons.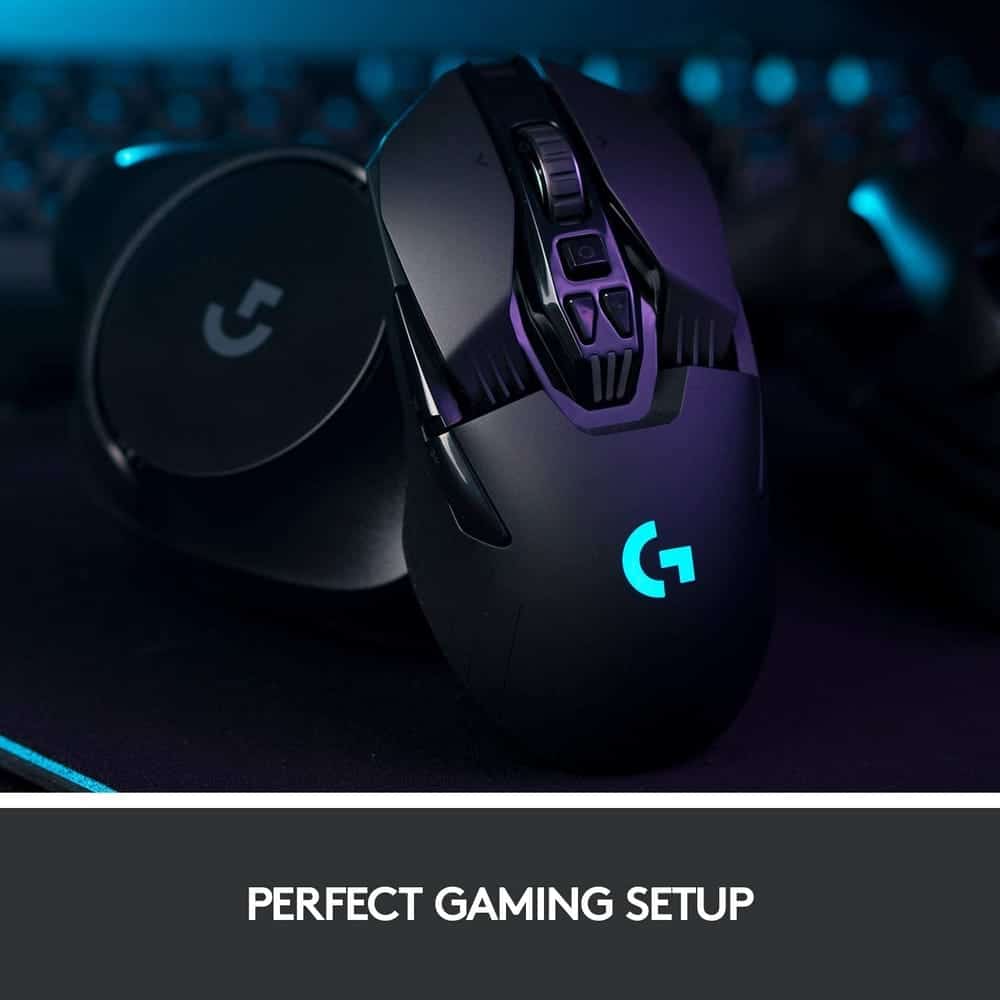 About the wireless performance, we have just no word to describe it. The responsiveness is more than we expected, and it provides extended-lasting connectivity. The Hero 25k sensor mist ensures you the best performance while gaming. Eventually, it works faster and indeed better than most of the best wired gaming mice. So, in a nutshell, we can assure you that it may be expensive, but it has its budget value.
Reasons to Purchase
+ Comes with powerful Hero 2k sensor
+ Provides 100-25 600 maximum DPI sensitivity
+ Ensures 10Xpower efficiency
+ Lightning fast wireless performance
+ 1ms responsiveness rate
+ 140-180 hour LiPo battery life
+ Comes with light sync RGB
Reasons to Reject
– Quite expensive
– A few users found issues with the left click button
10. Razer Lancehead TE Ambidextrous Gaming Mouse
---
If you are looking for a wired gaming mouse for female gamers, just try Razer Lancehead TE Ambidextrous Gaming Mouse. The appearance of this mouse must grab the attention of any girl. But we don't call it the best budget gaming mouse anyway. With this price range, you can get better options. Still, for its pink color and stylish structure, female gamers must love it for sure. Besides, it doesn't lack rich features anyway.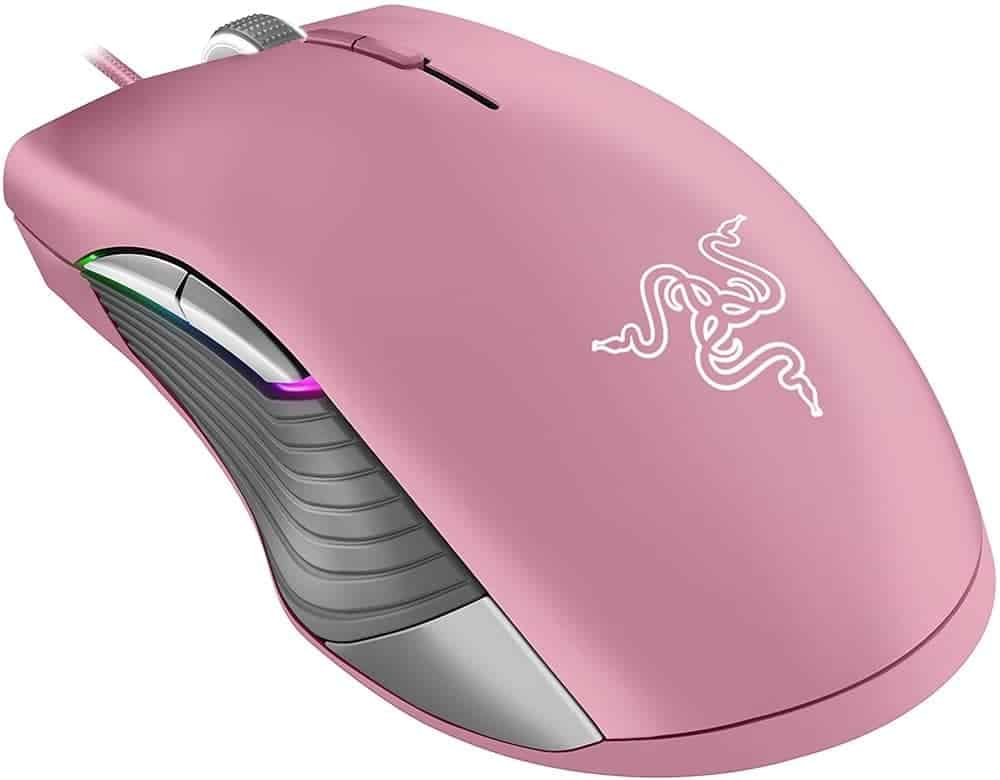 This ultra-lightweight gaming mouse performs the best while playing MMO and battle arena games. Also, it ensures the perfect grip regardless of different hand sizes. The Ambidextrous design ensures a comfortable grip for both right and left-hand people. So, as the final recommendation for today, we suggest this one only if the budget matches your requirement and you like the design of the mouse.
Reasons to Purchase
+ Comes with 16000 DPI optical sensor
+ Function to adjust fly sensitivity
+ Includes extra programmable buttons
+ Customizable Chroma RGB lights
+ Provides 16.8 million color combinations
+ 2 different color variations
Reasons to Reject
– Excessively expensive
– The side grip often get slippery
FAQ
---
Q: Can a Mouse replace a Gaming controller?
A: It actually depends on the users' comfortable issue. Gamers can play games with both a controller and mouse. And what works batter is also depending on what the user prefers and how feature-rich it is. But if you ask if someone replaces a controller with a mouse, the answer must be yes. The high-end gaming mouse can even work better than many gaming controllers.
Q: Does the wired mouse work better than a wireless one for gaming?
A: According to most professionals, wired mice perform better than a wireless mice. Basically, the mouse can provide the least latency and ensure the most responsiveness because of the wired connection. Additionally, the wired mouse is comparatively more durable and has a longer lifespan. So, for gaming purposes, people often choose a wired mouse for gaming purposes.
Q: Why is a gaming mouse better than an average optical mouse?
A: A gaming mouse is different from a regular optical mouse in different ways. Basically, a gaming mouse is more sensitive, responsive, and durable. This kind of mouse comes with extra buttons as well, and high-end features and additional RGB lights are the other factors that make the difference. So, a general mouse cannot replace a gaming mouse anyway.
Q: What is the best mouse for gaming?
A: According to most pro gamers, Logitech G502 HERO and the Razer DeathAdder are the best wired gaming mouse. These two feature-rich mice provide minimum latency, competitive eSports, and high-stake performance. But both of them are wired gaming mice. So, if you want the best wireless gaming mouse, we would recommend Corsair Ironclaw Wireless Optical Gaming Mouse. 
Finally, Insights
---
Hopefully, you have already got your desired mouse from the above list. Now, just remember to let us know how it works when you will buy it. We always love to hear from you. Also, if you know about the best gaming mouse other than the recommended ones, please inform us. We are always eager to learn about the new products on the market. So, it's time to say goodbye. For your time, thank you again.