Investment Accounting Software is one of the commonly used software by investment professionals and fund managers. But before moving to the software, let's talk about investment first. To keep it simple, you can refer any investment to a financial asset from where you can claim or receive or claim profit from its stake in bonds, shares, or even real estate.
And software intended for investment accounting can help you manage all the associated accounting processes easily and earn revenue from your investments. You may also find additional options such as trading security, equity method and available for sale that can enable users to handle multiple types of accounting at a time. 
All investment-related accounting tasks can be much more complicated than you expect. As a result, the professionals use these advanced accounting software to maintain accurate investment records and monitor activity. Besides, Investment Accounting Software comes with reporting features so that you can have more control over the investment-related gains or losses.
Even for portfolio management, accounting applications have been proved to be useful. The ability to extend the capabilities of your investment banking makes it an obvious choice if you want to be a key player in this industry. 
Why Use Investment Accounting Software?
---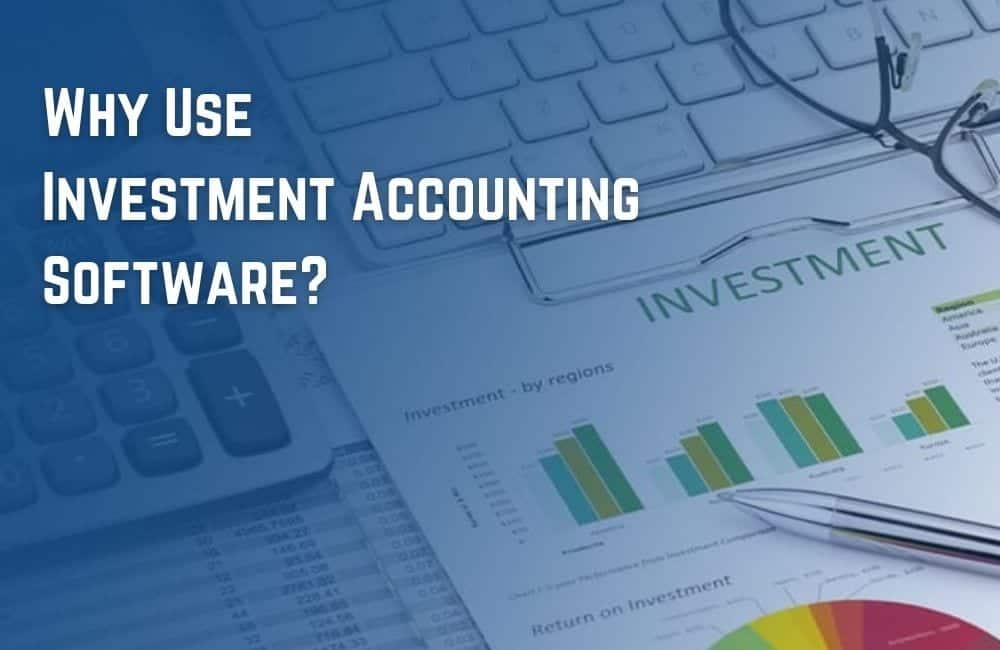 If you are wondering why we should use accounting software for managing investments, this section will answer all of your questions. Saving time and eliminating errors are the two most important advantages that ideal accounting software can offer. Besides, when you use modern accounting software, it can save you from manual inputs of data and transactions to increase efficiency to a great extent.
With a variety of reports, profit-and-loss statements, balance sheets, and other financial statements, you will be on the right track. It can also contribute to making more informed decisions as well.
Top Investment Accounting Software
---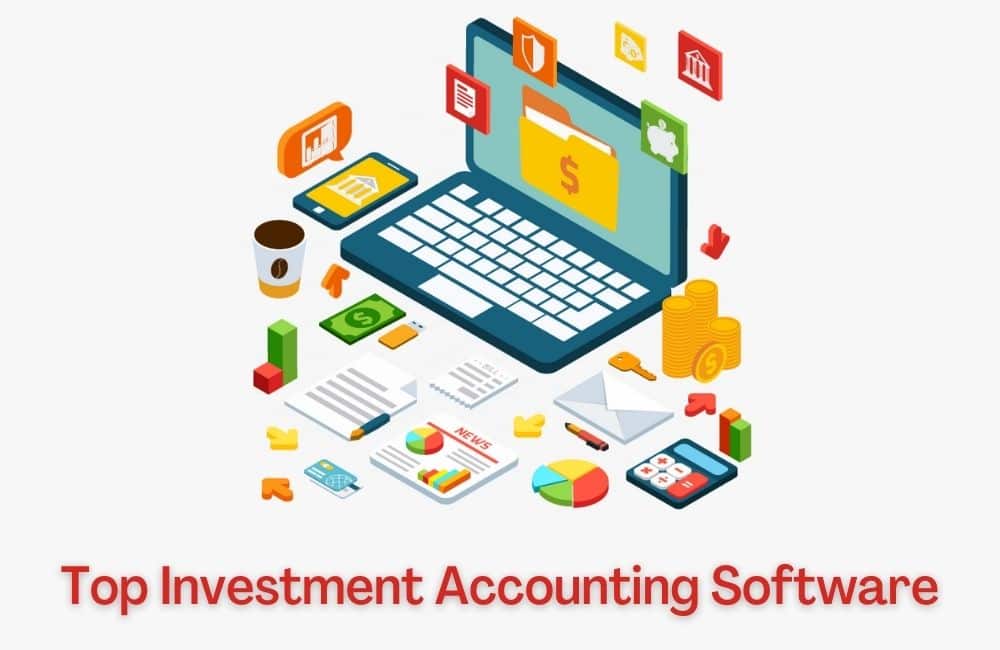 In this article, we are going to talk about the best investment accounting software you will find in the current market. It may be a tricky decision, but whenever you are going to start using investment intent accounting software, there are certain things you must consider.
You should check whether that software can track investments, handle various types of accounting methods, and support investment portfolio management. Then, go through this article, and we will guide you to make the right call.
1. Assetic Accounting
---
It is one of the top-rated software available out there, especially where we are talking about investment accounting software. If you are looking for flexibility and control, you can certainly check the features of this excellent software.
There are many investment managers who are using this software because of its stability and robust performance. Besides, it can suit any organization and work well for almost any requirement. As a result, they have started their journey back in 2006 and established themself as a powerful player in the competition.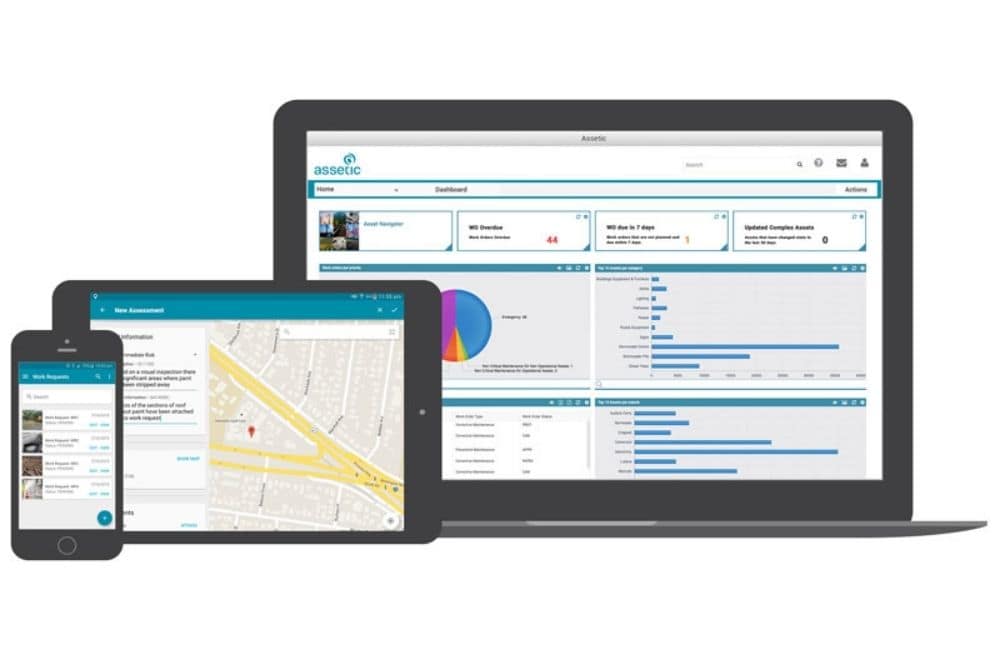 Important Insights
This software can enable you to achieve transparency in your investment processes. Assets portfolio management becomes really simple once you start using this. 

You can integrate Assetic with your organization at a level where you can gain more insights and extract detailed information. 

Professionals can enjoy the advantage of financial reporting to improve efficiency. It can help organizations to regulate compliances as well. 

It supports a wide variety of accounting methods, which makes it a splendid choice. In addition, you will get a seamless performance while validating data from the Assetic Assets software. 

It comes with in-built asset transactions features which keep the system secure and safe from hackers. 

Besides, features like life-cycle management, periodic revaluations, integration with finance will take you to the next stage of component-level accounting. 
Visit Website
2. Backstop Solutions Suite
---
This software can be considered the solution to all problems institutional allocators may face in their entire lifetime. When this product first came out in the market, it took attention with the easy-to-use CRM/RMS right away. They can be your brilliant partner as you can take the help of their excellent client service and support teams. They can enable you to streamline due diligence and monitor the performance of your portfolio effectively.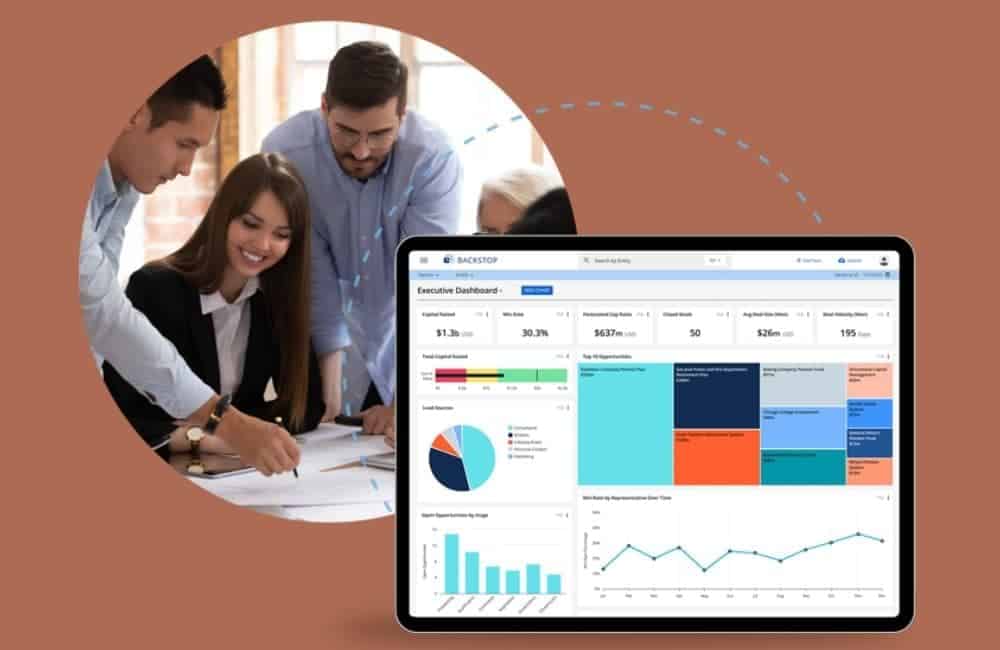 Important Insights
They have consistently invested in enhancing the product quality you will see through Solutions Suite's performance and features. 

It comes with their new service known as IntellX to make the collection of documents simple. You can even retrieve any sort of documents as well. 

Designed to make time-consuming tasks enjoyable and allow you to focus more on the processes for rapid and easy access. 

You will discover everything required to facilitate day-to-day business success. Besides, a robust security program is also there that takes client's security seriously. 

Allows you to make the most informed decisions as you use critical information collected from its comprehensive data integration solutions. 

However, this software is an all-in-one solution for the investor and is equipped with research optimization tools, a web-based investor portal, collaboration tools, etc. 
3. AXYS
---
AXYS is a great addition to this list of accounting software designed for investment tracking. However, unlike any other software on this list, it takes a modern approach to automate portfolio reporting and accounting.
Besides, with the help of a turnkey solution, you will need minimal support from IT. It will help you to focus on relationship-based businesses to make wealth management simple. If you are an asset manager, then this is the tool you may be interested in checking.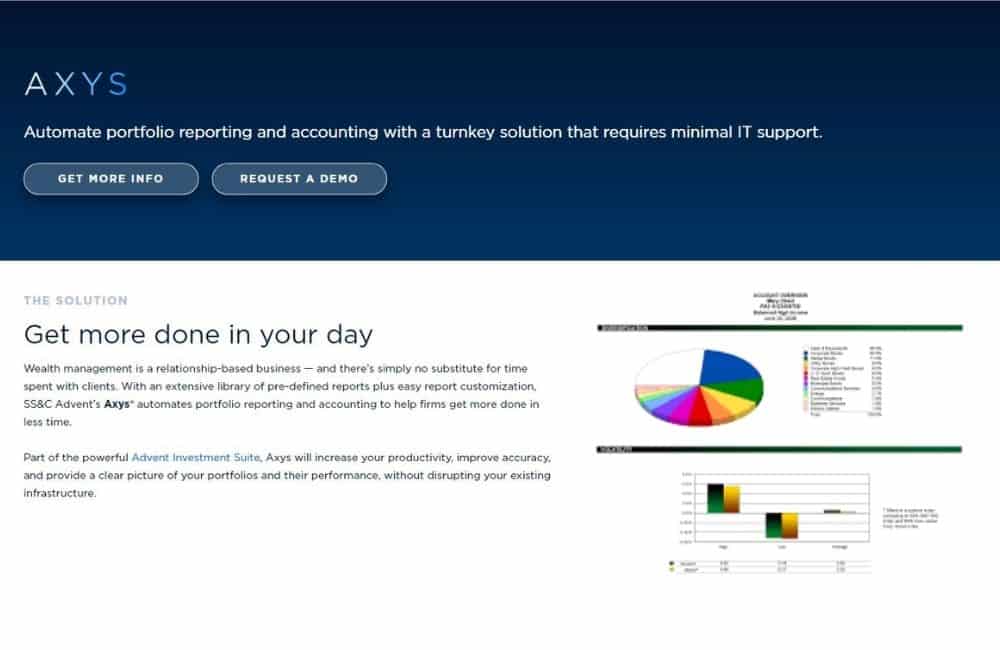 Important Insights
It comes with GIPS compliant performance measurement, while you will also find this software flexible in tax treatment. 

With advanced reporting and the automated reconciliation of trade information, AXYS will be a great fit for any financial organization. 

Also, if you want to dig deeper to measure the performance of key metrics and take actions accordingly, then AXYS will be a great solution for you. 

This software supports a wide array of securities. And you can also take care of fixed income alongside cash equities through its useful features. 

Users can group multiple reports, graphs, and objects on one page. Also, to make it ready for the presentation, you can customize the report to any extent. 

Equipped with multi-currency capabilities where you can calculate the international withholding tax and corporate records processing as well. 
4. Cheetah Wealth Management
---
As an investment accounting software Cheetah takes a straightforward approach to enable you to handle wealth management effectively. It offers all the tools you may need to manage your asset and is trusted by over 250 clients to justify its stable performance at the enterprise level.
The developers of this software have tried to render a significant experience by improving every aspect of the current accounting system. Besides, it one of the few solutions in the industry that offers such intuitive and efficient mobile solutions.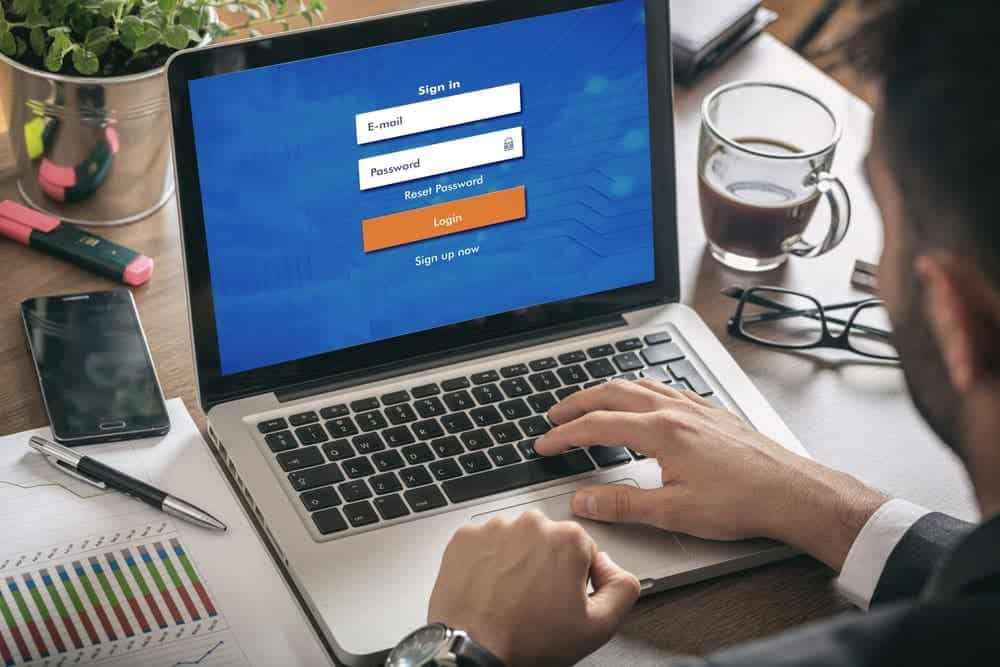 Important Insights
This software is a great example of how modern software should use the technologies to deliver a scalable, flexible, and extensible solution. 

You can take advantage of the wide variety of addons available out there, such as accurate data exchanges that can reduce the time for licensing needs. 

Comes with integrated Moody's Ratings, GICS and performance Info, and the record of the historical distribution. 

The data collection and storing process is simple as you can use Cheetah API to exchange or update data in your Cheetah database. 

If you are looking to improve the end-client experiences and eliminate data monetization requirements, Cheetah will be a perfect product. 

Suitable for business process outsourcing can reduce the operational cost and mitigate the risk of employee loss with the best practices. 
5. EAS Expense Allocation System
---
You will find many solutions that can help to manage funds and finances. But IntegriDATA Expense Allocation System is undoubtedly the leading allocation software for the private equity and hedge fund managers you will find in the market now. Ensuring compliance can be a major headache for any company, and this tool can save you from this hassle. Besides, this tool is designed to deliver improved accuracy as well as increase efficiency to a great extent.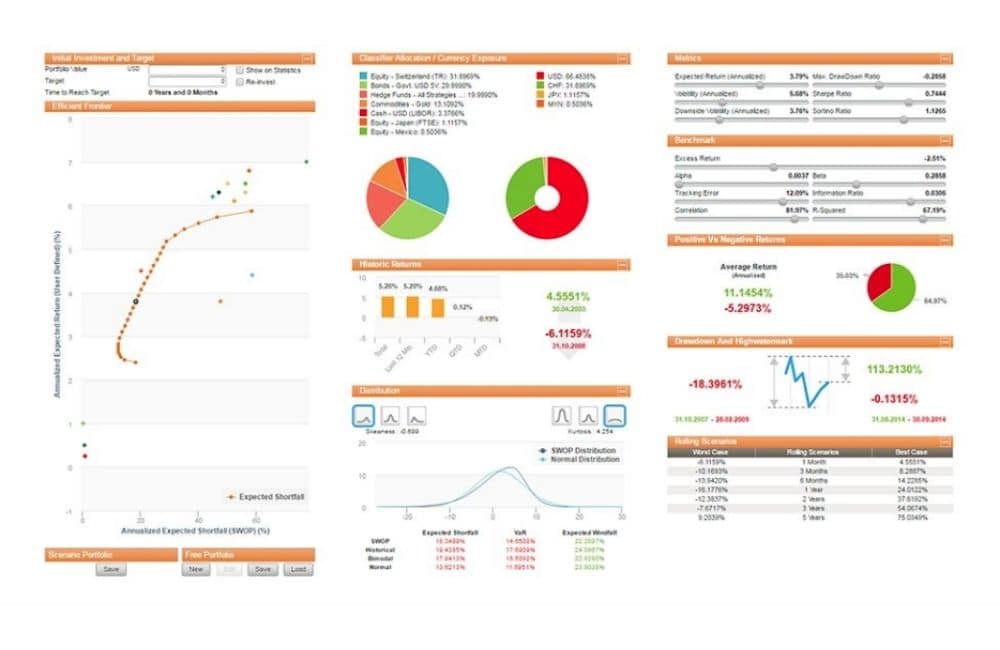 Important Insights
You will find everything, starting from collecting, approving, and allocating expenses within the system. 

The dashboard is interactive and offers all the modern features required to produce highly informative reports and gain insights. 

EAS comes with accounts payable, T&E, and time tracking features to let you merge expense management from just one place. 

Automated allocation can help eliminate risks and reduce operational time. In addition, you can enjoy the sharing percentage calculations that use AUM, NAV, and so on.

Besides, digital fund agreements and support for deal allocations and reallocations are also there. So you can also expect to get industry-leading support from them. 

It comes with robust audit reporting that can enable investors or find managers to monitor every allocation and gain full control over the performance. 
6. Altair
---
If you are an investment manager looking for a solution for portfolio management, then Altair is the option you might be interested in. It is a great software well-recognized because of its stable performance so definitely you can rely on this software without any doubt.
On top of that, we should also mention the electric and mechanical simulation tools that come with this investment accounting software. You can always use these tools for CAE and take better care of your trades.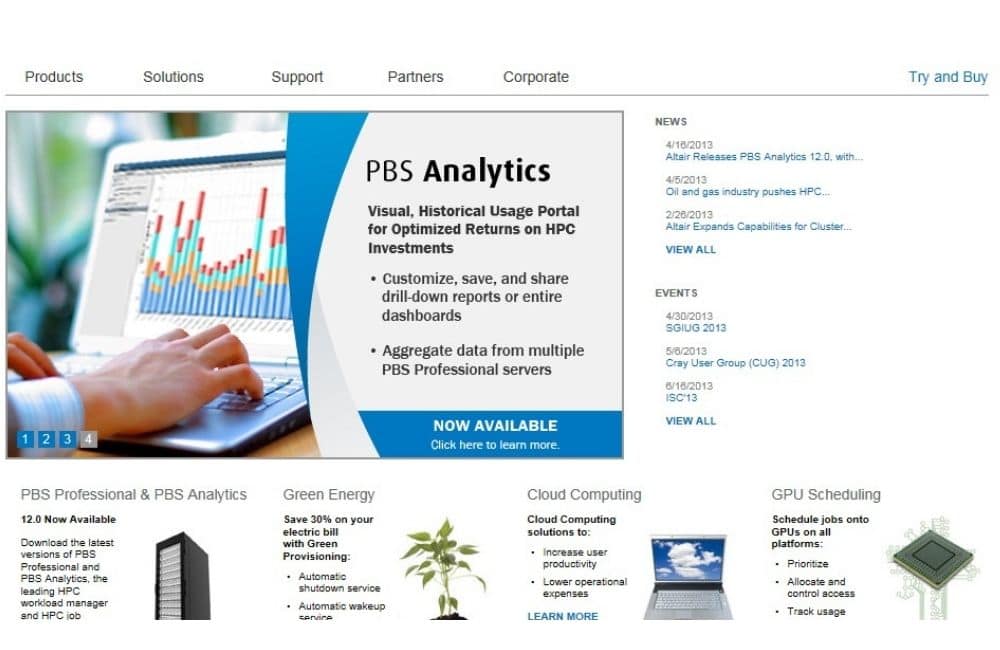 Important Insights
You can consider this a reporting software and work best for investment managers, insurance companies, private client brokers, and trust agencies.

It will enable you to handle complex securities comfortably as well as achieve reduced risk for smooth operations. 

With strong IFRS reporting and flexible architecture, Altair can deliver anything you require. You will also find the multi-currency investment strategies useful. 

Altair has included exception handling and workflow management for its users to facilitate the control of operational risk. 

Supports for almost any financial instruments such as marketable securities, loans, term deposits, warrants, bonds, and so on. 

Besides, the fund managers or the traders can easily handle multiple accounts as it supports transaction methods depending on the accounting principle. 
7. MProfit for Accounting
---
With customers in over three hundred cities, MProfit for Accounting is certainly one of the most popular investment accounting software currently available in the market. In addition, you can easily consider this software as a portfolio management solution.
Besides, to make it convenient for all types of users, MProfit comes in web, desktop, and Android & iOS versions. This software can enable you to track and manage multiple assets to let you have full control over the processes.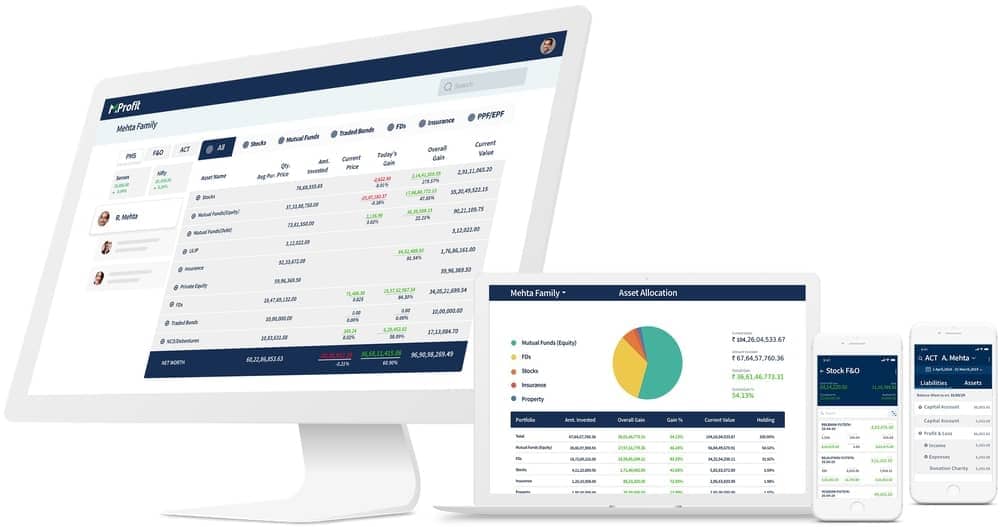 Important Insights
Manages all of your investments in stocks, F&O, NPS, PMS, Mutual Funds, Traded Bonds, Fixed Deposits, AIF & many other asset classes using this application. 

It will enable you to track all assets and portfolios and absolute Gain and annualized return to gain more insights from your system. 

Allows users to create a portfolio group. You can also take care of your clients' accounts in category-wise & family-wise portfolios. 

You can collect and store data in 5,000+ formats like PDF, Excel, HTML, CSV, TXT & DBF, and you will get support from over 700 brokers.

Enables fund managers to track F&O positions and maintain mark-to-market records, F&O Profit/Loss, and import contract notes and trade-book files. 

You can use the mobile application to update or track your portfolios on the go. Users can take advantage of MProfit Cloud as well. 
8. Morningstar Advisor Workstation
---
This software can be your next financial coach and guide you through the difficulties to meet the desired goal. It is an excellent software that can represent a ton of financial information required to shine as an investor.
Starting from high school interns to seasoned professionals, anyone can use this software with ease. You will not have to face any complexity to get going with the software. But you will have to pay extra for the universe packages and add-ons.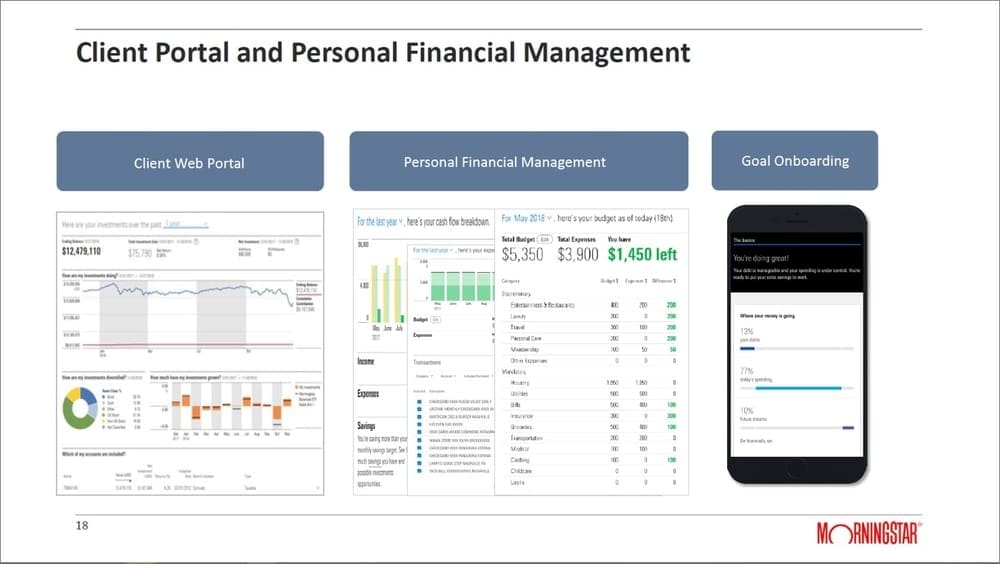 Important Insights
Equipped with many advanced settings allow you to have full control over the configurations and generate powerful reports. 

You will be guided by their independent investment analysts, who can enable you to extract insights and use consistent methodologies. 

This software can take care of your personalized choices and render excellent coverage for data and proprietary analytics. 

If you are looking to fulfill new obligations, increase sustainable practices and reduce the risk of delivering better services, then Morningstar can be your best companion. 

Intended to help the investors with thorough research and detailing that can guide you to successful financial investments. 

Its comprehensive and time data can work as the powerhouse for making more informed decisions. 
9. Artiffex
---
This is one of the unique software on this list. The automated solution for the reconciliation of investment portfolios is what makes it different from its competitors. It is the only solution for reconciliation, although you will discover almost every feature you need for accounting management. It is designed to set you free from manual data entry and pay attention to the more important topics. As a result, you can save a lot of time using this software as well as eliminate errors.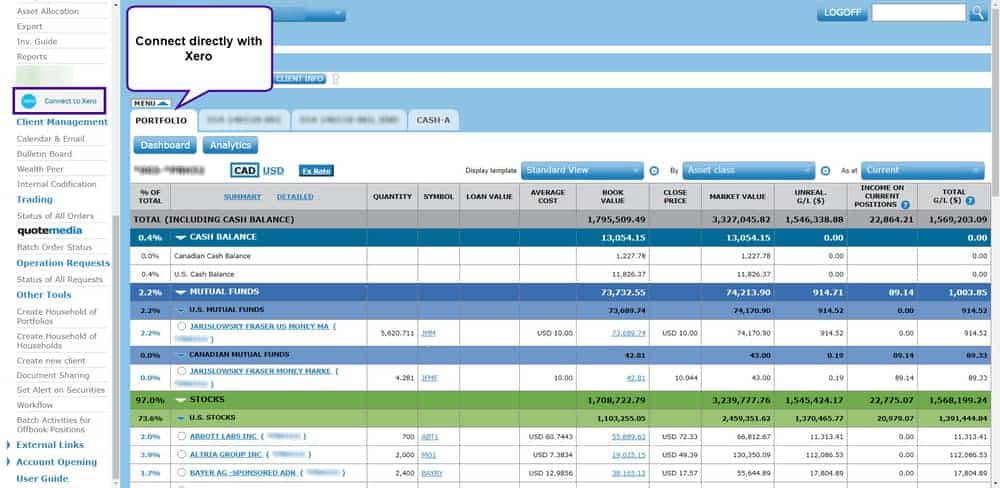 Important Insights
The primary goal of this software is to automate investment banking and reduce the dependency on labor-intensive work. 

You can enjoy simple and intuitive workflows. This software also intends to enable users to capture, convert and reconcile financial information at a glance. 

It helps you to analyze financial information from any source, such as PDF statements, online investment portals, and bank feeds for investment accounting purposes.

It will give you full control over the system, and you can check, validate, change or adjust any data point according to your wishes. 

Once the collected data is reviewed, you will be guided step-by-step to get the papers for tax preparation and compliance purposes ready. 

Already trusted by many leading companies, you can certainly look at its features to know about the automation processes and reporting.
10. Broadridge Investment Accounting
---
We are going to conclude this list with another excellent investment accounting software that you can certainly treat as a reliable partner. This software can render complete, accurate, and timely information to facilitate the growth of your business as well as financial gain.
With extensive support for visualization, you will be able to produce a presentation-ready report right from within the system, which can save a lot of time for you. Besides, the performance is unquestionable, and more than $1.7T trades have been managed on their platform. 

Important Insights
With 15 years of accounting experience, this software can be considered one of your organization's most valuable team players. 

This software will help you gain full control over your financial records and improve efficiency to a great extent. 

You will be happy to know that this software will keep you right on track to adapt to the changes in regulation and compliance as soon as possible.

It comes with a dedicated investment Operations Platform, and you can track the metrics with an independent book of record. '

It is designed by the leading provider of investor communications. You can also take advantage of reporting and analytics to gain more insights. 

Besides, a handful of useful features such as accounting and cash management, managed services delivery, custodial and market data integration, and so on. 
Our Recommendation
---
We have already pointed out the best investment accounting software with its important features. I believe you have already understood the importance of ideal accounting software in managing the funds, cash flows, positions, and P&L at a lot level.
You will also find many applications that offer broadly Syndicated Loans to help businesses continue to grow. Investment professionals and fund managers can mainly enjoy the advantages, although if you are about to start investing, this article will help a lot. 
Although you should always choose software according to your requirement, there are certain things you must consider. Depending on the reporting, ability to track, and automation functionalities, we are going to declare Backstop Solutions Suite as the best investment accounting application.
In this highly flexible CRM, you will get manager due diligence, too, along with portfolio management. Besides, this software covers almost all the asset classes you will find in institutional portfolios. You can use this software for hedge funds, private equity, and real estate as well. 
Final Thoughts
---
So here is the list that represents the best investment accounting software and brings light on the key features. Throughout this article, we have tried to answer all the questions you may have regarding investment banking.
We have also tried to share a glimpse of the investment industry and techniques you can follow to become a successful investor. But, unfortunately, there is so much that you need to think of that you may end up making mistakes or making wrong decisions. 
Accounting software can be your best friend if you want to manage financial workflows efficiently. It can assist you in making more informed decisions, gain full control over the workflows, and use the financial information to the fullest.
So take your decision wisely and try to identify what you need and what you will look for before making the last call. Also, if you know of any other accounting software not mentioned in this list, we will love to know your suggestion.