The earning and spending of money have been an integral part of our life for a long time. Today, economics lies at the heart of human society and plays the de-facto role of carrying the world ahead. In this era of modern economic establishments, it's impossible to even think of moving on with life without spending currencies. So, planning our spendings is of extreme importance. Accounting and financial software are computer programs that enable us, mere humans, to effectively keep track of our earning and spending. As Linux is a significant player in the computing world, a massive number of compelling Finance Software for Linux exist. Additionally, a plethora of powerful Linux Accounting Software guarantees corporations and small businesses won't have to worry about their financial outcomes.
Powerful and Productive Finance Software
---

There are many different Linux Accounting Software available for different types of commercial jobs. We often see people getting confused when choosing the best Finance Software for Linux due to too many variations. Our editors haven't overlooked this issue and curated this guide to help you identify the best Linux personal finance software to meet your daily financial demands.
1. GnuCash
---
The pinnacle of open source personal finance software, GnuCash, is, without any doubt, the best of the trade. This mesmerizing finance software has been around for over 20 years and continues to be a viable accounting solution for Linux enthusiasts. GnuCash has also been proved to be sufficient for managing the financial needs of small to medium businesses.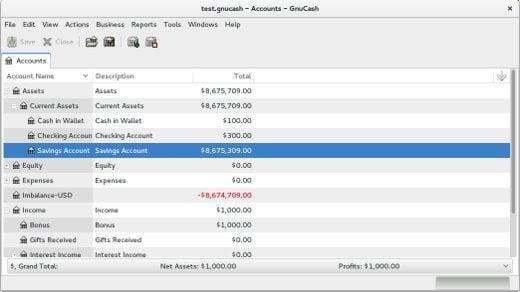 Features of GnuCash
GnuCash features a powerful general ledger and enables double-entry accounting out of the box.
It is free to use and boasts a GNU GPL license, allowing open-source devs to modify the software as they require.
Tracking of stock prices is straightforward in GnuCash, and users can stay updated with the ever-changing market anywhere, anytime.
GnuCash supports multiple currencies and features powerful payroll management functionality for business owners.
2. HomeBank
---
HomeBank is another compelling Linux personal finance management software that features an extensive collection of functionalities to keep track of your monetary transactions effectively. It is straightforward to use, and even people with little or no previous accounting knowledge can use HomeBank without any problem. Plus, HomeBank has been tested on several Linux distributions and is reported to run efficiently on most systems.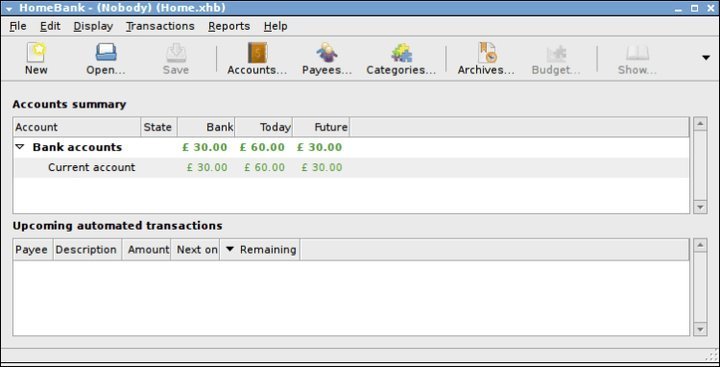 Features of HomeBank
Users can import their financial documents into HomeBank from Quicken, Microsoft Money, or other standard formats very easily.
HomeBank implements powerful mechanisms to detect duplicate transactions and allows dynamic transaction filters.
This finance software for Linux is based on GTK2 and features a simple yet elegant user interface.
HomeBank supports multi-accounts, annual budget planning, automated pre-defined transactions, visual paying mode, and robust financial analysis with graphical charts.
3. KMyMoney
---
KMyMoney is a great personal finance manager for users of KDE. It provides greater importance to ease of use, efficiency, reliability, and security. This finance software for Linux is similar to MS-Money and Quicken and supports a lot of heavy-duty features to make managing personal transactions easy and efficient.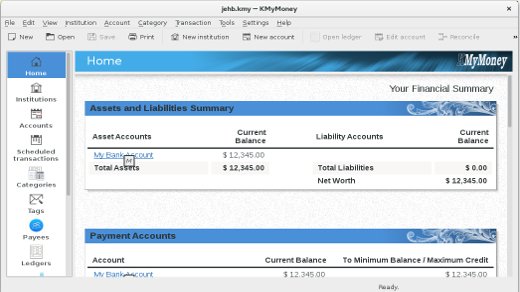 Features of KMyMoney
It supports essential management of personal investments like stocks, bonds, mutual funds and keeps their price up to date.
KMyMoney comes with built-in support for over 170 currencies and Value Added Tax (VAT) support.
This finance software implements powerful GPG encryption schemes to keep sensitive financial documents sound and secure.
KMyMoney supports double-entry accounting and lets users keep track of their daily and annual transactions effectively.
4. FreshBooks
---
FreshBooks is arguably one of the best Accounting Software that features a plethora of robust accounting functionalities to help business owners manage complex commercial transactions. It is easy to use yet makes managing business payments effortless. If you're a small business owner looking for powerful Linux finance software for your corporation, FreshBooks might turn out to be the perfect solution for your commercial needs.
Features of FreshBooks
This finance software for Linux features a ridiculously simple-to-use interface that is both powerful and intuitive at the same time.
FreshBooks automates many everyday financial tasks such as invoicing, organizing expenses, tracking time, etc.
Users can access this accounting software from many different platforms, including desktop, smartphone, tablet devices, and even the cloud.
The effective time tracking mechanism of FreshBooks allows users to make the most out of their business hours.
5. Moneydance
---
Moneydance is a mesmerizing Linux personal finance software featuring lots of great functionalities for making monetary transactions easy and effortless. Although proprietary, Moneydance has earned the trust of its customers, and they keep telling others to get it for managing their personal accounts effectively. This easy-to-use Linux accounting software allows users to utilize online banking, analyze spendings with graphs and charts, and keep track of private investments hassle-free.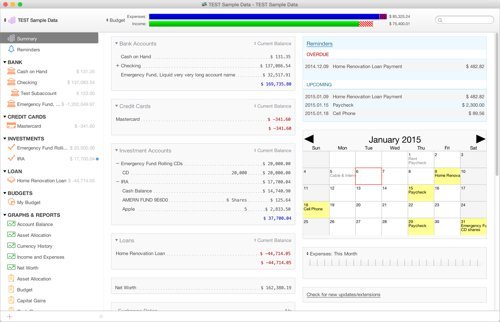 Features of Moneydance
Moneydance provides a robust summarization of your financial transactions, including account balances, upcoming transactions, payment reminders, and foreign exchange rates.
The powerful investment tracking mechanism of this Finance software for Linux lets users keep track of their stocks, bonds, deposit certifications, and mutual funds effortlessly.
Moneydance offers a brilliant mobile app to help customers maintain their monetary schedules even on the go.
6. Buddi
---
If you're a new business owner with little or zero previous exposure to business management or economics, Buddi is an excellent choice for your personal finance software. Designed to be as easy as possible, Buddi combines a substantial number of powerful accounting features with a simple to use yet effective user interface. This open-source personal finance management software is cross-platform and offers superior performance at zero cost.
Features of Buddi
Buddi is simple to use and lightweight, allowing it to run smoothly on even older Linux machines.
The user interface of this finance software for Linux is pretty neat and straightforward, enabling users to maximize their productivity with powerful navigational capabilities.
A wide array of powerful third-party plugins makes it easier to add functionalities as user requirements increases.
7. Grisbi
---
Grisbi is one of the best open source personal finance software for Linux systems. It sports a massive list of robust functionalities right out of the box and integrates a simple to use yet elegant user interface on top of them. Grisbi makes it very simple to manage multiple accounts, currencies, and users and import financial documents directly from QIF, OFX, and Gnucash.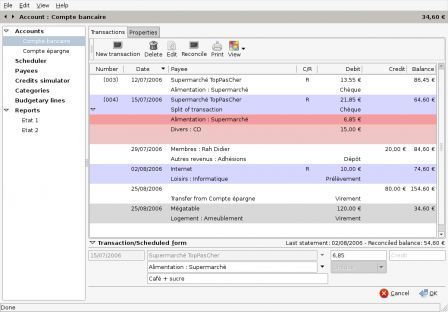 Features of Grisbi
The GUI interface is pretty simple and straightforward yet provides an excellent glance into the features right from the start.
Grisbi lets users print their financial documents like payment statements using LaTeX or export them via HTML.
It is possible to schedule future transactions easily with this finance software for Linux.
The open source licensing allows Grisbi to be modified or extended as required by users.
8. Money Manager Ex
---
Money Manager Ex is a powerful solution for people browsing personal finance software for Linux. It equips a large number of helpful features to make sure users don't get caught up in financial messes and leaves to stone unturned when it comes to performance. This cross-platform financial manager is the perfect choice for users who want powerful yet flexible Linux personal finance software.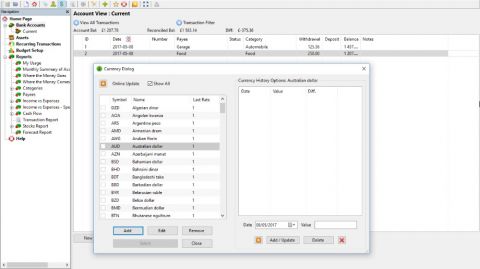 Features of Money Manager Ex
Money Manager Ex offers a robust mobile app to supplement its desktop software, useful to keep track of your spendings while on the go.
The financial data is encrypted with the AES encryption mechanism to ensure data safety.
Users can install and run this personal finance manager directly from their removable USB devices.
Money Manager Ex ships with an opensource license, allowing users to modify or customize the software to fit their commercial needs.
9. Skrooge
---
Skrooge is excellent accounting software that makes managing personal finance data a breeze. This KDE-powered personal finance manager sports a large number of powerful features for allowing users to keep up with the ever-growing complexity of financial management. Skrooge is tested on a variety of Linux machines and is guaranteed to run on different Linux and BSD distributions effectively.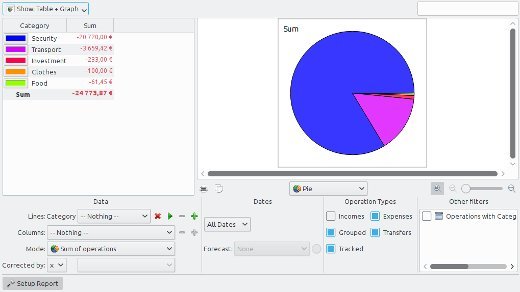 Features of Skrooge
Skrooge lets users import financial data from many sources, including KMyMoney, Microsoft Money, GnuCash, Grisbi, HomeBank, and Money Manager Ex.
Thanks to its robust reporting tools, users can build quick graphs and charts to effectively analyze their earning and spending.
Skrooge enables users to budget their future transactions effectively and maintain them without feeling any restriction.
Users can manage multiple payees and pay in various currencies effortlessly in this Linux accounting software.
10. KashFLow
---
KashFLow is an awe-inspiring Linux accounting software that's entirely based on the web and equips users with a plethora of financial management capabilities. It is primarily an excellent choice for people who run small and medium-sized businesses. This cloud-based finance software for Linux offers every possible feature you could ask from a top-notch financial manager.
Features of KashFLow
KashFLow is based on the cloud and allows users to access it from anywhere on the planet.
Users can create fast invoices and email them to clients directly within this finance software for Linux.
Managing payrolls and payees is very easy with this enigmatic Linux accounting software.
KashFLow lets users fill their tax reports efficiently and allows them to share their financial data directly with accountants.
11. jGnash
---
jGnash is a fantastic personal finance management software that sports a lot of premium features found only in commercial applications. jGnash is developed to make your personal finance tracking effortless and also offers advanced functionalities that make it a suitable choice for business people. Although minimal in design, the user interface of jGnash is quite beginner-friendly and presents the available operations in a practical manner.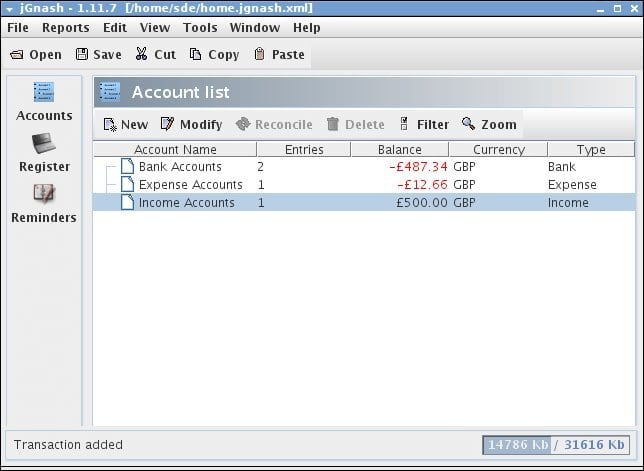 Features of jGnash
jGnash comes with in-built support for double-entry accounting while making it possible to add only single-entry transactions also.
This finance software for Linux calculates the transactions very precisely, without any rounding errors.
Multiple fee entries, accounts, and currencies for tracking personal investments effectively.
Financial data can be imported in several formats, including but not limited to QIF, OFX, and QFX.
Enhancing functionalities by scripting in either BeanShell or JavaScript is possible.
12. EclipseTrader
---
If you're looking for the best Linux accounting software to look after your online stock trading updates effortlessly, EclipseTrader is a pretty great choice for you. EclipseTrader is built on top of the Java programming language and implements the Rich Client Platform (RCP) architecture for achieving a simple to use yet compelling financial management solution. A wide range of useful technical analysis tools also makes it easy to visualize your financial situation appropriately.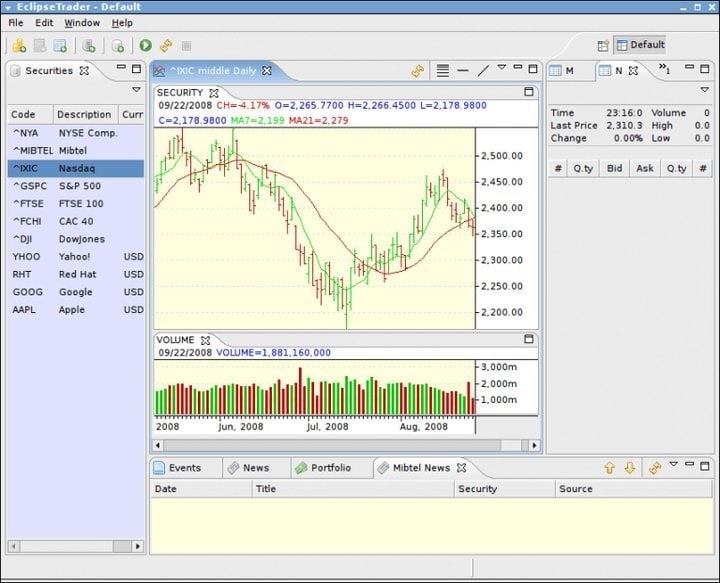 Features of EclipseTrader
EclipseTrader offers real-time quotes, intraday charts, history charts, and price pattern detection right out of the box.
The open source GNU GPL license allows third-party devs to customize or extend this Linux finance software without explicit permission.
An enormous number of powerful plugins make it possible to extend EclipseTrader way beyond its basic functionality.
13. Grism
---
Grism is an awe-inspiring Finance Software for Linux that makes observing the stock market relatively more straightforward. Users can track their stock prices and updates effortlessly in Grism; by utilizing watchlists, portfolios, and charts to follow the evolution of their stock prices. Since Grism leverages Yahoo! Finance for quoting its data, you'll be able to observe stocks, ETFs, indices, and mutual funds from almost every primary stock market around the globe.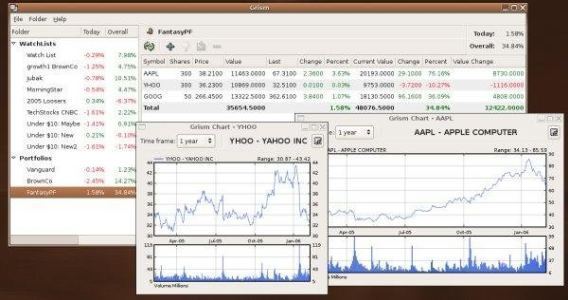 Features of Grism
Grism is built on top of Ruby and utilizes GTK+ for its user interface.
The global view is extraordinarily powerful, enabling users to view watchlists with daily and overall totals.
Both the number of watchlists and the number of stocks in a watchlist are unlimited.
Users can export price charts to an image file (PNG) very quickly.
14. Mjrz.net
---
Mjrz.net is one of the most innovative open source personal finance software that enables modern users to keep an eye on their daily and annual tabs quite efficiently. Users can record their potential incomes and expenses at ease and efficiently plan their future spendings based on that. It supports importing financial contents from your banks or credit cards and can generate reports using powerful finance analysis algorithms.
Features of Mjrz.net
The user interface of this Linux finance software is both easy to use and intuitive.
Users can add and manage multiple users and profiles effortlessly with its compelling profile management feature.
This finance software for Linux uses Java runtime and is cross-platform in nature, enabling users to run it on systems other than Linux.
Powerful graphs and analysis charts allow users to visualize their financial status more accurately.
15. SQL-Ledger
---
If you're a small business owner looking for modern Linux accounting software for your business, SQL-Ledger is a pretty smart choice for you. This powerful finance manager is web-based and aims at making your economic management as optimal as possible. SQL-Ledger employs a powerful double-entry accounting mechanism that allows users to keep track of their business data without any hassle.
Features of SQL-Ledger
The financial data of each account are saved in SQL databases on the web, and standard web browsers can be used to access or manage them.
Users can customize their database and personal preferences very easily by modifying the configuration files.
The Perl programming language is used to implement the user interface to the PostgreSQL database.
Users can import financial data directly from CSV files and create backups for emergencies.
16. Bookyt
---
Bookyt is a simple yet high-performing Linux accounting software for everyday users. It utilizes Ruby On Rails under the hood and combines power with usability for taking care of your financial needs. Bookyt comes with features similar to many premium finance software for Linux and can be used for running small to medium-sized businesses without any problem.
Features of Bookyt
Bookyt comes with built-in support for a double-entry accounting system and robust due reminder facilities.
Users can customize their business accounts easily and add both debit and credit invoices.
The open source nature of its development ensures third-party devs can modify or extend this Linux finance software without any hassle.
Bookyt lets users set up tax tables and employee expense vouchers very quickly.
17. CGram Software
---
It is an award-winning Linux accounting software that has been in the market for quite some time. CGram Software allows people who run small to medium-sized businesses to maintain their financial documents at ease and plan their income and expenditure for the future. If you're looking for trusted Linux finance software that offers full-fledged functionalities, CGram Software should be in your wishlist.
Features of CGram Software
It offers full-fledged features to help owners manage their business expenses at ease.
Users can interconnect every single component of their business with one another.
CGram Software is flexible and can evolve as your business grows.
The robust reporting features allow owners to stay on track with their business costs.
18. jFin
---
jFin is a powerful finance software for Linux which offers an extensive set of built-in features to make managing your finances much more straightforward. This trade processing application comes with support for preceding, modified preceding, following, and modified following date adjustments, among many others. If you're looking for rewarding derivatives trade processing software for your new business, jFin does definitely worth a try.
Features of jFin
This Linux accounting software can be integrated with other financial software pretty easily.
jFin comes with mesmerizing date arithmetic features, including but not limited to FBA Actual/Actual, Actual/360, Actual/365 Fixed, Business/252, European 30/360, etc.
Users can generate productive payment schedules very quickly with jFin.
19. PhreeBooks
---
PhreeBooks is one of the best Linux accounting software that comes with multiple user-friendly features to help you manage your finances more effectively. This robust Linux finance software is based on the web entirely and is specially curated for running small businesses. If you're looking for an open source financial solution for your Linux systems, PhreeBooks is without any doubt a great choice.
Features of PhreeBooks
PhreeBooks is entirely web-based and offers feasible solutions for managing the financial difficulties of small businesses.
It is written in the PHP programming language and utilizes MySQL for storing financial data.
This fully extensible financial management tool supports double-entry accounting, among other ERP functionalities.
It utilizes the EasyUI graphical interface, which is optimized heavily for mobile and tablet devices.
Get PhreeBooks
20. Appgen MyBooks
---
If you are browsing for the perfect Linux accounting software to take care of your financial needs, Appgen MyBooks is without any doubt an excellent choice for you. This mesmerizing finance software for Linux is cross-platform and offers every essential feature needed to effectively run small to medium-sized businesses. Appgen MyBooks stays true to the GAAP(Generally Accepted Accounting Principles) and provides a reliable solution to tackle your business requirements.
Features of Appgen MyBooks
It comes without box support for a double-entry accounting system and powerful auditing features.
This Linux finance software can be set up either as a standalone system or as a client-server networking system.
It offers powerful features to manage inventories more accurately.
The dynamic visualization tools of this finance manager allow users to visualize their earning and spending precisely.
21. Crossover Office
---
Many people want their choice of finance software for Linux to be similar to Microsoft Money or Quicken. Crossover Office is a pretty great choice for people like them. It offers the ability to run such powerful and widely used Windows finance software on your everyday Linux machine.
Features of Crossover Office
Users can run powerful finance software available for only Windows without needing a Microsoft Operating System license.
The software is updated frequently and can be used to install and run other finance management tools smoothly on Linux.
It integrates very well with regular GNOME or KDE applications.
22. NolaPro
---
NolaPro is a fantastic Linux accounting software based on cloud technology that offers powerful finance management capabilities for average Linux users. Although proprietary in nature, NolaPro is widely advertised by its users due to the incredible power and flexibility it offers. If you want the best finance software for Linux and are ready to pay for it, NolaPro is undoubtedly worth looking at.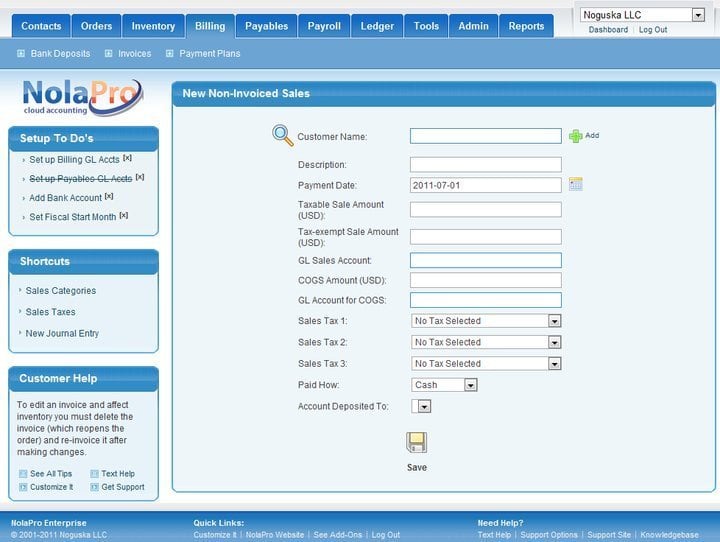 Features of NolaPro
NolaPro sports an incredibly powerful general ledger with double-entry bookkeeping features.
Users can organize and maintain their payables very quickly with this finance management software.
NolaPro implements industry-standard security measurements to ensure the safety of your financial data.
Users can customize their own modules as they like once they buy the pro license.
23. Postbooks
---
Postbooks is different than most other finance software for Linux featured in this guide. It's specially curated to meet the financial demand of people who utilize different ERP software to manage their business. If you're looking for full-fledged Linux finance software to meet your business needs, Postbooks is a must-try.
Features of Postbooks
Postbooks sports a simple yet intuitive user interface built on top of the Qt framework.
It utilizes the open-source PostgreSQL database for storing sensitive financial data safely and securely.
It is marketed under a CPAl (Common Public Attribution License) license and is thus free to use and modify by users.
24. Quasar Accounting
---
If you're willing to part away with some money to get hold of an extremely powerful Linux accounting software, Quasar Accounting might prove to be a pretty great option for you. This innovative modern-day accounting software provides a full-fledged feature list that can take care of virtually any financial requirements your business might have.
Features of Quasar Accounting
The user interface of this Linux finance software is just outstanding in visual and very intuitive.
Users can gain access to the full source code upon buying the license.
It's straightforward to create backups of your financial data with this accounting software.
It is very easy to add financial data into its intuitive journal.
Get Quasar Accounting
25. Rapid
---
People who deal exclusively in the stock market and need to follow different stock portfolios on a regular basis will appreciate this finance software for Linux very much. Rapid is a very compelling graphing software for Linux which helps business people to analyze their financial data and stocks with utmost precision. It's simple to use this innovative software and requires no hidden charges.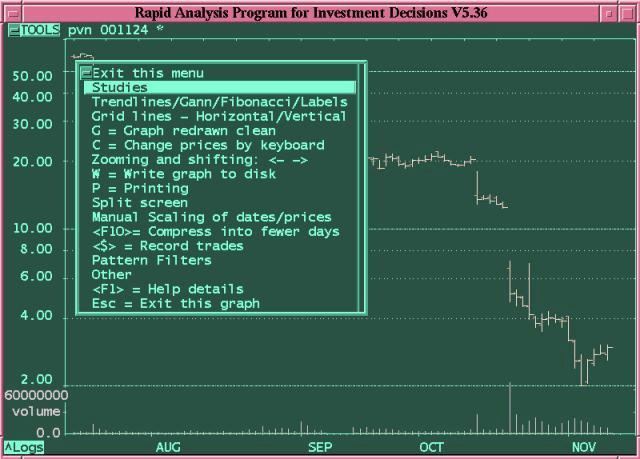 Features of Rapid
Rapid allows users to stay updated with the most recent stock market information.
It offers candlesticks, OBV, volatility, Macd, RSI, stochastics, trendlines, and wilder DMI among its technical tools.
Users can import text data sources and utilize multiple journals to store their financial data.
26. Mifos
---
Mifos is an extremely powerful Linux accounting software developed especially for the microfinance industry. It is a management information system (MIS) designed to cope with the ever-growing financial complexities of the business world and sports some compelling features to deal with them appropriately.
Features of Mifos
This Linux finance software is built on top of Java and utilizes a web interface for connecting with the users.
Users can define up to five different levels of office hierarchy, including branch office, regional office, sub-area office, area office, head office.
Mifos lets users process their business data in batches and groups.
27. LedgerSMB
---
LedgerSMB is a compelling Linux accounting software with user-friendly features like double-entry bookkeeping, data integrity controls, community support, high-quality documentation, and many more. It is a fork of the popular SQL-Ledger project and aims to enable users to manage their financial problems precisely.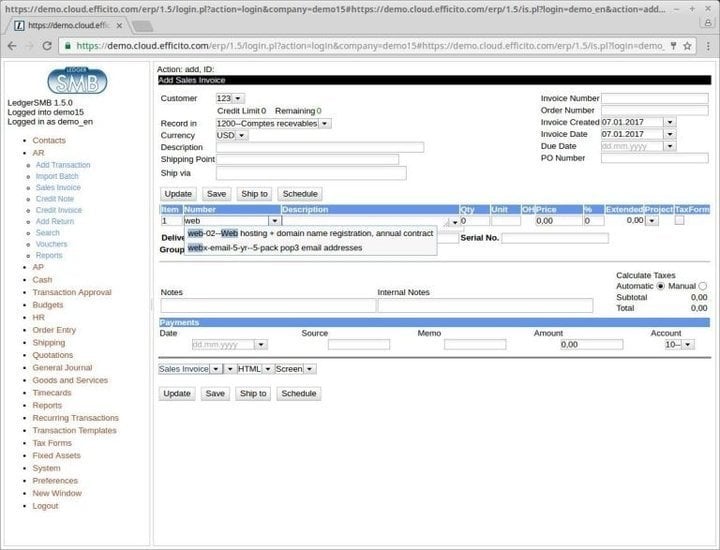 Features of LedgerSMB
It utilizes a standard web browser as its client and stores financial data in SQL databases.
LedgerSMB uses the Perl programming language to access its database and process financial information.
It implements robust security measurements to ensure the integrity of sensitive financial data.
The open development model adopted by LedgerSMB allows third-party devs to contribute to the project hassle-free.
28. Qtstalker
---
Qtstalker is one of the most feature-heavy finance software for Linux that enables business owners to stay on track with their stock prices effectively. This is a powerful technical analysis toolkit that allows you to analyze the continuously evolving stock market more accurately.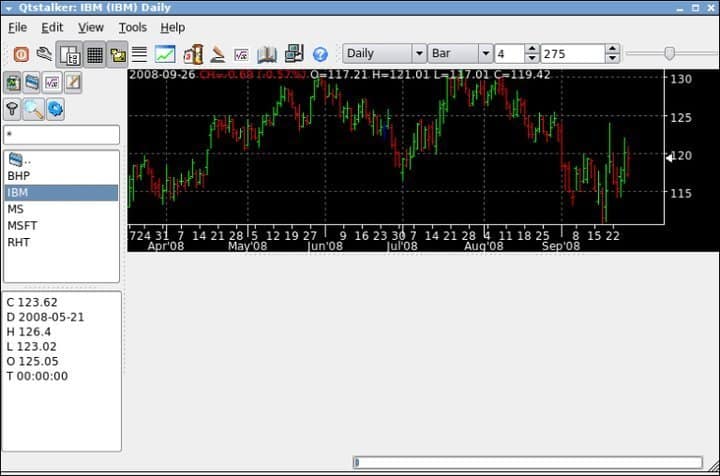 Features of Qtstalker
The graphical user interface implements a point-and-click object-oriented scheme.
It features candlesticks, lines, and bars among its different chart types.
Users can customize the software by scripting it or through using plugins.
The portfolio manager is simple yet effective and allows users to follow stocks more precisely.
29. Eqonomize!
---
Eqonomize! is a compelling Linux personal finance software built exclusively for users of the KDE environment. It equips a lot of user-friendly features to help home users manage their financial data effortlessly. This modern-day Linux finance software aims at efficiency rather than stuffing features and is quite successful in doing so.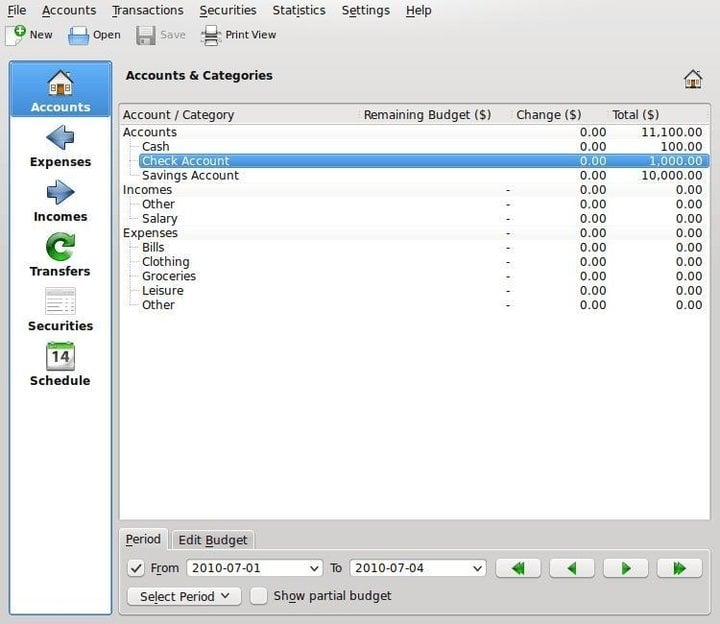 Features of Eqonomize!
It allows for double-entry bookkeeping, split transactions, refunds, and repayments, among its core features.
It implements powerful analysis mechanisms to estimate future value and profit based on changes in previous quotations.
The ability to utilize flexible and dynamic charts makes this application suitable for visual analysis.
30. Opale
---
If you're looking for a simple to use yet capable Linux personal finance management software, Opale is a pretty great selection for you. It is a personal bank account manager for KDE that takes a somewhat minimal approach to meet your financial demands. Opale is arguably among the best personal finance managers for Linux users under an open source license.

Features of Opale
Opale is not too feature-heavy and implements features required for only managing bank accounts.
The user interface is easy to use and intuitive.
Users can record transactions that occur periodically quite easily with this software.
Ending Thoughts
---
When choosing the best finance software for Linux, you'll need to give your requirements the first and foremost priority. Since different types of Linux finance software exist, you'll need a thorough knowledge to get the perfect Linux accounting software for your business. Hopefully, we were able to provide you with the essential information required for your venture. Stay with us for more informative guides on Linux and other exciting open-source tutorials.