The earning and spending of money have been an integral part of our life for a long time. Today, economics lies at the heart of human society and plays the de-facto role of carrying the world ahead.
In this era of modern economic establishments, it's impossible to even think of moving on with life without spending currencies. So, planning our spending is of extreme importance.
Accounting and financial software are computer programs that help individuals track their income and expenses efficiently.
Linux offers various finance and accounting software solutions for corporations and small businesses, ensuring effective financial management.
Best Accounting and Finance Software for Linux
---

Choosing the best Linux accounting and finance software can be a confusing task due to the many variations available for different types of commercial jobs.
Our editors have curated this guide to help you identify the best Linux personal finance software that meets your daily financial demands.
So, whether you are looking for accounting or finance software, this guide will assist you in making the right choice.
1. GnuCash
---
GnuCash is considered the best open source personal finance software available today. It has been around for over 20 years and is a popular accounting solution for Linux users. The software is also suitable for managing the finances of small- to medium-sized businesses.
Features of GnuCash
GnuCash features a powerful general ledger and enables double-entry accounting out of the box.
It is free to use and boasts a GNU GPL license, allowing open-source devs to modify the software as required.
Tracking stock prices is straightforward in GnuCash, and users can stay updated with the ever-changing market anywhere, anytime.
GnuCash supports multiple currencies and features powerful payroll management functionality for business owners.
2. HomeBank
---
HomeBank is another Linux personal finance management software with extensive functionalities to keep track of your monetary transactions effectively. It is straightforward to use, and even people with little or no previous accounting knowledge can use HomeBank without any problem. HomeBank has been tested on several Linux distributions and is reported to run efficiently on most systems.
Features of HomeBank
Users can import their financial documents into HomeBank from Quicken, Microsoft Money, or other standard formats.
HomeBank implements powerful mechanisms to detect duplicate transactions and allows dynamic transaction filters.
This finance software for Linux is based on GTK2 and features a simple yet elegant user interface.
HomeBank supports multi-accounts, annual budget planning, automated pre-defined transactions, visual paying mode, and robust financial analysis with graphical charts.
3. KMyMoney
---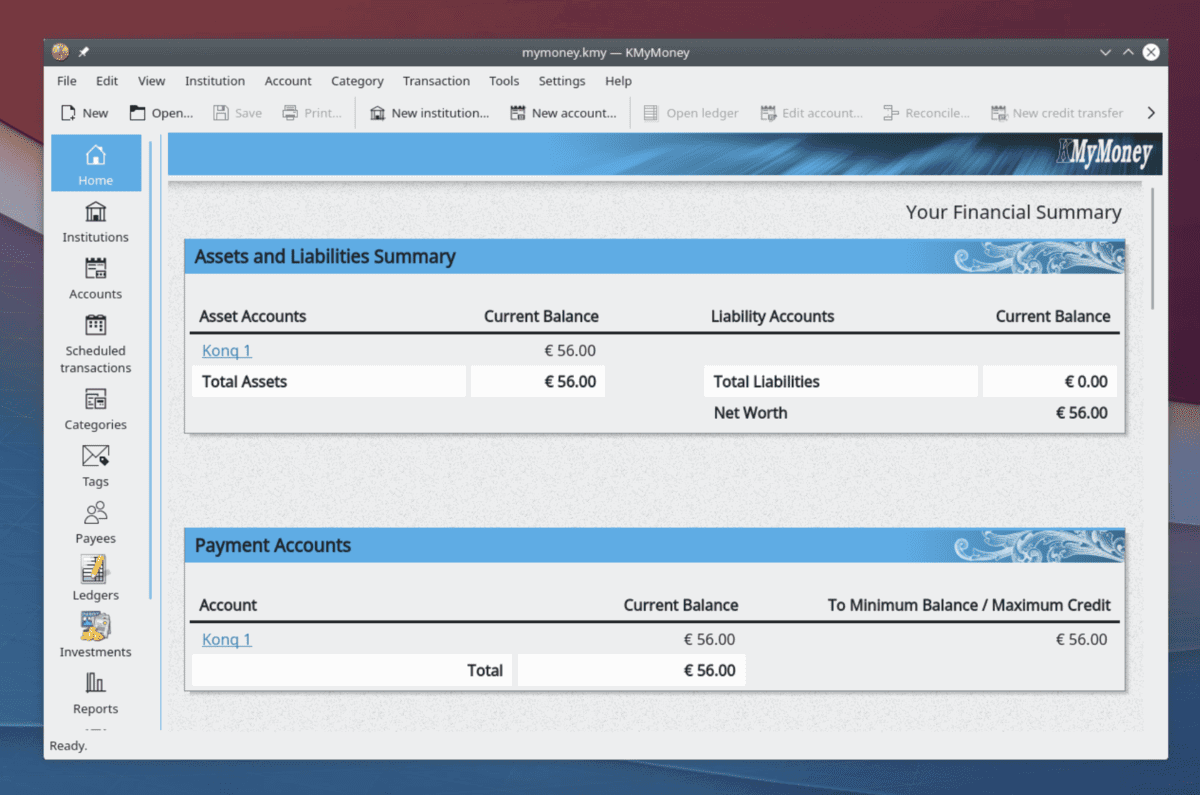 If you are a KDE user, KMyMoney is an excellent personal finance manager that you might want to check out. Its user-friendly interface, efficiency, reliability, and security features make it stand out. This finance software is similar to MS Money and Quicken, and it supports a range of powerful features that simplify the management of personal transactions.
Features of KMyMoney
It supports the essential management of personal investments like stocks, bonds, and mutual funds and keeps their prices up to date.
KMyMoney has built-in support for over 170 currencies and value-added tax (VAT) support.
This finance software implements powerful GPG encryption schemes to keep sensitive financial documents sound and secure.
KMyMoney supports double-entry accounting and lets users keep track of their daily and annual transactions effectively.
4. Moneydance
---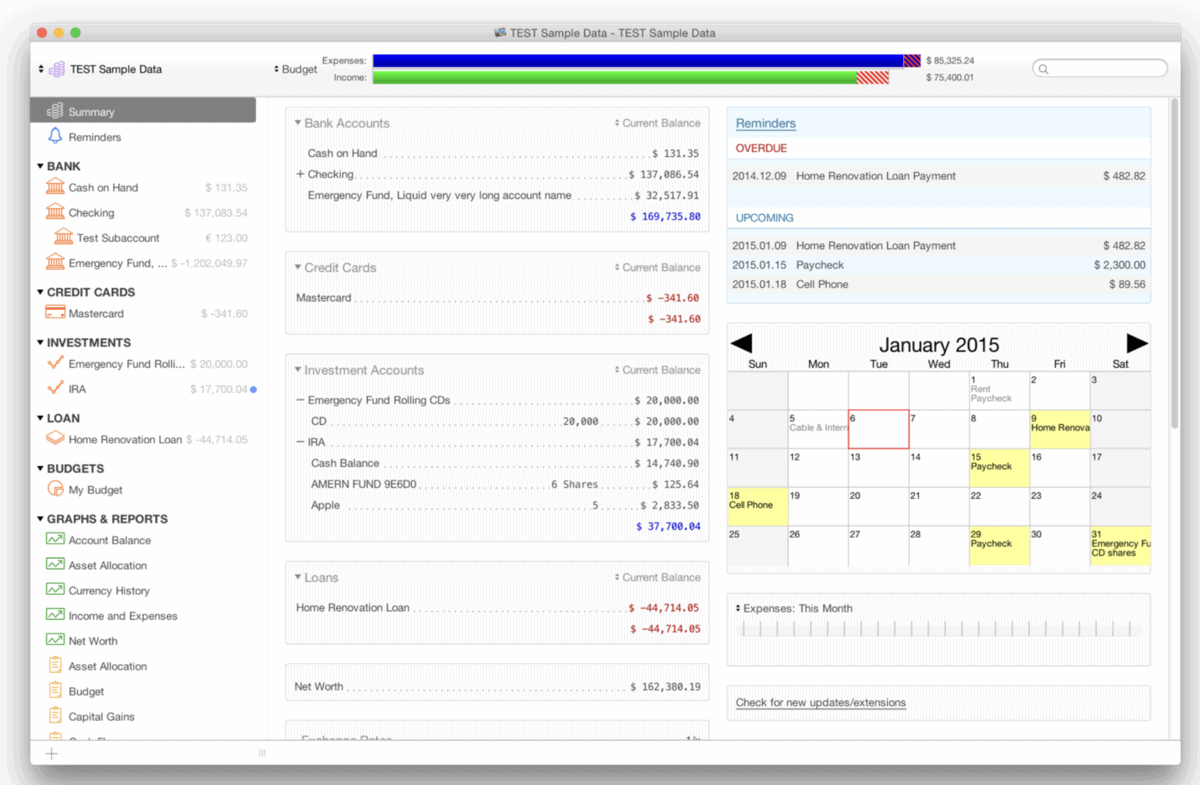 Moneydance is a personal finance software that offers a variety of great features for simplifying monetary transactions. Despite being proprietary, Moneydance has gained the trust of its users, who highly recommend it for the effective management of personal accounts.
This easy-to-use accounting software for Linux allows users to utilize online banking, analyze spending with graphs and charts, and keep track of private investments without any hassle.
Features of Moneydance
Moneydance provides a robust summarization of your financial transactions, including account balances, upcoming transactions, payment reminders, and foreign exchange rates.
This Finance software's powerful investment tracking mechanism for Linux lets users keep track of their stocks, bonds, deposit certifications, and mutual funds effortlessly.
Moneydance offers a brilliant mobile app to help customers maintain their monetary schedules even on the go.
5. Grisbi
---
Grisbi is an open source personal finance software for Linux systems. It sports a massive list of functionalities right out of the box and integrates a simple-to-use yet elegant user interface. Grisbi makes managing multiple accounts, currencies, and users very simple and imports financial documents directly from QIF, OFX, and Gnucash.
Features of Grisbi
The GUI interface is simple yet provides an excellent look into the features.
Grisbi lets users print their financial documents, like payment statements, using LaTeX or export them via HTML.
It is possible to schedule future transactions easily with this finance software for Linux.
The open source licensing allows Grisbi to be modified or extended as users require.
6. Money Manager Ex
---
Money Manager Ex is a robust personal finance software solution for Linux users. It offers many useful features to help users manage their finances effectively and avoid financial complications.
The software is highly efficient and provides top-notch performance. Money Manager Ex is the perfect choice for users who require powerful and flexible personal finance and accounting software for Linux.
Features of Money Manager Ex
Money Manager Ex offers a robust mobile app to supplement its desktop software, which is useful to keep track of your spending while on the go.
The financial data is encrypted with the AES encryption mechanism to ensure data safety.
Users can install this personal finance manager directly from their removable USB devices.
Money Manager Ex ships with an open-source license, allowing users to modify or customize the software to fit their commercial needs.
7. Skrooge
---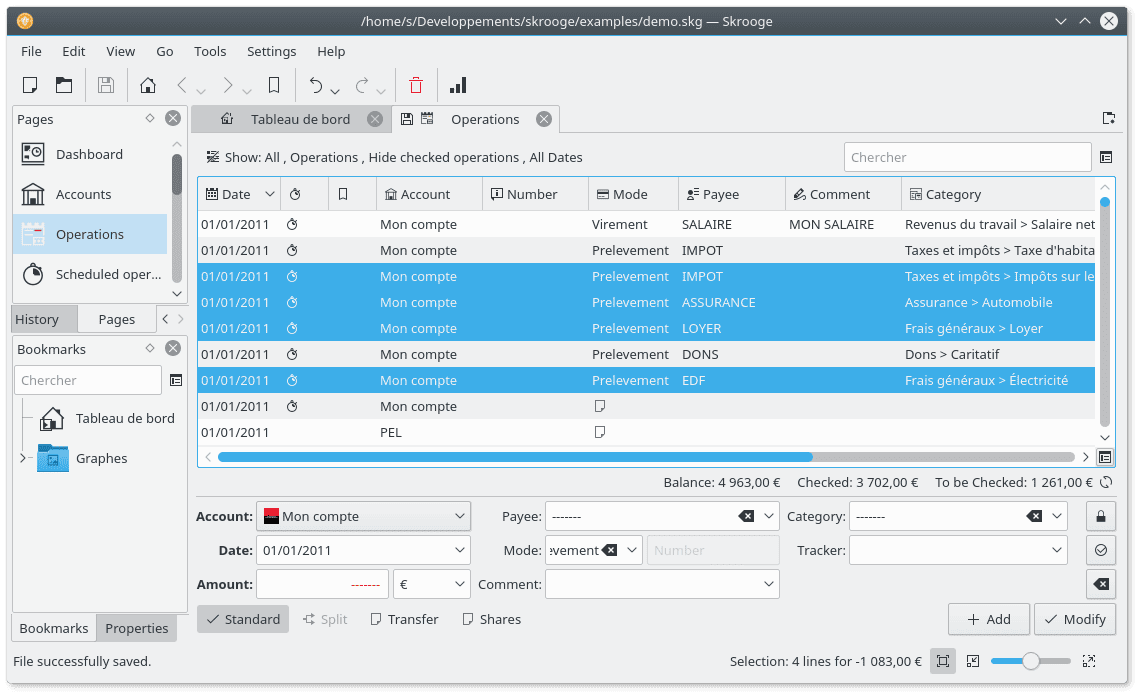 Skrooge is an accounting software that makes managing personal finance data easy and hassle-free. As a personal finance manager powered by KDE, Skrooge offers numerous robust features that make it easy for users to keep up with the increasing complexity of financial management.
It has been extensively tested on different Linux machines and is guaranteed to run efficiently on various Linux and BSD distributions.
Features of Skrooge
Skrooge lets users import financial data from many sources, including KMyMoney, Microsoft Money, GnuCash, Grisbi, HomeBank, and Money Manager Ex.
Thanks to its robust reporting tools, users can build quick graphs and charts to analyze their earnings and spending effectively.
Skrooge enables users to budget their future transactions effectively and maintain them without restrictions.
Users can manage multiple payees and pay in various currencies effortlessly in this Linux accounting software.
8. jGnash
---
jGnash is a personal finance management software with various premium features usually found in commercial applications. It is designed to simplify tracking your finances and offers advanced functionalities that make it ideal for business use. Despite its minimalistic design, jGnash boasts a user-friendly interface that presents the available operations.
Features of jGnash
jGnash has built-in support for double-entry accounting while allowing only adding single-entry transactions.
This finance software for Linux calculates the transactions precisely, without any rounding errors.
Multiple fee entries, accounts, and currencies for tracking personal investments effectively.
Financial data can be imported in several formats, including but not limited to QIF, OFX, and QFX.
Enhancing functionalities by scripting in either BeanShell or JavaScript is possible.
9. SQL-Ledger
---
SQL-Ledger is a smart choice if you're a small business owner looking for modern Linux-based accounting software. SQL-Ledger employs a powerful double-entry accounting mechanism that allows users to keep track of their business data without any hassle.
Features of SQL-Ledger
The financial data of each account are saved in SQL databases on the web, and standard web browsers can be used to access or manage them.
Users can customize their database and personal preferences by modifying the configuration files.
The Perl programming language implements the user interface to the PostgreSQL database.
Users can import financial data directly from CSV files and create emergency backups.
10. Bookyt
---
Bookyt is a simple yet high-performing finance and accounting software for everyday users. It utilizes Ruby On Rails under the hood and combines power with usability for your financial needs. Bookyt has features similar to many premium finance software and can run small to medium-sized businesses without any problem.
Features of Bookyt
Bookyt has built-in support for a double-entry accounting system and robust due reminder facilities.
Users can easily customize their business accounts and add debit and credit invoices.
The open-source nature of its development ensures third-party developers can modify or extend this Linux finance software without any hassle.
Bookyt lets users set up tax tables and employee expense vouchers very quickly.
11. NolaPro (Paid)
---
NolaPro is a cloud-based accounting software that provides robust financial management capabilities for Linux users. Despite being proprietary, NolaPro is highly recommended by its users thanks to its exceptional power and flexibility. If you're looking for the best finance software for Linux and are willing to pay for it, NolaPro is worth considering.
Features of NolaPro
NolaPro sports an incredibly powerful general ledger with double-entry bookkeeping features.
This finance management software lets Users organize and maintain their payables very quickly.
NolaPro implements industry-standard security measures to ensure the safety of your financial data.
Users can customize their modules once they buy the pro license.
12. Quasar Accounting
---
If you're willing to spend some money to obtain extremely powerful accounting software, Quasar Accounting could be an excellent choice for your business. This innovative, modern-day software provides comprehensive features that meet virtually any financial requirement.
Features of Quasar Accounting
The user interface of this Linux finance software is visually outstanding and intuitive.
Users can gain access to the full source code upon buying the license.
Creating backups of your financial data with this accounting software is straightforward.
It is very easy to add financial data to its intuitive journal.
13. LedgerSMB
---
LedgerSMB is an accounting software that offers user-friendly features such as double-entry bookkeeping, data integrity controls, community support, high-quality documentation, and more. It is a fork of the popular SQL-Ledger project, and its main objective is to help users manage their financial issues with precision.
Features of LedgerSMB
It utilizes a standard web browser as its client and stores financial data in SQL databases.
LedgerSMB uses the Perl programming language to access its database and process financial information.
It implements robust security measures to ensure the integrity of sensitive financial data.
The open development model adopted by LedgerSMB allows third-party devs to contribute to the project hassle-free.
14. Eqonomize!
---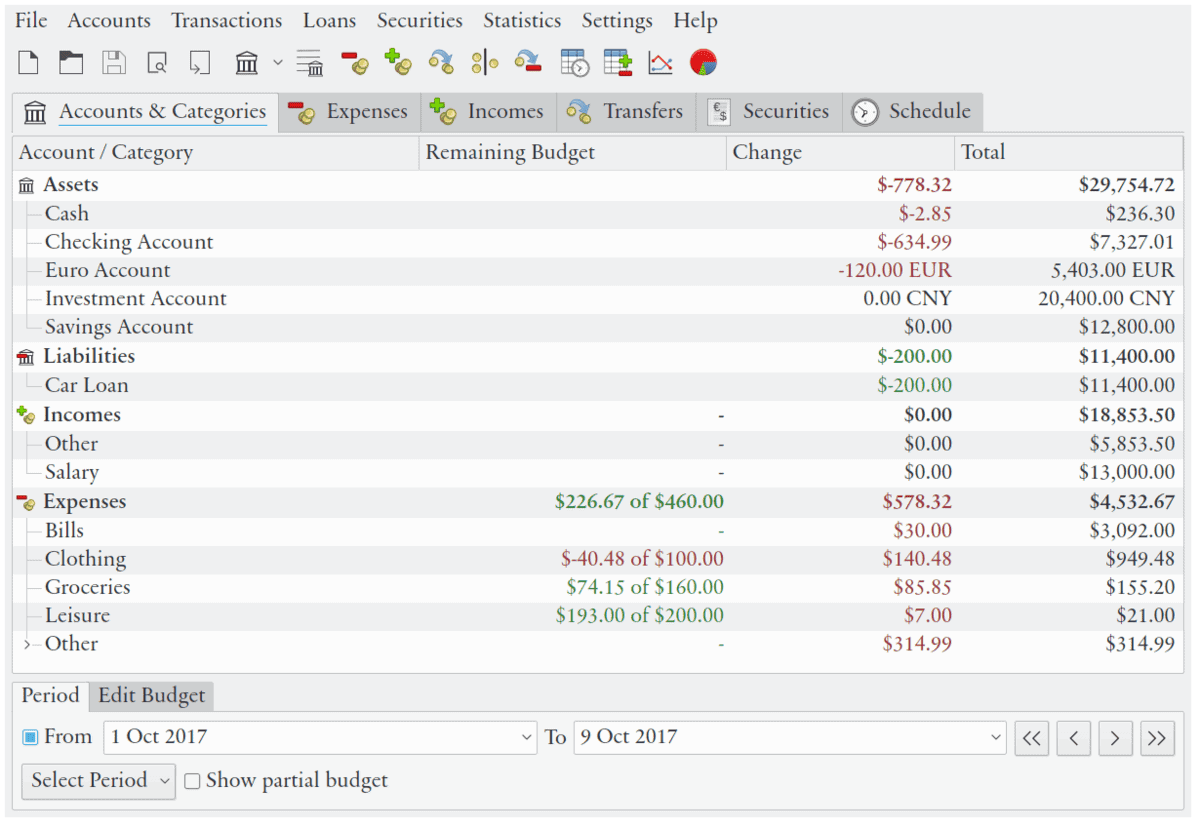 Eqonomize! is a personal finance software designed specifically for users of the KDE environment. It provides many user-friendly features to help home users easily manage their financial data. This modern Linux finance software prioritizes efficiency over unnecessary features and has succeeded greatly.
Features of Eqonomize!
It allows for double-entry bookkeeping, split transactions, refunds, and repayments, among its core features.
It implements powerful analysis mechanisms to estimate future value and profit based on changes in previous quotations.
Utilizing flexible and dynamic charts makes this application suitable for visual analysis.
Ending Thoughts
---
In conclusion, when it comes to selecting the best finance software for Linux, there are several options to consider.
Top contenders include GnuCash, a powerful and free accounting software with a user-friendly interface, and KMyMoney, an intuitive personal finance manager that easily tracks your finances.
For businesses with more complex needs, Skrooge and Moneydance are excellent options that offer comprehensive accounting and financial management features.
Ultimately, the key to choosing the right software is to carefully consider your specific needs and choose a solution that offers the features and functionality that are most important to you.
We hope the information provided has helped guide you toward the perfect Linux accounting software for your venture. Keep an eye out for more informative guides on Linux and other exciting open-source tutorials in the future.