What if you have set out for a lovely holiday camping, and the stormy rain totally ruined the fun? This is when a weather app for iPhone or Apple Watch comes in handy. It can deliver you weather forecasting accurately by sourcing the data from various reliable sources. Obviously, sometimes predictions go wrong. But still, these weather apps can save your day in most cases.
There was a time when we had to rely on television and radio channels for listening to the forecast. Now, with the development of smartphones, you can know the forecast in real-time, even with data visualization through graphs. GPS based location tracking and providing area-specific data is another great advantage of weather apps if you are an iPhone, Apple Watch, or iPad user.
Best Weather Apps for iPhone, Apple Watch, & iPad
---
The number of weather app is quite large. In fact, there is an entire category inside the AppStore dedicated to the weather apps. You know I have to tinker a lot with mobile apps as a full-time tech blogger. Even I find it difficult and confusing to choose the best app for a particular task.
Therefore, no wonder that you will feel lost searching for the best weather app for iPhone or Apple Watch in the AppStore. Hence, to make your job easier, I have done the homework. Here I am presenting you the list of the best weather apps that you can rely on.
1. AccuWeather
---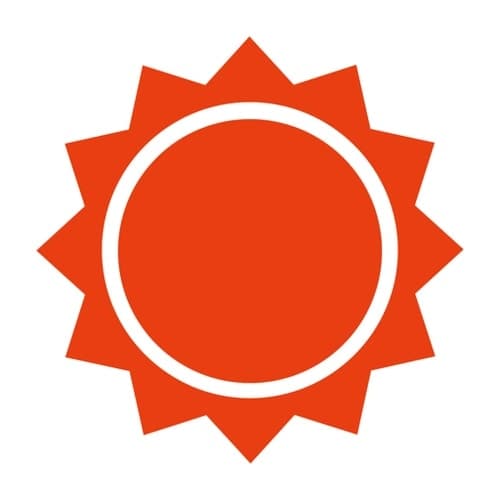 AccuWeather is undoubtedly the best weather app for iPhone and iPad for getting accurate data. This app is very popular among the internet community because of the availability on multiple platforms. Moreover, the developers designed the iOS version beautifully that adapts even with the Apple Watch's smaller display.
It will show you basic weather information as well as some other parameters related to climate and geography. On top of that, this app is free to download. But if you want some premium features, it is worth spending money on that.
Key Features
The UI looks elegant, and it will show you backgrounds based on the weather condition.
You can even get minute by minute updates and up to 45 days of prediction.
It shows a lot of parameters, including dew point, UV index, humidity, etc.
The newsfeed will show you blogs and the latest stories about the current weather conditions.
This weather app for Apple Watch seamlessly syncs and updates weather data in the background.
Pros: AccuWeather server and weather data system is quite reliable. On top of that, the free version offers much more features than other apps' paid versions.
Cons: The app has some problems while showing data on the iPad. Like, it doesn't support portrait orientation in iPad devices.
2. The Weather Channel
---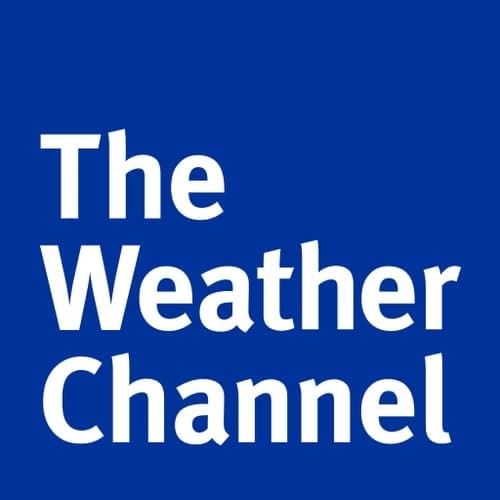 The Weather Channel is originally a television channel owned by an American company. It started its operation in 1982, and hence they have a lot of experience in providing accurate weather data. However, with the development of the internet and mobile devices and acquisition by IBM Business, they have focused more on their website and mobile apps for giving weather forecasts.
The design of the app is very solid, with various features. And, with the introduction of the latest iOS update, you are getting access to their widget system, which makes this app pretty handy.
Key Features
You will get up to 2 weeks of advanced forecast that will help you to plan your holidays early.
Integration with satellite maps is a great feature to understand the real-time weather condition.
It shows you sunrise, sunset, UV index, pollen forecasts, and a bunch of other details.
There is a highly accurate radar that will help you predict the rain's probability and effect on your location.
They have a premium version free-trial offer for an ad-free experience.
Pros: The notification system of this app is well-equipped, and you will get live alerts in terms of extreme weather conditions in your area.
Cons: The UI is not that user-friendly for the general users who don't have a tech background.
3. NOAA Weather Radar Live
---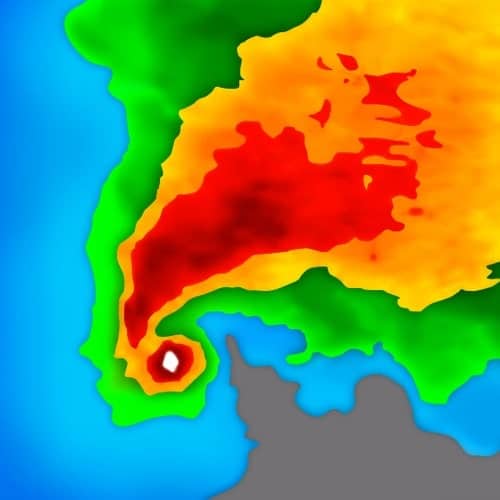 This is yet another great weather app for iOS with support for radar systems and live alerts. The user interface of the app is superb as well. It features a lot of visual elements, including a heatmap for showing you the current condition of the globe.
NOAA is, however, more than a mere weather forecasting app. You will find features like hurricane tracker and precipitation forecast. Again, the home screen widget and the Apple Watch version show detailed weather info, including a map.
Key Features
You can choose from various map layers such as satellite, standard, hybrid, etc.
It can show you notifications for your saved locations and weather condition criteria.
This app will show real temperature, feel like temperature, pressure, visibility, and other parameters.
You can monitor weather alerts from the government officials of almost all the major countries.
Wildfire tracking and air quality index are exclusive features of the pro version of this app.
Pros: The radar map and the visualizations scale beautifully on the iPad with larger devices. The weekly subscription plan for the pro-feature is a great addition.
Cons: The radar feature is not yet available for all the regions of the world, which is a downside.
4. Weather Underground
---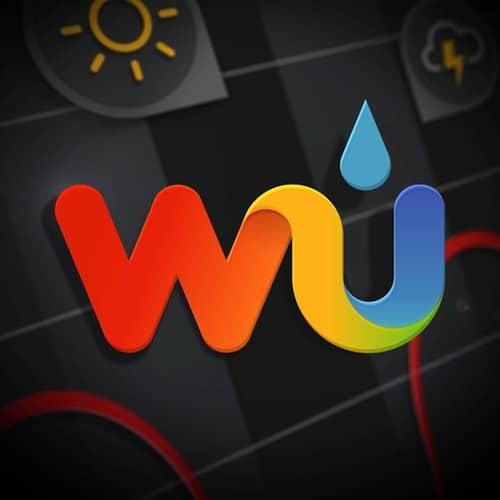 Weather Underground is yet another map-based weather forecasting service. This weather app was originally designed for large displays. However, it can adapt beautifully with iPhone and Apple Watch devices. The UI is minimalist, but it is integrated with colorful maps for providing you accurate visualization.
The most interesting fact about this tool is that it sources data from 250000 personal weather stations from all over the world. On top of that, their advanced algorithm and forecasting model is quite reliable.
Key Features
It shows detailed weather data with advanced parameters such as wind, humidity, dew point, etc.
You can keep track of the moon phase using this tool, which is a useful new addition.
Features a lot of customization options, including your preferred unit of measurement.
Satellite imagery and the data from the National Oceanic and Atmospheric Administration makes it completely reliable.
Advance forecasting of 10 days and hourly updates are great features available in the premium plan.
Pros: You can go for the ad-version at a lower cost without subscribing to the unnecessary premium features.
Cons: This is not available for Apple Watch as of now, which is a bummer in this wearable era.
5. MyRadar Weather Radar
---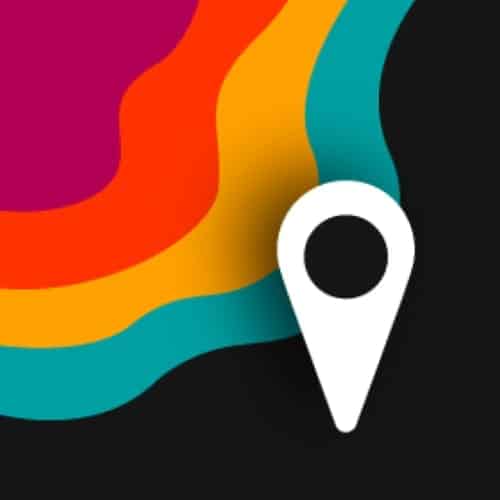 This weather app was developed by Aviation Data Systems Inc. to provide weather info more efficiently. This is a completely free tool with some feature limitations. However, a pro version costs one-time purchase free, and you will get more features in that. The smooth animations and rich visual elements attract me most to this app. On top of that, it has a dedicated section named MyRadar TV that posts weather-related videos and articles frequently.
Key Features
It can provide detailed aviation-related weather data for pilots and aviation geeks.
This app can source data from various authorities to provide you emergency alerts via push notification.
Real-time hurricane tracking is a nifty pro feature that will be helpful for people staying in coastal areas.
There is a feature to monitor wildfires across the USA and surrounding areas.
The Apple Watch version is very minimal, with low power usage and lightweight skin.
Pros: Exclusive aviation data features such as AIRMETs and SIGMETs makes this app stand out from the crowd.
Cons: The live radar feature crashes sometimes, and a few people reported inaccurate data.
6. Windy
---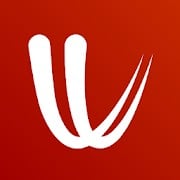 This is another decent weather app for iPhone from Windy.com. They are a popular provider of professional-level storm data. But that doesn't mean it will not be useful for regular users. Rather, it provides basic weather data with graphical visualization, which is easy and effective at the same time. Mainly weather geeks and the people who have to stay in the coastal areas and on the sea for their professional works will benefit from this informative tool.
Key Features
Wind, temperature, rain, and various other parameters can be monitored using the dedicated map layers.
It analyzes data using different weather models and shows them all so that you can compare and prepare for the worst.
You will get satellite imagery, which gives almost real-time data with a frequency of a maximum of 15 minutes.
The units and other properties can be configured according to your choice.
You will get detailed information about the airports all over the world to make your flight decision.
Pros: The app is very convenient and user friendly, especially for tracking cyclones and storms.
Cons: There's nothing to mention as a con except for the costly upgrade option to get the premium features.
7. RadarScope
---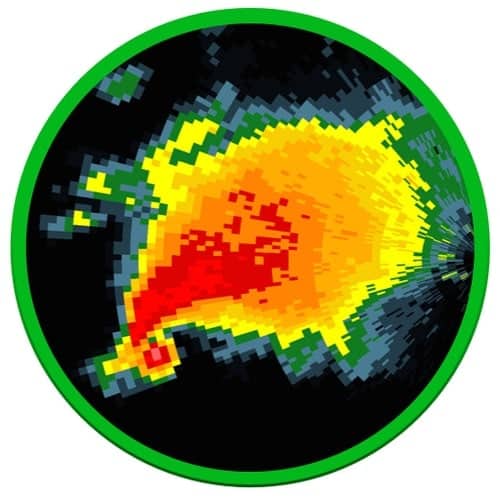 RadarScope is yet another handy option who want to get visualized weather insights. But, this is not a free tool, and it has a subscription model too. The one-time purchase fee is a convenient way to get regular features, while the advanced features will require a pro subscription. RadarScope has a simple graphical UI that resembles the stock apps of iOS.
But all the features are neatly arranged and you won't miss out on anything. Moreover, it sources radar data from NEXRAD and analyzes that with the US National Weather Services forecasting to provide you the most reliable data.
Key Features
It displays emergency alerts and warnings from the government authorities.
The navigation system is very easy to use with support for various touch gestures.
Real-time monitoring of the lighting is an excellent pro feature of this weather app for iOS.
You can access the 30 days radar history archive with the premium plan.
The radar map is high-resolution, and you can zoom in for more details.
Pros: It can be used in Apple TV, and you will get to use various weather-related stickers in the iMessage app. This is a fun feature to have.
Cons: Most basic features come at a price in this app, which I can't really appreciate in this competitive weather app market.
8. Hurricane: American Red Cross
---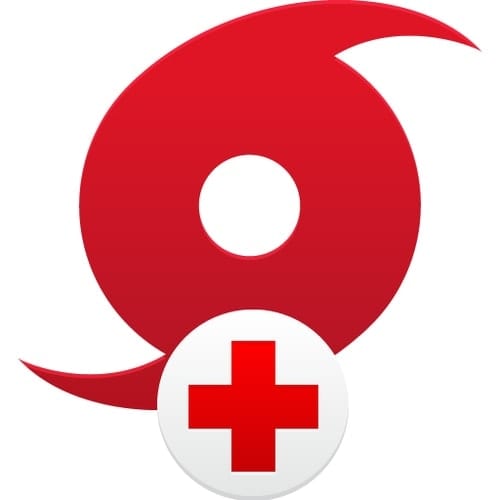 This app was designed and developed by the non-profit organization American Red Cross. It is, in fact, a specialized app for hurricane tracking. Since the app is from a reliable organization, you won't have any complaints about the accuracy of the data.
I will recommend everyone, especially those who stay in coastal areas, install this app on their iPhone devices for their families' safety. Apart from providing you forecast about an upcoming disaster, it will give you valuable survival information even offline.
Key Features
The storm tracker visualizes the exact path of the storm so that you can take emergency steps.
There is a dedicated alert feed for managing the push notification and alerts.
You can locate your nearby shelter centers by using this app.
Knowing the history of hurricanes in your area with this app will let you predict the behavior.
Hurricane Toolkit has some emergency functions such as a flashlight, alert system, etc.
Pros: This tool is more than a mobile app. You can consider this as a complete guideline to the people of the hurricane-affected areas.
Cons: You won't find basic weather info conveniently like other apps in this category.
9. Dark Sky
---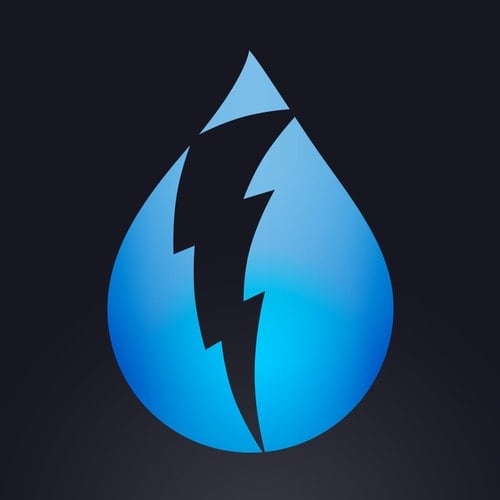 Dark Sky is the number one paid weather app for iPhone devices for getting weather info. This is the most minimalist designed app I've ever seen related to forecasting. All the necessary information is neatly arranged without any clutters and unnecessary visualizations.
Furthermore, this app is also available for iPad and Apple Watch. This is not freeware, however. You can buy this from AppStore at an affordable price. The home screen widgets are also beautifully crafted for a taking glance at the forecasts.
Key Features
This tool provides minute-by-minute updates, and they are quite accurate.
Past weather information can be browsed from the archive.
The animations are smooth and satisfying.
You can create custom alerts and can manage the notification options.
It adapts well with the brand new dark mode.
Pros: The package size is pretty lightweight, which is great for iPhone devices with smaller storage.
Cons: The services are not yet available for all countries except for some select regions.
Download
10. WeatherBug
---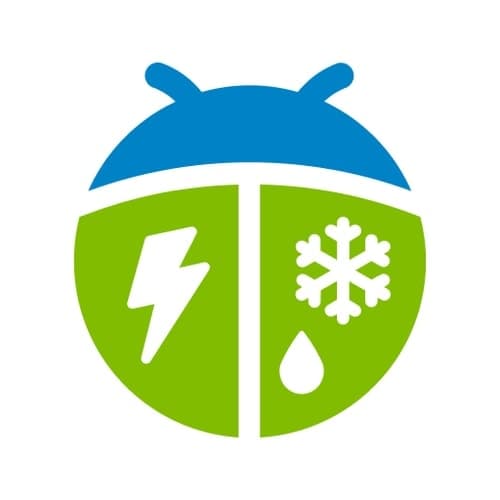 WeatherBug is a cool new player in the forecasting game. It is not that popular among iPhone users. However, the features and functionalities impressed me totally. You will be surprised to know that WeatherBug is one of the largest providers of professional weather forecasting. So, there shouldn't be any questions regarding the data accuracy. The app design and the user interface is also very easy to use with visually appealing graphical elements.
Key Features
It features 19 different map layers for data visualization.
The app shows data from the Doppler Radar for pin-point accuracy of the weather data.
Traffic conditions and pollen count are two great bonus features of this app.
The developer company has a gigantic network of personal and professional weather stations.
More than two million places worldwide are covered by this app.
Pros: The main strength of this app is the accuracy. There are very few apps that have this many weather stations and location coverage.
Cons: The download size is huge, and older iPhone devices with less storage might struggle with it.
11. CARROT Weather
---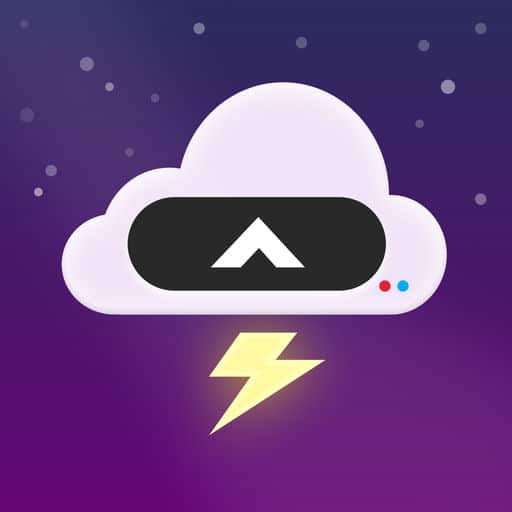 CARROT Weather is a super-powered weather app with some exclusive features. This app received several awards for its outstanding design and user experience. At first glance, it seems like yet another ordinary forecasting app. But after using it for a while, I had to agree that this one is different.
Anyway, this is a paid app that requires a one-time purchase fee. But the price is not crazy like some other paid tools in the market, so it is quite affordable. Integration with Siri makes it a great companion for automating your workflow.
Key Features
By default, it shows data from Dark Sky. However, you can change the weather service provider.
The look of the home screen widgets are customizable, and they automatically update in the background.
Radar map is a great addition, although it is currently available in just a few countries.
There are some beautiful weather-based watch faces to sync with your Apple Watch.
Changing the app icons is a unique feature of this app that I liked most.
Pros: The app is very much privacy-focused, as far as I've seen. It doesn't even require unnecessary permissions from your device.
Cons: You will need to upgrade to a subscription plan if you want to use different weather providers. This is not expected from a paid app.
12. Weather Live
---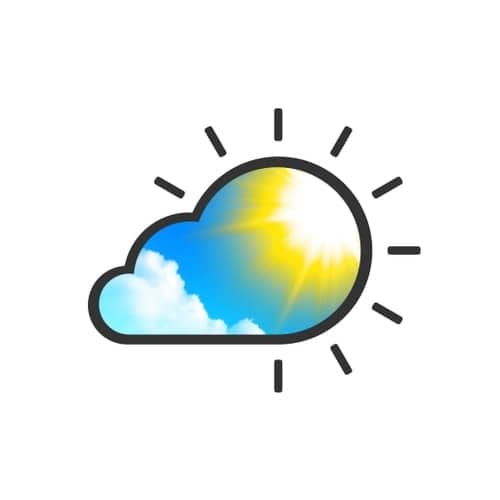 Weather Live is a free weather app for iPad, iPhone, and Apple Watch devices. This app got a huge number of downloads after launching in 2014. The design of the app is ordinary, but the contextual background images will surely attract you.
The same goes for the home screen widgets. They come in different shapes and designs. On top of that, the UI is user-friendly, and you will get detailed insights on every parameter. Some advanced functionalities require a subscription, but I think that is not worth the money.
Key Features
There is a dedicated pressure gauge that supports various units.
You will get to see the feel like temperature along with wind speed and humidity.
Advance forecasting of up to 14 days with hourly updates and detailed insights.
The weather maps provide an interactive navigation system for browsing pinpoint location.
Sunrise, sunset, and moon phase tracking is also available in this nifty weather app for iOS devices.
Pros: If you love beautiful widgets with live backgrounds, then there's no better alternative than this.
Cons: The features in the free version are capped with some limitations, which can be removed via pro subscription.
13. Weather Line
---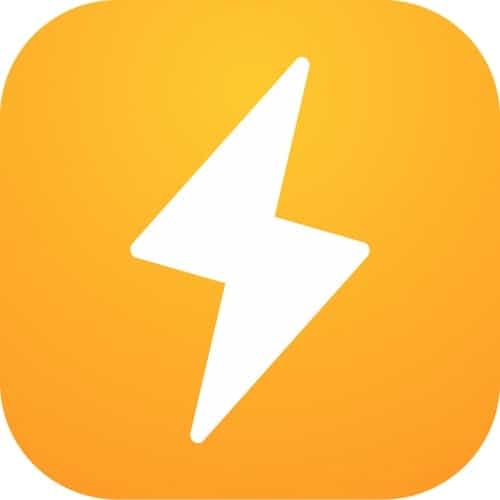 Weather Line is here in the game for quite some time. However, it has not yet able to gain mass popularity. That doesn't mean this app is not capable enough. In fact, some great features make this app stand out from the crowd. Besides, it supports detailed insights from various providers for different parameters.
Since it merges the data from various providers, the forecasts are more reliable and accurate. You can even customize the outlook completely by using the in-built themes.
Key Features
You can choose from 20 different themes and 50 different app icons from the library.
This tool provides hybrid forecasting data based on the best sources in each parameter.
The AI-based weather modeling and algorithm detects the critical factor and alerts you according to that.
It covers air quality, humidity, pressure, wind, and several other parameters.
A high-definition radar map engagingly visualizes the current weather condition.
Pros: In terms of appearance, nothing can beat this app. On top of that, the theming option makes it completely personal.
Cons: Some features are just unnecessary, and it clutters the app UI, which I can't really appreciate.
Download
14. Yahoo Weather
---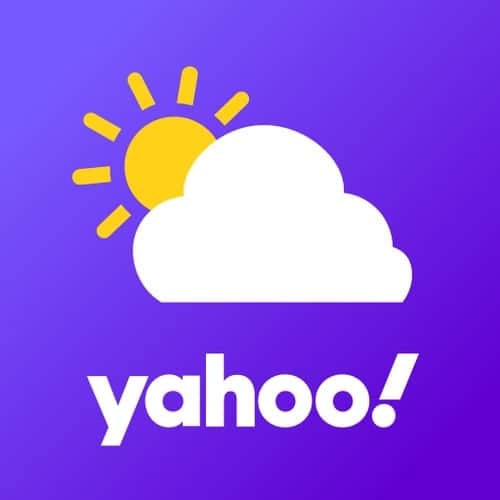 Yahoo was the internet king at that time. Now they have shut down most of their businesses. However, their weather service is still under operation and can deliver accurate weather data to the users. Yahoo Weather app is the winner of the Apple Design Award, and you won't have anything to complain about in terms of the user interface. However, the app features only the basic functionalities like temperature, forecasting, and radar visualization. Yet, I took it positively since most of us don't need fancy features.
Key Features
The app will show beautiful background images from the op photographers related to the current weather.
You will get hourly temperature forecasts with detailed analytics and an air quality index.
The maps option has different layers such as radar, wind, heat, satellite, etc.
You can set alerts for different cities and pin them on the app screen.
Yahoo is very reliable in terms of weather data, and you can trust them with your location data.
Pros: It is very difficult to find an app that is free and doesn't have a premium plan. Yahoo Weather will be a lifesaver for you if you don't have a plan to spend money on weather forecasting.
Cons: It doesn't have fancy features, and not supporting Apple Watch is a dealbreaker for most users.
15. 1Weather
---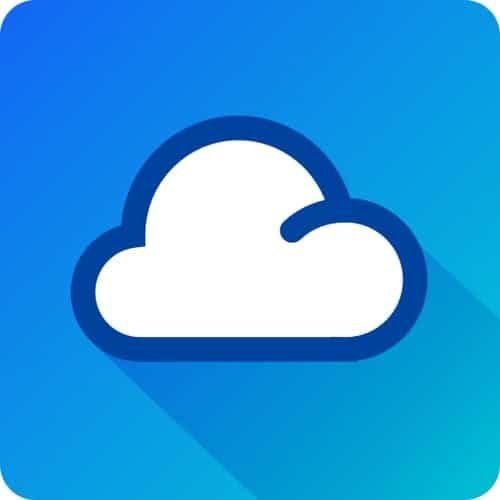 1Weather is one of the best weather apps for iPhone and iPad for temperature and other forecasting insights. After downloading, you will realize that this tool is very beautiful in terms of appearance. The surprising fact is that it is quite powerful at the same time.
The app is specially designed for the iPad to scale better on larger displays. The iPhone version is also very easy to use, with all the features nicely organized. No matter whether you are a weather geek or a casual user, this tool will cover you up in many ways.
Key Features
You can add up to 12 different places for real-time monitoring.
It has several weather layers for observing every parameter related to the climate.
If you are staying in the US, you will receive extreme condition alerts to keep yourself safe.
The radar map is easy to navigate even on small screen devices.
The home screen widget blends nicely with the iOS design language that looks pretty classy.
Pros: The app provides 3 months of advance forecasting exclusively for US users, which I found almost accurate.
Cons: I found some glitches in the alert system, which I think will be fixed by the developers.
Our Recommendation
---
Most users tend to stick with a single weather app in most cases. The default weather app is pretty basic, and this is why we have to rely on third-party tools for more accurate data and detailed insights.
If you are a casual user and don't need any kind of advanced features, then The Weather Channel will be perfect for you. In terms of data accuracy, I found Dark Sky to be the most reliable. However, it will cost you a few bucks. CARROT Weather is my personal favorite and my daily driver weather app for Apple Watch and iPhone since I care a lot about aesthetics.
Finally, Insights
---
No weather app is capable of providing you hundred percent accurate data. That thing can only be achieved by using personal weather station hardware. But this is not possible for the individual users, and mostly, we use weather apps for getting an idea about the weather. So, I don't care that much about the data accuracy as long as I can get a convenient overview of the weather condition of the day.
All of the above-mentioned weather apps for iPhone, iPad, or Apple Watch devices are recommended by me, and I think you won't regret choosing any of them. And, don't forget to share the article with your friends.