If you were looking for the best KDE Plasma widgets for your Linux desktop, then you are in the right place. There is much debate about the fact of who implemented the widget feature first on a computer GUI. But nobody can deny that the widgets have brought a new era in the modern user interface. Most of the people rely on beautiful widgets for performing different tasks without opening the main instance of the program. Although Windows ditched their native desktop widgets feature with their Windows 8 for the sake of the live tiles. Linux still has a great library of widgets that are being maintained by the developer community.
Best KDE Plasma Widgets
---
KDE Plasma is always known for the sleek and modern graphical user interface. The widgets built for it are no exception. They are the beautiful pieces of the graphical element that provide a wide range of features and increase them productively. On Linux, the widgets are also known as screenlets or applets.
Hence there are a lot of widgets made exclusively for KDE desktop; it's very difficult to find the best one for you. On top of that, not every widget will suit your needs. This is why we have done a survey and made a list of the most useful widgets. I hope a list of the best KDE Plasma widgets will help you to grab some cool widgets for your desktop.
1. Simple Menu
---
Simple Menu is an application launcher for your KDE desktop. The default application launcher will do the job. But if you want to launch an app quickly and some additional tweaks, then a third-party application launcher is a must-have.
The launcher is very easy to use. As the name suggests, the overall thing is quite simple. You will have all the applications arranged alphabetically. This will automatically group your applications in different categories.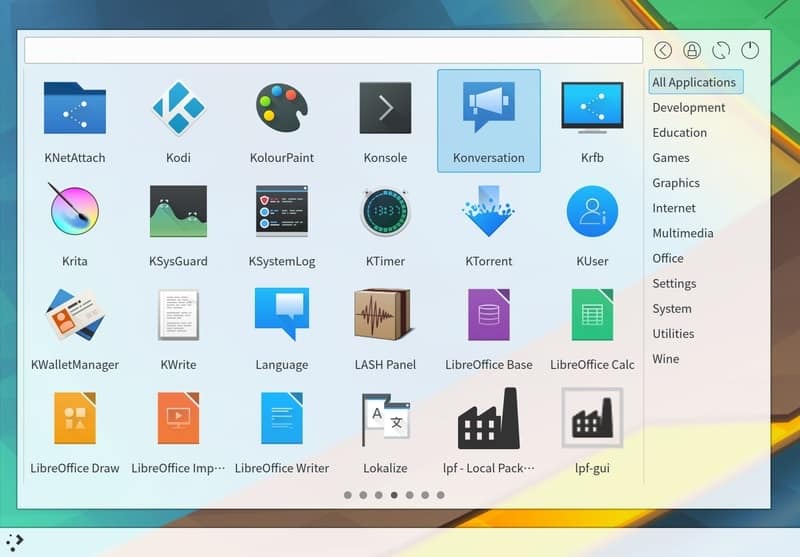 Key Features of Simple Menu
It works as a small floating window.
You can even customize it for showing as a fullscreen menu.
The design is quite minimal and clutter-free.
The users can set their favorite applications for quick launch.
2. Advanced Radio Player
---
This is a simple yet powerful media widget. You can listen to several radio stations right from your desktop. The radio stations are just a click away. The tool uses RadioBrowser.info API as the backend.
You can search from the list based on country, language, etc. The status footer will show you the current bitrate of the streaming. The user interface is minimal and neat. It will not distract your eyes while working on an important project.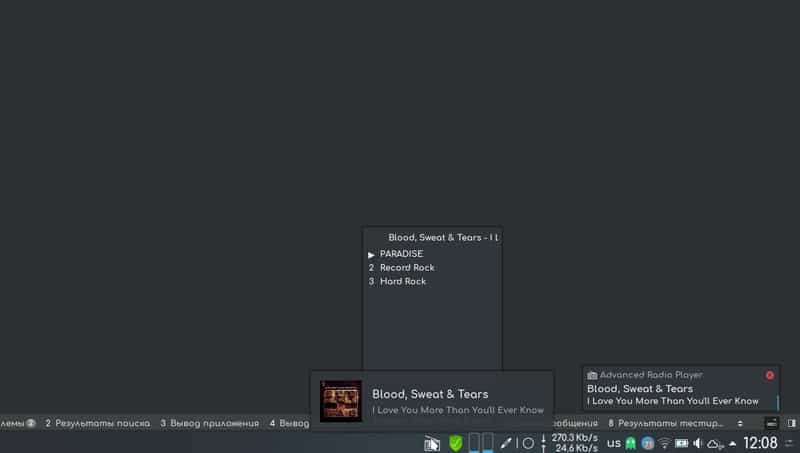 Key Features of Advanced Radio Player
It has more than 25000 online radio stations.
The directory is arranged into more than 400 languages and almost 200 countries.
The users can customize the orders of the list.
You can even import and export settings of the applet.
3. Event Calendar
---
You guessed it right! This is just a calendar widget for your desktop. But it has some great features apart from just showing you the date. From my experience, I can say that this adds up to your productivity game and one of the best KDE Plasma widgets of all time.
The widget lies beautifully on your desktop and shows you important updates and agendas. It has some additional tools built-in with this like timer, weather, etc. This widget can even integrate with third-party services that are very convenient.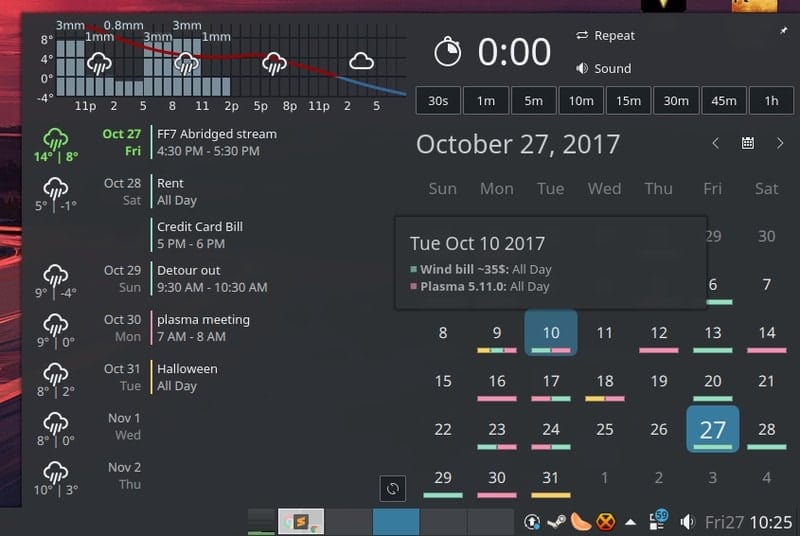 Key Features of Event Calendar
This calendar widget shows weather updates in a graphical format.
The timer tool has many presets to choose from.
You can see your upcoming agendas as well as create a new one.
This widget can connect to your Google Calendar for importing data.
4. KDE Connect
---
Who doesn't own an Android smartphone? Even Android is a great example of a Linux derivative. Although smartphones can't be a replacement for traditional desktop computers. But what if you can control your smartphone just from your desktop? This is when the KDE Connect comes in handy.
KDE Connect is considered one of the biggest strengths of the KDE Plasma desktop. The little widget helps you to keep your smartphone connected to the desktop. You will be instantly notified whenever a notification pops up or even transfer files between devices.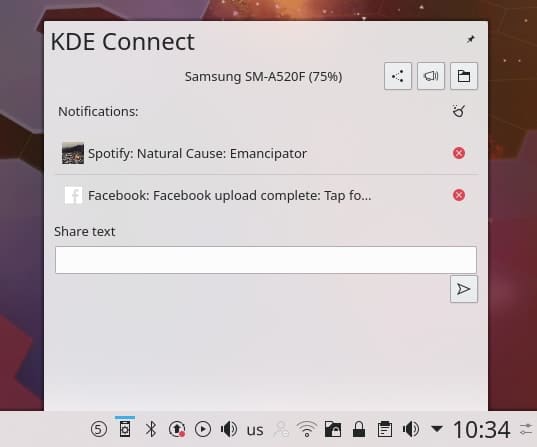 Key Features of KDE Connect
The notifications are instantly synced. You can even reply to the messages.
A wide range of file formats is supported for transfer between your phone and desktop.
While connected, the smartphone can be used as a trackpad, keyboard, or a pointing device.
KDE Connect supports multiple operating systems and devices.
5. Win7 Volume Mixer
---
This is a powerful applet for the KDE environment. Designwise it resembles the volume mixer found on Windows 7. Hence the developers named it like this. The default volume mixer is different in different desktop environments. They are not that featureful or quickly tweakable.
The Win7 Volume Mixer will let you control the output from various sources. You can launch it right from the system tray. The graphical UI is beautifully optimized, and you will find a bunch of features regarding volume properties.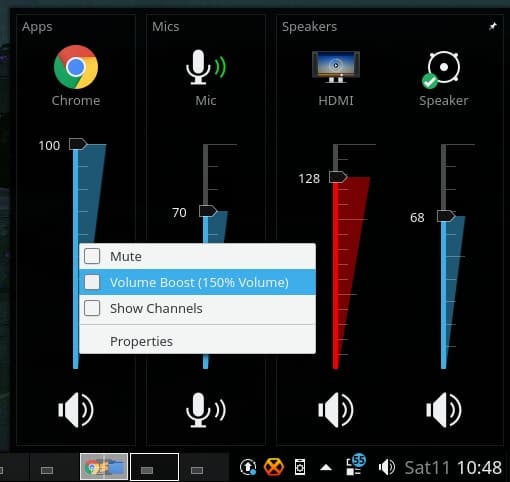 Key Features of Win7 Volume Mixer
You can easily switch between default input and output devices.
The users can set up their preferred keyboard shortcuts for a quick launch.
The sliders are vertically arranged, which are very fluid and responsive.
You can even access to default sound properties from the context menu.
6. Split Digital Clock
---
The list of the best KDE Plasma widgets will be kind of incomplete if I don't include a clock widget here. No matter whichever distro I use, I always go for a custom desktop clock. It makes the desktop more aesthetic, and I can just take a glance at the desktop to know the current time.
The Split Digital Clock looks like the clock found in Samsung's Android smartphones. This doesn't look like a traditional digital clock. Rather the hour and minute digits are vertically arranged. I will even show the name of the day with the current date and month.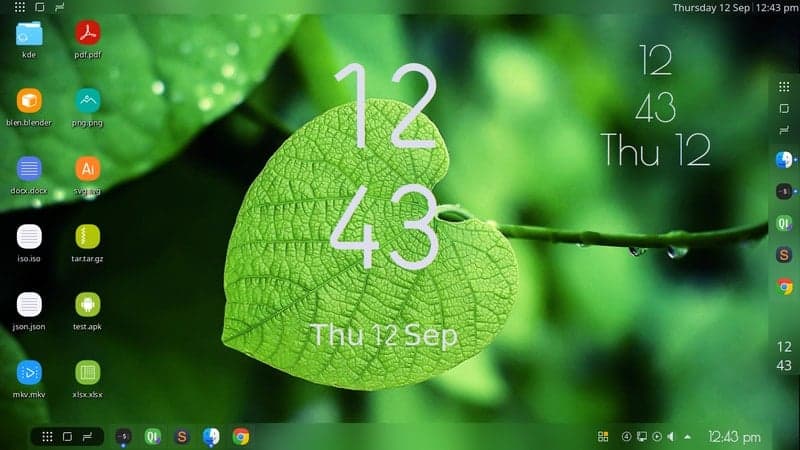 Key Features of Split Digital Clock
You can change the basic appearances like font style, colors, opacity, etc.
The displayable properties like time zone, date, seconds, separators, etc. are customizable.
You can show the clock even on the system tray and docs. The size is completely adjustable.
The main settings panel has a lot of options arranged nicely so that you don't get lost.
7. Translator
---
This is not a general-purpose widget for your desktop. But if you are a student or an educator, then I will suggest you install it. It is just like any other translation app out there. But the specialty of this particular widget is that you don't need to launch the app every time. You can just translate right from your desktop.
You may have heard the name of the tool Translate Shell for Linux. This widget uses that as the backend of this widget. It uses third party translation services API for translating a wide range of languages. The widget is quite rich, with a lot of features.
Key Features of Translator
The UI is neat and modern, with some translucent effects.
It has a built-in text to speech mode for learning pronunciation.
You can choose from Google Translate, Bing Translator, Yandex, and many other translation engines.
You can change the order of the language list, and it can detect input language automatically.
8. Simple System Monitor
---
This KDE Plasma widget is not that simple like the name sounds. Instead, it is full of important features. A system monitoring tool is a must-have for power users. You can monitor various aspects of the computer visually by using it.
This widget also increases the beauty of your desktop. You can even customize the user interface. This widget can show the current time, total uptime, CPU load, temperature, memory status, etc.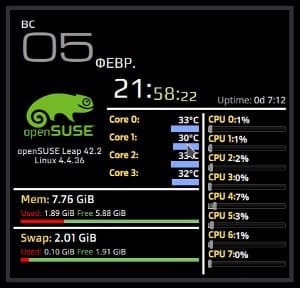 Key Features of Simple System Monitor
It can talk with the temperature sensor and show the CPU temperature.
You can change the distro logo to show it off in the widget.
Users can choose from a variety of background elements.
The widget size is configurable so that it fits into your desktop.
9. Latte Dock
---
The dock is a signature feature of the macOS user interface. But many Linux distros have adopted this feature. Although some distros come with a dock built-in. But some other distros will need to install a dock widget for this.
The Latte Dock is my personal favorite for this purpose. It helps you to pin your favorite tools and launch them quickly. The graphical elements are quite modern, and the subtle animations make it a perfect companion of your KDE desktop.

Key Features of Latte Dock
You can set up the behavior, appearance, and perform some additional tweaks.
The location, alignment, and visibility can be configured for different situations.
This widget can adapt to the icon pack of your desktop environment.
The zoom-in hover effect and the delay time can be configurable.
10. Net Speed Monitor
---
I always wanted a default solution for this purpose. This is very convenient for metered WiFi users. A net speed monitor will show you the current package transfer rate over your WiFi or cable network. This tool will lay in the system tray and monitor the bandwidth activity.
Net Speed Monitor will help you to identify your network problems and troubleshoot them quickly. I use this because I can easily understand whenever any background process or auto-update is killing my bandwidth when I am in a rush for downloading the latest series.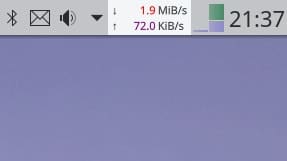 Key Features of Net Speed Monitor
It will show you the upload and download speeds separately.
The measurement units can be changed from the settings panel.
You can set up custom colors for different units.
The update interval is configurable, which is pretty convenient.
Concluding Words
---
KDE is a great desktop environment. Although it comes with many tweaks and makeovers preinstalled, it is not perfect. Different users have different demands. Hence you may find something is missing in the system UI. In that case, the widgets will help you to make your distro suitable for your job.
There are almost a thousand widgets available for the KDE. It's not possible to include each one of them on the list. But I strongly believe that these 10 KDE Plasma widgets mentioned here will be adequate for your productivity. If you still think that your favorite widget is missing here, you can mention the name below to let everyone know.