Many of us, especially Linux users, are familiar with KDE. It's the K Desktop Environment that KDE actually stands for, and it is specially dedicated to the Linux-based operating system. It is simply a GUI for Linux and quite similar to GNOME. However, KDE is a community of international free software, and it aims to develop more free and open-source applications. Well, if you are looking for some media apps, you can try a lot of KDE multimedia apps for Linux.
Best KDE Multimedia Apps for Linux
---
We won't say that the KDE community contains hundreds of multimedia apps for Linux. But we can help you find out at least 20 apps of different types. We have already made a list of the apps that are worth your try. You can check out the brief description of each app to find out exactly which one you need the most.
1. Kid3
---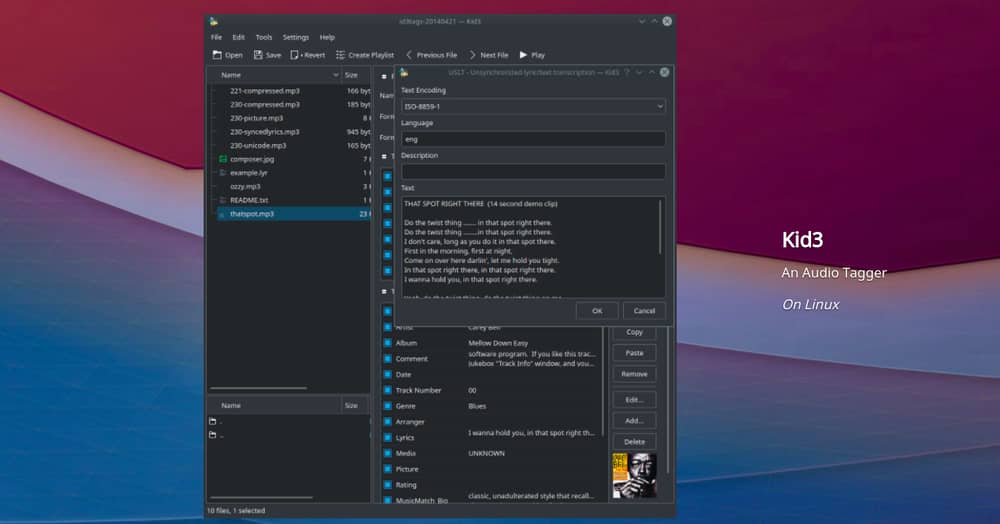 If you were born in the 1990s, you must have the experience of offline music discs and albums. Kid3 is one of the best media apps for Linux systems to freely manage your songs and audio files. It was popular till the audio and video streaming service emerged as popular media platforms. I still remember buying new albums online and downloading them to listen to or see in the future.
Kid3 will allow you to edit the music file's tag, artwork, and inside data. You will be able to tweak all the relative information on the files and shows the last modified date. Additionally, Kid3 supports almost all the popular audio file formats, such as MP3, DSF, Ogg, FLAC, APE, WMA, WAV, etc. Who doesn't like this while listening to certain soundtracks? So try it now on your Linux distro for managing your local music collection.
2. Recorder
---
Want to try the best KDE recorder on your Linux system? The Recorder can be your best pick for sure. You will need an Audio recorder software, whether it is for any business purposes or simply for your personal use. And this app just ensures you the best quality audio recording experience with cross-platform support.
A bucket full of visualizers will be there in the app that ensures an added perspective to the recorded files. Additionally, you can use the same playback to pause while recording and play again to start. Indeed, the minimalist interface of this app lets any people use it comfortably. Besides, you can choose your preferable encoding formates and the audio source.
3. Elisa
---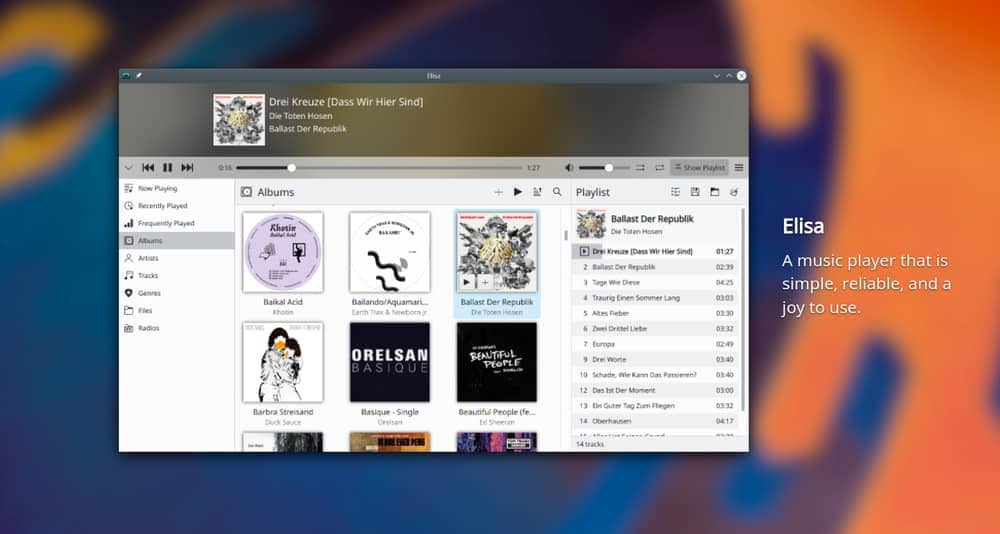 Check out Elisa, another great music player for KDE systems as well as other platforms. This is visually beautiful with a materialistic UI design. It works smoothly on Linux systems, even on Windows, and does not require any additional configuration. The outlook of Elisa also looks like a Windows media player, which is helpful for new Linux users. You install it and are ready to play.
The album artworks and other data kick in automatically, and you don't need to do anything to allocate resources. This app offers different playlists and categories for quick access to a certain type of music file. The audio output and file format support are quite extensive. If you are familiar with Windows media player, you will surely like it more without a doubt.
4. Plasma Camera
---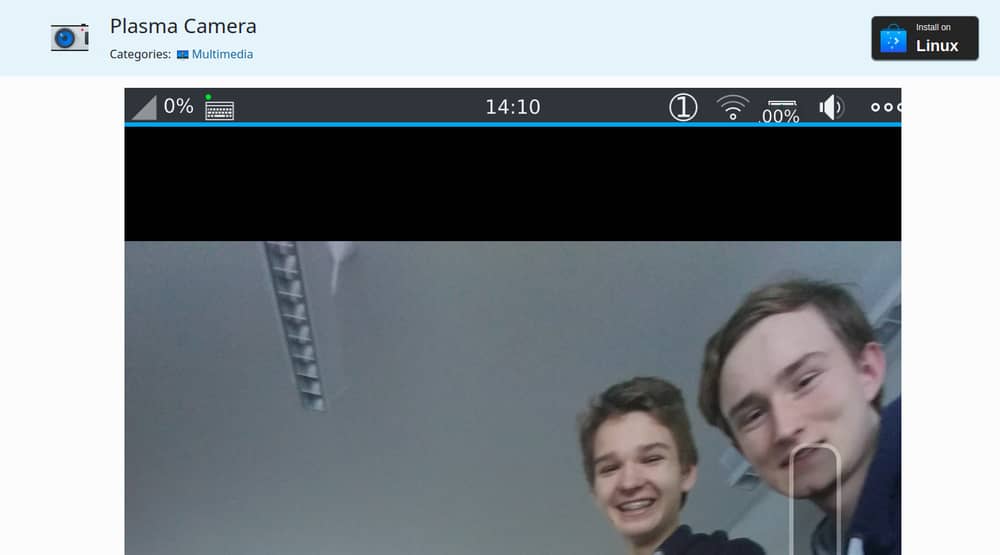 For sure Plasma Camera can be your piece of cake if you have to make video calls so often using your desktop. This intuitive camera app provides all the features to take photos, record a video file, or just make a video call on the Linux system. In this Covid situation, workers who have to work from home can also use this app for official use.
This lightweight camera app comes with a bunch of essential features, including different white balance modes and filters. However, I would like to clarify that the resolution won't improve more with this app as it uses the stock device camera anyway. But still, you will get a better desktop camera experience with the app.
5. Kdenlive
---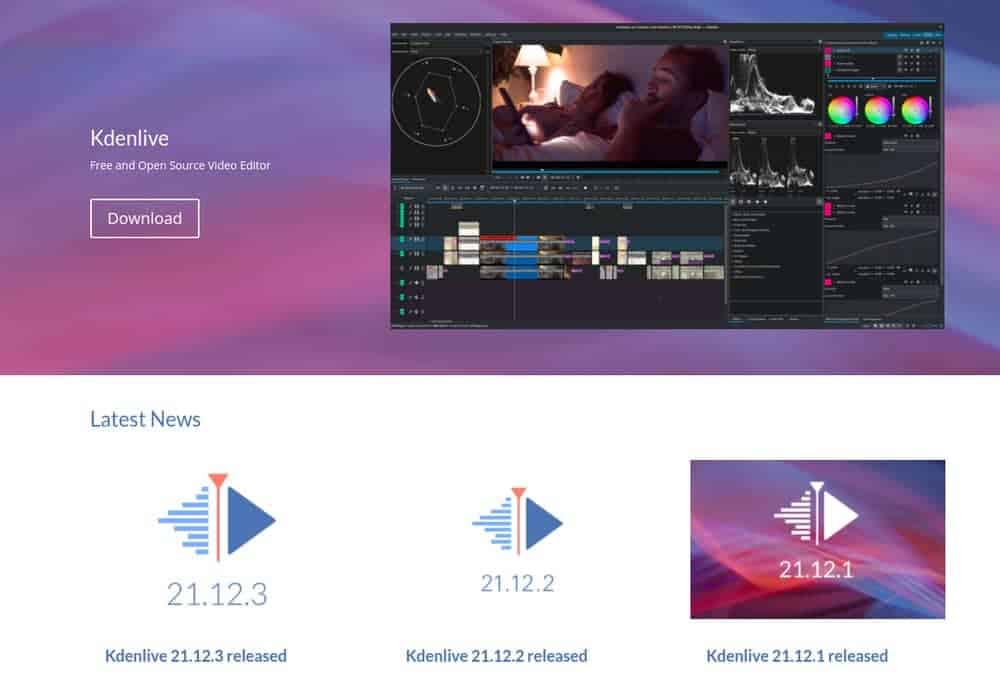 Kdenlive is another powerful KDE media app for the Linux desktop ecosystem. It is a popular choice for video editing works on Linux. This app offers advanced editing tools, which makes it a formidable candidate in its territory. Moreover, the app interface is also very appealing and comprehensive. If you are into video editing works, this is a must-have KDE media application for you.
6. AudioTube
---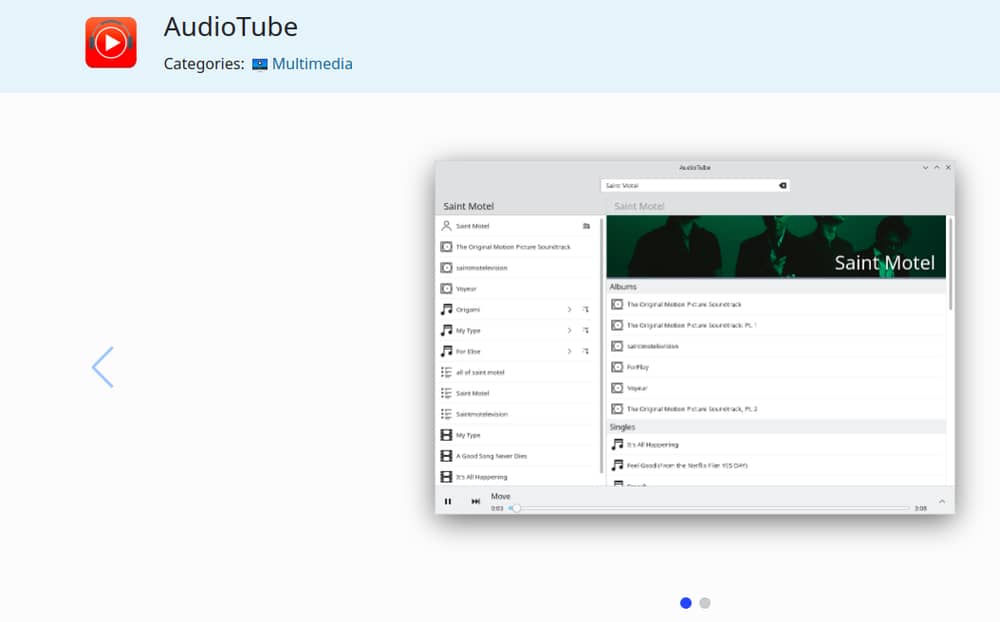 We often love to enjoy listening to the music of different YouTube videos in the background while doing another task. But that's a big problem we find on YouTube as it doesn't allow enjoying the audio while minimizing the tab. But I know about a solution, and it is a dedicated YouTube client. AudioTube is the one I am talking about.
AudioTube comes with many surprising features to ensure a better YouTube experience. Eventually, it can play automatically generated albums, playlists, and suggestions. Not just for YouTube, you can use this app for a better Spotify-esque experience. So, if you are a true music lover, this high-end music client is your must-have.
7. Plasma Tube
---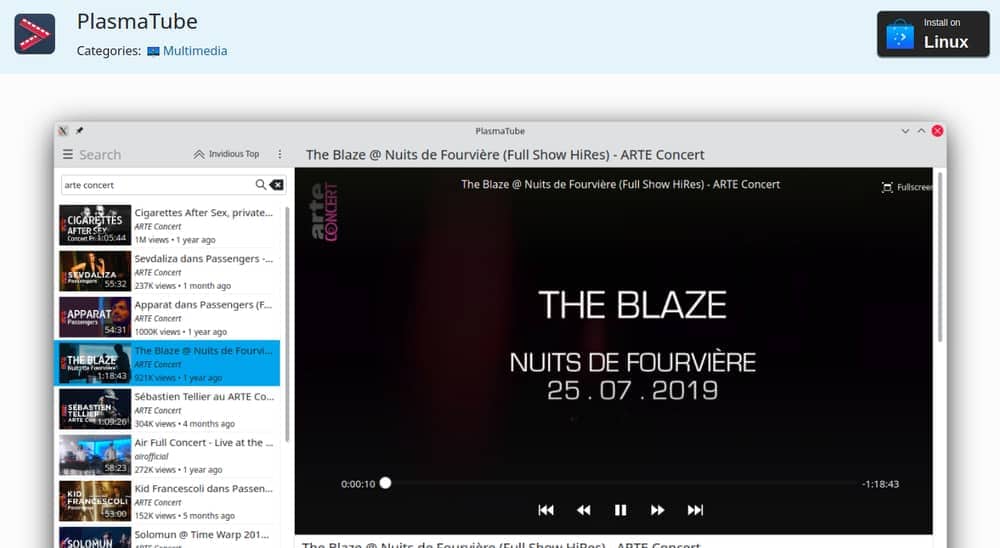 While Audio Tube works for a better audio experience, Plasma Tube is a superb alternative to it for a better Video experience. Indeed, they share similar features, and the difference is just in the audio and video functions. On the intuitive layout of Plasma Tube, there will be an arranged layer of video files. And you will get a YouTube-like experience here.
8. Kamoso
---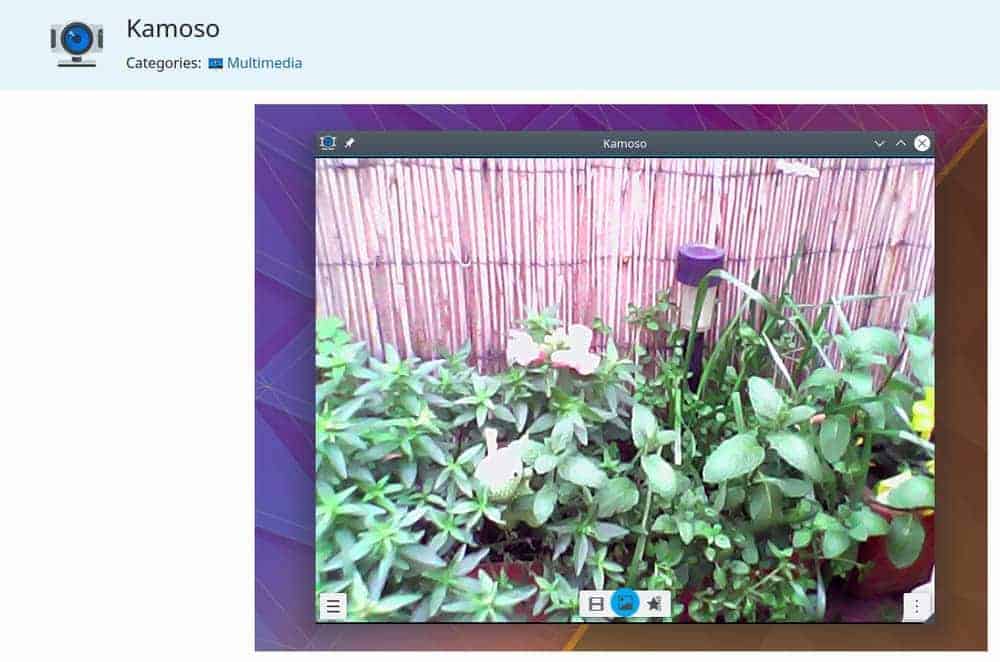 If you work from home and want to manage a tonne of media files on your KDE desktop workplace, then Kamoso should be your companion. It helps you utilize your camera and other productive gadgets for media with the KDE system based on Linux.
The UI of this application is also simple and modern. It works seamlessly on Linux systems and blends well with other KDE media apps. Furthermore, Kamoso consumes a minimal amount of resources yet does its job perfectly.
9. Vvave
---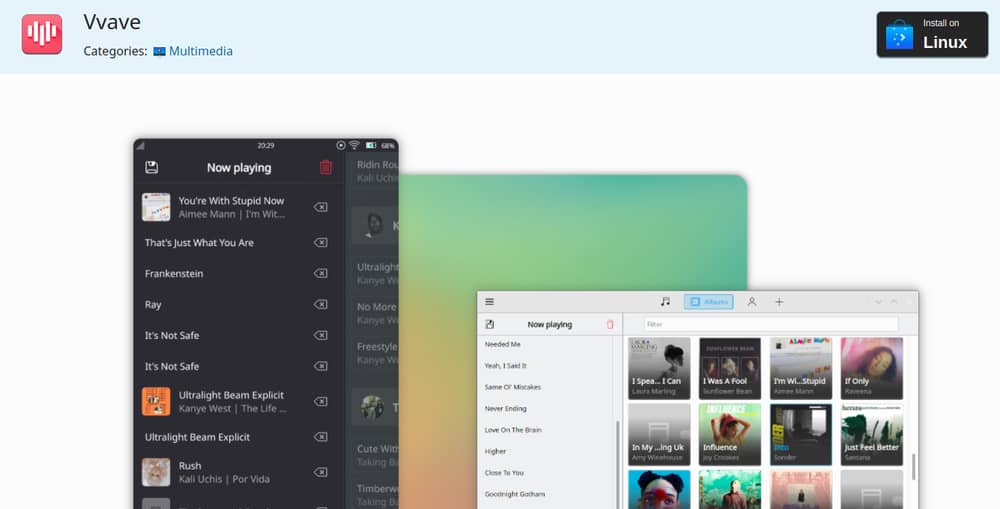 What about an audio player that comes with an itune-like interface? That will sound amazing when you can use the player on your Linux system. Valve is just like that, and it is well-known as one of the best KDE multimedia apps for Linux. Unlike the traditional audio-player interface, it provides a clean one with everything in an orderly manner. So, it's a must-have for all the music lover KDE enthusiasts.
10. K3b
---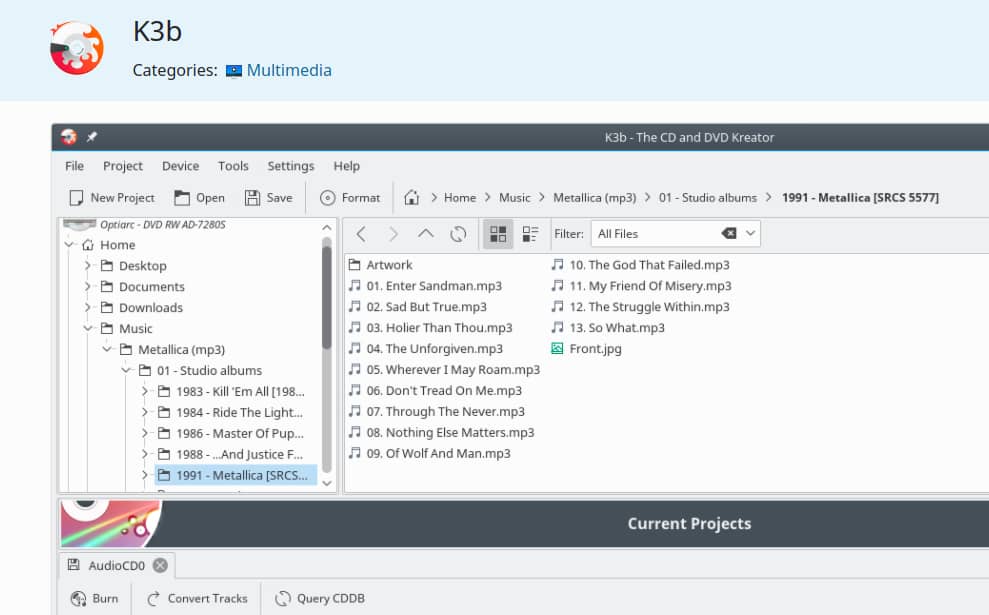 The abundance of digital downloads and streaming sites took dominance for quite a while. K3b is an all-in package of physical disk management, especially the media content on a CD or DVD. Most people would not bother using this function in this internet-based world anymore.
It is one of the best options for disk burning and does not require any payments as other systems do. You will love it for its snappy performance on your Linux system. Moreover, the UI is modern and contemporary with proper management tools. So, try it for ripping or burning audio CDs or DVDs with ease.
11. Dragon Player
---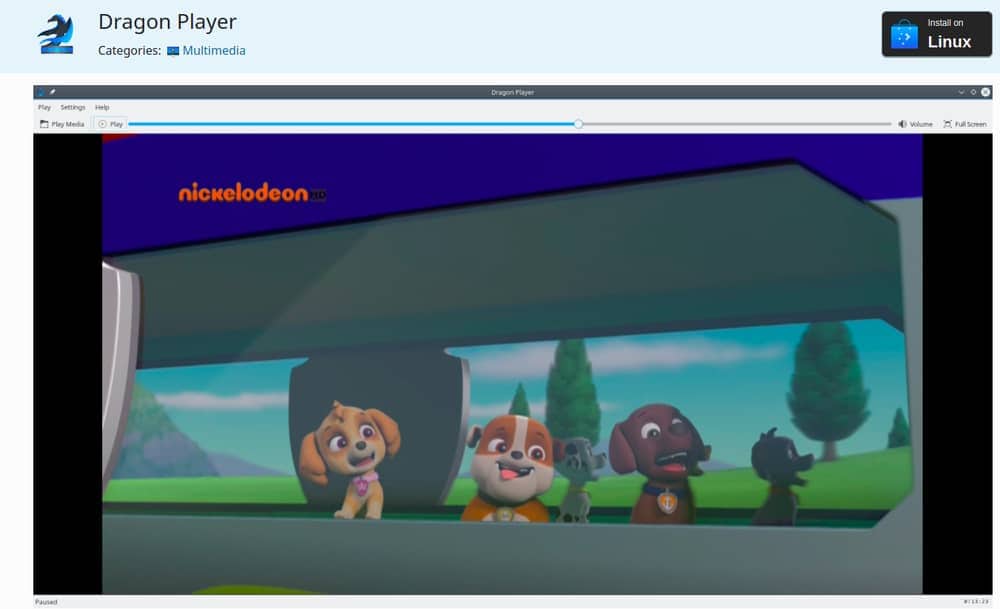 For those who are looking for a simplistic video player with a very user-friendly interface, Dragon player is the perfect match. They prioritize the interface and simplicity over the features of the player. But it doesn't mean the player lacks many useful features. Indeed, it comes with all sorts of useful functions as a high-end multiplayer app comes with. It is completely independent of other multimedia frameworks, and it supports CDs and DVDs too.
12. Kaffeine
---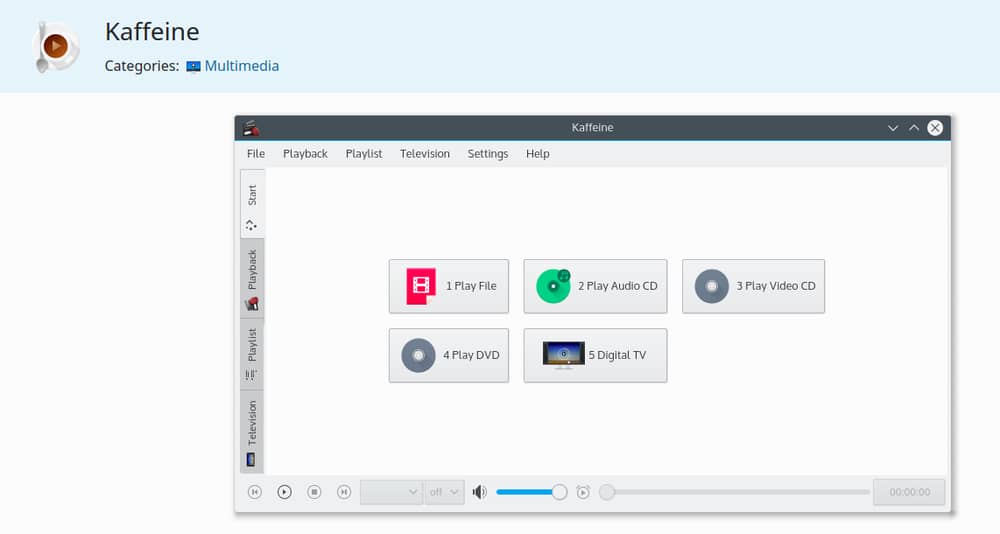 Kaffeine is a very popular KDE multimedia app for Linux and is well-known for its video player functions. And that's why it deserves a place on the list here. You have already met a few video players on the list. But this one is slightly different from the others. It comes with excellent support for digital TV that may not be available on other video players. Additionally, it comes with a user-friendly interface that lets first-time users feel comfortable with it.
13. VLC Media Player
---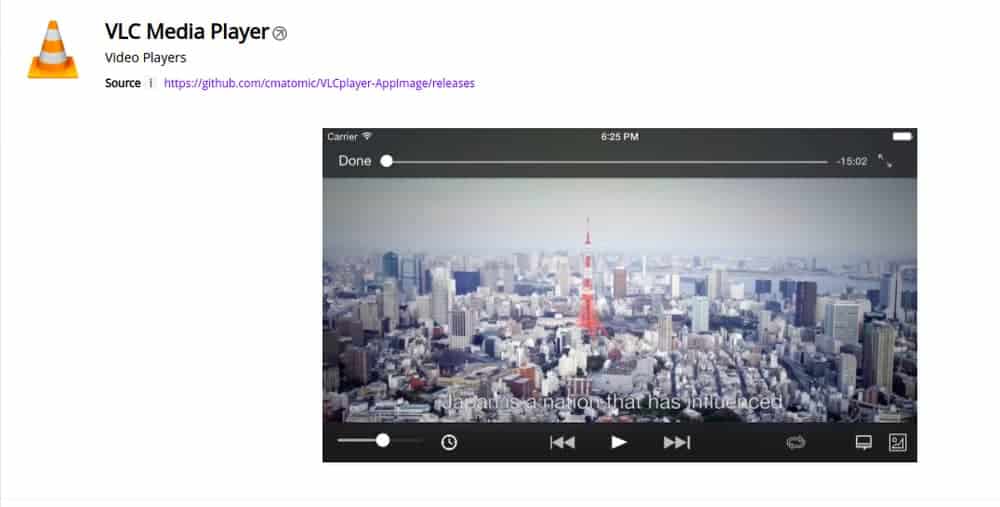 I won't believe it if you say that VLC media player is a new name to you. It is indeed one of the most popular multimedia apps around the world. And you may not know that it has a KDE version, and it easily runs on a Linux system. The users' reviews of this multimedia app are satisfactory as well. So, if you want to try out a familiar multimedia app with no flaw, then the VLC player can be your best pick.
14. KMix
---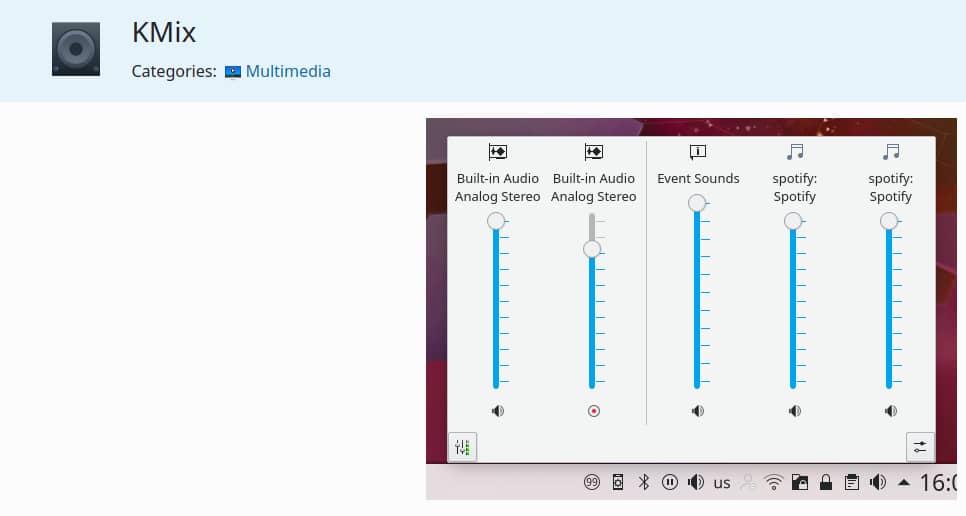 Mixing apps are great for music play and DJ works. KMix comes in handy in this department. Whether you are a general user or a professional, it will serve you in the best way possible for providing quality sound output.
KMix is great for podcasts and audio creation. Additionally, it has complete support for plain ALSA and Pulseaudio. You will have a tremendous audio processing experience all day long on any modern hardware. Furthermore, its stability and operational efficiency are second to none in the Linux ecosystem.
15. Audex
---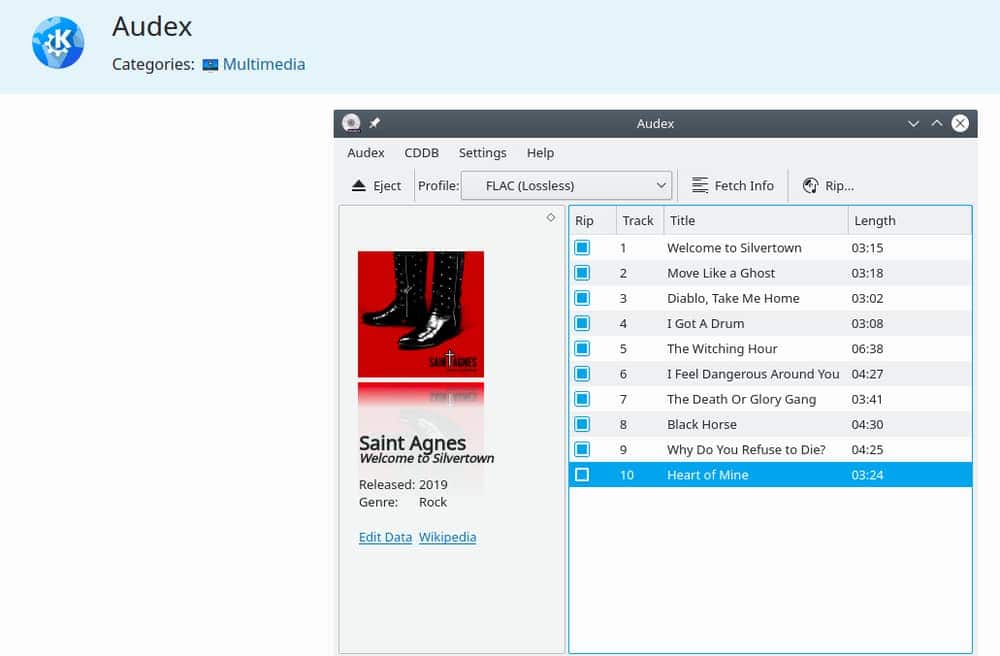 We have a different type of KDE multimedia app for Linux, and I am sure it's the unique one here on the list. Audex is an audio CD ripping app. It's a self-explanatory application, and it can scan your system to create sets of profiles for different purposes. This useful application supports FLAC, WAV, Ogg Vorbis, and many custom command line encoders. It also comes with a metadata correction tool and a profile-based ripping function.
16. Subtitle Composer
---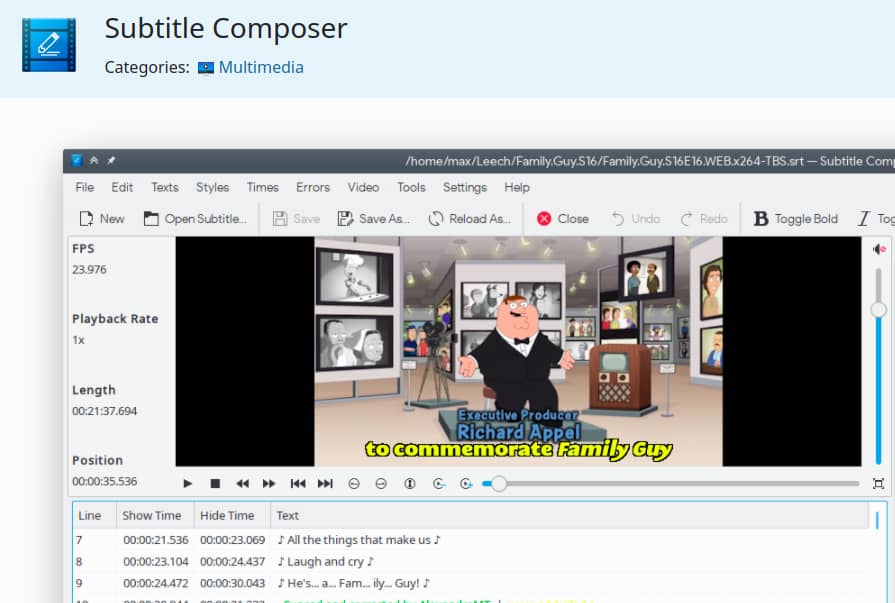 Want to compose subtitles for clips of different languages? Why not try Subtitles Composer? Well, it's one of the best KDE multimedia apps for Linux that lets you edit, create, and organize subtitles for video files of different media platforms. Indeed, you can customize YouTube captions, TMPlayer, MicroDVD, SSA/ASS, MPlayer, etc. Also, you can add subtitles to audio files using this tool as well.
17. JuK
---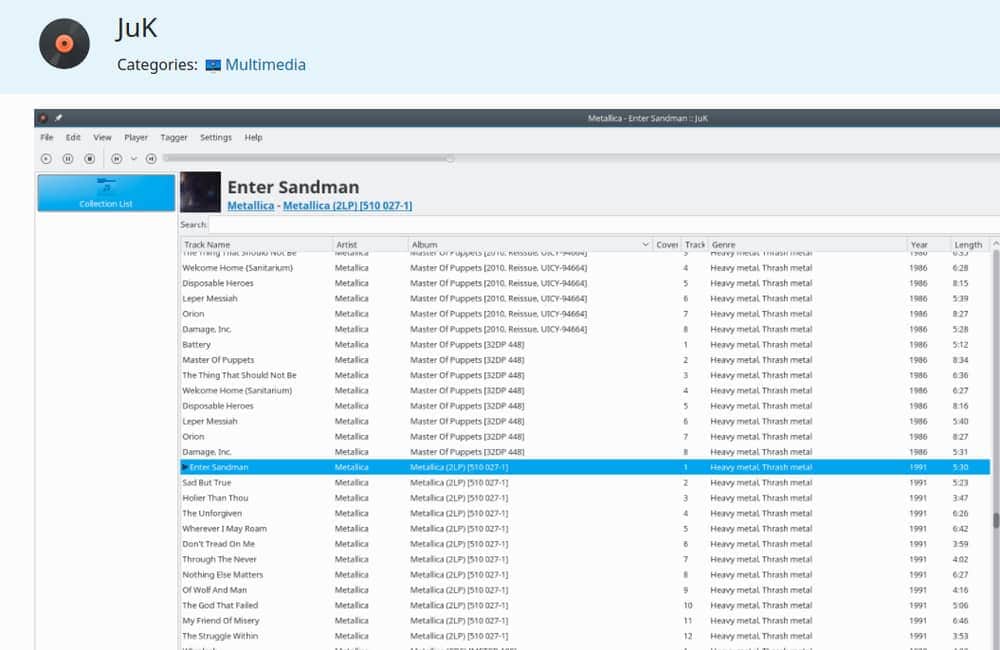 Who doesn't want to edit their music tags and additional information while listening to music files? With JuK, this is an inherited privilege, and unanimously it is regarded as one of the best KDE media apps for Linux. You will be able to see detailed album information and edit different tags for supported audio file formats, such as ID3v1, Ogg Vorbis, etc.
The UI is also simple yet materialistic, and any type of user can easily understand its features. JuK is a complete music player, and the included tree view mode automatically makes almost all the music files management.
You can see auto-generated playlists according to different genres, types, release years, and other tags. Moreover, the newly added music files are filtered separately for your convenience.
18. Haruna Video Player
---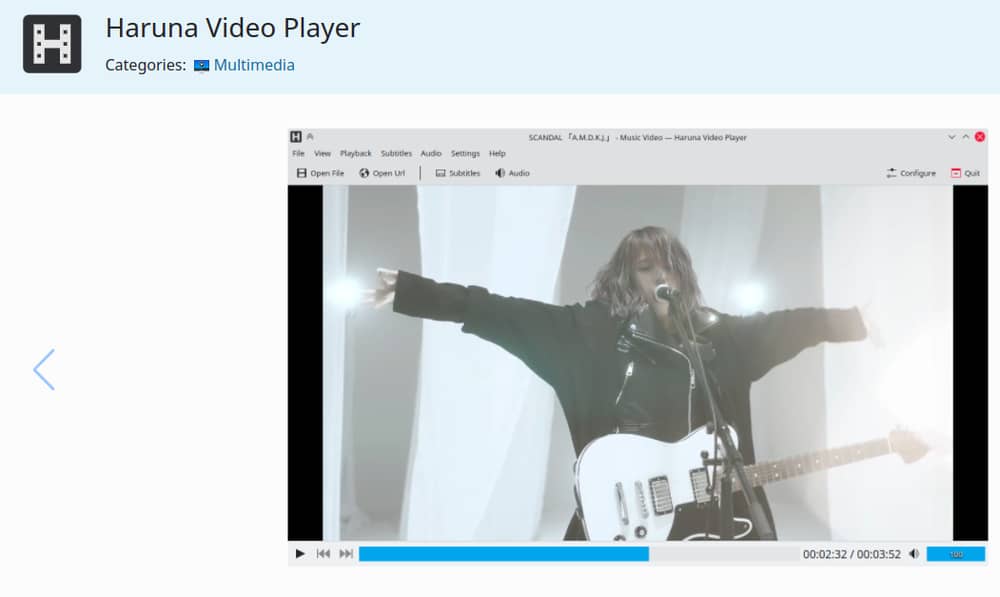 Let's meet another superb KDE multimedia app for Linux users, Haruna Video Player. The name must clear the task of this application. However, it's a complete video player with lots of useful options. You can play online videos using this video player, and it supports YouTube playlists too. Besides, it comes with a configurable mouse button and shortcuts. You will love its unique feature that lets you quickly jump to the next or previous chapter.
19. KWave
---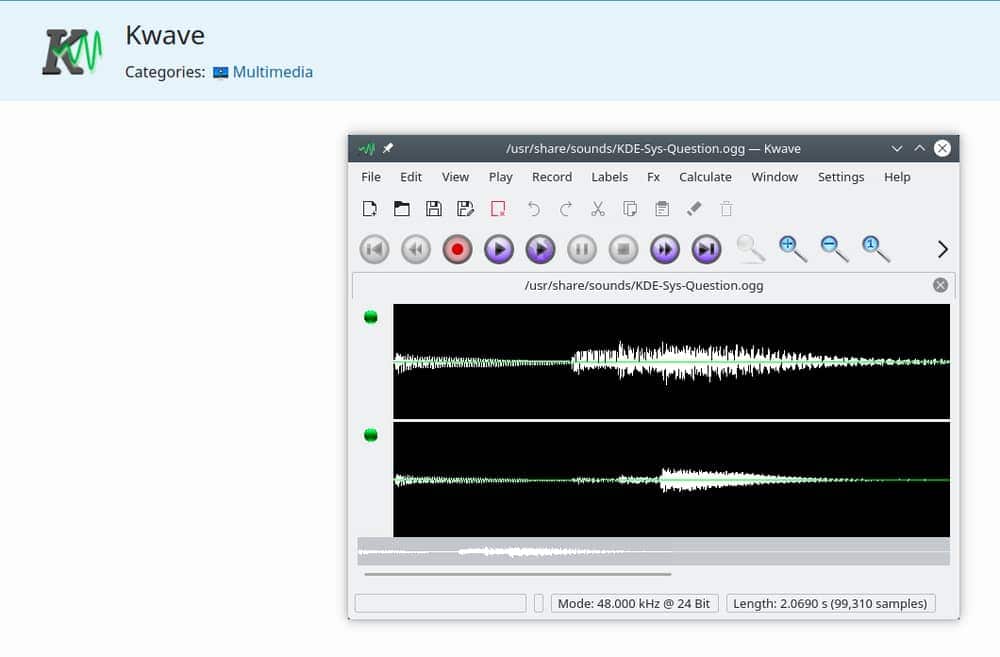 Want to try a multifunctional KDE multimedia app for your Linux system? KWave can be your best pick, then. This useful multiplayer app lets you record audio just with a single click. Also, you can playback, edit, and import many sorts of audio files. Eventually, it comes with the support of multi-channel files. Besides, it contains some plugins that let you transform audio files differently. So, KWave must deserve a try if you love to work with audio files.
20. KMPlayer
---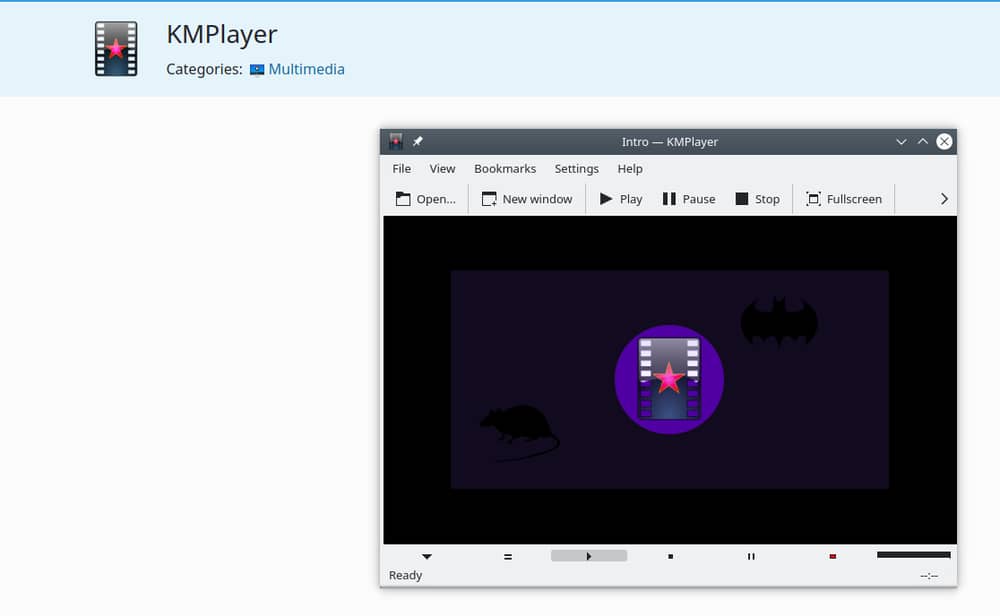 After VLC, KMPlayer is the next most popular video player of all time. Also, this one is the final recommendation for today. You can play DVDs and VCD movies with this app. Additionally, it comes with an extra movie recording function that you may not get in other multimedia apps. You cannot run another video on the same tab when you make a recording. But you can open another tab to run the video when you record something.
Finally, Insights
---
Looking at the apps with concentration, you must notice that there are many KDE multimedia apps for Linux of different types. For a video player, there are KM player, Haruna, VLC players, etc. For audio, you can use AudioTube or KWave. You can also use the Subtitle Composer for customizing and creating subtitles. For using the camera, try the Plasma Camera app. Now, finding the appropriate KDE multimedia apps for your Linux system must seem easier.
So, let us know exactly which one you are going to try. And also, give a short review of the app you are using. Thank you for being so cooperative. Please stay safe and healthy until we come back with something new.