From the AT&T Bell Labs to personal smartphones, Unix systems have come a long way since their inception. Earlier Unix systems did not provide users with any sort of graphical interactions that we see in modern Linux distros. However, the GUI has become an important part for many, and it's hard to imagine life without it today. The KDE desktop environment is arguably the most innovative and popular choice for users who want a cutting-edge graphical experience. Continue reading if you want to know what contributes to KDE's enormous popularity and if it's the right choice for you or not.
Why KDE Plasma Desktop is So Popular
---
There are a plethora of desktop environments available for Linux. Some popular ones are GNOME, XFCE, Cinnamon, Mate, Unity as well as our beloved KDE plasma. This guide highlights some of the reasons KDE outshines many of these desktop environments.
1. Appearance
---
KDE has long been the go-to choice for users who are looking for an aesthetically pleasing desktop experience. It is, without any doubt, one of the best-looking desktop environments. Although the notion of beauty may be different to you, we're sure that you will agree with us on this matter. Overall, the Plasma desktop offers a modern and elegant visible experience thanks to some excellent color choices as well as pleasant animations.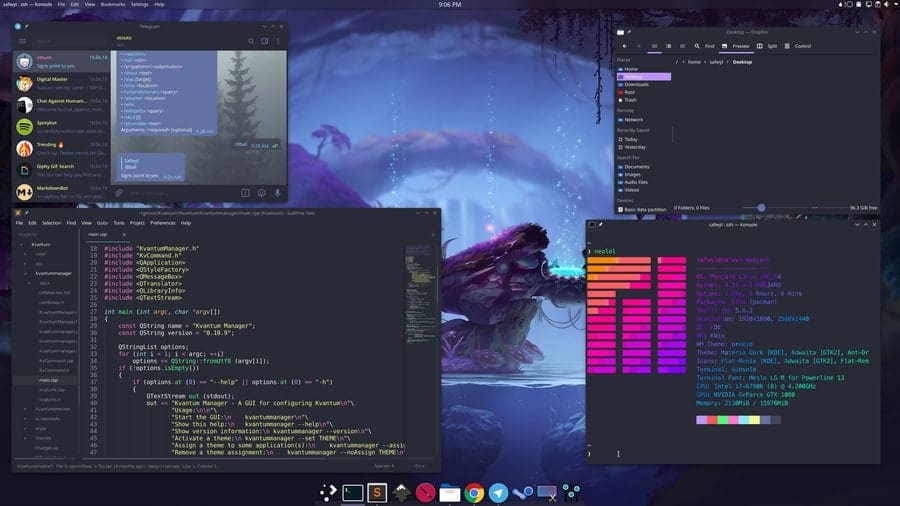 The shadows make the application widgets look more natural, and the well-designed icons are a treat to the eyes. KDE designs all aspects of its appearance with extreme care. So, the widgets, fonts, and even mouse pointers are visibly satisfying. Moreover, these elements mix very well with other GUI components and thus result in a picturesque desktop.
2. Free and Open Source
---
The KDE environment is a hundred percent free and open source. So, it ensures that users get the most beautiful desktop experience without having to pay for it. This is a big plus for enthusiasts since they can feel what they are getting into. And if they don't like it, they can simply switch to a different environment without facing any financial loss.
Moreover, the open-source codebase is available for anyone to explore. Thus, seasoned users get the opportunity to play around the environment and make customizations as they want. This is a big plus for a lot of users. So overall, KDE allows users to try it freely and determine whether it suits their taste or not without any catches.
3. Ease of Use
---
Despite packing a lot of components, KDE Linux systems are extremely easy to use. KDE tries hard to be as user-friendly as possible and provides a seamless experience to even the newest users. The easy-to-use application widgets and menus ensure uninterrupted workflow. Additionally, the Krunner app launcher is one of the best Linux application launchers you can get. You can effortlessly search files, web pages, toggle between windows, and many more.
4. Konsole
---
Konsole is the default terminal that ships with the KDE desktop. It is arguably one of the best Linux terminal emulators and is suitable for new and advanced users. Some of its best features include the support for split view, ssh bookmarking, dolphin integration, notification alerts, true color fonts, profile customization, font ligature, and many more. Moreover, users can embed Konsole directly into their desktop without displacing existing windows.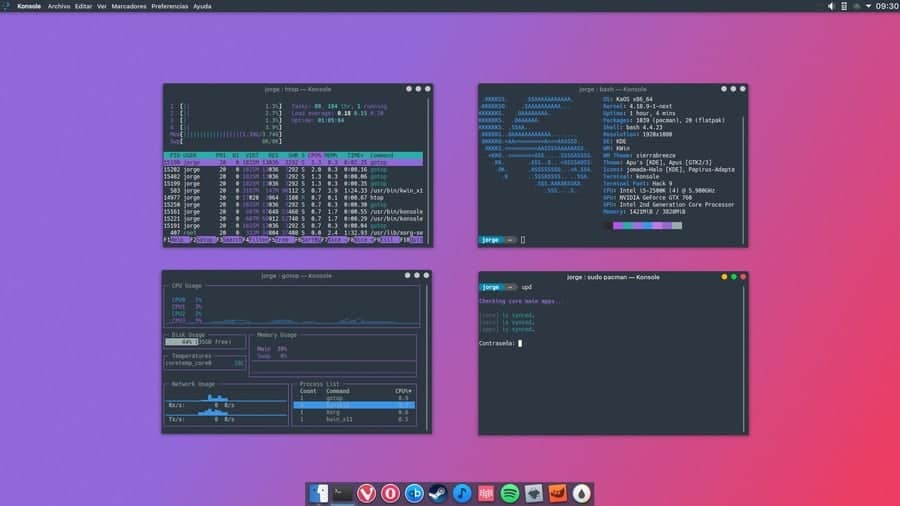 However, since Konsole provides a lot of features, it is not the best terminal in terms of memory usage. However, it's highly unlikely to throttle systems with modest resources. So overall, Konsole is a great choice for performing everyday tasks as well as for advanced scenarios. If you want your Linux terminal to be as much flexible as possible, you're going to love Konsole.
5. KDE Applications
---
The KDE Plasma desktop comes with an extremely useful set of applications. No matter whether you're a Linux professional or a mere hobbyist, the default KDE apps are more than adept for everyday tasks. Apart from Krunner and Konsole, other notable KDE default applications include the Dolphin file manager, Falkon web browser, Konversation IRC client, and the Gwenview image viewer.
It also includes a lot of applications for development and education, as well as a large number of games. Moreover, many KDE-powered tools have gained popularity due to their elegant interfaces and competitive feature set. The video editor utility Kdenlive and the digital painting application Krita are great examples of this fact. So, you can be assured of having all the essential tools if you choose KDE as your desktop environment.
6. App Widgets
---
Widgets are an integral part of KDE's user experience and, for good reasons, so. First of all, users can choose from a selection of 200 plus widgets. From small utilities to workflow management, you can find widgets for almost anything in the KDE world. They make it easy to display system information like CPU usage, networking, weather, and download progress directly to the desktop.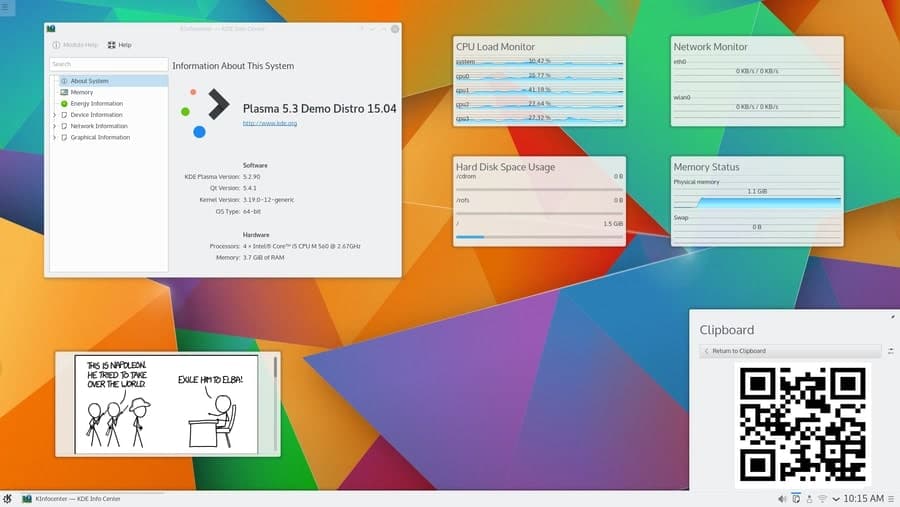 Some popular KDE widgets are the KDE Connect, KSmoothDock, Simple Menu, Event Calendar, Activity Bar, File Watcher, Virtual Keyboard, and Magnifique. Moreover, the ability to customize them thoroughly helps users setting the best desktop environment for them. So, if you like to increase desktop functionality using multiple widgets, KDE stands to be the perfect choice for you.
7. Performance
---
Although the KDE ecosystem is vast and often requires larger libraries, the performance is surprisingly good. Especially since Plasma 5, the performance has increased dramatically. You will get a smooth, seamless experience that is both flexible and highly customizable. The UX is almost free from bugs and feels snappier than ever. So, if you want an attractive desktop environment without compromising performance, KDE will be an excellent choice. However, it's still not the best choice for low-end CPUs.
8. Customization
---
One big selling point of KDE is its support for unlimited customization. Although you can personalize all major Linux distributions, KDE has taken this to another level. From widgets to animations, docks to panels, buttons to pointers, you can change almost every aspect of KDE as per your taste. Unlike other desktop interfaces, KDE doesn't restrict customization for a few GUI components.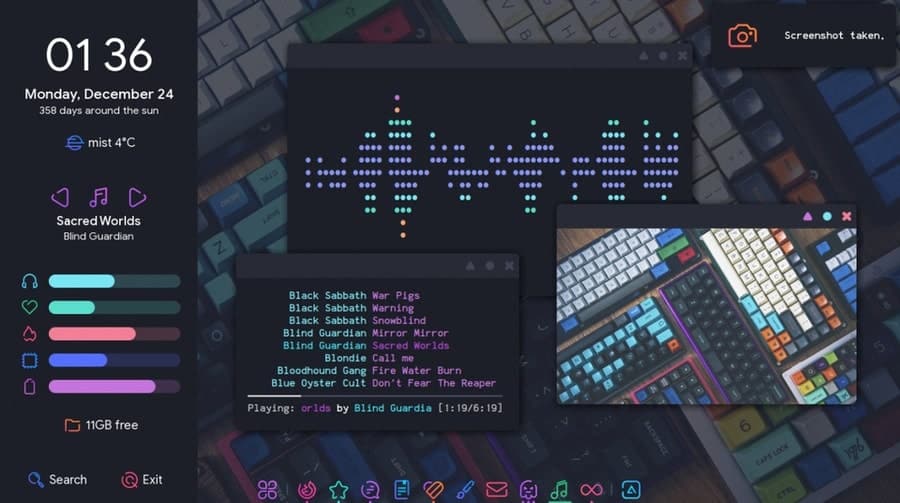 The Plasma desktop has taken personalization even further distance. It lets users mold their desktop as per their preference. It's very easy to delete existing components of the desktop and add newer ones. You can even make your desktop look like Mac or Windows. Thus, KDE Linux should be the preferred choice for anyone who wants to dive deep into desktop customization.
9. Integration
---
KDE Plasma provides arguably the best integration when it comes to features and applications. We think KDE is certainly well ahead of other environments when it comes to this. KDE supports apps developed for other platforms like GNOME or Cinnamon without any hassle. It allows users to install standard tools across all their desktops. So, if you want to use  Thunderbird or Mozilla Firefox, you can do so without any trouble.
Integration is one key aspect where KDE triumphs GNOME. A large number of KDE apps look out of place when installed in GNOME. However, as we have said, Plasma supports GNOME-based applications just fine. Plasma even integrates with Android smartphones. Moreover, users can also experience the Plasma environment on smartphones via Plasma Mobile.
10. Power Usage
---
Power consumption has become more important than ever, especially for portable devices like laptops and notebooks. Thankfully, KDE is not extremely power-hungry in most cases. Plus, it comes with excellent battery management capabilities, making sure users get the possible screen time out of their devices. However, bear in mind that power usage depends heavily on your desktop configuration.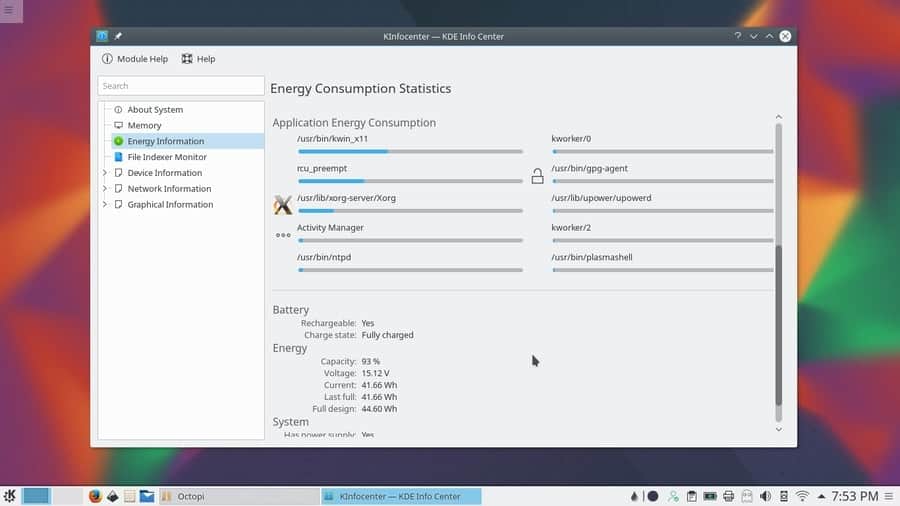 The good thing is that we can tailor down KDE to become extremely resource-friendly. So, users can easily run KDE on older laptops with limited battery backups. They need to simply turn off some of the animations and effects to make the system as light as possible. This will increase the battery backup significantly.
11. Multiple Desktops
---
The KDE desktop environment provides multiple desktop functionality for users who do a lot of things simultaneously. It allows users to group apps or windows based on their usage and place them on different desktops. Seamless switching between several desktops is ensured by means of the Krunner utility. So overall, multiple desktops make app organizations easier and more flexible. However, we highly suggest users invest in multiple monitors as they help to keep the windows visible all the time.
12. Flexibility
---
KDE is one of the most flexible Linux desktop environments for new and experienced users alike. Users can not only change the way Plasma looks but also dictate how the environment works. It is very easy to manage the connectivity options for Bluetooth and Networking. Everyday tasks like brightness adjustment, power management, external device configuration are also quite simple.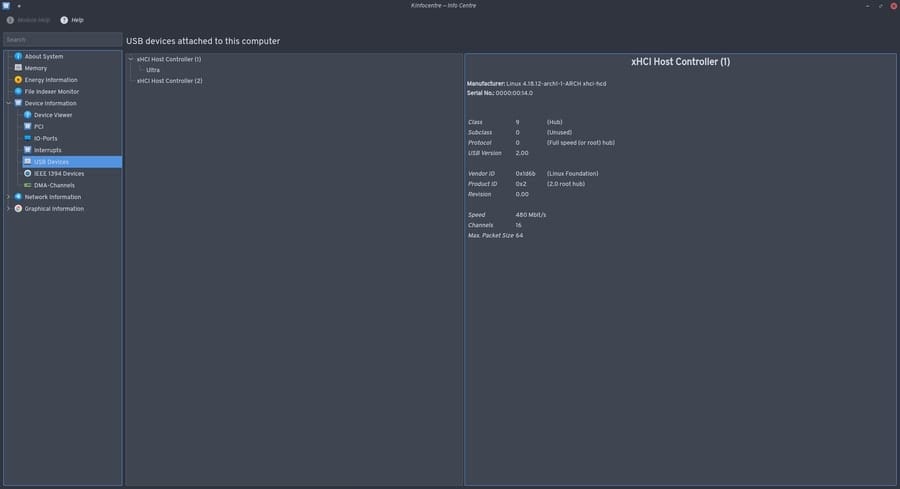 You can change the way multiple and virtual desktops are configured as well as how the mouse buttons work. I also like to configure the behavior of my windows. Although many of these can be done in a different environment as well, KDE makes the operations much simpler. For example, customizing the login screen takes significantly more effort in GNOME than it does on KDE.
13. Trendy
---
The Plasma desktop has been a great hit since its release. Now in its 5th version, Plasma continues to trend among Linux enthusiasts. The ability to mold the desktop after other systems appeals to a lot of new Linux users who want to mimic the look and feel of Windows/Mac. Moreover, features like the Plasma Mobile also contribute to KDE's growing popularity.
Despite being one of the oldest desktop environments for Linux, KDE hasn't changed its design principles drastically. It helps them to maintain a stable, coherent platform with tools that are proven and work well together. This is also a major reason why experienced admins choose KDE desktop without any hesitation.
14. Extensions
---
Extensions are an excellent way of trying out additional functionality in your desktop environment. KDE offers great support for extendability through extensions. For one, installing and using extensions is much easier in KDE than in GNOME. You can download the required addons directly through the app store, whereas GNOME requires users to go to the GNOME extension website and install the addons from there.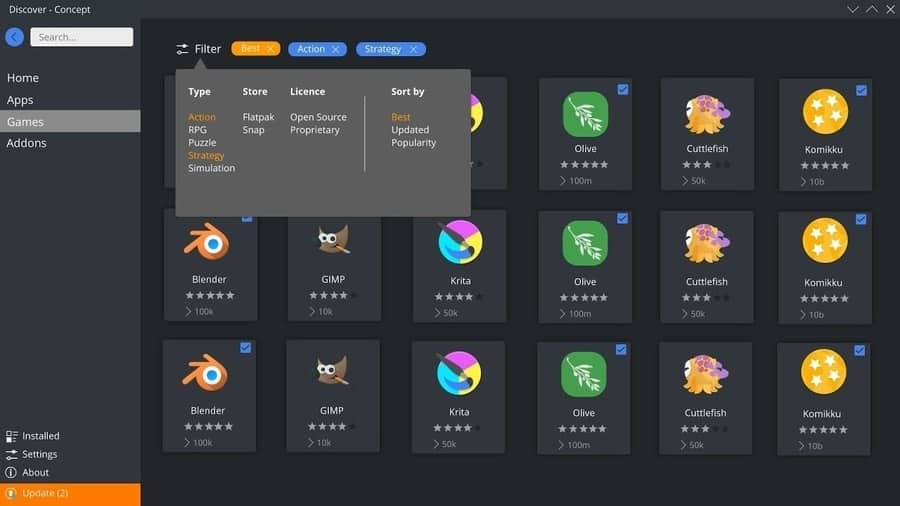 KDE Plasma desktop also allows users to add the necessary extensions directly from the KDE Add Widgets menu. Thus, having the perfect addon for a task is often only a few clicks away. However, users should refrain from installing extensions that are not essential for the system. It can degrade performance and affect the overall user experience on older pcs.
15. KDE Store
---
KDE Store is the official application store for all things related to KDE. You can find everything needed to customize your desktop here, including utilities, themes, icons, and wallpapers. KDE Store makes it very easy to install new extensions for workflow enhancement. Users can choose from thousands of desktop components directly from their system, unlike other desktop platforms like GNOME. Overall, KDE Store is a great feature of the Plasma environment and makes customizing the desktop very easier.
16. Community
---
KDE has a very large and active community, which helps develop cutting-edge software for work, education, and entertainment. The community provides developers all the tools and resources required for building modern projects. Moreover, community members are extremely friendly and help new users adapt to the platform without hesitation.
Users can get involved in KDE's open-source projects if they want and leave their own mark in the community. The community is also responsible for creating collaborative documentation as well as accessible web forums. Some notable corporations that endorse KDE include Google, Canonical, and Qt. Overall, this is the perfect desktop platform for users who love to collaborate on projects and share ideas with like-minded people.
17. Freedom
---
KDE embodies freedom at its core. It offers a lot of premium features without charging a dime. Doing so follows the free software movement endorsed by Linux and FOSS. It provides users the ability to customize the system based on personal preferences. KDE also implements a number of permissive licenses, including LGPL, BSD, and the MIT license. So, it is a great choice for people who want absolute freedom in their day-to-day computing.
18. Solid Codebase
---
The KDE Plasma desktop environment is built on top of a solid codebase. Most of the core components and apps are written using Qt, a platform-agnostic development framework. It also makes KDE extremely portable. KDE uses C++ for performance-critical portions of the system. The coding style is uniform across different KDE technologies. So, if you can code for the KDE desktop, you will not face difficulty developing for Plasma mobile.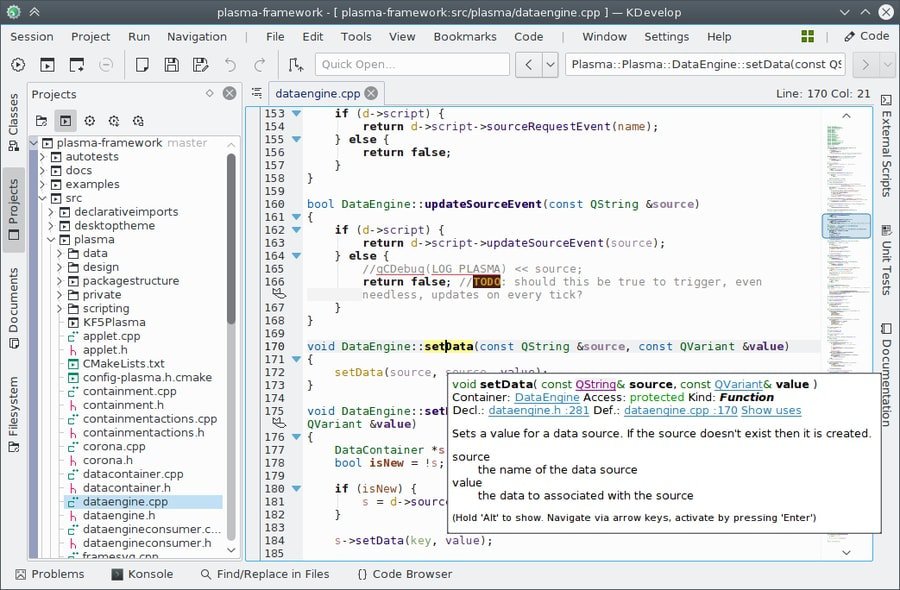 The codebase for KDE is readily available online. You can check out their GitHub mirror in this link. Take a look at some of the codes if you are interested in developing KDE apps or open-source projects in general. KDE also makes sure to practice the best security practices to reduce bugs and increase security measures.
19. Documentation
---
KDE provides in-depth documentation for helping users adapt to the platform as easily as possible. The quality of the documentation is excellent, and finding information on any topic is almost effortless. KDE also offers carefully prepared Wikis that as well as community forums. These forums are a good place to familiarize yourself with the KDE environment, while wikis serve more specific purposes.
Apart from standard docs, KDE also offers references for software APIs, Qt, and the Inqlude library. These references make developing tools for KDE Linux very easy for new programmers. Overall, KDE's high-quality docs make transitioning to Plasma easier for both home users and seasoned developers.
20. Fun
---
Users who like to discover new things and enjoy pretty desktops are going to love KDE. It makes computing fun for users with little or no prior experience in Linux. Though seasoned users will find Plasma more entertaining since it provides them the flexibility of customizing things to a whole different level, overall, if you are a fan of sleek interfaces and fancy animations, you will be glad to use KDE as your primary desktop environment.
Ending Thoughts
---
KDE Desktop environment is an excellent choice for many people. However, it is not perfect and has its issues. Now, when it comes to choosing KDE over other environments, personal preferences should be given priority. Remember that environment choices vary based on the taste of the end-user.
So, just because we like KDE, it doesn't mean you're going to like it too. Overall, Plasma is suitable for people who customize extensively and showcase their desktop to other people. It's not the best choice for older hardware, but on average machines, Plasma Linux feels much snappier than GNOME.