Conky themes help you to customize the look and feel of the Conky software entirely. There is barely any Linux guy out there who doesn't know about Conky. Conky is an amazing piece of freeware that runs on Linux. It is used for monitoring the system variables of the computer. It can show different parameters of the current state of the system, including processor load, temperature, RAM usage, network uplink-downlink speed, and many more. This powerful tool can visualize almost 300 different parameters of your computer either in text or in graphical visualizations.
Conky is an unofficial fork of the popular system monitoring tool, Torsmo. Since Torsmo is no longer maintained, some extremely hardworking guys started developing Conky as an open-source project for Linux users. A large community maintains this project regularly. Power users can not live without Conky. It is thus considered one of the most powerful and useful Linux tools.
Best Conky Themes for Linux System
---
Do you know what the most interesting thing about Conky is? Conky displays the system information by drawing directly over the X window. For this reason, Conky uses a tiny amount of system resources to run since it doesn't need to create new widget windows.
Moreover, you don't need to see the same old visualization graphics of Conky. You can easily configure it for different looks. The configuration of Conky themes can be a little tricky for some users, but we will get you covered.
There are many Conky themes freely available on the internet from different talented creators. It's not an easy task to find out which theme will look best on your desktop. This is why we have tested out and made a list of the 15 best Conky themes for your Linux desktop that you can install right now to make your Conky look more attractive and unique.
1. Conky Orange
---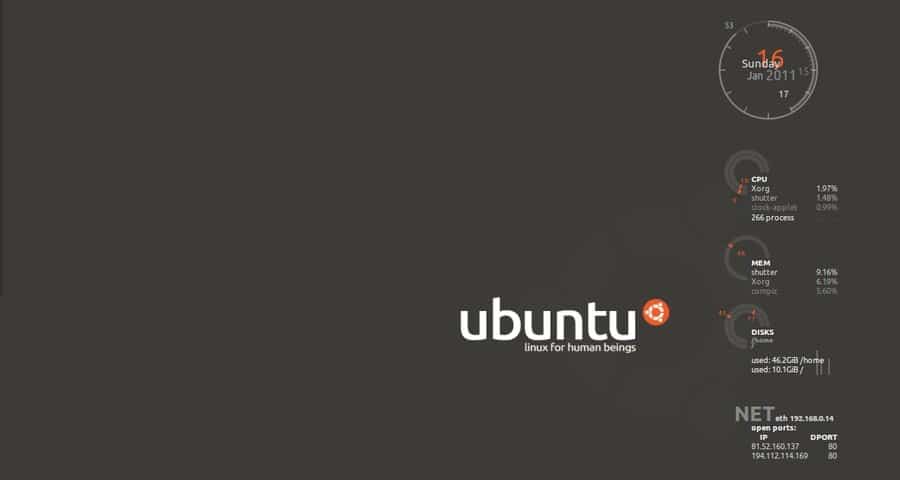 Conky Orange is a variant of one of the most popular Conky theme series. There are different other variants of this theme from the same author, such as Conky Red, Conky Grey, etc. The elements of this theme are very modern and elegant looking. It shows different parameters of the system in the rounded clock dial-like visualizer.
Clock, calendar, CPU state, memory usage, network activity, etc., can be shown with this theme. The base color is gray, while it uses an orange accent to highlight the key points. Users can customize the visualizer rings by editing the LUA and Conky scripts.
2. Conky Chronograph Station
---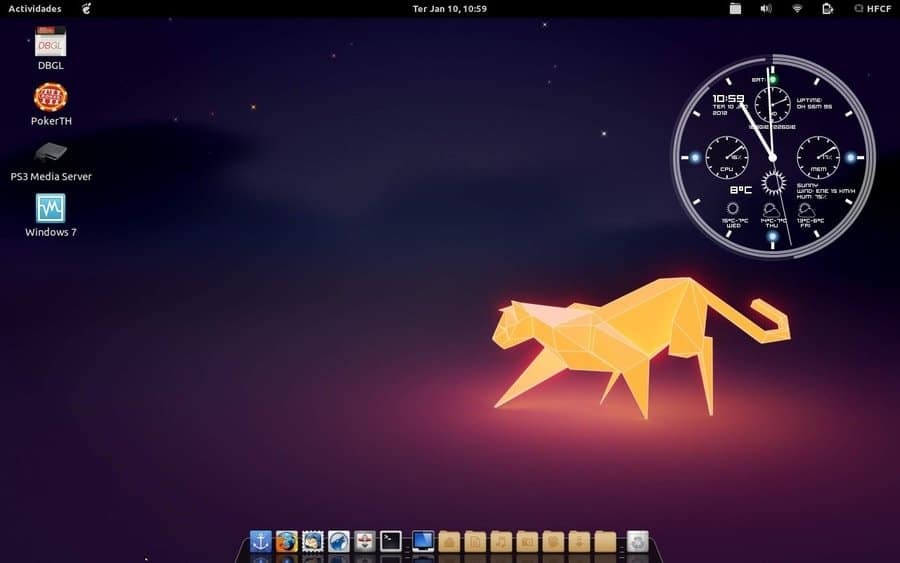 As the name suggests, it follows a chronograph-styled design language to display different parameters of your system status. The beautiful visualizer of the Conky Chronograph Station looks just like a modern Swiss chronograph watch. It shows time, date, CPU activity, memory usage, temperature, and other aspects of the system inside the watch dial.
Each parameter has its dial gauge. It can even show the weather updates from AccuWeather with beautiful graphical elements. The transparent objects with a white tone look gorgeous in any desktop environment.
3. Conky Colors
---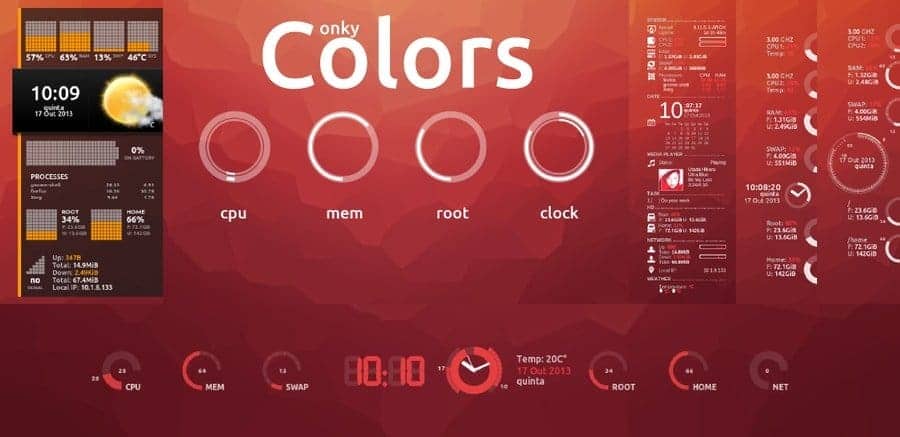 Conky Colors is a beautiful Conky theme with a modern user interface. You can set up different colored accents to match your wallpaper. The standard white theme is always here, which looks classy and elegant. The main feature of this theme is the use of different contextual icons. The updated icons set will be shown with parameters such as music, IP location, calendar, etc.
It features clock dial gauges to show processor status, memory usage, disk usage, and different status information. This Conky script supports many European languages including, German, Polish, Russian, Spanish, and Ukrainian. Thus anyone without knowing English can modify the script and customize it accordingly.
4. Future Blue Conky
---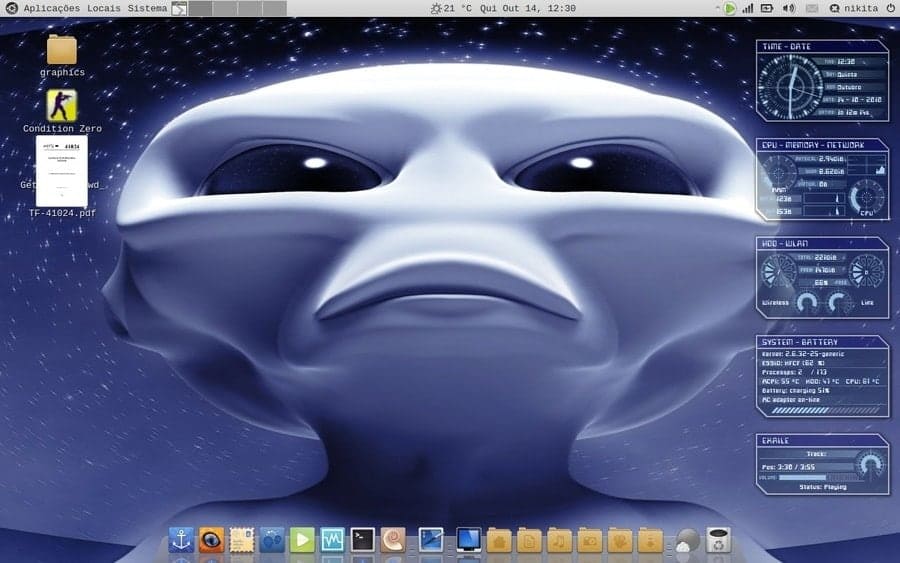 This is a pretty old theme for Conky. It was last updated almost nine years ago. But this Conky looks so cool and functional that I couldn't help including it into the list. This theme has got a futuristic look painted over it. By installing it on your desktop, you will feel like working on an Alien-tech just like you see on some Hollywood sci-fi movies.
The visual elements have a refreshing ice blue tone. The font face is stylized so that it can blend easily with the overall design. This Conky even supports Exaile media player for displaying song info. The developers were planning to bring other media player support, but the project is discontinued now. This theme is so complete and stable that you don't need to care about developer support.
5. AutomatiK
---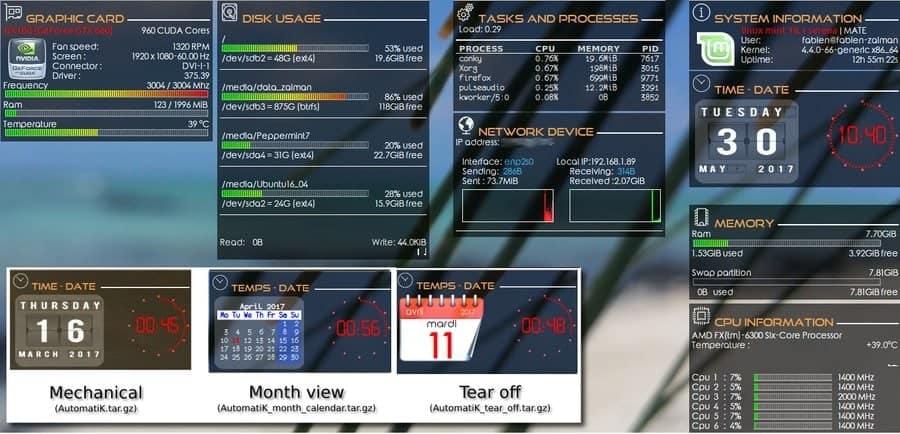 AutomatiK is a Conky theme that you don't need to configure by opening the Conky script file. This theme automatically scans the hardware components of your computer and configure the Conky accordingly. Everything happens automatically, and this is the key feature of this theme. It supports different languages, including Japanese, French, Italian, German, Portuguese, etc., and translates the Conky components in your language when you need them.
This Conky can scan your Linux distro, CPU speed, number of cores, GPU type, mounted drives, and several other things. If you click with pressing the Alt key, you can easily move the widgets around your desktop. This theme supports both AMD and Nvidia GPU. It has different beautiful visual components to choose from.
6. GoogleIntegratedSystemConky
---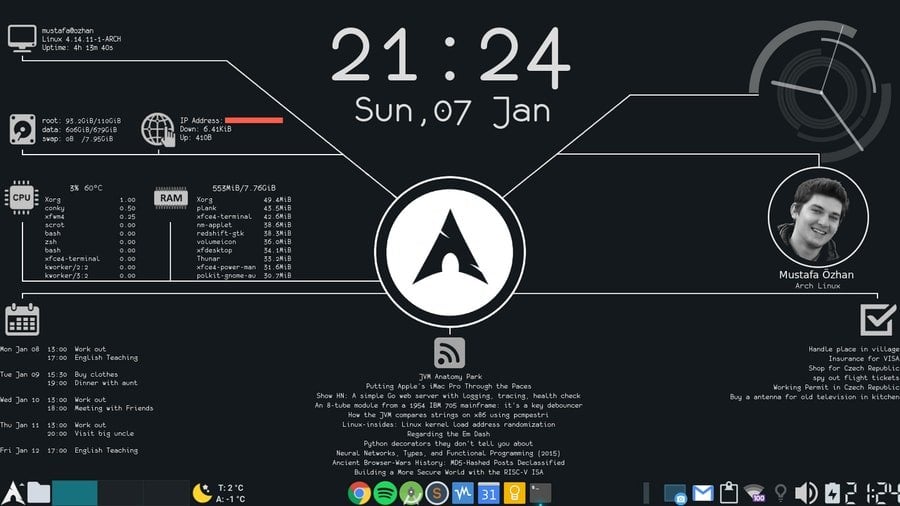 This is surely a big and weird name of a Conky theme. But just like the name, it has got a long list of functionality piled into it. The graphical elements and the overall user interface are very bold and beautiful looking. The main aspect of this theme is the integration of some Google services. It can show upcoming events from your Google Calendar. You can also manage your to-do list created with another popular app Google Keep, with this theme right into your desktop.
Integration with RSS feed is a bonus feature but comes in handy. The overall setup is arranged so that you can easily glance at your upcoming agenda just after you have logged into your Linux desktop. The system statuses like time, date, CPU load, memory usage, etc., are also available in this theme.
7. Hightech Conky
---
The name didn't lie. Just look at this! This Conky will bring you the vibe of looking at the dashboard of a high-tech spaceship that you can only see in the cinemas. This theme uses many visual elements and icons to give it a completely futuristic look. Some of you may find it a little bit of a complex setup. But you can configure it according to your needs and make some spaces.
The Now Playing media player control comes with this theme is quite handy. The neon blue shades of the progress bars and gauges will bring an elegant and classy look to your desktop. There is also a widget area for folders where you can beautifully arrange the folders and shortcuts you need so often.
8. Conky Grapes
---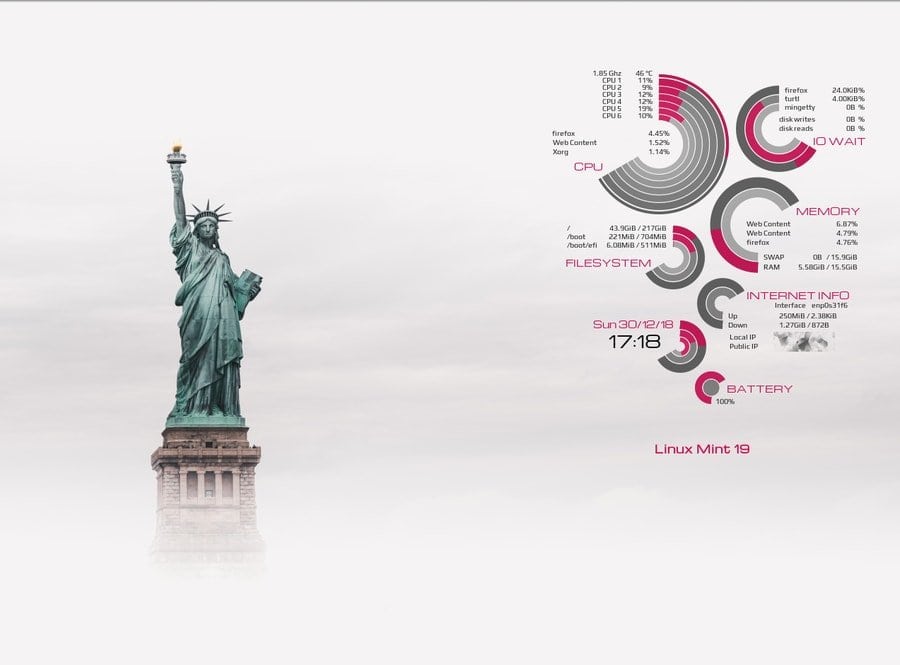 The dark pink accent on the grey circles looks just like the juicy grapes. This is a kind of color scheme that nobody will go wrong with this. Setting it up with a light desktop background and a light theme brings an eye-soothing look into your Linux machine. This theme will show all the relevant and useful parameters in dynamic rings.
The maximum number of CPU core and file system visualization is limited to 8 cores and 3 file systems. It also shows high temperature and low disk space warnings in orange or red accent based on the condition. If you don't like the predefined colors, you have the option to set up colors according to your choice by editing the script.
9. Conky Calendar
---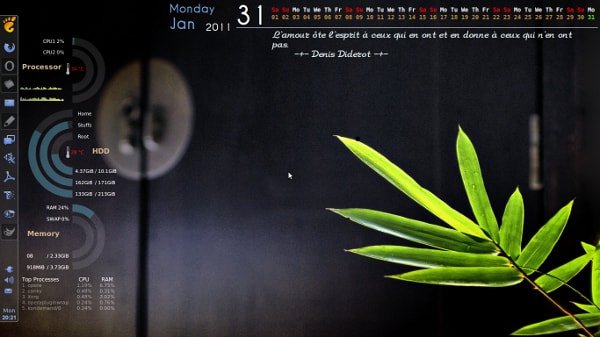 This is a useful Conky theme with a simple desktop calendar. There are different other themes available that can show the time and date. But those who want to view the complete month view of the calendar will love this Conky. It was a personal project of the developer for his friend. But later, it gained much popularity, and he uploaded it for public use.
This theme will show the month in a horizontal format with colored highlights for the current day. It also has an option for displaying your favorite quote with the calendar. It would be amazing if the quote could randomly be updated, right? You can install a tool called Fortune to make this happen. The download page has got a detailed guide on this.
10. Revolutionary Clock
---
This is yet another timepiece for the Conky. It will show the current time, date in a chronograph-styled watch dial. There are several other small dials inside the large dial for showing CPU usage, memory status, and storage capacity. This Conky has a minimal design that looks very clean and classy.
The transparent elements can easily blend with any type of wallpapers. The clock comes in a few varieties based on the size. These are HD, Midi, Mini, and SuperMini. The unique thing about this Conky is that the dial ring is dynamic. It doesn't have a fixed starting position. Rather it moves as a function of time while expanding circumferentially.
11. Victor Conky
---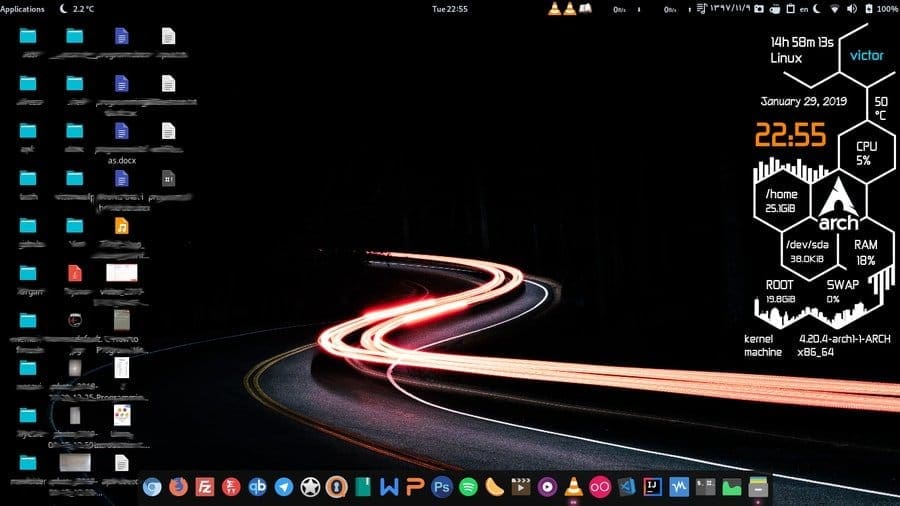 If you are fed up seeing the same old rounded user interface for most of the themes for Conky, then this theme should get your favor. Victor Conky has unconventional hexagonal shape visual elements. It brings some powerful widgets to display computer statistics. This theme shows time, date, processor load, memory usage, and so on.
The developer has published it in three different shapes so that you don't need to configure it in your suitable size. The small, medium and large variants of this Conky also support Arch Linux, which will help many users out there. You can either apply this theme by running the installer script or by manually configuring, which is highly recommended by the developer.
12. Sci-Fi HUD
---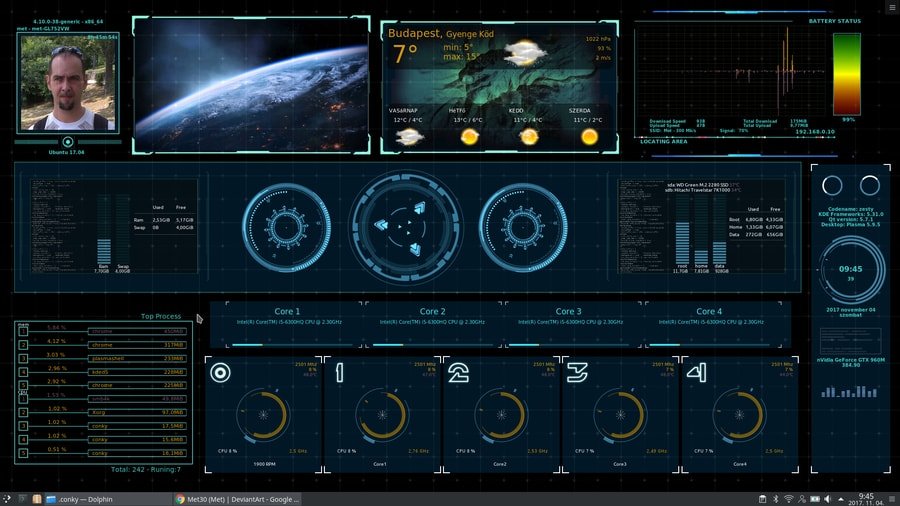 This Conky theme for Linux resembles the Heads Up Display or HUD from an aircraft. The visual elements have got some futuristic look painted onto them. Maybe these aspects triggered the developer to name it like this. Anyway, the theme has a little bit of complexity in the user interface. But the overall setup is very polished. This is why it has become one of the most beautiful themes available for setting up your Conky.
It has got individual dial gauge for each of the CPU cores. This is an unconventional but useful feature. Apart from showing the typical Conky parameters like time, date, memory status, weather info, it has a separate space for showing the user's profile picture. This thing looks pretty cool, although you have always got the option to change anything with the help of the Conky script.
13. Minimalis Conky
---

This is an elegant-looking Conky. I thought it is not possible to find a Conky theme that will be both minimal and beautiful at the same time. But this Conky completely proved me wrong. Many of you, including me, want such type of Conky, which doesn't take much space on the desktop instead shows every useful parameter in easily readable text.
You can easily configure this vertically-oriented Conky and leave it on the left or right side of the desktop without distracting your eyes. This Conky shows the name of the individual processes running as well as their CPU and RAM usage. This is helpful when you want to know which process is causing stress to your system.
14. Equalizer Conky
---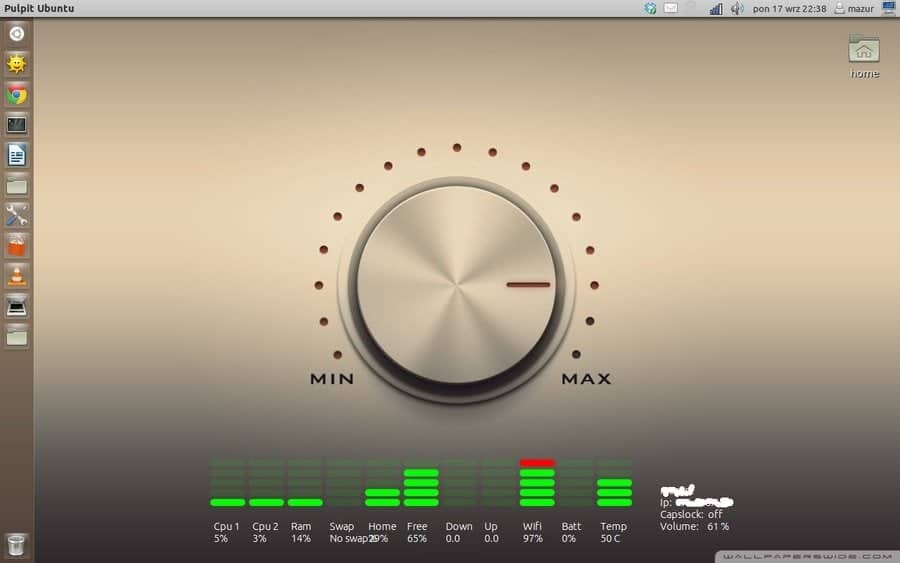 Don't be confused with the name. Because this theme will neither visualize your media player's equalizer nor it will let you tune the highs and lows of the song you're playing. Rather it will display the common parameters of your system status with some vertical bars that look exactly like an equalizer visualization.
Each of the status bars is divided into five equal pieces. So you will not get the exact number by looking just into the bars. But the exact numbers will also be shown under the bars, and thus it will not create any problem. Instead, the green tint of the bars with red highlights will look gorgeous in any kind of desktop setup. You can optionally set it up with a wallpaper like the attached picture to get an immersive look.
15. Infinity Dark
---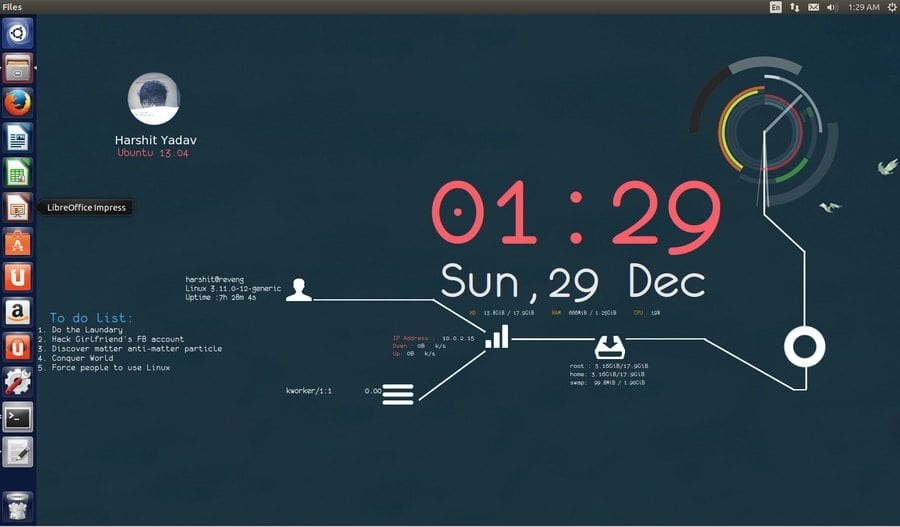 Infinity Dark is a beautiful-looking Conky that prioritizes time and date. The developer included the Monofur font face with this theme, which makes a date and time even more vibrant. This theme uses the Entypo icon set to visualize disk usage, network activity, etc. It also shows CPU load, RAM usage, and system uptime.
In the last update, the developer added support for showing the to-do list. It will be helpful for many users to boost up productivity. This theme has got an option for showing the user profile picture in a circular shape. The overall setup provides a solid and functional Conky look.
Setting Things Up and Customization
---
The original Conky tool pulls out different information from your Linux system, while the Conky themes will instruct it to display them attractively. If you are a pro user, then you may want to create Conky themes of your own to reflect your personality onto your desktop. But it's not a pleasant way to customize Conky for most of the users.
If you are a beginner, then don't get disheartened because there are many Conky themes freely available on the internet. The best few of them you have seen in the above list. Now while you have downloaded your favorite theme, it's time to learn to set it up and customize it.
Installation of Conky
---
The installation of Conky is easier than configuring it. No matter which Linux distribution you are using, you can install it anyway. The easiest way to install this is by using the terminal window. Just open the Terminal app from the launcher or use the keyboard shortcut to launch it. Then type the following commands one by one while you are connected to the internet. In a few moments, it will install the Conky System Monitoring Tool.
$ sudo apt-get install conky-all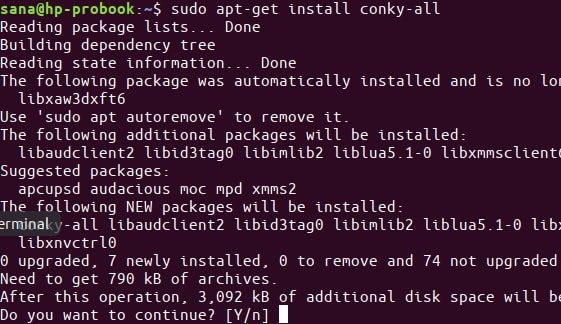 If you find any problem installing Conky with the Terminal, you can always use the manual installation method. Now you have to launch Conky by typing the following command.
$ conky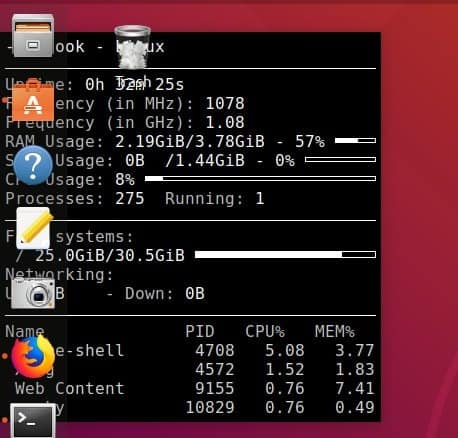 After you have successfully launched Conky, it will look something like the above picture, which is not even close to what you have seen in the above list of themes. Now it's time to dress it up with themes.
Installation of Conky Manager
---
Conky Manager is a third-party configuration tool for Conky. Of course, you can configure Conky without this tool. But this tool has a graphical user interface that will make it easier to customize the Conky look. Even beginners can customize the themes with this tool. To install Conky Manager, open the Terminal window again and type the following code. It will install the Mark pcnetspec PPA repository into your system.
$ sudo add-apt-repository ppa:mark-pcnetspec/conky-manager-pm9
After this, type the following code to install the tool.
$ sudo apt-get install conky-manager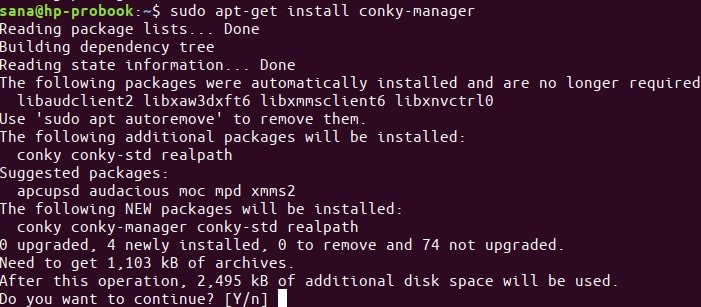 After the successful installation, the tool will be added to your applications list, which can be opened using the launcher.
Applying Desired Themes
---
The Conky depends on the .conkyrc file for the configuration option. This file usually comes with the downloaded theme file. So before installing any Conky theme, it acts according to the /etc/conky/conky.config file to show the default look.
After downloading the archived theme file, extract it into your desktop. There will be a text file with some additional resources or even an installation manual. Rename the text file with Anything.conkyrc and move it to your Home folder. After putting the Conky file in place, start the Conky again to see the changes. You can customize the theme by using different variables inside the Conky file by using your text editor.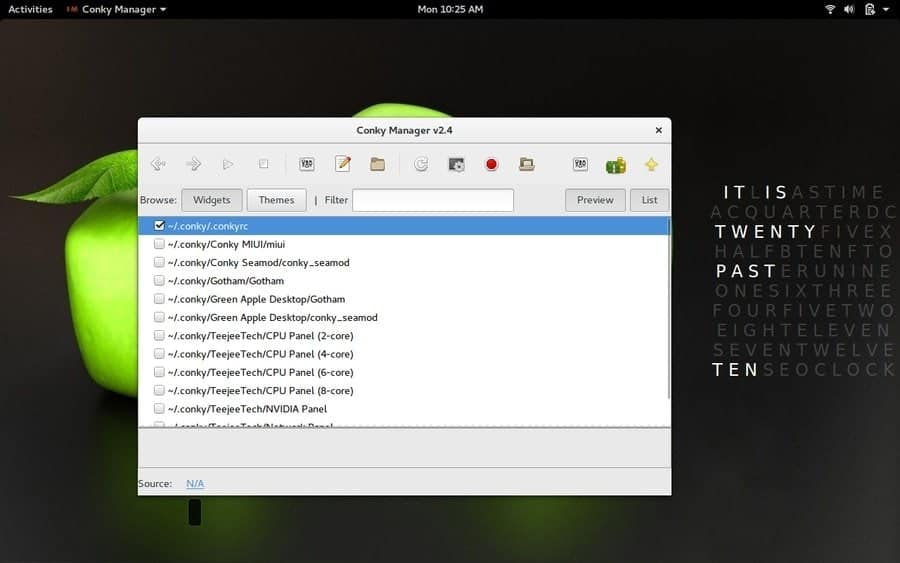 If you want to handle these using the Conky Manager, you have to put the renamed ~/Anything.conkyrc file inside the ~/.conky folder. Don't be confused. The ~/.conky folder was automatically created while you finished installing Conky Manager.
Now open the Conky Manager, and you will see that the new Conky theme file is automatically loaded inside the tool. From here, you can select any Conky theme and edit the parameters using graphical UI or using the classic text editor.
Final Thoughts
---
Some people might find it tiresome work downloading all those Conky themes and configuring them. But to make your desktop look beautiful and productive, I think it's worth the time you will spend after it.
Those who are already Conky users should try out some from the above list. It will feel like your desktop has got a new life. As we said earlier, there are a huge number of themes available, and this is why some good themes may be left untold. So you can suggest your favorite theme in the comment section to let others know about that.