Some people think that astrology and astronomy are the same things. Astronomy is pure science, which means the study of celestial objects in a scientific way. It is part and parcel of modern Physics. On the other hand, astrology is one of the ancient branches of knowledge which works on the effects of celestial objects in the life of people. It is considered a pseudoscience because it doesn't exactly follow the methods of science. Once there was a time when the calculations of the movements of celestial objects were performed manually. Nowadays, computer software is used by astrologers. Again there are some hobbyist astrologers who are interested in astrology who want to use computers rather than the traditional way. Just like other platforms, there is quite a few Linux astrology software available on the internet.
Best Linux Astrology Software
---
As you can see, there is not a huge selection of astrology software for the Linux user community. Besides, most of them are difficult to find. So, here we have created a list of 150 best Linux astrology software so that a beginner can get started with astrology. All of the software in this list run natively on Linux. Some of them are available for different other platforms. Hopefully, the following list of software will help the Linux users studying astrology.
1. OpenAstro
---
OpenAstro.org is an open-source application based on the Python programming language. Apart from showing horoscopes and natal charts, it is an online astrology wiki. It has a beautiful user interface that generates easy-to-use charts for the users. Some Python libraries should be installed first to use this software on any Linux machine.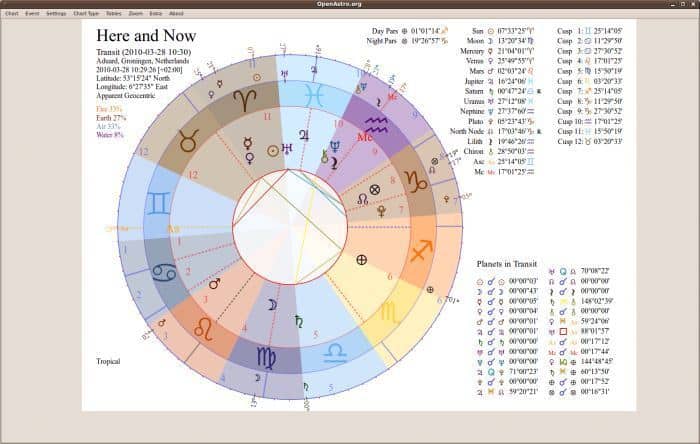 Key Features of OpenAstro
It can generate different types of horoscope charts, including a radical chart, composite chart, transit chart, etc.
It can also show a solar return or secondary progression chart according to one's birth.
OpenAstro.org features an online atlas based on Google Maps API, and the offline map library has more than 80,000 major cities in the world.
This tool can export and save data in JPG, PNG, SVG, and other easy-to-view formats.
It supports XML, DAT, SKIF, and ZDS formats for data imports.
This tool has a huge library of Ephemeris files spanning 1800 AD to 2400 AD.
Get OpenAstro.org
2. Cenon Astro
---
Cenon Astro is not a standalone tool. Rather it is a module for the original Cenon software suite, which can turn it into a powerful astrology tool. Because the vanilla Cenon is an open-source graphical tool to work with vectors. It is considered the only astrology tool which can edit and recreate chart masks. This tool was developed for the purpose of forecasting fractal weather.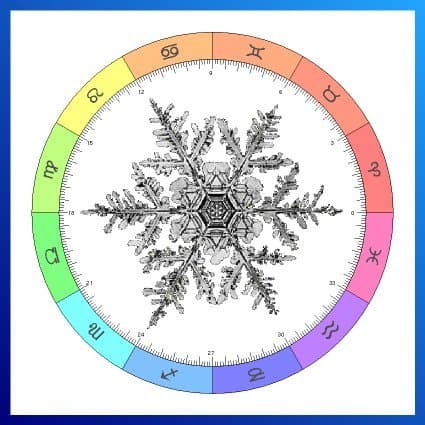 Key Features of Cenon Astro
It has a built-in Astro Clock.
This tool contains full-featured event and birth charts.
It can compare two events through the composite chart functionality.
The information masks on the charts are fully editable via the built-in graphic tool.
This tool can create vector-based astrological maps.
It can output every data to the printers or plotters using its advanced CAM tool.
This tool has a huge library of almost 25,000 major cities in the world.
3. Skylender
---
Skylender is a desktop application for Linux machines. It is built upon the Swiss Ephemeris library for high-precision data. It features a modern user interface. The drag and drop, multi-windows, animation, and SQL database features make it an astrology powerhouse. The skeleton of the program is developed with the C++ language.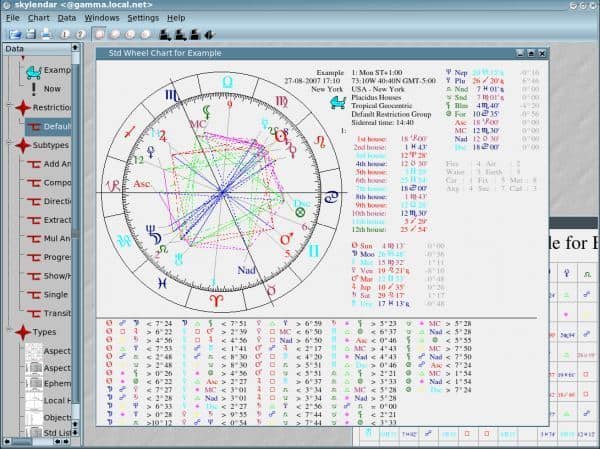 Key Features of Skylender
The advanced wheel chart displays data up to four concentric rings.
It has a standard list chart for viewing all the important data at a time.
The PostgreSQL interface supports storing and retrieving personal data.
It has a built-in printing tool that can directly print necessary data.
This tool can save charts in vector-based uncompressed SVG format.
Skylender can convert Astrolog or KAstrolog files to the SKIF files.
4. Astrolog
---
Astrolog is an open-source Linux astrology software. This award-winning software is free of cost and available out there since 1991. Like all other astrology software, this tool can create horoscopes and natal charts and calculate current planetary positions. It has a built-in library of celestial objects, including some non-planetary virtual objects. This tool uses 14 different house systems for its astrological calculation.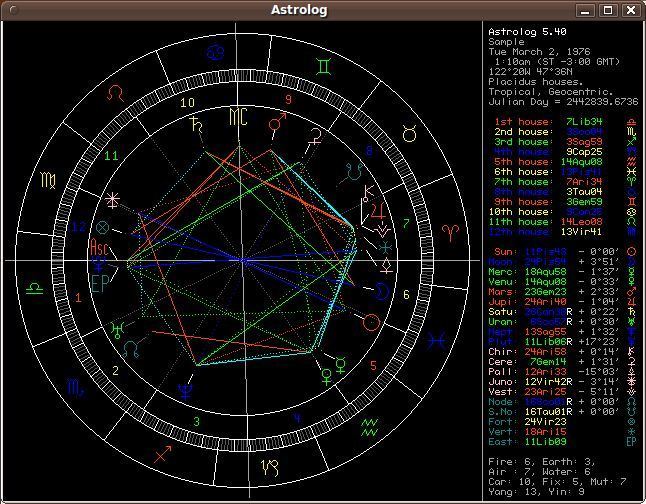 Key Features of Astrolog
This tool contains 8400 years of accurate ephemeris data.
It can show 50 different fixed stars and animate them for easier representation.
It has support for Indian subcontinental or Vedic format wheel charts.
Astrolog can show secondary progression and solar arc progression.
It can export charts in Bitmap and PostScript files.
It can animate a rotating globe.
5. Maitreya
---
Maitreya is a tool for Vedic astrology. It is also good for Western astrology. Hora Shastra is considered the supreme standard for Vedic astrology. This tool is based on Hora Shastra. Apart from the classical Vedic astrology and Jaimini system, this tool also supports the Uranian system. It contains a huge database location for the atlas based on the creative commons license.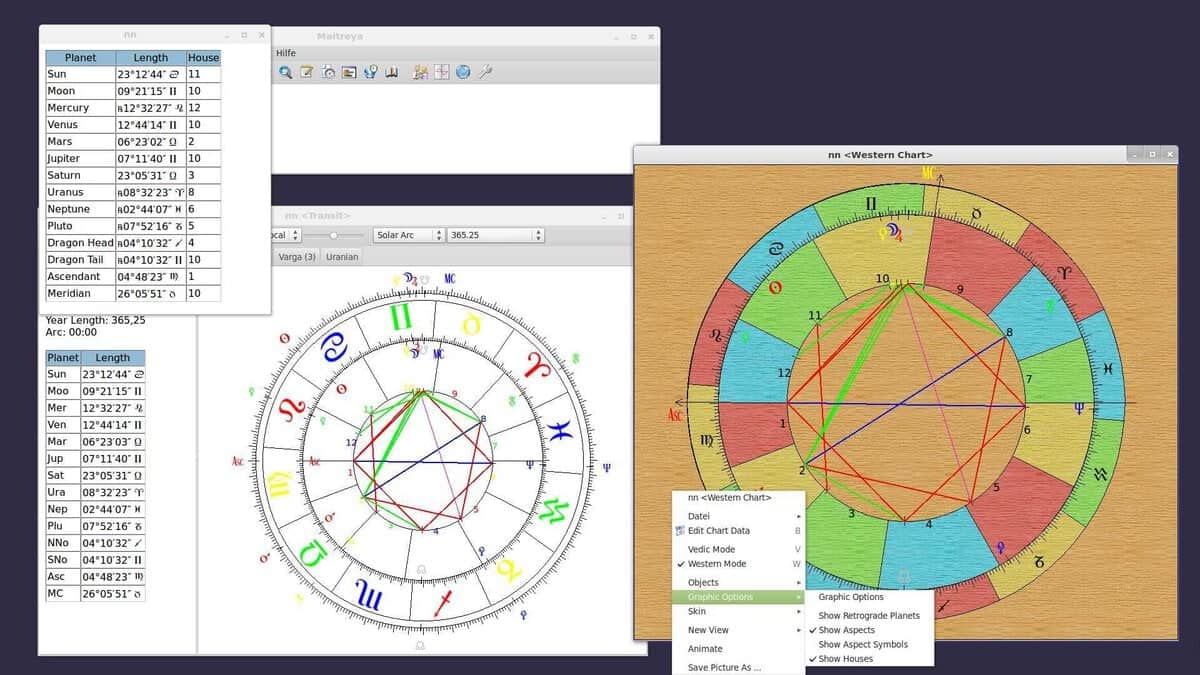 Key Features of Maitreya
It has useful features for professional Vedic astrologers.
It supports different types of calculation methods, including the Upagraha, Kala Vela, and Jaimini system.
All the celestial objects in this software can be viewed either in the Vedic system or in the Western system.
This tool supports the astrological scripting language.
It supports Unicode for the Indian subcontinental languages.
Maitreya is highly configurable and supports many keyboard and mouse shortcuts.
6. Morinus
---
Morinus is a Linux astrology software. It is written in Python language. This tool uses the Swiss ephemeris system for better accuracy. This open-source tool is licensed under GNU GPL 3. This tool offers a wide range of applications in the field of astrology, including charts, progressions, celestial objects, location databases, etc.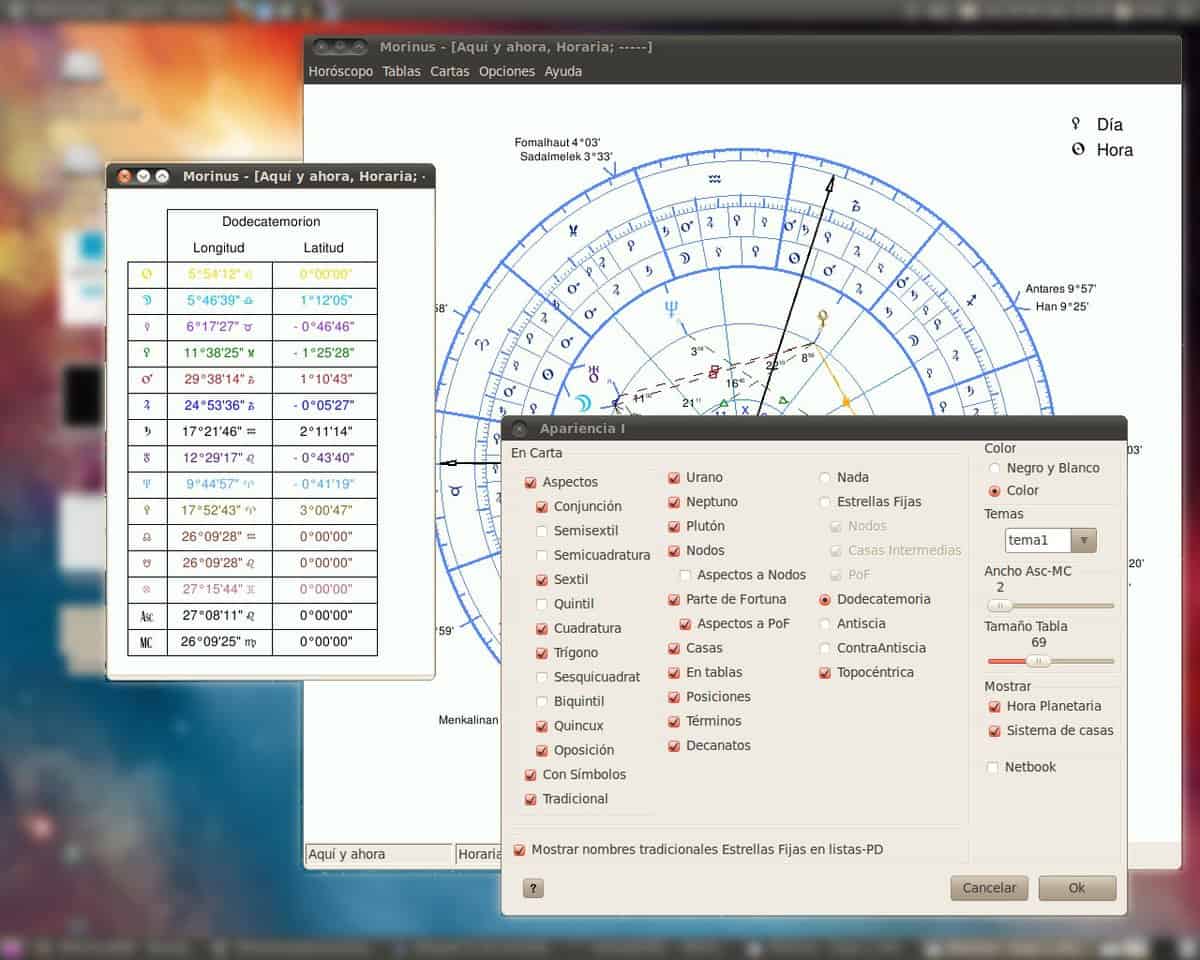 Key Features of Morinus
It features ephemeris data spanning 5000 BC to 5000 AD.
It has a huge library of geolocations.
It uses 12 different houses for calculation.
This tool can save and export horoscope charts in Bitmap image files.
Morinus features up to 40 fixed stars for astrological calculations.
This tool can visualize the charts in different themes.
7. SymSolon
---
Symsolon is an open-source astrology software for Linux. It is highly inspired by Symbolon cards. You might be wondering what Symbolon cards are! They are almost like tarot cards and are used in fortune-telling. The deck consists of 78 cards containing different images. This software prepares Symbolon card tables based on the position of the celestial objects.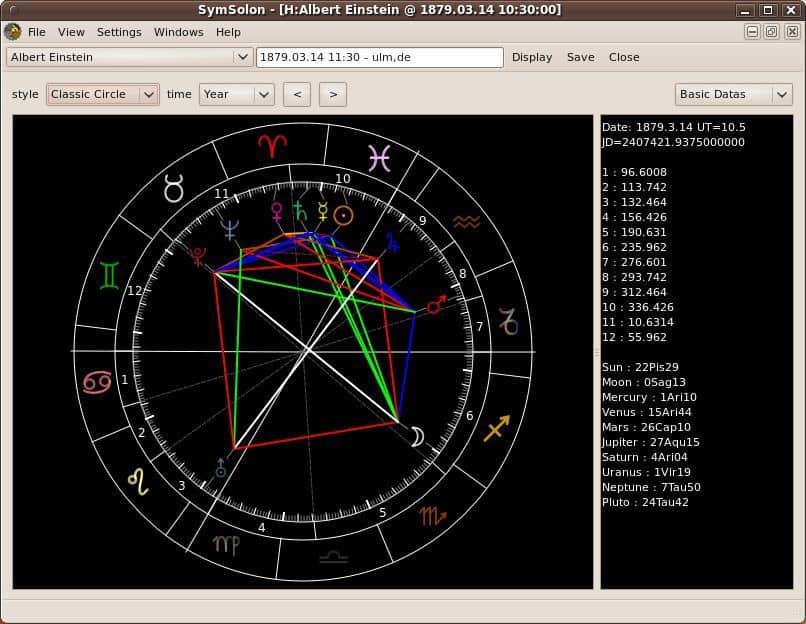 Key Features of SymSolon
It features different types of representations, including the classic view, Symbolon view, and transit view.
It can create a Symbolon table based on the position of stars.
SymSolon has an advanced print function for direct publishing.
It can render graphical charts.
Though it is Hungarian software, it has great localization support.
8. Orboros
---
Orboros is yet another open-source astrology tool. This Python-based program depends on the Swiss Ephemeris system for planetary calculations. It has a large atlas database provided by GeoNames.org. The large panel and flexible configuration system allow you to use this software with ease. You will need to install at least Python 2.5 to get this software running.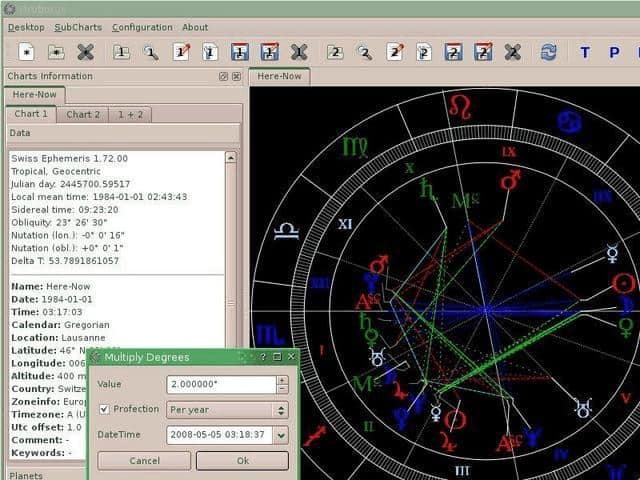 Key Features of Orboros
This tool supports Astrolog and Skylender charts natively.
It can search for locations online with the integrated atlas database.
It has 300 fixed stars for planetary calculations, which is rare in this type of consumer tool.
Users have the ability to extend the functionalities using Python script.
Orboros can export and save the charts in PNG, JPG, SVG, etc.
9. Kronux
---
Kronux is a free and open-source astrology software for Linux. It is based on Python, and the compilation is pretty old. For this reason, if you find it's not working, then you should recompile it. Otherwise, it is a very capable piece of software. You will get all the essential astrology features built-in with this tool.
Key Features of Kronux
It can show different types of lists and charts, including a radix chart, transit chart, etc.
It features an easy-to-use configuration panel.
Users have total freedom of customizing it with their own taste.
This tool supports 9 different house systems for astrological calculations.
It has a large collection of celestial objects.
10. Moon Planner
---
Moon Planner is a Java-based calendar for Linux desktops. Though it is not a typical astrology calculator, Moon Planner is very helpful for astrologers out there. It can show moon phases in an intuitive way. Users need to install Java JDK 1.5 before installing this tool.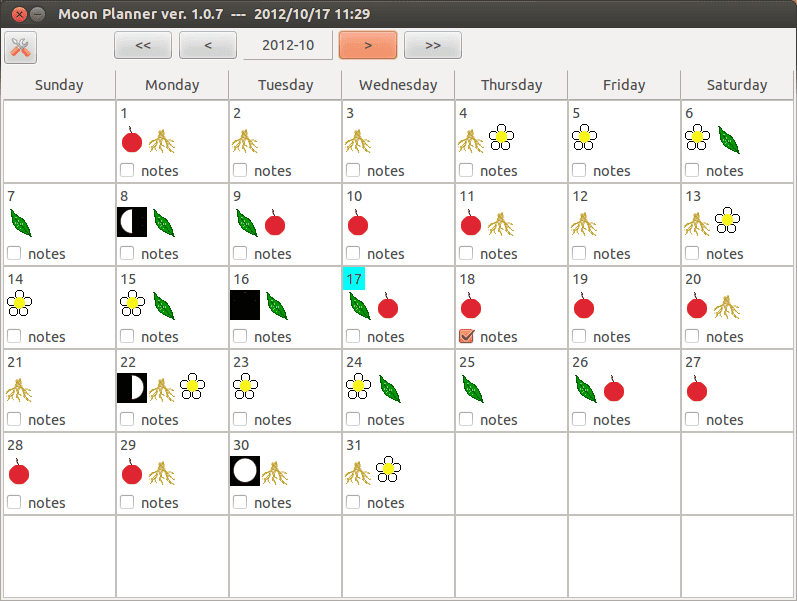 Key Features of Moon Planner
It can store notes for each day.
The reminder function will remind you about the current day's notes on startup.
This tool supports various time zones and localizations.
Moon Planner will provide you some astrology information as a bonus feature.
Final Thoughts
---
Astrology is a branch of knowledge that needs patience and practice. The computer software has made this thing easier. You can easily master astrology with the above-mentioned tools. Every tool in this list has plenty of features. Some tools possess some unique features.
After reading the description of each tool, you should be able to figure out which software will suit your needs. Maybe there are some other good pieces of software that have been excluded from the list. You can mention them in the comment section below and let others know.