Linux anti-spam tools are great ways to protect your inbox from flooding with unexpected messages. I know quite well how frustrating it is to deal with these kinds of spam. They are not only time consuming, but also they are great security threats to your computer. Although, individual users like me don't have to do that much struggle to fight spams. However, large companies, for example, the service providers, are very prone to spam. You will be surprised to know that almost 45 percent of the emails sent are spam, and it costs a huge sum of money to fight spam.
If you use email services from giant providers like Gmail or Outlook, they will automatically give you spam protection. But if your organization or school uses a custom email service, you must need a spam protection tool. Surprisingly, Linux has a wide range of anti-spam tools that are absolutely free.
Best Linux Anti-spam Tools
---
Since there are several open-source tools available for the Linux system, you will likely be confused while picking one for your personal use or organization. Besides, there's no scope for trial and error while deploying a tool for your running business. Hence, I made a list of the 10 best Linux anti-spam tools to help you survive this spammy world.
1. SpamAssassin
---
As the name suggests, this tool can detect and assassinates spammy mail before it reaches you. This is one of the most advanced spam filtering tools out there. It features several algorithms that can efficiently detect spam by testing the subject line and the main body.
There is no anti-spam tool in the world that is a hundred percent accurate. Currently, SpamAssassin can detect spam more than 95 percent of the time. However, this is an open-source project, and the people are consistently contributing to the source code for further developing this tool.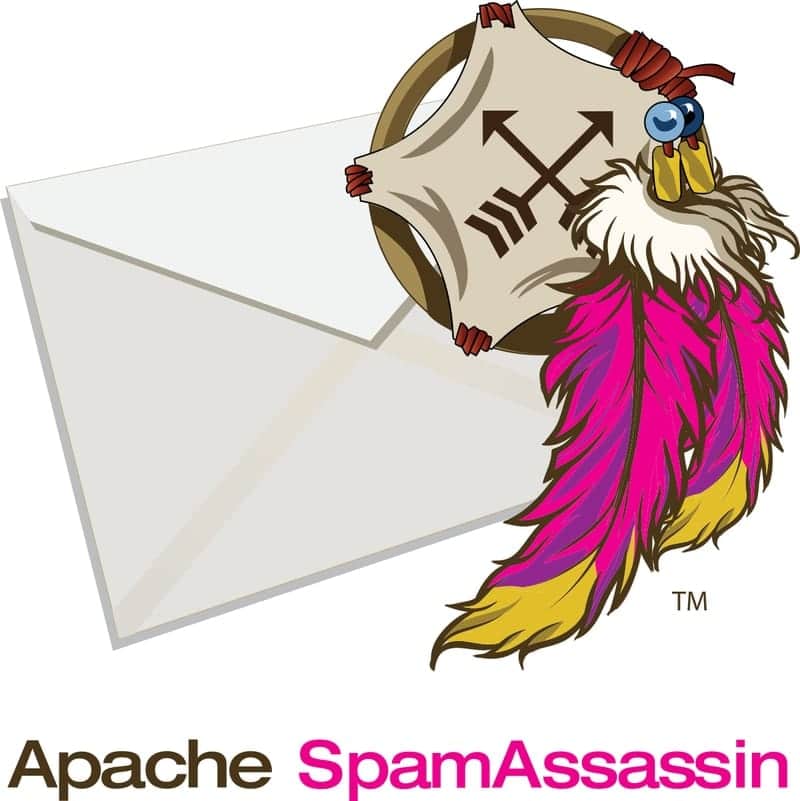 Key Features of SpamAssassin
This tool is configurable just by editing the configuration text file.
You can deploy the API to popular email management tools to call SpamAssassin's anti-spam protection.
It doesn't crave your mailing list and other sensitive data, and you can always control it for being a FOSS tool.
This tool supports spam filtering by DNS blocking and by tagging from the front end mail client.
You can even extend its functionalities by using a lot of plugins.
2. MailScanner
---
MailScanner is one of the most popular anti-spam tools out there. It also serves as a virus scanner for the mail attachments. This feature added great value to this tool. It is estimated that this tool everyday scans more than a billion emails. This is a huge number!
Microsoft Outlook users get an additional benefit with this software, which is attachment scanning and disinfection. The main feature of this Linux anti-spam tool is its usability. It's very intuitive with a lot of customization features.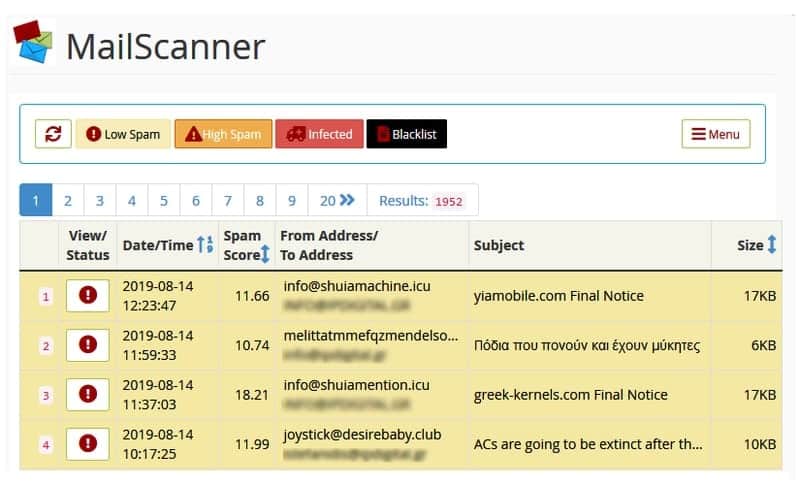 Key Features of MailScanner
You can choose from many popular virus scanners to work with this tool.
It can fix virus-infected documents and can automatically deliver them away.
This tool can be used with SendMail, Exim, or any popular mail servers.
The users can set up custom rule-sets for various user groups.
MailScanner is trusted by sensitive organizations like the US military and tech companies.
3. Bogofilter
---
Bogofilter is an interesting mail filtering tool for Linux. You can use this tool on the client computer for filtering spam messages. It doesn't have tons of extra features built-in like other anti-spam tools. But it does an accurate job while flagging the spam mails.
The most interesting feature of this tool is its gradual learning technique. That means Bogofilter can learn from the user's behavior apart from the preinstalled algorithms. This is why accuracy improves as you keep using this software.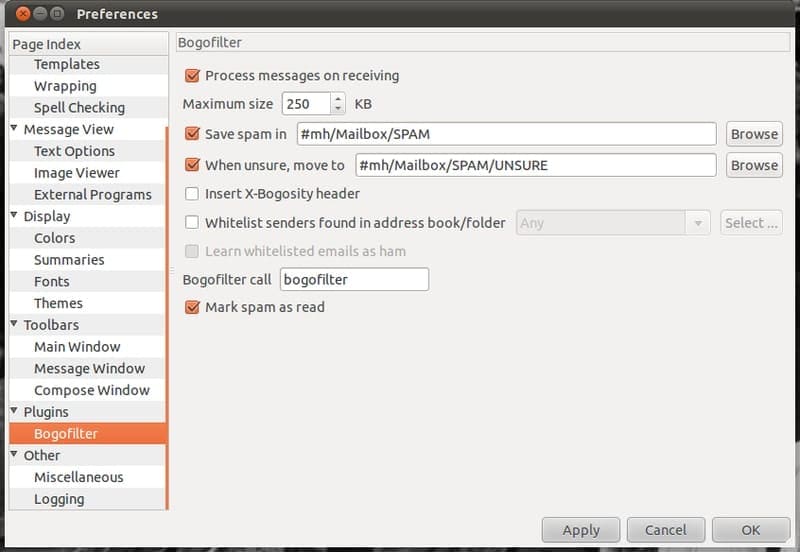 Key Features of Bogofilter
The algorithm performs a statistical analysis of the email content to find the potential spam.
It has built-in support for popular Linux mail clients like KMail, Evolution by GNOME, etc.
This tool uses Oracle's BerkeleyDB to detect spammy words and phrases contained in the mail.
You can suggest the spam messages you are sure about to train the tool to perform better.
This open-source software is supported on various Unix-like platforms.
4. Anti-Spam SMTP Proxy Server
---
This is yet another Linux anti-spam tool. However, this tool performs like a full-fledged SMTP server for mail delivery. You can set it up with your regular SMTP server for the advanced processing of emails to detect and block spam.
It works like a man-in-the-middle between your regular SMTP server and client software. Thus it can take down spammy emails with its advanced algorithm. The messages that get a green signal from this anti-spam tool are then sent to your SMTP server for further actions.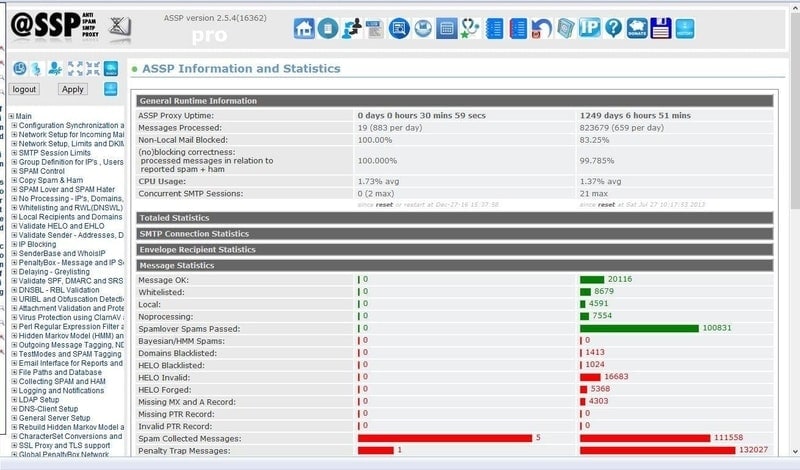 Key Features of Anti-Spam SMTP Proxy Server
This tool can be set up easily by using a browser and little customization.
It supports the most popular SMTP servers, such as SendMail, Mercury, Postfix, etc.
You can block downloading the attachments for a particular list of senders.
FileScan and some other virus scanning software can integrate with this for scanning viruses and malware.
ASSP supports SSL certificates for encrypting the connection between server and client.
5. Rspamd
---
Rspamd is completely free and open-source, too, for detecting spammy mails. It has a lot of powerful tools for this purpose. This tool is best suited for use in a large organization because of its simultaneous processing capability.
The most interesting thing about this tool is the spam scoring. After analyzing an email with several algorithms, it gives a spam score to that mail. Thus the advanced detection engine learns more about which mail to exclude and include in the block list.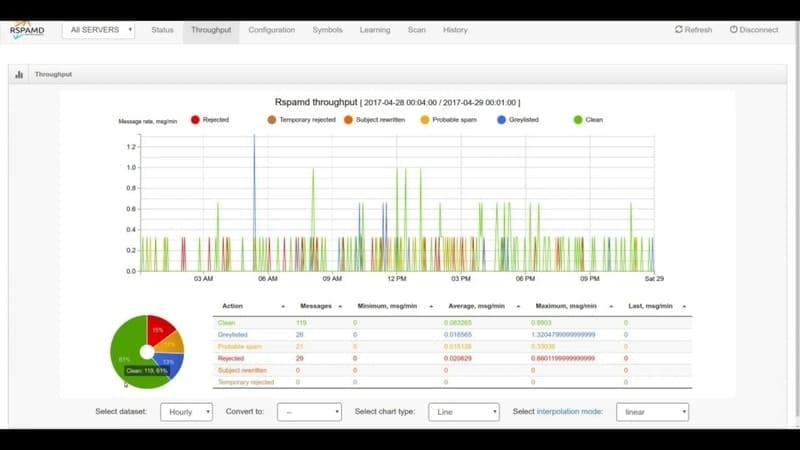 Key Features of Rspamd
The user interface is ajax based and very intuitive that runs entirely on a regular web browser.
The users can customize the rules for different senders and extend the blacklist and whitelist to override the detection engine.
It is highly compatible with industry-standard mailing agents and SMTP servers.
Rspamd utilizes a neural network to improve the accuracy that is really a stand-out feature.
You can write Lua modules with the provided API to extend the functionality of this software.
6. Scrollout F1
---
This is a modern and powerful spam detection tool designed for Linux and other platforms. Scrollout F1 is mainly a complete package of email firewall. This Linux anti-spam tool will protect you against any kind of attack via email. Besides, you are getting relieved from the frustrating wave of spam.
The ease of use makes it stand out against all the competitors. You can deploy this on your administrator computer within seconds. Scrollout F1 is open-source, and all the features, including virus scanner, spam blocking, can be availed free of cost. On top of that, there is no limitation on the number of emails and SMTP servers.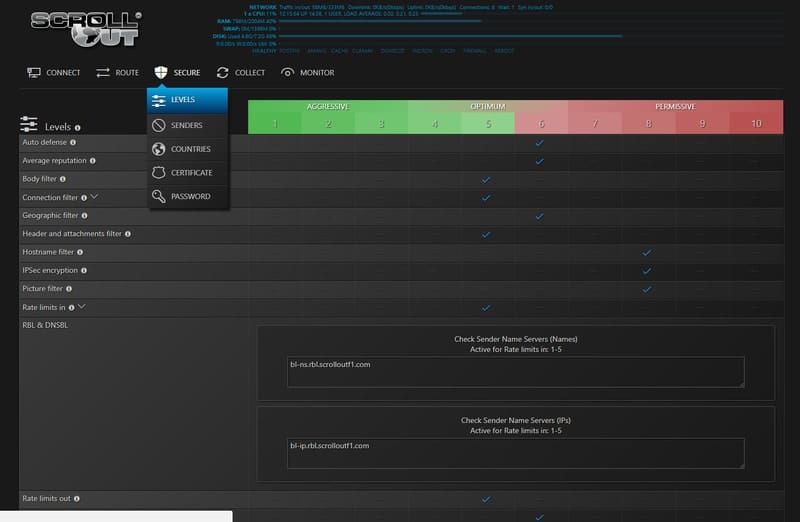 Key Features of Scrollout F1
You can block messages based on location, IP initials, and top-level domains.
The users can use the built-in newsletter and promotional message blocking configuration.
This tool supports drag and drops features in supported clients such as Microsoft Outlook.
The web-based user interface is easy to use with a built-in user guide.
It supports backing up emails in an additional server for an extra layer of protection against data loss.
7. MailCleaner
---
MailCleaner is a feature-packed and powerful tool. It can be installed as a gateway in front of any mail server. There are two different editions of MailCleaner. The enterprise edition is a commercial product and requires a yearly subscription. It also provides one-to-one customer support.
However, for most users, the community edition is more than enough. It is completely free to use with a lot of functionalities. Of course, it has some feature limitations. But being an open-source tool based on Debian, you can customize it with all the required features for your organization.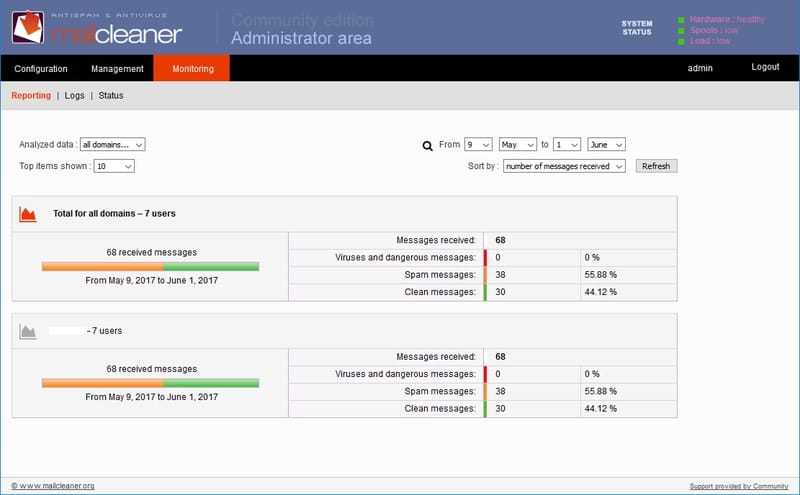 Key Features of MailCleaner
It can quickly and cleverly recognize spam with its powerful detection engine that is constantly evolving.
MailCleaner can protect your precious inbox from malware attacks by using third party antivirus.
The users can get rid of the newsletters sent by companies using unethical email marketing strategies.
All the blocked emails are quarantined in separate storage that can be accessed to unblock the desired mail.
It can learn from the user's use patterns and integrates nicely with Microsoft's and Google's mail service.
8. Hermes Secure Email Gateway
---
Hermes is yet another great tool for email protection. It acts as a gateway and protects against all the threats to your email server. You can easily configure this on Linux servers, such as Ubuntu. This is a complete package of tools powered by popular third party open-source spam and virus detection engines.
This Linux anti-spam tool utilizes SpamAssassin, Postfix, and other tools for providing a secure email environment. Hermes Secure Email Gateway also provides a web-based graphical user interface that acts as an all-in-one dashboard for controlling these services.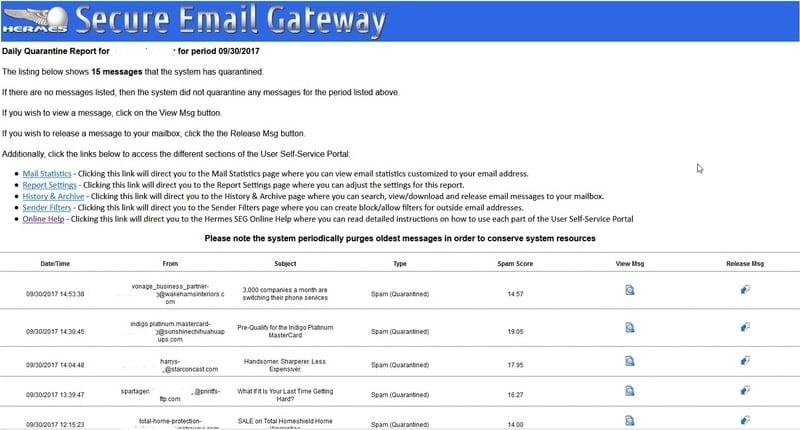 Key Features of Hermes Secure Email Gateway
It protects your organization's private email server from spam and threats.
You can even check emails from the inbox of popular email services like Microsoft Office 365 and Google Workspace.
This tool can be installed by using a sh script with archive storage in the cloud computing platform.
It has full support for email encryption protocol that adds an extra layer of security.
Hermes is fully open-source hosted on Github that can be forked as you wish.
9. Proxmox Mail Gateway
---
Proxmox is a popular server-side email management tool. It has a lot of protective functionalities that make people use this as an anti-spam tool. Proxmox is free to use, and the source code is open to the public. You will get some features that are only available on the premium version of the competitors' software.
The interesting fact about Proxmox is that you can deploy it in front of your existing mail server. It stays between the internet and regular mail server. Hence every mail you are getting is checked by Proxmox, and you have almost zero security threat.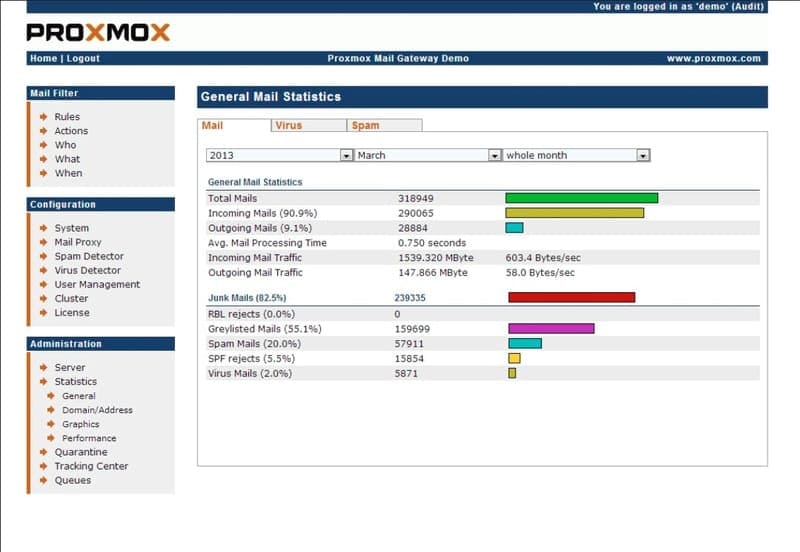 Key Features of Proxmox Mail Gateway
Proxmox is highly scalable, with support for numerous clients and servers.
It is easy to deploy, and the developer has a range of training and documentation for helping the beginners.
This tool can scan viruses and trojans based on the state of the art database and engines.
The spam detection feature supports DNS based blocking, Bayesian check, customizable blacklisting, etc.
The administrator can monitor all the email traffic in real-time for taking quick action.
10. Mailfilter
---
This is not that popular like all those tools listed here. But I was surprised by the features it provides. This is a very straightforward and simple tool to filter out unwanted spam emails. Mailfilter runs on every Unix-like platform, including Linux.
It can connect to your mail server via POP and detects fishy emails right from the server. This tool has some pre-defined algorithms for detecting unwanted emails. It's not a hundred percent accurate, though. However, you can even set your own rules for the detection engine.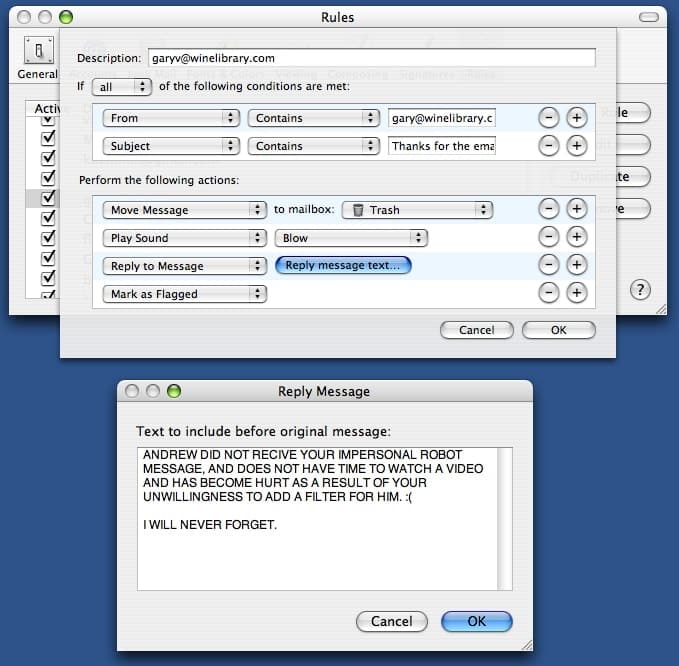 Key Features of Mailfilter
It can detect and erase spam before it is downloaded to your client software.
This tool is very easy to set up, and people with zero coding knowledge can use this.
Mailfilter is a stand-alone tool that uses fewer computing resources.
It is open-source under the GNU license that can be forked on Github.
Finally, Insights
---
As you can see, Linux anti-spam tools help detect spam and have other important features for managing emails effectively. Some of them run on client computers, while some others need to be deployed in Linux servers. Therefore, you have to pick the best software for your organization by comparing the feature sets and usability.
If you are a beginner, I will highly recommend you try out a simple program at first. Then you can switch to advanced tools. If you have your personal recommendation for a particular software, please mention it in the comments with the key features. We would love to try that out.